If you're looking to get the most out of your Instagram influencer marketing efforts, this ultimate guide is for you.
Instagram was just a social media platform for sharing photos and videos with friends, family, and followers. But now, it has become a popular and powerful tool that can be used to promote your business and reach your target customer.
Instagram influencer marketing has become a popular way for businesses to connect with their target audience. By using the platform's vast pool of users who are already engaged and passionate about your products, you can create engaging content and generate brand awareness on a much smaller budget than traditional advertising.
But you don't need to worry about taking care of everything all by yourself because influencer marketplaces such as Ainfluencer can do the footwork for you.
Ainfluencer covers everything from finding the right influencers to different ways to determine if your strategies are working for you so that you can run successful Instagram influencer marketing campaigns.
Let's start with the definition of Instagram marketing before all else.
What is Instagram marketing?
Instagram marketing is a new way of using Instagram to promote products or services. Businesses use this technique to build brand awareness, connect with their target customers, and generate sales.
There are so many ways to promote brands on Instagram, such as collaborating with influencers, running contests, using hashtags, etc.
With more than 1 billion active users and numerous free features, Instagram marketing is an excellent option for businesses of all sizes.
Keep reading to find out more about the benefits of this type of marketing.
Why are brands using Instagram marketing?
Instagram is a popular social media platform where brands can post photos and videos to create an online presence. It's an easy-to-use platform with a high engagement rate, making it the second most downloaded app in the world.
Instagram marketing allows businesses to target their audience with visual and engaging content that is easy to share. This platform also has a large and diverse group of users, making it an effective way to reach target audiences and consumers.
Additionally, on Instagram, brands can show off their products and services and increase brand awareness.
Studies show that 72% of Instagram users are more likely to buy products if they see them advertised on Instagram.
10 Tips to Improve Your Instagram Marketing Strategy
Instagram is a great platform that can be used to market your business. However, with the increasing number of brands joining Instagram, there is a great need for improving your Instagram marketing strategy.
This article provides you with some practical tips to help you make the most of Instagram for marketing.
#1- Optimize your business account on Instagram
If you're looking to grow your business on Instagram, optimizing your account is key. You can do a few things to make sure your account is getting the most visibility.
Choose a username that reflects your business.
Pick a profile picture that shows your company or brand's personality, and make sure the photo is high quality.
Create a well-made bio for your account. Your Instagram bio is the first thing people see when they visit your profile, and it must reflect who you are and what you stand for as a business. Include related keywords and hashtags about your company and make your bio catchy, short, and to the point.
Put a clickable link to your website in your bio and make it easier for others to connect with you.
Look at the bio of HubSpot's Instagram account:

#2- Set smart goals
Before starting your Instagram marketing, you need to take some time to set smart goals and make a plan. It's better to choose some realistic and time-bound goals.
When you find out what you want to achieve, you can quickly determine your target audience and the proper performance metrics so that you can track your efforts and realize how well you're doing.
#3- Have a regular schedule for posting on Instagram
Another way to improve your Instagram marketing strategy is to have a regular schedule for posting. This will help you stay organized, attract attention from potential customers and keep your followers interested.
Make a list of the topics you want to cover each week and keep your content consistent.
Try to post at least one photo and one video per day. This will help keep followers engaged and give them something new to look at each day.
#4- Share different forms of content on Instagram
Instagram is a great way to share content with your followers. You can share photos and videos in various ways, such as feed, Story, Reels, and IGTV.
You can also share Carousel posts which means sharing multiple images or videos in a single post or Story. Carousels are more engaging than the other post types.
Share Stories daily. They last for 24 hours, and you can highlight them in your profile and categorize them.
Share Reels or short videos with audio, filters, and effects.
Do not forget IGTV. It is a new format for sharing content on Instagram that lets you upload videos between 15 seconds to 10 minutes long. It's perfect for marketing purposes because you can create compelling content, describe your products and engage your audience.
Going live is also another way of sharing content. It's a great way to launch new products, interact with your followers, and answer their questions.
While sharing content on your business account, make sure that they are relevant to your audience. Share interesting and engaging content with strong captions, and try to be authentic by telling stories about your company.
#5- Use appropriate hashtags
One of the best strategies while using Instagram for marketing purposes is to use hashtags. Hashtags are a great way to help promote your content and categorize them on Instagram. They give potential followers a way to find and follow your posts quickly, and they can help you track the success of your campaigns.
Choose hashtags that represent the topics you're discussing in your post. For example, if you're publishing a fitness blog post, use #fitness #workout #gym. These are all relevant and popular hashtags that interested people in fitness or working out will likely use.
Look at the hashtags on the following post by Chanel Official:
#6- Work with Instagram influencers
If you want to get ahead in your marketing game, working with Instagram influencers is a must.
Influencers have a large group of followers and can help you reach a wide audience and create buzz around your business. By working with influencers, you can build trust with potential customers and increase your brand's credibility.
Make sure to work with influencers relevant to your industry and see if their content aligns with your target audience. It's also essential to assess their following size, engagement rate, and engagement quality (how often they respond to comments.)
But how should you find the right influencers for your brand?
You can google the right keywords or search on Instagram's hashtag section to come up with a list of influencers related to your niche. But the quickest way to identify and target potential influencers is to use an influencer marketplace such as Ainfluencer.
Ainfluencer
Ainfluencer is an excellent Instagram influencer marketplace that helps you find your targeted influencers and connect with them. You can find influencers through filters such as gender, location, number of followers, etc. – all for free.
All influencers on this platform are analyzed and scored so that you can see each influencer's quality score below their names.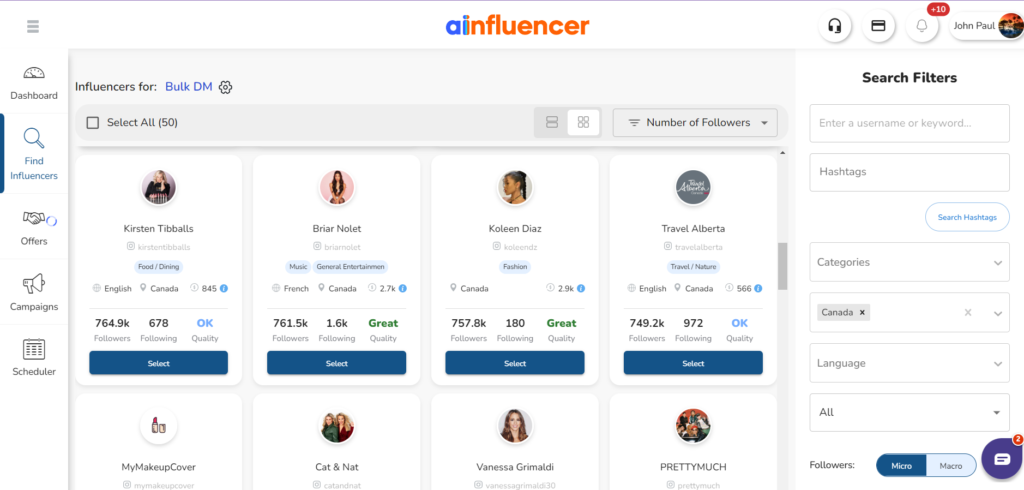 #7- Use the best of Instagram features
Instagram is a great way to get your message out to a wide audience. Here are some of the best features of Instagram that can help you market your business:
Instagram allows you to add buttons to your profile and enter your contact information such as email address, phone number, and location so that people can directly contact you.
You can also add other CTAs to your profile. They can be in different forms such as reserving, buying tickets, starting an order, etc.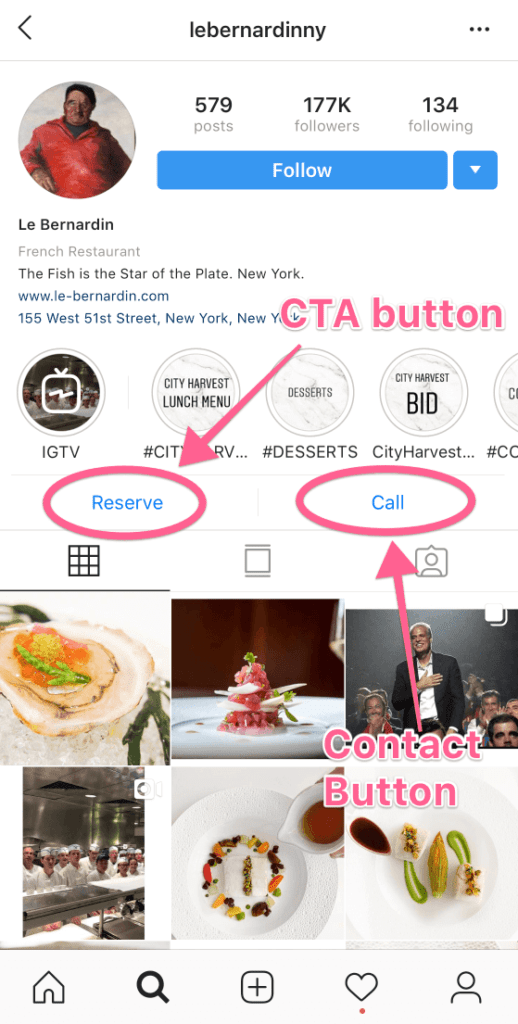 Use Instagram's shopping feature that lets users browse through products and buy them directly from the app. The feature allows shoppers to see products grouped by type and filter by price.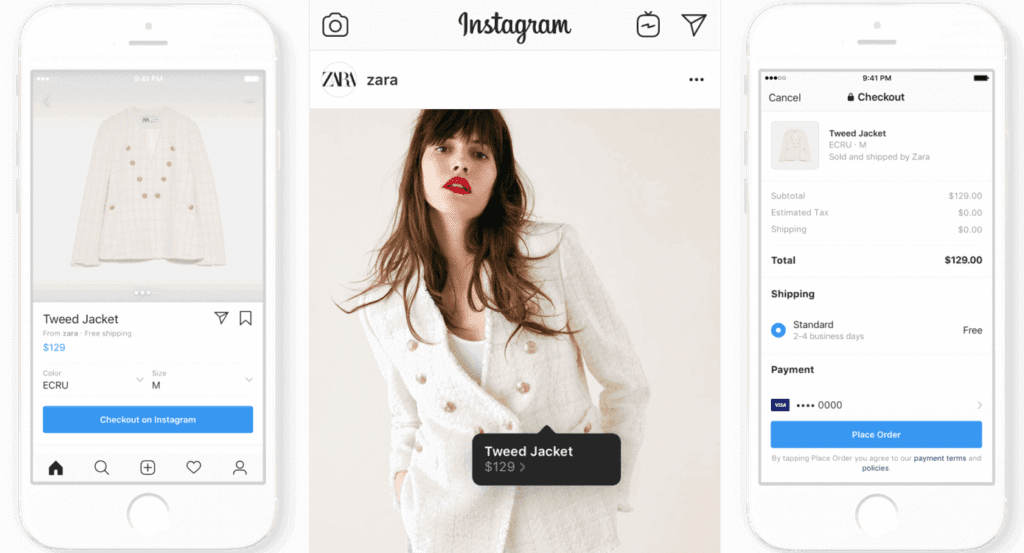 Another feature that Instagram has provided you is custom stickers and filters that let you personalize your posts and Stories. There are many different types of stickers and filters, so it's important to choose ones that match the tone and message of your post.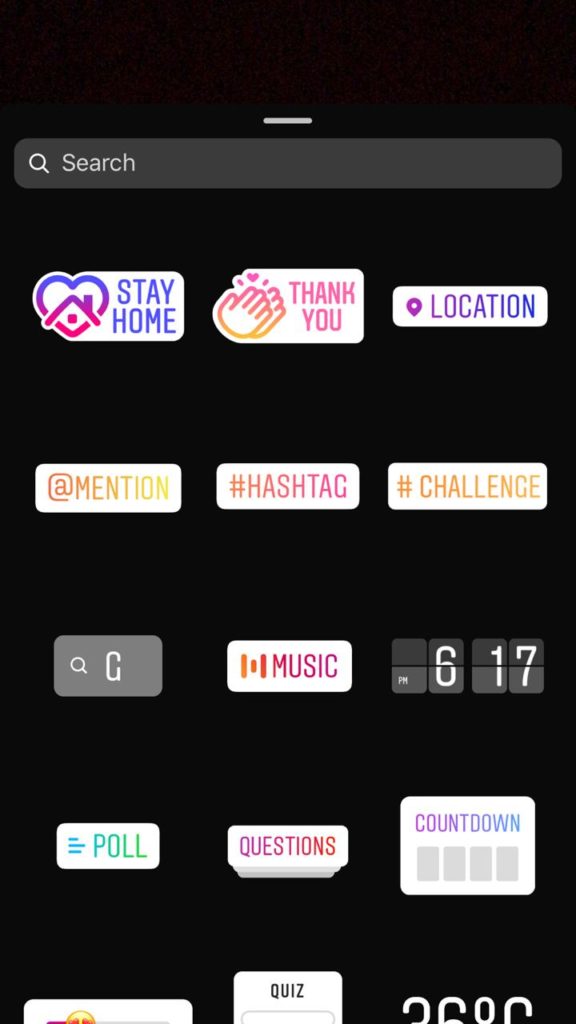 #8- Interact with your audience
Instagram is a great way to interact with your audience. By liking and answering the comments on your posts, responding to your DMs, sharing question boxes, etc., you can create a strong connection with your followers.
By considering the mentioned tips, try to have an engaging and interactive Instagram account and promote your business.
#9- Run contests and giveaways
Instagram is a great platform for running contests and giveaways. You can run contests and offer giveaways to increase your engagement and encourage users to take action.
Set clear rules for your contests and choose giveaways that are related to your niche and valuable for your audience.
Here is an example:
Although running contests can be challenging and time-consuming, you can use automated giveaway picker websites to run contests whenever you want and choose winners easily and fast.
#10- Track your results
Track the results of your account to see if your efforts helped improve your Instagram influencer marketing strategies. Implement the required changes until you achieve your business goals.
You can use Instagram's insight section, which gives you important information such as the total number of your profile visits, your posts' engagement and impression, your followers' gender, age, location, and so on.
By following the tips provided, you can improve your Instagram marketing strategy and see better results. With a little effort, you can create a successful Instagram marketing campaign that will reach new customers and grow your business.
What is influencer marketing?
Influencer marketing is a marketing strategy for brands to advertise their products on the internet by obtaining endorsements or recommendations from influencers and content providers. The idea is to tap into the positive influence that these celebrities, athletes, bloggers, or other well-known figures can have on the buying decisions of their audiences. Influencer marketing campaign is frequently used as part of brand awareness initiatives, but it can also result in a significant number of conversions and purchases.
7 benefits of influencer marketing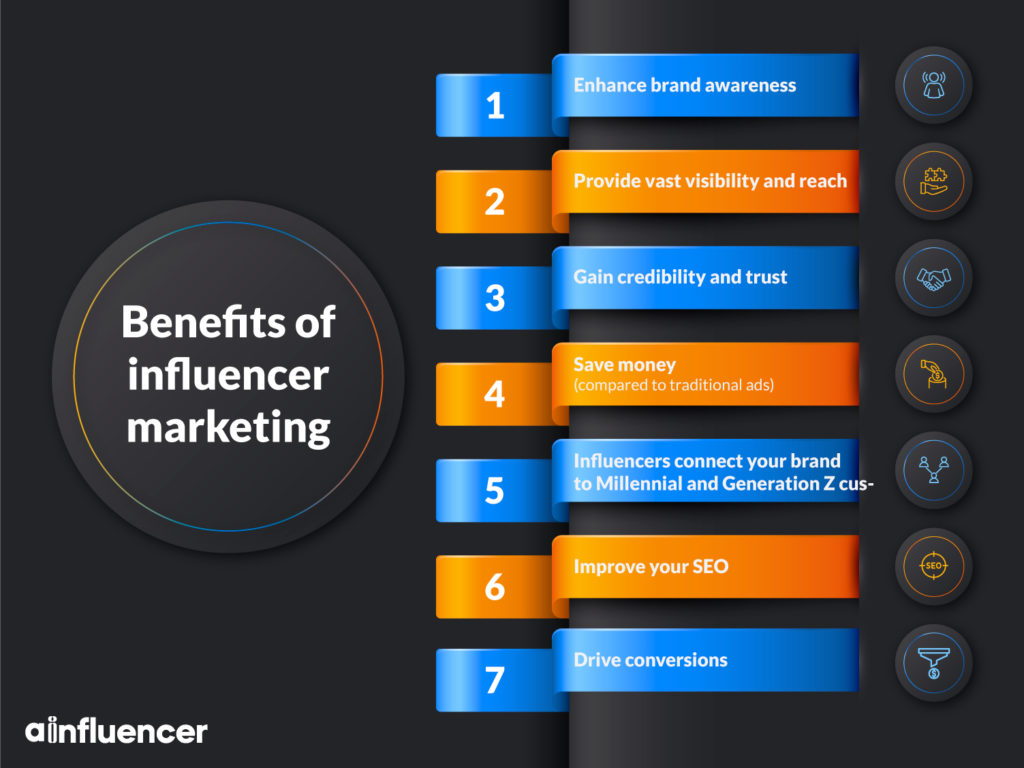 Influencer generated content is all the rage these days. The good news is that understanding how influencer advertising works and determining which social media influencers are most relevant to your activities can radically change and expand your business, making it a crucial marketing tactic.
Influencer marketing has a number of benefits that can aid in the stabilization and growth of your business model. Here are 7 indisputable benefits of influencer marketing:
#1- Enhance brand awareness
Improving brand awareness is one of the immediate benefits of implementing influencer marketing. A social media-savvy target audience will become acquainted with your brand, stories, and services. As a result, it's critical to produce valuable content that boosts your social media presence.
#2- Provide vast visibility and reach
Finding the right social media influencers in your industry or market segment is important. Influencer marketing is a popular way to market products and services. It uses social media platforms to connect with influential people who can help promote the product or service. This type of marketing can be very effective because it reaches a large audience.
#3- Gain credibility and trust
It doesn't matter what business you're in, there's always competition. Would you like to get ahead? Then it's important to establish your brand as one everyone can trust.
Social influencers can build trust with their audience by being transparent, authentic, and responsive.
When an influencer is transparent, they share all the information relevant to their brand or product. Authenticity is key because it ensures that the influencer is speaking from their own experiences and not from a paid advertisement. Responsiveness is essential because it shows that the influencer takes the time to listen to feedback and respond accordingly.
#4- Save money (compared to traditional ads)
Influencer advertising is a cost-effective way to reach a large audience, and it can help save money. Traditional advertising has a number of drawbacks, one of which is that businesses must pay on a constant basis.
Social influencers, on the other hand, will usually charge you a flat fee for each post they make.
There are many different ways to compensate an influencer in the process of Instagram influencer marketing. Sometimes, you can even get something posted for the cost of a product or service. Who doesn't enjoy getting something for free?
Affiliate links and promotional codes that result in direct commissions are also ways for compensating influencers.
#5- Influencers connect your brand to Millennial and Generation Z customers
Millennials are increasingly favoring digital media and contributing to its popularity. In today's digital-first world, Instagram influencer marketing is almost vital if you want to appeal to the millennial or Gen-Z market.
Attracting customers from these groups adds significant value to your business and gives you access to one of the most profitable demographics.
#6- Improve your SEO
You may also use influential marketing to increase your search engine optimization.
Your brand can enhance the number of backlinks to your website and social media accounts by influencer advertising.
Some social influencers, for example, have their own websites. They'll often place links there to products they endorse. Another way to employ backlinks is to include an affiliate link in social media posts. Backlinks can also come from third-party sites run by followers. The options are limitless.
#7- Drive conversions
Influencers can play a big role in driving conversions for businesses. They often have a large following, which means that they can reach a large audience and promote products or services to them.
This can lead to higher conversion rates for the business because more people will end up buying something as a result of the influencer's recommendations. Additionally, influencers often have unique insights that can help businesses target their marketing efforts better.
7 influencer marketing strategies
Now that you've learned what influencer marketing is and what the benefits are, you'll need to put some strategies in place to get the most out of your Instagram influencer marketing efforts. Here are a few influencer marketing tactics that work:
Influencer marketing strategy #1- Find the right influencer in your niche
Not all influencers will be right for your brand to collaborate with. You need to find the right influencer that best fits your niche through the following three steps:
Identify: Determine who the most influential people are in the area you wish to target. Look for the latest trends and discover which influencers are talking about them if you work in fashion, for example.
Analyze: Examine each influencer's previous campaigns, as well as their postings, values, and background. Their overall image must be consistent with your brand identity.
Calculate: Calculate their engagement rates by dividing their total number of followers by the average number of interactions (comments or likes on a post, for example).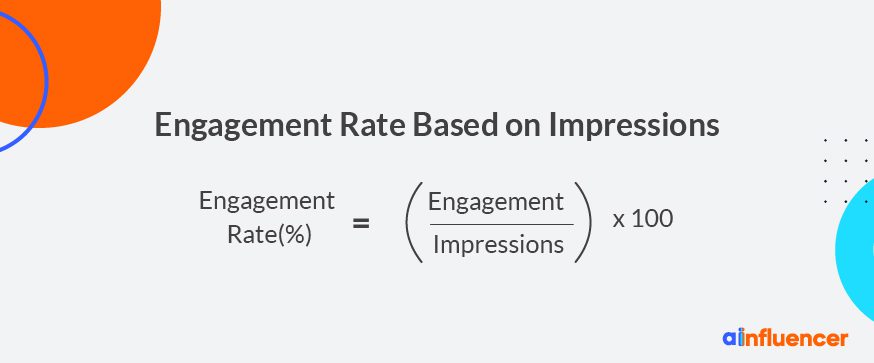 Influencer marketing strategy #2- Set campaign goals
Consider the following goals and influencer marketing KPIs for your influencer marketing strategy to execute successful influencer marketing campaigns.
Most marketing teams have two sorts of key performance indicators at a high level: brand awareness and direct response.
Brand awareness KPIs
Brand awareness campaigns focus on expanding a brand and creating buzz around its product or service. KPIs for brand awareness include:
Website traffic (the number of unique users who visit the site, the number of page views, clicks)
Social engagement and reach (likes, shares, brand mentions, hashtag use, followers, etc.)
Search interest
Media mentions
Direct response KPIs
Direct response campaigns are intended to generate a specific, quick response from the user. KPIs depending on conversions include:
Social media followers
Registrations
Email sign ups
Purchases
App downloads
Clicks
Account creation
Influencer marketing strategy #3- Choose the right social media channels
Social influencers who are well-known use a variety of platforms to distribute their content. Different formats, approaches, goals, and audiences are best suited to different platforms. According to Mediakix's survey, Instagram, YouTube, Facebook, Blogs, and Twitter are the top five most strategically essential social media networks for social media influencer marketing.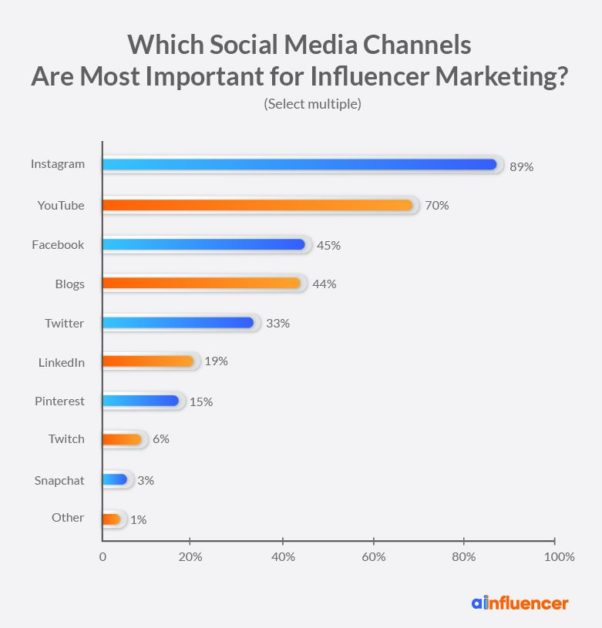 Influencer marketing strategy #4- Allocate your campaign budget
Before determining which influencers you decide to collaborate with, you'd better evaluate your budget. An effective influencer marketing campaign is not a one-size-fits-all approach. It's crucial to keep a close eye on things and follow up.
Depending on a company's size, influencer marketing expenses might be rather varied. With lower budgets, your brand can work with micro influencers and nano influencers. Or, if you have larger budgets, you can achieve the wide reach of mega and macro influencers.
Influencer marketing strategy #5- Decide the content strategy of your campaign
Influencer advertising is a great way to connect with customers and build brand awareness. The right content strategy can help you identify the right influencers and create engaging content that your customers will love.
Depending on the social media platform you choose to run your influencer marketing campaign, your content strategy varies.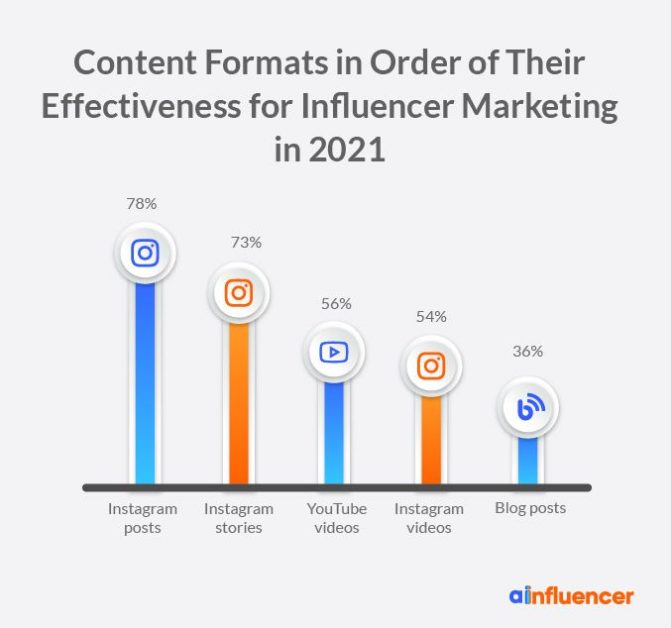 Influencer marketing strategy #6- Know your competitors
Would you like to stay ahead of the competition and make the most of your social media influencer marketing? Then don't forget about your competitors.
Don't copy someone else's approach to influencer marketing. It is just necessary to know what your competitors are doing. Analyze the platforms they're using, the kinds of content they're creating, the mistakes they're making, etc.
Influencer marketing strategy #7- research the right influencers and reach out to them
There are many different ways to help you identify influencers who are well-aligned with your brand. Below are a few methods to help you find influencers within your industry:
1. Manual search
You can conduct your research online using search engines like Google, ranking tools (Social Blade, Tubular Insights, GramAnalyzer, etc.) that may be used to scan ranks by channel, subscriber count, or category, and to analyze the following of certain influencers, and social media platforms themselves.
2. Databases
Databases are directories that allow businesses to find, filter, vet, and track social media influencers.
3. Influencer marketing hubs
An Instagram influencer marketing hub is a platform that functions as a two-sided marketplace that connects brands and influencers. These Instagram influencer marketing hubs provide businesses with a centralized location for finding and connecting with the right influencers, as well as tools and resources to help them manage their relationships and campaigns.
Ainfluencer is one of the top-notch Instagram influencer marketing companies that can help you take social media influencer marketing to the next level. Let's see how it works.
Ainfluencer
This 100% free Instagram influencer marketing platform makes it much easier for both brands and influencers to connect and collaborate.
Brands can create free marketplace campaigns on Ainfluencer. This ad will then be posted to the marketplace where thousands of qualified influencers can see and make offers for collaboration. Moreover, brands can also search and filter influencers, send them invitations, receive their offers, and use the built-in chatbox to negotiate and close the deal.
Influencers can download and install Ainfluencer's app to explore thousands of brands' ads, make offers, and negotiate the terms of collaboration.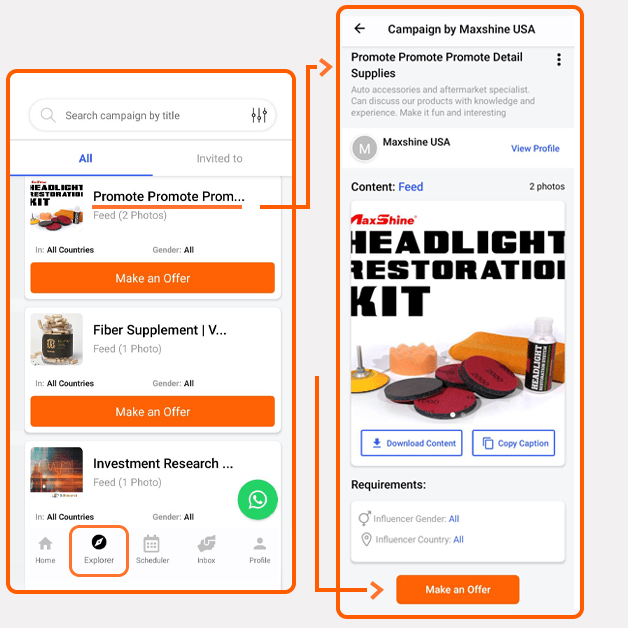 Brand Ambassador vs Influencer. Which is right for your campaign?
Now that you've made it this far, you know what an influencer is, but you're most likely more confused about the term ambassador.
What is a Brand Ambassador?
A brand ambassador is a person who represents and helps promote a brand in a positive way.
This person can be an expert in their field, have a large social media following, or be well-known within their community.
They can be paid employees or volunteers who are given specific tasks and responsibilities. Some common duties of a brand ambassador include attending events, blogging, and posting on social media.
To maximize ROI and buzz around the brand, brands look for brand ambassadors and influencers partnerships.
But, what is the difference between a Brand Ambassador and an Influencer?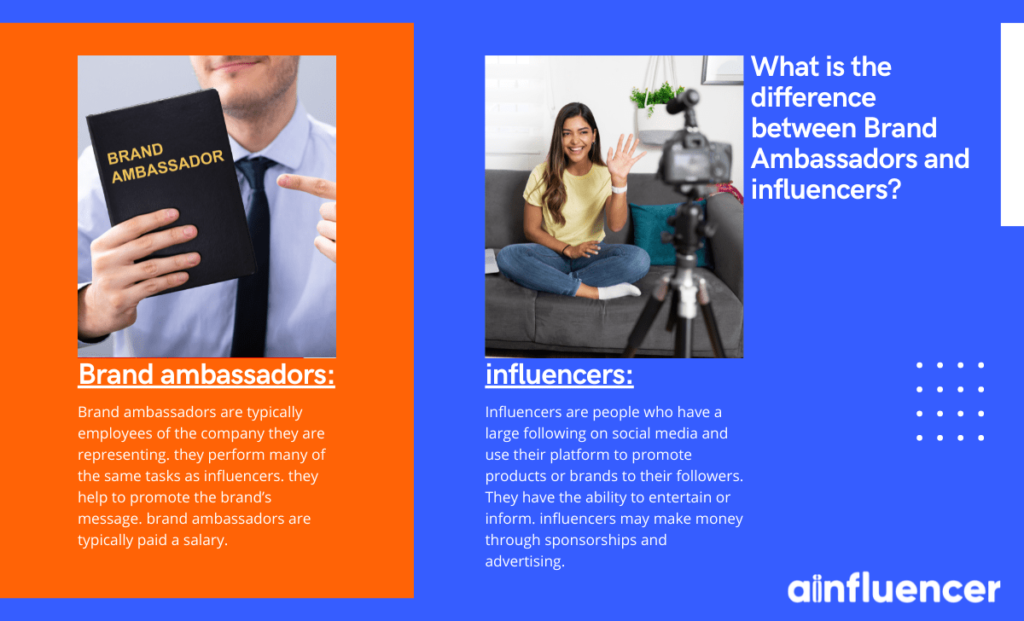 A brand ambassador is like an influencer, right?
Well, not exactly!
To answer that, you need to know what exactly a brand ambassador does!
A brand ambassador is appointed by a company to promote its product or service. They typically have a lot of experience with the product and often act as spokespeople for the company or brand.
An ambassador is associated with your brand for the long haul, as opposed to a short-term partnership with an influencer.
Brand ambassadors often do not set formal deadlines for their campaigns since they develop ongoing partnerships. Over time, an ambassador may become the face of the brand itself.
Since they avoid collaborating with your competitors, it makes them more dedicated to your brand, which allows you to stand apart from other competitors and be noticed.
As an ambassador, the connection with the target group will become stronger because you are likely to spend more time with them than having a brief interaction.
Brand ambassadors willingly extend the boundaries of the marketplace wider offline by adding friends, attending events, and community involvement.
Should you choose a brand ambassador or an influencer?
Brand ambassadors and influencers can both be great assets for your business, but which one is right for you?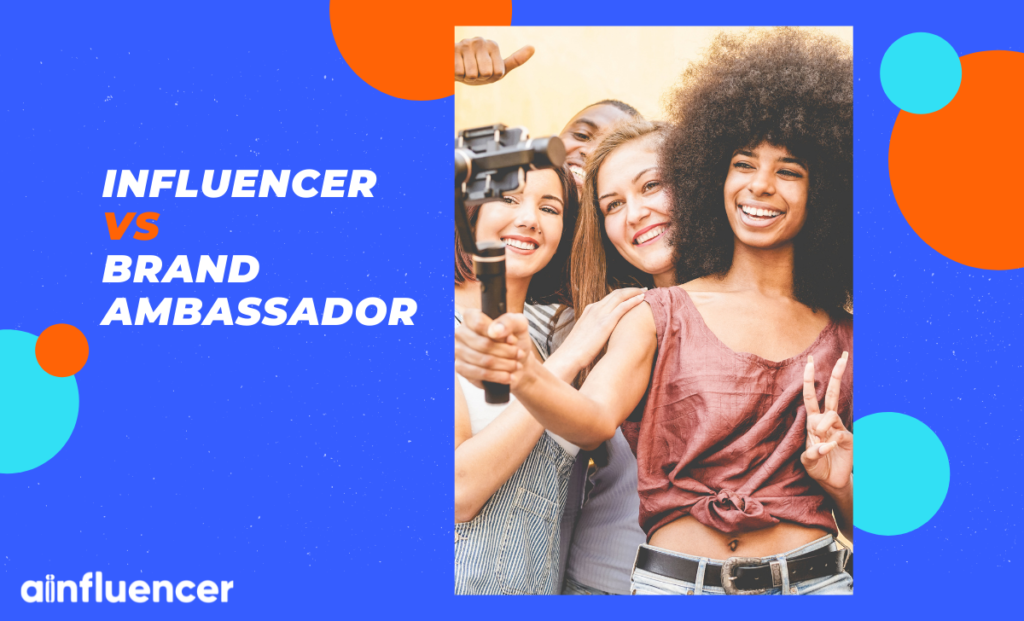 You can think of them both as individuals who work with brands to promote products in exchange for money, swag, or recognition.
Influencers create quality content that is unique and pleasing to capture viewers' attention. You're able to work with multiple types of influencers, from macro influencers to micro influencers, to reach a wider audience while entering new target markets as well.
On the surface, it seems like it makes more sense to work with Instagram brand influencers with a larger follower base. However, it would likely cost hundreds of thousands of dollars to collaborate.
And even then, only a small percentage of followers may be interested in the product, or a significant number may not at all trust their opinion on the matter.
Ideally, brands want an Instagram brand ambassador who has already used their product and shared it with their audience simply because they loved what it provided. This creates a strong connection between the person, the product or service, and the audience.
Deciding which one to choose really boils down to your campaign goals.
If you are looking for a broader reach, then influencers are better suited since they have tons of followers on social media platforms like Instagram.
By working with different types of influencers, you can always reach new audiences.
If you want to build customer loyalty, then maybe brand ambassadors are a better choice, who may have a smaller following online but can represent your brand online and offline, as we all know people trust friends' recommendations more than public figures!
Remember! There's no stopping you from choosing both. You could always be experimental yourself and test which one performs better in achieving your goals.
How to Find Influencers in Your Niche?
Whether you're using Instagram for small businesses and want to increase traffic to your website or an individual looking to build a following for your personal brand, having the right online influencers can help you achieve your goals.
Working with influencers can be a great way to reach a wider audience and build your brand. However, finding the right influencers in your niche can be a daunting task.
When searching for influencers, keep in mind that not all individuals who have influence in your niche are good candidates to work with.
Once you have identified an influencer, it is critical to determine whether they would be a good fit for your brand. Make sure to use reliable ways for finding them and research the potential influencers before contacting them.
You also need to consider how much influence the influencer has over their followers and how willing they are to promote your product or service.
As mentioned before, there are many possible ways to find influencers. Keep reading to find out seven quick and easy ways to do so:
Influencer marketplace
There are many influencer marketing platforms that specialize in finding influencers for particular niches. These platforms connect businesses with a variety of influencers who can help promote their products or services. There are many different influencer marketplaces available, so it's important to choose the one that best suits your needs.
Ainfluencer is among the best platforms:
Ainfluencer
Ainfluencer is a bustling marketplace of worldwide brands and Instagram influencers who are ready to connect and collaborate.
It is a free, safe, and easy-to-use platform that lets you find your targeted influencers on Instagram by specifying their gender, location, category, number of followers, etc., through its Al engine.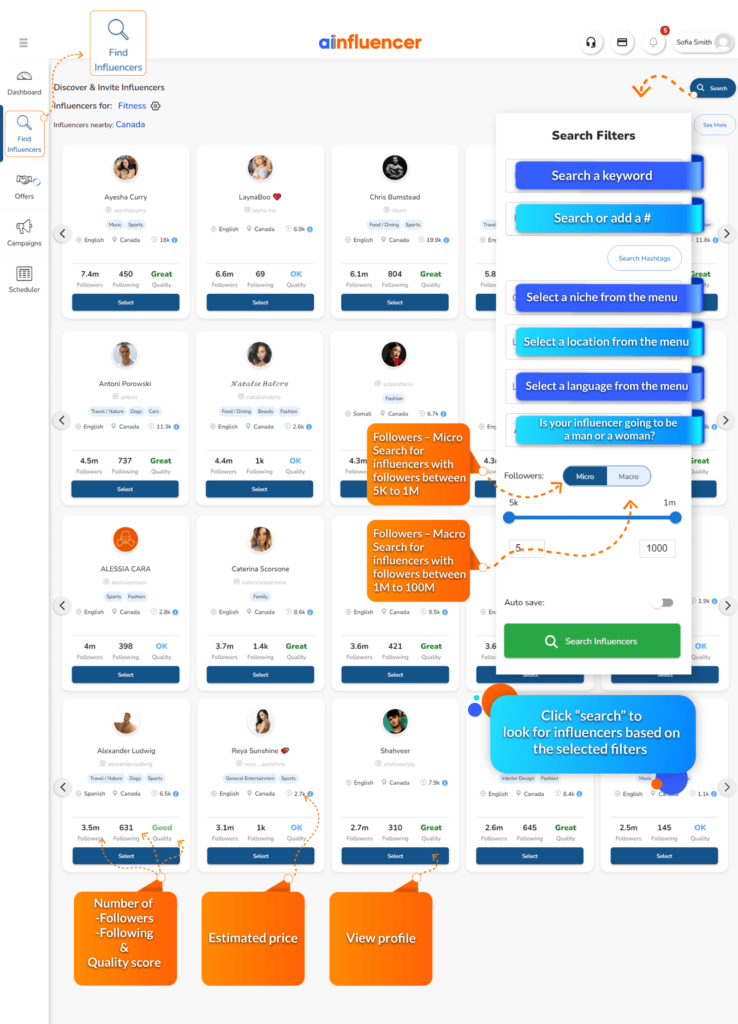 You, as a brand, can make descriptive ads about your campaign goals, explore and discover leading influencers in any area you care for, and then invite them to work with your brand.
To start your collaboration, you just need to follow a few steps:
Post a free marketplace ad on Ainfluencer
Register on Ainfluencer for free, create an ad from the brand side, and set the details for your proposed post.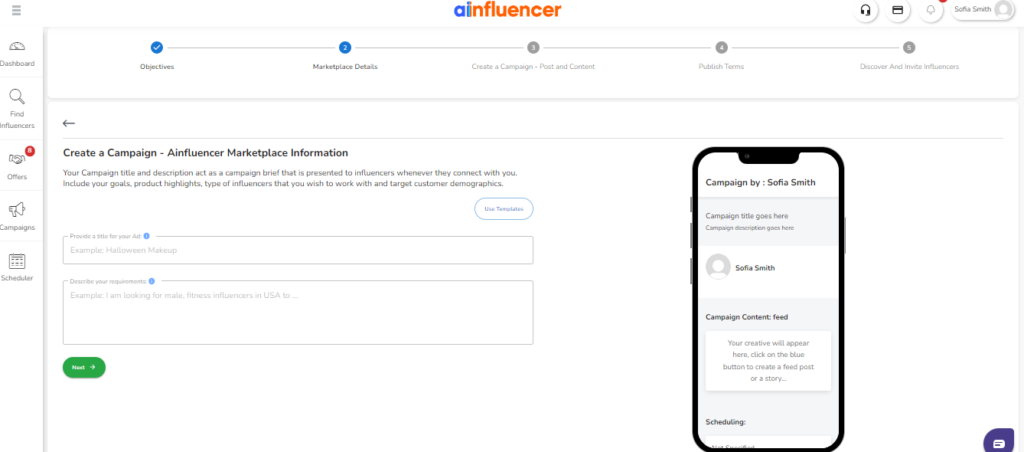 Explore and invite targeted influencers
Now it's time to start your influencer discovery process. You can search for your targeted influencers through Ainfluencer's advanced search features and invite the most related ones to your ad.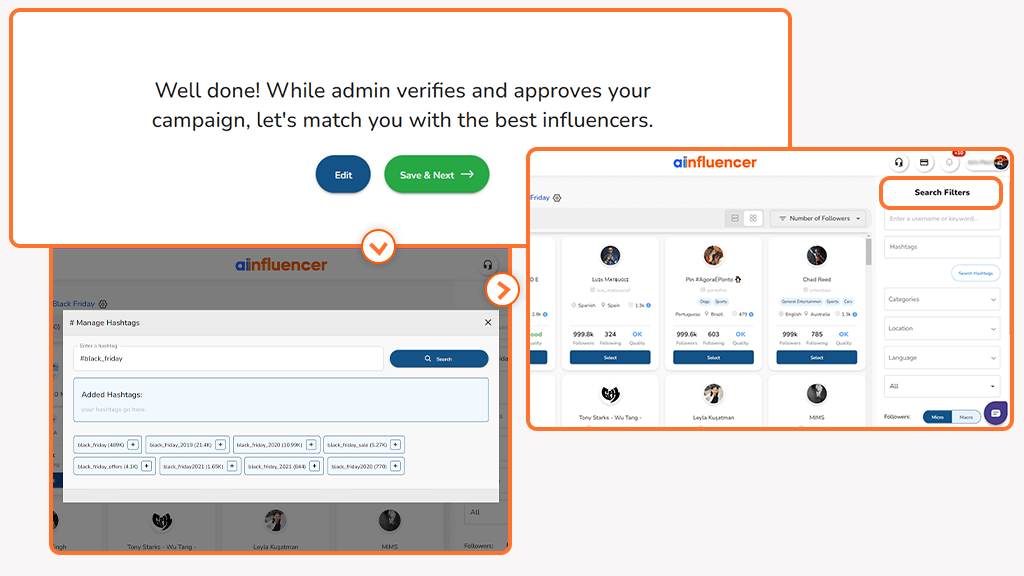 If your posted ad is open, influencers can see and access your ad and make offers for collaboration.
Chat with influencers on the platform
When you invite influencers to your ad, they can accept or decline your invitation. You can also accept or decline influencers' offers on your ad. Ainfluencer provides you with a safe chat box to negotiate and make deals.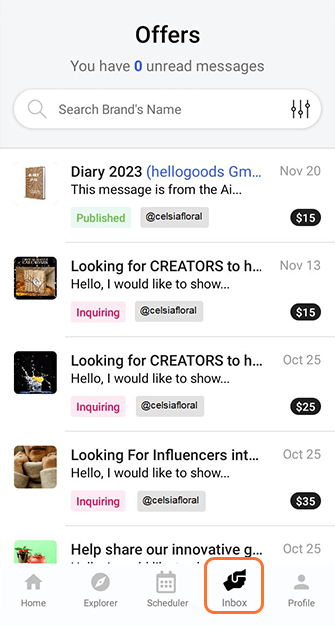 2. Google Search
As we mentioned before, using Google Search is one of the easy ways to find influential people in your niche. By typing key phrases related to your topic into the search bar on Google, you can quickly discover influential individuals and organizations who are already talking about the issue or topic at hand.
3. Hashtag Research
Hashtag research is also a great way to find influencers. By using hashtags and searching for keywords related to your product or service, you can identify people, posts, and accounts that are talking about that specific topic or issue.
4. Social media platforms
Do not forget to use other social media platforms such as YouTube or TikTok.
Not only do these platforms allow you to connect with potential customers and clients, but they also provide a platform for you to find influencers in your niche to collaborate with them, or just follow them, learn what works best for them, and emulate their strategies.
5. Checking competitors' sponsored posts
One of the other possible ways to help you come across potential influencers in your niche area is checking competitors' sponsored posts.
By doing so, you can identify which influencers are most likely to be interested in what you have to say and potentially endorse and promote your products and services.
6. Asking your followers
People usually follow brands and influencers in their areas of interest. So, if you're looking to find influencers in your field, try asking your followers who they think are the most influential people in your niche.
This will give you a good starting point for discovering some of the most influential ones.
7. Reading blogs
And the last tip for finding related influencers is to read blogs in your niche. By reading other bloggers' content, you can learn what other bloggers are doing in your industry and see what works and what doesn't for them.
Additionally, you can find influencers in your niche who can help guide and support your content.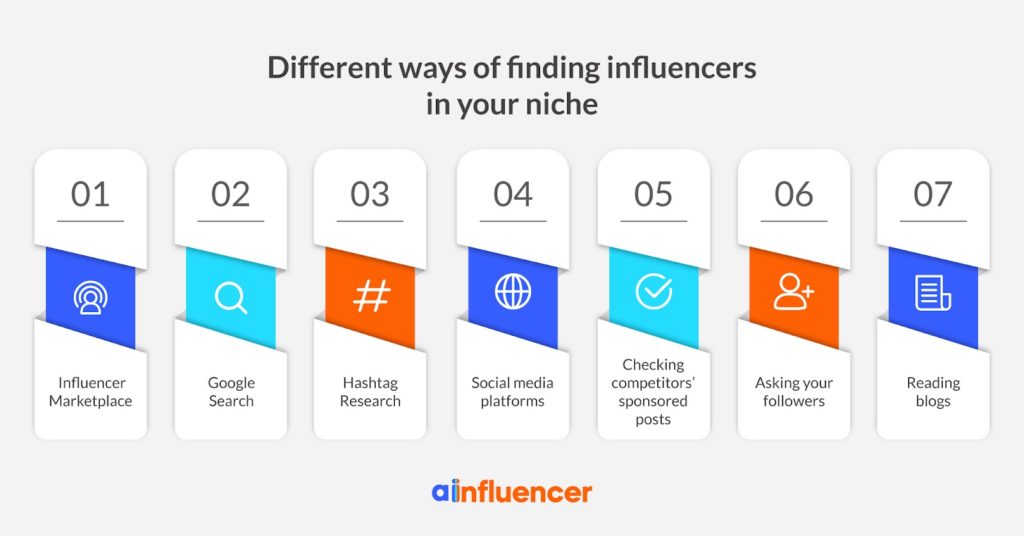 All in all, finding influencers in your niche can be a great way to grow your brand and get your message out there. It can also be an excellent way to connect with like-minded people and learn from their experiences.
By following the tips in this article, you can quickly find the right influencers for your business and start building relationships with them.
Why Do You Need Brand Advertising Campaigns on Instagram?
With its large following of potential customers, few businesses would miss the opportunity for brand advertising on Instagram.
Knowing which countries are leading the way with advertising on Instagram will help you target the right people in the best places.
Statista has ranked the top 20 countries in brand advertising on Instagram.
India and the US have the most extensive audience size in January 2022, while the list of these leading countries ends with Canada and Ukraine.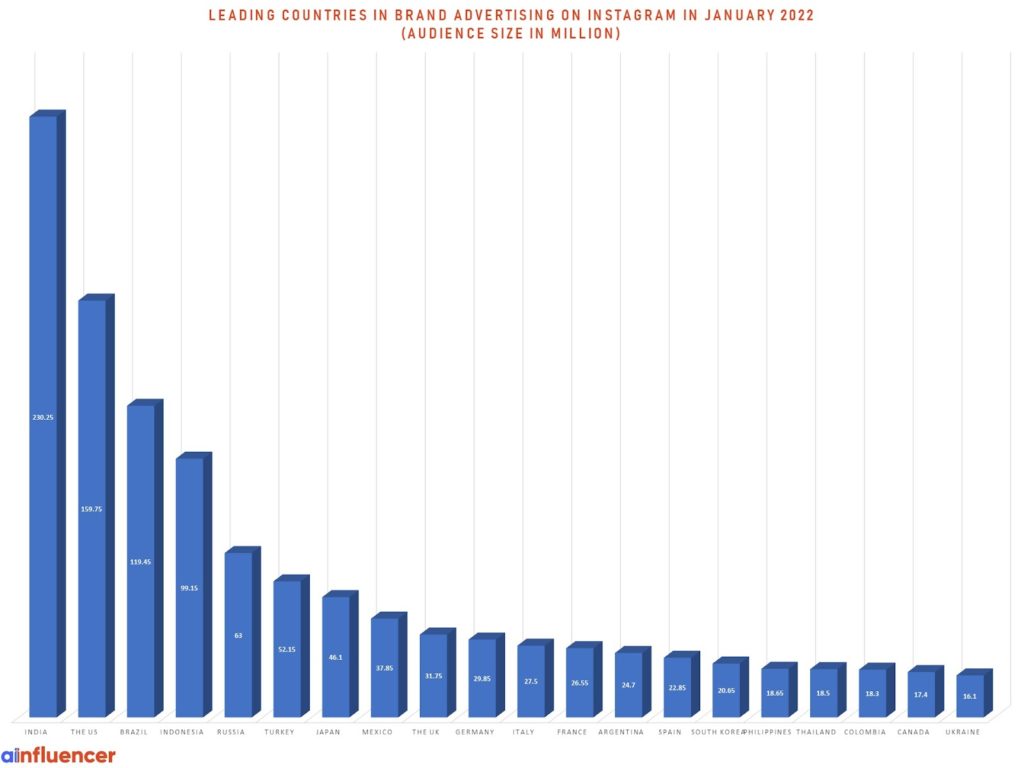 Instagram followers are likely to be more engaged with your brand content than followers on other social media platforms.
Additionally, sponsored content is well-suited for Instagram as users will often trust brands that contribute meaningful and valuable content.
By running brand advertising campaigns on Instagram, you can reach a wider audience and create lasting impressions that will help grow your business.
What Is Brand Advertising?
Brand advertising is a form of marketing that uses the name, logo, or other distinctive features of a product or company to draw attention to it.
Basically, brand advertising is divided into 4 categories.
Display Advertising
Video Advertising
Mobile Advertising
Native Advertising
When it comes to promoting a product or service, one of the most common methods is brand advertising on Instagram.
Instagram is an effective platform for reaching millennials and Generation Z.
It's easy to post updates and photos relevant to these audiences, making it an excellent choice for brands looking to advertise effectively.
How Does Brand Advertising Add Value to a Business?
Business advertising offers practical help to have a considerable number of people at least catch a glimpse of your product or service.
However, if it fails to add value to your business, your brand advertising won't necessarily generate any conversions.
So, you need to create your brand advertising on Instagram so perfectly that people will take the buyer's journey to the end, which means buying what you sell.
To do this, you need the right tool and the right technique. First, let's go with the right tool.
The Ainfluencer Instagram influencer marketplace is a great FREE tool for both small business advertising and global companies.
Click on the button below to join Ainfluencer and take your brand advertising to the next level using the features below.
To begin with, use Ainfluencer to set your goals and create perfect ads.
Furthermore, the Ainfluencer's influencer database and thorough search filter help you find the most targeted and niche influencers.
Then, you can contact influencers in your on-platform chatbox through the "Offers" tab and negotiate your terms.
Finally, manage all your brand advertising campaigns on your scheduler.
All these practices help you create the best business advertising on Instagram and attract 1000s of influencers to your campaign.
Now, this is time to learn more about the right technique. The buyer's journey is including 3 main parts – brand exposure, brand influence, and brand engagement.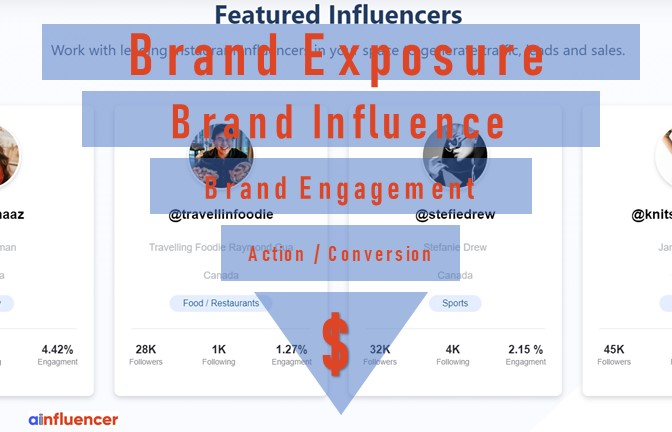 #1- Brand Exposure
As it's said, "the first impression is the best impression", exposure plays a significant role in establishing your brand identity.
The brand's logo, typefaces and colors, web presence, and other visual features are all determined by the brand's identity.
These details reveal a lot about the company.
For example, a serious corporate brand is very likely to have a more professional brand identity, which is reflected in a simple logo, basic fonts, and a simple web presence, among other things.
On the other hand, a less serious or recreational brand like a restaurant goes with more jolly elements.
#2- Brand Influence
Effective brand advertising builds a closer relationship with followers and potential customers interested in your niche.
This relationship depends heavily on trust and credibility, especially for local advertising campaigns to cushion the blow if you run out of the road for some reason.
#3- Brand Engagement
You could say you have been successful in the brand engagement stage when your business advertising has built strong connections with prospects. What does that mean?
That means your brand advertising builds a relationship with people based on the solutions it has to offer.
Once people know why they face challenges in marketing, learn how to tackle the issues, and become interested in what you have to offer, they become the most engaged and loyal followers of your brand's products and services.
This is what we call the Golden Circle in Marketing.
Brand Advertising Examples With Small Business Campaigns
As a small local business, you always imagine the challenge of standing out in the competition with larger companies.
However, there is one advantage you may overlook, and that's the power of a local audience.
There are many advertisement examples and advertisement ideas that you can learn first-hand experience from.
Here are some great brand advertising examples that small businesses can make the most of their marketing strategy.
1. Milk Handmade
Milk Handmade is a women's clothing that focuses on handcrafted items in a women's clothing boutique.
Milk handmade created a "secret sale" campaign through email marketing. Every email subscriber who showed up at the store and mentioned the "secret sale" was given a 50% discount.
To avoid drawing attention away from the campaign, Milk Handmade kept the email short, basic, and clean, with only one photo of a product that would be included in the sale.
2. OPSM
OPSM, a vision care company, launched the Penny the Pirate mascot to raise awareness of difficulties in children's vision from low-income families. The pirate mascot assists parents in identifying vision problems in their children through a movie. This mascot has assisted the corporation in raising sales by providing eye exams to over 300,000 children and drastically improving eyeglasses sales.
3. Mohop
The environmentally-sound footwear company, Mohop, produces interchangeable shoes with unlimited design variations. Their campaign centers around social media networking sites, say Instagram, Facebook, Twitter, etc.
What is important not to overlook is the power of words in smaller and local businesses. A simple statement such as, "support American artisanal manufacturing by SHARING our campaign", and voila! The level of loyalty and engagement in businesses of this size will do the work!
4. Always
The Always like a girl campaign is one of the best customer-based brand advertising examples.
As the company realized that they don't attract the 16-24 age range, they decided to concentrate on an important topic for these young girls.
According to the firm, over half of the females drop out of sports throughout puberty due to a lack of confidence.
What they did was embrace the negative "like a girl" expression and turn it into something encouraging for younger women.
Identify your target customers' profiles before determining their needs. You may showcase your firm in a way that appeals to their requirements and meets them where they are once you've figured out what each demographic wants.
5. Blendtec
The blender company Blendtec has been rolling in it by using the Videos and Multimedia strategy.
With more than 800,000 YouTube subscribers, the company's sales are booming thanks to the idea of showing how a "boring" industry can be fun by putting different things into blenders.
6. Intrepid Travel
The reason we put Intrepid Travel company on our top brand advertising examples list is their unique approach to embracing social media with UGC (User Generated Content).
UGC not only helps you build a closer relationship with your audience but also wins their trust, particularly with generation Z.
The content made by real users can be used to showcase your products, highlight the new services, and overall, encourage others to pay attention to you.
7. Glossier
Another business that makes it to our list of top brand advertising examples, for how they involve their audience and customers in their marketing is the cosmetics company "Glossier".
What they do on a routine basis is repost the customers' photos or videos on Instagram and Twitter as soon as they are mentioned on it.
Most people appreciate seeing their favorite businesses featured, which helps you generate new content with no effort. You may notice that as your client interaction grows, you'll have more individuals communicating with your company on social media and more fresh content.
8. Arby's
Arby's, the fast-food behemoth, has teamed up with Share Our Strength, a nonprofit that feeds hungry children. Last year, the company was able to earn over $15 million for the charity by asking consumers to round up their change as a donation.
Some professions are naturally suited to supporting a philanthropic cause. A restaurant, for example, might collaborate with a charity.
Although it's not always that easy to find the right charity relevant to your niche, once you do so, make it a part of your marketing materials.
How To Market A Brand On Instagram?
What distinguishes brand marketing on Instagram from other social networking sites is its visual nature.
On top of that, the statistics show its potential for businesses to promote their brand on the platform.
According to Social Insider the average ENGAGEMENT RATE per carousel, image, and video post is 1.92%, 1.74%, and 1.45% respectively, which makes Instagram the 2nd leading social networking site for marketers.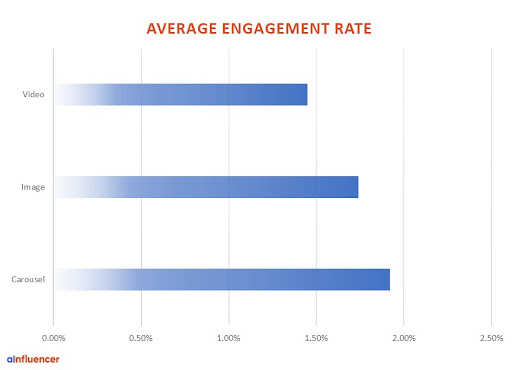 Although videos, images, and illustrations are all excellent content options for this social media site, your brand marketing strategy will ultimately determine what type of content to share and how frequently.
Establishing a strategy before jumping into Instagram, regardless of how well it works for other businesses, will keep you focused on your goals and, most crucially, your audience.
What Are the Top 4 Brand Marketing Strategies to Develop Your Business?
Let's say, you are thinking of a discount, an Instagram contest, charity, teasers, or a live launch; they are all creative ideas, aren't they?
But it is important to pick a strategy first. In fact, your brand marketing strategy defines your goal and primary focus, which not only helps you predict and plan your next step but also gives the insight to better your creativity.
1. Branding Company Name
Brand recognition, which means people know your brand's name, logo, slogans, packaging, theme, etc., is probably the first and most crucial factor to increase.
As a result, giving your company a distinct personality in your brand marketing defines your first strategy: BRANDING COMPANY NAME.
It enhances your brand marketing strategies while also engaging your target viewers.
2. Attitude Branding
Creating an emotional connection between the company and its customers is another brand marketing technique that can help bring the business to life.
This isn't always tied to the products you sell. It relates to what clients find appealing in terms of feelings, a way of life, or a sense of personal identity.
3. Individual Branding
Individual branding is a marketing approach in which a parent brand gives a product a new identity, such as a distinct brand name, and then allows it to operate independently.
Apple, for instance, is the parent company, but each of its brands has its own brand marketing strategy, such as Mac, iPhone, and iPad.
Another example of individual branding is the parent company Coca Cola which promotes its unique brands, including Diet Coke, Sprite, Fanta, etc.
4. Brand Extension
When a brand known for one type of product starts selling other types of products, it has adopted the brand extension strategy.
A perfect example of this brand marketing strategy is Google which started as a search engine but now is a leader in AI, providing email service, etc.
Why Is Brand Extension a Popular Marketing Strategy?
Brand extension or brand stretching is expected to be a successful strategy five times more than other brand marketing strategies.
Another reason that makes extension popular with brands is the strategy's main focus – increasing brand equity.
Brand equity, in simple words, refers to the brand's value that is determined by consumer perception of and experiences with the brand.
Further, increasing the brand equity means enhancing the following items.
Brand loyalty
Brand awareness
Customer perception
Brand identity
Brand image and association
So, extension is simply a household name when businesses try to pick a brand marketing strategy.
What Is a Brand Marketing Manager?
Over the top of brand marketing jobs, there is the person who is in charge of your brand presentation. This person will play the role of your brand marketing manager, and here are the key features they are responsible for.
Managing the marketing strategy
Working hand to hand with the marketing team
Balancing the budget
Gathering and analyzing data
On Ainfluencer, you will be the person who sets the goals and objectives for your campaign, use its database to find the right influencer, negotiate with them over your budget, and manage your campaign from scratch.
If that doesn't sound good enough, note that you can also use its user-friendly platform and service %100 for free.
6 Easy Ways to Generate ecommerce Sales From Instagram
The popularity of Instagram has led many businesses to turn to the platform in order to sell their products. Following that, Instagram marketing has become a crucial part of every business' social media toolkit.
Here are some easy tips on how to generate ecommerce sales from Instagram.
What is ecommerce marketing?
Ecommerce marketing is the process of creating a successful online business by marketing and selling products and services. It includes search engine optimization (SEO), pay-per-click advertising (PPC), social media marketing, email marketing, etc.
It is an essential part of any business' online strategy and should be implemented early on in order to keep up with the latest trends.
Instagram ecommerce strategies to grow your business
1. Work with influencers
Engagement is the key to your business' eCommerce Instagram strategy.
Instagram provides a unique platform for businesses to connect with influencers and create highly engaged followers.
Ecommerce brands should embrace working with influencers in order to leverage the significant role played by Instagram and content creators in the journey to online purchases.
Instagram influencers have already done the hard work of building a relationship with their audience and gaining their trust. When they recommend products, their followers go ahead and buy them.
An influencer campaign based on data-driven insights will deliver the best results. A strategy that reduces the time-consuming manual influencer search is using Ainfluencer. It gives you more time to devote to other critical aspects of a campaign.
On Ainfluencer, you can find and invite Instagram influencers based on their category, hashtags, location, number of followers, engagement rate, etc.
Despite other Instagram influencer marketing platforms, it's 100% FREE with no hidden fees.
2. Use hashtags like a pro
By using specific hashtags, you can help others find your content more easily.
They're great for promoting your account and increasing engagement on your posts. So, make sure to use the right hashtags on Instagram!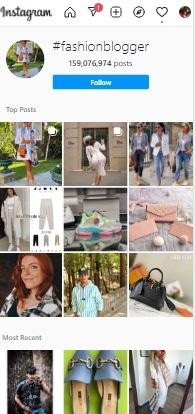 By using an Instagram business account, you can access Instagram insights. Then you can see if your hashtag strategy worked well or not based on the impressions you got from hashtags.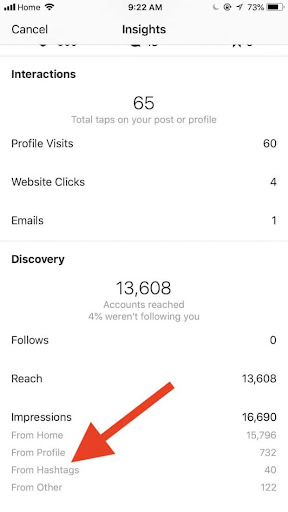 3. Make the most of user-generated content (UGC)
To leverage social proof, many businesses share user-generated content on Instagram by asking customers for product reviews or sharing photos/videos featuring real buyers using products, of course with branded hashtags. Then businesses can reshare such posts on their profiles and mention their customers.
Sharing user-generated content helps build a community, expand reach, establish trust for the brand and improve customer loyalty. Additionally, posting content created by users helps to cultivate an approachable, down-to-earth, and human brand image.
Shein encourages its customers to use the #SHEINforall hashtag or tag @SHEINOFFICIAL to get featured.
4. Instagram shopping
Instagram shopping has taken over as the new way to buy things. Not only is it fun and easy to do, but it also allows you to see what other people are buying and makes it easier to compare shops. Whether you're looking for a new outfit or a new book, Instagram shopping is the way to go.
Every month, 130 million people tap on an Instagram shopping post — showing just how strong the appetite for social shopping is.
With the shopping features, you can promote your product directly to your customers through your posts, Stories, the explore tabs, and the special shop tab.
5. Run ads on Instagram
By running ads on Instagram, brands can reach a large audience quickly and more easily. You can either retarget people you've already built a relationship with or target a new audience.
There are many different types of advertising formats on Instagram, including:
Image ads, Stories ads, Video ads, Carousel ads, Collection ads, Explore ads, IGTV ads, Shopping ads, and Reels ads.
So, it's important to choose the right one for your business.
Interestingly, 62% of Instagrammers become more interested in a product or brand after seeing it in their Stories.
Use a combination of both Instagram Story ads and in-feed ads for the best results. Also, use more video content in your ads as 31% of people who watch video ads end up buying.
You can also combine influencer marketing with ads as Instagram allows sponsored video ads where the post they publish can be converted into ads directly run by you.
6. Run contests
You can create contests, give away free products, and connect with your followers.
There are many ways to run a contest on Instagram and it's a great way to attract new followers and potential customers.
5 Tips on How to Build Brand Awareness on Instagram
Instagram is a great platform for brands to build and increase brand awareness. Following the right brand awareness strategy helps you create a strong online presence.
Before sharing any tips and strategies to increase brand awareness, first, you need to know what it is.
What Is Brand Awareness?
Brand awareness is the extent to which a person is aware of a brand. It can be measured in a variety of ways, including through surveys, focus groups, and consumer research.
There are two main components to brand awareness: recall and recognition. Recall is how well a person can remember a brand name or product feature. Recognition is how well a person understands the meaning of the brand name or product feature.
Are you ready to learn tips on how to take a brand awareness campaign to the next level by implementing the right brand awareness strategy? Let's get started.
#1- Optimize your Instagram business profile
You can pick between a regular profile and an Instagram business profile on Instagram. You need the latter. Do you wonder why? Because it comes with extra tools and features such as Instagram shops, Instagram ads, Instagram insights, etc., that you can use to grow your business. So, convert your Instagram profile to a business profile and then follow the tips below to optimize other vital aspects of your profile.
Choose a simple and recognizable user name.
Select an easily searchable business name.
Use a branded Instagram profile picture.
Write a bio that is both informative and intriguing.
Include a hashtag and a compelling CTA in your bio.
Share quality content.
Use Story highlights.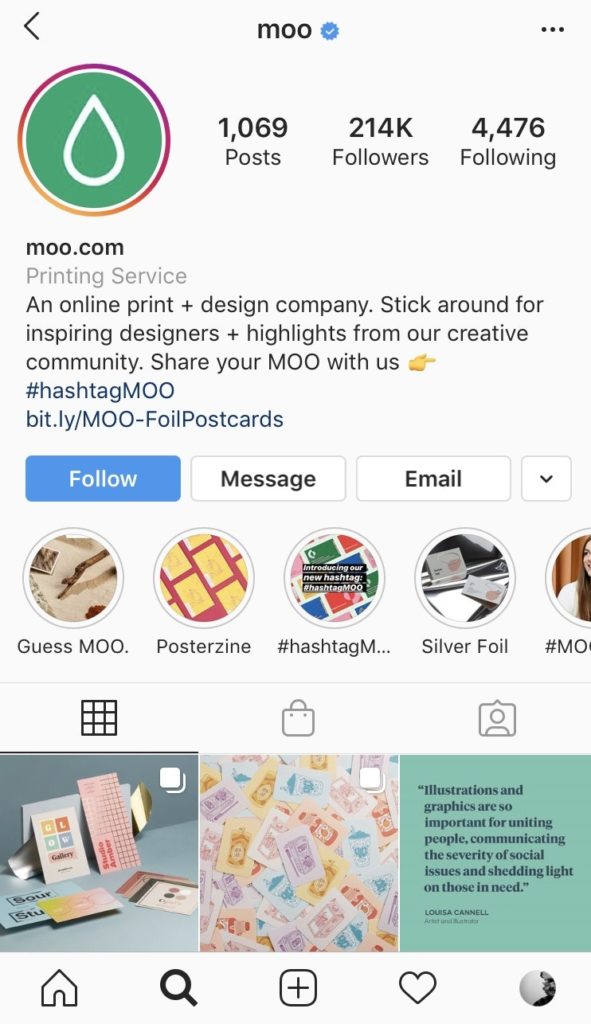 #2- Craft a content strategy that speaks to your ideal customers
Prioritizing a content marketing strategy that is focused on reaching and attracting your ideal customer is a brand awareness strategy that enables you to see tangible ROI from your brand awareness campaign efforts.
Here are a few practical strategies for attracting your potential consumers on Instagram to get you started:
Tap into content pillars that categorize your posts into themes or topics that are relevant to your audience and beneficial to your business. Here are three content pillars:
1.1- Educative and informative content
1.2- Inspirational and entertaining content
1.3- Engaging and converting content
Focus on creating a content strategy that solves problems for your audience educates them, and motivates them to trust and remember you.
Design share-worthy content.
#3- Strategically use hashtags
Did you know that posts with at least one hashtag receive 12.6 percent higher engagement than those without?
By researching and adding the right hashtags (up to 30 hashtags per post), you can boost the visibility and searchability of your Instagram content and get your brand in front of users who are interested in what you do, sell, say, etc.
#4- Cross-promote posts
One of the ways to increase brand awareness on Instagram is not to restrict your activities to only one social media platform. People are more likely to follow companies on social media that already have a fanbase.
If you have already established a presence on Facebook, Twitter, LinkedIn, etc. You can invite others to check out your Instagram account on such channels. It will enable you to pique their interest.
#5- Create a content calendar
A content calendar (sometimes known as an "editorial calendar") is a timetable of when and where new content will be published.
Creating an Instagram content calendar can help you with building brand awareness and produce great content on a consistent basis.
Brand Engagement Vs. Brand Awareness
Although both terms are the key elements of Instagram influencer marketing, brand awareness is the first step so IG users will recognize you, while brand engagement happens when your audience takes an interest in you.
So, when you design your Instagram marketing strategy, raising brand awareness requires more people to recognize you and remember your product or service among your competitors.
After that, they need to interact with you and purchase your product or service, which means you should increase brand engagement.
How to Increase Brand Engagement on Instagram?
You must understand how to keep yourself on a constant quest to enhance your relationship with clients if you want to increase your brand engagement.
The one strategy to build and increase customer engagement effectively is through your Instagram influencer marketing.
There are 5 main types of engagement besides ads on feed, Story, and IGTV that brands usually use to their advantage.
Promo codes (coupon codes)
Instagram Giveaways
UGC (User Generated Content)
Instagram Lives
Polls and Q&As
So, here is how to develop effective Instagram influencer marketing.
Ainfluencer Instagram influencer marketplace is a DIY marketplace that lets brands and influencers meet and make deals in the most effective way.
Join as a brand, create your campaign, find the right influencer, and think of the best brand engagement strategy to negotiate with your influencer.
Top Marketing Ideas Before You Start Your Brand Engagement Strategy
You should not overlook the fundamental elements of your brand engagement strategy before even starting to develop one.
Here are the top marketing ideas that help you build an engaging marketing strategy.
Identify your goals and objectives
Prepare high-quality content
Find the right influencer to partner with
Start your campaign and analyze it on a regular basis
Top Brand Engagement Examples and strategies
Top customer engagement campaigns often inspire other brands to think outside the box. Here are top 4 brand engagement examples and the strategies they used to make the most of their campaign.
1. Use Social Media Effectively: Jeni's Splendid Ice Creams
To increase brand engagement in marketing on Instagram, you need to understand your audience closely and create content close to what they love to see about you.
An effective way to gain that insight is to respond to your audience on a regular basis. In fact, you can't expect your audience to interact with you unless you interact with them first.
Jeni's Splendid Ice Cream, an American ice cream company and a great brand engagement example on Instagram, has mastered the art of audience communication using the same strategy.
Having regular conversations with their followers has proved to create an unprecedented impact on their audience's loyalty and engagement rate.
Here is why they are so successful in adopting this strategy.
Maintaining the average response time
Using UGC
Following their customers on Instagram.
2. Take the Advantage of Live Engagement: Goldsmiths
To provide a personalized service environment involving real-time content sharing, live discussions, and constructive interactions, a real-time collaboration platform that delivers a complete suite of customer engagement can be used.
Goldsmiths, the famous jewelry brand, uses live chat with voice and video chat support for better customer communication.
This function was added by the jewelry retailer to replicate the personalized service it provides in its physical stores, which has worked so effectively so far.
3. Drive engagement with email campaigns: InVision
Email is a vital part of any marketing strategy, and the effectiveness of your email campaigns is mainly determined by how well you structure them.
Every week, the InVision team sends out a newsletter with a selection of their finest blog posts, their favorite design links from the previous week, and a fresh chance to win a free t-shirt. They also have entertaining survey questions that they crowdsource for their blog on occasion.
InVision's newsletter not only has a wonderful variety of material, but it also has a perfect balance of photos and text, making it very easy to read and mobile-friendly, which is especially crucial given the length of its newsletters. On the call-to-action (CTA) buttons, they deploy smart copy.
4. Develop an Omnichannel Customer Engagement Strategy: Oasis Fashion
Customers today expect consistent experiences across many channels (such as the internet, social media, phone, in-app, storefronts, and so on) when contacting you for help or making a purchase.
In the United Kingdom, Oasis is a well-known fashion retailer. They do business both online and in physical places all around the world. The most interesting aspect, though, is how they combined both platforms to give a complete omnichannel customer experience.
To provide a more cohesive experience, Oasis connected all customer interactions. The carousel on their internet homepage displays the most popular things in-store. They also curate an Instagram collection of user-generated content that encourages users to model the items they've purchased.
7 KPIs to measure the success of the Instagram Influencer Marketing campaign?
It's critical to understand how to evaluate the success of an Instagram influencer marketing campaign, and you'll need key performance indicators (KPIs) to do so.
Are you looking for essential Instagram influencer marketing KPIs to track? We've put a list of them below. Let's dive in!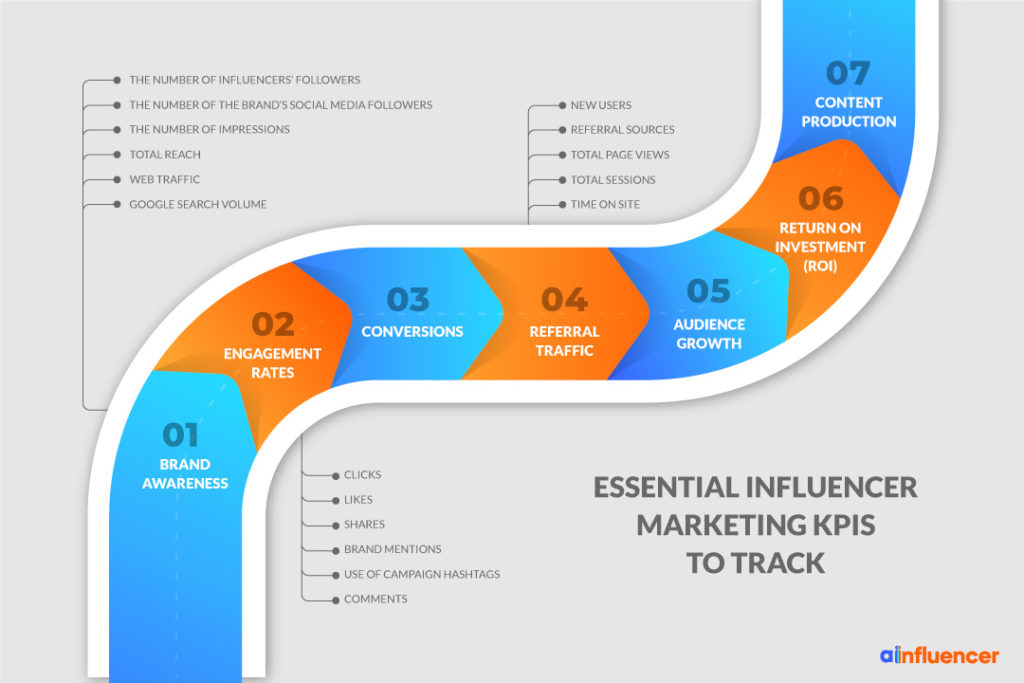 #1- Brand awareness
Brand awareness is the extent to which a person recognizes a brand name or product. Survey results, consumer research, and market share analysis are all examples of ways to measure it.
The following Instagram influencer marketing KPIs are used to measure brand awareness.
The number of influencers' followers
Total reach
The number of impressions
Web traffic
The number of brand's social media followers
Google search volume
#2- Engagement rate
Engagement rate is the percentage of users who visit a website or app continuously over a period of time. It is helpful in measuring the level of interest and engagement with a given product. Generally speaking, a higher engagement rate indicates that people are more likely to use the product and recommend it to their friends.
Keep track of the following engagement rate metrics to determine if your influential marketing on Instagram is a success.
Clicks
Likes
Shares
Brand mentions
Use of campaign hashtag
Comments
#3- Conversions
In influencer marketing, conversion is converting a lead or visitor into an actual customer. Conversions happen when your marketing campaign's target audience completes a desired action. This can include signing up for a newsletter, downloading an eBook, clicking on a link, or doing whatever else you want your prospects to do.
Note: You may track and attribute conversions using methods like promo codes, UTM parameters, and affiliate links.
#4- Referral traffic
The amount of traffic that the campaign generates for your website is a marketing campaign KPI that you should keep track of to see how successful your marketing efforts are. You can track the increase in traffic using tools like Google Analytics. It can be used to track metrics during specific time periods, such as those indicated below.
New users
Total page views
Referral sources
Time on site
Total sessions
#5- Audience growth
Although audience growth may appear to be similar to reach and awareness, there is a significant difference: just because a campaign had an impact on someone does not guarantee they were effectively brought into the fold.
So, if you see an increase in the number of people who are interested in or consuming a particular product or service, then you can make sure that you have chosen the right social media influencers and strategies for your marketing campaign.
#6- Return on investment (ROI)
ROI is a common financial metric used to compare the profitability of different investments. It measures how much money a company or individual returns on investment.
One of the most crucial Instagram influencer marketing KPIs to track is the return on investment. You have a positive ROI if the exact amount of money earned as a result of an influential marketing campaign is greater than the amount invested in the influencer campaign at the start.
#7- Content production
When you find your influencers and start collaborating with them, it's usual for them to be in charge of content creation. You have control over the content they create, depending on your agreement.
Influencers can also inspire their followers to create their own content, known as user-generated content (UGC).
Tracking the amount of UGCs created, and the amount and the quality of content produced might help you measure how effectively your partnership is going.
Affiliate Marketing on Instagram: 5 ways to make more money
Instagram is a powerful platform for affiliate marketing. With over 1 billion active users, Instagram provides an excellent opportunity to connect with potential customers and promote your products.
Instagram affiliate marketing is a way of earning money by promoting other people's products or services. When you sign up for an affiliate program, the company will give you a unique link that you can use to promote their products. When someone clicks on your link and buys the product or service, you will earn a commission.
The promotion can be anything from a product you sell on your own Instagram account or website to a service you offer as part of an affiliate program.
There are many different affiliate marketing programs, so it's essential to find one that has products and services that match your niche and your audiences' interests.
Affiliates on Instagram usually have an account with a large number of followers. They find products they want to promote, create a post, and add affiliate links to the post so that people can buy those products from their link.
Look at the affiliate link in the caption of the following post by travel influencer Anna Karsten:
Affiliates can also put the link on their Instagram account bio: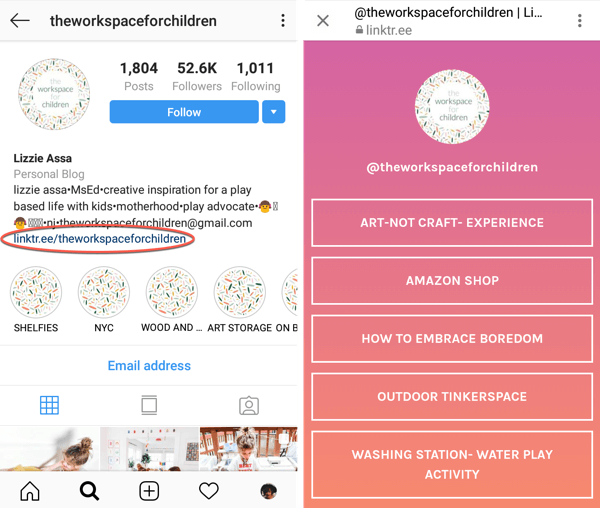 4 other ways to make money on Instagram
There are several other ways to monetize your account on Instagram. We'll discuss four of them below:
1. Sponsored posts
Sponsored posts have become a common way of making money on Instagram. With sponsored posts, influencers get compensation in exchange for promoting a product or service.
Using sponsored posts can be an effective way for brands to reach a large audience on Instagram, create awareness, and increase customer loyalty.
Here is an example of a sponsored post by Anuschka Fredericks:
2. Selling products
Another way to make money on Instagram is to sell products through your account. You can set up a shopping account and start selling items directly to your followers.
You can sell products you've personally created or sell other businesses' products.
Look at the posts of the following account:
3. Providing services
There are a few ways to monetize your Instagram account, and one of them is to provide services to your followers. For example, you can teach things like another language, Yoga, photoshop, etc., on your Instagram account.
Here is an example:
Make sure you focus on providing valuable content and services relevant to your audience and offer something people cannot find elsewhere. With an active Instagram account and good marketing strategies, providing services will be easy enough to turn into a profitable venture.
4. Making money off your content
If you're like most content creators, you probably think of Instagram as a fun way to share photos with your friends and family. But if you're looking to make money off your account, there are a few things you can do.
Visual content is one of the most popular forms of marketing on Instagram. If you want to monetize your account and make money from your photos, start creating high-quality visual content that can be sold to others.
Use captions to tell a story. Create a narrative around each photo, and use captions to help readers understand the context. This will help you create more engaging content that users will want to see again and again.
Additionally, do not forget to use trending hashtags in your caption to attract more audiences.
Take a look at the following post by Laura Vilà Degonse. She captured a great photo and shared it on her Instagram account:
And here's the post of that company using the same photo on their Instagram feed:
So, you can apply the aforementioned ways to make money through affiliate marketing on Instagram. Make sure to keep track of your statistics to see what is working and what isn't.
Conclusion
In conclusion, using Instagram influencer marketing can be an extremely effective way to reach a large audience. However, it is important to do your research and select the right influencers for your brand. You can use an Instagram influencer marketing platform to ease the process.
By targeting the right influencers, creating engaging content, and following the other tips mentioned in this guide, you can boost your brand's visibility and drive traffic to your website or account.