In today's marketing landscape, influencer marketing stands out as one of the most effective marketing strategies for companies, brands, and small businesses.
Linqia's report suggests that in 2019 alone, 57% of the respondents believed "influencer content out-performed brand-created content."
Influencer marketing is an industry still on the rise, and the stats have indeed grown since then.
Working with influencers can help your small business work around common barriers to promoting it, such as using ads.
In this article, I'll introduce 6 benefits of influencer marketing your small business can reap.
If you're looking to attract more people to your business, increase sales, generate more revenue, and other key advantages, reading this blog post is what I suggest you do.
Keep scrolling to find out how you can gain numerous advantages by including this marketing method in your strategy.
What is Influencer Marketing?
Influencer marketing is a type of marketing with a focus on using key individuals (aka influencers) to deliver a business's message to relevant, larger markets.
It's a combination of traditional and modern marketing tactics since it takes the idea of celebrity endorsement and couples it with exclusive content and online campaigns.
In influencer marketing, you, as a business owner, deal directly with one or more influencers to get your message across their social media accounts.
Influencers are people with established authority in a specific niche and a loyal audience.
They connect consumers to businesses by influencing other people's opinions and encouraging them to take action on something specific.
Influencer Marketing Benefits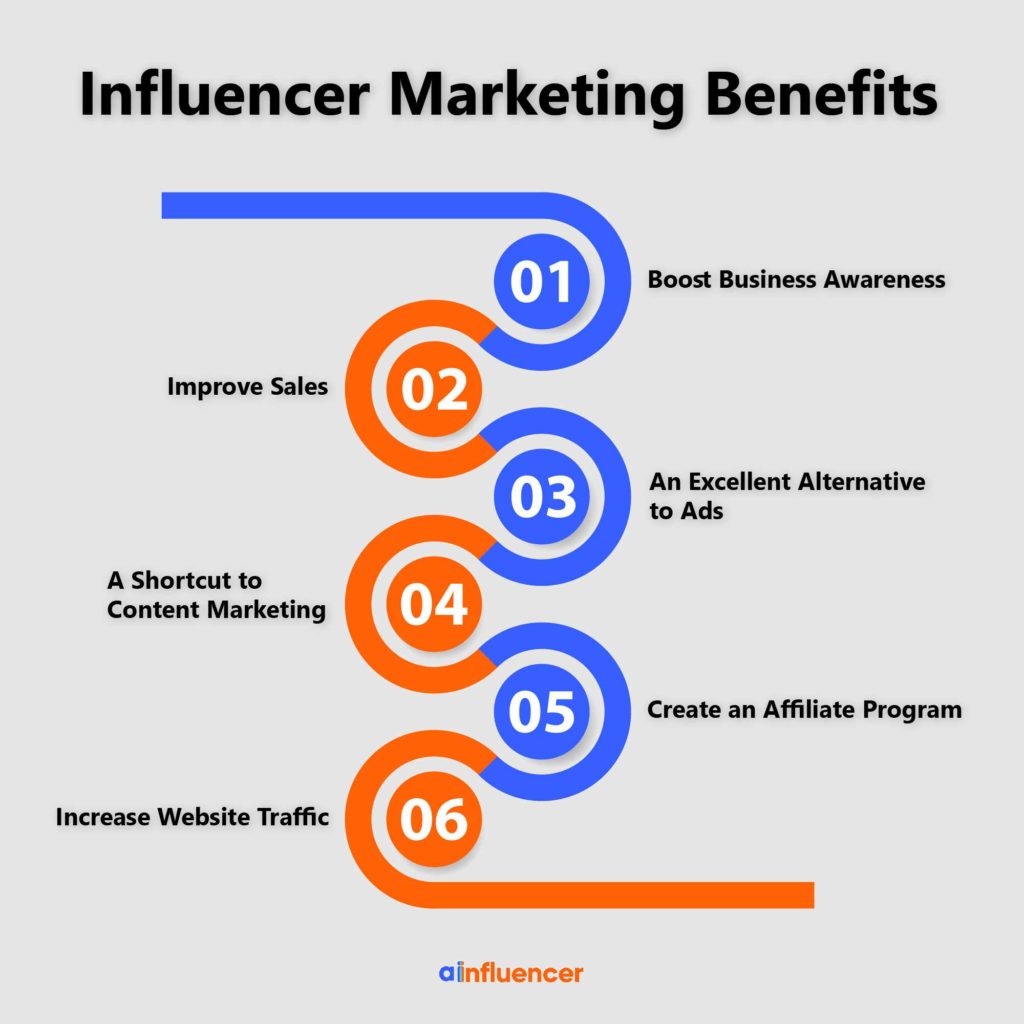 Benefit #1: Boost Business Awareness
The primary advantage your small business gains with influencer marketing is pushing it in front of the right people.
You want to reach out to customers in new communities and make them aware of what services or products you have to offer.
Influencers can help you achieve this purpose and increase brand awareness.
Now you're thinking, "Why should I invest money just to make my business more visible?"
Because by boosting awareness through an influencer's recommendations, people will feel they can trust your business.
When you become a trusted name in your industry, you'll attract more potential customers, and I don't need to tell you what this means.
Benefit #2: Improve Sales
In addition to creating exposure, influencer marketing helps your small business by improving sales and generating more revenues.
You can drive more people to use the services and products you have to offer by letting influencers promote them.
This is effective because the influencers' audience is loyal and interested in what the influencer recommends.
Therefore, their audience is more likely to take action than when they're reached out directly by a brand.
If you find niche-relevant influencers to promote your business, you'll stand a better chance of seeing a more significant number of customers that could possibly result in more sales and revenue.
Benefit #3: An Excellent Alternative to Ads
The third benefit your small business can reap from influencer marketing is getting your message across different communities in a natural, friendly tone.
We live in a world where ads are screaming at us from every direction, calling us to action.
Every one of us comes across an ad at least once a day.
These are just annoying and disruptive to our online experience.
Statista's forecast for 2021 shows that among internet users of all age groups who use the internet at least once a month, 27% use ad blockers.
That number is why your business should consider working with influencers.
You don't want to risk having your ads blocked and irritate people with them.
Influencers promote what you offer them in a natural tone without being pushy or deceitful.
This helps your customer outreach strategy to be more effective.
In addition to being an organic approach, influencer marketing is a lot cheaper compared to advertising.
Benefit #4: A Shortcut to Content Marketing
Another benefit that comes with influencer marketing is having to invest less in a content marketing plan.
Content marketing refers to using different content formats to bring value to an audience.
Although it's an essential part of every small business, it best produces results in the long term.
However, when you decide to collaborate with influencers, you don't have to pay extra for their content creation costs.
They're responsible for curating content that best fits your business's nature and promoting it on their social media profiles.
However, I'm not suggesting you cross-content marketing off your plan.
I'm just saying when influencer marketing is an integral element of your strategy, you could lower the budget for content marketing.
Benefit #5: Create an Affiliate Program
Furthermore, with influencer marketing, you can gain the advantage of having your own affiliate program.
Affiliate programs pay commissions to influencers or other affiliates based on sign-up numbers, purchases, or other factors.
When your business works with several influencers, you have the opportunity to structure an exclusive affiliate program.
By offering promo codes or/and affiliate links to influencers, tracking engagement, clicks, downloads, and purchases become easier for you.
Having your own affiliate program further helps you with deepening your online authority.
Benefit #6: Increase Website Traffic
Finally, the website of your small business can experience traffic growth with influencer marketing.
Website traffic refers to the number of users that visit your site.
Each visitor creates an opportunity for you to add to your customer list.
The more website visitors you have, the more leads you generate and boost sales.
More sales and revenue are things all businesses, regardless of their size, pursue.
Influencer marketing not only allows you to achieve both but also lets you do so at a lower cost compared to other marketing methods.
The Wrap
Boosting awareness, improving sales, an alternative to ads, a shortcut to content marketing, structuring an affiliate program, increasing website traffic.
These are the top influencer marketing benefits your small business, or even a business of any size can reap if the correct strategy is implemented.
What other advantages are there to influencer marketing?
In case you think we left out any, feel free to comment below and let us know.
We'd be glad to hear your opinions.