Today's complicated business landscape aspires entrepreneurs and business owners to seek help and mentorship from those who have already faced the storms when setting up a business of their own.
But let's be honest, it's not always possible to get in touch with such people and benefit from their advice and collaborate on different promotional campaigns.
Cooperating with business influencers has gained popularity among many business owners and marketers mainly due to its high ROI.
So keep reading to discover the top business influencers who can help your business flourish.
How to find top Instagram business influencers?
Among different social media platforms, Instagram continues to reign supreme as the primary communication channel for these business-savvy individuals who share their thoughts and experiences with their followers.
There are different ways to find Instagram business influencers. You can find Instagram influencers by searching through hashtags, checking out followers, searching through location tags, Googling, using an influencer database, and using an influencer marketing platform or marketplace.
But to be honest, the easiest and quickest way is to use influencer marketplaces such as Ainfluencer.
Ainfluencer
Ainfluencer is one of the free, safe, and secure influencer marketplaces. This marketplace acts as a middleman to help both brands and influencers connect and collaborate.
As a brand, you should create descriptive ads, research and discover influential people in your niche, and encourage them to participate. You may find your target influencers by using filters like location, gender, amount of followers, etc.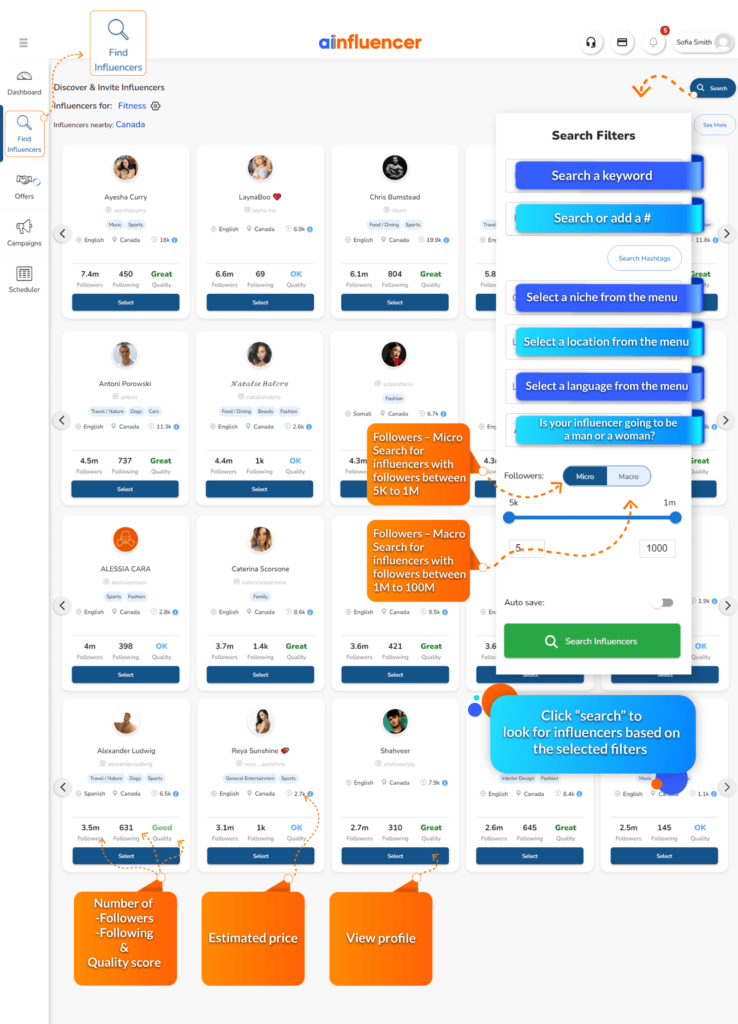 Top Instagram Business Influencers
1- Melanie Mitro (@melaniemitro)
Melanie is one of the successful entrepreneurs who does network marketing leadership. As one of the business influencers, she has 93.3K followers on her Instagram account and helps leaders in direct sales build top-producing organizations.
2- Cyndi Garza (@cynthiadgarza)
Cyndi Garza is a professional business coach and strategist. She shows you how everything is possible through great leadership.
As one of the top business influencers on Instagram, with more than 7.7K followers, her Instagram account can help you have a successful career and make the most of your business.
3- Claire bahn (@clairebahn)
Claire Bahn is a personal brand strategist who helps her clients maximize their authority and influence to accelerate business growth and gain recognition.
She is one of the entrepreneur influencers on Instagram, with 51.4K followers. Her Instagram posts can also help you increase the authority, visibility, and credibility of your brand.
4- Kimber (@itsmekimber)
Kimber is one of the successful businesswomen on Instagram, with 12.7K followers. This business mentor helps solo entrepreneurs start and scale freelance businesses where they're the boss.
5- Tiffany Napper (@tiffanynapper)
Tiffany Napper is a Nashville, New Orleans-based PR Agency CEO and holistic business coach. As one of the professional businesswomen, she uses her knowledge and influence to help you and your creative business soar.
6- Morissa Schwartz (@morissa_schwartz)
Dr. Morissa Schwartz is a talented wordsmith and entrepreneur, best-selling author, magazine personality, and public speaker who developed a profitable business empire.
Dr. Morissa Schwartz is the owner of DrRissysWriting.com – a 360 marketing company called the top social media and PR company as seen on Forbes, and GenZPublishing.org – a publishing company focused on publishing diverse authors, which has produced over 15 Amazon bestsellers. She graduated from Drew University with a doctorate in literature and a master's degree in corporate and public communication.
7- Sonja Rasula (@uniquemarkets)
Sonja Rasula had an idea in 2008, during the worst economic crisis in generations in the United States, to establish something BIG to aid small, unknown brands and artists. She put her whole retirement funds on the line that December to create Unique LA (the original name), an interactive and innovative kind of retail… It quickly became the country's largest indoor, curated shopping event, with 225 sellers and other installations and activities!
8- Theresa Runyon (@iamwankaego)
Theresa Runyon, also known as Wankaego, is an American rapper, entrepreneur, Instagram star, and online media VIP. She is renowned for sharing her design, demonstration, way of life photographs, and recordings via online media stages, particularly on Instagram. She is otherwise called the author of Slayed By Kae and Get That Coin Sis administration brands.
As one of the successful entrepreneur influencers on Instagram, she has 231K followers.
9- Joe Mccarthy (@realjoemccarthy)
Joe Mccarthy is one of the top business influencers on Instagram, with 268K followers. This entrepreneur is the head of sales at @gwuagency_, a marketing agency that offers creative services to grow your personal brand or business.
10- Nick McCandless (@nickmccandless)
Nick McCandless is a software and digital business pioneer and serial entrepreneur. He has extensive experience both on and off camera in the entertainment industry in Hollywood. He has a proven track record of launching hundreds of successful software products for companies ranging from startups to Fortune 500 companies.
As one of the top business influencers on Instagram, he has over 229K followers.
11- Tom McCarthy (@thetommccarthy)
Tom McCarthy is a professional business coach who has gained 142K followers on Instagram for his coaching posts and Stories.
He's also America's High Stakes Performance coach, Forbes Knowledge Innovation Center expert, and the author of The Breakthrough Code.
12- Cesar Gomez (@cesargomez909)
Cesar Gomez is a successful entrepreneur, Amazon & Airbnb management leader, sales agency leader, and an NFT and Crypto expert.
He has 50.8K followers on his Instagram account and shares content about all the above-mentioned businesses to help his followers.
13- Breanna (@isisbreanna)
She is the purpose-driven business coach behind Brown Girl Biz World and The Digital Sales Guru —which is also a nickname given by clients! This certified business and marketing strategist for coaches is considered one of the top business influencers on Instagram, with 76.2K followers.
14- Moe Jaman (@moe.money.jaman)
Moe Jaman works as a business consultant. He is the CEO of @diamondglobal.agency which is a marketing agency that helps you take your brand to the next level.
15- Vinny Leadgen (@vinnyleadgen)
𝐕𝐢𝐧𝐧𝐲 is one of the top business influencers you should follow if you need to get an automated lead. This digital marketing expert has 39.5K followers on his IG account, and you can DM him to learn more about IG marketing strategies, content marketing, sales strategy, etc.
16- Joshua Crisp (@officialjoshuacrisp)
Joshua Crisp is known internationally as an eCommerce expert specializing in Amazon & branding. Joshua's physical product brands have collectively grossed over 11.2 Million dollars in revenue.
He is a mentor & coach to 1,000's students in over 63+ Countries, a software CEO, real estate investor, educator, and entrepreneur who has amassed 348K followers on Instagram and is one of the top business influencers.
17- Tanner Chidester (@tanner.Chidester)
Tanner Chidester, an American bodybuilder, entrepreneur, businessman, personal trainer, and CEO headquartered in Los Angeles, was born on January 16, 1992, in Salt Lake City, Utah. He is the founder of the Fit Warrior training program and the developer of the ptmode application aimed to help other trainers coach, market, and make sales online. He also wrote a book called Infinite Income.
18- Philip Michael (@yfwtb)
Philip Michael was born on 1 April 1984 in Aarhus, Denmark is a real estate developer, serial entrepreneur, and the CEO of @nyceapp.
19- Adrian Morrison (@adrianmorrison)
Adrian Morrison, an eCommerce entrepreneur, author, speaker, and certified Shopify educator, has gained 202K followers on his Instagram account and is considered one of the well-known business influencers on Instagram.
20- Clayton Morris (@claytonmorris)
Clayton Morris is an American actor, journalist, television presenter, radio personality, real estate entrepreneur, and real estate investor. He is a host of the investing in real estate podcast and a former co-host of The Daily Buzz and Good Day Philadelphia on Fox's WTXF-TV who moved to co-host Fox & Friends on Fox News Channel in 2009.
21- Dinasty (@coachedbydinasty)
She is a business coach, marketing specialist, and social media strategist who helps you start, grow, and fund your online business. If you are looking for one of the best entrepreneur influencers, you can DM her to connect with her and make money online.
22- Skye Harris (@iamskyeharris)
She is a wholesale expert and a successful entrepreneur. She has 160K followers on her Instagram account. She shares posts and Stories about business tips and resources, quotes, etc.
23- Shan (@bossdivas)
As one of the top business influencers on Instagram, she has 157K followers. This digital marketing educator and a multi-six-figure earner is ready to learn her strategies to her followers so they can do the same and make a fortune.
24- Jessica Hawks (@itsjessicahawks)
Jess is a virtual assistant coach who uses her influence to teach young entrepreneurs the skills they need to become booked out online. Jess is one of the well-known entrepreneur influencers who currently has 129K followers on her IG account.
25- Ben Oberg (@benoberg)
This entrepreneur is well known for founding the Millionaire Mafia mentoring and training program. As a self-made millionaire, he has gained tremendous notoriety for his _millionairemafia_ Instagram account, which he uses to share encouraging messages and lifestyle photographs.
26- Gary Vay-Ner-Chuk (@garyvee)
Gary Vaynerchuk is always at the top of the list when it comes to business influencers and well-known entrepreneurs. He is an American entrepreneur, investor, writer, lecturer, and digital celebrity with a large following. Gary became the manager of his father's store after graduating from college. He converted a $3 million family firm into a $60 million a year business a short time afterward.
Gary acquired notoriety for pioneering digital marketing and social media technologies while running the New York-based enterprises VaynerMedia and VaynerX.
His Instagram feed is a gold mine of business-related knowledge as well as motivational content to get off the couch and move mountains.
27- Simon Sinek (@simonsinek)
Simon Sinek is a motivational speaker and author who is known for his "Golden Circle" theory of leadership. His TED Talk on the subject has been viewed million times, and he has written several books on the topic. He believes that businesses should start with why they do what they do to succeed.Sinek has one of the best business Instagram accounts with 1.6M followers, where he shares lots of inspiring videos, quotes, and tips to help other businesses.
28- Steven Bartlett (@steven)
Steven Bartlett is a social media commentator, entrepreneur, and co-founder of Social Chain. He is also the co-founder of the SRI Foundation, a non-profit organization that focuses on innovative ways to use technology to improve the world.Bartlett has been featured in Forbes, The Guardian, and The Times. He has one of the best Instagram business accounts, where he could gain 1.8M followers. He posts motivational quotes and personal advice on his account.
29- Daymond John (@thesharkdaymond)
Daymond John is one of the successful entrepreneurs who has built a multimillion-dollar fashion brand, FUBU, from the ground up. John is also a popular TV personality and author. He is known for his appearances on ABC's Shark Tank, where he has been a judge since the show's inception.He has one of the best Instagram business accounts with 1.3M followers. He shares his interviews, motivational quotes, business tips, and family pics on his account.
30- Brendon Burchard (@brendonburchard)
One of the other best Instagram business accounts is for Brendon Burchard, a motivational speaker, life coach, author, and entrepreneur. He is the founder of the High-Performance Academy and has written several books on self-improvement. Burchard's work has helped millions of people achieve their goals and live fulfilling lives.
31- Sheryl Sandberg (@sherylsandberg)
Sheryl Sandberg, the chief operating officer of Facebook, is one of the most powerful women in business. She is one of the most outspoken feminists in corporate America and also a member of the board of directors for Disney and SurveyMonkey. Sandberg could gain about 920K followers on her Instagram account.
32- Arianna Huffington (@ariannahuff)
Arianna Huffington is an author, businesswoman, and liberal political commentator. Huffington is a co-founder and editor-in-chief of The Huffington Post and has written numerous books on topics such as feminism, mindfulness, and the power of sleep.
She has been a regular guest on television programs such as Real Time with Bill Maher and The Daily Show with Jon Stewart.Huffington is one of the successful social media influencers who has more than 750K followers on her Instagram account, where she gives valuable tips to startup professionals and those who use Instagram for small businesses.
33- Grant Cardone (@grantcardone)
Grant Cardone has one of the best business Instagram accounts. He is an excellent specialist when it comes to creating a brand online. As a writer, entrepreneur, and advisor, he offers helpful tips for improving your business. Whether you're looking for motivation, sales advice, or comprehensive business tips, this social media influencers' entrepreneur Instagram account will help you.
34- Tai Lopez (@tailopez)
Tai Lopez is an entrepreneur, investor, and advisor. He has written several books and released a number of popular online courses that teach people about business and investing. He is also well-known for his controversial "67 Steps" program, which promises to help people achieve wealth and success.Today, Lopez is a popular motivational speaker and has gained 2.9M followers on Instagram. His account is one of the best Instagram business accounts.
35- Dave Ramsey (@daveramsey)
Dave Ramsey is a personal finance expert, author, and radio talk show host who believes in living a debt-free life. He encourages people to save money and invest for their future.Ramsey is among the top business influencers on Instagram with about 3M followers. He offers practical advice on how to manage your finances, including how to create a budget, save for emergencies, and invest for retirement.
36- Manny Khoshbin (@mannykhoshbin)
Manny Khoshbin is one of the well-known social media influencers, real estate investor and entrepreneur. He has been involved in over $2 billion worth of real estate transactions and has been featured in publications such as Forbes, CNBC, and The Wall Street Journal. Manny is the founder and CEO of Khoshbin Company, a real estate investment firm.He has one of the best business Instagram accounts with 2.5M followers. His account is full of inspiration, and his motto is "Never give up."
37- Mark Zuckerberg (@zuck)
Mark Zuckerberg isn't a big Instagram user. Nonetheless, without him, this ranking of the world's top businessmen would be incomplete. Mr. Zuckerberg is a co-founder of Facebook, Inc. and the company's chairman, CEO, and controlling shareholder.
He doesn't publish any tips on doing business but shares some family pics, news, events he has been to as a speaker, etc. All in all, he has millions of followers who don't expect anything from him, but just want to keep an eye on the life of such an influential person of the 21st century.
38- Tony Robbins (@tonyrobbins)
Tony Robbins describes himself as the nation's #1 life and business strategist, top business leader, and New York Times bestselling book. He is also a known authority on negotiation, leadership psychology, and productivity, to name a few topics.
"Make your life a masterpiece. Tony Robbins states the objective of his work to the audience as "become the person you admire." Tony's great energy, optimism, and ability to reach out to each participant were noted by many who attended his talks. He posts motivational quotes, videos, and long reads about current events in his life to his Instagram account.
39- Richard Branson (@richardbranson)
Richard Branson is most well-known as the founder of the Virgin Group. The Virgin brand now encompasses nearly 400 different brands. Richard's company, many years ago, was not hesitant to sign contracts with unknown bands (such as the Sex Pistols), and this led to Virgin's success. This British businessman, billionaire, philanthropist, and explorer is a powerful motivator and one of the world's wealthiest individuals. Motivational phrases, life situations, and book recommendations abound on Richard's Instagram account.
40- Brené Brown (@brenebrown)
The last businesswoman on our list is Brené Brown. She is an American writer with a Master of Social Work and a Ph.D. from the University of Houston. Brené may drastically alter your image of yourself and the world since she is a well-known storyteller and has spent her whole life studying issues related to shame and vulnerability. On her Instagram account, she offers advice and encouragement with the goal of educating others on how to live their best lives.
Conclusion
In conclusion, it's evident that there are a number of top business influencers on Instagram who are successfully leveraging the platform to grow their businesses. By following these individuals, you can learn a great deal about what works (and what doesn't) when it comes to marketing your business on Instagram. So, what are you waiting for? Follow these influencers and get started!
1- Do Instagram influencers get paid?
Yes, they do. The amount of money influencers earn varies depending on the advertiser. Some accounts establish deals with brands to post promotional codes on their feed, and they get a cut of the sale every time someone uses their code.

2- Who is the number 1 influencer in the world?
The highest-paid Instagram influencer is Ronaldo, who earns $1.6 million for each sponsored post. Several of his sponsored postings, including his paid agreements with Nike and his own underwear brand, are visible to his 443 million followers.