Instagram marketing plays an essential role as more and more people turn to Instagram. Brands on Instagram desire to advertise their products and services to increase brand awareness.
Instagram offers powerful tools to help you boost your business with free, easy-to-use options. With many features for feeds and Stories that make it easy to find content based on one's interests, Instagram marketing has become a new way to target new customers.
This blog will guide you through your Instagram marketing journey, starting from the definition of Instagram marketing to tips and strategies you need as an Instagram marketer.
What is Instagram marketing?
Instagram marketing is a way for businesses to interact with their customers more intimately by sharing images and Stories.
Brands on Instagram use this platform to connect with new audiences and engage existing customers through influencers who post on behalf of brands. The more followers you have, the more likely your content is to be seen by people.
Why use Instagram for marketing?
Instagram may not be the newest social media platform. Still, marketing on Instagram is definitely one thing you should consider in your marketing strategy, especially if you use Instagram for a small business. 
With its emphasis on visual content, Instagram provides a unique opportunity to highlight your product with pictures and posts. With the ease of use of the app, the ability to share Stories in addition to posts, and its features for both creators and brands, Instagram is the perfect fit for social marketers.
In 2019, there were almost 815 million users who accessed Instagram on a monthly basis. In 2022, Over 1.130 Billion monthly users, and in 2023, this figure is projected to reach nearly 1.2 billion users, as the most recent forecast suggests.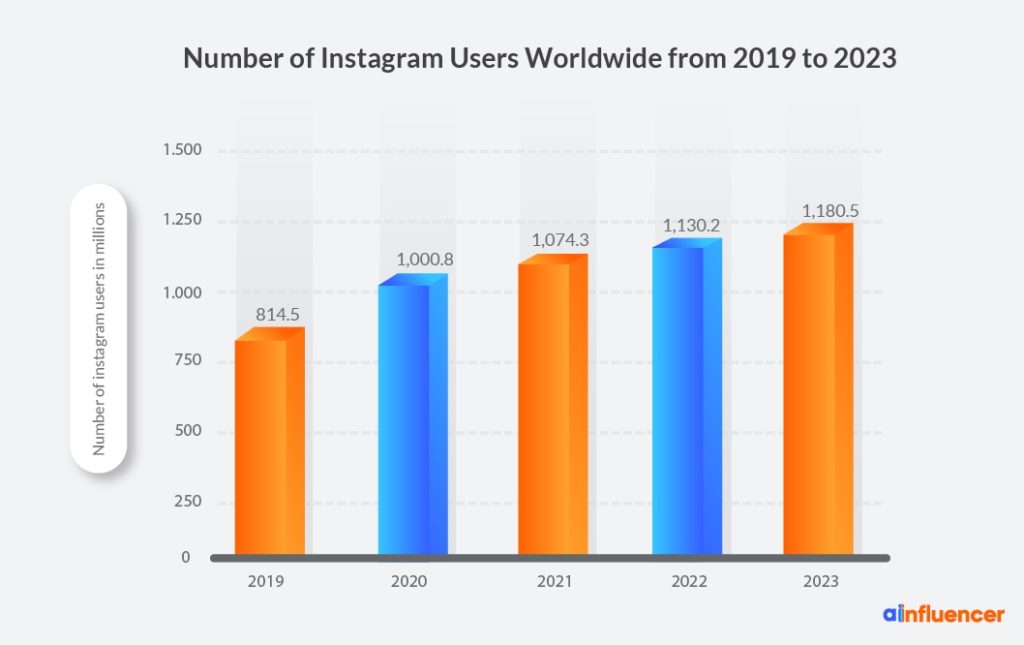 Having many businesses, brands, creators being on Instagram, you'll be surprised that 200 Million users visit a business profile every day. That's a big deal for businesses and a great sign that users are interested in business pages, their content, and what they offer.
The question is, how can you use this to your advantage?
Want to get started with Instagram marketing? Let's dive in!
How to market on Instagram + Examples
Here are some powerful Instagram marketing tips that you can use to your benefit and make the most of the popular platform for all that it's worth.
1. Create an Instagram Business Account
Instagram has become one of the most popular social networks in recent years. Having an Instagram business account is one of the most efficient ways to get your customers' attention. The best part is that they are all free!
One great thing about Business accounts, apart from having access to analytics, is Instagram advertising. And by having an Instagram advertising strategy, you can make significant changes to your business.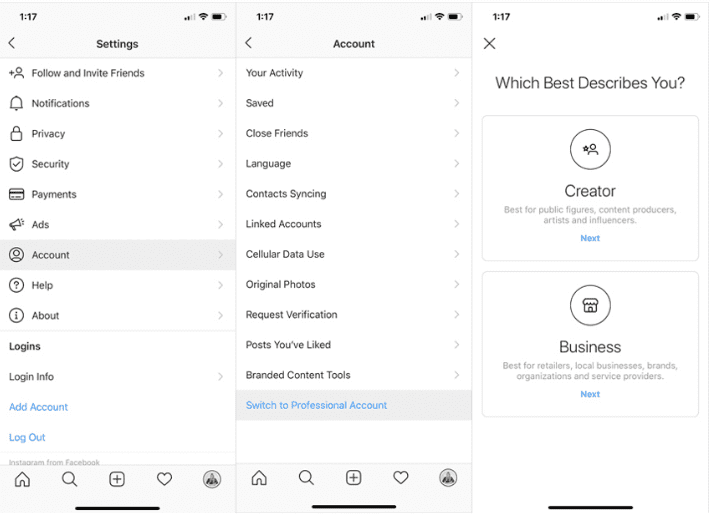 2. Collaborate with influencers
Marketing on Instagram with influencers is a great Instagram advertising strategy in order to reach new audiences quickly.
The number of people buying products from influencers on Instagram is growing so fast. With many small shops or home businesses on Instagram, If you want to look like a more friendly brand and build a better community, you should adopt influencers as a part of your Instagram marketing strategy.
Influencer marketing is a big deal on Instagram, and it's no surprise considering that using influencers actually makes a difference. It's quite substantial. People trust influencers' recommendations more than what they see in advertisements.
How to find influencers?
Influencer marketplaces are the easiest way to find relevant influencers in your niche. You can compare influencers based on their engagement rate, quality score, number of followers, location, etc.
Ainfluencer, is one of these marketplaces focused on Instagram influencers that makes Instagram marketing and campaigns on marketplaces easy, fast, and Free. Ainfluencer also lets brands and influencers find and collaborate with each other with ease.
Check out this video to see how Ainfluencer works:
3. Encourage more User generated content
User-generated content or UGC is an important part of an Instagram strategy. Users are always looking for ways to stay engaged and create content that can be shared with their friends. With so many options available, there's no reason not to get started.
User-generated content is defined as any kind of media that is created by the users, not the company. This includes photos, videos, reviews, or blog posts. User-generated content is an effective way for companies to engage their customers and create a more personalized experience for them.
GoPro mostly takes advantage of influencer generated content as the main part of its Instagram marketing strategy and to fuel its Instagram feed.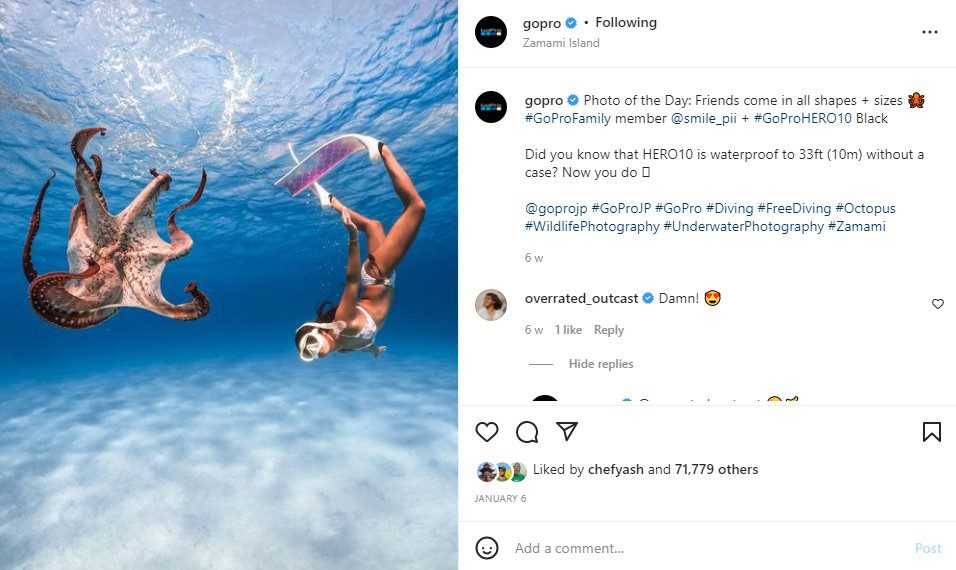 4. Branded hashtag
Billions of photos are shared on Instagram. The question is, how users can find the content they need to see among all brands.
Yes, the answer is Hashtags!
Hashtags are an important part of your Instagram strategy and vital if you want your content to be discovered by new users and appear in the hashtag feeds. And for brands working with influencers, this means more followers, Increase Instagram engagement, and more customers for your business.
There's no denying that using relevant, targeted hashtags on your posts is still one of the best strategies used by Instagram marketers.
In your posts, Instagram allows for up to 30 hashtags, but the average number of usage is roughly 10 hashtags per post.
5. Use Instagram marketing services
Instagram marketing services can be a great way to engage and reach customers. Companies of all sizes are using Instagram marketing services to build buzz and attract new followers.
There are now a number of services for Instagram marketing to help you reach your potential customers.
One of the most popular free tools is AiGrow, which allows you to measure your engagement rate, provides real-time analytics, such as who's posting and who's following you.
You should consider using these services to improve your campaign effectiveness.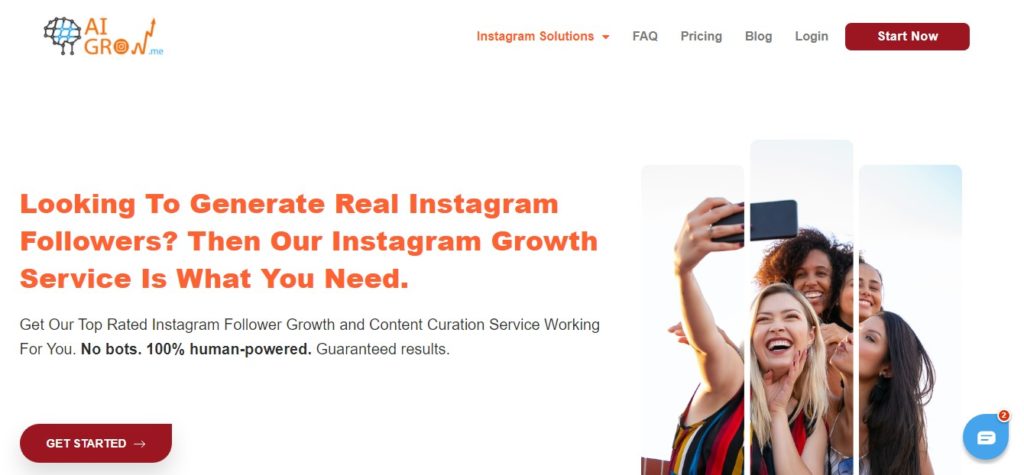 6. Set Up a Shop on Instagram
An Instagram Shop lets you integrate your product catalog with your Instagram profile. In turn, this allows you to promote your products directly to Instagram users through posts, Stories in the Explore tab and in a special Shop tab on your profile.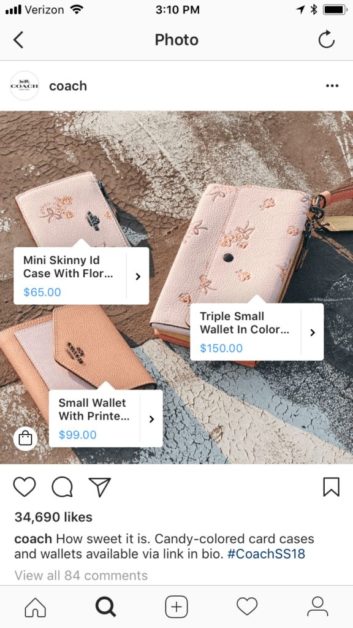 7. Post at the right times
How important are Instagram posts?
What times are best for posting?
There are many people who are posting at the wrong time, which could lead to them not getting the desired attention.
The reason you want to make sure you post consistently and at the optimal times is so that you'll get your content seen by more users and followers as well as increase Instagram engagement.
There are many apps that are designed to help save time on Instagram by allowing you to plan ahead of time what you want to post.
Aischedul is a scheduler app that helps Instagram marketers in the process of not losing their optimal times to post.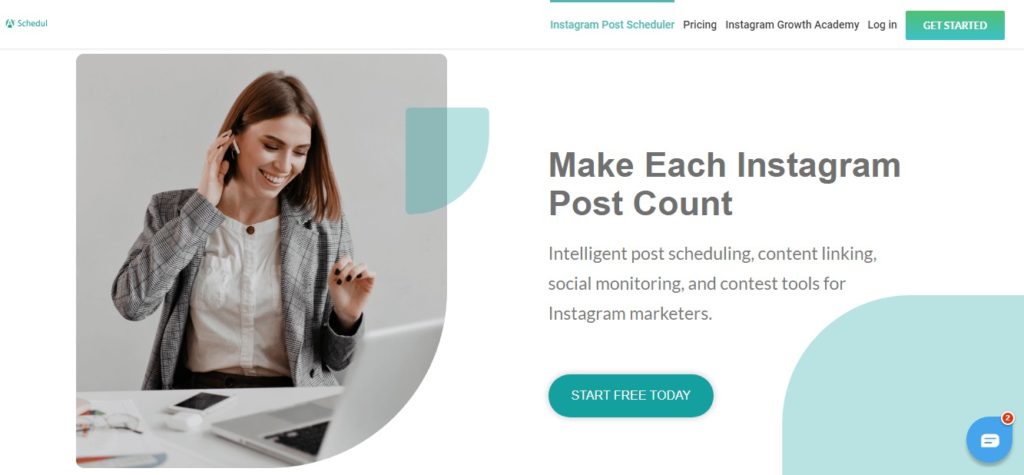 8. Use Instagram Stories
500 million Instagram users are checking out Instagram Stories daily.
That is a big deal!
And if you haven't yet used stories in your Instagram marketing strategy, it's high time you start.
Instagram Stories are a very in-depth and in-the-moment way to express yourself and what's going on in your life. They're almost like a live video that you can only share with specific people.
With this feature, users can share photos and videos with their followers in chronological order for 24 hours before disappearing.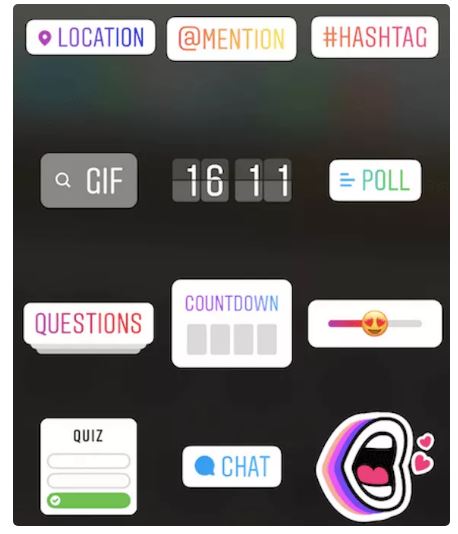 There are many fun features available that make the Stories more interesting, including filters, drawings, captions, hashtags, location information, instant reply, etc.
Use it to create a list of your best VIP customers: provide them with sneak peeks, product updates, and special discounts, and interact with them using the usual Stories functions.
Share content that is meant only for customers: behind the scenes, product updates, exclusive interviews, etc.
Spice up your physical events: create a list of attendees and provide them with exclusive content leading up and during your event
Provide customers in the same geographical area with local content
Create a list for influencers and collaborators where you share key information about upcoming products, campaigns, or anything else you want them to promote on their profiles
Gather customer feedback by creating a list of top customers and using the Stories' interactive features, such as polls and the question box, to gather their opinions
9. Make the most of Stories highlights
Instagram Story highlights are really useful features. You can now watch your Instagram Stories and go back and watch them again any time you want.
It gives you a feed of all of your most recent Story highlights, which you can keep up with on the new feature. This way, if someone misses one or two of your Stories, they will be able to get caught up by watching them later.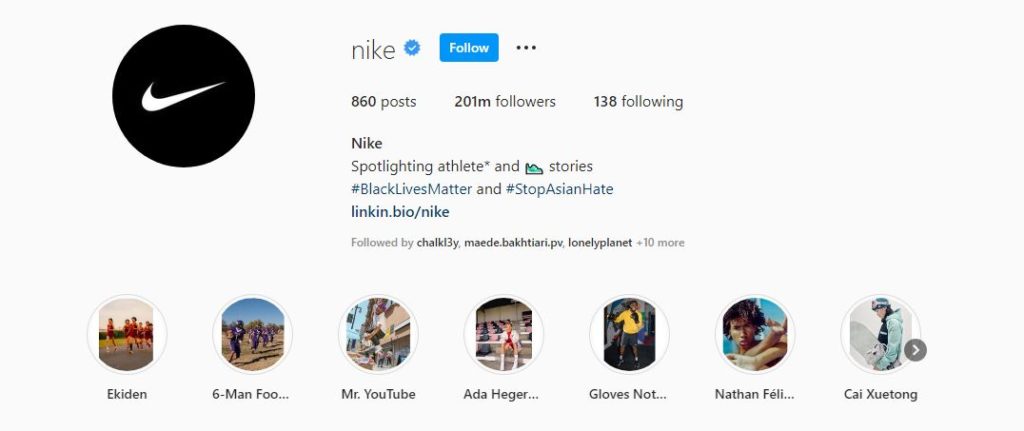 10. Go Live
Over 1 Million Users Watch Live Video Every Day. As you can see from this statistic, it's pretty popular.
This gives you the opportunity to go live and interact with your audience in real-time so that they can feel like they're really hanging out with you. Unlike other social media apps that are one-sided, Instagram live allows you to have a conversation in real-time with anyone who is watching, which can be a powerful tool for increasing engagement on Instagram for small businesses.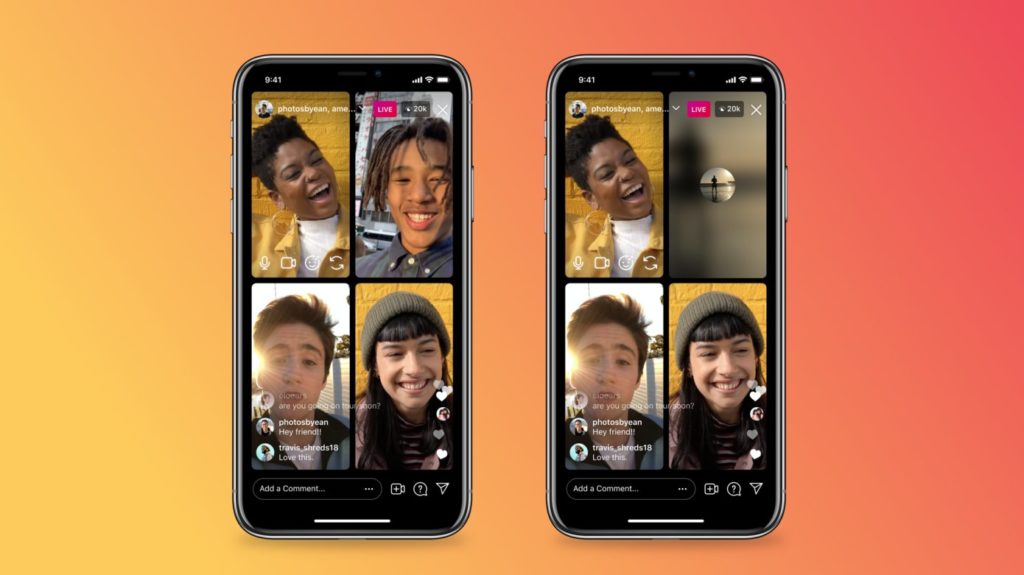 To create an Instagram Live video just tap on the camera icon at the top of the screen and then switch to FaceTime mode before starting your Livestream.
Instagram launched "Live Rooms," which allow up to four people to broadcast live together at the same time.
Instagram Live is a perfect platform for collaborations. With the Add a guest and Live Room features, you can bring influencers on for interviews, Q&A sessions with your viewers, or just to have them on for a chat.
11. Expand with Instagram Ads
Instagram ads are one way for brands to reach the ever-growing Instagram audience.
The benefit of using story ads as your Instagram commercial tool is that businesses have the chance to create stimulating ads that are full-screen and can really connect and engage the user.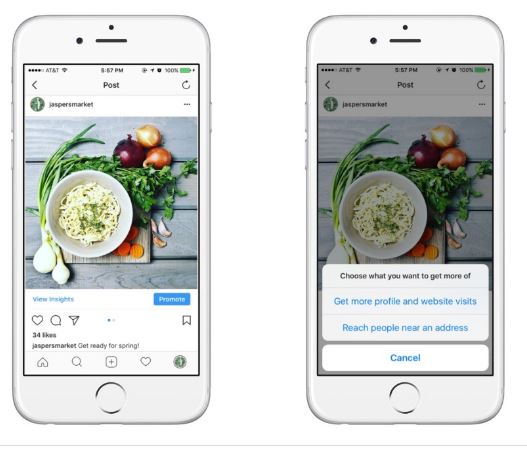 In fact, 50% of Instagram users have their interest piqued after seeing a brand's Instagram commercial. This may be well worth the investment if you can gain traction on the platform and target your ads correctly.
Brands can create an ad that is up to 15 seconds long and is typically played before viewing another user's story.
12. Use the right Metrics
Marketing on Instagram can't be successful if you don't have the right metrics for your marketing campaign. For example, the number of followers is important to know in order to gauge how much people are interested in your company.
However, a higher number does not always mean a better engagement rate. It's important to take other factors into account such as post engagement and follower growth rates.
You can't optimize your Instagram performance unless you know how it's performing based on the metrics like:
Engagement rate
Follower growth
Click-throughs from the links
Lead Generation
Impressions
13. Take advantage of sponsored posts
Instagram marketing tips and trends help your business grow on Instagram. Getting the most of Instagram features helps you get seen and more people reach your content.
Sponsored posts are one of the best tools for Instagram advertising strategy. These Instagram commercials are typically not separated from the organic content because they look like they came directly from the owner, rather than an advertising company.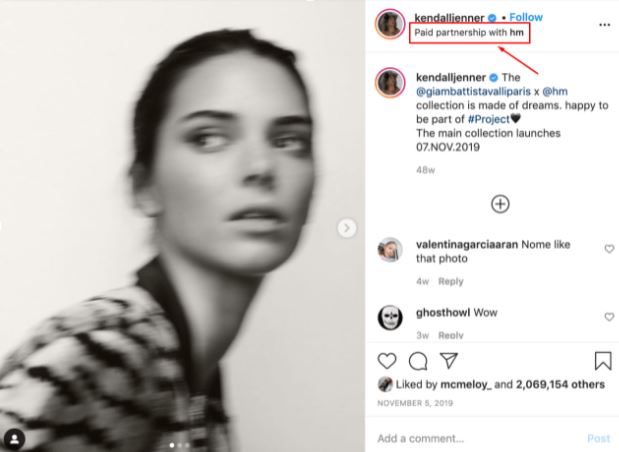 Create an Instagram marketing strategy
Building a brand and generating revenue with Instagram is easy when you know how!
As more and more companies join the world of Instagram, it becomes increasingly important for them to develop a strong Instagram marketing strategy. Here are the steps to your Instagram marketing strategy:
1. Set your goals for Instagram
When you know that your business is on the rise, it's important to set goals for Instagram marketing. You might set a goal of gaining 100 new followers in one month or building 10K followers in two years. These types of goals help make Instagram marketing more manageable and they provide accountability for success.
The goals you define should be SMART. This means they should be specific, measurable, attainable, relevant, and time-bound.
Some goals you can consider for Instagram marketing strategy are:
Increase engagement
Boost sales
Generate leads
Increase website traffic
2. Determine your Instagram target audience
Social media is a tool that can be used to reach one's target audience and get their message across. Instagram has become an increasingly integral component of social media platforms because it offers a form of communication where people do not have to know all the details about the other person.
With any marketing campaign, Instagram marketers should determine who they want to communicate with and why they want to communicate with them before deciding how they should integrate the platform into their Instagram strategy and plans.
3. Conduct a competitive analysis
If you want to take your Instagram marketing strategy to the next level, it's important to research your competitors. The best way to do this is through a competitive analysis conducted on Instagram.
It allows companies to spot weaknesses in their competition and create strategies that will help them grow. By analyzing what brands are doing, it's possible to see what works and what doesn't work.
4. Configure an editorial calendar
Every company has its own goals when it comes to publishing content, but there are some tried and true best practices for publishing content. An editorial calendar is a great way to stay on top of deadlines for publishing your content in a cohesive way.
5. Build a consistent brand on Instagram
consistency is the key when it comes to Instagram marketing. As social media is continually becoming more prevalent in society, the need for brands to remain cohesive throughout all platforms has grown as well.
This consistency refers to the design you are using, fonts, colors, the kind of content you share, and when you post your content. Having a brand identity is a thing that helps you stand out from the crowd.
6. Grow your Instagram follower base
Instagram followers come and go as the influencers rise and fall in popularity. To help increase your Instagram follower count, start posting more quality content. Quality content is important because it will attract people who want to follow you for reasons other than just your number of followers.
Conclusion
The idea of Instagram marketing isn't a new concept. It's a great way to reach a customer demographic and target a niche audience. With the rise in popularity of Instagram, it's been becoming more and more important for businesses to adopt this form of marketing into their content strategy.
Instagram marketers try to get the best out of Instagram to run the campaigns and use their sources such as Instagram marketing services.
You can take advantage of Influencers as great assets to your Instagram marketing in order to reach more people and generate more sales.
Is marketing on Instagram free?
Instagram is a great social media to build a more intimate relationship with your audience and target new customers. Brands of all sizes acquire many techniques to increase engagement. Many of these techniques are totally FREE.

How do I promote my business on Instagram?
Create an Instagram business account, collaborate with influencers, set up shop on Instagram, use branded hashtags, encourage more user-generated content, etc.

How do I find influencers on Instagram?
Search for Instagram in your following. Many might already be on your list and reach out to them. Analyze your competitors to see who they are working with. And use Influencer marketing platforms that give you detailed information about influencers.