Today, Instagram has become one of the main platforms for marketing campaigns. This social network has a wide range of different audiences who enjoy interacting with their favorite brands, and this, in turn, increases the role of Instagram marketing.
To be seen between so many brands using Instagram, marketers need Instagram marketing tips more and more.
What is Instagram marketing?
Instagram marketing is a new and innovative way to market your company or product on social media. Brands use Instagram to connect with their customers and increase brand awareness. Instagram gives its users many options, such as using so many filters and sharing photos and videos to promote their brands.
If you are a brand willing to use Instagram to promote your business, do not forget to consider Instagram marketing tips as well.
Why is Instagram good for marketing?
Before talking about Instagram marketing tips and strategies, let's talk about the importance and benefits of marketing on this platform.
Instagram's simplicity, ease of use, and low cost make it an excellent tool for marketing and the second most downloaded app in the world.
The major benefit of Instagram marketing is its large and diverse audience. It has over 1 billion active users monthly. 90% of these users stated that they follow at least one brand on Instagram, and 58% of them said they're more interested in a brand after seeing it in a Story.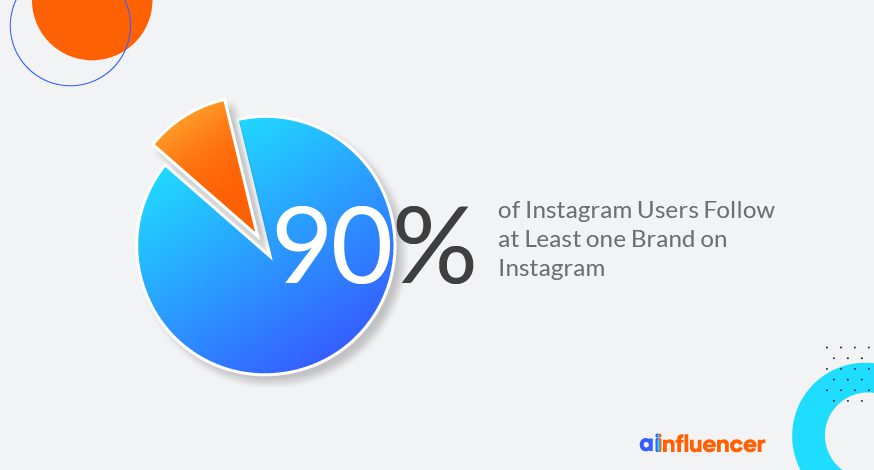 People love following different brands to discover and get their needed products and services.
The mentioned statistics give brands enough reasons for marketing on Instagram and subsequently searching for Instagram marketing tips.
In this article, you will learn all essential Instagram tips for IG marketing.
How to market on Instagram
Now that you are aware of marketing on Instagram and its benefits, it's time to learn how to do Instagram marketing.
To start marketing on Instagram, you need to create a business account or switch your existing personal account to a professional one.
1. Create a business account
Download and install the Instagram app from the App Store or Google Play Store.
Click sign up and enter your phone number or email address.
Pick a username and password and complete the account information.
Select Done.
2. Convert a personal account to a business account
Log in to your personal account through the Instagram app;
Go to Settings;
Enter the Account section and select the Switch to Professional Account option;
Optimize your Instagram Profile
To make the most of the Instagram marketing tips in this article, you should have a great profile in the first step.
You entered some basic information while activating your business account; Now, it's time to complete your profile for the best results.
1. Use a suitable profile picture
The best profile picture for the vast majority of businesses is their business logo. Preferably the same image you used on your other social media accounts to make it easier for your audience to identify your brand, in addition to creating consistency and integration.
2. Complete your bio
Although the Bio section is vital, you can only enter 150 characters in it. This section tells the first-time visitors to your tab who you are, what your brand is about, and how your business can benefit them.
Consider the followings:
Use your own brand style (Brand Voice): Show your brand personality. Depending on your brand voice, use a serious and professional, informal, or humorous tone.
Use hashtags (#): The hashtags you put in your bio are clickable and an excellent way to refer to user-generated content.
Use emojis: With emojis, you can convey lots of information about your brand to Instagram users.
3. Complete your profile information
Take the following Instagram marketing tips and try to use all the features Instagram provides you.
Name and Username: These two are the only sections through which your account can be found by searching on Instagram; therefore, it is necessary to be careful in choosing them. The username you choose should be unique to your profile and allow others to engage with your brand.
Website: You can put a clickable link in your profile so that your target audience can easily connect to you. So be sure to take this opportunity to link to the business website, the latest blog post, the address of an active marketing campaign, or a dedicated Instagram landing page.
4. Use features granted for business accounts
Contact Information: Enter the email address, phone number, and location so that those interested can contact you directly and quickly. By adding contact information, the corresponding buttons (Call, Email, or Get directions for routing) will appear in your profile.
Type or category: The category of business, which can also be selected in the process of converting a personal account to a business one, appears under the name of your business on the profile page and specifies the type of your activity for the audience.
Call to Action: Aside from your contact information, you can also add different CTAs to your profile. These buttons allow your audience to book an appointment, reserve, buy tickets, or start an order.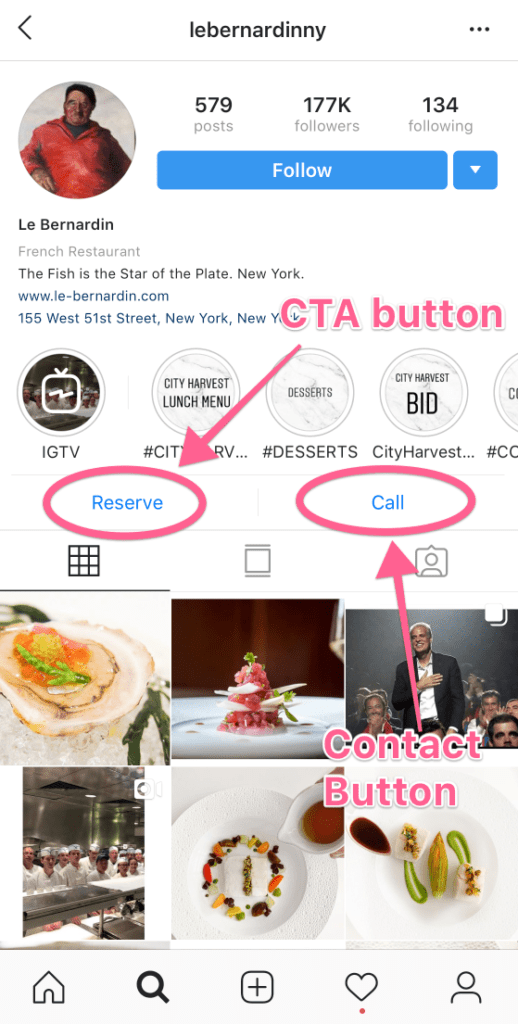 Create your Instagram marketing strategy
More and more businesses are turning to Instagram as a marketing tool and employing various strategies for their posts.
Here are some Instagram marketing tips for your marketing strategies.
1. Define your target audience
The target audience can be defined as the person or group you are trying to reach with your content. Every company has a target audience for its products or services.
Defining who your target audience is and how they use your product or service helps you develop an effective marketing campaign.
You must know both your current customers and your competitors' customers. You should also check the analytical tools to find out the majority of your customers' gender, age, location, etc.
2. Define your marketing goals
Marketing on Instagram can be utilized to engage with customers and increase brand awareness.
It's essential to take time before launching a social media campaign to determine your goals so as to focus all your efforts on achieving realistic ones and evaluate how successful you can be after the campaign.
Understanding your IG marketing goals prevents you from wasting time, energy, and money.
3. Have a regular schedule for posting
For companies that want to grow their following organically, one of the most important Instagram tips is to post consistently.
Brands typically post once or twice a day to keep their feed fresh. By sharing posts or Stories, you give your followers the chance to engage with you and your brand. But be careful not to overdo it. You might get your followers tired.
You also need to consider the appropriate hours and days to post; But how? In order to determine the most appropriate time to share a post, in addition to reviewing other top brands in your field, you should try different time intervals to see which one earns you the most interaction.
The key here is to determine when your target audience is online. The Instagram Insights section shows you when your followers are online by day and time.
To get this information, go to your account's Setting and select the Insights option. Then click on the Audience tab and see the result.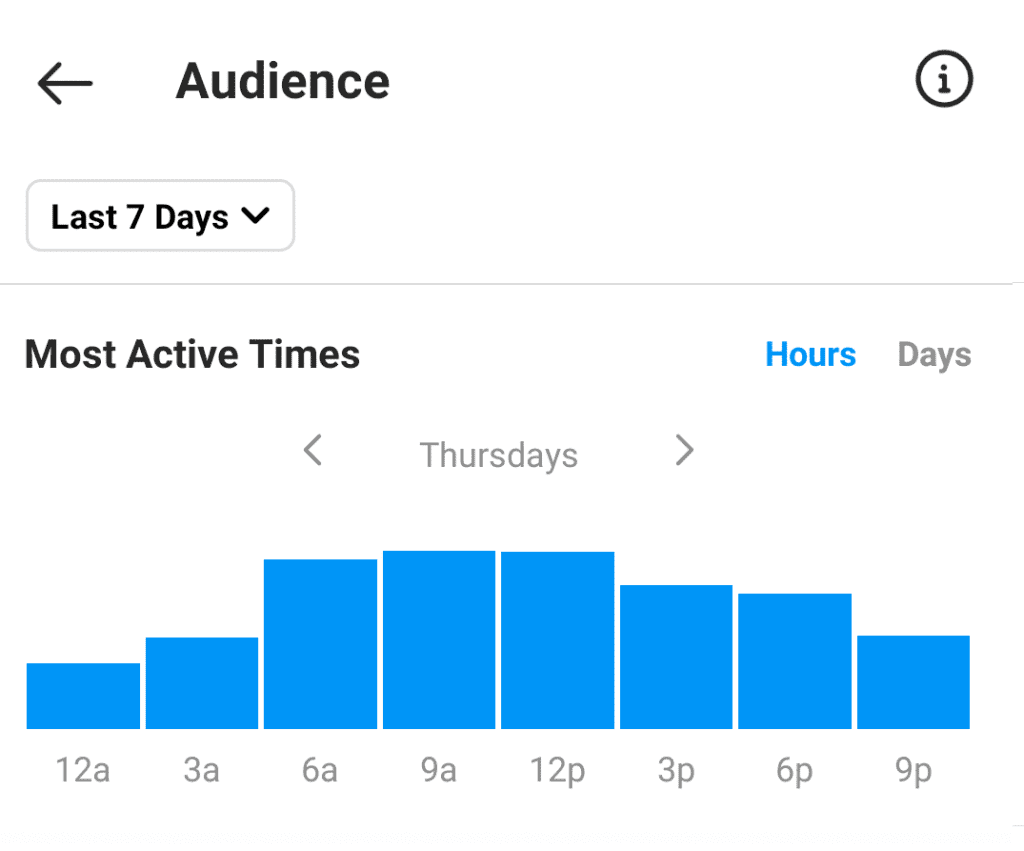 Unfortunately, Instagram does not have a scheduler on its own. So, it would be best if you had an Instagram scheduler to post consistently and at the right times.
AiSchedul
One of the great platforms giving you the ability to schedule your Instagram Feeds, Stories, or IGTVs, is Aischedule.
AiSchedul has various features such as an Instagram scheduler, Instagram content calendar, and hashtag research.
You can start with its free plan for small businesses. Sign up for free and start saving time.
4. Measure performance metrics
Aside from all Instagram marketing tips, consider this as one of the most effective tips. These days, many companies are looking at performance metrics to realize how well they're operating.
Appropriate metrics to be monitored vary for each business, but generally, you should focus on metrics related to the customer journey process. In other words, your goals should be aligned with one of the three stages of the customer journey: awareness, consideration, and decision.
Performance metrics in these stages include all interactions and experiences that take place between a company and consumers.
5. Increase Instagram engagement
The following Instagram marketing tips will help you increase Instagram engagement, make a deeper connection with your followers, and encourage them to take action.
6. Follow and collaborate with related influencers
Instagram marketing service includes different communities with different interests. It's crucial to find the most related community to your brand on Instagram and start following and interacting with those people and brands.
Collaborating with others, especially with influencers related to your niche, helps you boost brand awareness and gain new customers.
If you're a big brand and can allocate a large amount of money to your IG marketing ads, collaborating with mega or macro influencers can be an excellent choice for you.
And if you're a small brand with a small budget, you can benefit from influencer marketing by finding nano influencers or micro influencers and cooperating with them.
Look at the following post that Selena Gomez promoted on her account.
There are a great number of Instagram influencers. Finding the most related ones with a high engagement rate is very important yet hard and time-consuming.
But don't worry, Ainfluencer will help you.
Ainfluencer
Ainfluencer includes a bustling influencer marketplace of worldwide brands and Instagram influencers ready to connect and collaborate.
With its advanced search features, Ainfluencer helps you find the highest-rated influencers on Instagram in your niche.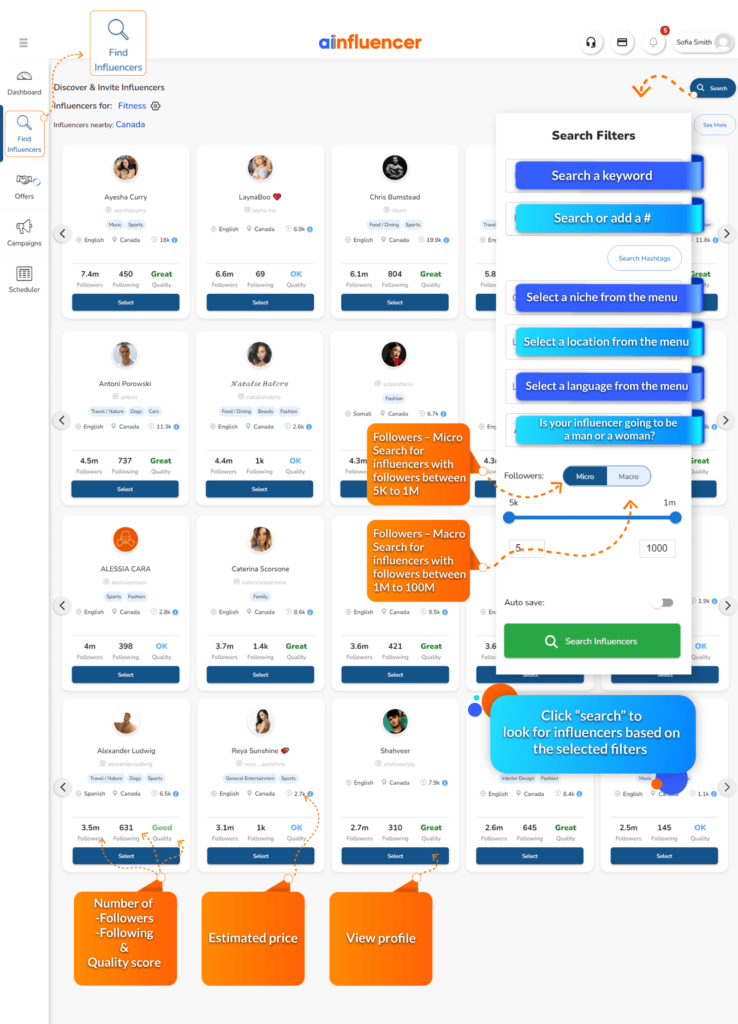 7. Use appropriate hashtags
Using hashtags is one of the other Instagram marketing tips. Using hashtags makes your post easier to find and more visible. Note that captions for Instagram posts do not appear in search results, but hashtags do not have this limitation.
When users click on a hashtag or search for it in the Instagram search section, they will see all the posts containing that hashtag. This is a great way to show your content to people who are not following you.
In addition to using existing hashtags, you can also create a hashtag or hashtags for your brand (Branded Hashtag). Such hashtags represent your brand and motivate your followers to share those hashtags with images that fit them. This can help you increase collaboration and engagement as it motivates users to share your content.
To improve the results of using the hashtag, consider the followings:
Put your brand hashtags in the bio section of your profile;
Put the most attractive hashtags at the top of the list of post hashtags to increase their visibility;
Do not be stingy using hashtags. The limit on the number of hashtags per post is 30, but studies show that the best number of hashtags per post is between 8 to 11.
Use different hashtags and do not use the same hashtags for all or most of your posts. In this regard, you can create several hashtag groups and use a different group for each post. This not only increases the chances of your posts being seen but also prevents spam on your business account.
Take a look at the hashtags under the following post:
8. Respond to questions, comments, and DMs
As Instagram engagement is all about interacting with users, you need to consider the Instagram marketing tips and do the things that strengthen the users' motivation to continue interacting with your brand.
One way to do so is to respond to the questions and comments below your posts and the direct messages you get.
It can be great to make your followers feel heard and boost Instagram engagement.
Look at the way Chiara responds to its followers' comments below her post:
9. Run contests and offer giveaways
Giving Instagram marketing tips, you should also consider running contests and giveaways. People love free stuff, and by offering giveaways, you can easily encourage your audience to follow you, like your posts, or leave comments below them.
There are automated giveaway picker websites that help you run contests and choose a winner easily and fast. Use them to run contests whenever you want.
Here is an example for you:
10. Get help from other channels to boost your Instagram marketing
If you have active followers on other social networks, you can introduce your Instagram business account to them. The important thing is to specify the type of content you put on Instagram for them to have a logical justification for following you across multiple social networks.
11. Use the Instagram ads
Instagram has the potential to naturally bring significant results to your business, but by spending money on your Instagram advertising system, you can make your content available to a wider range of audiences at the same time.
12. Use custom stickers and filters
You can use Instagram's stickers and filters in your posts and Stories to increase the reach. From serious effects to playful ones, there are filters and stickers for everyone!
You can also use questions, quizzes, or poll stickers and encourage the users to answer and increase your account's engagement rate.
Look at the following example using the poll sticker and encouraging the audience to leave a comment.
Here are some of the stickers available on Instagram: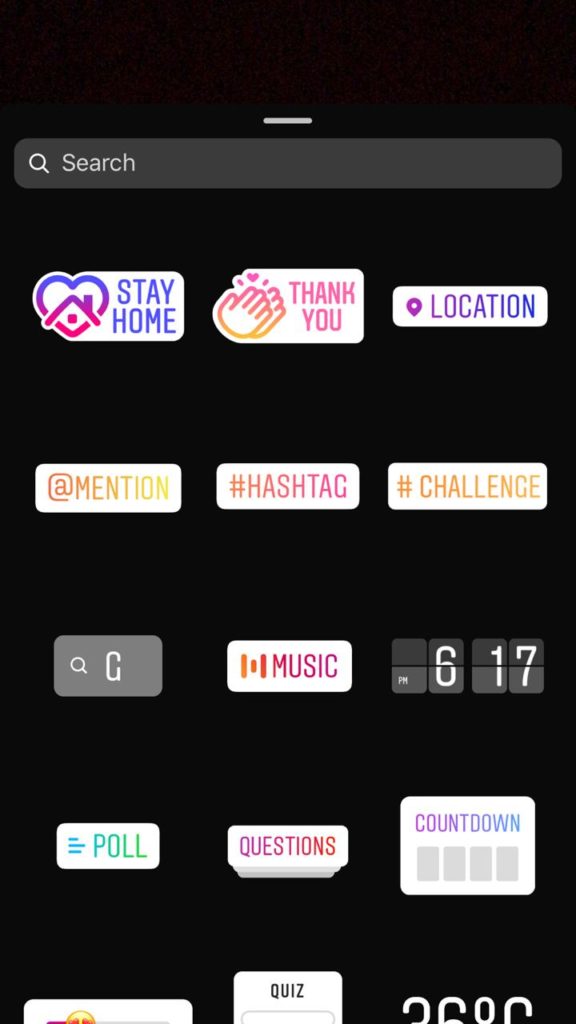 13. Launch an exclusive Instagram campaign
An exclusive Instagram campaign and your overall Instagram marketing strategy can help you achieve your specific goals faster.
In your exclusive campaign, you can focus on a specific goal in a certain amount of time and consider that goal in your posts and advertisements. For example, you can focus on increasing engagement with different Instagram contests. Make sure to use all Instagram marketing tips mentioned in this article.
Share content
Instagram is a powerful platform for sharing your life with friends, family, and the world. It's an easy way to stay connected to what you love most. You can share everything from your latest meal to your favorite memories of your best friend's birthday party. As an entrepreneur, this is an opportunity to show how creative you are and build brand awareness for your business.
Here are some Instagram marketing tips to consider while sharing content:
1. Choose a suitable theme
Instagram is a visual social network; therefore, in order to be present on it authoritatively, you must have a distinct and significant visual identity.
Once you have chosen your suitable theme, you need to have a coherent and harmonious visual style and context in all your posts. In this regard, you should use different colors, filters, and components in such a way that your audience can easily understand which posts belong to your brand while browsing their Instagram feed.
2. Use editing tools
If you want to add a distinctive touch to your photos, try using VSCOcam or Enhance, which offer a broader range of filters and features than Instagram. For extra options, take a look at the compilation list by getflowbox.com on Instagram tools.
3. Share different forms of content
Instagram is a platform that allows users to share content in different ways with other users on the app. But by learning Instagram marketing tips and the various forms of content that you can share on Instagram, business owners can easily create well-done ig marketing campaigns.
You can share images or videos as a single post or Story.
Each Story is available for only 24 hours. However, you can save them permanently in your profile by highlighting them via the heart symbol that appears at the bottom of your Story. You can also add multiple highlights to your profile and categorize your Stories.
You can also share up to ten images and videos in a single post, known as a Carousel post. Carousels are the most engaging format of all post types and help you boost your account's engagement rate.
Another form of sharing content on Instagram is to go live. On live broadcasts, you can interact directly with your audience. This way, you can have question and answer sessions, talk about a specific topic, or interview a special guest or influencer. Once the live stream is complete, you can save it as a post for those who couldn't make it to your live session.
Reels is another Instagram feature, mostly the same as TikTok, that lets you create and edit your short videos with audio, effects, and filters. It's a trend these days, and you can use it to increase engagement.
4. Use strong captions
The caption of your post allows you to showcase your personality or tell your brand's story. You can make your images more meaningful and make your audience think and experience your feelings.
Here is a good example of using strong caption to arouse people's emotions:
Track results
Now is the time to take a look at the results and discover helpful Instagram marketing tips for your campaign. It would help if you implemented the required changes in your actions and plans here.
1. Use analytics tools
As soon as you start using Instagram, you need to constantly monitor the progress of your work in order to achieve your business goals.
In this regard, it is necessary to always follow the status of each post, ad, and story, as well as the general status of your Instagram business account.
To do that, you have to look at a lot of numbers, but fortunately, there are several analytical tools that can help you with that.
One of the most useful analytical tools is the Instagram Analytics tool, which provides you with comprehensive information about your account's performance.
To use this tool, go to the Insights option on your profile page.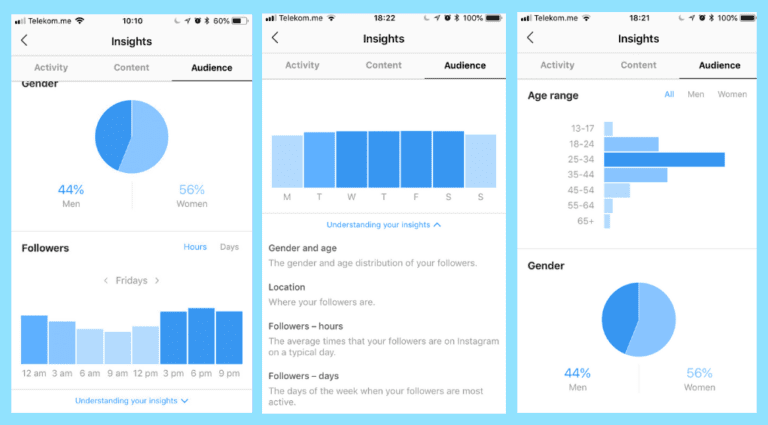 Using the Instagram Analytics tool, you can find information such as the followings:
Total number of profile visits;
Total number of clicks on the website link (website clicks);
Total number of reach or access (the number of unique accounts that have viewed your posts);
Total Impression: (number of times your posts have been viewed);
The performance of individual posts, including the degree of engagement and impression;
The total number of views for stories.
Number of followers and recent growth trend;
Gender, age, and location of the followers
The days and hours of the follower's activity.
Conclusion
So many brands are now using Instagram marketing to promote their products and services. In order to be successful in this online marketing platform, you need to consider the mentioned Instagram marketing tips and strategies in this article.
Do not forget to use different platforms such as Ainfluencer to help you in this process.
How can I improve my Instagram marketing strategy?
1. Define your target audience
2. Post when your audience is most engaged
3. Define your marketing goals
4. Have a regular schedule for posting
5. Share Stories daily
6. Measure performance metrics
What is a good bio for Instagram?
The bio section is very important. You can enter 150 characters and tell the first-time visitors who you are, what your brand is about, and how your business can benefit them.
Use your own brand style and show your brand personality. Depending on your brand voice, use a serious and professional, informal, or humorous tone.
Use hashtags in your bio. They are clickable and an excellent way to refer to user-generated content.
You can also use emojis to convey lots of information about your brand to Instagram users.