An attention-grabbing Instagram feed starts with first eye-catching images, then compelling, engaging Instagram captions. I know that creative Instagram photos convey an impression on the audience, but a good Instagram caption can prove it. Totally captions use for different kinds of Instagram content such as bio, stories, and posts.
Before starting your working on Instagram marketing strategy, you need to develop the right content marketing creative ideas, and Instagram captions can easily do that.
Nowadays, Instagram users are more curious and more in-depth about whether an Instagram business account do marketing activities based on relevant industry and rich, authentic content captions or not.
Therefore, a good Instagram caption comes out of innovative minds to attract new audiences and boost the higher Instagram engagement rate.
Here there are some best Instagram captions ideas for girls to use free and see the big difference in your posts' performance.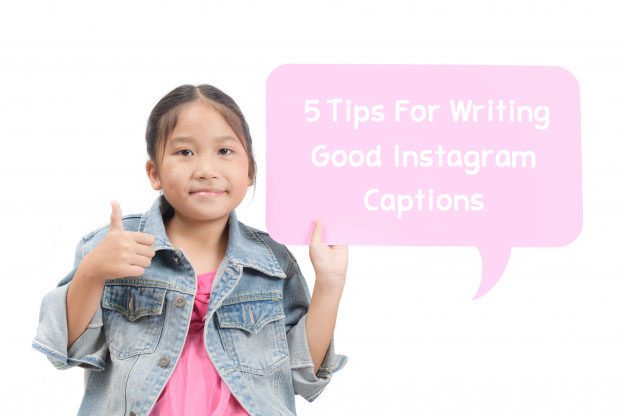 5 Tips for writing good Instagram captions
Make ready several pieces of drafts
It is really essential to start with brainstorming to write the best Instagram caption, so you need to clarify what factors you want to consider in your caption in order not to miss a word later.
First, write down several Instagram captions from different prospects and then combine them to communicate with different individuals' minds. A great Instagram caption should support the Instagram photo furthermore should be written based on more popular trending and industry hashtags to see what works best for your topic and photo.
Do not forget to limit every Instagram caption to 2200 characters, and this is your creativity to finish your caption in 330 words.
Take advantage of emojis and font
Decoration brings engagement and makes bold your caption. It is your accomplishment to use emojis in transferring the message sense to help the audience better understand the atmosphere; it would also be an interesting idea to take advantage of emojis as a great alternative for words.
In another way, to create a hype strategy for releasing a new product or achievement, it would be effective work to make most of the emojis.
Ask a question from your audience to express that they are important to you. Using this caption method can interact with all size audiences to gain more engagement from collecting customer feedback.
It works best if you tempt your followers to share their experiences or ideas on the flip side. Then listen to them to understand their pain points and extract a content type strategy to execute it on your business profile account and see the results.
By asking a question, put your customers first to strengthen your communication with them to make them your loyal customer to buy and share your posts.
Instagram hashtags are one of the most effective things in crafting a perfect Instagram caption. It also helps social media users find content that catches their eye, so an Instagram caption without hashtags works for your followers and can not be discovered on Instagram. If you have a public Instagram account, make most hashtags connect with more different users.
You must at least use up to 5 Instagram hashtags to complete your Instagram caption. Try to seek out a good set of hashtags to be more familiar and searchable for Instagram users, which contains popular hashtags and your industry hashtags.
Find your storytelling voice
Your brand voice is the tone of messaging and aesthetic you combine to build your consistent brand image. Instagram captions should match the power of storytelling voice to increase engagement, and it gives dramatic growth in reaching your marketing results.
The benefit of using a brand voice strategy in your Instagram content is to form an emotional interaction with your audience to make them impressive and curious in making them believe you.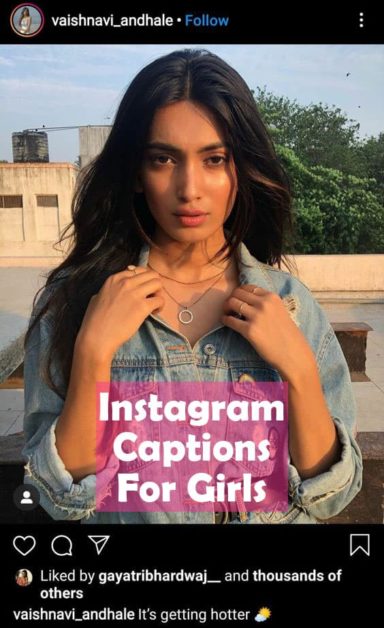 Good Instagram captions for girls are good caption quotes to use for Instagram pages.
Best Instagram captions for girls
Life is the biggest party you'll ever be at.
"Be brave, be kind, be you
Never sacrifice three things: family, love, and or yourself.
Success is sexy
Let your joy burst forth, like flowers in the spring.
A great girl is classy, not trashy
Girls are changing the world
Self- love is the best love
I am not perfect but I am loyal
Be like a sun keep on shining and let the world burns
Funny Instagram captions for girls
When the sun goes down, I glow up
Don't let this beauty blind your eyes
When a woman is late, do not ask her. The foundation had to dry first
I can't imagine heaven being more beautiful than this
Play with my hair, not my feelings
I've unfollowed a diet because it didn't follow me back
My bed is a magical place; I suddenly remember everything I had to do
Enjoy at least one sunset per day! Modern Family
After God created the first man, he had a better idea.
"I need a vacation so long, I forget all my passwords!"
Motivational quotes Instagram
Be fearless in the pursuit of what sets your soul on fire.
Sunshine is the best medicine
Love me or hate me either way, I'm going to shine.
Life is short, and the planet is wide, just think about all of the outstanding activities out there
The only person I dress to impress is me
Who runs the world? Girls
Stand up for your rights even if you stand alone
Your only limit is your mind
Be so good they can't ignore you
Risking is better than regretting.
Cool Instagram captions for girls
I got 99 problems, but travel is not one of them.
Just like my eyeliner, I always wing it
You are alive but are you living
All you have is now
Don't wait for Friday to be happy
Smile often, laugh loudly, dream big
Wake up and makeup
Take off that shyness and wear some red
I am who I am, Your approval is not needed
A girl should be two things: classy and fabulous