When it comes to fashion, Instagram is a go-to source for inspiration and, of course, brand marketing. Meanwhile, influencer marketing covers virtually every niche imaginable, and fashion is no exception. With millions of users sharing images of their latest looks, it's no wonder that the platform has become a breeding ground for fashion influencers.
Whether you have a cosmetic brand and want to promote your new line of products or a fashion designer who would like to spread your taste of styling, fashion influencers can be the perfect choice to increase your sales. Apart from the listed influencers on this post, you can join one of the influencer marketing platforms to find more influencers for your business.
Let's meet some of the top Instagram fashion influencers who can inspire millions of people.
How to find fashion influencers?
There are different methods to find Instagram fashion influencers, including:
Searching Google.
Searching Related Hashtags on Instagram.
Checking Your Competitors' Tags to See Who They Collaborate with.
Using the 'Suggested' Feature of Instagram.
However, all these methods are time-consuming because they are not accurate. So, you need to check out each influencer one by one until you find the influencer that meets your needs. But, there is another method that can speed up this process and help you find the perfect influencer with only a few clicks, and that's the Ainfluencer marketplace.
Now, let's take a quick overview of how Ainfluencer can help you find fashion influencers for collaboration.
Ainfluencer: Top-Rated Instagram Influencer Marketplace
First, Ainfluencer is a 100% free influencer marketplace that connects brands and TikTok and Instagram influencers with only a few clicks. Therefore, if you're looking for a platform with no fees throughout your usage, Ainfluencer is the one for you.
In the next step, you can create an influencer marketing campaign and search for influencers based on the category. In this case, it is 'Fashion.'
Check out the following video to see how easy it is to create an effective influencer marketing campaign on Ainfluencer.
However, that's not all! Besides category, you can filter the final list based on other criteria such as location, language, gender, number of followers, hashtags, and your budget. Additionally, you can see how successful each influencer has been during the previous collaborations.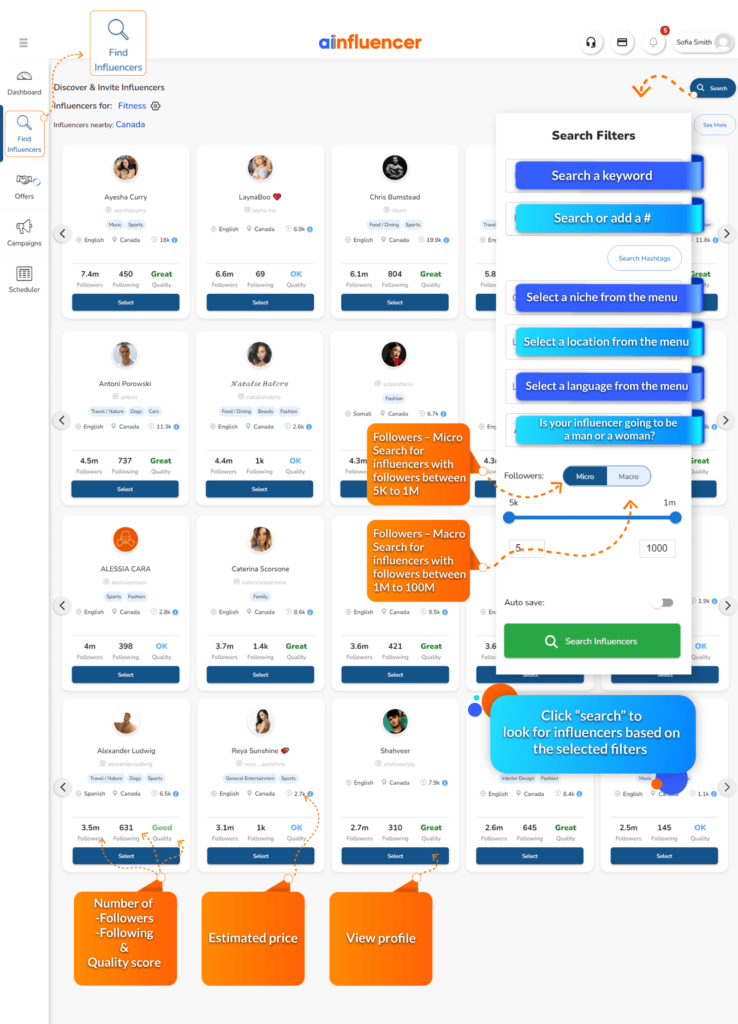 The main interesting value of Ainfluencer among many others is that you never ever get charged for unlimited usage of the platform. Many brands and businesses will appreciate searching for influencers without having to pay any fees. So, as a free platform for businesses, Ainfluencer is worth a try, isn't it?
Top Instagram fashion influencers
As a business in the field of fashion, you need to find stylish and beautiful models and bloggers for collaborations. Here is our list of top Instagram fashion influencers:
1- Vera (@adorablevera)
Vera, aka Queen V, is a leading entrepreneur, fashion blogger, and successful influencer with 214K followers on her IG account. She mostly collaborates with luxury brands, such as Dolce & Gabbana. That's why her Instagram account is filled with images of wearing luxury brands' shoes and bags.
2- Atsuna Matsui (@atsunamatsui)
With 400K followers on Instagram, Atsuna Matsui is a famous Instagram Star known for beauty, fashion, and travel content. However, she has her own style, which her followers like. Therefore, if you want to promote clothes or styles that are unique in design or avant-garde, her account can be the best place for your brand.
Furthermore, if you are looking for inspiration to live a healthier life, don't miss her Story highlights that cover fitness, health, food, etc.
3- Lillian C (@luxematerialarchive)
As a micro influencer with 22K followers, Lilian has collaborated with different clothing brands. Despite introducing top clothing brands to her followers, Lillian is one of the Instagram fashion influencers who inspires her followers to wear best outfits for their body shape. She shares unboxing seasonal fashion and beauty products posts and Stories.
4- Aziya (@officiallyziy)
Although TikTok is known as the platform of Gen Z, you can still find teenage influencers on Instagram too. Aziya is a teenager who has started her career as a model. Thanks to her beautiful images, she has amassed 127K followers on her Instagram account.
5- Sophia Camille Collier (@sophiacamillecollier)
Fashion influencers don't always focus on one field because the fashion industry can affect most businesses. Sophie is one of the Instagram hot bikini models with 197K followers. She likes fashion and also enjoys adding a taste of comedy to her content.
Although Sophie is not as skinny as most of the models, she is not considered a plus-size model. Here you can see the list of top plus-size models that can help you promote your brand.
6- Kiara Belen (@thekiarabelen)
After participating in the 19th season of 'America Next Top Model', Kiara became so popular that her Instagram followers increased to 40K. Now, she has her unique style, and is a fashion influencer who can inspire her followers to buy clothes. Since she was among the winners of the modeling competition, she likes to share her modeling experience with others. Therefore, she is a modeling coach, too.
7- Bibyana Marquez (@bibyanamarquez)
The crowned Miss Teen Universe of 2020, Bibyana, is now a famous fashion influencer with 282K followers on Instagram. Although she is mainly the brand ambassador of top brands, she has her own fashion collection, too. Bibyana is one of the youngest influencers on the list.
8- Victoria Henley (@victoriahenley)
Another participant of 'America Next Top Model' is Victoria Henley who became a famous model after the show. Victoria is one of the top Instagram fashion influencers in Georgia, with 37.2K followers
9- Laura Monroy (@lauramonroy23)
Colombian Instagrammer, Laura Monroy, is a well-known skinny model on Instagram with 1.2M followers. She is well known for posting photos of herself in a bikini and underwear on Instagram. In addition, Laura collaborates with different clothing brand to showcase their products.
10- Sarah Gullixson (@sarahgullixson)
Sarah Gullixson is a model and TikTok personality who was professionally represented by Wilhelmina Models and Stars Management. She is now one of the known fashion bloggers on Instagram with 21.5K followers.
11- Morgan Ketzner (@morganketzner)
With 1M followers, Morgan Ketzner is a gorgeous influencer from Minnesota, who is mostly a bikini model. However, she also promotes skincare products. Soon after she shared her amazing photos on Instagram, she became one of the top Instagram fashion influencers.
12- Erika Nova (@erika_nova)
It's time to meet a stylish family! Erika is a supermodel herself, but after giving birth to her first child, she became interested in dressing up her young handsome son and sharing his photos with her 42K followers. Erika has collaborated with many fashion brands and her account amazes people who like unique styles.
13- Angelina Lavo (@angelinalavo)
Angelina Lavo is the DJ, Producer, and Vocalist from New York City. With a Top 40 Billboard Dance Chart credit to her name for the Papercha$ers remix of "Let's Fall in Love (Tonight)," Angelina is the true triple threat.
Also, her beautiful face and stunning figure have helped her to be a top fashion influencer on Instagram and also a lifestyle influencer with 1M followers.
14- Jasmine (@jasminelhicks)
Have you ever heard that nano influencers and micro influencers bring you more engagement while collaborating with them? Jasmine is one of the fashion stylers with about 7K followers who can help you.
15- Millie Fowlkes (@milliefowlkes)
People who would like to stay up-to-date about the latest fashion trends follow fashion influencers like Millie. Fashion is all about what to wear, and Millie is a real fashion lover. She usually shares her outfit photos with her 12.3K followers on her Instagram account to inspire them to be well-dressed.
Since she is good at styling, she has created a website where visitors can shop her outfits as a set. Additionally, she has a great taste in using jewelry.
16- Anya Nunkoo (@anya__nunkoo)
The London-based fashion model, Anya Nunkoo is a young and stylish girl who loves nature. This fashion blogger has 12K followers on Instagram and her account is a must-follow for those looking for fashion inspirations.
17- Maja Malnar (@majamalnar)
The Slovenian Instagram star, Maja is well known as a fashion blogger and travel influencer. During her career, she has worked as a backup dancer, singer, and TV personality
18- SuzieB (@suzie_kb)
Some fashion influencers, like Suzie, love fashion in other ways. They don't always wear fancy dresses and luxury clothes; they like sportswear. Since Suzie is a fitness influencer, too, she is an excellent option for gym clothing brands to promote their fitness clothes.
Her Instagram account, with 872K followers, is where she usually shares her workout videos and tips about healthy lifestyles. Furthermore, she has her own website that sells fitness clothes and accessories.
19- Taylor (@taylormariecowhey)
The gorgeous Taylor Marie Cowhey is a fashion model who shares stunning images on her Instagram, from her modelling photos to fashion collection, which inspire her 14K followers to buy and wear
20- Fer Medina (@fermedina)
Fer Medina is a style influencer who displays her passion for fashion and travel on her Instagram account with 350K followers.
21- Tanner (@tannermmann)
For people who like casual style, Tanner is a great fashion influencer to follow. Tanner is a family, fashion, and wellness influencer who has gained 369K followers on her Instagram. If you want fitness, workout, mom, wife, beauty, and clothing content all in one place, don't miss her IG account.
22- Amy Seder Burkley (@amyseder)
With 212K followers on Instagram, Amy is an LA-based model who loves photo shooting, traveling, and fashion.
23- Sarah (@sarah_samantha)
The style that Sarah shares with her 7K followers is something different that most fashion influencers. Sarah is a model, singer, songwriter, and successful entrepreneur. She is the Co-Founder of @fashion_forward_meetups. Although she is still a nano influencer, her Instagram feed is filled with her eye-catching poses in colorful and stunning looks.
24- Jackie (@stylemydreams)
Do you know what are the clothes that every wardrobe needs? That's how Jackie helps her 22.4K followers. Jackie is a wardrobe stylist, fashion blogger, and all-around fashion expert. She became popular after participating in a TV show about fashion, called CTV Morning Live Winnipegas.
Since she is a fashion contributor, she tries her best to teach women and men how to dress correctly based on their body shape.
25- Cassidy (@cassidyneves)
For people who like classic style, Cassidy has several ideas. She is a Canadian influencer with 21.7K followers and is considered an Instagram fashion blogger with great ideas about being stylish. Furthermore, Cassidy collaborates with cosmetic brands and promotes skincare products. Her Stories are more fun and about her work life, beauty products she uses, her home, etc.
26- Delaney (@delaney_micahlynne)
Models have great taste in fashion. Since they work with several fashion designers, they are among the influencers that most people like to follow their style. Delaney is a model, makeup artist, certified spray tan artist, and fashion enthusiast with 15.9K followers.
Her IG account is where she shares about makeup trends, skincare products, modeling, travel destinations, and her personal life.
27- Imaan Sabouné (@imaansaboune)
With 20K followers, Imaan Sabouné's IG account is a fashion inspiration for those looking for the latest attractive styles. She is one of the fashion stylists who shares content in different fields. But, in the end, you can still see rays of fashion in all her posts, whether it's about holidays, events, or travelling.
28- Madison Kvaltin (@madisonkvetlana)
Originally from northern Ontario, 24-year-old Madison is an entrepreneur and fashion model who started her own "body confident, athletic brand," Skilla Athletics, and website design business. She has also succeeded Miss International Canada.
Madison uses her Instagram account, where she has 23K followers, to discuss about fashion and travel.
29- Jessica (@westmountfashionista)
Styling gets much easier with Jessica because she usually shares casual styles and promotes clothes that everyone can wear in their everyday life. Jessica is a fashion blogger who has been blogging since 2011. Now she is one of the top social media fashion influencers with 33K followers.
Her Instagram account has various content from clothing to jewelries. It's all that a fashion lover wants from a fashion blogger.
30- Zeba (@ellaprettyblog)
The list of top fashion bloggers includes influencers from different countries, and Canadian fashion influencers are among the most popular ones. Zeba is one of them, a Toronto-based fashion blogger. She has 29.9K followers on Instagram.
31- Par Par (@parpar6ix)
You may think all the Instagram fashion influencers share the same content. But it's not correct. Some of them have their own style, which makes them unique and popular. Par Par is one of the top IG fashion influencers, private event planners, and fashion and beauty stylists, who has unique style. That's why she has 83.2K followers on Instagram who are inspired by the styles she shares.
32- Toni Olaoye (@toniolaoye1)
If you are looking for a digital influencer who provides you with fashion, beauty, and lifestyle posts and Stories on Instagram, follow Toni and take advantage of her content. If we want to put Toni under one of the categories of fashion, we can say she is mostly into promoting unique shoes and jewelries. Toni has 204K followers on Instagram and collaborates with different brands, such as Lancome.
33- Logan Medeiros (@loganmedeiros)
Follow a stylish healthy life with Logan, who is a fashion, fitness, and lifestyle influencer with 17.5K followers. She takes so many pics in dreamy outdoor environments in beautiful colorful styles.
34- Priya Sidhu (@priyasidhu)
On November 4, 1995, Priya Sidhu, a well-known Instagram star, was born in Canada. However, Priya is originally from India, and has a taste of Indian style, which is visible in her posts. As a YouTuber and Instagram star with 174K followers, she makes makeup, hair, and fashion videos.
35- Emma Rose (@emmaleger)
Models get popular so quickly, especially if they appear on the cover of fashion magazines. That's how Emma got into fame, who came into the limelight for modelling on the cover pages of different magazines like FHM Spain, Men's Health Greece, etc.
She is also a brand ambassador of Mass Nutrition Australia and Women's Best company, and has 623K followers who are eager to purchase whatever she recommends.
36- Audrey Rivet (@audreyrivet)
Born in Canada on February 7, 1994, Audrey is another well-known Canadian blogger with 230K followers on her Instagram account. Audrey's talent is not just in fashion, she is a graphic designer, photographer, and content creator as well. However, on her Instagram account, she mostly shares content about fashion, lifestyle, and beauty, making her one of the top IG fashion influencers.
37- Sophia Rose Labbé (@sophiaroselabbe)
Sophia-Rose Labbé is a blue-eyed blonde fashion, lifestyle, and beauty influencer on Instagram with 92.4K followers. Every Stylish Girl needs accounts like Sophia's and her killer outfits to get inspired.
38- Lina (@maybeitslina)
Being a fashion blogger doesn't prevent you from having another career, and that's how Lina can handle her career as a developer and a fashion influencer, all at the same time. Lina knows how to strike a pose, and she takes super striking images. She not only shares posts and Stories about fashion, but she also posts content about beauty, travel, and tech. And that seems so interesting to people as she has 37K followers on her Instagram.
39- Liraz Jacoby (@lirazjacoby)
With 106K followers, Liraz Jacoby is a Toronto-based content creator on Instagram. She is a lifestyle, beauty, and fashion influencer who is so popular that she has launched her own business as a social media agency in Toronto.
40- Katia Hanine (@lapiz_of_luxury)
Most people follow skinny models, but Lapiz shows that the fashion world needs to have midsize models too. She is a young Montreal girl who has always been obsessed with beauty and fashion. Her Instagram account, with 39.7K followers, is where she inspires women of all sizes to be stylish and gorgeous.
41- Pau Dictado (@paudictado)
From the shoes to the handbags and the sunglasses, Pau Dictado is always decked out in the best accessories. If you are obsessed with fashion, beauty, and lifestyle content, don't miss her IG account, where she has 277K followers.
42- Sayda Word (@saydaword)
If you need some neutral outfit ideas, Sayda Word has got you 100 percent. She can seamlessly make a muted look totally stand out. This beautiful fashion model, with 122K followers, will help you with your styles and figures.
43- Mayi Cano (@mayi_taupier)
American Mayi Cano is well-known for her sexy Instagram photos. As a professional fashion model, with 210K followers on Instagram, she usually shares fashion-related images and short videos on social media. She is also the brand ambassador of 'SmartShadeBody'.
44- Chantelle Paige Mulligan (@chantellepaige)
With 916K followers, Chantelle Paige is one of the most popular fashion influencers on Instagram. She is an American singer-songwriter, actress, and entrepreneur, who has her own clothing brand. On her Instagram account, she shares her life, family, and fashion ideas.
45- Karina Bik (@karinabnyc)
Karina is one of the famous fashion bloggers on Instagram. She began her career as a model at the age of 14 and subsequently appeared in nationwide television, print, and digital campaigns for top brands such as Estée Lauder, L'oreal, Johnson & Johnson, Harley Davidson, Pepsi, etc.
Although she initially presented herself as a model, she soon discovered that she enjoyed producing lifestyle-related content for the platform. Now she discusses with her audience about current fashion trends, beauty tips, travel destinations, and local foods.
46- Annelyse Schoenberger (@anneschoenberger)
Started her modelling career at the age of 16, Annelyse Schoenberger is a Brazilian model with 233K followers on Instagram. As a young mom, she is still fit enough to continue modelling for different brands. Although she is known as a fashion influencer, her Instagram account is where she usually shares about her daily life, family, and travelling.
If you think fashion bloggers always promote clothes and accessories, Annelyse shows you are wrong because she has collaborated with different non-fashion brands, such as CocaCola.
47- Katarzyna Kijowska (@katekijo)
Let's meet a cute fashion influencer from Austria. Katarzyna Kijowska is a real fashion inspiration. This beauty, fashion, and travel influencer helps her 406K followers decide what to wear to look more attractive.
48- Melisza Mcpherson (@meliszamcfierce)
Melisza Mcpherson is one of the most attractive black fashion bloggers, with great taste in styling. People who want to know how to style different prints and colors follow Melisza because she loves to combine different colors and shapes to create a new style. And that seems to work for her because she has gained 119K followers on Instagram who love her fashion ideas.
49- Rochelle Johnson (@iambeauticurve)
Gone are the days when the ideal models should have always been skinny. Now, plus-size models are so popular. Rochelle Johnson started her fashion website "Beauticurve" after receiving a lot of support from friends, family, and an expanding Instagram following who saw how this plus-size fashion girl always looked stylish.
She uses her platform to encourage women to dress with pleasure and confidence, and shatter all the presumptions about how to wear a plus-size figure. Rochelle has a sophisticated sense of style, and her outfits are smart, put together, elegant, and feminine. That's how she could gather 497K followers on her Instagram account.
50- Candace Marie (@marie_mag_)
You can immediately tell that Candace Marie is a cool girl by scrolling through her Instagram feed. Working with both established and up-and-coming designers, Marie experiments with amazing silhouettes and keeps her finger on the pulse of current trends. Marie's fashion blog stands out for its purest form of fashion, and we can't wait for her upcoming post.
51- Zoella Zeebo (@zoesugg)
Being a stylish mom blogger becomes easier by following Zoella Zeebo. Also known as Zoe Sugg, Zoella is a very active fashion and beauty influencer on a variety of social media platforms. In 2009, she started her blog on fashion, beauty, and lifestyle and now she has become one of the top Instagram influencers with 9.2M followers.
52- Camila Coelho (@camilacoelho)
Brazilian beauty and fashion influencer Camila Coelho is the owner of a well-known website of the same name. She launched the website in 2010 with her first tutorial, and since then, it has gained popularity. She is a member of Fhits, a gigantic bloggers network established in Sao Paulo by fashion icon Alice Ferraz. Camilla has 10M followers on Instagram.
53- Chiara Ferragni (@chiaraferragni)
Known as one of the top fashion designers, Chiara Ferragni is an Italian influencer, fashion blogger, and businesswoman. She started her blog in 2009, and 'Teen Vogue' featured her as the blog of the year in 2011. By that time, she had amassed 1M followers on Instagram and has continued to grow rapidly since then. Now, Chiara has become a mega influencer with 29.6M followers on Instagram.
54- Xenia Tchoumitcheva (@xenia)
Sharing her love about fashion, travel, and food on her Instagram, Xenia Tchoumitcheva is a Russian-Swiss model, actress, blogger, and entrepreneur. She started modeling when she was 12 and has since amassed a number of modeling awards. Afterwards, Xenia has shot fashion shoots and graced the covers of prominent magazines like Elle, GQ, and Maxim. She was chosen by AskMan readers as one of the top 99 women in the world in 2016. 
Xenia is so popular in the fashion industry. She has 2.6M followers on her Instagram who are eager to follow her footsteps in fashion. So, they are ready to buy whatever she recommends or wears.
55- Emma Chamberlain (@emmachamberlain)
Emma has a daring, surprising sense of fashion with a touch of vintage-inspired pieces. Follow her to be one of her 15.6M followers and see her real self from posing for Vogue or Allure in Louis Vuitton on Instagram to her middle fingers in the air, tongue out, no makeup breakout face, post-cry selfie, or old trackies with socks and shoes!
15 top Canadian fashion bloggers you should follow
We have already introduced some of the top Canadian influencers with great taste in fashion. Here is our list of top 15 Canadian fashion bloggers:
1- Jenny Needham (@Peacelovejennyblog)
Jenny, a Toronto-based fashion blogger with over 14K active followers, is one of our favorite Canadians. Although she posts about a variety of topics on her blog, her focus on fashion and styling is unique and just helpful.
2- Lisa Wei (@Lisawei)
As a Canadian with passion for fashion, Lisa started her Instagram account where she started modeling. After gaining 48.6K followers, Lisa became more popular with Canadian clothing brands. Especially the ones that design casual and cozy outfits that women can easily set with whatever they have in their wardrobe.
3- Samantha Sito (@Samanthasito)
If you enjoy fashion and style, you might be familiar with the name Samantha. Her account contains a thoughtful balance of posts about fashion, travel, and beauty. Samantha has 32.2K followers on Instagram and provides some major fashion inspiration. Furthermore, she has a YouTube channel with 2.69K subscribers.
4- Safinaaz (@Thegreycanvas)
One of the top Canadian fashion bloggers is Safinaaz, who started her blog to provide accessible yet aspirational beauty and fashion advice. She has 39K followers on Instagram and a great source of her followers to shop minimal fashion outfit. On her Instagram Stories, Safinaaz frequently posts alerts about sales and deals.
5- Carolyna Bauer (@Carolynabauer)
On Carolyna's page, you can find information on affordable outfits, travel, and beauty advice. She is one of the top Canadian fashion bloggers on our list, with more than 87K followers.
She's had a lot of success on social media and has been featured on well-known Toronto fashion blogs. For a behind-the-scenes look at her style and way of life, check out her blog.
6- Flora Law (@Thefloralaw)
Flora has been writing blogs for a very long time. She adheres to the philosophy of focusing on and discovering the things in life that make you happy, and her sense of style and taste reflect this. Check her account out if you want beauty and fashion advice with a smile!
7- Annie (@Dualcitizens)
Canadian fashion blogger Annie frequently shares style tips, affordable shopping advice, and home decor ideas on her blog. This Toronto-based fashion blogger collaborates with companies she believes will best appeal to her audience to promote brand awareness.
8- Tee (@Thatsotee)
Tee's Instagram account has developed into a visual journal where she documents her travel experiences, everyday activities, fashion inspiration, and beauty advice. Using clothing as a tool to boost confidence and become their best self, this Canadian Instagram influencer with over 173K followers encourages her audience.
9- Kelly (@Kellyhesun)
With 19K followers on Instagram, Kelly is a top fashion influencer who gives you outfit and photo inspiration. She characterizes her Instagram account as a space for millennial women who love to travel, find beauty in the commonplace, and strive to live fully.
10- Betty (@Itsbettylam)
Enter the fancy world of Betty on her Instagram, where she shares colorful and cute photos of herself in unique dresses. Betty is one of the top Toronto-based fashion bloggers in Canada with 16K followers on Instagram. Her page features incredible content on food, lifestyle, and self-care in addition to fashion.
11- Jessica Lam (@Jessicailam)
This Canadian fashion blogger is a young woman with a passion for styling and traveling. On her Instagram account, with 17K followers, Jessica shares lovely outfits that all girls at her age will love to wear.
12- Carly Alexandra (@Carlyramsay)
From fitness clothes to sexy swimwears, Carly can give her followers great ideas about being fashionable in all situations. Carly, a photographer, stylist, and creative director based in Toronto, has more than 56K Instagram followers. On her Instagram account, she primarily shares under-exposure photos of her outfits. She is funny and entertaining to watch.
13- Ping (@Pinggyu)
Montreal is a great place for photography, and Ping adds fashion to the scene. Ping is a Toronto-based Canadian fashion blogger with 14K followers. Her style has a relaxed yet sophisticated vibe that will truly motivate your fashion sense.
14- Coco Rocha (@Cocorocha)
Mikhaila known as Coco is one of the top Canadian fashion bloggers and a successful model with 2M followers on Instagram. She is recognized as one of the original digital supermodels and an advocate for young models.
15- Sophie Suchan (@sophiesuchan)
Being chic is not difficult, especially if you follow fashion influencers like Sophie. For the past four years, this Vancouver-based influencer has devoted herself to generating mostly style-related content as she has worked hard to increase her fan base. Her unique style sets her apart, with a page full of playful images from her shoots.
Top male fashion influencers on Instagram
Well, fashion doesn't only belong to women. Men want to be stylish, too. Are you looking for male fashion influencers? Read on to see our list of 10 top of them you should follow on Instagram.
1- Justin Livingston (@justinliv)
The blog Scout Sixteen is operated by New York City-based fashion and lifestyle blogger Justin Livingston, who focuses on men's fashion and grooming. His ability to design beautiful yet casual outfits is explained by his background in fashion. 
He combines rustic, traditional, and trendy elements to produce a classy yet edgy style by letting international fashion trends affect his varied sense of taste. Justin has 285K followers on Instagram.
2- Leo Mandella (@gullyguyleo)
Young boys are so interested in streetwear, and Leo Mandella is one of the male fashion influencers that shows them what to wear on this trend. Leo uses Instagram to showcase his particular style while residing in Warwickshire, England, where streetwear fashion is not common. 
He usually gets his style inspirations from the London fashion industry and shares his photos with his 704K followers.
3- Joel Mcloughlin (@gallucks)
Although Joel style is not so common, he has enough followers to become one of the fashion influencers on this list. Especially, for young boys who follow uncommon styles, like what Joel shows.  Joel Mcloughlin runs a menswear fashion YouTube channel as well as the blog 'Gallucks'.
His blog includes a tool for Instagram scrolling and shopping his looks, which are frequently put together from a variety of simple pieces in black, gray, and soft colors. Joel has 340K followers on Instagram.
4- Charles Gross (@charlesbgross)
Gross started his career and journey into fashion throughout his time in college. Gross was born and raised in New York City, one of the numerous fashion capitals of the world. His passion for minimalist clothing from brands like COS and The Row, as well as his love of leather products, has earned him followers on different social media platforms.
This top fashion influencer has gained 119K followers on his Instagram account alone.
5- Luke Meagher (@hautelemess)
Meagher establishes his influence in the fashion industry with his well-known YouTube channel, where he has 284K subscribers. His Instagram account, Haute Le Mess, with 38.4K followers, provides a glimpse into the avant-garde streetwear scene. When looking for fashion inspiration, it's fun to browse through both profiles.
6- Edwin Hung (@edwin871126)
From formal suits to casual outfits, Edwin Hung's Instagram account has many great outfit ideas for men with different taste in fashion. Edwin is a Malaysian architect, with more than 185K Instagram followers. In addition to his full-time job as an architect, he enjoys being an Instagram fashion influencer and sharing grooming advice, and showing his best outfits.
7- Geoff K. Cooper (@geoffkcooper)
Introducing himself as a Caribbean boy, Geoff K. Cooper is a successful businessman, stylist, and fashion influencer with 136K followers on Instagram. He frequently shows off his fashionable appearance and active lifestyle.
8- Derek Jacob Kesseler (@derekjacobkesseler)
Derek, a fashion and lifestyle influencer from Canada with 110K Instagram followers. To make his page more interesting to his followers, she adds comedy to his videos. He took part in the reality television program Big Brother Canada, and he now runs his own media business. His casual, outdoor aesthetic is ideal for getting inspired.
9- Ryan Clark (@ryanstylesnyc)
Ryan Clark, who left medical school to pursue a career in fashion in New York City, is now a prominent figure in the world of fashion-related social media. He has 198K followers on Instagram, and portrays a gentleman's lifestyle and wears expensive clothing. He started a blog called 'High Fashion Living', where he expresses his views on the fashion industry. His appearance embodies sharp and dapper fashion.
10- Phil Cohen (@thepacman82)
As an art director who is passionate about menswear and photography, Cohen abandons selfies in favor of concentrating on his collections and focusing on the visual elements of outfit combinations. Phil has 912K followers on Instagram.
Conclusion
In conclusion, fashion influencers will continue to be powerful marketing tools for businesses in this field. If you're looking to grow your brand, consider partnering with an influencer who aligns with your values and can reach your target audience. With careful planning and execution, an influencer partnership can help you achieve your business goals and build long-term relationships with customers.
Don't forget to join Ainfluencer to access the list of top TikTok and Instagram influencers in your niche.
FAQs
1- How Do You Become a Fashion Model Influencer?
Here are five main things you need to consider to become a fashion influencer:
1- Determine your level of readiness
2- Choose a platform (blog, Instagram, YouTube, etc.)
3- Know your target audience and their needs
4- Create helpful content 
5- Do reviews and reach out to brands
Here are the tips that can help you make money as an influencer.
2- Who Is the Most Popular Fashion Blogger?
The Blonde Salad author Chiara Ferragni is the most well-known fashion blogger in the world. The Italian blogger, who has been writing for her lifestyle site for more than 10 years, has a sizable following of over 24 million users on Instagram alone who look to her for fresh fashion material every day.

3- Who Is the Target Audience for Fashion Influencers?
Generally, people from 18 to 34 enjoy following influencers to learn about the new trends. Although most are young girls or women, they are not the only people who follow fashion influencers. Fashion belongs to men, too. 
As in recent years, we can see more male fashion bloggers are active on social media. Furthermore, people who follow fashion are usually ready to buy a product that their loving fashion influencers promote or recommend.

4- What Does a Fashion Influencer Do?
Since they are seen as professional people in the fashion industry, they usually share their ideas about the new trends, or promote their personal style. Furthermore, they can provide fashion tips, advice, and tutorials on how to dress for different occasions, seasons, or body types, and how to style different pieces of clothing, shoes, or jewelry.