Influencers and influencer marketing campaigns continue to play a crucial role in the world of digital marketing. As a business owner, you know that Instagram can be a powerful marketing tool.
But with over one billion active users, how do you make sure your brand stands out? The answer is simple: follow and engage with top Instagram influencers that help you make the most of Instagram influencer marketing.
No matter what kind of niche your business operates within, running an influencer marketing campaign with the right individuals supporting your products can be incredibly profitable. Here are the top 30 Australian influencers on Instagram for you to check out.
How to find Australian Instagram influencers?
If you're looking to tap into the Australian Instagram market, you'll need to find some local influencers. Here's how you can find influencers:
1. Use hashtags relevant to your industry and location. For example, if you're in the fashion industry and based in Sydney, try using hashtags like #sydneyfashion or #australianfashion.
2. Monitor your competitors' social media followers, mentions, and tags.
3. Use Google to find Australian bloggers who can help you increase brand awareness and reach your target audience.
4. Use an influencer marketplace.
Finding Instagram influencers manually can be tedious and time-consuming; that's why most people prefer to take advantage of a quality influencer marketplace to accelerate and facilitate this process.
Ainfluencer is one of these marketplaces which helps brands and influencers connect and collaborate for free. Its smart AI-powered search engine lets brands find target influencers using a variety of filters such as location, gender, language, number of followers, hashtags, etc.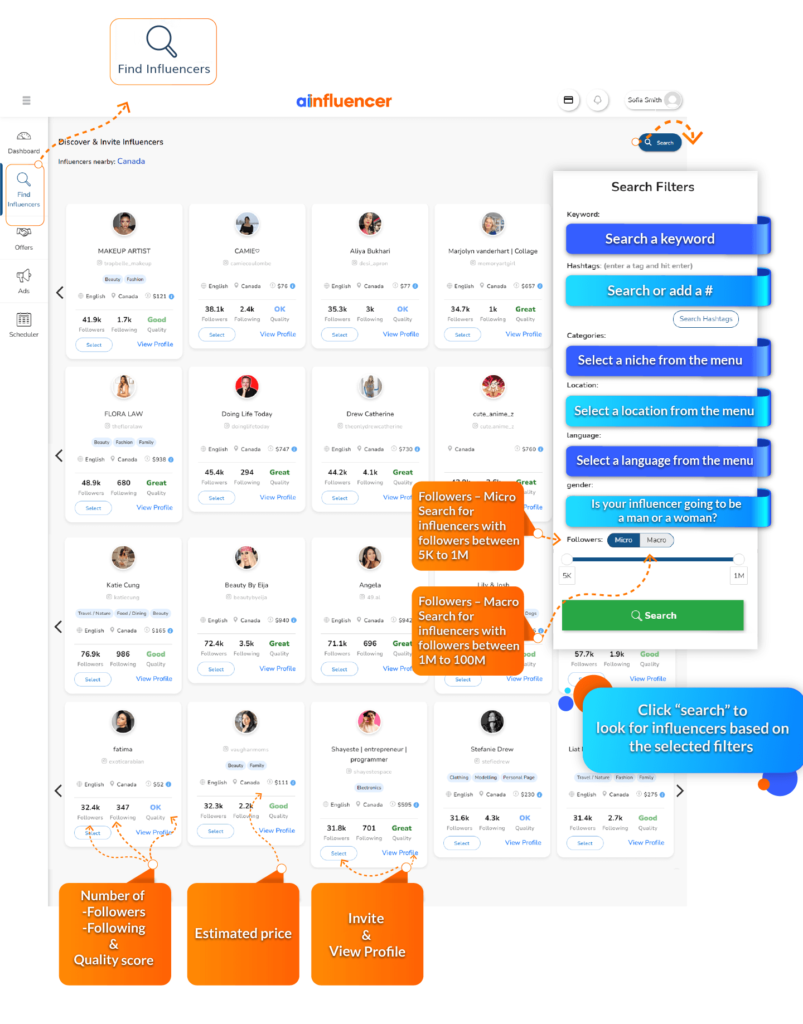 30 top Australian Influencers on Instagram
1- Zac Perna (@zacperna)
Zac Perna is an Australian fitness influencer born on July 5, 1995. This bodybuilder is a famous social media influencer and YouTuber. This Australian Instagram model is best known for his self-titled Instagram account, where he posts pictures of his workouts, nutrition, and lifestyle. On the platform, he has more than 551K followers.
2- Taya Gaukrodger (@tayagaukrodger)
Australian gospel singer and songwriter Taya Smith is well-known for being a part of Hillsong United. Prior to starting her singing career, Smith served as a church youth leader.
As one of the well-known Australian influencers, Taya is active on different social media platforms, including TikTok, YouTube, and Instagram.
3- Ash Pollard (@ashpollard__)
Ashley Pollard, an Australian cook, author, television personality, and radio host, was born in 1986. In 2015, she came to public attention when she appeared on the reality cooking show My Kitchen Rules. As one of the Australian Instagram influencers, Ashley has amassed 103K followers on this platform.
4- Brooke Lee (@brookeleeofficial)
Brooke Nichole Lee (born on August 4, 1992) is an Australian actress and producer who is best known for Loveland (2022), Mako Mermaids (2013), Occupation (2018), and Shaz and Trace (2014). Brooke Lee is also one of the famous Australian models on Instagram and Australian IG influencers with 130K followers.
5- Elias Black (@myfriendelias)
Elias Black is a famed Reality Star from Australia. He has appeared in the Reality show named Love Island and Byron Baes. He is one of the attractive Australian male models on Instagram and an amateur boxer.
6- Chloe Szep (@chloeszep)
Chloe Szep is one of the Australian bloggers who is active on different social media platforms, especially YouTube and Instagram. This Australian Instagram model usually shares family, wellness, and business content on her Instagram account with her 625K followers as one of the influential Australian influencers.
This beauty vlogger is also known on YouTube for her self-titled YouTube channel, which has earned 194K subscribers.
7- Liz Miu (@itslizmiu)
Liz Miu is one of the well-known Australian bloggers who was born on June 20, 1993. She is a chef and food blogger that specializes in vegan creations and recipes. Liz is the founder of Mylk and Bun, a vegan cinnamon scroll market stall.
8- Natalia Kalinowski (@natkalinowski)
Natalia Kalinowski is one of the Australian models on Instagram. This lifestyle and fashion influencer has gained 112K followers on Instagram.
9- Danny Philippou (@therackaracka)
A YouTuber from Australia whose twin brother Michael Philippou and him make up one-half of the RackaRacka YouTube channel. They produce live-action combat videos for their 6 million subscribers and gained fame for producing Ronald McDonald-themed videos.
He is also one of the Australian bloggers on Instagram with 514K followers, known as a film director.
10- Christina (@love.christina.xo)
Christina is one of the successful Australian influencers who has accumulated 318K followers on Instagram. As one of the Australian bloggers, she shares posts and Stories regarding fashion, travel, beauty, health, and photography on her IG account with her 318K followers.
11- Sabre Norris (@sabrenorris)
Born on 3 January 2005, Sabre Norris is 18 years old as of 2023. She was born in Newcastle, Australia. She is a professional surfer and skateboarder who is recognized as the first Australian woman to successfully land a 540 flip on a half-pipe. She also made history at the Sydney International Pro by becoming the second-youngest surfer to compete in a World Surf League competition.
Together with her siblings Sockie, Biggy, and Naz, Norris appears on the family channel "The Norris Nuts" on YouTube. Sabre is featured in videos related to surfing, skating, challenges, skits, leisure, and other fun-related themes. She shares the same content on her Instagram account as one of the Australian influencers with her 842K followers.
12- Kim Lianne (@kimlianne)
Kim Lianne is one of the famous Australian influencers with over 1.3 million YouTube subscribers and 485K followers on Instagram. She creates content in the areas of beauty, fashion, and lifestyle. She has served as a host for the Kronehit network of online radio as well.
13- Kristin (@cristina.osipov)
Kristin is an Australian IG model who is considered a lifestyle, fashion, and travel influencer. If you are looking for a micro influencer to collaborate with and end up growing your brand, Kristin can be a good choice.
14- Connor Watson (@connorwatson1)
Watson, an Australian of Indigenous descent, was born in Dubbo, New South Wales, Australia. He moved to Avoca Beach, New South Wales, at the age of five. Before receiving a scholarship to Knox Grammar School and playing rugby union, he played junior rugby league for the Terrigal Sharks and Kincumber Colts. He is active on Instagram and has gained 71K followers.
15- Trent Blomfield (@trentblomfield)
Trent Blomfield is one of the Instagram photographers. Trent Blomfield is a professional photographer who has made a name for himself by posting his works on Instagram. As one of the Australian influencers, his stunning images have earned him 30K followers.
16- Erin Holland (@erinvholland)
Erin Victoria Holland, an Australian singer, television host, sports presenter, model, dancer, and charity worker, was born on March 21, 1989. On July 20, 2013, she crowned Miss World Australia. This Australian Instagram model has gained 514K followers and is considered one of the most influential Australian influencers on this platform.
17- James Yates (@yatesy17)
James Yates is one of the internationally popular Australian male models and fitness influencers on Instagram with over 215K followers. He's represented by W Models in London, Supa Models in Sydney, and Heroes Management in New York.
18- Josh Miller (@itsjoshmiller)
Josh Miller is one of the Australian influencers on Instagram with 105K followers who is a photographer. Josh's photographs and writings have been used by many clients throughout the world. His Instagram account is where he shares his everyday life.
19- Kentaro Yoshida (@kentaro_yoshida)
Kentaro Yoshida was grown and born in Japan before moving to Australia at the age of 18. After ten years, he is now an illustrator and artist who works out of Manly on Sydney's Northern Beaches in Australia. He enjoys drawing using both traditional and digital methods.
This art influencer is one of the most successful Australian influencers, with 107K followers.
20- Dion Nucifora (@dionnucifora)
Dion is one of the attractive Australian male models on Instagram. He is also a professional photographer who uses his IG account to share his shots with his 88K followers.
21- Nathan Kriis (@nathankriis)
The well-known Australian Instagram model Nathan Kriis was born on May 24, 1998, in Australia. Star of Instagram and YouTube, who has amassed more than 282K subscribers by sharing selfies and other experiences. He also shares the channel Jack and Nathan with his boyfriend, Jack Wade.
22- Brodie Pawson (@brodiepawson)
Famous Freerunner Brodie Pawson was born in Australia on August 16, 1994. Along with his identical twin brother Dylan Pawson, this professional parkour athlete took part in the first season of Australian Ninja Warrior. As one of the fitness bloggers in Australia, he has amassed 810K followers.
23- Helen Janneson Bense (@helen_jannesonbense)
Helen Janneson Bense worked as a medical naturopath and healer for more than 15 years. Her travel, style, and inspirational blog Gypsy Lovin' Light serves as a loving haven for individuals to share, inspire, and be inspired. She currently resides in Western Australia.
As one of the Australian influencers with 722K followers, she shares travel, style, and wellness content.
24- Elyse Knowles (@elyse.knowles)
Australian Instagram model Elyse Knowles is best known for winning the reality television series, The Block, in 2017. She is a brand ambassador for Myer. she is one of the active Australian influencers who has managed to gain 835K followers on Instagram to share her everyday life posts with them.
25- Lauren Curtis (@lozcurtis)
Lauren Curtis is one of the well-known Australian Instagram influencers. She makes beauty videos ranging from product reviews to makeup tutorials and haircare tips. Additionally, Lauren posts about her daily life and style.
26- Chris Hemsworth (@chrishemsworth)
Australian actor Christopher Hemsworth AM was born on August 11, 1983. Before starting a film career in Hollywood, he gained fame for his role as Kim Hyde in the Australian television series Home and Away (2004–2007). Hemsworth began playing Thor in the Marvel Cinematic Universe (MCU) with the 2011 film of the same name and most recently reprised the role in Thor: Love and Thunder (2022), establishing him as one of the highest-paid actors in the world.
27- Tammy Hembrow (@tammyhembrow)
Instagram mom blogger and fitness expert who documented her body during her pregnancy and after to encourage other mothers to achieve their ideal body after giving birth. She is one of the most well-known fitness bloggers in Australia, who has 15.7M followers on her Instagram account.
28- Kayla Itsines (@kayla_itsines)
Australian personal trainer, author, and entrepreneur Kayla Itsines was born on May 21, 1991. She is of Greek descent. She is the author of the Bikini Body Guides line of fitness ebooks as well as the meal- and exercise-planning software Sweat with Kayla. She is one of the most successful Australian influencers on Instagram who produces fitness-related content and gained 15.1M followers.
29- Chloe Morello (@chloemorello)
Australian beauty influencer Chloe Morello, who runs the channel "ChloeMorello," is a well-known Instagrammer and YouTuber. She began her career by working at her family's motel and a crematorium, but after getting hooked on social media, she decided to make it her full-time profession. She publishes beauty advice and other content linked to beauty on her website and YouTube channel. She has contributed to advertising campaigns for well-known companies as Napoleon Perdis, Vaseline, YSL, Simone Perele, and L'Oreal Paris.
30- Jessica Stein (@tuulavintage)
Australian travel and lifestyle influencer Jessica Stein is a prominent figure on social media. Jessica Stein started out as a fashion and travel blogger in 2010 with her well-known YouTube account @TuulaVintage, despite the fact that she is now a lifestyle blogger. Jessica Stein works as a neurotic copy editor at the New York City Newspaper in addition to being a blogger.
Conclusion
In conclusion, if you are looking to grow your brand in Australia, following and connecting with any of the top Instagram influencers from the list above is a great start. They have all been very successful in building up their personal brands and have a large and engaged audience.
1- Who is the richest Australian actor?
Below are the name of these actors and their net worth;
1- Nicole Kidman ($250 million)
2- Hugh Jackman ($180 million)
3- Chris Hemsworth ($130 million)
4- Russell Crowe ($120 million)
5- Cate Blanchett ($100 million)

2- Who is the highest-paid influencer in Australia?
Jessica Sepel and her husband, Dean Steingold, who have an estimated net worth of $426 million, are Australia's richest influencers.