Making money by sharing content on social media is not something to scoff at. However, one must wonder, "How much and how do influencers make money?" in order to live well.
If your question is "How to make money as an influencer?" and incorporating influencer marketing into your whole plan, then determining the cost is the crucial first step.
Read on to learn more about how influencers make money. Furthermore, this article demonstrates how to monetize your content on social media platforms like Instagram, TikTok, and Twitter.
How Do Influencers Make Money?
This is the method by which one may stay at home or even go on travels while living the time of their lives and still be able to pay for such opulent desires with only a few postings on social media.
So if you want to become an influencer but you're wondering how to make money as an influencer, read on to find out the answer.
Join an Influencer Network
The first way in order to get paid on social media is by joining an influencer network. You can find brands to collaborate with by joining an influencer network or marketplace, which is useful whether you're just starting out as an influencer or want to increase your influence's monetization.
Especially for nano and micro influencers who haven't gotten many offers from brands and marketers, this is a great resource.
Using your unique set of skills and interests, influencer networks will connect you with brands looking to collaborate with people like you. As such, this is a top strategy for monetizing your social media presence and establishing yourself as a thought leader in your field.
Brands and marketers can utilize the platform to look for people with influence in a specific field. It's possible that some systems will even allow you to pick the products you'd like to promote.
Influencers and companies can both gain from all of these possibilities. In addition, numerous networks and platforms are available. We recommend using Ainfluencer, which is a free DIY marketplace that is specially geared towards micro and nano influencers, and there's a good chance that you'll be able to get connected with many different brands with ease.
How To Find The Perfect Brand?
One of the influencers industry's many alluring aspects is the rapid rate at which it is evolving. So again, the question that pops into your mind is how to make money as an influencer when there are so many benefits that this industry brings with itself. Many influencers can easily find and interact with important brands thanks to the proliferation of brand finder tools and influencer marketplaces.
Ainfluencer is not only an influencer marketplace for brands to find influential Instagram users but also a place for influencers to find the right brand to work with and make offers.
It's free to view Ainfluencer's large database of brands, unlike its competitors. You may also talk to brands about pricing that's fair to both parties through the app's built-in messaging feature.
The Ainfluencer app layout looks like this:
It's clear, straightforward, and simple to operate.
Brand Ambassador
When a popular person and a business join forces, they form a brand ambassador partnership. In most cases, the influencer will commit to making sole or exclusive use of the company's products or services in their promotional efforts. Or have some other connection to the brand.
That doesn't mean that an influencer pays to use those products, instead, the brand pays the influencer in exchange for their endorsement. Cash, freebies, and other benefits are all fair game for this purpose.
You can profit from these collaborations as an influencer. You can get paid by the post, by a cut of the profits, or by a set wage. Earning potential for influencers is proportional to the size and activity of their respective audiences.
Affiliate Marketing
Still thinking to yourself, okay, what are the other ways in which you could get the answer to the golden question "how to make money as an influencer?"
Affiliate marketing is another way influencers make money. It is also a method of ROI advertising. For each new client acquired as a direct result of an affiliate's promotional efforts, the affiliate receives a commission from the acquiring company. As an influencer, you are the affiliate here.
In most affiliate marketing agreements, the compensation rate is between 5% and 30%. In most cases, the most significant influencers fall between the 8th and 12th percentiles. You may have seen an influencer promoting a product or service with a unique discount code or URL. Those individuals are probably affiliate marketers.
As a result, they're looking for ways to motivate sales and monitor clients so that they can earn a higher commission rate. Performance-based advertising includes affiliate marketing. Affiliates get a commission for each new client they bring to a company. You, the influential person you are, are the affiliate here.
Influencer salary as to the commission rates in affiliate marketing programs typically ranges from 5-30%. Larger swayers are often in the 8-12% range. Have you noticed celebrities promoting a discount on a product or service by providing a unique URL or code? Affiliate marketers, most certainly.
As a result, they're looking for ways to motivate sales and monitor clients so that they can earn a higher commission rate.
Affiliate marketing is an excellent way to bring in a substantial income. The amount you make will be based on:
The number of businesses you work with.
The number of followers you have.
The terms of your affiliate deal.
Off-site website advertising
Marketing on the internet can also include advertisements on other websites. It entails advertising a company's name or a specific product on a page other than the main one associated with that product's website or app.
If I were to sell buttons and contact you as an influencer, I might ask you to write a blog post reviewing my product. A fixed fee is paid to you for each lead generated by your ad. Names for several of these strategies are interchangeable. The aforementioned critique is an illustration of sponsored posts, affiliate marketing, and off-site advertising.
Promoting a website outside the domain name can be done by:
Advertisements
sponsored content
links to related posts populate a blog's sidebar.
Paid endorsements are a great way for influencers to monetize their online presence and expand their reach. Or you could get paid to be an influencer for the brands, and a percentage of any purchases that were made thanks to the ad will be transferred to you.
As an additional service, some influencers provide consulting. Incorporating these strategies into your brand's off-site internet advertising can significantly increase its reach and efficiency.
Merchandising
Next on the list for the answer to the mysterious question "how to make money as an influencer?" is Merchandising. A merchandiser is a marketer or retailer. It encompasses a wide variety of efforts made to increase product sales. By "influencer merchandising," we mean the practice of influencers creating goods to sell in support of their own brands.
A photography influencer may sell prints, or Kylie Jenner may offer lip kits.
Selling merchandise can bring in a lot of money and increase the influencer's salary. This is true in particular for leaders who command the attention of devoted fans.
Direct donation, tipping, subscriptions
Absolutely nothing beats receiving something for free, though. Getting paid on social media and making money without actively doing anything is called "passive income," It can come from things like subscription fees, tips, and donations.
I mean, what are these things, exactly? Also, how to make money as an influencer using these three things? One of the three subscriptions is the most widely recognized. When you subscribe to a service, you effectively agree to pay the provider a recurring charge to gain access to their material.
Imagine things like private interviews, behind-the-scenes images and films, and glimpses into their daily routines. Discounts or freebies are a great way for influencers to encourage people to sign up for their mailing lists. One possible incentive is a free month's access to the service for every six paid months.
Like a subscription, a tip is a means to demonstrate appreciation for someone's work. But rather than paying a fixed amount each month, a one-time payment is made.
When doing Live Streams, many influencers advertise how to tip them using PayPal or Venmo. They might include it on their profile, website or even just make a public plea.
Only those who consistently deliver exceptional work can expect to get tipped. You'll be making the content anyhow, so it's more of a perk than a prerequisite. Even so, your fans know they can always count on it. Now, at long last, we have donations. Contributions of this nature are frequently made to a good cause or a crowdfunding campaign. However, they can also be given to a celebrity by a fan.
Every contribution is appreciated but never required. As a form of appreciation, many influencers may provide shoutouts or signed products.
Promote Your Own Products
Many influencers make money by promoting their own products. Authoring books or providing offline consulting services is common for professionals. A simple "becoming an influencer is part of my marketing routine" is all it takes to answer the question of how to make money as an influencer for them. When other people become influential, they often develop their own products.
Co-Create Product Lines
Co-creating product lines with other influencers, sometimes known as an "influencer collaboration (oration)," can be a lucrative business venture for some of these individuals.
To employ this strategy, an influencer works with an established company to create new goods.
Many sporting goods businesses, for instance, will work with professional athletes to enhance an existing product before putting the athlete's name on it. Influencers in the cosmetics industry may create a stunning lipstick box or eyeshadow palette. A share of the profits is customarily given to an influencer.
Pick a Platform
Still thinking about how to make money as an influencer? Well, it's crucial to consider the platform on which you'll be publishing the bulk of your material. There are some social networking apps that are more popular with members of generation Z, while others are more popular with members of generation X and Y.
We can see that fewer than half of generation Z is on Snapchat, Instagram, or TikTok compared to the popularity of these other social media platforms. Determine who you want to buy your product or service, and then pick the social media sites where they spend the most time.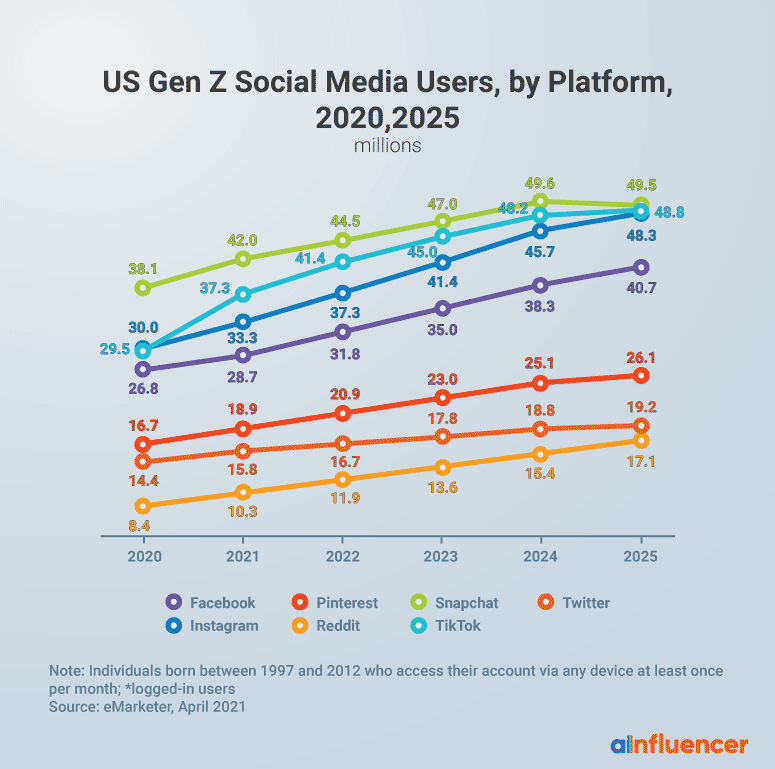 Reselling Free Products
The majority of an influencer's income comes from the sale of free products. It is common practice for many businesses to offer free products to people who have a significant following on social media in exchange for a positive review of the product.
These complimentary items, which may consist of clothing, cosmetics, and many other items of a personal nature, may be considered revenue, and the influencer may then resell them on marketplaces such as Poshmark in order to make a profit.
Sponsored posts
Next way to answer the question " how to make money as an influencer " is by sponsoring posts. It is a common method for influencers to generate income through sponsored posts. When an influencer is paid to write about a product or service, this is called a sponsored post. The credibility of a brand increases when an influencer endorses it.
In the case of Instagram sponsorship posts, the influencer's post will be marked with a "Paid Partnership" label.
Those who have more followers tend to command higher rates for sponsored posts. How much money you get from sponsored posts typically relies on:
the following measurement
in what field do you operate
how effectively do you promote your offerings
If you're trying to gauge Instagram influencer prices, here are two guidelines:
Post-by-post engagement rate + post-type bonuses (post count) + other factors = total rate
Unofficially, the going fee in the industry is $100 per 10,000 followers, with bonuses based on post type (multiplied by the number of postings) and other criteria.
In most cases, the bigger an influencer's following, the more money they may expect to make. No need to worry if you fall under the "nano" or "micro" influencer category.
In reality, numerous micro and nano-sized companies are actively seeking collaboration opportunities with such individuals. When it comes to Instagram, it's evident that micro influencers are where it's at.
If you want to succeed as a brand-new nano influencer, consider these guidelines.
It's possible that brands seeking lesser-known or up-and-coming influencers have a more modest budget. However, if you have partnerships with other companies, they will be less concerned.
Keep in mind that lasting connections typically yield more rewards than one-off jobs in the long run. Develop certain expertise if you're a small business. And making an effort to build rapport with them.
Find Your Niche
If you can narrow your attention to a specific group of people, you will have far more success. Use this information to make content that is more likely to attract and hold the attention of your target audience.
It's also crucial that you have a genuine interest in and expertise in whatever topic(s) you choose to write about.
After you've established yourself in a particular niche through your published content, shifting gears will cause you to lose your existing audience.
The best defense against this is knowing exactly what type of influencer you want to be and sticking to that topic in all of your communications.
With that information in hand, you can plot a course that will keep you focused on your channel's mission and the needs of your audience. If the quality of your videos remains high, this should help you keep expanding your channel.
Use Multiple Hashtags
The last on the list for how to make money as an influencer is the act of using multiple hashtags. Although research suggests that using hashtags on social media does not significantly increase interaction, it is still vital to incorporate the appropriate hashtags in your postings.
The social media site uses hashtags to determine the general topic of the post and to find other posts that are related or share the same hashtags. This is done so that relevant postings can be returned by a social media app when a hashtag is searched for.
Example: Adding up to 10 relevant hashtags can raise engagement on TikTok from an average of 5.47% to 6.41%, according to the platform's data.
How do different niche influencers make money?
Now that we have established the answers for " how to make money as an influencer" as a whole, we can see how different niches make money as influencers.
As you probably know, there are many influencers working in different niches.
For example, if you are thinking to yourself, how do travel influencers make money well, there are different ways, such as having brand partnerships, running a travel blog, and being a freelance photographer and videographer,…
As for how to make money as a micro influencer, some ways are having sponsored posts, becoming a brand ambassador, making money on Instagram and other platforms with affiliate marketing, and making photo and video sales.
One of the popular niches in the market is fitness influencers, and if you are one and are wondering how to make money as a fitness influencer? A couple of ways are creating Ebooks which are downloadables, creating digital courses and workshops, and more…
How much do influencers make?
Next to the question "how to make money as influencers" there's another question that is important to also answer, and that question is "how much do influencers make?". Well, there are a few factors to take into account when calculating the earnings per post for influencers:
Which kind of material or post is being made?
In general, what is the norm?
The influencer's reach, or the number of people who follow them, is particularly interesting.
Can they boast of high levels of participation in a previous campaign?
Can you provide a sample of your media kit?
Try out different price points to see what works best for you. Look at what similar businesses charging similar sizes are asking for similar pieces of content. Make use of historical data and engagement rates from successful campaigns.
The total of these factors can affect the price tag attached to each individual update. It might be challenging to find averages when there are so many variables to think about.
In the following part, we will be referring to the different sizes of influencers that were discussed earlier. Within each of these bands, we will talk about average salaries and what you may expect to make. So, you should disregard them.
How much do Instagram influencers make?
Here's the formula for making money as an Instagram influencer: the more followers you have and the more content you provide, the more money you can make. Earnings per post for influencers with 1M followers average around $670. A content producer with 100K Instagram followers can make around $200 for every post, whereas a content creator with 10K followers can make around $88 on average.
How much do Instagram models make?
Since the turn of the century, the power of social media has grown exponentially, and nowadays, nearly everyone has an Instagram account. Some people might be curious about how much do Instagram models make, lucky for you, there is a blog on that topic that contains very useful info. They are also interested in learning if it is possible for them to profit from their accounts and fan base. To answer the question, it truly depends on the fan base of the models, but they can get anything from $25 (micro influencers) to $1 million (celebrities).
How much do TikTok influencers make?
By 2024, TikTok stars will be more popular than YouTubers, and by 2022, they will have surpassed Facebook in terms of influence. It would be wise to start gaining followers on TikTok immediately. The utility is becoming better and better.
This means that the total amount earned by TikTok stars will continue to grow as time goes on.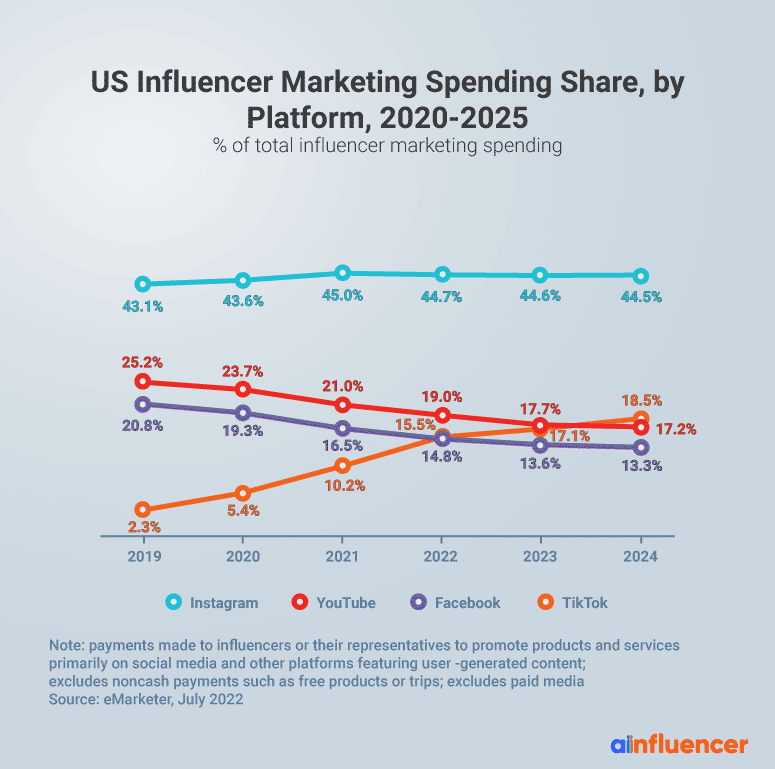 This Statista report, along with the following report, states:
TikTok videos can earn micro-influencers up to $181.
It is possible for TikTok's top influencers to earn $531 per video uploaded.
TikTok videos can earn mega-influencers anywhere from $1,631 to $4,370.
Sponsored video content is a common way for TikTok influencers to spread the word about a product or service. The term "Takeover" refers to an event in which a brand temporarily hands over management of its social media accounts to an influencer. Alternatively, they can use Gifts to earn money from their profile.
How much do Twitter influencers make?
If you're an influencer, Twitter doesn't look like the best place to make money. The presence of eCommerce functionality in other apps may be to blame. There's also the possibility that participation rates are at play here.
On the other hand, many of these influencers will have bundles you can buy. An advertiser-funded Tweet can serve as bonus material.
Statista provides the following data on the average earnings per post made by Twitter influencers:
It's possible for a nano-influencer to earn $65.
Earnings for micro-influencers and up start at $125.
It's not uncommon for Twitter influencers to be paid to publish or use branded hashtags. The practice of "Twitter Takeovers" has the potential to bring in money as well.
How much do Facebook influencers make?
One possible demographic shift is that younger people are losing interest in Facebook. Yet, by many measures, Facebook is far and away the largest social media platform. Facebook influencers continue to monetize their followings through methods such as:
Sponsored content
Contracts with brand ambassadors
Merchandising affiliate marketing
Live product or service promotion videos
According to Statista, the following are the average profits per post of Facebook influencers:
A nano-influencer can earn up to $170 for each post.
On Facebook, a micro-influencer can earn $266.
Conclusion
To sum up, being an influencer may be profitable in a number of ways. Although there are just a few broad categories of monetization techniques, many subcategories exist within each. Constraints on choice are minimal when originality is essential.
1. How do I start making money as an influencer?
Ways to make money as an influencer:
1. Join an Influencer Network
2. Brand Ambassador
3. Affiliate Marketing
4. Off-site website advertising
5. Merchandising
2. How much do 100k Instagram influencers make?
Price range: $1K – $500K
For example, an influencer with up to 10K followers would price $25 to $50 for every post, whereas an established influencer with between 30K – 80K followers might charge between $150K and $500K per post. These numbers are based on a variety of additional considerations.
3. How do TikTok influencers make money?
TikTok's Creator Marketplace is one of the most cutting-edge methods by which users can monetize their content. The Creator Marketplace streamlines the process of forming connections between businesses and influencers.