Without troubling you with the details of affiliate marketing, let's spill out the money-making secret of it right now.
If you become a link between your audience and the products and services they need for their pain points, you can create a permanent income stream.
That's what we all want. Generating passive income while we're sleeping like a baby and dreaming of the ideal life we want. Then waking up to see an income chart like this: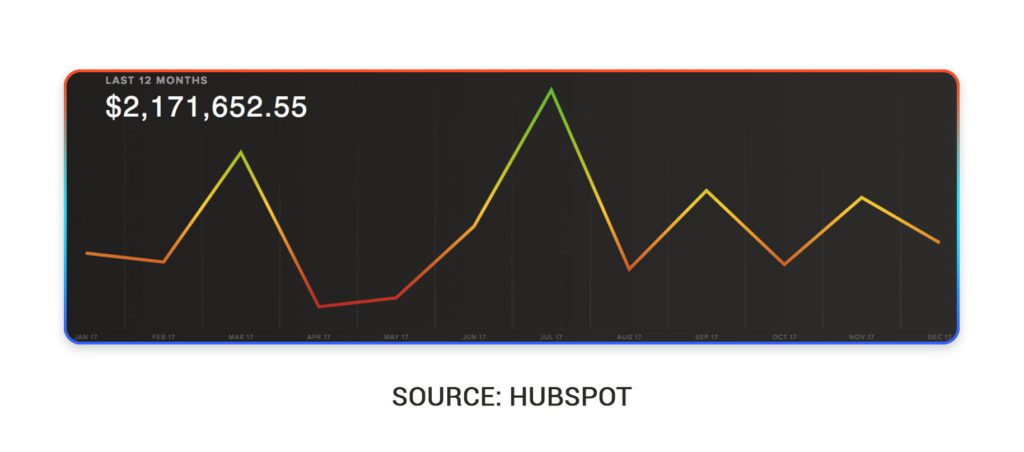 Don't lose heart. These results are not impossible to achieve. You need to be patient, bear the burdens, and then through affiliate marketing, you can live the dream.
But before enjoying the full range of benefits that come with it, you should ask yourself one game-changing question:
How can I solve the problems of my audience?
It really comes down to this critical question because it's all about garnering an online audience and serving them right.
In this blog post, we'll help you find an answer to that question and also familiarize yourself with the foundations of affiliate marketing.
What Is Affiliate Marketing?
Affiliate marketing is one of the available marketing methods with the principal aim of building brand awareness.
Affiliate marketing refers to promoting someone else's products or services in exchange for a commission. In today's world, it is typically done online.
Put simply, affiliate marketing offers a cut of the revenues if you (the affiliate marketers) help a brand or business sell more. It is a performance-based marketing tactic, which means you only make money when people actually buy whatever it is that you're promoting.
How Does Affiliate Marketing Work?
Four major components help keep the affiliate marketing wheel spinning.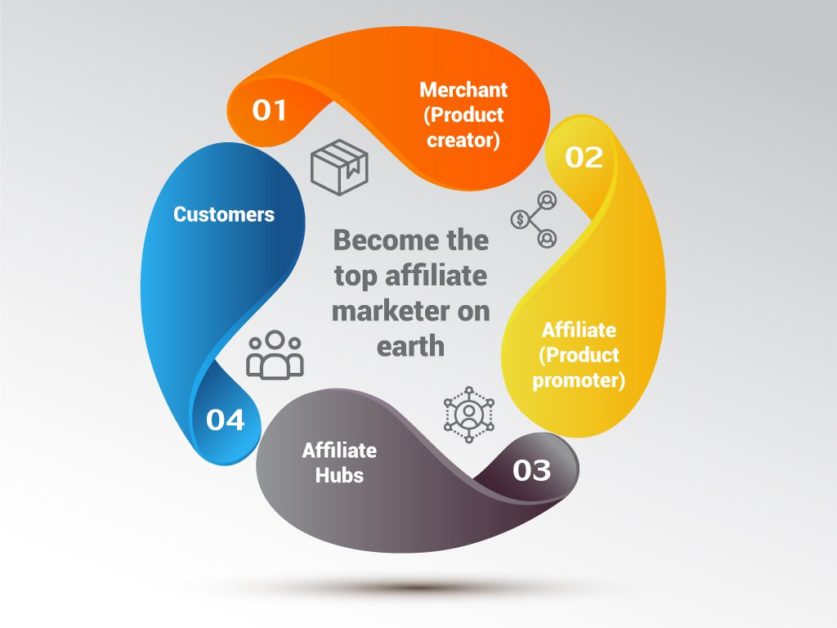 These elements are closely linked, and if the cycle is broken, there won't be favorable results.
1. Merchant (Sellers or Product Creators)
Generally, merchants are product creators or service providers. They are the ones offering commissions to third-party elements (affiliates) in return for successful sales.
A merchant doesn't have to be a large company. Any person, brand, or business could be a product owner or service provider and therefore a merchant.
Sometimes, being neither of these is also possible, as with the Amazon Associates Program.
Merchants are also responsible for customer support and managing order fulfillment. You won't have to deal with any of these yourself, as the product creators entirely handle them.
2. Affiliate (Publishers or Product Promoters)
Next in the cycle, we have the affiliate. The affiliate marketer promotes products or services, typically on their online platforms such as social media accounts. This is likely to be you.
You're responsible for doing the second part of the affiliate marketing programs, which is marketing. The merchant will give you either a link or a promo code to make sure it was you who actually represented a sale.
Your job is to get people to click on that link or use the promo code to purchase what you're promoting. Depending on your country of residence, you may also legally be required to inform your audience that you're an affiliate, and you'll be receiving commissions when someone completes a transaction.
In most countries, this is not a legal requirement. However, it is highly ethical to be transparent about the affiliations you have.
3. Affiliate Hubs
Affiliate hubs, networks, or gateways, whatever you want to call them, serve as intermediary links between merchants and affiliates.
Typically, an affiliate network is a website that an affiliate visits to find various products for promotion and get in touch with different merchants for collaboration.
The benefit you get from working with affiliate hubs is not having to deal directly with brands, businesses, or companies. In the most basic agreements, you as an affiliate collaborate with a merchant to promote single or multiple products.
This may happen in situations where merchants manage their affiliate programs only on specific networks.
Through affiliate hubs, you have the opportunity to earn more revenue from working with several brands and businesses at once.
Think of them as product databases where you can choose the ideal product for promotion. These networks make your affiliate marketing plan easier to execute by managing the relationship between affiliates and merchants and handling the payment process and product delivery.
For promoting consumer products such as gadgets, tools, etc., Amazon Affiliate Program is, without doubt, the best, biggest gateway to begin your affiliate marketing journey.
4. Customers (Consumers)
Customers are people who use your affiliate links or promo codes to purchase the products you're promoting.
All the aspects of affiliate marketing we discussed so far are of paramount importance for the entire process to work efficiently. But most important of all is the customer who actually keeps the affiliate wheel turning.
If no one buys what someone is promoting, there will be no sales, no commissions, and no revenues.
Since the cost of a product's affiliate marketing is calculated in the retail price, customers don't have to pay a higher price than usual when purchasing a product through an affiliate's link or promo code.
6 Types of Affiliate Marketing Channels
Affiliate companies commonly use the same methods with regard to promoting their affiliations, yet not all affiliate marketers advertise their products in the same ways. Indeed, there are several diverse tactics for promoting these products.
Here are the most popular 6 channels to develop your affiliate marketing programs.
#1 Affiliate Marketing for Influencers
Affiliate marketing for influencers is a very common approach to earning money as they attract a huge enough audience that is used to purchasing the items endorsed by them.
There are different types of influencers who can effectively sway the purchasing decisions of big portions of the population. Find nano influencers and micro influencers who are more likely to accept being a part of a marketing affiliate with the most niche and targeted audience. Influencer marketing campaigns, however, boast a great audience on Instagram compared to other social media platforms. While a campaign might be carried out with a series of product reviews, distinctive behind-the-scenes footage, or live streams, it must be built around a specific promotional agreement. Of paramount significance is the need to recognize and apply elements from the influencer's brand to ensure brand recall and branding.
How to Find the Right Influencer for Affiliate Marketing programs?
To run affiliate marketing programs through the influencers' channel, you should be able to find influencers first. This also includes sharing your terms and requirements, negotiating with them, and closing the deal.
One way to fulfill all the goals above is to use an influencer marketplace. 
Now, Ainfluencer is the DIY Instagram marketing that offers everything you need, perfect to run and lead influencer marketing campaigns, brand ambassador programs, and affiliate marketing of course.
Click the button below to join Ainfluencer, create your campaign, set your goals, access the impressively huge influencer database, manage your offers, agree on a contract with your influencer, and analyze the success of your campaign all by yourself. 
How To Start An Affiliate Marketing Program on Ainfluencer?
A logical step-by-step procedure to use affiliate marketing as a brand will help you get your strides back regardless of the economic turbulence.
Here are what you need to plan ahead of your affiliate marketing campaign.
Your payment method
A reliable influencer database
Your affiliate tracking analytics
Once you have figured out the factors above, you make a go of your affiliate marketing.
In the following, we help you develop the right Affiliate Marketing Strategy from scratch.
Ainfluencer offers one of the greatest influencer databases to enable you to find the right partner, negotiate your terms, and have a secure payment procedure.
How To Use Affiliate Marketing On Ainfluencer As A Brand?
To use affiliate marketing on Ainfluencer, you must first create an Instagram account as a creator.
Also, make sure your website, which your affiliate link will be redirected to, is all prepped.
Moving on, join Ainfluencer as a brand and create your ad.
You will be setting your goals and objectives in the course of creating your ad, so the influencers will exactly know what they are signing up for.
Yet, there is an in-app chatbox for further negotiations and finalizing the contract.
Note that influencers will be paid based on their performance and contract.
Where To Use Affiliate Links On Instagram?
Instagram may not seem a platform welcoming the idea of sharing links at first glance, but you will see varied methods when you learn some ideas and tricks to share a link on Instagram.
1- Add a link to your Instagram bio
If you only promote one brand, your Instagram bio is a great place to leave your link. You can always update the links.
2- Share a swipe-up link to your Instagram
If you have over 10K followers or your account is verified, you will have access to this feature simply by searching "swipe up" in stickers before you share a Story.
By publishing an IGTV video, you can also unlock the swipe-up feature even without having 10K followers or being verified, this link only directs your followers to your IGTV video though.
The best idea is to post your video on your IGTV channel, then open your Instagram profile, and before sharing your Story, add the link to your IGTV video by taping the chain link. When you made sure your followers are led to your video, there in the video you can explain how to use your affiliate link on your IGTV channel.
3- Create a paid Story ad
Use ads manager or power editor to get more information about the price of this cost-per-click ad and by setting your budget share your link to your Story.
4- Use short and memorable links
You cannot have a blue clickable button on your photos or in your captions when you share a link, but making it short and easy to memorize while combining it with a promo code as an incentive to encourage your followers to visit the website is another strategy that works well.
5- Share a link on Instagram shoppable posts
Another example of a highly focused link is shoppable posts. Each shopping tag only refers to one product (and it has to be a physical product, sold in one of a select group of countries). Shopping tags provide the most focused conversion.
To begin using shopping tags, create a product catalog on Facebook. Once you've submitted all of your products, including shopping URLs, photos, and descriptions, you can begin adding shopping tags to your Instagram posts.
How to measure the performance of your affiliate campaign on Aifluencer?
To build upon our point a bit more, Ainfluencer boasts insightful metrics, such as the number of views, shares, and likes to track your efforts.
The awareness of your engagement rate in addition to the results of your conversions from your affiliate link can tell you how successfully you have performed.
#2 Large Social Media Websites
According to master blogging, over 67% of affiliate marketers connect with their customers on social media. Along with Instagram as the greatest social media platform for affiliate marketing programs, there are also other huge platforms such as Facebook, YouTube, TikTok, etc. focusing on building an audience of millions.
Instagram Affiliate Marketing
Instagram is definitely expanding as a platform with great potential for businesses. There are various features on Instagram for affiliate marketing programs.
Label affiliate products as a paid partnership.
Create a view shop tab with affiliates able to tag products.
Add affiliate links to your Instagram bio.
Create a promo code Story highlight.
Share product demonstration videos on Stories, Reels, IGTV, and Live.
Use hashtags to expand your reach.
Track affiliate performance.
Use Ainfluencer to discuss all the terms and requirements above with your affiliate. In particular, asking to share affiliate links to their bio, using certain hashtags, a coupon code (promo code or discount code), video content, and insights into how successfully your affiliate program is working.
#3 Bloggers And Vloggers
Bloggers can develop the capability to rank organically in search engine queries, allowing them to produce content that promotes a product or brand. The blogger investigates the product or service and then writes a thorough review that captures the interest of readers, driving traffic back to a seller's website. There are also video content creators (vloggers) who are also a dab hand at driving traffic by making high-quality videos.
#4 SEO
If you do SEO properly, there is a great deal of organic traffic you can get from search engines. In fact, it's about making your website better for users. People naturally search for information online. Who would not like to rank first in Google's results?
#5 Microsites
A microsite is a subsite connected to a specific marketing campaign. A microsite is:
Usually temporary, built around a single, time-limited digital marketing campaign.
Packed with its own content built around its own consistent themes and keywords.
Supported by its own social media, video content, email addresses, and interfaces.
Sites are promoted on a partner site or in search engine advertising. They are separate from, if not better than, the site's primary offering. By selling more specific, more applicable content to a specific audience, they attract advertisers.
#6 Emails
Email marketing is still a potential affiliate marketing revenue stream. Some affiliates have email lists that they can use to advertise the items of the merchant.
They also collect emails in bulk through their numerous campaigns, then send out emails about the things they're advertising.
Affiliate Marketing Examples To Inspire All Kinds Of Businesses
Recruiting content creators (affiliates or affiliate marketers) to share and promote affiliate links to your website on their own blogs or social media profiles is the first step in starting an affiliate program.
Yet, it's always inspiring to look into some of the affiliate marketing examples and see how they achieved their goals.
1- Ainfluencer Influencer Marketing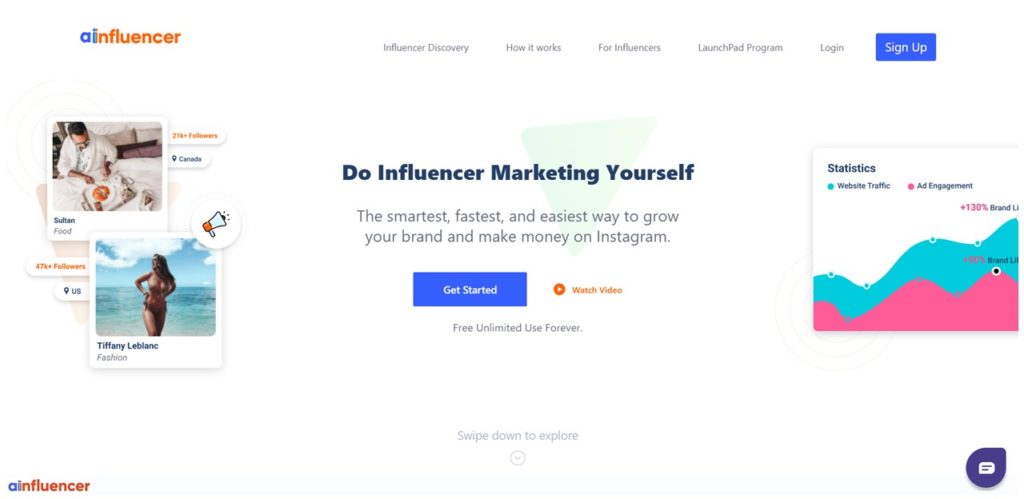 Another two-pronged affiliate program, also one of the best affiliate marketing companies is called Ainfluencer. There is a desktop platform for brands and a mobile app for influencers to help both make the most of influencer marketing, an ambassador strategy, and affiliate marketing on Instagram.
What Ainfluencer Offers Brands
Create ads
Find influencers according to your customized search filter
Get offers from influencers interested in your Instagram marketing.
Negotiate with influencers and create a contract.
Schedule and manage your ads.
Get insight into influencers' profile and analyze the success of your marketing into the bargain.
What Ainfluencer Offers Instagram Influencers
Explore and get your hands on the best ads.
Offer brands and negotiate with them until you close the deal.
Get invited to different Instagram marketing programs.
Schedule and manage your ads.
Connect and manage multiple Instagram accounts on Ainfluencer.
Get an estimated price using Ainfluencer's AI according to your activities on Instagram.
2- Amazon Affiliate

Amazon tops every single list of the best affiliate marketing programs, but why?
A well-known, reputable affiliate brand that makes it easier for affiliates to get conversions.
There are plenty of Amazon products for affiliates to promote, helping them quickly choose products that meet their niche. Amazon's affiliate program gives you a lot of freedom while being true to your brand.
For major websites, independent bloggers, and influencers, many affiliate linking options are available.
Commissions of up to 10% When a customer clicks on an affiliate link and adds the promoted product to their shopping cart, the affiliate receives a commission on the entire cart.
For higher-profile content providers, an "Amazon Influencer" program is available. It comes with similar features as well as a personalized Amazon page with a unique URL where affiliates promote products.
3- Airbnb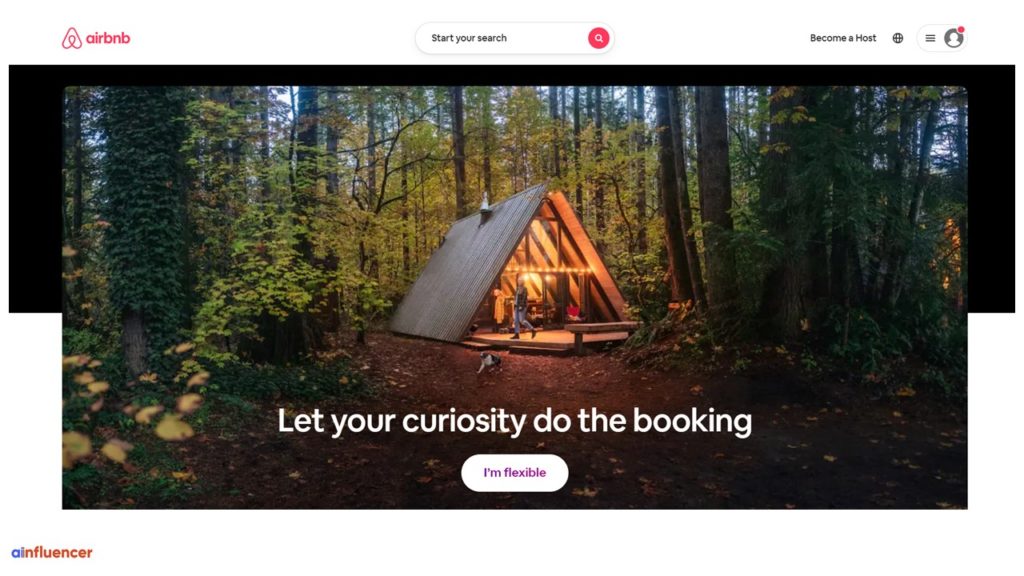 Airbnb runs two affiliate marketing programs simultaneously, one for hosts and another one for guests.
Yes, you're right! If you haven't heard of the name already, Airbnb is a rental brand with one of the best affiliate marketing programs around the globe.
All you need to do is to be passionate and creative and have a considerable number of followers who also share the same interest.
Another thing that puts Airbnb on the most successful affiliate marketing examples' lists is how wide a 4-million Airbnb properties in 191 countries are.
How To Become An Affiliate Marketer
It's true that affiliate marketing is the process of earning money through promoting a merchant's products or services.
But there are several steps you should take to become an affiliate marketer: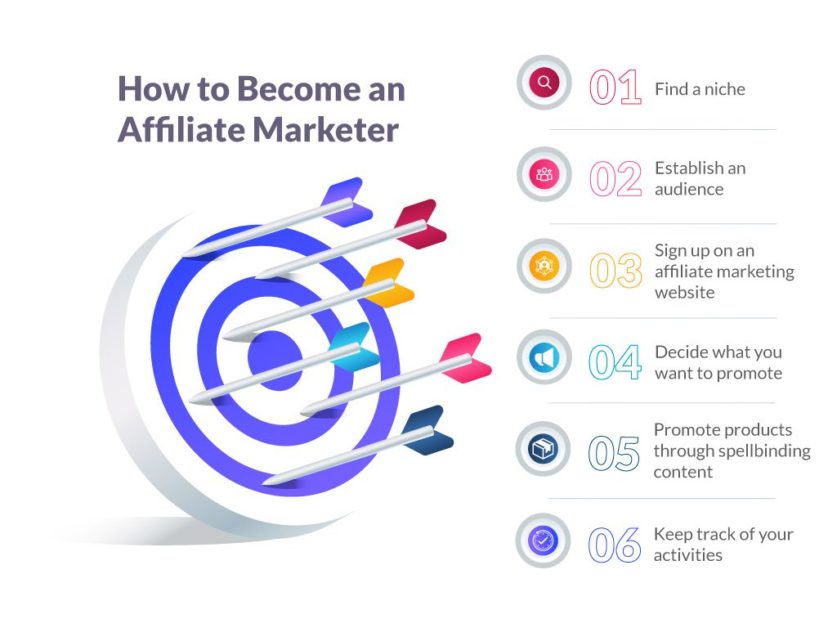 1. Find A Niche
As an affiliate, you need to find a niche that best suits your interests and is also profitable. When picking a niche, think deeply and don't pick one because you may be somehow interested in it.
You should be precise about what you want and dedicate enough time to evaluate your skills and passions. Try to narrow it down as much as possible. For example, 'Digital Marketing is a popular niche, but things will be a lot easier for you if you change it to a sub-niche like "Digital Marketing for small businesses in Los Angeles.
However, it's not all about what you want, so don't forget to also think about how you can solve some of your audience's problems. When you have picked a niche, you start garnering influence, which is vital for building an audience.
2. Establish An Audience
Next, you need to find a target audience who will probably be interested in what you do. Having a large audience who trusts you and your recommendations is key to effectively making your affiliate marketing work.
Common ways of building an audience include websites, blogs, YouTube channels, and Instagram accounts. Regardless of the platform you choose, you need to make sure you're comfortable using it because you need to establish authority on it. This process takes time, and you want to be using a user-friendly online platform.
Once you define who you're going to reach, you must begin bringing value to your audience through a detailed content marketing plan.
3. Sign Up On An Affiliate Marketing Website
The best way to start your affiliate marketing journey is by signing up for an affiliate program. We know we've referred to Amazon Associates a lot in this blog post, but it's a great starting point for an affiliate.
This is because Amazon is globally recognized and has a huge website with a wide range of products you can choose from for promotion. After signing up, they will provide you with an affiliate link containing a unique ID that you can use on your website or social media accounts. Joining an affiliate network is typically free of cost; however, the requirements for each hub vary.
4. Decide What You Want To Promote
This is another crucial step when starting out as an affiliate. Here you're faced with two important aspects of affiliate marketing: your personal experience of a product and its resonance with your audience.
You need to choose products that you're familiar with and have experience using them. Never promote a product simply because you can earn high commissions for it. What you decide to promote should solve the problems your audience is facing.
5. Promote Products Through Spellbinding Content
Now that you know what you want to promote, it's time to create eye-catching content to grab your audience's attention. Through a content marketing strategy, you should plan, create, and publish content that your audience finds appealing and valuable. For this step, you can write blog posts, e-mail newsletters, share product review videos on YouTube or social media platforms, or anything that contains a value and your personal recommendations.
Use any of the available online channels for showcasing the products you plan to promote. But be careful not to be direct when recommending products to your fans. Instead, just try to explain the pros and cons of a product and add your own authentic reviews to it.
6. Keep Track Of Your Activities
When someone clicks on your affiliate link and visits the merchant's website, a cookie is inserted in their browser for tracking their interactions. This is true for all our activities on the web. Whenever we enter a website, a cookie will start keeping track of our actions (this is called website visitor tracking).
Cookies are typically stored for a minimum of 30 days on a website's servers. The webmaster can access these cookies to reach out to those who have left some of their information but didn't make a purchase. With retargeting campaigns, the website owner can follow up on these leads via e-mail for example, and encourage them to buy by giving them special offers. In case you use a website for affiliate marketing, you can do the same to turn potential leads into customers.
Affiliate Marketing Strategies for Influencers on Instagram
From Oprah's Favorite Things and amazon affiliates to smaller businesses with nano and micro influencers' targeted and niche audiences, affiliate marketing is massively popular.
However, success doesn't happen overnight. Here are 11 strategies to develop a successful affiliate marketing program.
1. Develop A Rapport
Customizing your affiliate campaigns to a specific niche and interest boosts the chances of conversion. So, you'll be able to sell to the people who are most likely to buy the goods if you establish yourself as an authority in one subject rather than advertising a wide range of things.
2. Choose Quality Over Quantity
The quality of the clicks or "leads" you receive is significantly more valuable than their quantity.
So, forget about automated bots used to rocket the number of clicks since affiliate marketers are paid based on real conversions.
3. Have A Real Interest In What You Promote
Actually, you have the ability to pick and choose products that you have a real interest in, so remember to make sure you believe in the campaign you promote.
Remember that your audience will only buy what you advertise when you've built up trust first.
What Is A Promoted Post On Instagram?
Promoted posts are mainly made in much the same way as regular posts that you create their content organically, however, the next step is what differentiates them from a regular post. All you need to do is to tap "promote" under your chosen post.
Promoted posts help you,
reach new people
a CTA (Call-To-Action) button works better here
4. Select Campaigns With Care
You'll make less money on a lousy product than you will on a valuable one, no matter how brilliant your marketing talents are. Carefully evaluate a product's demand before advertising it.
Before collaborating, make sure to thoroughly research the supplier. Your time is valuable, and you want to make sure you're investing it in a successful product from a reputable supplier.
5. Put Your Audience First
Your audience is your first priority as an affiliate marketer, and eventually, for the affiliate marketing program, you are promoting.
Make a long-term commitment to engage with your followers who show more interest and this will help you simply place the focus on audiences that are more likely to drive conversions.
6. Focus On Conversion Rates
The most effective affiliate marketers focus on promoting products with high conversion rates rather than chasing large commission rates.
For example, an affiliate marketing program that pays $2,000 per sale may appear enticing, but if the conversion rate is only 0.04 percent, a large number of clicks would be required to generate any money.
If you choose an affiliate network that pays $2 per conversion but converts at 40%, you'll be more likely to establish a consistent money stream. When you combine this strategy with constant efforts to expand your circle of followers, you have a recipe for large profits.
7. Begin With Reviewing
Reviewing products and services at the beginning of your affiliate marketing is usually the main approach to introducing your niche and yourself as an affiliate marketer.
If there is an affiliate program, you can review almost anything offered online – physical things, electronic software, or services bought online.
8. Use Several Sources
Spend time creating money using a blog, reaching out to your followers on social media, and even looking into cross-channel promotions instead of focusing just on an email campaign.
Try out a few different marketing methods to determine which ones work best for your target demographic. Make use of this strategy on a regular basis.
9. Keep Up With Trends
In the affiliate marketing world, there is a lot of rivalries. To be competitive, you'll need to keep on top of any new trends.
You'll also most likely be able to take advantage of new marketing tactics that are continuously being developed. Make sure you're up to date on all of these new methods in order to ensure that your conversion rates and, as a result, your revenue are as high as possible.
10. Make A Subscriber List
Look for strategies to develop your own brand and loyal following. Make a website and/or a blog where you may post bargains.
By sending out a weekly or daily email, you can stay in touch with your fans while also increasing your earnings. Give people a reason to sign up. Send out "deal of the day" emails, for example, and add value by including suggestions on how you or others are using the things you're promoting.
11. Track Your Efforts
To be effective, you must first understand what is and is not working in your affiliate marketing program.
Use the tools provided by your marketing affiliate or influencer monetization platform to see what your followers are responding to in order to analyze the performance of your affiliate links. Your affiliate marketing channels and site analytics can all provide information about how effective your other influencer activities are as you become more sophisticated.
8 Benefits Of Affiliate Marketing
Affiliate marketing benefits are many and not limited to the ones you see below. However, these are the major ones: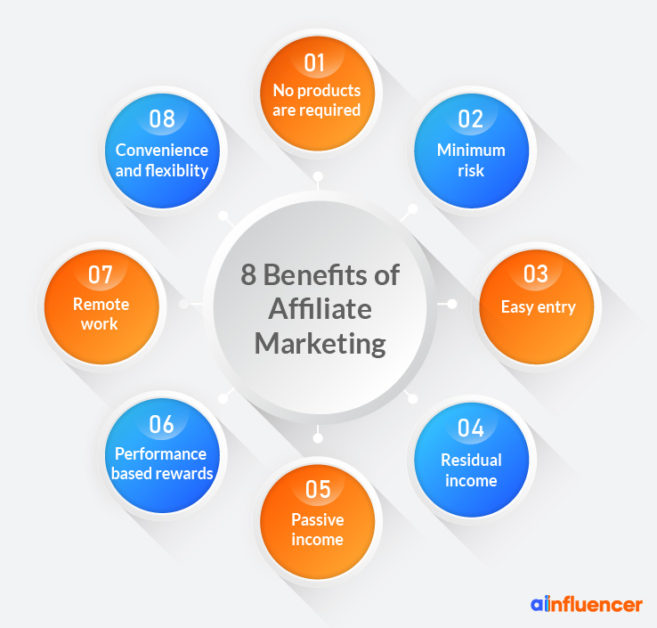 1. No Products Are Required
A significant benefit to affiliate marketing is earning income without going through the painstaking process of creating a product. Merchants have already made the products or services, and all you need to do is market them.
2. Minimum Risk
As an affiliate marketer, you are not responsible for customer support or product delivery. Since you're not the product owner, you don't need to worry about such issues. All your focus should be on generating sales. Therefore, you won't lose anything if customers don't buy what you're promoting.
3. Easy Entry
Affiliate marketing is a relatively straightforward job to start. You don't have to invest much money in it. Many affiliate programs are free to join. You bear no responsibility for a company's business side since you don't have to deal with design, production, shipping, etc.
4. Residual Income
Affiliate marketing also allows you to create permanent streams of income. This means that for promoting each product, there's a chance that without dedicating additional effort, you'll earn residual income.
5. Passive Income
Once you start working as an affiliate marketer, you'll create a passive income source from products you've promoted one or several times. For example, you'll earn passively from a product that you promoted months ago.
6. Performance-Based Rewards
Despite many regular jobs where you will earn the same salary regardless of your performance, affiliate marketing is solely based on what you put into it. The better you promote and review brands, the more rewarding your affiliate marketing programs will be.
7. Remote Work
You'll be free to pick and choose products offered by sponsors and create marketing campaigns to earn money from the items without going to an office. Working with these tasks from home allows you to stay home or work from wherever you like, say a cafe, the entire day.
8. Convenience And Flexibility
Due to your rising status as a self-employed individual, you gain the freedom to determine your own aims, set your personal direction, choose the products that you want, and undertake campaigns and projects as you see fit. This flexibility can permit you to specialize in the products you have a passion for or get involved in huge ones in which the work is simple.
Another benefit of being an affiliate marketer is the ability to choose when and how long you wish to work. This is certainly not going to be a 9-to-5 job.
Types Of Products You Can Promote
Two categories of products are available for an affiliate to promote: digital products and physical products. The names already suggest what we mean by each type.
A. Digital Products
A digital product is what can be consumed online. Typical examples are E-books, computer software, mobile apps, or online courses.
Benefits Of Promoting Digital Products
One major benefit you gain from promoting this product category is having higher payouts. Due to their zero cost of reproduction, you can earn commissions up to 50% of their price.
Another benefit you may gain from promoting digital products is having a chance for recurring commissions. In some cases, for example, a computer software you promoted months ago requires users to pay every month.
If this actually happens and customers don't cancel, you may also receive a commission every time the merchant bills a customer.
Furthermore, lots of digital products offer free trial periods, making it a lot easier to get people to sign up on a platform.
The benefit starts when some of these require customers to provide their credit card information. After the free trial expires, the user is billed, and in this process, you'll receive a commission.
B. Physical Products
Physical products are products that customers physically use and typically receive via post.
Benefits Of Promoting Physical Products
There are not many benefits that come with marketing physical products. The commission payouts of these products are a lot lower than digital products. Commission fees cap out at 15%, and it's really impossible to expect a higher number. You may even encounter commission rates as low as 1.5%.
This is due to the costs involved in producing, packaging, and distributing physical products. However, the primary advantage of promoting physical products is the variety they have.
When you decide to promote these products, you get to choose a cluster of preferably relevant topics. For example, let's assume your target audience is swimmers. You can promote a range of different products to this group, such as fins, swimsuits, goggles, bathing caps, etc.
It's clear that when you're promoting swimming-related products, you don't have to limit yourself to single items, which in turn can benefit you by increasing the affiliate commissions you receive.
Expert Advice From Pat Flynn
Pat Flynn, the founder of SPI, believes that two factors are essential for affiliate marketing to be successful:
Choosing the right products
Developing effective strategies for promoting them
He's right.
Suppose you have the best marketing strategies at your disposal. If you're not using them to promote the right products, chances are your affiliate marketing plan fails. The opposite could also be true.
What's even a more significant risk is that it can cost you the trust you've built with your audience, therefore losing them in the process.
Flynn puts a lot of stress on first thinking of what problems you as an affiliate can solve:
"Everything you promote to your audience, whether it's created by you or by someone else, should solve the pains and problems your audience has. In other words, it should be relevant to what they need."
Whatever you decide to promote, you need to make sure it's relevant to your audience's wants. Their pain points must be your priority.
Once you've found out what problems you can solve, earning revenue will follow as a byproduct.
Moreover, Flynn advises affiliate marketers to only promote products they have experience using since it makes the promotional efforts appear natural and not only financially motivated.
However, keep in mind you should couple this with having a precise understanding of your audience's needs.
You can easily do this by conducting polls.
Just ask your audience simple questions related to products within your niche and review their responses to find out what you should promote to them.
Conclusion
You may hear that affiliate marketing is dead and no longer effective. Not true.
When affiliate marketing was first introduced around ten years ago, it was mostly a get-rich-quick method with a sole focus on earning commissions.
But the digital sphere has evolved, and so has affiliate marketing.
In today's saturated markets, success depends on building trust and offering authenticity.
There's still room for success if you follow our guide step by step and also listen to professional opinions.
Then feeling the joy of having a passive stream of income will turn into a reality.
Last but not least, if you are planning to develop a DIY affiliate marketing program, make sure to click on the button below and join Ainfluencer so you can set goals and adopt the right strategy, find the right affiliates, build a formal contract, and analyze the success of your program.
1- What is affiliate marketing?
Affiliate marketing offers a piece of the profits if you (the affiliate marketers) assist a brand or business in selling more products.

2- How to become an affiliate marketer?
To become an affiliate marketer, you can start with reviewing products of your interest and increase followers who are not only interested in what you are introducing but also loyal to you. Then follow the steps below. 
– Stick to the niche you have selected.
– Continue to grow your audience. 
– Sign Up On An Affiliate Marketing Website
– Decide What You Want To Promote
– Promote Products Through Spellbinding Content
– Keep Track Of Your Activities
3- How to start affiliate marketing?
– Create Affiliate Revenue-Generating Content.
– Use the content to promote your affiliate products.
– Convert Your Visitors Into Affiliate Clients.
– Increase Revenue by Optimizing Existing Traffic.
– Use your email list to increase affiliate revenue.