Not every business has yet fully realized how beneficial it is to find nano influencers for their brand. The fair number of followers for nano influencers ranges between 1K and 10K. In fact, nano influencers are more consistent and have a closer relationship with their loyal audience in comparison to mega and macro influencers.
When you opt to find influencers to increase your brand awareness, there are important criteria to ponder over in your influencer search, including:
Number of followers
Engagement rate
Relevance
Authenticity
Values
Content quality
Frequency
Reliability
Audience quality
Accordingly, nano influencers can be a good match for the goals you set to start influencer marketing campaigns.
Do you wonder how to find nano influencers? This article will help you learn how to find nano influencers and learn about the best situations and benefits of working with them. It will also provide you with a list of the top 10 nano influencers to put their social skills to good use.
The Benefits Of Working With Nano Influencers
Influencer marketing is the best marketing method you can use to experience many benefits. If you are still in two minds about whether or not to collaborate with nano influencers, here are the most important benefits of collaborating with them: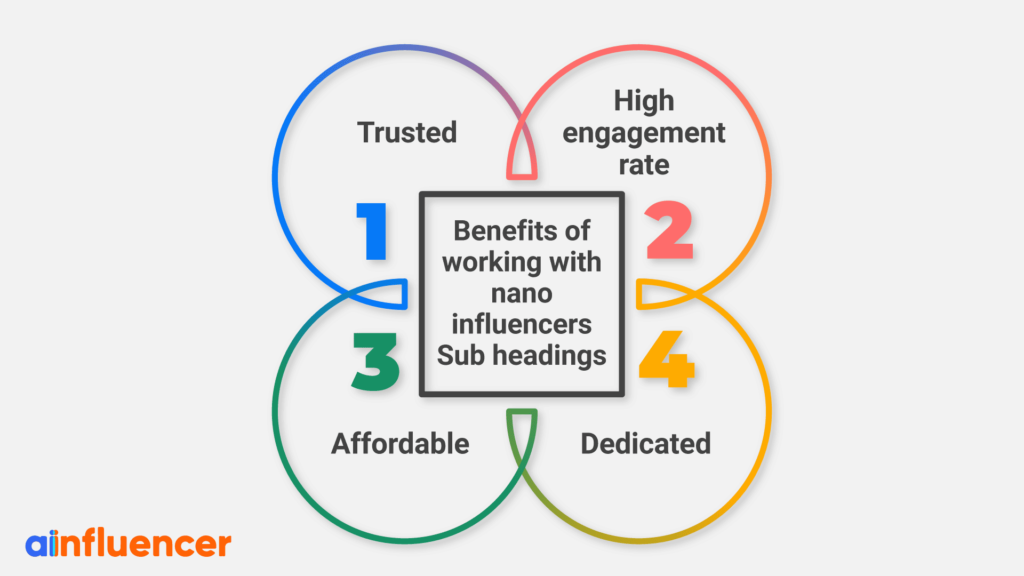 1. Trusted
One of the top rules for successful trading is to have a close relationship with your target audience, and in the case of online marketing, who is better than a nano influencer to serve the purpose?
It is of great importance to answer questions asked by followers, like or reply to their comments, and show that you care about every one of them, and nano influencers' low number of followers facilitates one-on-one sustainability communication.
2. High Engagement
Increasing the engagement rate on Instagram is a big challenge, but the latest influencer marketing results show that nano influencers could drive high engagement due to their authenticity, personality, and low number of followers, which is a big achievement for gaining new reach and increasing sales.
3. Affordable
Another great advantage of finding nano influencers and collaborating with them is that they are so cost-effective in leveraging your influencer marketing strategy.
In general, they are the best choice for startups and small businesses who mostly aim to build up their presence on the online market with a limited budget. If you are looking for affordable, productive content types, nano influencers can serve you with high-quality content to improve your customers' journey.
4. Dedicated
Nano influencers work on a level that you might be the first one to acknowledge its importance, and the nano influencer you pick to work with might be officially hired by a company for the first time, which gives you the opportunity to have their central focus placed on your brand.
If being the center of attention does not sound enough, you might be intrigued by the notion that they will spare no effort to promote your brand and take your ads to another level.
When To Work With Nano Influencers?
Of course, nano influencers are great when you try to reach new loyal audiences, increase your brand engagement and define your brand image, and you need to find and collaborate with them to achieve these goals.
But generally, nano influencers work in the following areas best:
1. When Brands Are New To The Online Market
When you start as a new brand or business on social media, especially on Instagram, the most common approach which is highly valuable to your business is working with nano influencers.
They would prefer to collaborate with brands they are keen on and more relevant to their niche. So, as a marketer, you should get help from them while opening your new online market to position your products in more audience eyes.
So, if you are in your business's infancy and hesitate about an efficient marketing decision, working with nano influencers can be a low-risk strategy.
2. When Brands Offer Free Products
It is a great way to promote your brand identity by asking nano influencers to test out your new products or services. Using this way helps you to better position your products for genuine advertising.
Moreover, nano influencers are most open to accepting free samples for product recommendations, and when they are satisfied with the product's quality, they can easily convince potential customers to make purchase decisions.
3. When brands are local, or want to advertise locally
If you have established your local online business recently, why not think of a nano influencers partnership?
It is thoughtful of a local business to ask local influencers to promote their brand. This strategy has a significant impact on growing your business rapidly.
To do that, instead of wasting time finding the right local influencers in your vicinity, join Ainfluencer to create a free marketplace campaign and search to find thousands of different Instagram influencers from anywhere you want.
How To Find Nano Influencers?
Like other types of influencers, you can pick different ways to find influencers to promote your brand. Here are the most effective approaches, tried and tested by a host of marketers who successfully run their influencer marketing campaigns to help you find nano influencers.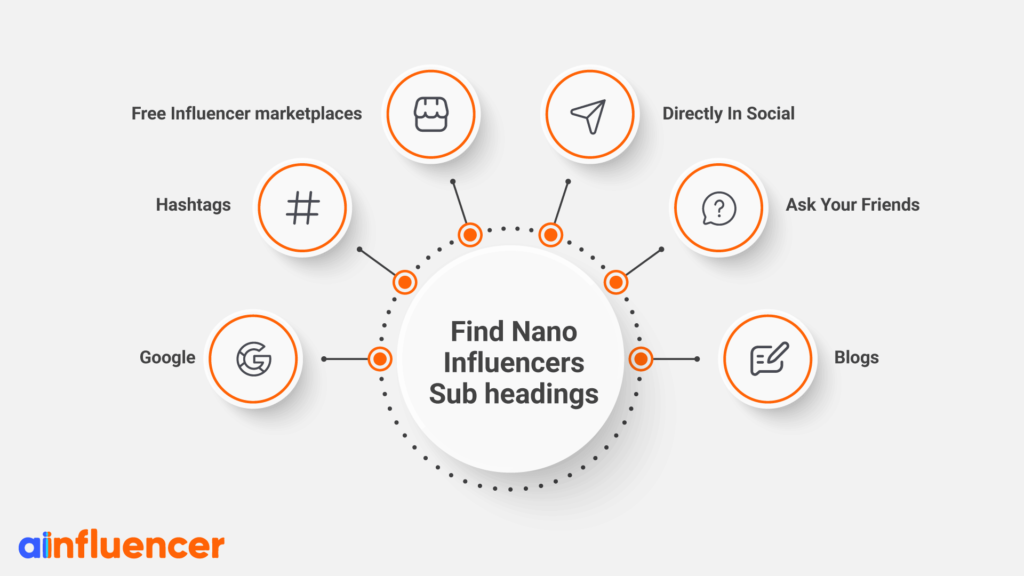 1. Free Influencer marketplaces
The best and most cost-effective way to see how to find nano influencers is using one of the top and most reliable influencer marketplaces.
To discover which influencer finder tool or marketplace works best to find Instagram influencers, you should consider where you will set up your influencer marketing campaign.
Instagram is the first channel to see an increase in brands' influencer marketing, followed by TikTok and YouTube in the runners-up place.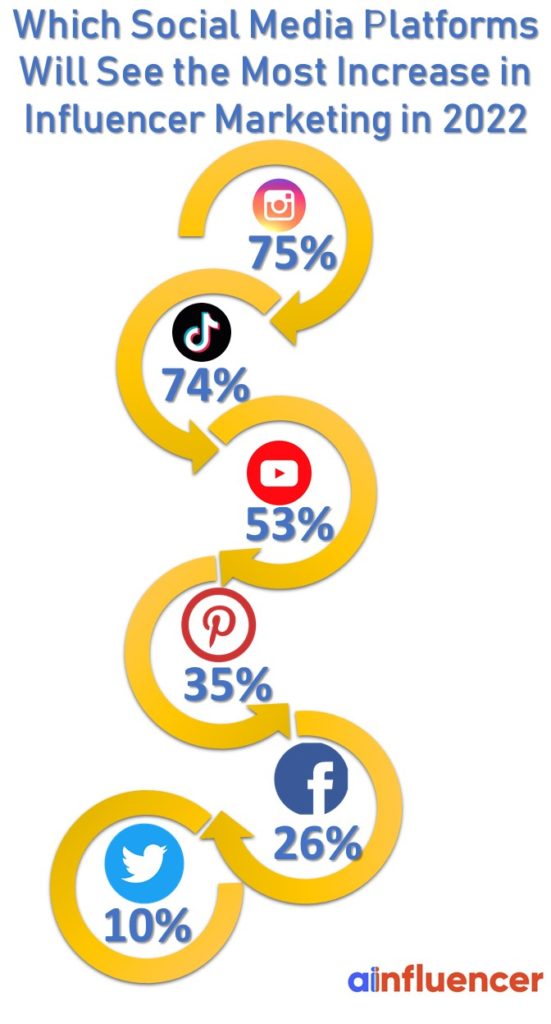 So, it will come as no surprise if you decide to stand out in the IG competition and find Instagram influencers for your campaign.
To do that, Ainfluencer is one of the top influencer marketplaces that not only provides the most advanced search filter to find Instagram influencers in your niche for free but also helps you in the following aspects of building your campaign.
Set the right goals for your Instagram influencer marketing campaign.
Be visible to other IG influencers so you can get offers from IG influencers.
Have a secure payment procedure.
Get insights into the influencers' profiles.
Check your campaign's success.
Use the in-app chatbox to negotiate your terms and requirements.
On Ainfluencer, you can select your category, hashtags, keywords, location, language, gender, and also the number of followers.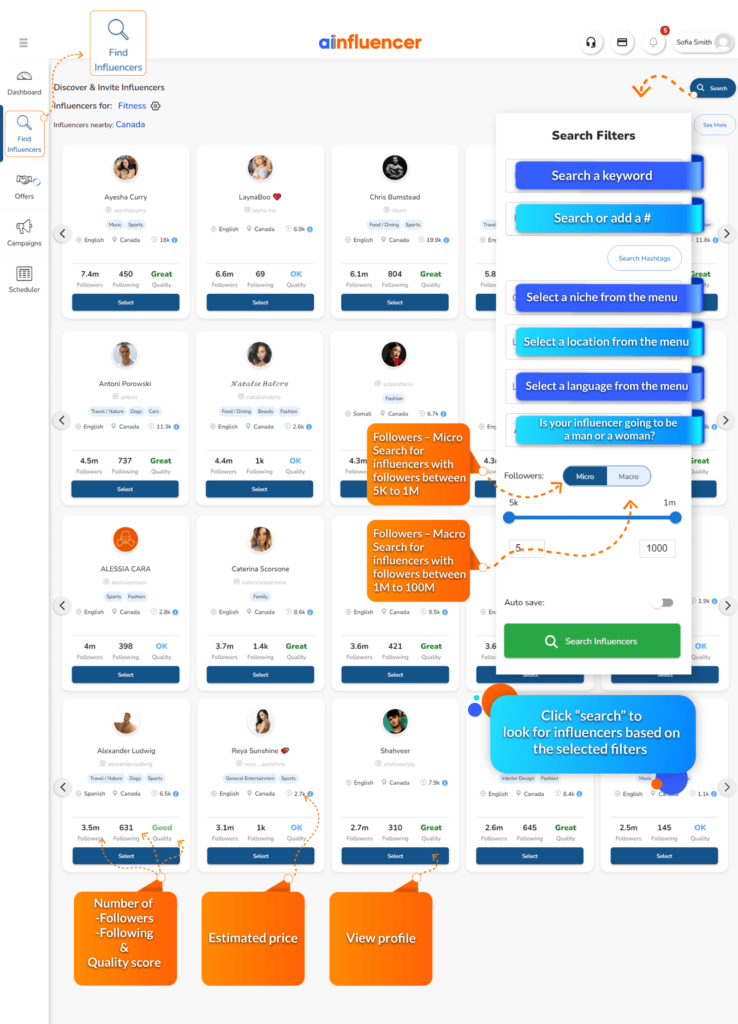 So, to find nano influencers on Instagram using Ainfluencer, all you need to do is set the number of followers and click on the search button. You will get thousands of results that are categorized based on their engagement rate, Q-Score, or estimated price.
The following video shows you how to attract 1000s of Influencers to your Business.
2. Hashtags
Searching for hashtags related to your work can also help you see how to find nano influencers. When searching for nano influencers, use hashtags related to the type of content they create so that you can identify their presence within specific communities. For example, if you're looking for nano beauty bloggers, then search hashtags such as #nanobeautyblogger or #nanomakeupinfluencer.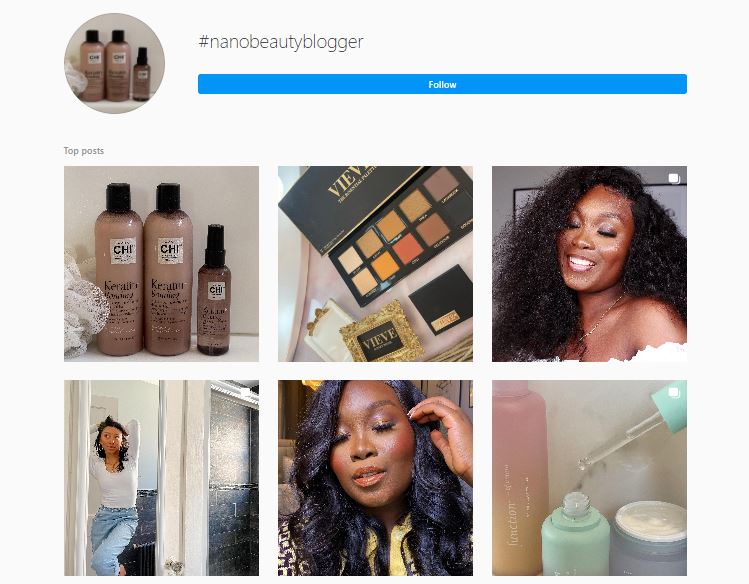 3. Google
You may think that hiring an influencer through a search engine like Google is useless, but it is not. Google can help you find nano influencers, and come up with so many related blogs. Just know what phrase to look for.
4. Directly In Social
One of the other ways of finding nano influencers is to use social media. Influencers usually share complete information about themselves in their profiles and bios, making it easier for us to identify them.
So, check the accounts of some followers and see whether they have under 10K followers. After finding one, you can also check the suggested accounts.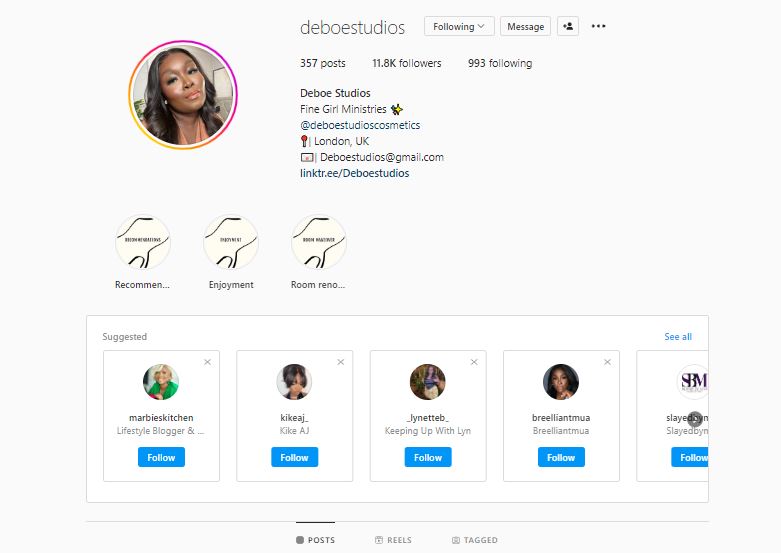 5. Ask Your Friends
To find nano influencers, you can also ask your friends or colleagues if they know someone. Ask them what nano influencers they have recently seen or followed on social media that can help you promote your brand.
6. Blogs
Reading blogs is another way to help you figure out how to find nano influencers. Check both the author and the blog source, and remember the blog's names. Probably the blogger introduces one of these people in a part of his article and examines their working way.
Top 10 nano influencers on Instagram
After learning how to find nano influencers, here is a list of some of the top ones:
1- Klau Coronel (@klau.coronel_mom.life)
Klau is a Latina Cuban nano mom blogger living in Canada who uses her influence on her Instagram to share her journey as a first-time mom to Oliver with her audience.
On this nano influencer's account, you can find out about her pregnancy journey, motivation, family life, day-in-the-life mommy routines, lifestyle videos, and much more!
2- Bianca Tomoiaga (@bodyby_bianca)
Bianca is a nano health and fitness influencer. She has a degree in exercise science and will soon graduate as a physical therapist. Bianca shares, as a nano influencer, shares her daily workouts, tips, and physical therapy advice on her Instagram account with her followers.
3- Sophia J (@sophiaj.co)
Sophia is one of the nano lifestyle influencers looking forward to teaching her followers what she's learned over the last decade and continues to learn about everyday life, beauty, and self-care.
4- Sarah Samantha (@sarah_samantha)
Sarah is another Instagram nano influencer. She is a blonde Instagram model who is passionate about fashion. This Canadian fashion influencer is also a singer and songwriter. Her Instagram account is filled with her stunning looks and styles.
5- Monique Victoria (@glowedbymo)
Monique is a Toronto-bassed nano beauty influencer. She is also a successful entrepreneur. Her Instagram feed is full of her makeup videos and images. She also covers cooking and travel content in her Stories and Story highlights.
6- Tiana (@passportofmemories)
Tiana is a travel influencer and a photographer. If you are looking for a solo traveler, sunset chaser, and mountain lover, take a look at this nano influencer's feed, who can greatly promote your brand.
7- Filip (@filip_cromade)
Filip is among the top male fashion influencers on Instagram. This nano Croatian boy has above 6K followers and shares photos and videos of his daily life as well as his amazing luxury style.
8- Linda Woolven (@lindawoolven)
Linda is an artist from Toronto who holds a degree in fine arts. Her love of texture and color, as well as the movement she gives her paintings through the use of light, layers, and strokes, define her style. In order to create moody, emotional pieces that connect with her audience, Linda uses a palette knife and brush.
This art influencer is also a published poet, writer, and cookbook author.
9- Truevined (@truevined)
Truevined is a music influencer with over 8K followers on his IG account. He is a creative singer, rapper, producer, and musician that you can follow to get inspired or even collaborate with.
10- Megan May (@meganmtl)
If you are looking for nano influencer examples balancing tech, business, lifestyle, and mom life, Megan's Instagram account is all you need. With more than 5K followers, she can be a perfect Instagram brand ambassador for your brand.
How To Work With Nano Influencers
When you find nano influencers, in your collaboration with them, you need to consider some tips to make your influencer marketing more effective.
1. Instead Of Rules, Consider Strategies
It is necessary to have a vivid guideline for your brand collaboration when you are trying to find nano influencers.
Instead of putting many rules limiting your actions, try to focus on crucial strategies, such as your product promotion, discount codes, or links you want the influencer to include.
2. Determine Marketing Goals In The Contract
You need to set specific expectations and marketing goals with your fit nano influencer. Consider the accurate scheduling content, work time, and expertise when writing an influencer contract to ensure they are convenient with the timing and content type you require.
Conclusion
In conclusion, nano influencers can be a great asset for brands looking to build relationships with their audience. Finding the right nano influencer can take some time and effort, but the rewards are worth it. To get started, use the ways mentioned in this article, such as using an influencer marketplace, like Ainfluencer.
Once you find nano influencers and work with them, you can better capture the market and personalize your marketing campaigns. Also, you significantly reduce the risk of your campaign failing.
1- How to find influencers?
First, you need to define your goals, strategy, and the type of influencers you wish to work with. Then, to look for influencers, you can join top influencer marketing hubs, search in Google, look for content creators in blogs and scan your followings and followers list. 

2- How to find influencers on Instagram?
Influencer marketing hubs are growing very popular with brands and influencers. So, the first way to find IG influencers could be joining one of them. Also, you can search through your followers' list and tagged posts.
3- How much does a nano influencer make?
The average cost of an Instagram post varies based on the type of influencer you work with. For example, nano influencers can charge you $10 to $100. This is while the estimated price for micro influencers can go over $100 and you may spend thousands of dollars when working with mega influencers.