Isn't your Instagram influencer marketing focused on brand engagement yet?
Lack of brand engagement can move the goalposts, if not kill your business eventually. So, strategies to increase brand engagement are undoubtedly steeped in your brand optimization.
However, increasing engagement in marketing requires creating an emotional bond and loyalty between your brand and audience, which may seem to be no easy feat at first sight.
In this blog, you will look at successful brand engagement examples and learn how to develop them with the most viable strategies to increase brand engagement.
What Is Brand Engagement?
To develop your perfect branding strategy, you need a perfect brand image and brand engagement strategy.
But what is brand engagement, and how can you increase brand engagement in marketing?
The process in which you build up a closer relationship with your customers is called brand engagement. The thing is, the kind of loyalty you inspire will lead to having an audience that is committed to any possible form of engagement in marketing with your brand.
To better understand what brand engagement is, you should remember that it is inseparable from brand awareness, reaching a wider range of followers, increasing engagement rate, and possibly boosting our sales.
Brand engagement Vs. Brand awareness
Basically, there are two terms you can lean on to shape your Instagram marketing – brand awareness and brand engagement.
In one respect, brand awareness is the first step as it mainly places the focus on introducing your brand to people through different ways of business advertising, such as content marketing, influencer marketing, email marketing, etc. The more successfully you increase brand awareness, the more people will recognize you.
That said, brand engagement is the next step, and pulls off a brilliant win to stand out in the advertising game. In fact, to increase your brand engagement, your audience should raise interest in your brand and take action. Otherwise, how does it help if they just know you?
In brief, what can really set you apart in improving both your brand awareness and brand engagement is using a powerful platform to develop your influencer marketing.
In this way, you can find influencers who are not only willing to work with you but also fit your marketing program best. You ought to keep in mind that any form of activity that generates different types of engagement depends on reach, and to increase your reach, you need word of mouth. So, find the top and local influencers to spread the word.
Ainfluencer is an Instagram influencer marketplace that enables brands to discover the marketplace and get in touch with influencers based on their requirements.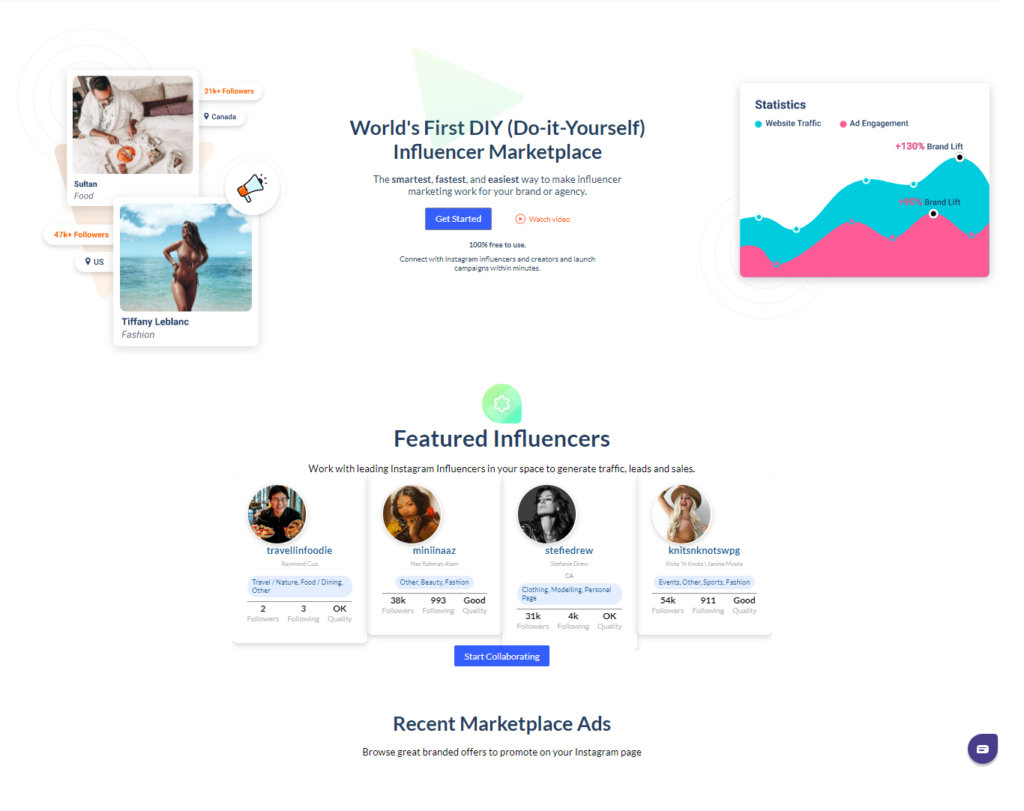 To use the service on this marketplace for free, all you need to do is sign up on Ainfluencer, create your ad, and access a sea of influencers filtered by their niche, location, language, gender, etc.
Also, you can get a deeper insight into each influencer's activity and engagement rate by taking a look at their profiles.
To top it off, it won't be just you looking for influencers. While your ad is also available to all types of influencers who are not invited to your program, you are very likely to get multiple offers from other influencers who are intrigued with your brand too.
Strategies to Increase Brand Engagement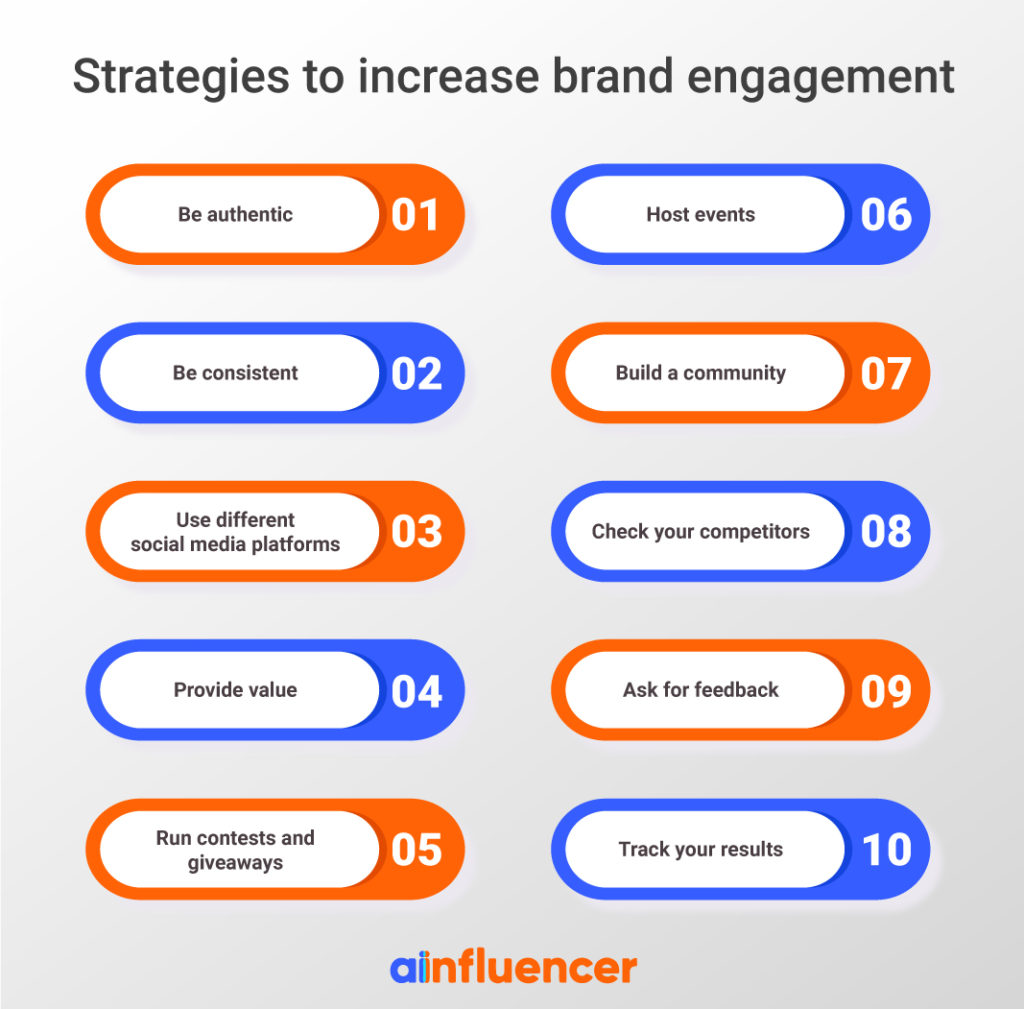 As one of the key objectives in your Instagram marketing, increasing brand engagement in marketing is tied to the overall relationship with your customers. Here are the elements that help you cement this relationship.
What does your audience think about you?
How committed are they to your brand?
Does your relationship lead to interactions between your audience and the brand?
Clearly, answers to these questions are only in your favor when you employ the most effective techniques and strategies. Here are some top strategies to increase your brand engagement:
Be authentic: In order to increase brand engagement, it is important to be authentic, which means being genuine, transparent, and honest with your audience. When you are authentic, people are more likely to trust you and engage with your content.
Be consistent: One of the other ways to improve your brand engagement is to be consistent. When customers see your posts regularly, they'll start to develop a deeper connection with your brand.
Always look for new ways to keep your content fresh and engaging. If you can do that while still maintaining a strong sense of brand identity, you'll be well on your way to increasing brand engagement.
Use different social media platforms: As a business owner, you need to know that social media is a powerful tool to reach new customers and keep them engaged. Make your customers see your messaging, values, and tone across Facebook, Twitter, Instagram, and your website.
Provide value: To increase your brand engagement, try to provide value to your customers and clients. By doing so, you'll not only increase brand engagement but also create loyalty and goodwill.
Run contests and giveaways: Running contests and giveaways are a great way to generate buzz and excitement about your brand and what you have to offer. Make sure to offer something valuable to your audience.
Host events: You can also hold events or workshops related to your industry. This allows you to share your expertise with potential customers and build your brand's reputation as a thought leader.
Build a community: A strong community can increase brand engagement by providing customers with a place to connect with other like-minded people. This sense of connection can lead to increased loyalty and advocacy for your brand.
Creating a community doesn't have to be complicated or expensive. There are a number of simple ways to get started, such as starting a social media group or creating an online forum. The important thing is to provide value to your members and keep the conversation going. With a little effort, you can build a thriving community that will help take your brand to the next level.
Check your competitors: It is essential for businesses to understand what their competitors are doing in order to stay ahead of the game. Reviewing your competitor's strategies can help you to develop your own plans and improve your brand engagement.
Ask for feedback: Whether you're just starting out or you've been in business for years, feedback is essential to help you grow and improve. It can be difficult to hear criticism, but try to take it all in stride and use it to make your brand even better.
Encourage customers and clients to leave reviews on your products and services. This feedback can be invaluable in helping you understand what people like and don't like about your brand.
Do not forget to respond to comments and questions in a timely manner – this will show that you care about your customers and their experience with your brand.
Track your results: In order to increase brand engagement, track your results to understand how well your brand engagement strategies are working. By tracking your results, you can adjust your strategies accordingly and ensure that your brand is always among the bests.
Brand engagement examples
By and large, a great way to come up with innovative ideas and improve your brand engagement is to study other successful brands. This will help you grow like popular brands and find answers to some fundamental questions. What approach did they adopt? And what have they achieved concerning their brand engagement in marketing and brand optimization?
Here is a list of 10 top brand engagement examples with brands that have hit a home run with their engagement in marketing.
1. Starbucks
Their brand engagement strategy would have never met with such roaring success without consistent communications.
Starbucks is one of the greatest customer engagement examples that evolved by shifting its focus onto a variety of beverages and food other than coffee and adding more meaning to its brand with reusable packaging rather than single-use ones.
What's more, Starbucks has used UGC (User Generated Content) and giveaway posts to earn a respectable social media presence.
2. Spotify
Nurturing campaigns aren't all created equal. Generalized email blast follow-ups might come across as spam, which is why providing value propositions is critical for increasing brand engagement.
Spotify is another top company on the brand engagement examples list that follows up with value propositions. They keep their value proposition simple: music tailored just for you based on your listening preferences.
Users are greeted with personalized mixes and emails titled "Only You" after they enter the app. The slogan "Made for [user name]" is then added to each blend to emphasize the customization.
3. Whole Foods
Whole Foods has a Facebook Messenger chatbot that can provide personalized recipes based on the answers of users.
The Whole Foods chatbot succeeds because it meets customers where they are, without requiring them to download an additional app. In a wonderful example of engagement in marketing, Whole Foods' customers are contacting the company to request recipes – no app download or trigger required.
4. Petco
You never get a second chance to make a first impression. This is an important rule to increase engagement.
The welcome email from Petco is personalized, quick to skim, and has a clear and appropriate mid- and end-call to action. With a personalized header inviting you "to their family," their messaging provokes emotion and gives a straightforward value proposition: that their objective and priority, like yours as a pet owner, is to keep your pet happy and healthy. Using their welcome email, Petco portrays itself as a partner with pet owners, aligning the business with your passion for your pet.
5. Sephora
Actively seeking feedback is essential for a successful brand engagement strategy. Sephora, is a beauty business that sells both online and in-store. You're prompted with a quick survey question after chatting with their chatbot or a staff member to measure how customers feel after their engagement. Rather than sending a follow-up email, collecting feedback through the same channel eliminates friction for consumers and increases the likelihood of a response. It also lengthens the time people spend on your platform.
To begin, Sephora polled customers to see how satisfied they were with the interaction. They next inquire about the customer's preferred means of reaching Sephora in order to further inform their customer experience moving ahead.
6. Anima Iris
You don't have to be an enterprise-level brand to achieve a high level of brand engagement in marketing. The designer handbags brand, Anima Iris, doesn't shy away from showing the behind-the-scenes and more human side of its business to connect with the audience.
On top of that, Q&As and surveys have been its brand engagement strategy highlights to engage the followers.
7. Uber Eats
Personalization isn't just great to have; it's necessary for a successful brand engagement strategy.
Users nowadays expect dynamic content that is tailored to their specific requirements. Uber Eats is a wonderful example of this, as it employs dynamic content to customize its messaging with eateries based on the user's location and previous activity.
Uber Eats also uses behavior-triggered messages to draw attention to lost opportunities and motivate users to return.
8. Warby Parker
Warby Parker is a Direct-to-customer eyewear company that operates primarily online. Despite eyeglasses seemingly being an industry that is predominantly brick-and-mortar, Warby Parker built an online eyewear behemoth that no one saw coming.
Customers may virtually try on glasses from the comfort of their own homes with Warby Parker's augmented reality try-on. Customers can then have various pairs of glasses supplied to them for free try-on at no additional cost.
Warby Parker sends emails with CTAs during the home try-on, encouraging the customer to make their purchase.
9. Gymshark
The British apparel brand, now a global company, could have never aimed so high in the beginning. While, of course, their growth is the result of hard work and consistency, but they put their success in Gymshark's brand engagement marketing down to a coherent influencer program.
The right brand ambassadors play a major role in helping you build your own community and reach a huge audience.
Let's watch this video about how to explore and invite targeted influencers.
10. Mastercard
Mastercard's attitude towards engagement in marketing is based on this motto – "Brands should be loyal to the consumers, not the other way around."
Mastercard, unsurprisingly, is one of the excellent brand engagement examples of the next stage in client loyalty. They've invested in digital wallet services like Masterpass to provide their consumers with the ease and security of a single payment system at their fingertips. Mastercard's brand engagement strategy has successfully positioned the brand as a partner rather than merely a provider.
What Are the 5 Types of Engagement?
With all these innovative brand engagement ideas, there is no room for conventional strategies. However, there are five types of engagement that have remained popular with the passage of time.
1. Promo code
An Instagram promo code, also called a coupon code or discount code is a great way to engage loyal fans and directly encourage them to buy from you or use your service.
However, these direct types of engagement and brand optimization usually work better if you have an influencer on board. In fact, this is one of the undeniable reasons to love influencer marketing, as they are bound to access a larger audience and build trust in your brand.
2. Giveaway
These posts condition users to engage with your brand in different ways in return for a generous reward. In this way, you or your influencers can get the entries to, for example, follow you, comment on your giveaway posts, use particular hashtags relevant to your brand, or tag you on their own posts.
3. UGC
Inviting users to generate content related to your brand is always a unique way of creating brand engagement and loyalty. In this way, you are bound to build trust between your followers by making your real customers satisfied with your products or service.
4. Instagram Lives
A great brand engagement strategy is that Instagram lives with an audience to interact with while streaming your event.
5. Polls and Q&As
One of the most important things to boost your brand engagement is to know your audience better. So, you can use different ways of asking their opinion directly about your brand, future plans, and changes to your advantage.
It is important to be generous with question-and-answer meetings or forms and polls in your stories, IGTV posts, lives, and any other form of communication you use.
Conclusion
Once you have managed to introduce your brand to a group of people, the most important factor that helps you stay alive is brand engagement.
As you looked at some successful brand engagement examples, you are now very well aware of the fact that you must find a way to keep communicating and interacting with your audience to reach a state where you find loyal customers who are willing to engage with your brand in any possible form.
Moreover, an influencer can come in very handy to boost your brand engagement in marketing.
And lastly, Ainfluencer is a free platform that helps us develop your influencer marketing program more effectively.
What are brand engagement examples?
Brand engagement in marketing refers to the relationship a brand develops with the audience. This leads to making their customers and followers more committed to the brand who will engage with the brand or its promotional posts in any possible form, such as sharing, liking, or commenting on the posts, taking part in the events, and making a purchase.
How do you build brand engagement?
You must understand how to keep your consistency to enhance your relationship with clients if you want to increase brand engagement. Here are tips to help you increase brand engagement.
Add value to your interactions with customers. It helps you continue the conversation you have initiated with them. 
Create a community within your relationship with customers. Let them have control over this relationship and play their part in it, say, by using UGC. 
Be loyal to your customers. 
Encourage your customers to finalize their purchases by using effective CTAs and offers. 
Why is brand engagement important?
An effective brand engagement strategy boosts the human side of your relationship with customers by creating an emotional bond and commitment between your brand and the audience. The stronger your engagement in marketing is, the better your results will be.