Instagram is a visual social media platform that allows users to share photos and videos. It has become popular for showcasing brands and products, and therefore the role of Instagram marketing has increased.
Studies show that 59% of U.S. adults use Instagram daily, making it the 4th most-used social platform after Facebook, YouTube, and WhatsApp.
This popularity has made Instagram a great platform for branding and marketing your business. Currently, there are several well-known brands on Instagram, each with its own personality and Instagram marketing strategies.
In this article, we will go through some useful strategies to help you grow like popular brands on Instagram.
What is a brand account on Instagram?
Brands can freely create Instagram accounts to share their products, services, and stories with followers. A brand account on Instagram is a profile that's managed by a company or organization. It usually has higher follower counts and has different features than a personal account, such as the ability to collaborate with other brands while sharing posts.
Brands on Instagram can use this platform to connect with followers, market their products, and build loyalty among their customers.
They can also increase the reach of their content by using different strategies such as spending money on promoted posts and ads.
How do you manage your Instagram marketing?
Instagram is a perfect way to share your products' photos and videos and promote your brand, but it can be difficult to manage your account effectively.
If you're a brand on Instagram, you should know that in order to have effective Instagram marketing, it would be best to define your brand identity.
Best business Instagram accounts start their marketing by building their authority to take one step ahead in promoting their brands.
Additionally, you need to identify your target audience and set smart goals for your account. It is also vital to have a plan in place and be more strategic, like the best brands on Instagram.
Strategies to help grow your brand on Instagram
Brands on Instagram can be sure that by having the right strategies, their Instagram marketing will be effective and efficient. Here are some top strategies used by some best brands on Instagram:
1. Optimize your Instagram account
As a brand, you can use Instagram to connect with your audience and promote your brand. However, if your profile isn't optimized, you may not be getting enough reach you deserve.
Use your main keywords and relevant hashtags to your niche in your account's bio. This will help Instagram users find your account more easily.
Select a strong username. Make sure it's relevant to your brand and avoid using words like "cool," "funny," or "awesome."
HubSpot is a great Insta brand. Look at its bio:

2. Work with influencers
The second vital tactic to grow your brand like the best business Instagram accounts is working with influencers. Brand collaboration on Instagram is a great option for growing a larger network and creating brand awareness.
Influencers are people with a large group of followers who are able to promote your product or service in a positive way. While collaborating with influencers, carefully consider their target audience and make sure your content is relevant to them.
There are a great number of influencers on Instagram, and finding the right one for your brand is significant, yet it can be a challenging and time-consuming activity at the same time.
There are different ways, such as Google search or hashtags on Instagram, that can quickly provide you with countless results, but the best way is to use marketing platforms such as Ainfluencer.
Ainfluencer
Ainfluencer is an influencer marketing platform that helps you find the top-rated influencers on Instagram in any field you care for.
As a brand, you can make descriptive ads about your campaign goals, explore and discover leading influencers in your area of interest, and invite them to collaborate.
3. Share creative and valuable content
Instagram is a popular social media platform where you can connect with your audience, show off your products, and build relationships with customers.
By sharing interesting and creative content, you can reach a wider audience and help promote your business or brand. In addition to being creative, your content should also be valuable to your followers. This means that it should be relevant to their interests and provide them with new information or insights.
Moreover, like other best brands on Instagram, you should make sure your content has good images and an effective description.
4. Use the best of Instagram features
Instagram allows you to share different types of content while using its so many features. Here are some tips to show you how to make the best use of the free features that Instagram has provided you!
Share Stories daily. Instagram Stories are an excellent way for brands to communicate with their followers on a regular basis and help foster loyalty and trust between the brand and its customers.
Nike is among the best brands on Instagram that share amazing Stories regularly as a way to engage with their customers on a personal level. For example, they often post videos featuring celebrities or athletes doing stunts in their sneakers.
You can save your Stories in your profile's Highlight part and categorize them.
Besides sharing Stories and posting usual photos on your feed, post IGTVs (videos that are longer than 30 seconds) and Reels (edited videos with audio, filters, and effects.)
Going live is also another way of communicating with your followers on Instagram.
Use hashtags while posting content. Hashtags are a great way to organize your content and help people find it more easily. You can use hashtags in your Stories, IGTVs, the titles of your photos and videos, and the comments section.
Use filters to create interesting photo effects. You can add special effects like light leaks or 3D text to make your images stand out.
Use stickers such as questions, polls, quizzes, etc., in your Stories to encourage your followers to interact with your content.
Use CTAs (call to action) or buttons to give your audience the ability to easily access your website, your product page, etc. CTAs are easily noticeable, and you can put them in your bio or use them below your posts in different ways such as "Learn More" and "Buy now." They usually result in higher engagement.
5. Cross promote content
There is no doubt that content marketing is one of the most important aspects of any effective digital marketing strategy. One of the vital factors that the best brands on Instagram use while creating content is making sure that their content can be easily promoted across a variety of channels.
By posting similar content across various social media channels, you can save time for creating content and increase brand awareness and website traffic.
When users see your content on a social media channel such as YouTube, they are more likely to visit and follow your account on other platforms such as Instagram.
Here is an example of Justin Bieber's holiday dance challenge shared on both TikTok and Instagram.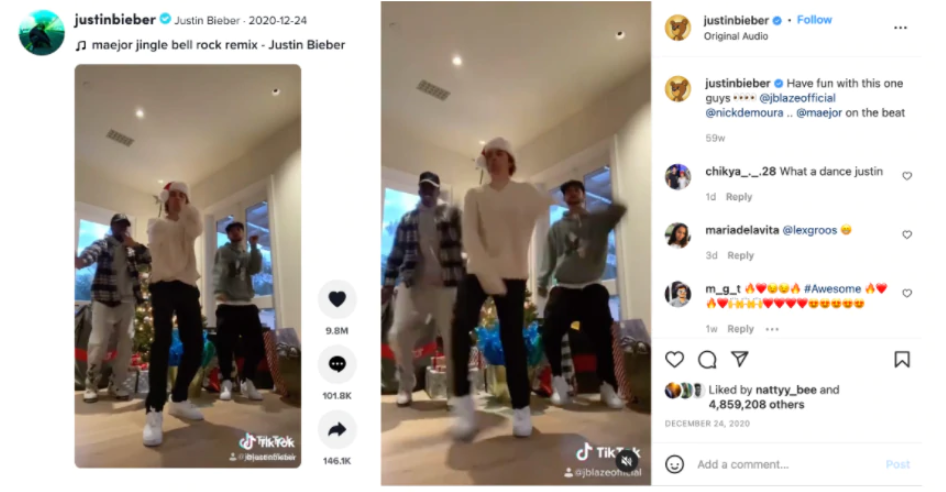 6. Interact with Instagram followers
If you want to increase the reach of your posts on Instagram, consider interacting with your followers. By responding to people's comments and DMs, you can build relationships and gain credibility. You can also like your followers' comments and posts and even follow them to create a positive interaction loop that encourages other people to follow you too.
7. Get to know your competitors' followers
In business, it's always important to stay ahead of your competitors. By understanding their strategies, you can better position your company for success. One way to do so is by getting to know your competitors' followers.
Look at who is following your competitors closely, and see if you can identify any common interests or demographics. Track the actions of the followers and analyze how they are interacting with the content of your competitor's company. Then, use this information to craft engaging content that will attract your competitor's followers.
8. Post at the right times
Brands on Instagram connect with their target audience by posting. When posting, it's important to consider the right time. There are certain times when you should post on social media in order to maximize the effectiveness of your posts. Posts with the right timing generate more engagement and leads than posts at any other time of day.
You can find the best time of posting on your account by going to your Instagram account's insight. It shows you the days and hours that your posts are performing best.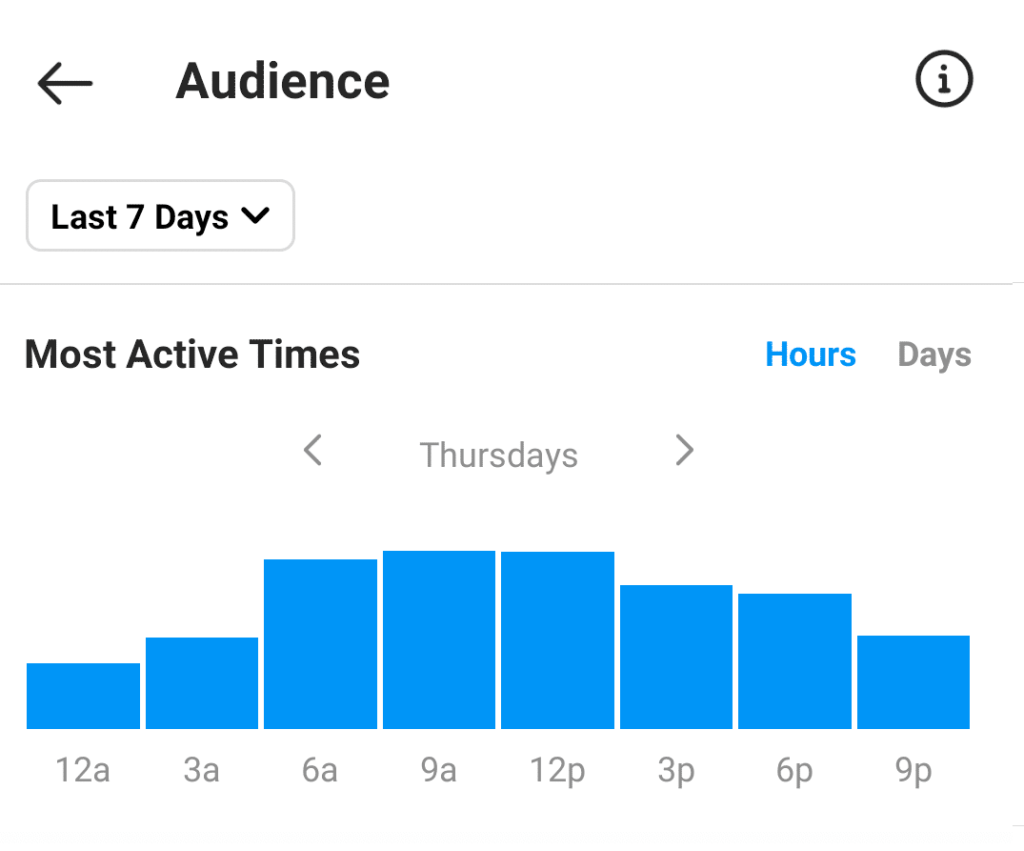 9. Post consistently
If you want to ensure that your posts get the attention they deserve, you need to post consistently like the other best brand Instagram accounts.
Consistent posting shows that your brand is dedicated to staying top of mind for your followers. Post at least once a day, and make sure each post is interesting and engaging to generate more engagement than periodic posts, which might go unnoticed.
10. Run giveaways and contests
Growing like popular brands on Instagram can be easy by doing some strategies such as running giveaways and contests. By doing so, you can reach a large audience and attract new followers in no time. It will also increase the engagement rate of your posts.
Set up a contest with clear rules and conditions and make sure that everyone who participates knows what they need to do in order to win.
You also need to choose your giveaway carefully and reward something that your audience would enjoy.
Take a look at the following giveaway post by Pashionfootwear:
11. Analyze your results
When it comes to growing on Instagram, analyzing your results is vital. Use analytics tools or Instagram's insight section to gain an understanding of your content's performance, track viewers' engagement and make adjustments where needed.
By understanding how users interact with your account and content, you can create more engaging and effective visuals that will capture the attention of your target market.
Top 8 brands on Instagram
Now that you are familiar with some of the best strategies to grow, like popular brands on Instagram, take a look at the following top 8 brands on Instagram to examine their strategies and get inspired.
#1- Tartecosmetics
Tarte cosmetics is a luxury line of cosmetics that are sold exclusively at Sephora. They are known for their innovative and high-quality products. The line includes high-end makeup, skincare, and hair care products.
Their Instagram account is full of beautiful makeup tutorials and photos of products from Tarte's line and has about 10m followers.
#2- Apartmenttherapy
The Apartment Therapy Instagram account is one of the most popular brands on the platform, with more than 3m followers. It's full of images and videos of people's apartments, from small studios to large complexes. If you're looking for inspiration from Insta brands, this is a great account for you.
#3- Shiseido
Shiseido, one of Japan's most well-known beauty brands, has more than 1.3m followers on Instagram, where they give their fans a behind-the-scenes look at their product development process and new products.
Shiseido is one of the great brands to work with on Instagram and has been a part of this platform's community for years. Its posts are often filled with inspired ideas for makeup looks and fashion trends.
#4- Nike
The Nike Instagram account is a popular social media account that has over 208m followers. The account is used to share new products, as well as images and videos of Nike athletes and coaches. The account updates frequently, and the content is interesting and engaging for its followers. They also share inspirational Stories and behind-the-scenes photos.
#5- Victoriassecret
Victoria's Secret is among the best brands on Instagram that is full of lingerie photos and videos. The account has over 72m followers and posts new content regularly. There are also occasional giveaways, like free bras and panties on their account.
#6- Hudabeauty
Huda Kattan's beauty account on Instagram is a must-follow for all makeup lovers. Her account has more than 50m followers and is full of beautiful makeup tutorials, tips and tricks, and behind-the-scenes photos from Huda's daily life as a beauty guru.
#7- Chanelofficial
Chanel has a massive Instagram account with about 50m followers and features a variety of photos and videos. The account is full of high fashion shots, selfies, and occasional glimpses of the brand's catwalk shows.
#8- Gucci
In our list of best brands on Instagram, Gucci's official Instagram account is the last one. It has over 48m followers.
Gucci is known for its luxurious products, and its Instagram account provides an up-to-date look at its latest creations and fashion tips.
Conclusion
In conclusion, by following the eleven strategies outlined in this article, you can increase the chances that your business account will grow in popularity like the other best brands on Instagram.
You can also take a look at our list of top and inspirational brands to get more ideas.
Be consistent with your content, use relevant hashtags, engage with other users, work with influencers, and so on. Remember to use free marketing platforms such as Ainfluencer while searching for related influencers to work with.
What is the best strategy for Instagram?
20 useful strategies to improve your Instagram marketing:
1. Define your Instagram marketing goals
2. Focus on the right performance metrics
3. Choose a regular schedule for posting on Instagram
4. Complete and optimize your Instagram profile
5. Use a suitable profile picture
6. Fill in your Instagram profile information
7. Take advantage of the features and facilities for the Instagram business profile
8. Choose a suitable theme for the content
9. Get help from professional photo editing tools
10. Take advantage of the Story
11. Use attractive captions for posts
12. Follow the activists related to your field of activity on Instagram and interact with them
13. Use appropriate hashtags
14. Reply to comments and DMs
15. Collaborate with Instagram influencers
16. Get help from other channels to boost your Instagram marketing
17. Use the Instagram ads
18. Use shopping on Instagram
19. Launch an exclusively Instagram campaign
20. Measure the results and make the necessary changes

What content performs best on Instagram?
While brands can share long-form content on their Instagram account through IGTV and Instagram Live and give their followers lots of information about their brand and products, it's noticeable that people are more interested in short-form videos such as Reels and Stories.