In recent years, Instagram marketing has become increasingly important for marketers. But, How can you market on Instagram without having an Instagram strategy?
With many brands on Instagram, Instagram marketing becomes more competitive, but not impossible. By adapting a great Instagram marketing strategy, you can break through the noise!
Let's dive in to see 10 effective Instagram strategies that help your business grow.
What is Instagram marketing?
Instagram marketing is the process of utilizing Instagram to promote and sell products or services. It can be used to build brand awareness, connect with customers, and drive sales.
Brands on Instagram use many ways for marketing on Instagram, including creating and sharing images and videos, Influencer collaborations, using hashtags, running contests and giveaways.
Benefits of Instagram marketing
Instagram offers great opportunities for your Instagram business promotion. Here are some of the benefits of using Instagram marketing:
1. Increase brand awareness
Brand awareness is the ability of customers to recognize a company's product or service when they see it. Building brand awareness is something you should consider in your Instagram marketing plan.
2. Generate leads
Without leads, a company cannot generate new customers and will eventually go out of business.
3. Increase sales and revenue
In order to increase sales on Instagram, businesses need to create a well-thought-out Instagram strategy that includes unique and engaging content, effective use of hashtags, and targeting the right audience.
4. Increase website traffic
There are a variety of methods that can be used to increase website traffic, from search engine optimization to social media marketing. However, the most effective way to increase website traffic is through a combination of these methods.
5. Boost SEO rankings
By creating high-quality content and using effective hashtags, businesses can see a significant increase in SEO rankings.
In addition to using hashtags, make sure you use other SEO best practices on Instagram, such as including keywords in your profile and in your posts' descriptions.
10 steps for effective Instagram marketing strategy
Knowing how to develop an effective Instagram marketing strategy will help your business boom in today's market.
These Instagram best practices can come in handy to make the most of Instagram.
1. Set your Instagram goals
Millions of users check Instagram every day. If you're not using Instagram to market your business, you're missing out on a lot of things. But simply having an account isn't enough.
To create an effective Instagram marketing strategy, start by setting Instagram goals.
Do you want to increase brand awareness?
Generate more leads?
Sell your products?
There is no best goal for your Instagram. Define what you want to answer in your Instagram marketing strategy, and then start planning.
For example, Starbucks frequently features its followers focused on highlighting products and building a community.
2. Define your target audience
It's important to define your target audience and create content that resonates with them. Your target audience is the people you want to reach with your message or product. Knowing who they are, what they care about, and what kind of content they prefer will help you create an effective Instagram strategy.
Before you start working on an Instagram marketing plan, Consider these questions to define your target audience:
What age group are you targeting?
What gender?
What interests do they have?
What is their income level?
Popsugarfit targets the ones who are passionate to live a healthy life. They share fitness routines and mindset posts.
3. Partner with influencers
Influencer marketing is nothing new, but the way businesses are partnering with influencers on Instagram is changing. Many brands are now looking to partner with influencers not just for product promotion, but to increase Instagram engagement and long-term customer loyalty.
Influencers are important assets of your Instagram advertising strategy in order to reach new customers and build brand awareness. But it's vital to partner with the right influencers – those with genuine followers who are likely to be interested in your product or service.
Hudabeauty, a well-known beauty brand, partners with influencers and takes advantage of influencer generated content for its Instagram strategy
The question is, Where to find the right influencers?
Influencer marketplaces connect brands and influencers. They help you find influencers and connect with them based on the metrics like engagement rate, quality score, number of followers, location, price, etc.
Ainfluencer, as an example, is a smart, fast, and easy marketplace that helps you find and invite influencers with its AI engine system. 
Check out this video to find out how Ainfluencer works:
4. Research your competitors' strategies
For marketing on Instagram, it's important to keep an eye on your competition. You can learn a lot by observing what they're doing on Instagram. By researching your competitor's Instagram strategies, you can gain insights into what's working for them and what's not working, and adapt your own tactics accordingly.
Start by taking a look at your competitor's profile. This includes looking at the type of content they are posting, the hashtags they are using, and the accounts they are following.
Or, You can use various tools, including Instagram marketing services and search engines.
5. Establish your brand identity
Creating a brand identity is essential for any business, large or small. Strong brand identity will help customers remember your company and what it represents. It can also help you attract new customers and keep existing ones loyal.
Taco Bell's account includes lots of cool shots of their menu items, uses bold colors, and presents an on-the-go lifestyle—all of which contribute to the brand's overall appeal.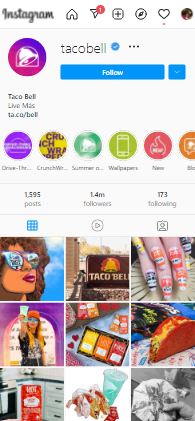 6. Post at the right times
One of the keys to success on Instagram is posting at the right times. It's actually one of the most important things when working on your Instagram marketing plan.
Although there is no definitive answer to when the best time to post on Instagram is, there are a few things to consider when trying to determine the best time for your brand.
The time of day you post can influence how many people see your post, as well as when they are most likely to be active on the platform. Additionally, you should consider what type of post you are making and what time would be most relevant for your audience.
7. Choose a kind of content that your customers love
Make your brand Instagramable. You need to post the right kind of content to stay relevant to current followers while also bringing in new ones.
Consider how you can highlight what you're selling in stylish settings. For example, IKEA showcases its products in a sort of real-world shopping window.
Beyond photos, videos should most definitely be part of your Instagram marketing strategy as well. Love it or hate it, video content is here to stay. By adding Reels to its features, Instagram is focusing on videos more than ever.
In this video, Glamnetic uses a simple setup to market its makeup corrector pen.
But the real key to killing it on Instagram is user-generated content. Sharing customer photos builds trust in your followers and it's a sign that people love your products.
Cult SPF skincare brand Supergoop combines the best of both worlds with their UGC strategy, which includes lots of video beauty tutorials featuring their products!
8. Make Your Creativity count
With so many users on Instagram, In order to stand out from your competitors, you need to use your creativity, think outside the box, and come up with new ideas.
Crocs, a casual shoe and sandal brand, alongside its product-based content, works with its brand ambassadors to add more creativity to the content with the type of fun, cool and colorful videos they create.
9. Use the right hashtags
Hashtags are a great way to get your content seen by more people. When used correctly, they can help you reach a wider audience on Instagram.
Hashtags can be placed anywhere in your post's caption, and up to 30 can be used in a single post. When you click on a hashtag, you'll see a page that shows all of the posts that have been shared with that hashtag.
10. Promote Via Instagram Ads
Instagram Ads are a part of Instagram's advertising strategy that allows businesses to promote their products or services to the users.
Ads can be created in a variety of formats, including photos, videos, carousels, Or story ads. They can be targeted to specific demographics, interests, and even locations.
And, like all other ads on Instagram, they're measurable, so you can see how well they're performing and make adjustments as needed.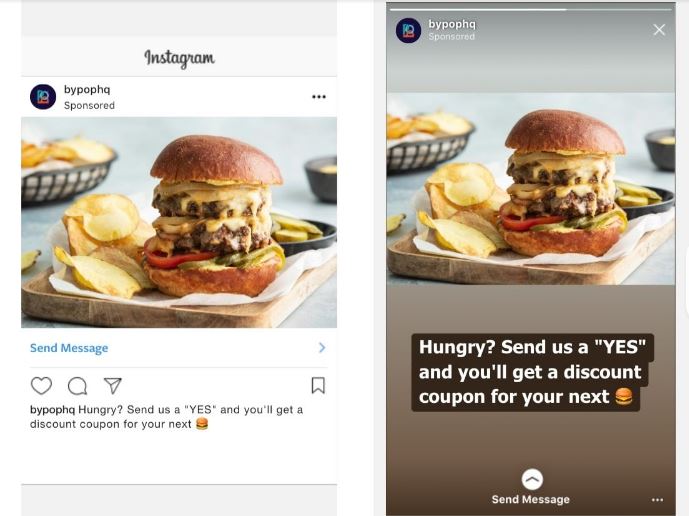 Conclusion
Using Instagram marketing can be a great way to connect with customers and create brand awareness. However, it is important to develop an Instagram marketing strategy that will work best for your business and target audience. By creating engaging content and using hashtags, you can reach a larger audience and build relationships with customers.
Is marketing on Instagram free?
The answer is yes and no. While you don't have to pay to create an Instagram account or post photos and videos, you do need to pay for promoted posts if you want to reach a larger audience.

What is the future of Instagram marketing?

When it comes to content that performs well on Instagram, businesses need to think outside the box. While traditional posts such as images and videos still reign supreme, carousel posts, User-generated content, reels, and live sessions will take over Instagram. So, Instagram marketing will continue to be a favorite for brands and businesses.


How effective is Instagram marketing?
Instagram marketing provides businesses with an opportunity to create visual content that engages users and drives traffic to their website or online store.