The amount of businesses that are using brand ambassadors is bound to reach a new peak in 2023.
The traditional ways of business advertising online are giving way to modern approaches that focus on authenticity and relatability – which is funny considering that traditional methods of online advertising really aren't that old.
Anyway, this has opened up the perfect opportunity for business ambassador programs to become a major tool in every business's toolbox. Having an influencer promote your company on a long-term basis gives a clear voice that can represent your company and its values.
But, finding the perfect ambassador can be tough. So, as well as giving awesome examples about who you can work with based on your company's niche, we'll also try to answer the following questions:
Who is a brand ambassador?
Are Instagram ambassadors legit?
how to become an Instagram brand ambassador
What are the different types of brand ambassadors?
What strategies make a successful brand ambassador program?
Why are brand ambassadors important?
Let's dive right in!
What Is a Brand Ambassador?
A brand ambassador, also known as a corporate ambassador or influencer, is the face of a brand. It can refer to a wide group of people representing your brand, product, service, or event.
They can be loyal customers or professional influencers with an attentive audience. If they represent your brand for you in a promotional way, then they are a brand ambassador.
The number of brands looking for brand ambassadors is increasing because they can be very effective in helping to reach the goals of a brand or business. Studies show that the majority of people are more likely to follow the advice of someone well-known, especially if that person has authority and expertise in that field.
How to be a brand ambassador?
To know how to work with brands as a company ambassador, you need ambassador marketing strategy qualifications, including communication skills and an outgoing personality. Your responsibilities involve traveling to different events, interacting with both consumers and industry professionals, etc.
Once you ensure you have all qualifications, look for special brand events in your area and talk to the event's organizers about locking down a position as an in-person ambassador.
But if you are more interested in becoming a brand ambassador on popular social media platforms like Instagram, here's how to become an Instagram ambassador:
How to become an Instagram brand ambassador?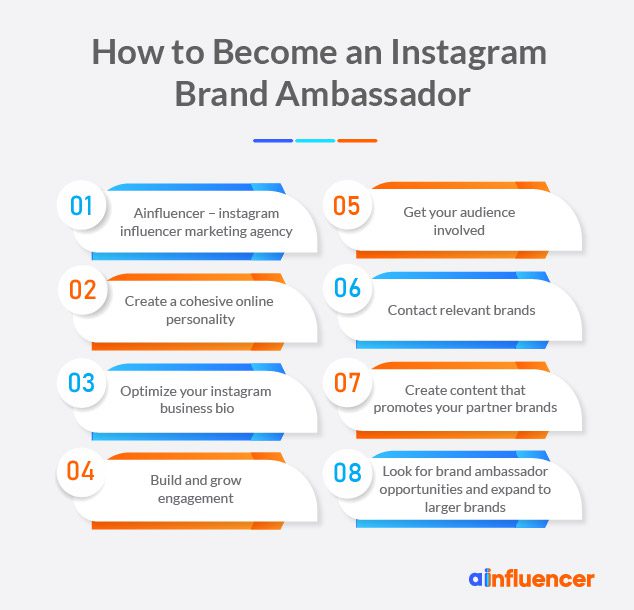 There is a wide variety of ways to become an Instagram brand ambassador. Here we will introduce you to some of the most practical ways to simply find the chance to set up a brand ambassador contract.
One of the very fast and easy ways is using an influencer marketing platform to become a brand influencer on Instagram. Ainfluencer is a top-quality DIY platform for brands and influencers to meet and make deals.
#1 Ainfluencer – Instagram Influencer Marketing Agency
Ainfluencer allows you (as an Instagram ambassador) to create your brand ambassador profile and add your Instagram account to the app so that you can explore companies looking for brand ambassadors.
On the explore page, you can see a wide variety of ads made by companies looking for brand ambassadors. Once you choose a brand you can see the profile of the brand and also the objectives of the ad.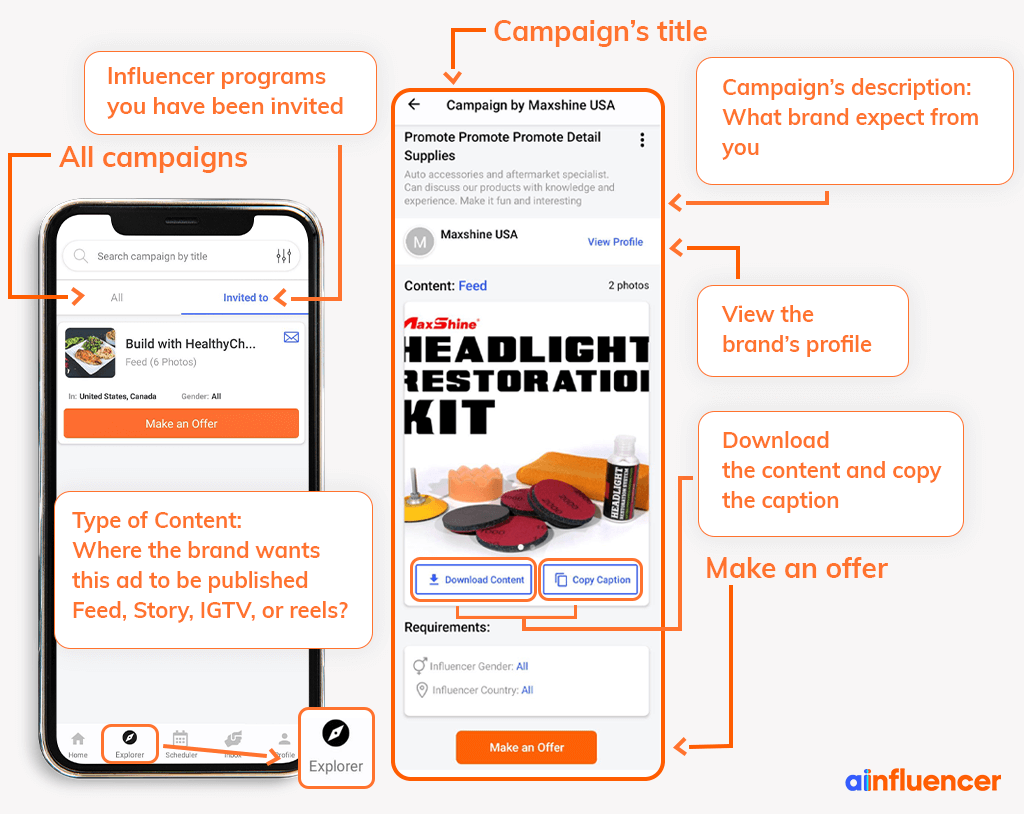 If your profile fits their campaign requirements, you can make an offer. When you click the button "Make an offer," it's time to propose a few key details of the promotion, such as setting a time/date to publish the post, the period of time that you would like the post to be deleted, entering the proposed price, and even chatting with the brand.
You can access all the negotiations you've had with brands through your inbox right in the app.
2# Steps to become a brand ambassador
As you know, becoming an Instagram ambassador isn't going to happen overnight. We've put together this step-by-step guide to help you get started.
Step 1- Create a cohesive online personality
One of the very first things that define your online personality is your niche. Choose your niche (like travel, fitness, cooking, fashion, etc) strategically. You'd better pick the one you are most interested in posting about for years to come. Companies will be looking for business ambassadors who reflect a certain vibe to represent them.
Plus, you need to be experienced, well-informed, and professional in the niche that you choose.
Be yourself and a professional to present brands and end up sharing their values best.
Note: Make sure you're working from an Instagram business or creator account.
Step 2- Optimize your Instagram business bio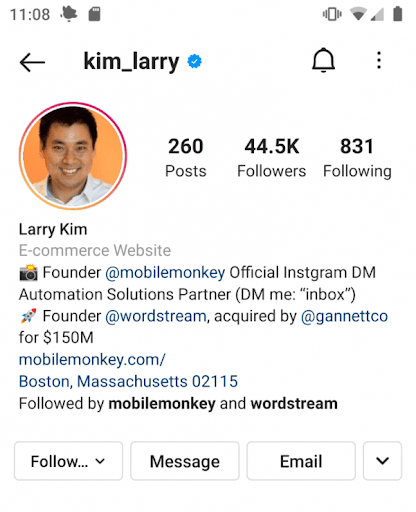 Your Instagram bio is super important since this is the only place that tells followers, sponsors, etc., who you are, what you do, and why they should care. Here are some tips to help you optimize your Instagram bio:
Write an informative and intriguing bio
Give out your contact info
Include a strong call-to-action (CTA)
Optimize your call-to-action link
Step 3- Build and grow engagement
Building and growing engagement are easier said than done. Write engaging posts and share interesting content, etc. in order to garner likes and comments on your IG post. Having likes and comments from a large number of followers helps you develop a good reputation in your community and it will make you more attractive to companies looking for brand ambassadors.
Consider leaving comments on well-known pages or blogs to expand your audience. Another smart strategy to grow your online following is to respond to the messages and comments you receive on your own page.
Step 4- Get your audience involved
One of the solid strategies that can help you have a more interactive, personal touch with your existing followers and even target new followers is to invite your fans or strangers to share their experiences, ask questions, or leave comments, and react to as many as you can. You may also conduct in-person meet-ups with your followers in a public location.
Post great content consistently and keep interacting with your followers to build the largest following you possibly can.
Step 5- Contact relevant brands
It's super important to network within your niche. For example, if you're posting fashion content, it makes sense to interact with brands that complement yours. In this case, working with big fashion brands would work.
So once you have identified the kinds of brands you would like to endorse, start contacting companies that you are interested in promoting. For instance, you may contact one of the company's social media pages and inquire about the possibility of representing them. If they're interested, they'll respond with more information.
Step 6- Create content that promotes your partner brands
The good news is that most small businesses and start-ups prefer to work with smaller Instagram ambassadors because they can't afford to collaborate with mega-popular celebrities.
So kick off your Instagram ambassador program with small businesses and start-ups, even for free at first. Creating content (posts, videos, Stories, etc.) to promote brands in exchange for free products is still worthwhile since it is a great way to build your sponsorship.
Step 7- Look for brand ambassador opportunities and expand to larger brands
Check the company's website's career page to see whether a brand ambassador role is available or look for opportunities on online employment boards. Once you are ready, you can start working with larger brands.
How To Get Brand Ambassadors On Instagram?
There are many ways to search for brand ambassadors these days, whether on Instagram, Google or through articles and blog posts.
But the best way to look for Instagram ambassadors is to join influencer marketing hubs like Ainfluencer that make it easy to connect with your ideal influencer in just a matter of clicks.
Check out the following YouTue video to see how Ainfluencer helps you (as a brand) create free marketplace ads, receive collaboration offers from influencers, and invite them to work with you.
Are Instagram Ambassadors Legit?
Your brand's engagement on Instagram can be up to 10 times higher than Facebook and even more than other social media platforms. So, we are going to focus mainly on Instagram. But this raises an important question – are Instagram ambassadors legit?
And the answer is yes! Instagram ambassadors are legit. But, not every influencer is a good brand ambassador.
To better understand whether or not an Instagram ambassador is right for you, you should consider the different types of ambassadors. This will help us see if the brand ambassador we are looking for fits into one of these categories.
What Are the Different Types of Brand Ambassadors?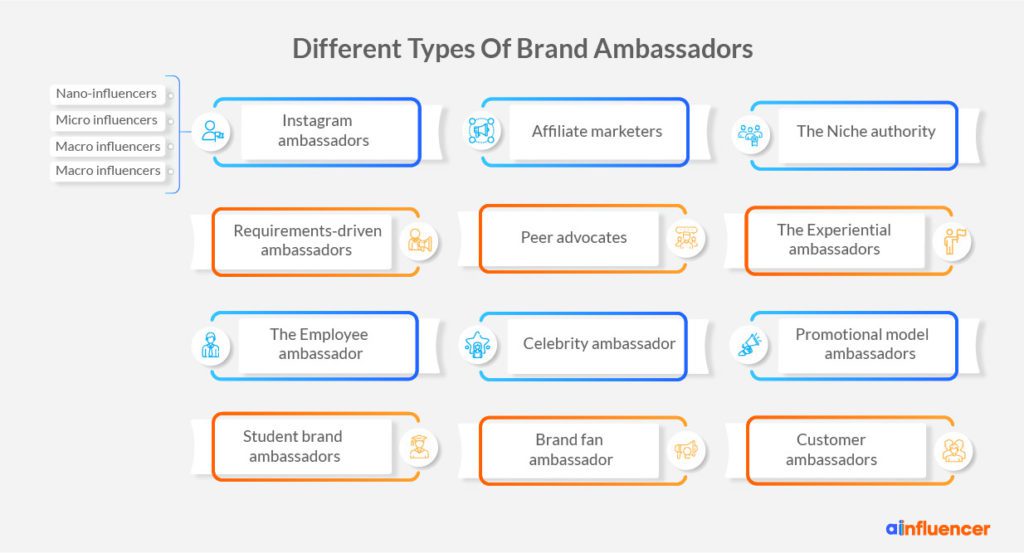 There are 15 main types of brand ambassadors to consider. Every single type of these business ambassadors serves an important promotional purpose.
However, you should remember that an ambassador campaign has specific goals such as increasing your particular brand's engagement rate, boosting your sales, and more.
Here are the 15 main types of brand ambassadors for all business categories.
Instagram Ambassadors
An Instagram ambassador could be a brand ambassador who has experience with your brand or an influencer that doesn't but still shares content about your brand with their audience. Generally, Instagram ambassadors are categorized based on the number of their followers.
1. Nano influencers
Their followers might range from 1K to 10K, but they usually have a high engagement rate. Choosing them based on your location, language, and niche can help you to effectively target your audience.
Here are awesome nano influencers that you can connect with on Ainfluencer:
Preston Arsement
Language: English
Locations: The US
The number of followers: 9.5K
Engagement rate: 27.91%
Average likes per post: 28K
JustLuxe
Language: English
Locations: The US
The number of followers: 2.8K
Engagement rate: 19.87%
Average likes per post: 1.4K
Socaleatery
Language: English
Locations: The US
The number of followers: 10K
Engagement rate: 11.87%
Average likes per post: 1K
2. Micro influencers
Our second category of Instagram ambassadors has followers ranging between 10K to 100K. Micro influencers can be more promising than nano influencers as they have more followers, but the higher you go, the less engaged the audience usually gets. That said, micro influencers are usually a good balance between engagement and follower size.
Here are some awesome micro influencers that you can connect with on Ainfluencer.
Aditi Mayer
Language: English
Locations: The US
The number of followers: 60K
Engagement rate: 20.57%
Average likes per post: 3K
Dylare Raske
Language: English
Locations: The US
The number of followers: 13.8K
Engagement rate: 23.45%
Average likes per post: 1.3K
Analisa
Language: English
Locations: The US
The number of followers: 74.6K
Engagement rate: 17.25%
Average likes per post: 13.5K
3. Macro influencers
Macro influencers command a larger audience of about 100K to 1M followers.
Here are some of the top Instagram ambassadors on Ainfluencer for this category.
Randy Wong
Language: English
Locations: The US
The number of followers: 190K
Engagement rate: 36.76%
Average likes per post: 82K
Mrs. Alisa Maria
Language: English
Locations: The US
The number of followers: 123.4K
Engagement rate: 34.47%
Average likes per post: 36K
Victor Boyce
Language: English
Locations: The US
The number of followers: 776.9K
Engagement rate: 11.48%
Average likes per post: 88.6K
4. Mega influencers
And lastly, there are mega influencers with more than a million followers. You will usually need a bigger budget for these influencers but they have the potential to promote your business to a much larger audience.
These are some great mega influencers on Ainfluencer.
Alondra
Language: English
Locations: The US
The number of followers: 2.3M
Engagement rate: 18.71%
Average likes per post: 367K
Barbie Ferreira
Language: English
Locations: The US
The number of followers: 3M
Engagement rate: 18.25%
Average likes per post: 529.3K
Tyler Jøseph
Language: English
Locations: The US
The number of followers: 5.4M
Engagement rate: 19.33%
Average likes per post: 1.1M
Affiliate Marketers
Affiliate marketers are another kind of brand ambassador. They tend to be bloggers or other influencers that promote your brand in return for a commission on sales.
If you're trying to negotiate deals with an affiliate marketer, you can use the in-app discussion feature on Ainfluencer to close a secure deal in just a few clicks. All you need to do is sign up on Ainfluencer, invite an influencer, and set your terms.
The Niche Authority
Niche authority ambassadors are experts that agree to be a part of your brand ambassador program. Niche authorities are usually experts in a certain field – like when a dentist recommends a certain kind of toothpaste.
Requirements-driven Ambassadors
Another type of brand ambassador is called a requirements-driven ambassador.
We invite a requirements-driven business ambassador to an ambassador program by giving them our free products or service and letting them create UGC (User-Generated Content). As a result, they can share a video or an image of these free products, or our products will be reviewed by these brand ambassadors.
Needless to say, it is another powerful way to build up trust with our audience. Your promotion can't get any more authentic than this!
Peer Advocates
Peer advocates are existing customers who reached out to your brand because of their enthusiasm for your business or service.
They usually have access to an untapped audience and are able to develop a closer relationship with your customers (their peers).
Take student or college ambassadors as an example. They can promote our brand among other students effectively as they share the same challenges, interests, and age.
The Experiential Ambassadors
Their strength is in one-on-one conversations and by representing your brand at events.
The Employee-ambassador
Sometimes businesses accidentally turn a blind eye to people who already work on their team that may have a large following. Sometimes, these employees have the potential to be your brand ambassador. I mean, they already know what your message and values are.
So, why not invite them to your brand ambassador program?
Celebrity Ambassador
Celebrity brand ambassadors have a far reach and help to increase brand awareness and sales through their star power. This is one of the most widely used marketing techniques today. Example: Taylor Swift promoted Diet Coke by appearing in their advertising campaign.
Promotional Model Ambassadors
These are the promotional models hired as brand ambassadors for trade shows and special events. Example: Red Bull's Wings Team, the attractive young people you often see at events handing out free energy drinks.
Student Brand Ambassadors
Student ambassadors are actually a subcategory of peer advocates. Student brand ambassadors are a group of college students who are chosen by brands who want to target 18-25-year-olds to represent their company or product on their campus.
Brand fan ambassador
Fans of your brand are people who like it but haven't bought anything yet. They may follow you on social media and have you on their wish list, but they have yet to purchase your goods – either because it is an investment or because they are deciding between multiple brands.
By engaging a brand fan as an ambassador, you're not only increasing their loyalty for your brand over a competitor, but you're also providing them with a once-in-a-lifetime opportunity to help build a company that they already admire.
Customer ambassadors
Customer ambassadors are people who are passionate about their brand and have a large social media following. They can help promote your company on their social media channels and can be a valuable resource for feedback on new products or services. When selecting customer ambassadors, look for people who are authentic and have a large following within your target market. Make sure to provide them with training on your products or services so they can be effective advocates for your brand.
How Do You Structure A Brand Ambassador Program?
By now, you know that representing your business with a brand ambassador is a good tool to include in your marketing toolbox.
So, check out these strategies for creating a killer brand ambassador program.
1. Identify What Type Of Brand Ambassador We Are Looking For
Ask yourself who the most suitable brand ambassador is. Do this even before you create your ambassador program.
Then, consider the list that we made above… What kind of brand ambassador are you looking for?
2. Find And Contact The Potential Brand Ambassadors
The best way to get in touch with an Instagram ambassador is to join the Ainfluencer marketing hub where thousands of brands and influencers are connected on the Ainfluencer platform.
3. Identify Your Goals And Expectations
It is important to use your goals as a benchmark. As you progress, check to see if you're on track to meeting your goals.
Your goals could vary. Some common goals for brands are to:
Raise brand awareness and reach a wider range of audiences
Express brand messages and values
Increase engagement rate
Get more traffic
Boost sales
Let your influencer know your goals. That way, they can help you reach them.
4. Motivate And Reward Brand Ambassadors
Naturally, your brand ambassador is going to want to get paid. Give them a reward that leads to good work – pay them fairly.
The better the reward, the harder your influencer will work.
5. Set Up The Ambassador Program
Now, just put this all together in one deal and wait for the returns! Make sure you discuss in detail what it is that you want from your influencer. Don't leave any room for error in your communication.
Brand Ambassadors Vs Influencers
Here's a common question.
What's the difference between influencers and ambassadors?
Although they are similar and often used interchangeably, there are slight differences. At one time, influencers used to just include celebrities. Now using micro or macro influencers with less than 1M followers are popular ways with brands and businesses to promote their products.
While both represent and sell your brand by building up a relationship with their followers, collaborating with each can be different.
An influencer:
Offers one or two posts during a campaign
May not continue working with your brand more than once
Is likely to represent multiple brands at the same time
On the other hand, an ambassador:
Offers multiple posts during a campaign
Often collaborates with your brand for a long time and runs multiple campaigns
Doesn't usually represent other brands
So an influencer can be a brand ambassador, but that does not necessarily mean that it is one. You can consider influencers as the precursor to a brand ambassador.
If you're looking for an influencer, you can use a reliable influencer marketing hub to find one for short-term or long-term collaborations.
All you need to do is sign up on Ainfluencer, and you'll have access to thousands of influencers ready to help you grow.
brand ambassador vs sponsor
To know the difference between brand ambassadors and sponsors, you need to know what they do. You have already got a clear idea of what brand ambassadors do. Now let's see what sponsors do.
Sponsors are large or small firms that wish to be associated with popular events, trade exhibitions, groups, or charities in order to create a memorable name for themselves, raise their visibility and identification, and gain a competitive advantage by achieving certain commercial goals.
Through their experiences with the brand, brand ambassadors grow a market one person at a time. Sponsors, who can be either media time buyers or media providers, have the overarching goal of reaching a large audience quickly in order to entice a particular percentage of that audience to make a purchase.
affiliate programs vs ambassador programs
Do you wonder what is the difference between an affiliate program and an ambassador program? An affiliate program is a type of marketing arrangement in which a merchant rewards one or more affiliates for each customer or prospect brought by the affiliate's marketing efforts. An ambassador program, on the other hand, is a type of customer loyalty program in which customers are given rewards in return for referring friends to the merchant.
Conclusion
Brand ambassadors can be categorized in a bunch of different ways. Finding the right ambassador for you can seriously help your business's marketing efforts.
Get started on Ainfluencer today to start finding your ideal ambassador.
Do brand ambassadors get paid?
How ambassadors get paid depends on the deal you strike.
Generally, ambassadors prefer cash as payment. The average salary for a brand ambassador in the US is estimated to be $18.61 per month.
But you can also trade products or use some other reward instead of paying your influencer cash.
Do brand ambassadors get paid?
How ambassadors get paid depends on the deal you strike. 
Generally, ambassadors prefer cash as payment. The average salary for a brand ambassador in the US is estimated to be $18.61 per month. 
But you can also trade products or use some other reward instead of paying your influencer cash.

How do you become a brand ambassador?
Build your social media and attract a following. Keep your content niche, consistent and specific. Then, consider reaching out to businesses directly or on an app like Ainfluencer.
What are the best ambassador programs?
Brand ambassador programs are growing in tremendous popularity. Many large businesses use celebrities and influencers to help give life to their brand. Here are some popular examples out there right now.
1. Red Bull 
2. Gymshark
3. Maker's Mark
4. Yelp
5. Coca Cola
6. Pura Vida