It is commonly known that many of the world's most influential people, bloggers, and celebrities make New York City their home. New York City's Fashion Week, Comic Con, and the NYC Food Expos attract fashion influencers, tech influencers, and food influencers from all over the world, bringing with them their individual audiences.
Brands may find an influencer to work with in practically any niche and of varying scale in New York City, thanks to the city's abundance of bloggers and social media stars.
Additionally, influencer marketing campaigns have infinite potential. NYC lifestyle influencers and bloggers collaborate with brands and influencer marketing agencies on advertising, providing product reviews, acting as brand ambassadors, consulting as creative directors, and providing photography services that are far more striking and engaging than traditional content. 
Brand awareness, product popularity, and sales are greatly aided when influencers are involved due to their command of the social media landscape and knowledge of the city demographic.
How to find NYC influencers on Instagram?
Finding the best NYC influencer through Ainfluencer is one of the simplest methods, whether your goal is to do business with them or to check out who are currently the best bloggers in New York on Instagram. Ainfluencer is free of cost and easy to use. Not to mention every transaction you do in the app is completely secure and safe.
Ainfluencer is an influencer marketplace where companies and influencers can connect to strike mutually beneficial deals that benefit both parties.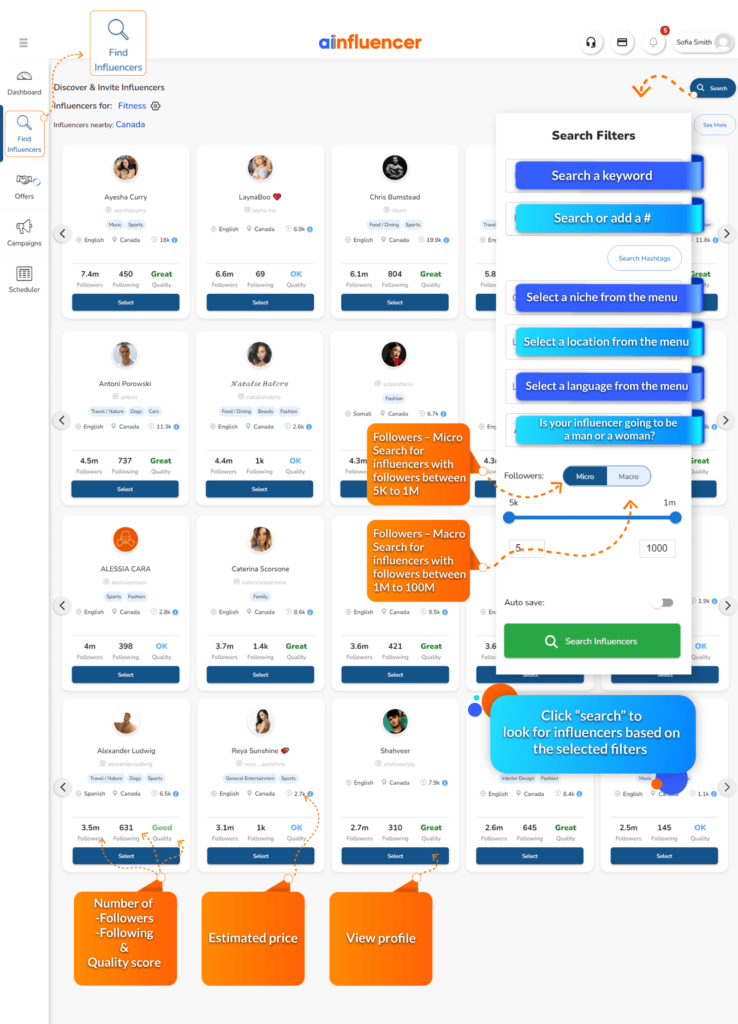 You can uncover the top NYC influencers' accounts with Ainfluencer.
If you have ever wondered how you could discover the best NYC influencers, here are a few options that might work for you to get what you want.
Use influencer marketplaces such as Ainfluencer, as mentioned above.
Take a look at the most popular New York Instagram influencers-related hashtags like #NYC, #NYCfashion, #NYClife, #NYCblogger, and more.
Browse "Location" tags to look for NYC influencers in a specific location.
Google "NYC influencers Instagram id" or "New York lifestyle bloggers on Instagram" to yield several results to select.
Use the "Suggested" feature of Instagram to search for similar NYC influencers to those you already have in mind.
55 Top NYC Instagram influencers and bloggers to collaborate with
1. Lua (@luanna)
Lua was born in Peru but now makes her home in New York City. She has nearly 2M Instagram followers, and her page is full of gorgeous photos that showcase her amazing New York aesthetic outfits.
She is a gorgeous redheaded influencer, and has impeccable style as a native New Yorker. On YouTube, she has 303K subscribers.
2. Dr. Mike Varshavski (@doctor.mike)
If you're looking for a board-certified FM Physician in NYC and an avid explorer of life then Mike Varshavski is your guy. He is known professionally as Doctor Mike, he is a Russian-born American Internet personality, family physician, and professional boxer. He currently has over 4.4M followers on Instagram and 10.3M subscribers on Youtube.
His Instagram account went viral after he was featured in BuzzFeed and People magazine named him The Sexiest Doctor Alive in 2015. You can go ahead and follow a doctor who is one of the list's hot influencers.
3. Lily Chee (@lilychee)
Lily Chee is one of the most well-known NYC influencers to work with the luxurious fashion house Dior. Currently, Lily's Instagram account boasts over 1.7M followers.
She is the one New York City girl you must try to recruit. Her exciting life in the city is the subject of numerous posts and Stories she shares.
4. Tabria Majors (@tabriamajors)
To collaborate with a New York City icon like Tabria Majors is a dream. She is a famous fashion model who walked the runway at New York Fashion Week. To those searching for a body positivite influencer, look no further than Tabria.
Her entire Instagram feed consists of pictures of her stunning body dressed stunningly, such as in a bikini or tight clothes. More than 1.6M people follow her on Instagram right now.
5. Arielle Charnas (@ariellecharnas)
Arielle Charnas is a social media influencer based in New York who has over 1.3M followers on Instagram. She is the owner of her own brand, which is known as "Something Navy", which is a very successful brand in New York.
Her Instagram feed is full of photos showing her life as a mother as well as the New York aesthetic outfits she wears. She has an extremely active Instagram account, to which she regularly contributes.
6. Kelsey Simone (@k.eLS.e.y)
Kelsey Simone is one of the most well-known NYC beauty bloggers, and she deserves your attention. On Instagram, she has a following of over 852K people. She is the owner of her own fashion brand in New York City called "Simoneny", which is becoming more popular among customers. She frequently posts pictures on her page of her extraordinary travels and trips to a variety of cities, which contributes to her reputation as an NYC lifestyle blogger.
7. Trax (@traxNYC)
Trax isn't your typical type of New York City influencer. In addition to being a jeweler, he is regarded as one of the most accomplished jewelers in New York City, which is truly remarkable.
Trax is the person you should interact with if you are interested in forming a business partnership with someone in the jewelry industry. He currently has over 912K followers, a number that is rapidly growing by the minute. As can be seen on his Instagram feed, a significant number of well-known celebrities have purchased watches and jewelry from his store.
8. Bridget (@bridget)
Follow Bridget if you're looking for a gorgeous NYC influencer right now. She has more than 880K people following her on Instagram. Bridget owns her own clothing brand called "the bar," which sells some gorgeous cocktail clothes or just plain feisty and sexy clothes in general. She has a habit of posting a lot of pictures of her NYC aesthetic outfits in addition to her stunning clothes.
9. Denise Marie Bidot (@denisebidot)
Denise is a mother, model, and designer, in addition to being a passionate foodie. If you are looking for an NYC influencer that promotes an inclusive and positive body image and is also a stunningly curvy woman, go no further than Denise.
She currently has more than 740K followers on Instagram. She primarily discusses her meals in the entries she makes to her Stories. Her Instagram page is usually filled with pictures of her wearing amazing dresses with a New York City feel.
10. Thorgy Thor (@thorgythor)
Known by her stage name Thorgy Thor, Shane Thor Galligan is an American drag queen and musician who shot to fame on the eighth season of RuPaul's Drag Race and the third season of All-Stars.
In addition to being one of the top NYC influencers, she has amassed a following of 744K on Instagram. You may check out her drag queen attire and lifestyle on her Instagram.
11. Courtney Quinn (@colormecourtney)
Blogger and content creator Courtney Quinn lives in New York City. If you need a dose of positivity and a confidence boost, she's your gal. She likes all things Disney.
Currently, she is followed by more than 726K people. If you ask us, she is as brilliant as a Disney princess. Her Instagram is stuffed with photos of her dressed as various Disney princesses for cosplay.
12. Erik Conover (@erikconover)
Erik Conover is an actor and adventure filmmaker from the United States who currently resides in New York City. He has more than 2.1M people subscribed to his channel on YouTube.
Additionally, as of right now, he has 460K people following him on Instagram. He has a custom of going to various New York City's most luxurious and intriguing apartments to film videos about them. In addition to that, he possesses an adorable golden retriever.
13. Maxine the Fluffy Corgi (@madmax_fluffyroad)
Hear me out: Maxine is one of New York City's most noteworthy pet influencers. The 2022 Webby goes to this adorable dog. Not only that, but Maxine is appreciated by many famous people, including Charlie Puth. If you're looking for a new Instagram influencer, Max's serotonin is what you need. Maxine's Instagram following has grown to almost 920K people.
14. Gabby (@gabalabbb)
Gabby is a mom, but she's no ordinary one; on her Instagram, she frequently shares photos of herself and her two young children, in which they all look fabulous in chic, matched ensembles.
To date, Gabby has amassed over 653K Instagram followers. So, if you're looking for a one-of-a-kind NYC influencer with an impeccable fashion sense, Gabby is your girl.
15.Daiane Sodré (@daianesodre)
You may see why Daiane Sodré is unique among fashion models by visiting her website or following her on Instagram. She has worked and modeled for many top magazines and brands.
Daiane was born in Brazil, but she now makes her home in New York. She has over 620K Instagram followers. Daiane has indeed collaborated with Victoria's Secret after having shot ads for Ralph Lauren. She also acts as a representative for three different organizations.
16. Pippy (@pyperamerica)
Pippy is currently represented by a number of modeling agencies in major cities all over the world, including Milan, Los Angeles, New York City, and Tokyo.
She has 593K followers on Instagram at the moment. In addition to her primary account, she also maintains a secondary account on which she posts updates about her life in New York City.
You can see a variety of photos on her Instagram page, some of which include her appearing on the cover of publications and others highlighting her great aesthetic style.
17. Olya Hill (@livingnotes)
Olya Hill is a photographer and a creative director, in addition to being an NYC lifestyle blogger. Her Instagram page is full of beautiful and profound pictures, and as a result, they evoke a wide range of emotions in the viewer.
Currently, she has more than 627K followers. She tends to travel a lot and shares many photos on Instagram, both of her outfits and the places she visits.
18. Riva G (@riva_g_)
It's not enough to call Riva a New York Instagram influencer; she's also a yoga influencer, pilates instructor, positive mental health influencer, movement practitioner, and creative content director. She has a passion for adventure, the arts, and the outdoors. Her Instagram page is mainly a collection of yoga pictures she's taken that is pretty breathtaking.
Almost 550K people follow her on Instagram. She also writes a personal blog on her lifestyle in new york.
19. Christine Tran Ferguson (@tourdelust)
One of the sweetest New York Instagram influencers is Christine Tran Ferguson. She is also a blogger who frequently writes about her experiences in the city. She has over 515K Instagram followers.
In addition to that, she is the mother of a very adorable son. Her Instagram feed is full of cute selfies and family photos. Aside from that, as a Tiktok influencer, she has around 274K followers.
20. Tess Christine (@tesschristinexo)
In addition to her work as an NYC lifestyle blogger, Tess Christine also writes for two other popular blogs, one dedicated to fashion and the other to beauty.
She has 2.32M subscribers on YouTube and 706K followers on Instagram. Her Instagram is full of pictures of her dressed up in all her exotic locales. She is the go-to blogger in New York.
21. Hang (@hangtw)
Hang, a lifestyle influencer, is another NYC influencer in the top ten. She also uses Instagram to share tutorials on how to make clothes and hair care products. In 2022, her hairstyle was highlighted in Harper's Bazaar Vietnam. She has accumulated over 514K Instagram followers at this time.
22. Sam (@samdameshek)
Sam is a fashion photographer and enthusiast. He is well known for his celebrity photography, having shot the likes of Travis Barker, Hailee Steinfeld, and Halsey. Sam is the creator of the fashion label "Wish Me Luck," too. Nearly 500K follow him on Instagram.
23. Jeanne Grey (@thegreylayers)
Jeanne Grey embodies " the art of taking care," as she puts it. She has a lot of photos taken of her in stunning locations posted to her Instagram.
She has everything you want, from bikinis to beautiful, shimmering gowns. Presently, she has 521K Instagram followers.
24. Rachel Martino (@rachmartino)
Rachel Martino is a gorgeous New York influencer who deserves to be well-known. In the Big Apple, she is a content creator. In addition, she started a company called "dream loft studios."
Rachel is also a huge Taylor Swift fan, evidenced by the countless Swift photographs she posted on her website. Rachel is your gal if you need a friend who blogs about the latest trends in New York City. She has written numerous blog posts about festival attire and holiday-appropriate attire. Nearly 500K people follow her on Instagram.
25. Rosanna & Winston (@glamdapper)
You're on the right road if you're trying to find a pair of NYC influencers who fit the bill of "power couple parents who enjoy making lifestyle family content." Together, Rosanna and Winston have amassed more than 460K Instagram followers. They like to make videos to showcase their wonderful clothes. You should check out their Instagram because it's a wash in calm colors.
26. Jess Clements (@jessicaclements)
NYC influencer Jess Clements has over 995K YouTube subscribers and 682K Instagram followers. She's the type of person whose Instagram account is filled with photos of exotic locations and outfits she wore while there.
She has a large following on both Instagram and YouTube. Thus, she is not only a New York fashion influencer but also one of the top NYC beauty bloggers on the platforms.
27. Nate M (@cuffington)
When scrolling through Nate's Instagram feed, you get that dark, academic vibe that's so popular. As a blogger, lifestyle blogger, and photographer based in New York City, he covers the fashion and lifestyle beat.
There are currently around 120K of his passionate followers. Nate is the one to go to if you need some stylish inspiration. He is regarded as one of New York City's most influential menswear fashionistas.
28. David Bywater (@bywater725)
David is the man to go to if you want to connect with an NYC micro influencer. You should know, though, that he is a travel enthusiast, and his Instagram feed isn't limited to pictures of New York City; he also posts images from some of the world's most beautiful places. David is your ideal man, down to the blue eyes and brown hair. He has 77K followers.
29. Michelle Mei (@elle_loha)
Michelle is always excited to show her followers what regular life looks like in the cities of New York and Jersey. There are more than 53K people who follow her. In addition to sharing photos of herself in various ensembles, she frequently uploads short, entertaining clips to demonstrate how to recreate similar looks or create particular hairdos.
30. Anna Heid (@annaheid)
A former member of the USC cheerleading squad, Anna Heid is now a pediatric nurse. She frequently updates her Instagram with photos of her fashionable wardrobe. You need only peruse her page to be struck with fresh ideas for your next outfit. She regularly posts selfies and snapshots of her life on Instagram, with over 178K followers.
31. David Urbanke (@davidurbanke)
David Urbanke, another New York City Instagram photographer, is featured in our list. He has over 34K followers and has photographed Maluma, Olivia Cooke, Jacob Batalon, and many more of the world's hottest celebrities. His pictures never seem like anything else.
32. Dan Dexter (@danieldexterjr)
Dan is an exercise physiologist, artist, and innovator in all three fields. Images of him being sexy as hell populate his page since he is incredibly handsome. He deserves to be checked out by brands for business.
33. Velonika Pome'e (@veronicapomee)
Velonika is a model who celebrates women of all sizes. Furthermore, she is a climate and environmental activist. At the present moment, she has nearly 49K Instagram followers. She does vlogs and TikTok about a wide range of topics, from therapy to fashion advice.
34. Daniil Simkin (@daniil)
Daniil Simkin is a ballet dancer and entrepreneur best known for his accomplished technical skill and charismatic stage presence. He is a principal dancer with American Ballet Theatre and Berlin State Ballet. Simkin is based in Berlin and New York and is the founder of Studio Simkin. He currently has 193K followers on Instagram.
35. Christina Harris (@beautychickee)
The "Gin & Toxic Podcast," available on Spotify and many other platforms, features Christina as one of the most entertaining podcasters. Her Instagram account now boasts over 413K followers. She regularly updates her page with photos from her exciting life.
36. Taylor Phillips (@taylorjphillips)
Taylor is the creator of the New York City-based apparel label Good Park NYC. Additionally, he is a digital designer and TikTok. He is a major social media influencer with over 400K TikTok and about 350K Instagram followers.
Taylor is the man for you if you're in the market for a gay influencer who is both kind and cool. His Instagram feed is filled with photos of him and his significant other, as well as shots of him looking dashing in his evening clothes. He also does travel vlogs on the places he visits.
37. Skyler Wright (@skyler.wright)
Skyler Wright, who plays Chloe on Dexter: New Blood, is a name and face you will recognize. She has several talents, including acting, singing, and making espresso martinis.
She has racked up 46K Instagram followers so far. You should definitely check out her account if you want to collaborate with her and expand your business.
38. Nasteha & Nuni (@theyusufs)
Natasha and Nuni are sisters who were immigrants before being business owners. They've made it to the pages of Harper's Bazaar, InStyle, and Elle USA, among many other accomplishments.
They've amassed a following of approximately 110K. These two sisters are worth your time if you're in the market for some sophisticated formalwear.
39. Greivy (@greivy)
Even though Greivy doesn't have a huge Instagram following, you shouldn't underestimate her just because of that. Numerous well-known publications, including Elle US, New York Fashion Week, Harper's Bazaar US, and more, have featured her.
She attends numerous NYFW events because she adores fashion shows. Greivy occasionally shows off her and her daughter's coordinated outfits on her Instagram account. She has over 54K current followers.
40. Osha Waiters (@oshawaiters)
Osha Waiters is a photographer who specializes in fashion. Even though Her Instagram page contains amazing photographs she has taken while traveling in various outfits, her feed also includes various cosplay costumes in addition to other things. On Instagram, she has close to 470K followers at the moment.
41.Kiitan A (@kiitana)
Kiitan is a digital creator. She adores the fashion industry, going on adventures, and producing content related to her lifestyle. On Instagram, she has amassed 775K followers, while on YouTube, she has 321K subscribers. You can see her in a variety of different outfits by scrolling through her Instagram account, where she also posts many vlogs that detail the outfit, how she wore it, or how she gets ready in the morning.
42. Maya (@mayastepper)
Maya isn't your usual NYC fashion blogger; in fact, Vogue wrote about her! Maya's Instagram fan base is over 710K strong. Her Instagram is stuffed with photographs of her New York aesthetic outfits. Even though she was born in Germany, she has become a major force in the New York influencers market.
43. Ruby & Queenie (@sateenmusic)
Both Ruby and Queenie are talented artists. Ruby is the one who plays the guitar, and Queenie is the one who sings. Additionally, they have gone on a tour for the year 2018.
They also have their own merch line currently available for purchase.
They have more than 100K followers on Instagram and frequently share steamy photos of themselves on this platform.
44. Teron Harris (@ron_doug)
Teron Harris is an NYC blogger who posts on Instagram. He has a propensity for producing entertaining videos covering every facet of the NYC lifestyle influencer, from culinary recipes and apartment decoration to the creation of fashion icon ensembles and everything in between. At the moment, he has 122K people following him on Instagram.
45. Hunter Smith Weidenbaum (@hunter_smithw)
Hunter Smith is an icon of the NYC modeling industry and an influencer. She has gained a following of more than 287K people because of her fixation on exquisite fashion and ensembles.
Her Instagram posts frequently include endorsements for a variety of different products. In addition to that, she possesses an adorable poppy.
46.Brooke Miccio (@brookemiccio)
In addition to her role as a New York City Instagram influencer, Brooke Miccio maintains a popular channel on YouTube. On YouTube, she has over 310K subscribers; on Instagram, she has over 121K followers.
She frequently does vlogs on YouTube to describe her life in New York City. Additionally, she possesses incredible taste in clothing and accessories.
47. Skylar Marshai (@skylarmarshai)
Skylar is a creative strategist, storyteller, and consultant, and she is also proud of her black heritage as a maker. Both the Creative Collective NYC and Tolutemi include her on their rosters as featured artists and contributors, respectively.
She currently has more than 100K followers on Instagram. She has the propensity to publish a lot of photographs that are colorful and aesthetically pleasing.
48. Jenee (@highlowluxxe)
To put it simply, Jenee shines. She has over 328K Instagram followers, 168K YouTube subscribers, and over 346K Pinterest viewers.
Many people take fashion cues from the numerous photos she posts of herself dressed to the nines in Paris. She often discusses her current way of life and her path to success on her YouTube channel.
49. Margo Sahadjian (@margo_sah)
By nature, Margo is an influential figure in New York City. She is a content producer and a model who is deeply passionate about fashion.
On Instagram, she has over 100K followers, and on Tiktok, she has over 400K. She has the propensity to publish many videos about the outfits she likes to wear for different occasions. In addition to that, she holds numerous sponsorships with a variety of brands.
50. Ishmeal (@808sandmixtapes)
Ishmeal has numerous collaborations with a wide variety of brands, including Halcyon Hotel, Reebok, and Adidas, amongst others.
He has over 27K followers on Instagram and over 1.1M likes on TikTok. In addition to posting pictures of his fashionable outfits on Instagram, he also posts many photographs that he has taken himself.
51. Jordan White (@hautehouseflower)
Formerly employed in the fashion and beauty PR industry, Jordan White is now working in the content creation industry. She is completely preoccupied with the upkeep of her skin and appearance. She has more than 218K followers on Instagram and is a brand new mother.
52. Thiago Pereira (@cosmopolitips)
Thiago is an avid fan of the food and drinks of New York City, and his Instagram feed is typically composed of lifestyle blog posts. He has more than 74K followers, and his work has been highlighted on both VoyageKC and DigitalJournal.
Thiago is in the business of producing content that introduces people to a variety of things, including companies, foods, new locations, experiences, and cultures. When Thiago isn't traveling the world and encouraging others to follow their dreams, he refuels by spending time with his loved ones and getting away from the hectic pace of his life as an online influencer and blogger.
53. Don Hood (@dhood84)
Don Hood is a New York City fashion model who is internationally represented by numerous brands. Do not be discouraged by the fact that he does not have a large number of followers on Instagram; in fact, he has only almost 70K followers, yet, he deserves the opportunity to be seen by people all over the world.
54. Chris (@cbhunsinger)
Chris enjoys staying physically active. He has a keen interest in visiting new places domestically and abroad.
Despite the fact that he isn't currently among New York City's most influential people, we felt it was important to include him because of his aspirations to one day join their ranks. He currently has over 41K Instagram followers.
55. Jeanine (@jaymilly_)
Jeanine is a relatively new player in the NYC influencer scene. Although she works as an associate in digital marketing, that doesn't stop her from having passions in other areas, such as fashion, traveling, beauty, and food.
She presently has more than 12K followers, and that figure will increase even further soon.
Conclusion
In search of the 50 best NYC influencers? From the worlds of beauty, fashion, lifestyle, and more, Ainflunecer is considered one of the best influencer marketplaces and has compiled a list of the 2022 must-follow NYC influencers.
To increase your company's visibility and sales, take advantage of the fantastic possibilities presented by these local NYC content makers.
1- What influencers live in NYC?
1. Lua @Luanna 
2. Dr. Mike Varshavski (@doctor.mike)
3. Lily Chee (@lilychee) 
4. Tabria Majors (@tabriamajors) 
5. Arielle Charnas (@ariellecharnas) 
2- Who is the most famous influencer right now?
The most famous non celebrity influencers on the market are:
1.Lele Pons. 44M followers. …
2.nusr_et. 35.6M followers. …
3.Dan Bilzerian. 32.4M followers. …
4.Amanda Cerny. 24.8M followers. …
5.Zach King. 24.3M followers. …
3- Who is the top 3 Instagram influencers?
The top 3 celebrity Instagram influencers are: 
1. Cristiano Ronaldo – 443M Followers. Yes, the most followed Instagram profile is none other than Cristiano Ronaldo. …
2.Kylie Jenner – 339M Followers. …
3. Lionel Messi – 328M Followers. …