There is no doubt that social media has opened new possibilities for food influencers to link with their audiences. Instagram has become, in particular, a wonderful platform for hosting delicious food images and videos.
Food influencers on Instagram are great assets for food-related brands to increase brand awareness and reach their target market. Brands usually use influencer marketing platforms to find and collaborate with food bloggers.
These food influencers are powerful voices on Instagram, and their followers love to follow their recommendations for the best dishes to try. From healthy foods to decadent treats, these influencers know their stuff when it comes to food.
If you are looking for the best food influencers to follow, we've got you covered. In this article, we have composed a list of the 25 top food influencers that you should be following in 2023.
How to find top food influencers?
Finding Instagram influencers can be a daunting task. To find influencers in your niche, you can simply google the top food influencers, search for foodie influencers through hashtags, or take advantage of influencer marketplaces like Ainfluencer.
Ainfluencer is a 100% FREE influencer marketplace that connects brands and influencers.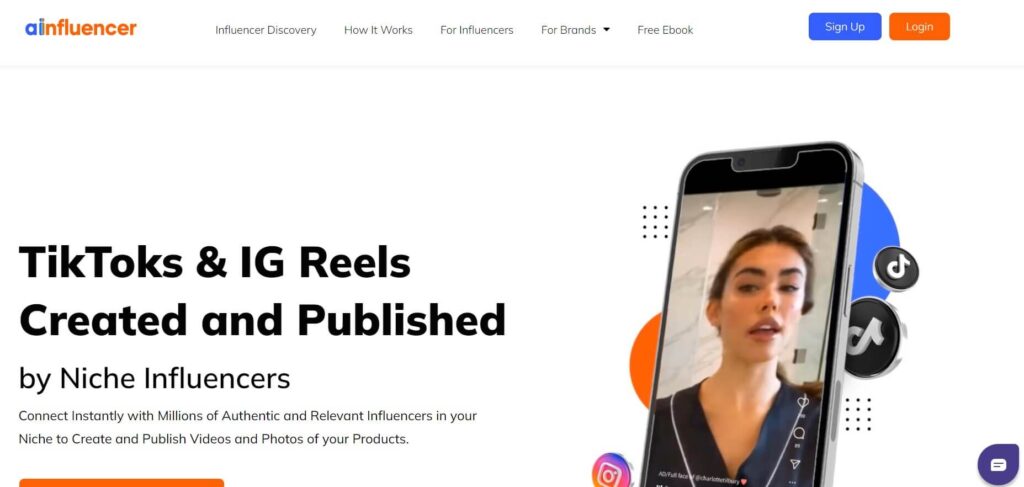 You can explore and invite thousands of food influencers on Instagram based on the number of followers, location, engagement rate, quality score, etc.
Check out this video to see how you can connect to food influencers on Ainfluencer.
Moreover, if you consider yourself capable of being a food blogger on Instagram, Ainfluencer has a special plan for you! you can sign up for free and start collaborating with brands. So what are you waiting for?
25 best food influencers you should follow
Here are the top 25 food influencers on Instagram you can follow and work with:
1- Heather Johnson (@foodhussy)
Heather is a young, energetic food influencer and enthusiast with over 10k followers. This micro influencer shares simple and easy recipes with lots of Traeger, air fryer, and copycat recipes.
Her page is a great guide for restaurant reviews, recipes, and road trips!
2- Jocelyn Brown (@hipmamasplace)
One of the top food influencers on Instagram, Jocelyn, runs a successful Instagram account with over 331k followers. What makes her different from other food influencers is her skill in photography and how she presents her work. You can find full recipes on Hipmamasplace.com.
3- Faith (@faithsfresh)
Faith is one of the best food influencers on Instagram, with over 186k engaged followers. She is also active on YouTube, where she livestreams almost every day!
Her IG account is all about food, lifestyle, and useful sponsored posts. She shares detailed recipes in the caption, so it's easy for her followers to navigate.
4- Disha (@feeedmi)
If you are looking for one of the best and youngest food influencers on Instagram, you should definitely check Disha's profile out. She has more than 370k fans on IG and over 815k followers on TikTok. Disha shares easy recipes for home cooks.
5- Mo's Tasting (@mostasting)
Mo is one of the best food bloggers on Instagram and creates a wide variety of food recipes, from salads and main courses to desserts.
His Instagram feed is filled with mouth-watering food and amazing restaurants and stores.
He also posts a brief version of his recipes in his captions. He writes very interesting food captions on Instagram. With almost 365k followers, he is on the list of top food influencers on Instagram.
6- Raven Hall (@hallofraven)
Raven is one of the food influencers on Instagram based in Chicago. Apart from the beautiful pictures of the food that she makes, she also shares the instructions on how to make those meals.
She writes the recipes in the Instagram captions of her posts, so her followers can directly get instructions from there and start experimenting.
7- Desha Jordan (@mealsbydesha2)
Desha is an expert food influencer on Instagram who keeps experimenting with different ingredients and shares the links to her recipes on her account. If you are working on your small business advertising, consider working with Desha.
8- Chef Wenford Simpson (@chefwsimpson)
Chef Simpson is one of the greatest food influencers on Instagram, based in NYC. He owns a restaurant thesimpsonbk in downtown Brooklyn.
He posts beautiful food pictures on his Instagram page and shows his lifestyle and routine in a restaurant.
9- Pasquale Sciarappa (@orsararecipes)
Pasquale is a chef and food influencer on Instagram with over 415k followers. You can find mind-blowing breakfast, lunch, and dinner recipes on his IG account. He started to post the everyday recipes that he prepares and shares them with the world.
10- Matse Uwatse (@matsecooks)
Matse is on the list of the top 121 best food influencers in the world. With almost 200k followers on Instagram, she makes recipes that make you dance. Matse posts tasty and healthy food recipes, along with beautiful pictures of the food that she makes.
11- Sam Stern (@sam_stern)
Chef Sam, the author of 7 cookbooks and presenter, is one of the top food influencers on Instagram.
He also posts the recipes in Instagram captions so that his followers can try making those recipes.
12- Maddie Goetz (@madzgoetz)
Maddie is a food influencer with over 110k followers based in Chicago.
She shares food and restaurant reviews, lifestyle, and travel content on her IG account. If you are searching for a foodie influencer to boost your brand engagement, Maddie is your go-to option.
13- Stefani Pollack (@cupcakeproject)
Stefani Pollack is one of the best food influencers on Instagram for always baking from scratch that started her blog in 2007. But today, not only does she have different social media blogging profiles, but also her website, cupcakeproject has nearly one million views every month.
This successful food blogger has published her recipes in different magazines such as People, Better Homes, Gardens, Saveur magazine, etc.
14- Dani Castro (@ladanicastror)
Dani Castro is another blogger in our top food influencers on the Instagram list. This chef is well-known for publishing her book of 500 recipes with a diverse collection of recipes ranging from vegetarian, vegan, gluten-free, etc.
Her healthy foods made her so fit that she can be considered a top fitness influencer too.
15- Yumna (@Feelgoodfoodie)
Yumna is a very popular and on the list of top food influencers on Instagram based in Michigan. With over 4.2M followers, she shares healthy-ish recipes that are easy to make at home. She has many dishes that you can make with air frier and in the healthiest way possible.
16- Adrianne Calvo (@chefadrianne)
Known for her signature Maximum Flavor creations, Chef Adrianne is an acclaimed chef, TV personality, YouTube host, and restaurateur. This famous chef is one of the best foodie influencers who opened her own restaurant in April 2007 in Miami.
Also, she won the Master Holiday chef challenge in 2016, which made her famous. If you want to work with food influencers and have enough budget, she can help you grow your followers and increase brand engagement.
17- Rena (@Healthyfitnessmeals)
Rena's IG account is all about healthy and fitness-friendly foods and snacks. She partners with many food and restaurant brands and Instagram fitness influencers to exchange knowledge and awareness.
With more than 3M followers on Instagram, she is one of the most popular foodie influencers on the list.
18- Caroline Manzo (@carolinemanzo)
Our next blogger on the list of top food influencers on Instagram is Caroline Manzo. Caroline and her brother, chef Jaime Laurita, own a fancy restaurant in New York City with thousands of customers in a month.
On her IG account, she shares her childhood taste memories at their family farm and the story behind each recipe which helps her increase Instagram engagement.
19- Sumito Estevez (@sumitoestevez)
Sumito Estevez is a chef, writer, entrepreneur, foodie influencer, and TV personality. Estevez is also the conductor of food TV programs and a popular food influencer on Instagram with over 800k followers who shares his unique recipes with his audience.
20- Cory L Rodriguez (@corylrodriguez)
If you are looking for a food influencer on Instagram who is also one of the best health influencers out there, you should definitely check out Cory's account. Cory is a TV health and wellness expert and the co-founder of OneHealthyNation. He has more than 800k followers on Instagram and runs online coaching during the pandemic.
21- Gordon Ramsay (@gordongram)
Gordon is a renowned global chef who has opened a string of successful restaurants across the globe, from the UK and France to Singapore and Hong Kong to the United States. With over 15M fans on his Instagram, he is on the list of top food influencers on Instagram and shares his recipes in detail on www.gordonram.com.
22- Jamie Oliver (@jamieoliver)
Jamie is one of the well-known personalities in the food industry and also one of the top food influencers on Instagram. He enthusiastically supports nutrition and healthy eating.
This British chef, restaurateur, and world-level foodie influencer hosts popular TV programs 'The Naked Chef' and the 'Jamie's Kitchen' series of shows.
23- Rosanna Pansino (@rosannapansino)
Rosanna Pansino is an American baker, YouTuber, NYT's best-selling author, and host of 'Baketopia' on HBO Max. In 2010, this food bloggers on Instagram started the cooking series Nerdy Nummies, which has become one of the most well-known baking shows on YouTube.
This award-winner baker is a famous food Influencer with more than 5M followers on Instagram.
24- Jonathan Cheban (@foodgod)
With over 4M followers, Jonathan is a foodie influencer, and his Instagram feed absolutely garners attention all on its own.
He is also known because of his closeness to reality TV star and well-known businesswoman Kim Kardashian. Undoubtedly, he is one of the top food influencers on Instagram who you will want to live through vicariously.
25- Ree Drummond (@thepioneerwoman)
Ree Drummond, once a popular lifestyle blogger, is now regarded as one of the most beloved moms in food. She is also a TV personality, author, food writer, and photographer. Later, her fame led to the publication of a few books and a Food Network program. Banana bread, banana pudding, and banana splits are among the foods she never makes.
Conclusion
It is evident that the top food influencers on Instagram to follow in 2023 are those who are passionate about cooking and sharing their recipes with others.
They use their IG accounts to inspire others to cook delicious meals, learn about new ingredients and cooking techniques, and get ideas for meals. If you're looking to up your culinary game, be sure to give the food influencers mentioned in this blog a follow! Also, you can find many more food influencers on Ainfluencer.
1- Who is the top influencer for food?
Here is the list of top food bloggers and influencers in 2023:
1. Stefani Pollack
2. Dani Castro
3. Flora Hadi
4. Adrianne Calvo
5. Karan Dua
6. Caroline Manzo
7. Sumito Estevez
8. Cory L Rodriguez
9. Gordon Ramsay
10. Jamie Oliver
2- How do I find food influencers on Instagram?
You can easily search related hashtags such as #foodie to find food influencers on Instagram. Also, you can use free influencer marketing platforms to target them by location, language, and gender in a few seconds. 

3- What is a food influencer?
Food influencers are those who help create a positive image for food and culinary products by endorsing them on social media or through other platforms. They can also promote specific diets or cooking methods. Food influencers can be either professional chefs, cooks, or amateur enthusiasts.