In today's online marketplace, eCommerce is king. Consumers are spending more and more of their time shopping online, and businesses of all sizes are taking note. If you're looking forward to starting an ecommerce business, it's necessary to understand the basics of ecommerce marketing.
In this article, we'll discuss some of the most important aspects of marketing your ecommerce website.
What is ecommerce marketing?
In this digital age, e-commerce is a booming business. Ecommerce marketing is the process of promoting and selling products or services through digital channels.
It involves using a variety of methods to attract customers to your website, including paid search, organic search, email marketing, and social media marketing. Aside from that, you also need to hire a freelance risk management consultant to help you invest wisely and minimize the potential risks that could affect your business."
By using a combination of these tactics, you can create a successful eCommerce marketing strategy that will help you increase brand awareness, reach your target audience, and boost sales.
What is Ecommerce Advertising?
Ecommerce marketing is all about increasing awareness of your goods or service and encouraging people to buy them. Meanwhile, ecommerce advertising refers to the means by which you promote your product.
There are many different types of ecommerce advertising, and each has its own advantages and disadvantages. The most common types are search engine marketing, social media marketing, and display advertising.
After all, Ecommerce marketing requires a different approach than traditional marketing because the customer journey is different. In order to have a successful ecommerce business, you need to have a well-thought-out ecommerce marketing strategy.
Here are some tips for developing an ecommerce marketing strategy that will help your business grow. Remember! There is no best ecommerce marketing strategy. Find something that works best for you and stick to it.
10 Best Ecommerce Marketing Strategies to Grow your Business
There are many different aspects to consider when creating your ecommerce strategy, such as who your target audience is, what type of content you will produce, and how you will promote your business.
Creating a successful ecommerce marketing strategy takes time and effort, but it's worth it in the end. Before marketing your ecommerce website, ask yourself these questions:
What are your sales expectations?
How large is your current market?
What target group do you want to reach?
What resources do you need?
How do you want your product to be perceived?
What are your competitors doing?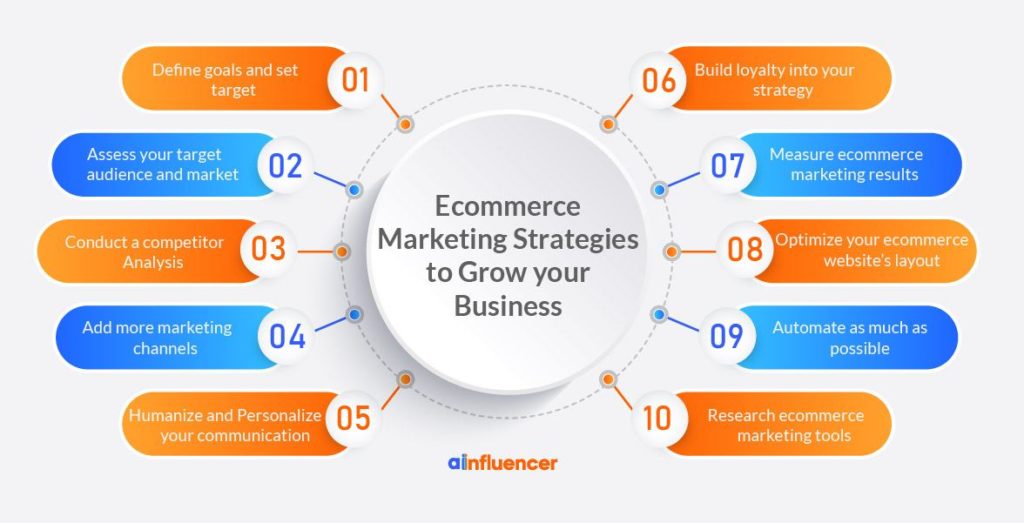 1. Define goals and set targets
Whether you're a small business or a large corporation, setting goals and measuring progress is critical to success. There are many different types of goals that can be set for ecommerce, ranging from sales targets to customer satisfaction levels.
Know your objectives. What are you hoping to achieve with your ecommerce business? Whether you want to increase revenue, improve customer satisfaction, or expand your market reach. Knowing your objectives is a vital starting point of your ecommerce strategy.
Whatever your goals may be, it's important to make sure they're specific, measurable, achievable, relevant, and time-based.
2. Assess your target audience and market
When it comes to ecommerce, it's important to know your target audience. After all, you're selling to people, and you need to know who those people are so you can create an effective ecommerce marketing strategy.
First, consider what you're selling. What's the purpose of your ecommerce website? Is it to sell products to the general public, or is it to sell products to a specific niche market?
This includes understanding your customers' demographics (e.g. age, gender, location) and psychographics (e.g. what motivates them, their interests).
Once you have a good understanding of your target audience, you can then design and market your products and services accordingly and take your brand advertising to another level. For example, if you are targeting young adults, you may want to use social media to market your products.
3. Conduct a competitor Analysis
Looking to stay ahead of the competition in ecommerce?
Check out what your rivals are doing. Keeping tabs on your competition is a key part of any good ecommerce strategy.
By watching what your competitors are up to, you can learn from their successes and mistakes, and adapt your own strategies accordingly.
This can give you an idea of what products they are selling, how they are selling them, and what prices they are charging
There are a number of ways to keep track of your competitors' online activities. One way is to use tools like Ahrefs to see what websites your competitors are getting traffic from.
4. Add more marketing channels
Adding marketing channels to your ecommerce brand can help increase traffic and sales. It can be a great way to reach new customers and grow your business.
There are a number of different marketing channels you can add, such as social media, search engine optimization, email marketing, and paid advertising. Each channel has its own unique benefits that can help you reach your target market and boost revenue.
For example, the SEO channel is among the most vital ecommerce marketing solutions for your business. By optimizing your site for search engines, you can increase traffic from organic search results.
5. Humanize and Personalize your communication
In a world where digital communication is the norm, it's more important than ever to find ways to humanize your interactions with customers.
By personalizing your communication, you can create a more positive customer experience that will keep them coming back. Customers want to feel like they are talking to a real person.
There are many ways to personalize your communication, but some of the most effective methods include using customer data to create personalized messages, addressing customers by name, and using emoticons and other expressions of emotion.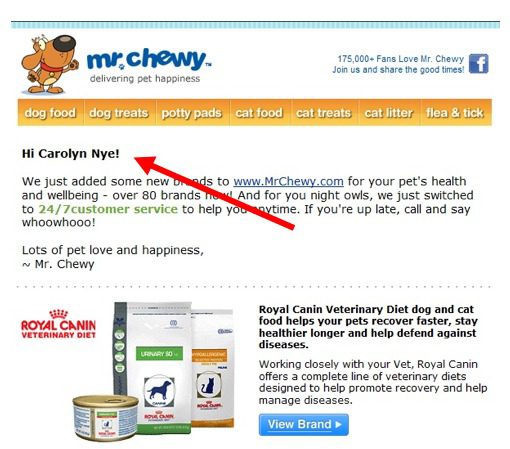 When businesses humanize their communication with customers, they are more likely to form a connection, increase brand engagement, and earn their loyalty.
6. Build loyalty into your strategy
Loyalty should be one of the key goals of any ecommerce strategy. It can be a challenge to create and maintain loyalty, but there are many ways to do this, and it will vary depending on your business.
Some general tips include offering rewards for frequent purchases, providing exclusive deals and discounts to loyal customers, and sending personalized emails with special offers.
You can also make it easy for customers to track their purchase history and see how close they are to earning rewards.
Make sure your customers feel valued and appreciated. Respond to their questions and concerns quickly, and go above and beyond to help them out.
It's important to build loyalty into your ecommerce marketing strategy from the beginning, so you can continue to grow and succeed in the future.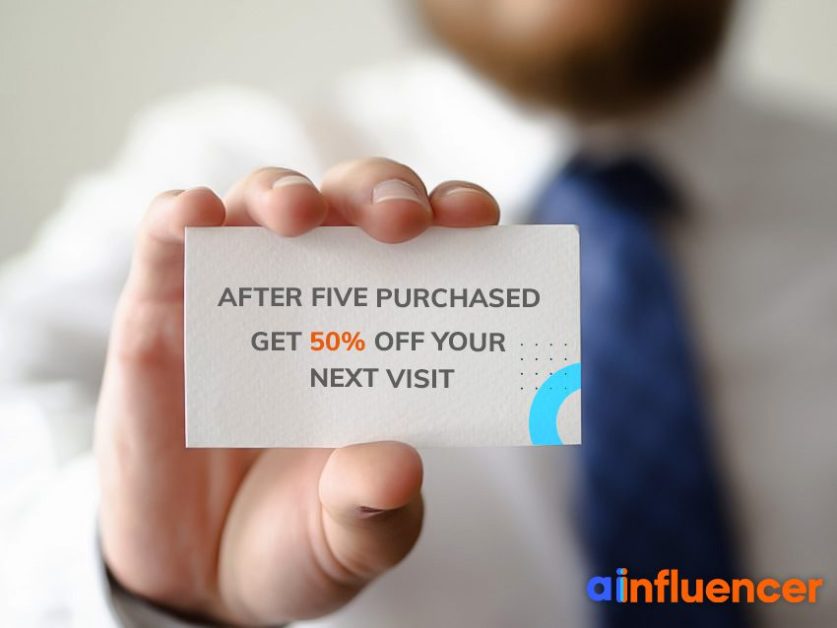 7. Measure ecommerce marketing results
Measuring your ecommerce marketing results is the best way to determine whether you are making progress.
In order to measure the effectiveness of your ecommerce marketing efforts, it's essential to first define what you're trying to achieve. Once you know your goal, you can develop a plan and track your progress along the way.
Measuring results can help you determine what's working and what's not, so you can make necessary adjustments and continue to improve your ecommerce marketing strategy.
There are a number of key performance indicators (KPIs) you can use to measure your ecommerce marketing results, including website traffic, conversion rates, and sales figures.
Each of these measures can tell you something different about how your marketing is performing.
8. Optimize your ecommerce website's layout
A well-designed ecommerce website can be a major asset to your business, helping you attract new customers. However, if your website is not properly laid out, it can actually have the opposite effect, causing customers to leave your site without making a purchase.
In order to ensure that your website is as effective as possible, you need to make sure it is responsive and pay attention to its layout, and design.
For example, make sure your categories are easy to find and well-organized so visitors are able to find what they're looking for quickly and easily.
Optimize for mobile
According to a study conducted by Google, 61% of users are unlikely to return to a website that is not mobile-friendly. This means that if your ecommerce website is not optimized for mobile devices, you're missing out on a big piece of the pie.
9. Automate as much as possible
Running an online store can be a lot of work. There are so many things to keep track of such as inventory, orders, shipping, customers, etc. that it can be hard to know where to start.
One way to make your life a little easier is to automate as much of your ecommerce marketing as possible. This can mean setting up automatic ordering and shipping systems or using tools to help you keep track of your inventory.
There are numerous advantages to automating your ecommerce process. Automation can help you save time and money while improving your customer experience.
By automating tasks, you can improve your efficiency and reduce the chances of mistakes. More importantly, you have the time to focus on your ecommerce strategy than operation.
10. Research ecommerce marketing tools
In order to be successful in your business, it is important to have a good ecommerce marketing strategy. There are many different marketing tools available to help you make the most of your strategies.
Top 8 Ecommerce Marketing Tools
There are a number of different ecommerce marketing tools available, and each has its own benefits. Ecommerce marketing tools can become an integral part of your business's day-to-day growth.
Here are several different ecommerce marketing tools that can help you boost your sales.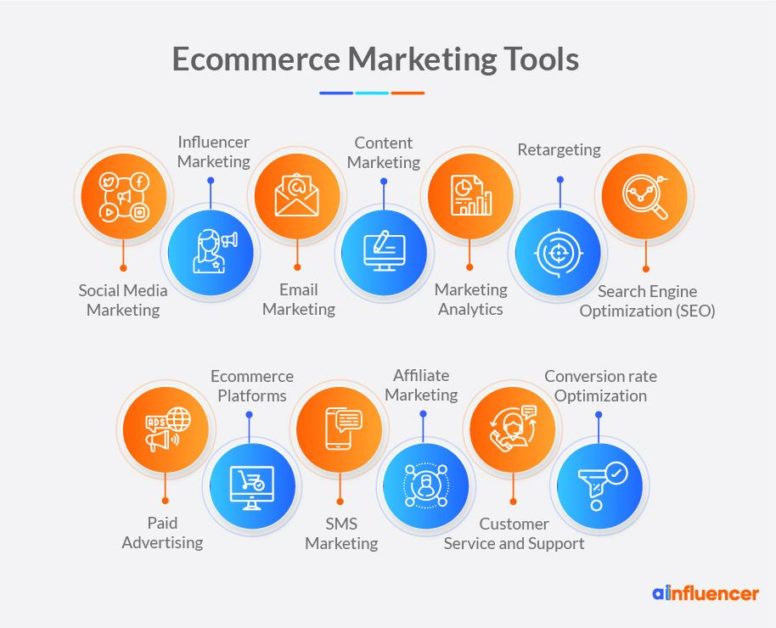 1. Social Media Marketing
Social media marketing is a great way to promote your ecommerce business. Platforms like Instagram, Facebook, and Twitter can help you reach a large audience with your message.
You can use social media to increase brand awareness, share product photos, announce sales and promotions, and connect with customers.
Paid social media marketing
Paid social media marketing is a way to use this platform to your advantage, by targeting specific consumers and driving traffic to your site.
There are a variety of paid social media marketing options available, and the right approach for your business will depend on your goals and budget.
2. Influencer Marketing
Influencer marketing is a form of marketing in which the focus is on key figures to promote your brand. The goal is to get these influential people to talk about and recommend your product or service to their followers. 
Because these people have a large reach, their endorsements can result in a lot of exposure for your business. In order to find influencers, you can use influencer marketing platforms. With the help of these platforms, brands are able to find the right influencers in their niche and invite them to work with them.
For example, Ainfluencer is an influencer marketing platform that compares influencers based on their engagement rate, quality score, numbers of followers, location, etc 100% FREE and lets brands find and invite them to execute their influencer marketing campaigns.
3. Email Marketing
Email marketing is a great way to connect with your customers and keep them up-to-date on your company's latest products and services. It also allows you to build customer loyalty and create repeat business.
But, like any other marketing tool, email marketing must be used correctly in order to be effective. Here are some tips for using email marketing effectively:
Make sure your email list is up-to-date
Send interesting and engaging content
Keep your emails short and to the point
Use images and videos to break up the text
Make sure your emails are relevant to your customers
Personalize your emails whenever possible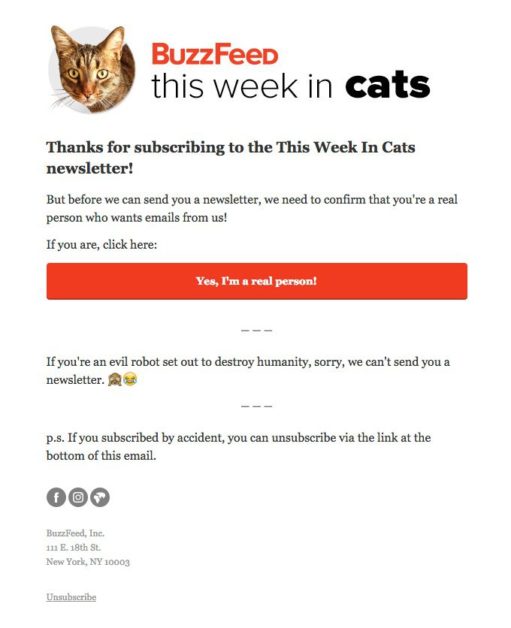 4. Content Marketing
Content marketing is a strategy that involves creating and sharing content with the goal of attracting and engaging customers. Ecommerce businesses can use content marketing to drive traffic to their websites and convert leads into customers.
Content can take many forms, such as blog posts, infographics, videos, and social media posts. It's important to create content that is engaging, relevant to your target audience, and provides value to them. Also, it should be published on a regular basis.
5. Marketing Analytics
Marketing analytics provide key insights into how well your marketing efforts are performing and what improvements can be made. By tracking your website's traffic and conversion data, you can determine which marketing channels are most effective for your business.
Google Analytics
Google Analytics is a powerful tool that can be used to measure the performance of your ecommerce website. It can help you track how many people are visiting your site, where they are coming from, and what they are doing when they get there.
By setting Google analytics goals you can track interactions with your website that you deem to be the most valuable to your business.
6. Retargeting
Retargeting is a form of online business advertising that helps you reconnect with people who have already shown an interest in your products or services.
When someone visits your website, retargeting technology "follows" them around the web with ads for your business. It can be an incredibly effective way to boost website traffic and sales conversions.
For example, if someone visits your website but does not make a purchase, you can show them an ad for your website when they visit other websites.
7. Search Engine Optimization (SEO)
If you run an online store, then you know that getting people to visit your site is only half the battle. Once they're there, you need to make sure they stick around long enough to buy something.
That's where search engine optimization (SEO) comes in. SEO is a process of optimizing your website so that it appears as high as possible in search engine results pages (SERPs).
8. Paid Advertising
Paid advertising for ecommerce can be a great way to get your products in front of more people. It can also be a wonderful solution to increase sales and grow your business.
This kind of advertising can be done through various platforms, including Google AdWords, Facebook Ads, and Instagram Ads. When choosing a platform for paid advertising, it is important to consider your target audience and the goals of your campaign.
Google Ads
Google Ads is an effective way to market your ecommerce business. With this form of advertising, you can target people who are already interested in what you have to offer. Additionally, you can control your budget, so you can spend as much or as little as you want.
9. Ecommerce platforms
A platform is a type of business model that provides a foundation for other businesses to build on. Ecommerce platforms are those that provide a digital marketplace for buying and selling goods and services.
They can be used by businesses of all sizes, from small businesses to large enterprises. They are great ecommerce marketing solutions if you are at the beginning of your journey.
There are many different ecommerce platforms available, each with its own set of features and benefits.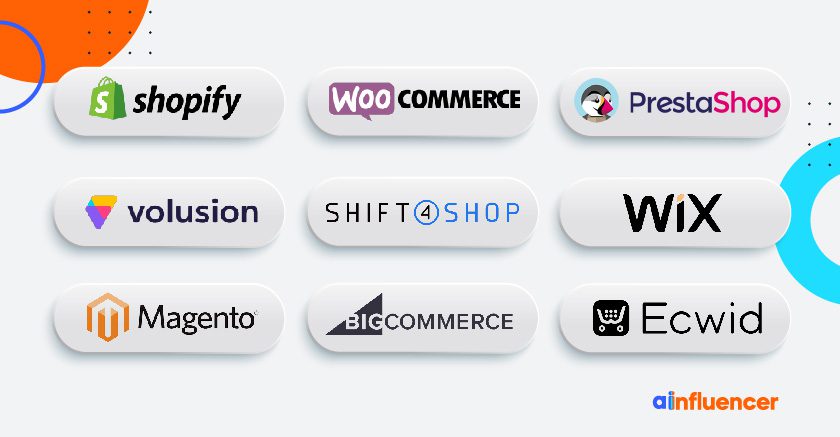 10. SMS Marketing
SMS marketing is a great way to connect with customers, and it can be especially useful for ecommerce businesses
It allows you to send text messages, special offers, and discount links to product pages, or coupon codes directly to your customers' phones through SMS.
Startups can use business text services to automate their SMS marketing strategy. For example, OpenPhone helps you utilize templates and schedule text messages to your contacts.
11. Affiliate Marketing
Affiliate marketing is a type of performance-based marketing in which a business rewards one or more affiliates for each customer brought by the affiliate's own marketing efforts.
Affiliate marketing is popular among online businesses because it can provide a high return on investment (ROI). Three types of affiliate marketing programs are: cost-per-action, cost-per-sale, and pay-per-click.
12. Customer service and support
One of the most important things for ecommerce businesses is providing great customer support.
There are a few different types of customer support for ecommerce businesses. The first is self-service support, which is when customers help themselves to the information available on the company website. This type of support is usually best for simple issues that can be resolved by reading through the website's FAQs or troubleshooting guides.
If a customer can't find what they need or the issue is more complicated, they can move on to the next type of support, which is live chat. Some brands also follow different call center trends and prefer making phone calls using outbound call center software as a more human customer relationship solution.
Good customer support can make the difference between a happy, loyal customer and one who never comes back.
13. Conversion rate optimization
The measures you take to convert as many site visitors as possible is called conversion rate optimization. You've worked hard and/or paid for your traffic so you want it to result in sales.
Traffic without revenue is nothing. There are various tactics you can use on your website to drive sales:
Push notifications
Live chat
User reviews & user-generated content (UGC)
Choosing guides
VR fitting and placement tools e.g. for fashion or furniture
Conclusion
Ecommerce marketing may seem complicated with all these countless products, business models, and target groups, and it is impossible to pinpoint just one best practice. What works for one seller with a specific product won't necessarily work for another selling something else to another audience in a different market.
By creating an ecommerce marketing strategy that works best for you, you can stand out from your customers, reach more targeted people, and grow your business.
What is the difference between ecommerce and digital marketing?
Ecommerce is the process of buying and selling goods or services through the internet. This can be done through a website or an app. Digital marketing, on the other hand, is the use of digital technologies to promote and sell products or services. This can include things like email marketing, social media marketing, and search engine optimization.

What is the best ecommerce strategy?

There is no one-size-fits-all answer for the best ecommerce strategy. The best ecommerce strategy for your business will depend on your products, your target market, and your budget. But one of the most effective ecommerce marketing strategies is search engine optimization(SEO).
SEO can help you rank higher in search results, attract more visitors to your site, and boost sales.

What are the tools to promote a website?
Some of the most common tools include search engine optimization, paid advertising, and social media marketing. Each of these tools has its own strengths and weaknesses, so it's important to choose the ones that will work best for your website.