There are many great marketing ways to use Instagram as an internal marketing platform to drive perfect business results. A well-organized marketing plan is the most comprehensive guide to have a much better business experience on Instagram.
When Instagram turns into one of the most popular apps over recent years, it's acceptable to say that this largest social networking app has changed many lives during its existence. Obviously, Instagram has become a successful social media channel to strengthen its image to generate sales.
Also, According to the sprout social report, 79% searched for more information, 37% visited the retail store, and 46% purchased Instagram.
Considering this fact, building an e-commerce brand using Instagram shares a huge opportunity for small businesses to find out how shopping is a strong feature that will surely affect users to purchase a product or service on Instagram
This article points out the Instagram marketing ways that marketers should implement when building an e-commerce brand.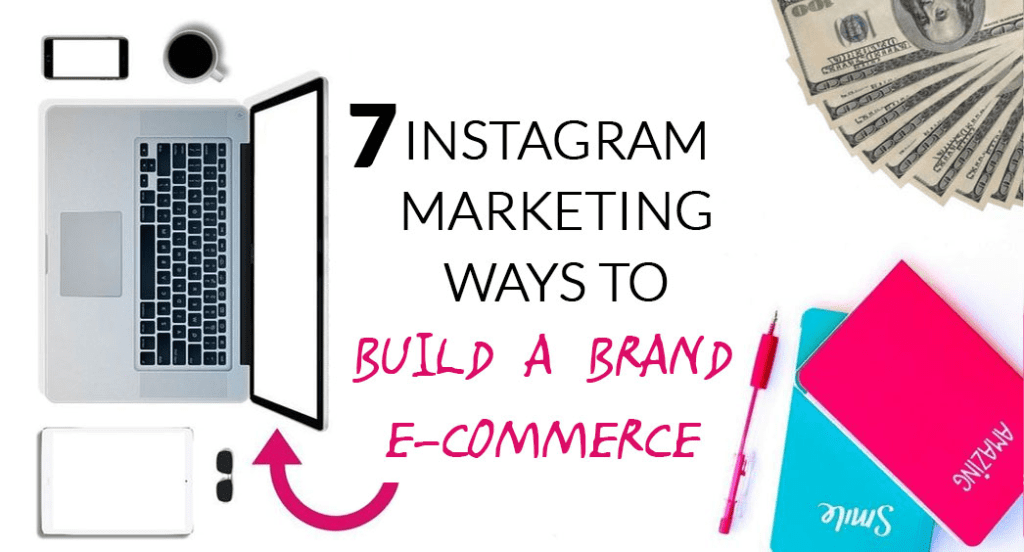 7 Instagram marketing ways to build a brand E-commerce
As a fast-facing social media app, Instagram could establish a visually appealing platform for running an engaging, productive marketing strategy. With a ton of Instagram features, different kinds of marketers found it a great place to connect with a wide audience worldwide and generate ROI.
Instagram is making huge waves in compassion to other social media platforms; as a matter of fact, models, influencers, brand ambassadors, and photographers invest on Instagram to get rapid growth in the number of their followers also for valuable self-promotion, so influencer marketing is now the popular industry, with individuals relying on it as their source of income because most people are fond of seriously beautiful photography and genuine branded content.
Prepare your Instagram e-commerce category and catalog
First of all, every e-commerce brand on Instagram should set up an Instagram business or creator account to define the Instagram business category and connect their Instagram accounts in the commerce manager.
Totally, the commerce manager is a platform to create a shop for managing sales on Facebook and Instagram. With this in mind, as an Instagram business, brands can drive customers to purchase products on their website, Facebook, or Instagram, or through a direct message.
Commerce manager can serve businesses with different tools for better online selling Facebook advertising or Instagram promotion ads; the platform helps you reach people interested in your products.
Set up and manage a Facebook Shop
access a summary of sales activities, catalog, and suggested actions
View and manage items in a catalog
Monitor insights about customers and popular items
Explore ways to advertise products
Facebook's e-commerce manager tool offers advantages to build an e-commerce brand, such as allowing people to buy easily from both Facebook and Instagram, providing manage your business across Facebook and Instagram.
2. Use links in your Instagram profile
Links are a powerful and necessary feature to increase brand visibility as well as boosting sales. It would be one of the most effective ways to reflect your marketing goal.
Add your website link in bio place
It is a simple and great idea to put your website link in the bio place to direct more audience to your brand identity and authority. It is recommended to use the bio link tool that offers multiple links in one link that provides a landing page that includes videos other social media accounts links and builds an online product store to drive the audience to find what they're looking for.
Tip: I know that it is impossible to add a link under Instagram posts; use hashtag #LinkInBio to your posts.
Add swipe-up links to your Instagram stories
Instagram story is a useful marketing tool that brands can make most of its various features to take the right path in marketing their business. It is a highly effective way that Instagram lets' share links on stories to shoppable posts or products page on the other side promotions and giveaways, and seasonal events, are the best events to get more out of Instagram stories.
3. Set up Instagram Shopping
Setting up an Instagram shop is the main Instagram marketing principal for e-commerce brands to grow their business, then promote their products.
Instagram shopping lets brands or businesses to dedicate one of their Instagram parts to their products catalog. Therefore it would be a good idea to take advantage of Instagram posts, stories, and the shopping tab for generating sales on your profile.
Set up a standalone Facebook Shop
Try to sync Your e-commerce Website to Your Facebook Page
Switch your Instagram account to a business one.
Link your Instagram business page to your Facebook business page.
Link your Shopify store with your Facebook page.
Create a Facebook Shop and sync your products to it.
Link your Shopify store with your Instagram account.
4. Make the most of branded hashtags
Instagram branded hashtags are really essential when you want to create authentic, engaging content and tag your products; it is actually the only way to raise brand awareness and enable users to produce user-generated-content via your branded hashtags.
Moreover, branded hashtags are kinds of customers' hashtags to feature or want your followers to mention your brand using your products. This marketing strategy can humanize your brand and increase your content discovery on the Instagram platform.
For instance, when you search for #nikerunning, you come across thousands of posts include UGC or sponsorship posts. UGC means loyal and satisfied customers who used branded hashtags to promote a particular brand's products. Simultaneously, a sponsored post refers to promoted posts advertised by a particular company to attract a large amount of popularity for a brand.
One more thing is that to build your brand more interactive and branded is using your official branded hashtag on your Instagram bio.

5. Analyze your competitors
Your closest competitors are a big help to break through the Instagram market because they have already gained much useful information about their target engaged audience and attracted them also achieved marketing tactics that work for their followers. So, brands can benefit from their marketing journey to pass some initial steps as easy as possible.
Engage with your audience by telling what your brand contains an added value for them
Use the industry hashtags to find your brand competitors
Use DM marketing for the users that are engaging on competitors' pages
Provide sponsored content or products reviews to encourage a new audience to follow you
6. Consider Instagram contest ideas
Contests and giveaways are winning strategies that improve your brand awareness, reach out to reach, interact with them, and turn them into customers. Keep your followers engaged with different Instagram contests, and ask them to post user-generated content to use your branded hashtag that you want to use for the contest.
Contests and giveaways are highly interactive ways to grow your brand on the Instagram space as well as increase a high level of engagement.
On the other hand, running more Instagram contests can harm content strategy and ruin the brand awareness that Instagram suggests acting well.
UGC posts (like and comment on images, run contests, provide gifts
Tag to win
Like to win
Voting contest
Caption contest
Behind the scenes products photos
7. Post discount products offer
Discount offers are crucial to cut through the noises and help your brand grow fast and reach thousands of new followers. If brands offer high-quality services or products and intelligently convince customers to buy them, they can increase authenticity and make new sales. Remember that your followers will admire you as a brand that makes it effortless for its customers to buy from your store.
If brands start with one product offer, it would be more professional to link their website page to their Instagram profile bio to gain more engagement and brand trust and persuade their prospects to click on their bio link.
How to measure Instagram e-commerce brand success?
Measuring Instagram's e-commerce brand exposes your brand's success to detailed marketing efforts, including likes, comments, shares, and purchases. Also, Instagram insight and some other Instagram management service to figure out how your Instagram followers interact with your posts, stories, and if all else fails, what you can do to find relevant and interesting content for your Instagram feed or stories and repost with just a click.
The best way to identify your target audience is by running Instagram Ads; you can also view activity based on reach, impressions which is cost-effective and helpful for small businesses to make a lot of following and generate sales.
Conclusion
Use all Instagram features and updates to evolve your marketing performance and get more out of your Instagram business page. One more effective thing that promotes your brand is not dedicating a large budget. It is all about your skill and knowledge to discover how to appear on Instagram explore page to win this competitive game. Try out these seven tactics to build an e-commerce brand using Instagram to earn money while Instagram is consistently changing the algorithm.