Many brands are now focusing on Instagram. It is an ideal place to promote business products and find new customers. You can only achieve some goals by posting regular content. That's where Instagram campaigns come in.
In Instagram campaigns, an attempt is made to achieve a specific goal within a certain period of time, so all the content used in such campaigns is in the service of the mentioned goal, a goal that is well-defined and can be evaluated.
This goal can be to increase online store sales, brand awareness, etc. Introducing new products, reaching new customers, and introducing more and better brands among consumers are some other goals that Instagram campaigns can achieve.
In this article, we have provided you with the definition and different types of Instagram marketing campaigns and 12 great tips to help you run successful Instagram campaigns.
What Is An Instagram Marketing Campaign?
Instagram marketing campaigns are marketing campaigns that involve posting business content on your Instagram account to achieve marketing goals. These goals can be broad, such as increasing brand awareness, or they can be specific, such as selling a product.
In both cases, the goal is to produce a ton of interest at a given time. And often, the best way to do that is to share interesting, creative, and absolutely great content. But how?
Keep reading to find out.
Tips for creating successful Instagram campaigns
Here are some of the most important things you need to consider when running Instagram campaigns:

1- Set smart goals
In order to run successful Instagram campaigns, you need to set smart goals, which means setting realistic goals for some time. You need to identify the things you want to achieve and set a time for that.
2- Identify your target audience
If you are looking for great engagement, it makes sense to create a marketing strategy for Instagram around the content that your audience is really engaged with. The more you know about your audience, the more you can tailor your Instagram campaigns to the needs of your audience.
The best way to get to know your audience is to follow them on Instagram. Where are they? Which posts do they like to publish on their account? What times are they active? A quick way to learn more about your Instagram audience is to go to the insights section of your account and select the "Audience" tab.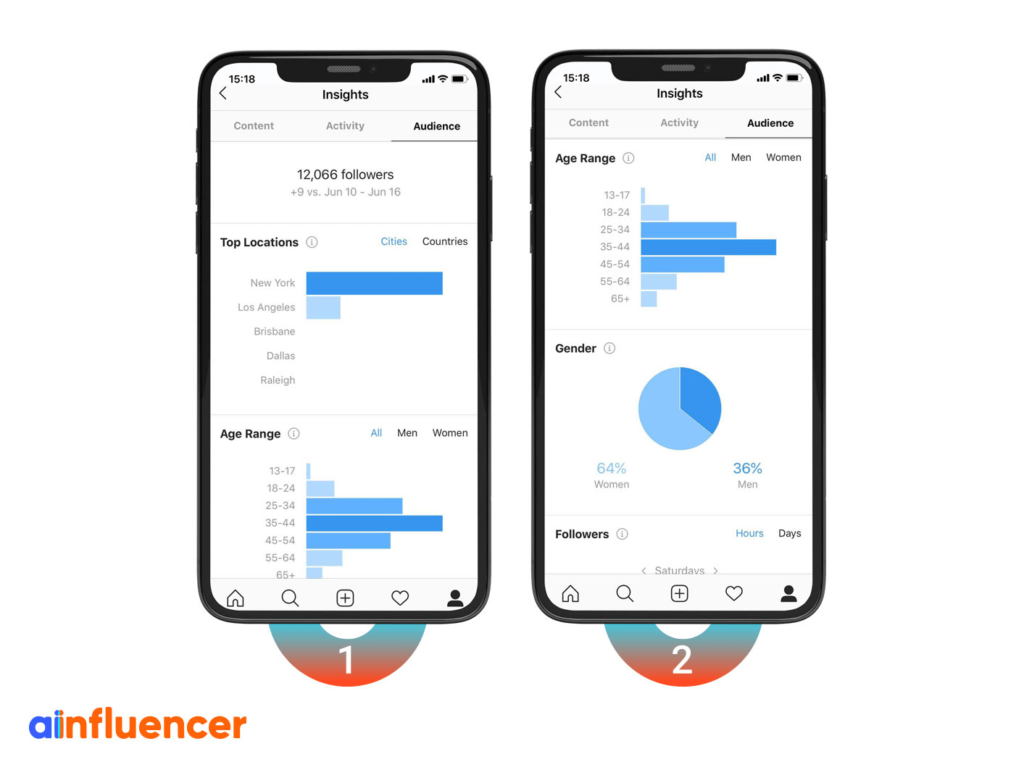 Consider a plan for your campaign
As mentioned in number one, you need to have a clear goal and understanding of what exactly you are trying to achieve. But how to do it?
Start by writing a plan for your Instagram campaign and organizing a roadmap: How long will it take to run it? How many posts do you want to publish? Is the original content or user-generated content being submitted? Do you hire a photographer or take photos yourself?
Once you have your roadmap, it's time to start thinking about how exactly you want to execute your strategy.
4. Partner with Influencers
When you create your content for your Instagram marketing campaigns, you want to get the most viewers! A great way to promote your Instagram marketing campaign is to work with Influencers.
Instagram influencers are Instagram users with many followers, but not all influencers are a good fit for your brand. You need to find Instagram influencers with high engagement rates in your niche. But with the help of influencer marketplaces, you can go through the process with no trouble.
Ainfluencer
Ainfluencer is a free safe marketplace that helps brands and influencers connect and collaborate. It lets brands search for their desired influencers through different filters, such as location, hashtag, gender, number of followers, etc.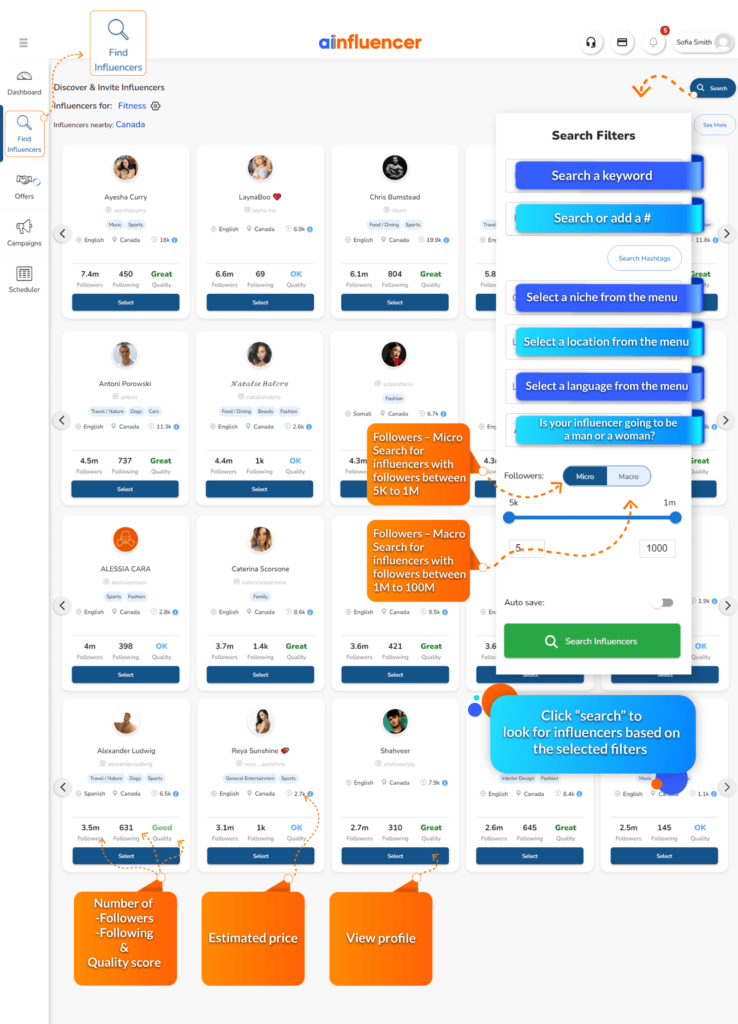 The best thing about Ainfluencer is that you can do the whole process of running campaigns all for free. But there are also some pricing plans on the platform that will run and manage Instagram campaigns for you.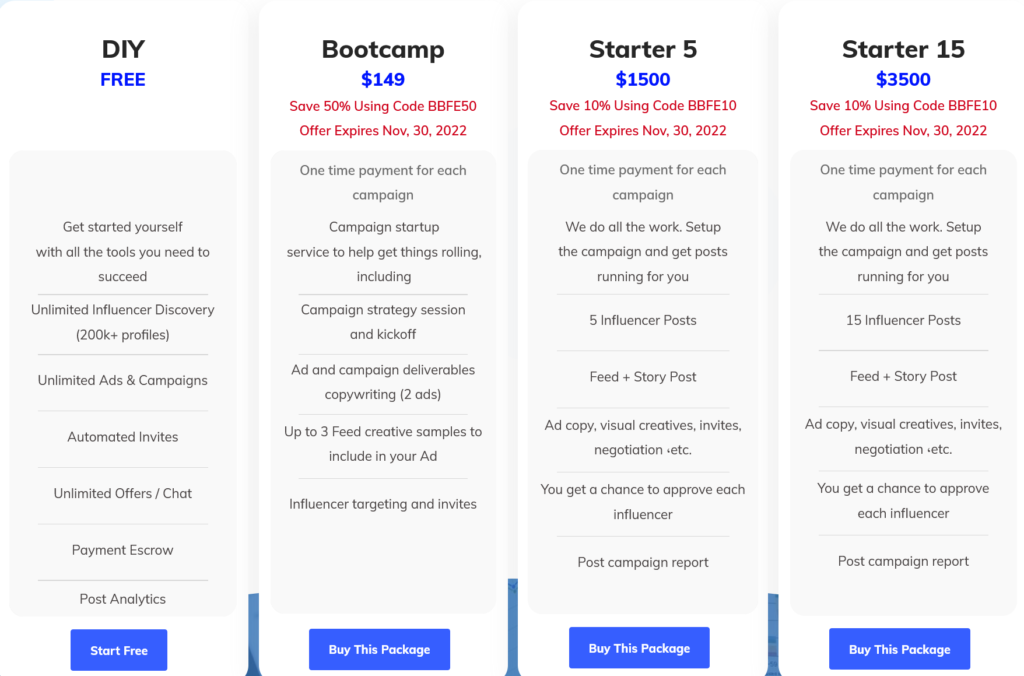 5- Set up your budget
Setting up a budget and estimating how much money you can spend on your Instagram campaigns is one of the essential parts of all Instagram ad campaigns.
When coming up with a campaign budget, identify the tactics that make the most sense for your goals and include those costs.
Make sure to cover all costs. You'll need to cover promoted posts and Stories, but working with influencers and running contests comes with additional costs.
6- Use all Instagram features
You should use all Instagram features when running Instagram campaigns as a business owner. This includes using hashtags, Stickers, geotagging, shopping features, etc.
Moreover, take advantage of Instagram Stories, highlights, Reels, IGTVs, and Instagram Live features to connect with your followers. This is a great way to build relationships and connect with your audience.
7- Create a branded hashtag
One of the other way to create successful Instagram campaigns is to create a branded hashtag. A branded hashtag is a unique hashtag that represents your business or campaign. It's a great way to get people talking about your brand and to track the success of your campaign.
Be sure to use relevant hashtags and keep them short and simple.
8- Run Contests
Consider running contests for your Instagram campaigns as well. You can encourage your followers to interact with your brand by running a contest. This interaction can help you better understand your target audience and what they're interested in.
When done correctly, contests can also be a great way to generate buzz for your brand on social media platforms and help you build brand awareness.
9- Use call to actions
One key element in having successful Instagram sponsored ads and campaigns is to use call to actions (CTAs) throughout your posts. A CTA is simply an instruction telling the viewer what to do next. Using CTAs in your Instagram campaigns can help increase engagement and conversions.
Just make sure your CTAs are clear and concise.
10- Consider paid advertisements
With enough budget, paid advertisements are also great for successful Instagram campaigns. By using paid advertisements, businesses can target specific demographics and interests.
11- Use other social media platforms
Instagram is, of course, a great platform to promote your products or services. But what if you don't have a large following on Instagram?
You can use other social media platforms to drive more traffic to your Instagram account.
For example, you can include links to your Instagram account in your email signature, post about your latest campaign on Facebook, or Tweet a link to your most popular Instagram post.
12- Track your Instagram campaign results
When using Instagram campaigns for marketing purposes, it is important to track your campaign results. By tracking key metrics such as engagement, reach, and conversion rates, you can gain valuable insights into what is working well and what needs to be improved and create more successful campaigns in the future.
By taking the time to track your Instagram campaign results, you can ensure that you are making the most of this powerful platform.
Types Of Instagram marketing campaigns
Instagram ads and marketing campaigns fall into separate categories depending on the performance and goal they pursue. They usually include unique concepts and activities optimized to achieve that goal.
Here are the types of Instagram campaign categories: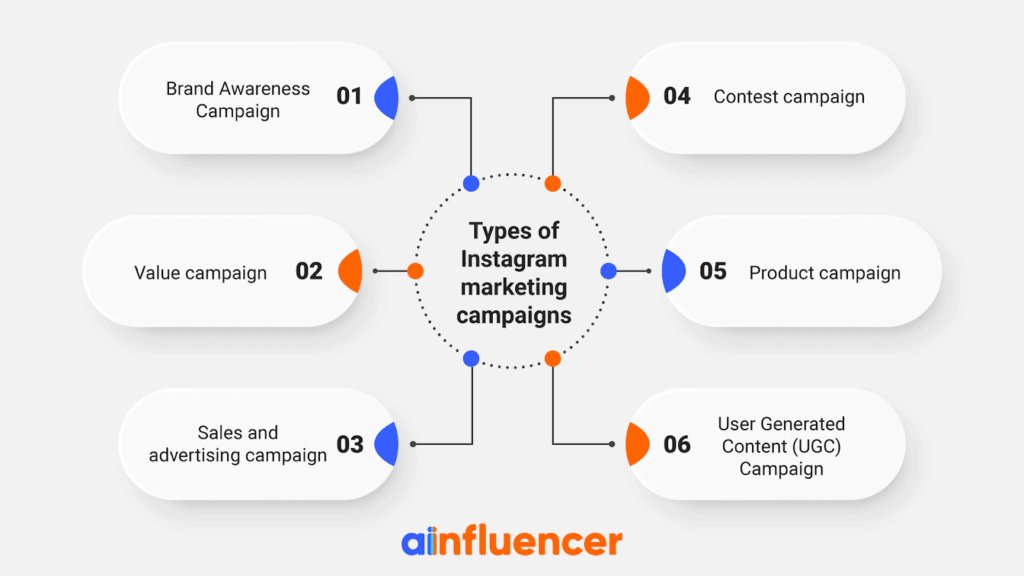 1- Brand Awareness Campaign
The main focus of brand awareness campaigns is introducing more companies, products, or services to the audience. These campaigns are mostly used by newly established brands as well as business owners who want to connect with a new group of audiences. 
When running this type of Instagram marketing campaign, you should try to expose everything about your brand to the audience and visualize everything with unique, interesting content.
Instagram is known as a platform where its users are looking for new brands, so it is a great choice for a brand introduction and awareness campaign.
Here is one of the best Instagram campaigns which is aimed at increasing brand awareness:
2- Value campaign
Younger customers, who now make up the majority of Instagram users, not only pay attention to the products or services offered by companies, but also to the ethical standards and social responsibilities of their favorite brand.
Launching an Instagram value campaign is a great way to introduce the values ​​that your brand supports. It's a kind of Instagram campaign that defines the company's aspirations, attracts the attention and trust of audiences who have the same value as you, and increases the engagement of users who are aware of the social situation and pursue related issues.
Be aware, however, that taking such actions can have a positive effect, but if there is a hint of deception in such Instagram campaigns, it will have a devastating effect on your brand.
There are many Instagram promotion examples, and here is one of the top ones:
This successful Instagram campaign brought lots of value to Omsom.
3- Sales and advertising campaign
Selling products by advertising them on Instagram has become one of the most used methods by various brands. It is also possible now to buy things directly on Instagram.
Holidays and special occasions throughout the year are ideal times to launch a sales campaign. And if you want to increase the pre-sale of a particular product or you want to finish the remaining inventory of an older product, it would be great to give a discount code to your followers on Instagram. Let's see one of the great Instagram campaign ideas of this type:
4- Contest campaign
Another great Instagram campaign type is contest campaigns. Numerous contest programs are currently being considered by brands on Instagram, as they have a tremendous impact on increasing user engagement. When running these programs, you can set rules that will work to achieve the company's goals.
For example, participants can be asked to tag a friend to enter the competition (this will allow them to find more followers); In addition, each participant can be provided with a form to fill out before entering the competition, so you can have more emails (and if you have been trained in email marketing, you can sell more with it.)
Halotopau had run so many great contests and giveaways Instagram campaigns:
5- Product campaign
Launching a specific product or service is among the next type of Instagram campaign. Launching a campaign for this purpose can be a good and efficient idea. This will make the audience look forward to your new product or service with more enthusiasm.
You will also have the opportunity to provide more free information about the benefits and qualities of your product or service.
6- User Generated Content (UGC) Campaign
In such campaigns, customers and followers are asked to share images of themselves while using specific branded products. A specific hashtag is provided for such campaigns to maintain their coherence.
User-generated content campaigns not only promote your brand more and better (because of the use of hashtags) but also provide you with content that you can use on other channels as well.
One of the most important issues that motivate users to participate in such campaigns is the possibility of exposing their images to others, by brands.
Here you go with a top example of this Instagram campaign, running by Cristiano Ronaldo:
Conclusion
You can use all types of campaigns introduced in combination and increase your followers naturally and correctly. For example, combining a competitive campaign with a user-generated content campaign can be a good idea.
We have mentioned 12 great tips to help you create successful Instagram campaigns. We have also provided you with six different types of Instagram campaigns and an example for each one. Choose one of them, according to your goals, or combine some of them, and promote your brand.
1- What makes a successful Instagram ad?
1- Set smart goals
2- Identify your target audience
3- Consider a plan for your campaign
4- Partner with Influencers
5- Set up your budget
6- Use all Instagram features
7- Create a branded hashtag
8- Run Contests
9- Use call to actions
10- Consider paid advertisements
11- Use other social media platforms
12- Track your Instagram campaign results
2- How long should Instagram campaigns last?
Most Instagram marketing campaigns last anywhere from 2 weeks to 1 month. However, some businesses have found success in running longer campaigns that last up to 3 months. The key is to find what works best for your business and your audience.