It can be tough to know where to start when you want to find influencers to work with. Fortunately, there are a few ways to find Instagram influencers who are a good fit for your brand. Instagram influencers will help you reach a larger audience and boost sales.
In this article, we'll look at 11 effective ways to connect with influencers on Instagram to have successful partnerships.
What Is Influencer Marketing?
Influencer marketing is one of the most effective social media marketing strategies that lets brands build brand awareness with the help of influencers who have a massive number of followers.
So, influencer marketing works for branding and sales growth because social media influencers can increase brand trust through their loyal audience.
93% of marketers agree that Instagram is the best social channel for influencer marketing. Many brands are turning to Instagram influencers to help promote their products and services.
So, investing in influencers on Instagram seems like a good idea!
But the question is how to find influencers on Instagram?
How to find Instagram influencers
Finding influencers on Instagram has multiple ways, but brands on Instagram want to know how to find Instagram influencers most easily and smartly.
Here are the 11 easy ways you can take to find social media influencers without spending a penny.
1. Use influencer marketplaces
Influencer marketplaces are web-based platforms or mobile applications that connect brands with social media influencers. Brands can use these influencer search platforms to find and collaborate with influencers, manage campaigns, and measure the results of their campaigns.
Ainfluencer is a free, safe, and secure DIY marketplace that uses its AI engine to find influencers to work with and promote your brand. You can explore and find Instagram users by location, engagement rate, quality score, number of followers, category, and more.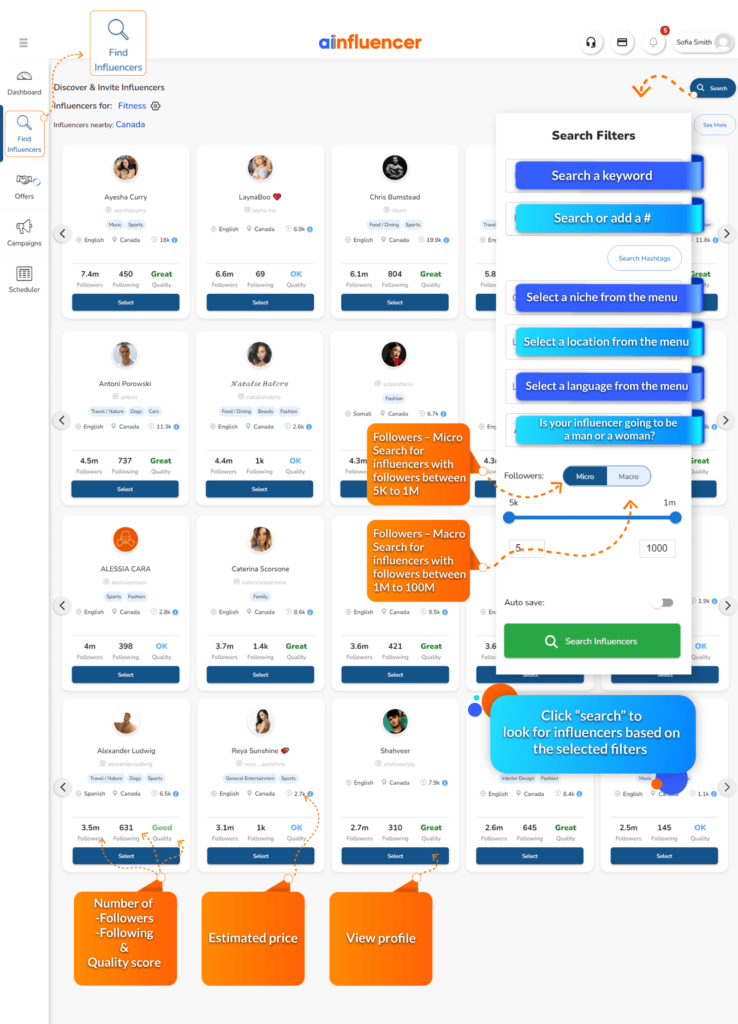 As a brand, you can access thousands of influencers by creating a free marketplace campaign. The ad will then be posted on the marketplace, where many influencers can see it and make offers.
Wondering how to find micro influencers on Instagram? Watch the video below to see how Ainfluencer can help you with your Instagram influencer marketing.
2. Search on Google
I know it may seem obvious, but Google is another simple option and tool to find influencers in your niche.
For example, you can search for "top fashion bloggers" or "top fashion Instagram influencers."
Now, you have a list of some killer Instagram influencers, and all you need to do is to check their Instagram pages and see if they are a good fit.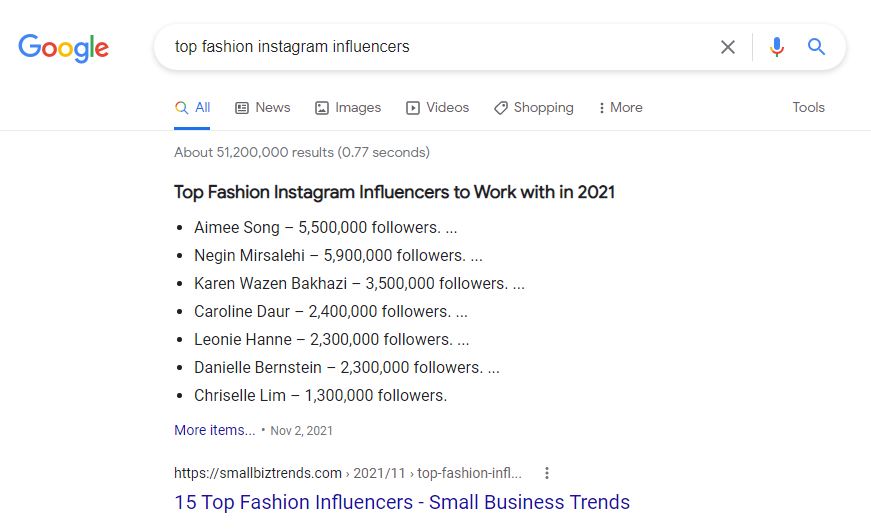 3. Do relevant hashtag search
Hashtags are one of the best Instagram influencer search tools and the easiest ways to find Instagram influencers. By searching for a relevant hashtag, you can see all of the posts that have been shared using that hashtag.
This can give you a good sense of the influencers who are active in that particular topic area. You can also use hashtags to find relevant content to share on your own Instagram account.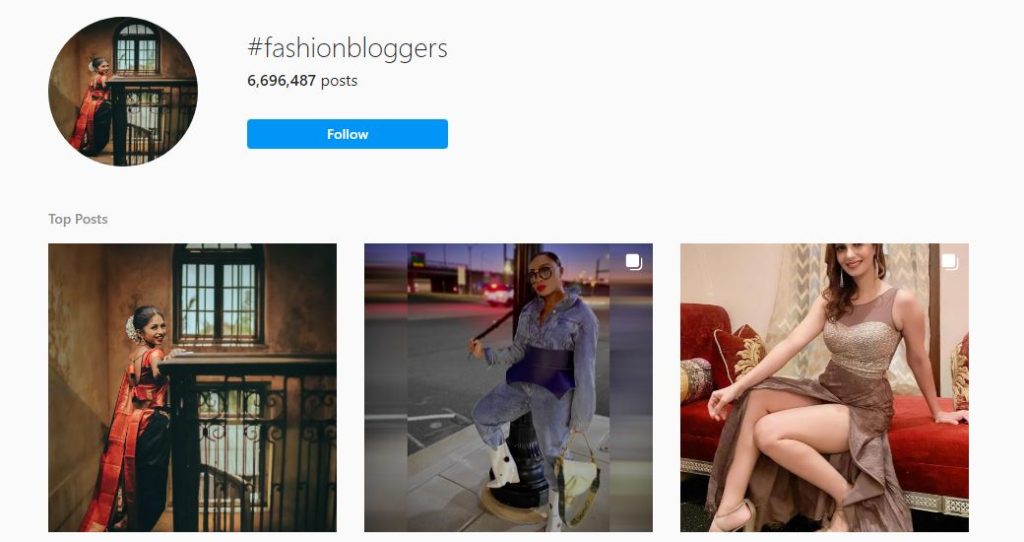 Whensearching for influencers, it's important to consider the demographics of their followers and make sure that their audience is a good match for your brand. You should also look at the quality of their content and how engaged their followers are.
Follow hashtags related to your industry
On Instagram, along with the following accounts, you can follow hashtags too. Follow hashtags related to your niche, and you can see what content is being shared in your industry.
For example, follow "#sustainablefashion" to find Instagram influencers who create content, in the fashion niche, and then start your partnership with them.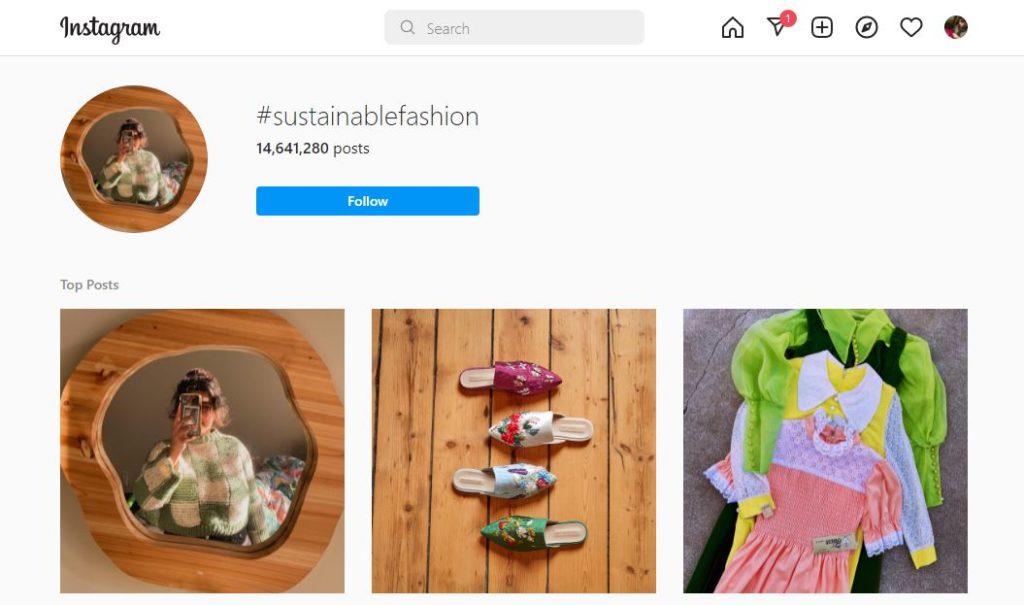 4. Find An Influencer Database
Databases are another place to start; you can find Instagram influencers and access them through paid providers that offer a larger database of contacts that help you connect with influencers and manage your relationships and campaigns.
5. Check your competitors' followers
Another top way to find Instagram influencers is by analyzing your competitors.
In order to make the most of social media for your business, it's important to understand your competitors' strategies and what they're doing on social media.
To be honest, you can find influencers who are most suitable for your brand by just keeping an eye on your competitors.
Of course, it won't help you much if you are in a hurry and need to find social media influencers ASAP.
6. Search through your own followers
To find ig influencers for your business, it's important to search through your current followers. By doing this, you can identify people who are already engaged with your brand and may be more likely to listen to your recommendations.
Additionally, this process can help you figure out which topics or products are most popular with your followers and identify any potential brand ambassador for your business.
7. Search Instagram influencers on the Explore page
The Instagram Explore page is a great place for influencers search. You can find new and interesting accounts to follow, including Instagram influencers and bloggers.
The explore page is a curated list of posts chosen by Instagram's algorithm. It contains posts that people you follow like, as well as posts that Instagram thinks you'll be interested in.
8. Monitor brand mentions to find top fans
If you're wondering how to find an influencer on Instagram, monitoring brand mentions can be very helpful. It is an important task for many businesses, as it can help them find Instagram influencers interested in you. By keeping track of who is talking about your company online, businesses can identify which individuals and organizations have the ability to sway public opinion.
Additionally, monitoring brand mentions can help you determine what topics are being discussed in relation to your company, allowing them to understand your audience better and craft your messaging accordingly.
9. Take a look at Blogs, Podcasts, Events, and Newsletters in your niche
When it comes to finding influencers for your next marketing campaign, the internet is your best friend. There are so many different platforms and sources of information for searching for influencers that it can be overwhelming.
But don't worry; blogs, podcasts, events, and newsletters are great sources of information for finding out who is being talked about and who has more influence in your industry. By doing a little digging, you can compile a list of potential influencers for your next campaign.
10. Ask your community for recommendations
When you want to search for Instagram influencers, there is a great amazing technique that most people don't take seriously. You can ask your community for recommendations. Your own followers' list is the best place for any research. Just share a Story on your Instagram account and ask them if they are following any influencers in your niche.
Furthermore, you can connect with them afterward and ask what they like about that influencer most. This can help you decide if the influencer has the type of value you are looking for.
11. Use Google alert to find influencers
Google Alert is a free service that allows you to receive notifications whenever new content appears online that contains the keywords you specify. You can use Google Alert to find Instagram influencers by setting up alerts for relevant keywords and then reviewing the results to see who is regularly talking about those topics.
To set up a Google Alert, go to google.com/alerts and enter the keyword or phrase you want to track. You can also specify how often you want to receive notifications and where you want the results delivered (e.g., email, RSS feed). Once you've created an alert, Google will scan the web for new content that contains your specified keyword(s) and send you notifications when it finds matching results.
Reviewing the results of your Google Alert can help you identify influencers who are regularly talking about the topics that are important to you.
Benefits Of Instagram Influencer Marketing
There are numerous great reasons to choose an Instagram influencer marketing campaign over other marketing strategies. Here are the very notable benefits:
1. Generating Creative Content
If you need new advertising posts to share on your Instagram business account, you should find Instagram influencers with high experience. An experienced influencer not only will place your ads, but also will create engaging and creative content that looks natural to your audience.
After finding influencers on Instagram who are a good fit, set a task based on your campaign goals and target audience, and create high-quality posts that meet the goals and concepts of your brand. You can also ask them to use the sponsored post labels to increase your reach.
2. A cost-effective way of Instagram marketing
If you think working with IG influencers costs so much and you need a large budget, then you might be wrong. It all depends on the types of influencers you want to work with, and the number of followers they have.
Based on the number of followers influencers have, a sponsored post may vary from 0 to 20,000 dollars and even more. The good news is that smaller influencers cost less, and also they ensure better efficiency. So, with an Instagram influencer search, you can find Instagram influencers in your niche that you can afford.
3. Increase brand awareness and reach
As mentioned, finding influencers on Instagram and working with them can greatly expand your reach and bring your content on top. Bloggers and influencers already have many followers who trust their opinions. So, if they communicate with your brand and collaborate with you in the right way, you can increase Instagram engagement noticeably.
4. Build trusted relationships with the audiences
When a celebrity or influencer shares content about your brand on Instagram, it instantly gives a sense of credibility to users.
Building authority and trust as your long-term Instagram marketing strategy is critical for recognition that ends in increasing revenue. Another way to build trust is to host live events, try to find local influencers in your niche, and invite them to cooperate with you. This can be a perfect opportunity to build trust by combining offline and online marketing strategies.
5. Boost products sales
By finding influencers on Instagram who are on the same page as you, you can open many new opportunities, such as boosting sales. These kinds of content work better in digital marketing since most users block traditional ads.
6. Connect with numerous different audiences around the world
To grow your business and increase brand awareness, use influencer marketing tools to find influencers in different locations and reach out to them.
How to make sure you choose the right influencer for your business?
By reading the above-mentioned simple ways, you learned how to find Instagram influencers in your niche, and you might have made a long list of potential influencers to collaborate with. But the main question is:
Which Influencers on Instagram are better investments?
To make sure that you are making the most of your budget, make sure to go through these steps:
1. Set Your Goals
Before you start looking for an influencer, you need to set your marketing goals. Knowing your goals will help you choose an influencer who can help you achieve them.
For example, if your goal is to increase brand awareness, you should choose an influencer with a large following.
2. Define Your Target Audience
It's important to know who your target audience is before you choose an influencer. You want to choose someone whose audience matches your target audience.
By defining your target audience and choosing an influencer who aligns with that audience, you can create more targeted and effective marketing campaigns that are more likely to resonate with your target customers.
3. Analyze influencers' content
The first step to finding Instagram influencers is checking the content they share on their Instagram account. Just take a quick look at their posts and Stories.
Does this influencer share the kind of brand voice that you have?
Does the influencer have the kind of personality that represents your brand?
And most importantly, what is the quality of their content?
4. Consider the influencers' engagement rate
In the world of Instagram marketing, the number of followers an account has may count as the main metric. However, followers aren't everything – it's more important to consider an account's engagement rate.
An account with a high engagement rate is more likely to be seen as it's influential by potential customers.
As mentioned earlier, influencer marketing platforms like Ainfluencer, filter influencers based on engagement rate, quality score, category, and many more detailed factors to help you make a better decision.
5. Don't underestimate micro influencers
I have to tell you that numbers can lie to you! There was a time when the number of followers was everything when it came to doing advertisements, but that time is gone!
Micro influencers might have fewer followers, but as they are all niche-specific and focused on a particular topic, their followers trust them more than macro influencers. So, make sure you consider them thoughtfully, as they can generate the most value for your campaigns.
Conclusion
It may seem complicated for many brands to find Instagram influencers. However, with the right tools and resources, it's no more a daunting task.
Utilize the ways mentioned in this article to find the perfect influencers for your business. Among all these ways, influencer marketing platforms, like Ainfluencer, are the fastest and easiest influencer search tools to help you find the most relevant influencers.
1- Who counts as an influencer?
An influencer is someone who has the ability to influence the behavior or opinions of others, often by virtue of their position or personality. Celebrities, social media stars, and thought leaders are all common examples of influencers.

2- How do I find niche influencers on Instagram?
Finding niche influencers on Instagram can seem daunting, but with the right tools and a little bit of research, it can be easy to identify the right people to partner with. By searching for relevant hashtags, influencer marketing platforms, google search, etc., you can make this process easy for you.