Brands usually use some influencer marketing platforms to find influencers and ask them to promote their brand. There are many platforms that you, as a brand, can use. Ainfluencer is one of the best free and secure influencer marketplaces that helps brands and influencers connect and collaborate. But how can you find influencers and connect with them on Ainfluenecr?
This article will give you a concise guide. Stay tuned:
How To Get Started On Ainfluencer?
Creating your Ainfluencer account is a breeze.
Select  "I'm a company or brand".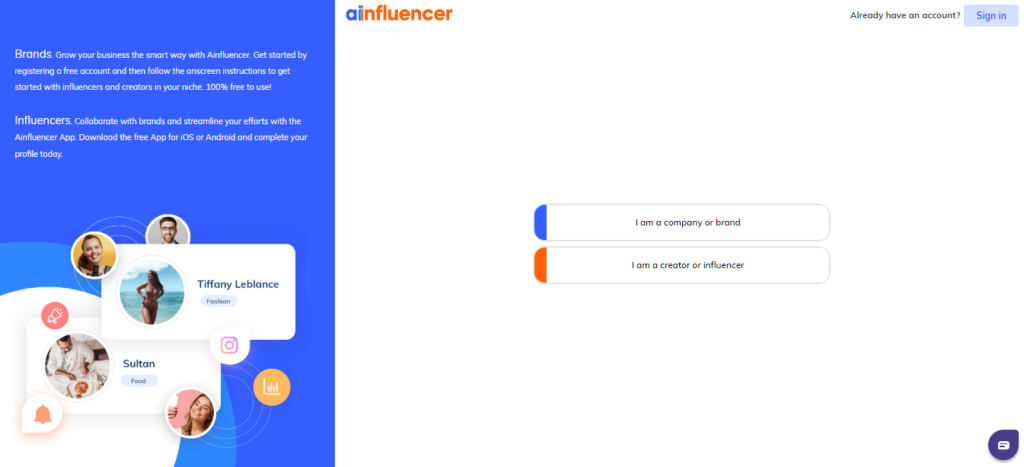 Enter your name, email address, and phone number, then create a password.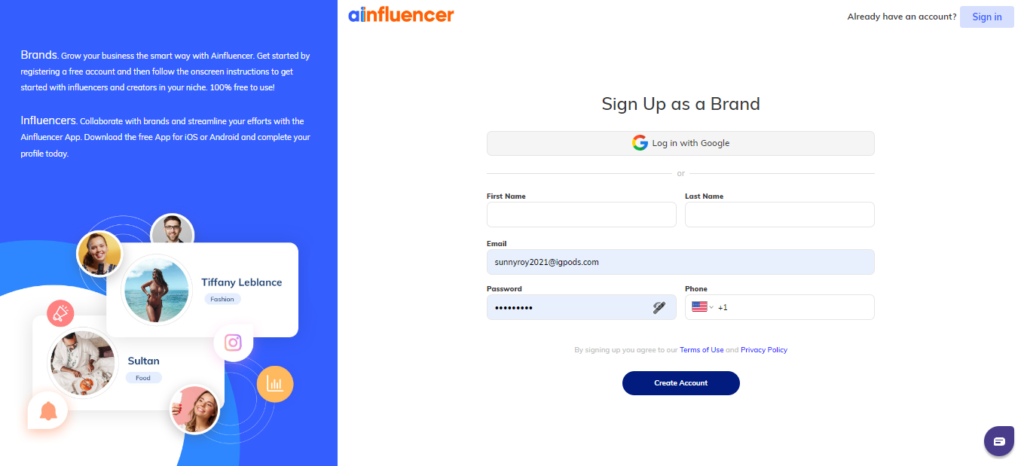 As soon as you join the marketplace, you can create a new campaign, schedule your post,  explore and find influencers, access offers you have received from influencers, and manage all your scheduled campaigns on your Ainfluencer's calendar.
You first need to create your campaign on Ainfluencer, and then you will be able to search for your targeted influencers.
How To Explore And Invite Targeted Influencers?
In the "Find Influencers" tab, you can search and explore your desired influencers, see their information such as the number of followers and engagement rate, invite them to your campaign, chat with them, and securely pay them.
Let's watch this video on how to explore and invite targeted influencers on Ainfluencer.
1. Find Influencers
Use the search filter in the "Find Influencers" tab to explore and discover influencers who share the same criteria you are looking for. Here is a set of criteria you can establish in the search filter.
A keyword or relevant hashtag
Niche
Location
Language
Gender
Number of followers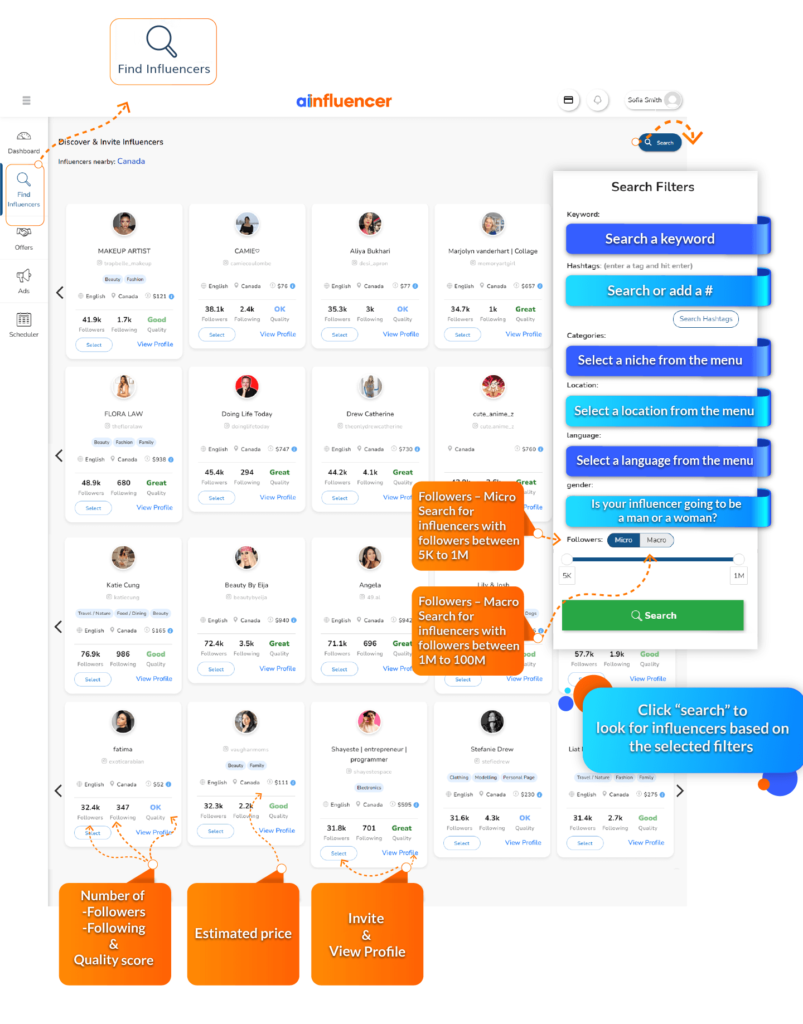 2. Assess The Influencers
After running a search, you will get a list of influencers, each with a profile that gives you a real insight to indicate whether or not they suit your Instagram influencer marketing.
Location, language, Q-Score, and estimated price
Followers, followings, and the engagement rate
Average likes and comments per post
The ratio of likes and comments to the number of followers
Instagram ID address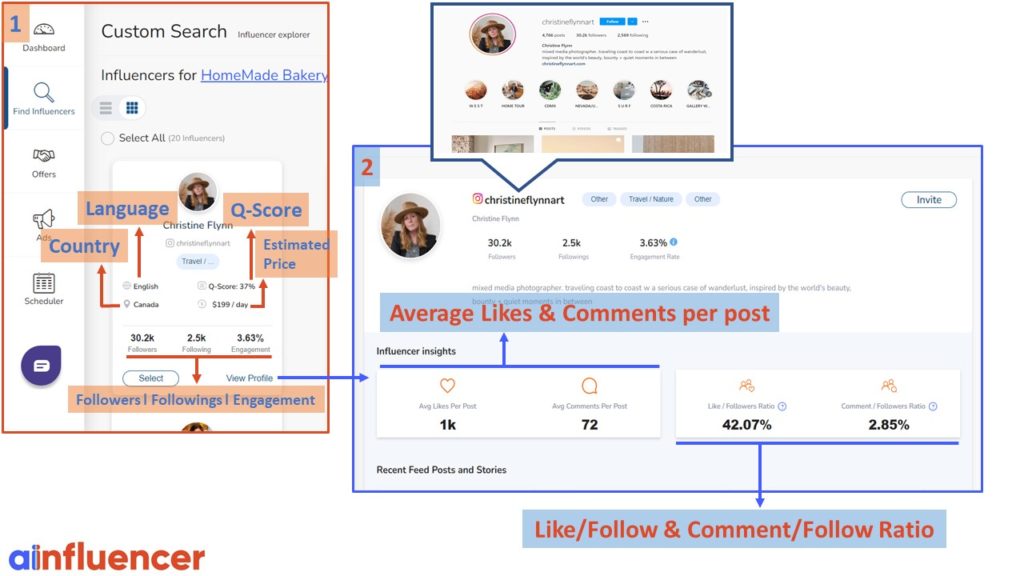 You can invite your targeted influencers, but there is also another possibility, influencers can actually find you. The thing is that influencers can explore campaigns on Ainfluencer, too, and select the ones they find relevant. So, you may get many offers from influencers interested in your business.
You can use the in-app chatbox to talk to the influencer, view the influencer's profile, and negotiate the deal.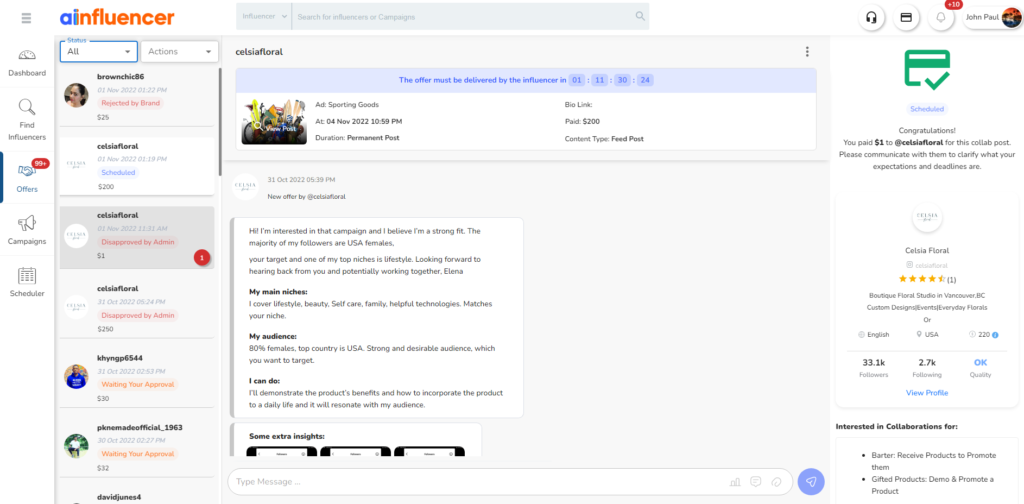 You can easily see the changes suggested by the influencer and either accept or revise the offer with ease.
This makes tracking changes in the price, dates, suggested graphics, or videos really easy, and you can make sure that everyone is on the same page.
Any time that an offer is updated, you will be notified in the "Offers" tab in your dashboard and via email notification.
3. Securely Pay And Monitor The Performance Of Your Influencer
Now it's time to pay the influencer on Ainfluencer. Once you and the influencer accept the offer details, you will be prompted to pay the agreed-upon fee. After paying the fee, the campaign will be taken down on the "Offer Chat" screen as pictured below: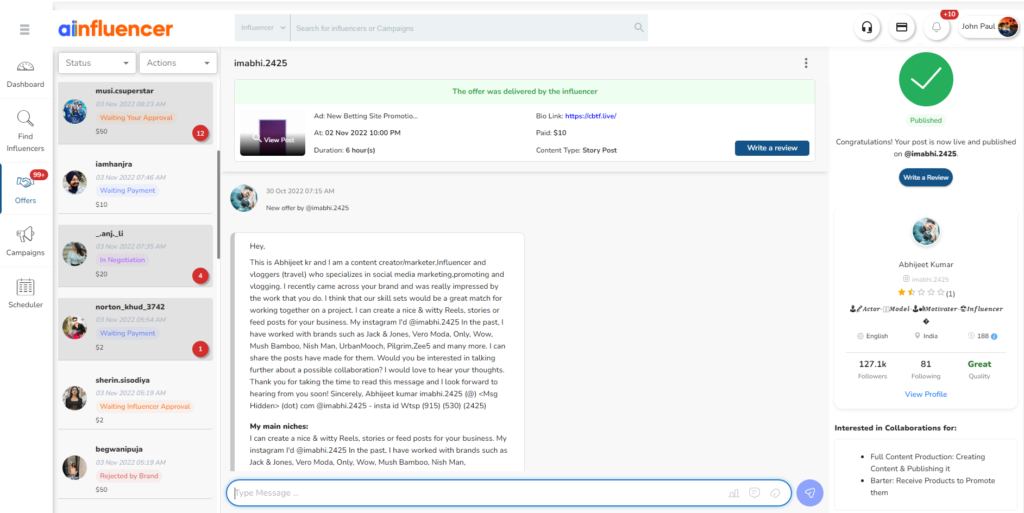 Ainflluencer holds the funds on your behalf until the success criteria have been met from the Offer Chat. You no longer have to worry about getting what you paid for. Everything is taken care of for you. Once the post is published, you will be alerted and will have access to detailed analytics.
Conclusion
Nothing compares to a user-friendly influencer marketplace with features that guarantee your success, and Ainfluencer is one of them rated highly by the users, in particular for its effective features to create campaigns, connect with influencers, and make a safe deal.