What factors play a significant part in promoting your brand and gaining the recognition you deserve? Well, there are plenty to name. From building your brand image to making sure it reaches as many potential clients as possible, there is a train of marketing strategies that leads you toward success. And what helps you stay on the rails is the ability to explore and invite influencers who share the same niche and target audience as you.
If you're looking for the best way to invite influencers that fit your marketing strategy, Ainfluencer is a free campaign marketplace that enables brands to find, connect, and collaborate with influencers who can give your business a cutting edge.
Let's watch this video on how Ainfluencer makes your influencer marketing easy and fast.
How Does Ainfluencer Work?
First of all, to invite influencers, you need to sign up as a brand for free on Ainfluencer. It's simple and secure as all you need to do is enter your name and email.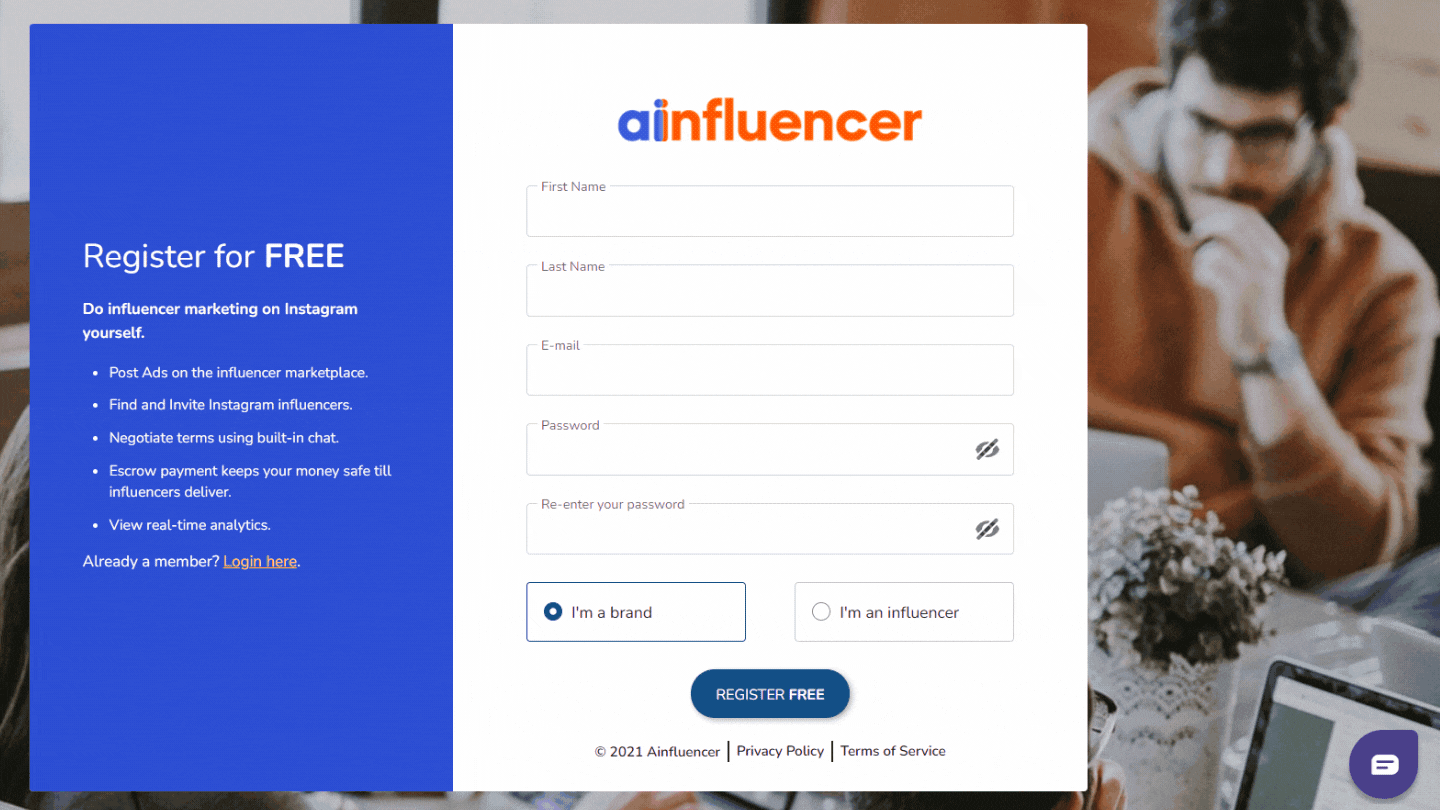 As soon as you access your dashboard on Ainfluencer, you'll see that there are 3 simple steps to develop a perfect influencer marketing strategy.
Create campaigns
Invite influencers
Close the deal in the offer's tab.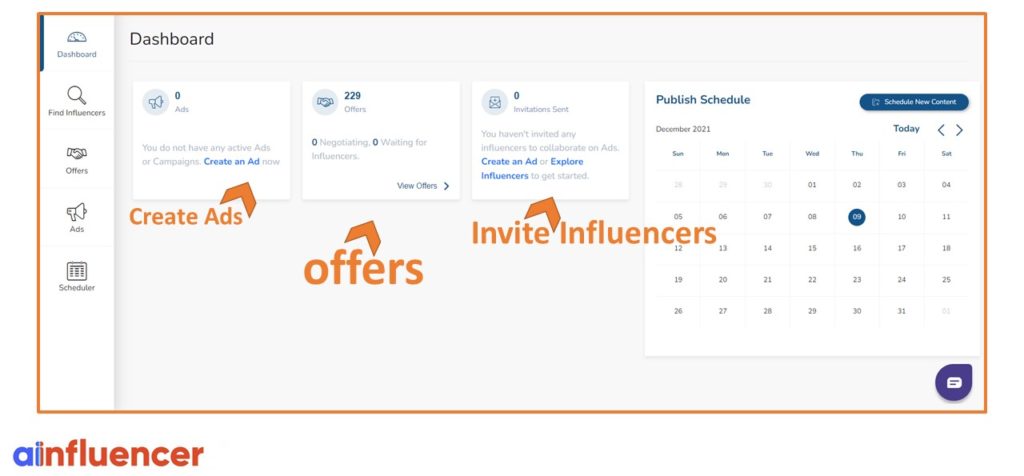 How to invite influencers on Ainfluencer?
The first step is to select a campaign you have already made or create a new campaign.
Inviting influencers on Ainfluencer is the next exciting step. What makes this feature a real game-changer is that it expands your entire influencer marketing strategy through its AI-powered search filters. This helps you find and negotiate with the right influencers.
The following is a step-by-step guide on how to use our search filters and invite influencers on Ainfluencer.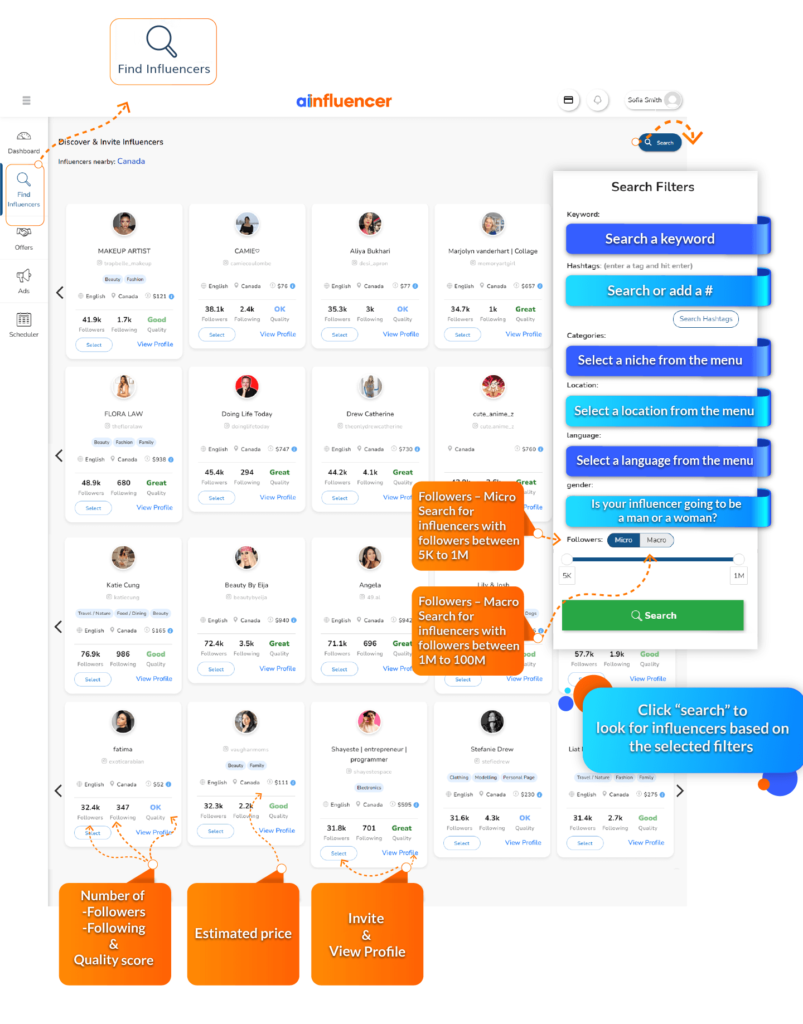 First, click on the Find Influencers section in the dashboard.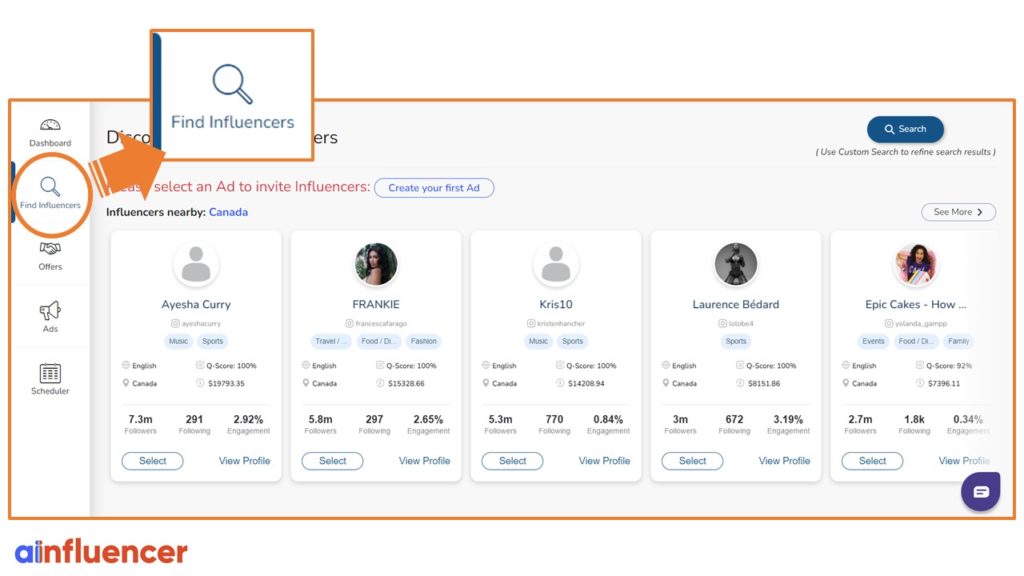 To access Ainfluencer's search filters, click on the "Search" button. Remember that if you have already created your campaign, you will automatically be directed to this page. You can then invite influencers by using our advanced search options.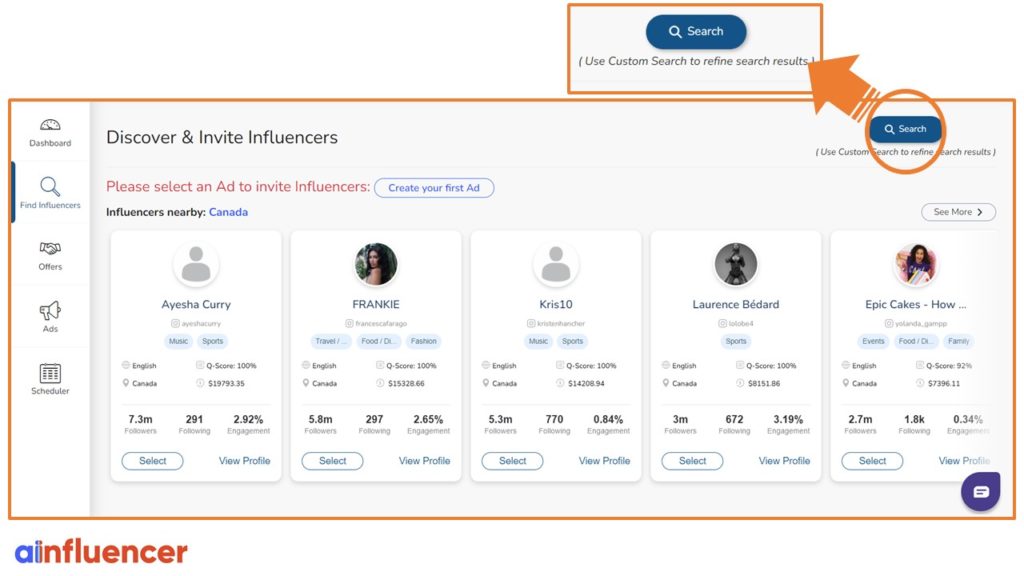 Next, invite influencers that fit your brand with the following filters.
Hashtags and keywords.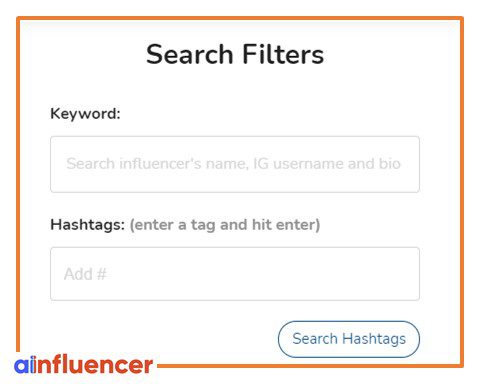 2. Select your category, location, and language.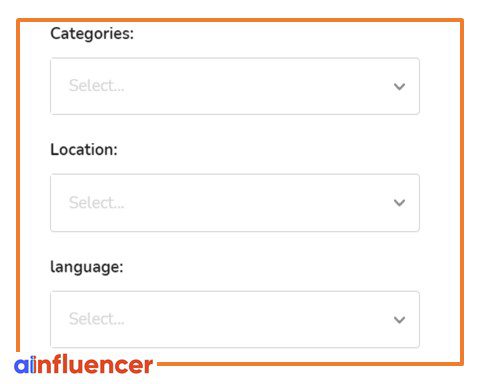 3. Select which gender you would like to work with.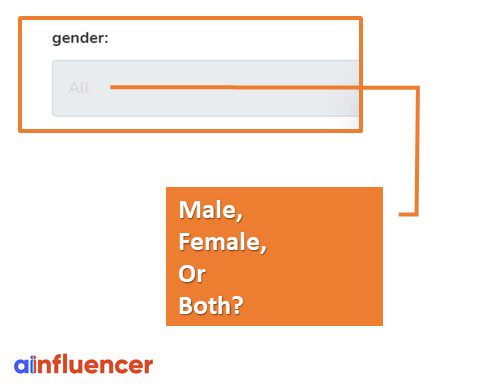 4. Filter influencers based on their number of followers.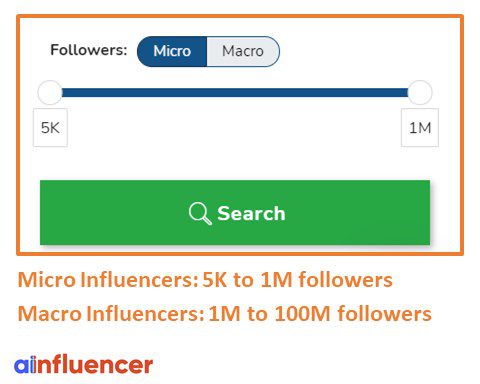 After clicking on the "Search" button, you will be provided with insights into each influencer's profile. This is a helpful step before you invite influencers as you can collect the following information.
Their number of followers
Their number of followings
Their engagement rate
Their estimated price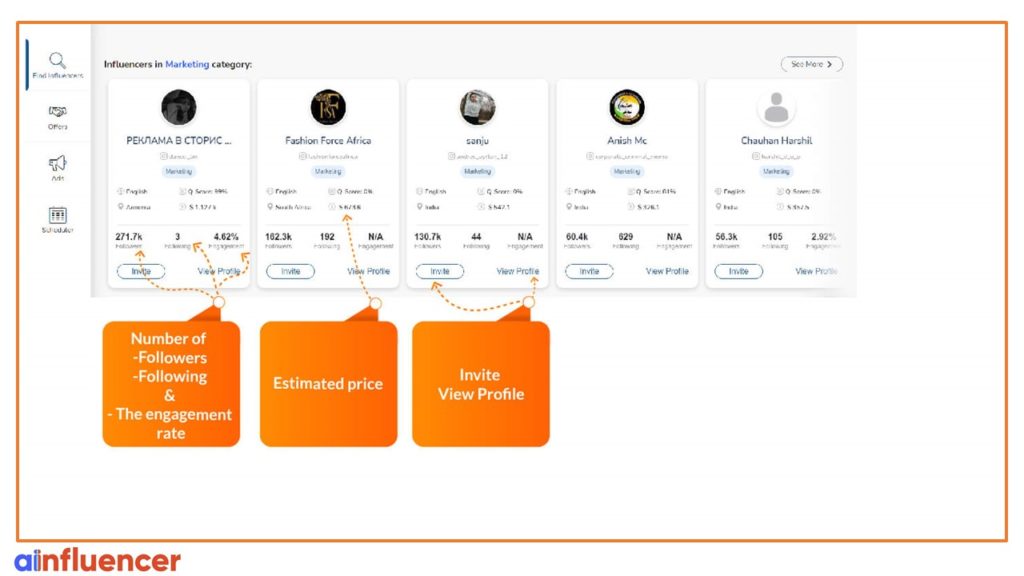 That's it! You are now ready to invite influencers to promote your product with the best influencer marketing hub – Ainfluencer.
How to close the deal?
Both influencers who are invited and those who aren't can access your campaign and send you offers. Make the most of Ainfluencer's chat-box feature with the following:
Access insights into their followers' profiles.
Continue the conversation.
Click on "Complete" to suggest a fee and date for publishing the campaign.
Reject the offer.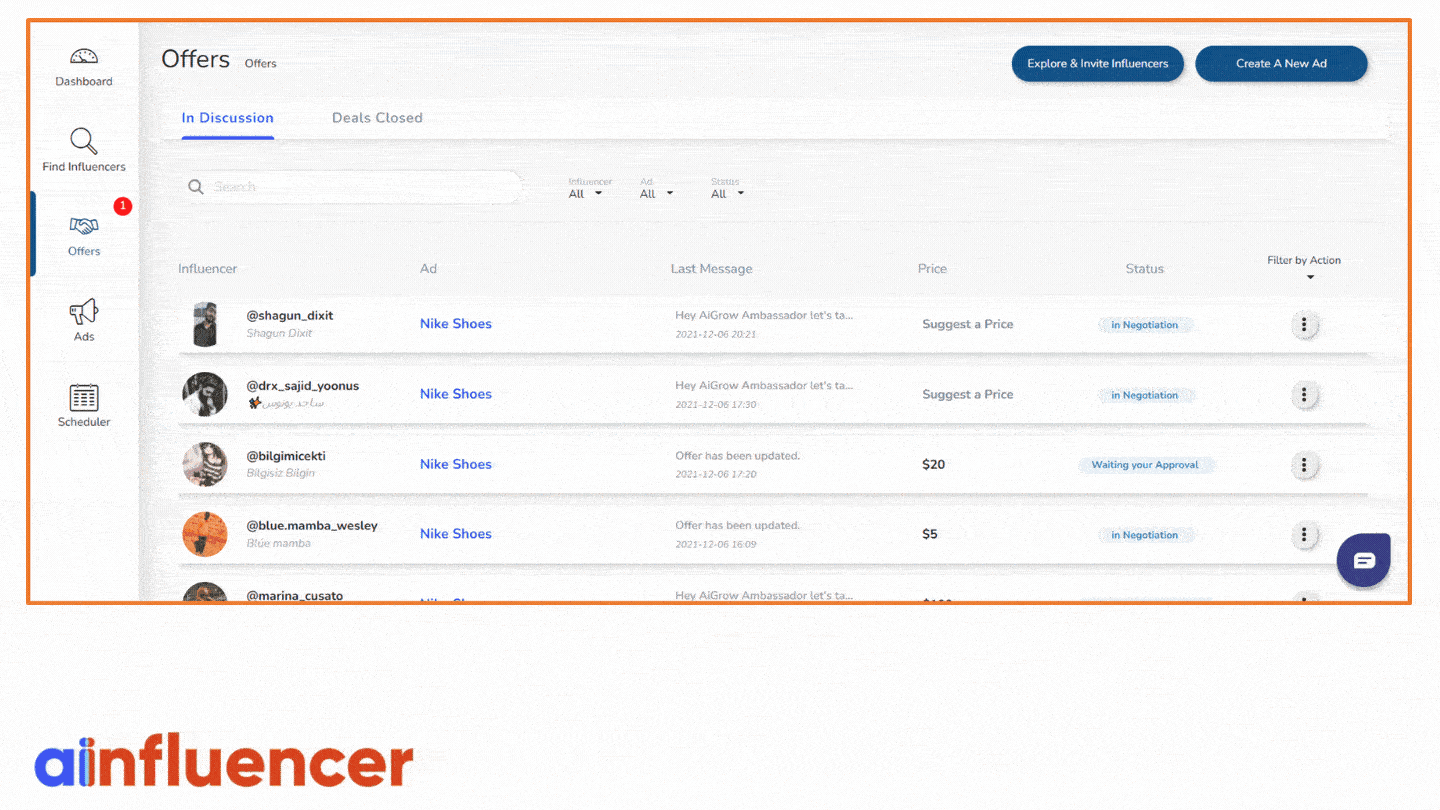 Conclusion
No one would argue that finding the right influencer has a major role in promoting your brand. So use Ainfluencer to invite influencers that best fit your brand.
Using the invite system on Ainfluencer and considering what to look for when searching for an influencer can give you a good shot at successfully promoting your brand. Once you send that invite to an influencer, use Ainfluencer to then gain a deeper insight into their activities.
And once again, remember that our services at Ainfluencer are completely free.