In August 2020, Instagram rolled out a new feature called Reels which allows users to share creative and engaging videos with music. This feature became popular among users in no time and proved to be one of the best ways to grow an Instagram account. One of the key factors that can make your Reels stand out is the use of visually appealing Instagram Reel templates.
In this article, we will show you how to find and use the Reels template on Instagram to stay updated with the latest Instagram Reels trends. No matter if you are a beginner or a professional content creator, this guide will cover everything you need to make viral videos. 
What Are Instagram Reel Templates?
Before talking about how to find and use an Instagram reel template, it's important to know what they are. Almost all Instagrammers know how to create and share a reel video with photos and videos from scratch. But Instagram Reel templates have made it much easier.
Reel templates are pre-designed layouts that provide a framework for creating engaging videos without spending so much time. If you are an influencer or someone who regularly shares reel content, having a ready template can help you have an aesthetic profile as well as save so much time and energy.
How To Use Reels Templates?
Using Instagram reels templates is as easy as pie. Here are four easy steps to follow for total beginners who want to share their videos with trend templates.
Step 1: Find A Trending Template
In the latest updates and Instagram algorithm changes, this platform dedicated an exclusive tab only for reel videos. When you open this tab, you can scroll to unlimited videos that are suggested to you based on your interests. The first step is finding a video with the template you want to re-create.
Log into your Instagram account and open the reels tab. (Second bottom tab from the right).
Scroll through the videos until you see one with the tag 'Template By …..'.
Tap on the button to view the original view of the template and its creator.
Tap 'Use Template'.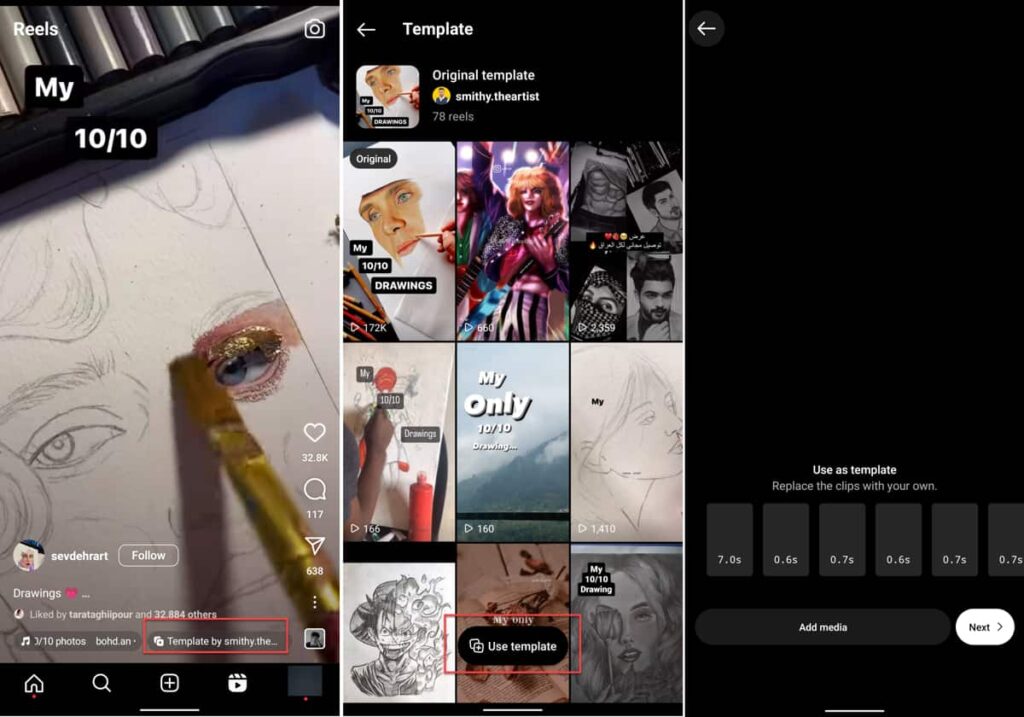 This way, you can see how many photos or videos you need for this template and the duration of each part. If this template doesn't suit your videos and their length, you can redo the steps again and find a new one.
Step 2: Add Your Clips To The Template
After deciding on the template for Instagram reels, it's time to add your clips and photos. Here are the simple steps to use a reels template Instagram video:
Tap on the 'Add Media' option at the bottom of your screen.
Instagram will notify you how many photos and videos you need to add. Select the content from your gallery and tap 'Next'.
You can change the order of your content by holding and dragging them.
Once you are done, tap 'Next'.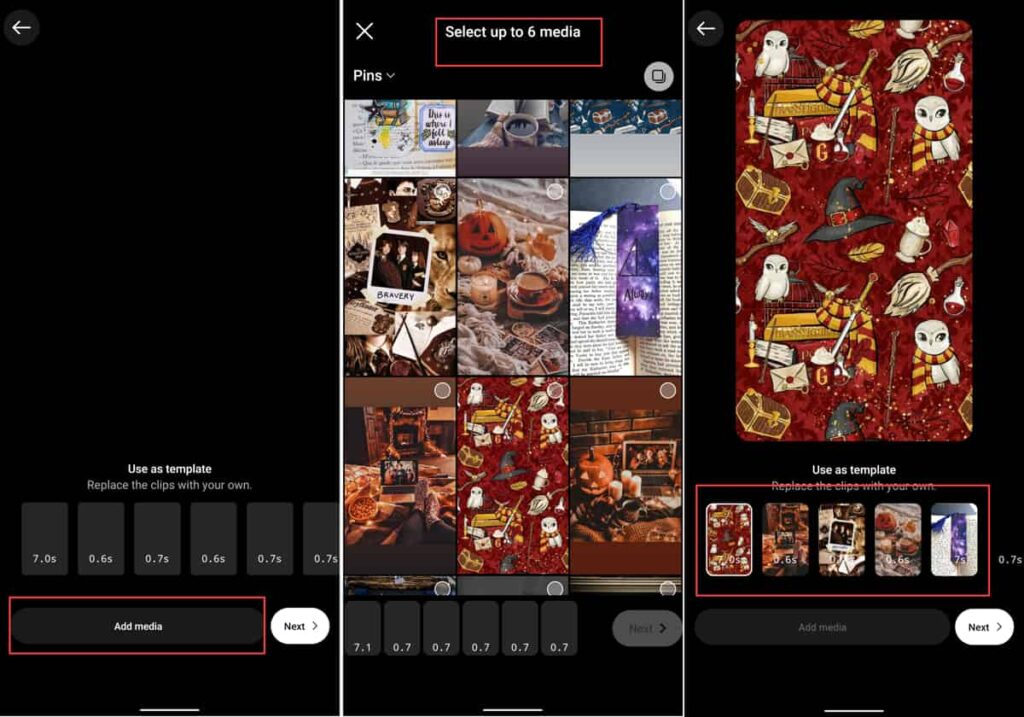 Step 3: Adjust And Edit The Clip
Your video is now ready using the Instagram reels template free option. Let's add some touch-ups to finish the video.
By tapping the 'Next' button, you will be redirected to a new tab for adding stickers and different effects.
Tap the three-star icon at the top of your screen and add effects from the Instagram library.
By choosing the smiley face icon at the top of your screen, you can select and add as many stickers as you want to your video.
You can also use the pen icon to write texts.
Once you are done tap 'Next.'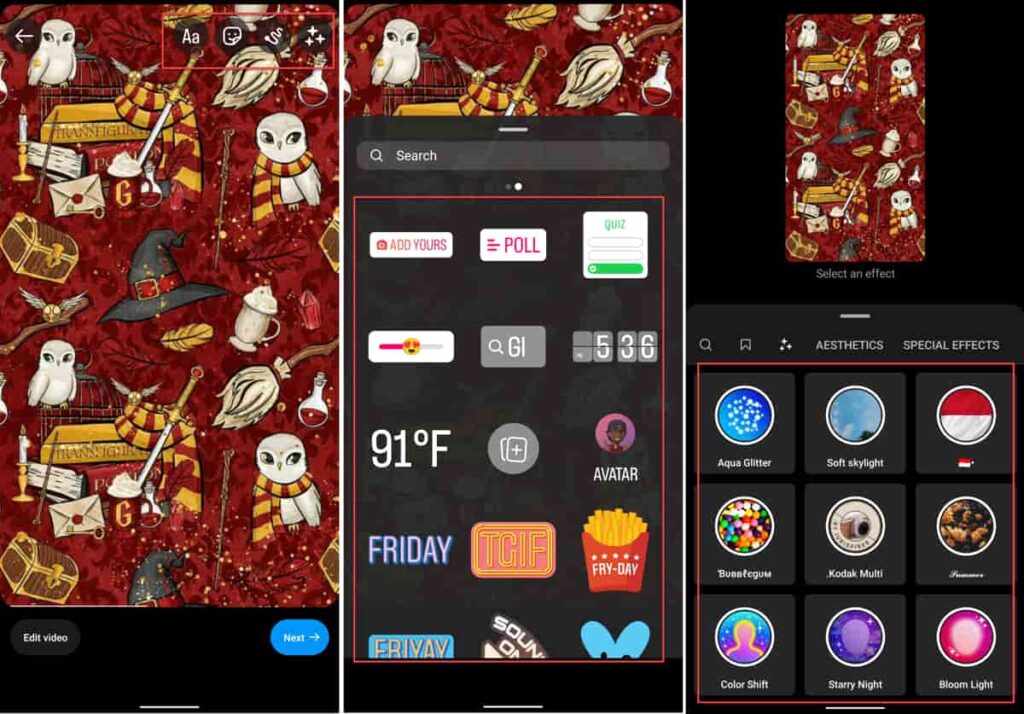 Step 4: Add Details And Publish The Video
By following the previous steps, your video is ready and the only left step is to publish the video. In the last tab, it's time to add the last details and publish the video.
Write a caption related to your content and make sure to include top hashtags for Instagram reels,
Add a location,
Tag users,
Add some Advanced settings(hide likes, close the comments, add sponsorship labels, etc.).
Finally, it's time to upload your video and monitor its views!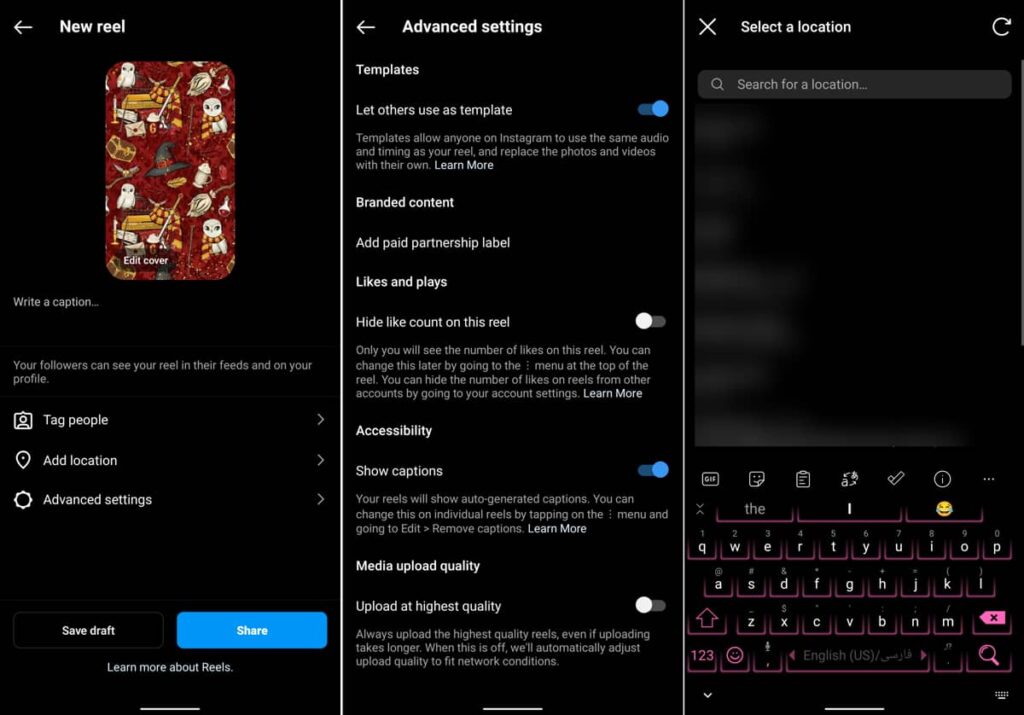 How To Create Your Own Templates?
while jumping on trends using reels template Instagram is a good idea, some users prefer having their own template to use over and over. Creating a template for Instagram reels is not different from creating normal reel content. However, let's check the steps together.
Log into your Instagram account and tap the '+' icon to open your camera. You can also go to your profile and tap the '+' icon at the top of your screen.
Choose 'Reel'.
Swipe your camera up to open your gallery.
Tap and hold on to a video/photo to activate the multi-selection option. Then, choose all the content you want to be in your video.
After adding all, use the 'Music' option from the left menu to find a soundtrack for your reel content.
Add the effects, transitions, stickers, and other details.
Tap 'Next' and include your caption, location, etc. Then. publish the video.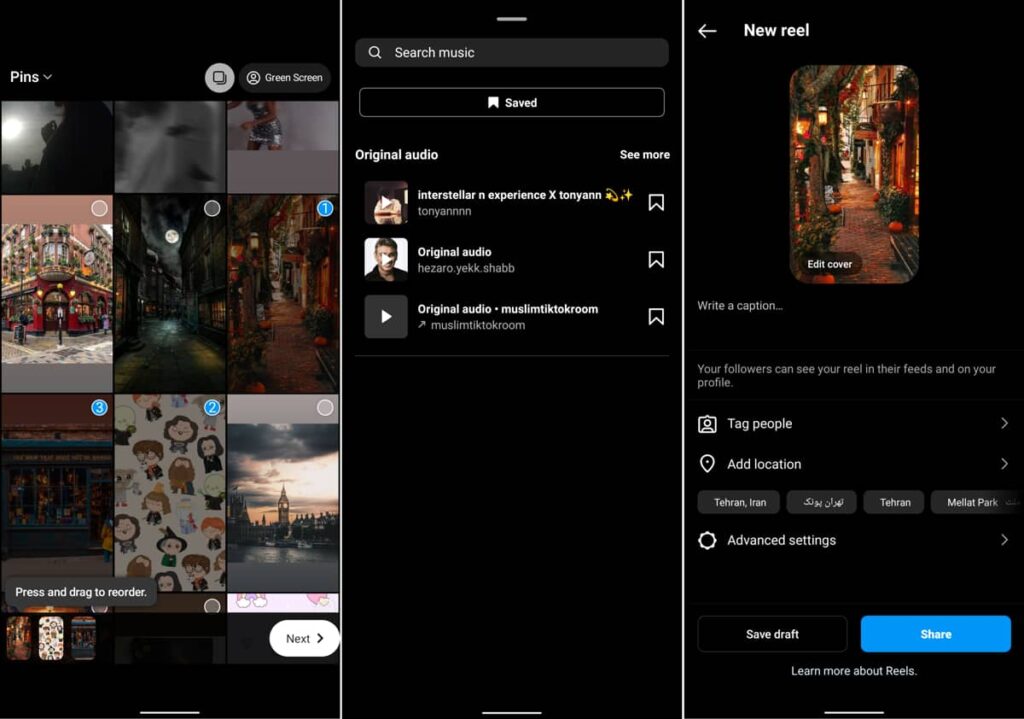 Create A Template With Canva
If you are looking for a free tool to design templates for your brand, Canva is a good option. Let's see how to create Instagram reel templates with Canva.
Sign up for a new account or log into an existing one if you have one.
Use the Canva search bar and look for 'Instagram Reels' templates. There are many paid and free options. The free ones are basic with limited transitions but are perfect for beginners.
After choosing the template, It's time to add your photos and videos. From the left menu, click the 'Upload' option and select the files you want from your device.
If you are content for your brand, make sure to upload your logo and add it to the video.
Use Canva editing tools to crop or resize the videos.
Order the videos and add animations between them.
Add a background to your reel and change its opacity.
Name the project, choose the quality, and download the video.
Lastly, open the video on Instagram and add your soundtrack. Then, follow the similar steps for adding details and sharing the post.
How To Save Templates For Later?
Up to here, we talked about how to use template Instagram reels and share a video. But what if you need the template for later? Instagram has removed the option to save the templates but as an alternative way, you can save the video on Instagram and use it whenever you need. Here is how to save Instagram reel templates:
Open the reel tab and find the video you want to use its template.
Tap on the three-dot icon at the right-bottom corner of your screen.
Choose 'Save.'
You can check the saved videos from your Instagram profile and follow the mentioned steps to use their templates.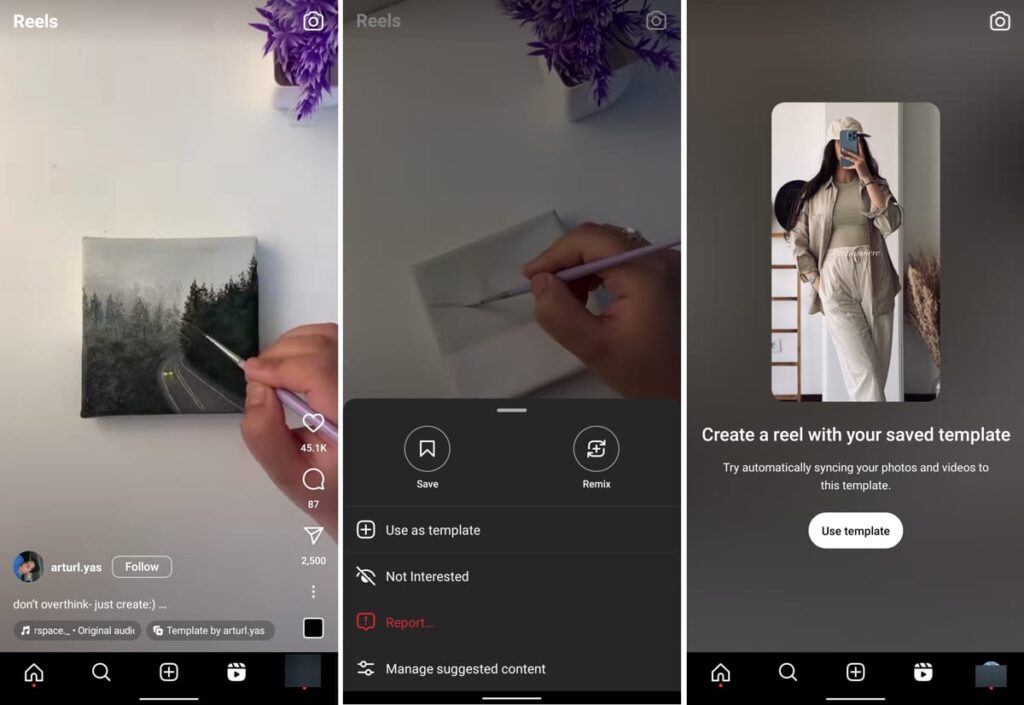 Note: Once in a while, Instagram will notify you about the video you've saved. (Videos that have a template)
How To Earn Money From Reel Videos?
Up to here, you know what is an Instagram reels template and how to use it, so let's talk about how to earn money from your videos. If you are an Instagram influencer or a new creator with an established audience (more than 5k followers) one of the best ways to earn money is through sponsorships and brand collaborations.
You don't need a massive following to contact brands for collaboration. In fact, many brands prefer to work with micro and macro influencers as they have higher engagement rates. But how can you find brands in your niche as an influencer? That's where Ainfluencer comes in!
Ainfluencer is an influencer marketing platform that connects brands and Instagram influencers of all sizes across different niches. This platform provides powerful search filters and targeting options (based on hashtags, location, niche, language, budget, engagement metrics, etc.) to help you find your best match for sponsorships in a couple of minutes.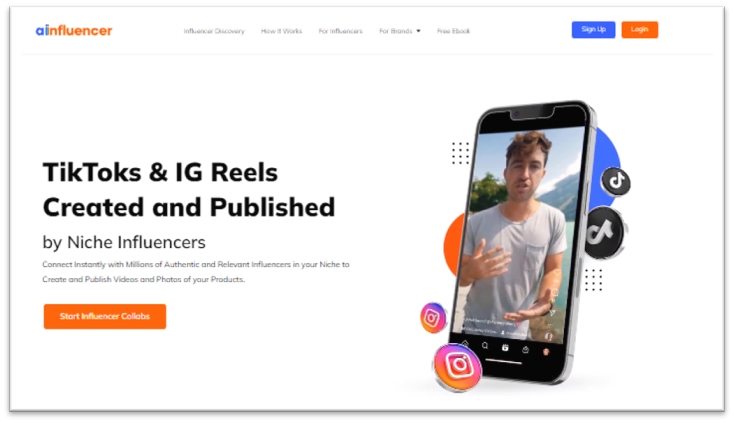 Ainfluencer is completely free to use for both sides. So, you can sign up on the platform and join the community of more than 500,000 creators to start earning money now.
Conclusion
Instagram reel templates can help creators share high-quality and engaging videos without spending so much time on creating transitions and effects. In this article, we showed you how to find and use these templates or even create yours to have an aesthetic feed profile.
FAQs
1. How To Turn Off Use Template On Instagram Reels?
If you create a new template and want to close the template for others to limit their access, you can follow these steps:
Follow the steps for creating your content till you reach the last section where you can add your caption and location. (The last step before hitting the publish button.)
Tap on the 'Advanced Settings' option.
Toggle off the 'Let others use as template'.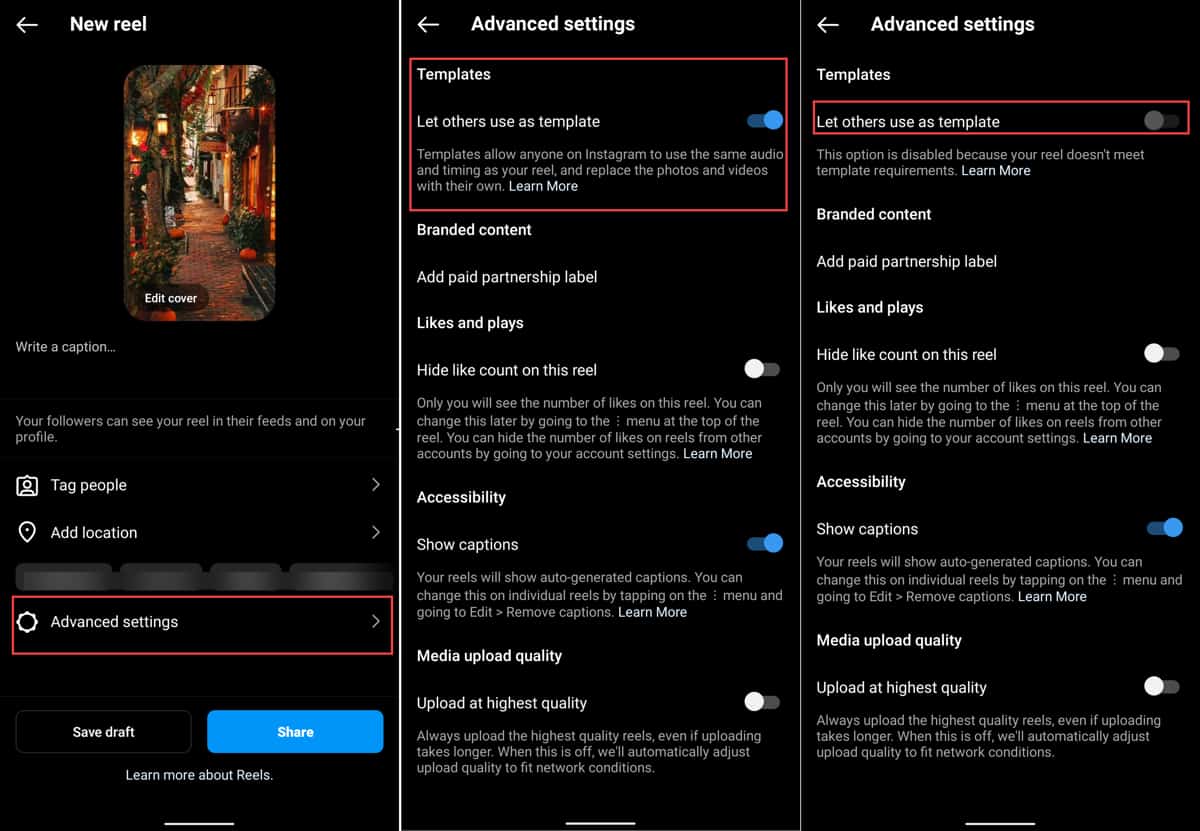 2. Can I Use Reel Templates For Business Marketing?
In fact, Instagram Reel templates can be a powerful tool for enhancing your business marketing efforts. They allow you to showcase your products or services in creative and visually appealing ways. For instance, you can use templates to create short tutorials, product demos, behind-the-scenes glimpses, customer testimonials, and more. 

3. Can I Create My Own Reel Templates?
While Instagram provides a selection of pre-designed Reel templates within the platform, you also have the creative freedom to design your own templates. Graphic design tools like Canva, Adobe Spark, and even professional software like Adobe Premiere Pro allow you to craft personalized Reel templates.

4. Are Reel Templates Suitable For All Types Of Content?
Absolutely! Instagram Reel templates are designed to be versatile and adaptable to a wide range of content types. Whether you're a business looking to showcase your products, a travel enthusiast sharing your adventures, a fitness influencer demonstrating workouts, or a food blogger presenting recipes, there are Reel templates that can complement your content.