Welcome to the world of Instagram Reels, where creativity knows no bounds! In just a short amount of time, Instagram Reels has become a popular way for users to express themselves, showcase their talents, and entertain their followers. With 2023 already in full swing, it's time to take a look at the top Instagram Reels trends to try this year. From dance challenges to viral songs and new filters, there's no shortage of inspiration when it comes to creating engaging and entertaining Reels. So grab your camera, put on your dancing shoes, and get ready to explore the latest and greatest Instagram Reels trends!
What are Instagram Reels, and why are they so popular?
Instagram Reels is a feature within the Instagram app that allows users to create and share short-form videos of up to 60 seconds in length. It is similar to TikTok, where users can add music, filters, and effects to their videos.
IG Reels has become popular for several reasons. First, it provides users with a quick and easy way to create engaging video content and share it with their followers. Second, it allows users to showcase their creativity and personality through their videos, which can help them build a loyal following. Third, it has a built-in algorithm that helps users discover new content and reach a wider audience.
In addition, IG Reels is popular among businesses and brands because it provides a new way to connect with their target audience and promote their products or services through influencer marketing. They can use Reels to showcase their products in a fun and engaging way, which can help them attract more customers and increase their brand awareness.
Brands can take advantage of a quality influencer marketplace like Ainfluencer to find Instagram influences who can promote their products and services through the best Instagram reels.
Finding influencers is easy and fast on Ainfluencer thanks to its AI-powered search engine and custom search filters such as location, category, hashtag, gender, language, etc.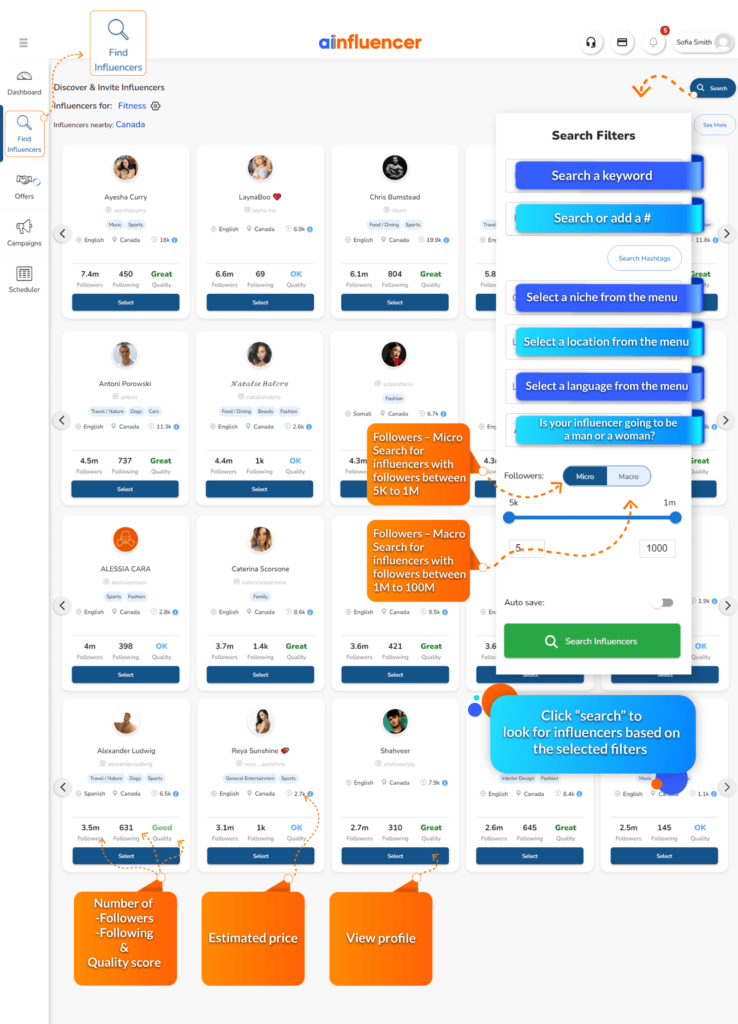 This DIY marketplace lets brands search through thousands of qualified influencers, send them invitations, negotiate their terms, and even close deals in the app.
Overall, Instagram Reels has become popular because it provides a new and engaging way for users to create and share video content, connect with others, and build a following.
10 Instagram Reels trends to try in 2023
1- Watch This
This is one of the best Instagram Reels trends. Lil Uzi Vert's "Watch This" remix is the ideal song to use as the soundtrack for a day in your life. Whether it's a GRWM or a WFH recap — it's your story to tell.
2- I made this!
Instagram user @roxyrosecreations, who wanted to show off one of the fantasy accessories she designed, is the one who first used the "I made this!" sound. Small business owners who wanted to express their delight in a product they created rapidly started using audio. But not just small company owners are embracing this trend as one of the trending Instagram reels songs; musicians and famous people, such as Taylor Swift, have included the audio in their works.
3- What I ordered vs. what I got
Many have taken advantage of this as one of the best Reels on Instagram to share hilarious memes and stories of how they received products substantially different from what they had ordered. With 39.6K posts using the hashtag #whatiorderedvswhatigot, it appears to have gained attention.
4- Blink Challenge
This is one of the best Instagram Reels challenges that you can try. The #blinkat4 challenge is another challenge where you have to blink precisely at 4.000. Don't be deceived by how simple it seems; blinking in time is actually very difficult. Do this challenge and have fun if you don't believe me!
5- Can we skip to the good part?
Based on AJR's song "The Good Part," this is one of the most popular Reel trends that contains a buildup to a big reveal that occurs after the beat drops. The fact that 2.7 million IG Reels have used the song speaks much about how popular the trend is. It's fairly common among travel influencers who build up to a big reveal by first showing their tough travel journey.
6- Say No
Have you ever considered how many numerous ways there are to say "no"? You have the answer thanks to one of the Instagram Reels trends. You can say "no" without feeling anything: happy, guilty, angry, flirty, etc. But it's hard to say "no" in different ways at the same time. Naturally, there are profiles that have passed this challenge. One of this challenge's successful examples can be found here!
7- It's corn!
The social media world was completely taken by this trend. The audio recording was taken during a Recess Therapy interview with a youngster by the name of Tariq, who passionately gushed about how much he loved corn. The Gregory Brothers later adapted it into a popular song, which briefly served as the internet's theme song.
This is one of the trending Reels songs that people continue to make Reels with on Instagram to show their passion or affection for things like their pets or their jobs.
8- My Money don't Jiggle Jiggle
No matter how skilled you are at dancing, you can't help but move to this upbeat rap. In addition to Instagram, you've definitely heard of this popular audio on TikTok or YouTube. Don't leave it to chance if you're on Instagram looking to create the newest Reel trends; instead, follow the instructions and see what you can come up with.
9- Show Your Mood
Show out all of your emotions now! All you have to do to participate in this trend is taking a picture while posing like the displayed emoji. This Reel is really entertaining and draws a lot of attention.
10- I Can't Help But Feel
This is one of the ideal IG Reesl that is currently in trend if you want to share something hilarious or cool. This track can be used in a video montage, artistic video, or to add nostalgia to old pictures or memories from your life.
Ways to Find Trending Reels on Instagram
Here are some ways to find trending Reels on Instagram:
1- Explore page
The Explore page on Instagram shows content based on your interests and the accounts you follow. You can find trending reels by scrolling through the Explore page.
2- Search bar
Type in keywords related to the content you want to see. For example, if you are interested in cooking, search for "cooking Reels" or "recipes Reels." You can also use hashtags to find trending Reels related to specific topics.
3- Instagram Reels tab
Instagram has a dedicated Reels tab where you can find popular and trending Reels. You can access this tab by clicking on the Reels icon on your Instagram homepage.
4- Instagram hashtags
Use Instagram hashtags to find Reels related to specific topics. For example, if you are interested in fashion, search for hashtags like #fashionreels or #fashioninspo.
5- Follow popular creators
Follow popular creators on Instagram who are known for creating viral Reels. You can find these creators by exploring the Reels tab, searching for hashtags related to the content you are interested in, or simply searching for popular Instagram influencers.
6- Instagram Stories
Some creators will share their Reels on their Instagram Stories, so make sure to check the Stories of the creators you follow to see if they have shared any trending Reels.
Conclusion
In conclusion, Instagram Reels have become a popular platform for users to showcase their creativity and engage with their followers in a fun and interactive way. With the ever-evolving landscape of social media, it can be challenging to keep up with the latest trends. However, by trying out some of the top Instagram Reels trends, users can stay ahead of the game and continue to grow their following. From dance challenges to DIY tutorials, there is no shortage of exciting content to explore on Instagram Reels. So, whether you're a seasoned influencer or a newbie to the platform, don't be afraid to experiment with these top trends and see where they take you!
FAQs
1- What is the most trending Reel on Instagram?
Some of the top trending Reels on Instagram include "here's your Reel", "It's corn," and "I made this!"
2- How do you find popular Reel trends?
1- Check the explore page: Most social media platforms have an explore page where you can find trending content. On Instagram, for example, you can check the "Reels" tab on the explore page to see popular and trending reels.
2- Follow popular accounts: Following popular accounts in your niche or industry can help you stay up-to-date with the latest trends and content.
3- Use hashtags: Hashtags are a great way to find trending content on social media. You can search for relevant hashtags on Instagram or Twitter to find popular reels.
4- Use social media analytics tools: There are several social media analytics tools available that can help you identify popular trends and content. Some popular tools include Hootsuite, Sprout Social, and BuzzSumo.
5- Keep an eye on viral videos: Viral videos often set the tone for new trends and can give you an idea of what types of content resonate with audiences. You can use platforms like TikTok or YouTube to find viral videos and see if you can adapt them to your reels.