Instagram is all about sharing, so we often want to share cool things we find online. When we try to copy and paste exciting content, it doesn't always work smoothly on Instagram. Sometimes, it doesn't let us share copied stuff how we want to. Therefore, the question may arise: 'What is a clipboard on Instagram?' and how can it enhance your sharing experience?
Copying and pasting text on Instagram might seem simple, but it's not straightforward for everyone. It used to be a challenge on Instagram until the recent update. Before then, you had to save media to your phone and then share it. But if you couldn't download it due to space or preference, you could directly copy the media to your Clipboard.
In this article, we'll give you some information about 'what is a clipboard on Instagram, and how to find it.
What Is a Clipboard on Instagram?
An Instagram clipboard comes in handy when you wish to download Instagram photos, copy and paste an image, or an appealing caption. But what exactly is a Clipboard? Think of it as a virtual space or temporary storage that holds onto your copied texts and images until you paste them elsewhere.
With the clipboard, sharing a photo or text becomes seamless – no need to go through the downloading and uploading process. So, no matter the app or website, you have to select the content, then tap where you want and paste.
How to Find The Clipboard on Instagram?
After finding out 'what is a clipboard on Instagram', you can achieve this by following two distinct methods.
1. Post-Sharing Page
When you copy or cut content, like a comment or a caption, it gets saved to the clipboard. Later, you can easily paste this content anywhere else within the app. For instance, copy hashtags from one post and then paste them into the caption of another post. Follow these steps to access post sharing page clipboard on Instagram.
Copy text or image from a website.
Open Instagram and tap the plus icon, then go to your gallery.
Choose an image and tap Next.
Apply filters or tap NEXT.
On the New Post Page, tap "Write a caption."
Hold down the area for a moment.
The Clipboard will appear; tap it to see saved files.
Read also: Instagram Customer Service
2. Story Sharing Page
Another method to find the clipboard is by heading to the Story sharing page. This choice enables you to copy and paste text as well as media files. Here's what you should do.
Go to a website and copy an image or text.
Open Instagram.
Swipe right to access the camera.
Tap the gallery button (bottom left).
Choose an image.
Click the Aa button (upper right).
Hold the text entry box for a second.
The clipboard button will show; select your copied content.
Paste it into the text box.
You can even add an image to your chosen photo. Adjust its size and create a story with a pasted snapshot.
Instagram New Update in 2023
While we've covered most aspects of 'what is a clipboard on Instagram,' it's important to note that the recent Instagram update eliminates the need for a clipboard. Now, saving and sharing posts within the app has become incredibly simple.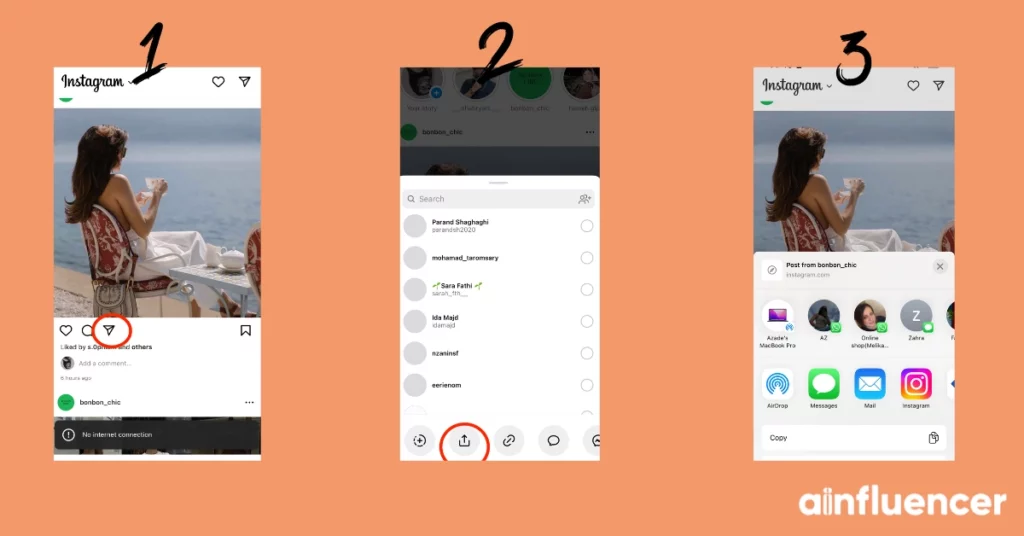 Conclusion
Although Instagram doesn't have a usual clipboard in 2023, you can still copy and paste text, captions, or comments into the app. This helps share and personalize content, enabling better interactions with followers. As Instagram grows, staying updated on features will let users get the most from their social media time.
FAQs
1. How Do I Read My Clipboard on My Phone?
Board serves as Google's official clipboard app, often pre-installed on numerous Android devices. To access it, just open any text field and tap the Clipboard Icon positioned at the keyboard's top, even before typing anything. Once you're in Gboard, you'll instantly find all the text you've copied.
2. Is Clipboard History Saved?
The clipboard history retains the latest 25 items you've either "Copied" or "Pasted" using the Windows Clipboard. This encompasses various content like "text snippets," HTML code, and images (provided they're under 4MB in size). As you reach 25 saved items, the older ones vanish to make room for new additions.
3. How Do I View Clipboard History in Chrome?
Simply press the Search or Launcher Key along with the V key on your keyboard. This action will instantly bring up the clipboard history, displaying all the links you've saved. Alternatively, you can right-click on any field and choose "Clipboard" from the menu that appears.
4. Does The Clipboard Have Memory?
The clipboard serves as a temporary storage buffer offered by certain operating systems for quick storage and exchange of data within and across applications. This tool is typically temporary and lacks a specific name. Its content resides in the computer's RAM (Random Access Memory)
5. What Are The Contents of The Clipboard?
The clipboard retains its data until you cut or copy something new, or until you log out of the computer. For instance, a user might copy content from a word processor and then paste it into an email. If the user chooses to paste from the clipboard multiple times, the same information is repeatedly pasted.