Social media is one of the ways to combat the negative mental health effects that many of us are experiencing. We are spending more and more time on our phones than ever. Why not fill your feed with positive mental health material from top mental health influencers?
There are tons of influencers, artists, and therapists who help you enhance your entire mental well-being by providing guided meditations, affirmations, and beautiful visuals to remind you that everything will be fine.
The mental health community is booming on Instagram. If you're looking for mental health and wellness influencers to follow in 2023, you'll want to check out the top mental health Instagram accounts in this article. 
How to find mental health Instagram influencers?
Finding influencers can be a daunting task, but not anymore!
As the number of mental health influencers is growing, you may assume that finding the best mental health Instagram accounts is a time-consuming and difficult task, but it is not thanks to influencer marketing platforms.
Although there are other possible ways to find Instagram influencers such as using Google, doing relevant hashtag research, finding an influencer database, conducting a competitor analysis, etc., the fastest and easiest way is to take advantage of an influencer marketplace.
Ainfluencer_ Instagram influencer marketplace
Ainfluencer is one of the top-quality influencer marketplaces that provides you with different types of influencers in different niches. With its advanced search options, it can help you identify Instagram influencers with the highest rates in any field you're interested in.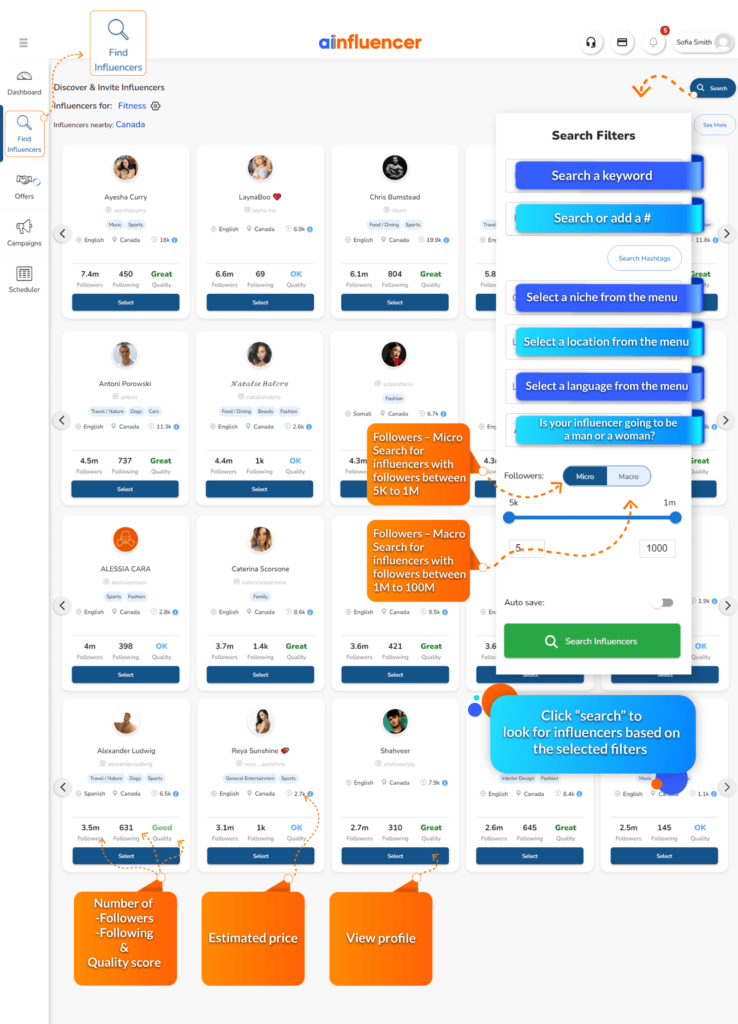 Ainfluencer assists brands in creating marketplace campaigns, as well as exploring and discovering top influencers and bloggers in their field of interest, and inviting them to collaborate. Alternatively,  influencers can simply click on the ads and make offers.
Here are some of the features of Ainfluencer in detail:
1- It is completely free to use (There are no hidden fees, and it's completely free to use.)
2- Totally risk-free (The automatic system keeps track of your campaigns and holds funds until you confirm the necessary material.)
3- AI-enabled (Artificial Intelligence is used on the platform to help users discover influencers.)
4- Audit of Influencers (Ainfluencer shows you account information like engagement rate, average comments and likes, comments to followers ratio, and likes to followers ratio for influencers.)
5- Quick, simple, and clever
6- Creating ads for the marketplace (brands can create a free marketplace ad that is posted to the marketplace where thousands of qualified influencers can see and make offers.)
7- Chatbox built-in (brands and influencers can negotiate the marketing terms and close the deal right in the app.)
8- Ainfluencer tracks your performance from start to end and provides real-time information.
Top 25+ mental health influencers on Instagram
1- Kevin Frankish
Kevin Frankish is one of the well-known Canadian mental health influencers. This TV host who was born on March 4, 1964 is most known for Breakfast Television Toronto on CityTV Toronto.
After suffering a panic attack on the air in 2006, Frankish publicly discussed his panic attacks and struggle with depression with viewers and has since become a very active advocate for mental health issues.
He has 26.9k followers on his Instagram account and shares posts about some parts of his mental health podcast episodes.
2- Maisie Kwong
Maisie Kwong is a motivational speaker, certified life coach, and mental health advocate. Her Instagram account with 15.8k followers is dominated by her beautiful photos and meaningful quotes. On her @themaisielining account, she shares positive and inspiring quotes to encourage a positive attitude to everything.
3- Sophie Gray
Sophie Gray is one of the top mental health influencers on Instagram who was born in Canada on August 25, 1992. RHN holistic nutritionist and personal trainer who developed Way of Grey and Love Yourself Workouts, a self-described "lovestyle" blog. She frequently writes about self-acceptance and self-love, as well as ways to discover pleasure via health, fitness, and nutrition. She is also the founder of @letsdivethru which is a mental health app.
4- Sonia Jhas
Sonia Jhas, a multi-award-winning mindset and wellness expert, TEDx speaker, and author, is much more than a fitness guru; her unique approach to healthy living tackles both the physical and mental aspects of wellness. She promotes holistic fitness for both the body and the mind, which helps her clients achieve long-term results.
As one of the top mental health influencers, she has 140k followers on her Instagram account. And she also works as the ambassador of the Canadian Mental Health Association.
5- Caitlin Fladager
Caitlin Fladager is an Instagram celebrity who was born in Canada on January 16, 1994. As a mental health advocate, she runs one of the best mental health Instagram accounts which has over 637k followers and is most known for posting photographs of her husband and children.
6- Daisy Tonge
Daisy is a yoga teacher, social media manager, and one of the top mental health influencers who helps you reframe mental health and vulnerability. She also helps you love yourself and boost self-love.
7- Thishanabee
Hana is one of the mental health influencers who has one of the mental health Instagram accounts with 18.5k followers.
Her posts focus on mental health, travel, and veganism. She is the founder of @youllbeeokay.
8- Michell C. Clark
Although he is one of the successful mental health Instagram influencers with 338k followers, he considers himself a writer, first and foremost. His Instagram account is one of the best mental health Instagram accounts that provides users with a daily dose of self-love, mindset shifts, and actionable tips.
9- Dr. Justin Puder
Dr. J is a licensed psychologist who has his bachelor's, master's, and doctorate degrees in psychology. He is dedicated to breaking the stigma surrounding mental health through regular social media material that is informative, entertaining, and empowering. Dr. J uses mindfulness-based approaches to help people cope with anxiety and stress. LG, Wynn Resorts, Vice, The DailyDot, and LA Mag have all collaborated with him.
10- Dr. Caroline Leaf
Dr. Caroline Leaf is a Zimbabwean-born American communication pathologist and cognitive neuroscientist who specializes in cognitive and metacognitive neuropsychology. She holds a Master's and Ph.D. in Communication Pathology as well as a BSc in Logopaedics. Switch on Your Brain, Think Learn Succeed, and Think and Eat Yourself Smart are all bestselling books by Dr. Leaf.
She is one of the mental health Instagram influencers with 705k followers and her posts and Stories are dedicated to mental health.
11- Dr. Kojo Sarfo
He is a humorous and uplifting content developer, mental health nurse practitioner, and psychotherapist located in Los Angeles. He routinely gives mental health advice and awareness on his Instagram account with 231k followers. Moreover, on his dr.kojosarfo TikTok account, he frequently shares mental health advice in the form of skits, songs, and films. On the site, he has over 1.4 million followers.
12- Sam Eaton
Sam is a motivational speaker who uses his influence to empower you to overcome and thrive. He is the Founder & Lead Communicator of @recklesslyalive.
As one of the mental health influencers, he shares mental health, self-love, and encouraging posts and Stories with his 38k followers on Instagram.
13- Dr. Sundas Pasha
Sundas Pasha is a clinical psychologist and she has one of the mental health Instagram accounts with 105k followers. Her Instagram account is dominated by tips, tools, and strategies for anxiety, pain, and stress. She uses her influencer on Instagram to talk about mental health and wellness to teach how to know and cope with mental health issues.
14- Brené Brown
Brene Brown has one of the best mental health Instagram accounts with over 4 million followers. Brené Brown is a professor, lecturer, author, and podcast host from the United States. Brown is a visiting professor in management at the University of Texas at Austin's McCombs School of Business and holds the Huffington Foundation's Brené Brown Endowed Chair at the University of Houston's Graduate College of Social Work.
15- Nedra Glover Tawwab
Nedra Glover Tawwab is a therapist, content producer, and author that specializes in assisting individuals in developing healthy relationships. She is also a New York Times best-selling book, and her counsel is beneficial to everyone who wants to live happily with their partner. Her Instagram following has nearly surpassed 1.5 million people because all of her content is instructive and useful. There are many new things you can learn, including 6 hard facts, nonjudgment practice strategies, things to stop doing in relationships, and much more.
16- Dr. Jessica Clemons
Dr. Jess is a New York City-based board-certified therapist. Her Instagram account has over 87k followers, and she uses it to support #BeWell events dedicated to mental health activities. Her posts aren't really informative, but they do assist in locating more resources to learn about her ideas. She holds informative chats with famous people and motivates many others to pursue new goals.
17- Dr. Courtney Tracy
Tracy is one of the mental health influencers who is also known as the "Truth Doctor" on social media. She has created programs with the goal of helping others overcome their pain, trauma, and addictions. Sunrise Australia, SheKnows, Yahoo, Nutritious Life, Bustle, and others have all profiled her. With a bachelor's Degree in Psychology, a Master's Degree in Social Work from the University of Southern California, and a Doctorate Degree in Clinical Psychology from California Southern University, she is unquestionably a professional.
18- Dr. Mariel Buquè
With a fan base of more than 250,000 people, Dr. Mariel Buque is a holistic psychologist, expert in intergenerational trauma, and sound bath meditation healer whose mission is to assist individuals in healing emotional scars.
She has one of the best mental health Instagram accounts and her mental health Instagram posts focus on different aspects including trauma, soul wounds, inner child healing, shadow work, developing healthy coping, boundary setting practice, and so much more.
19- Joanna Konstantopoulou
Joanna Konstantopoulou, a prominent health psychologist in the United Kingdom, focuses on the intersection of physical and mental health. She provides assistance on coping with mental health difficulties, nutrition recommendations, and words of encouragement.
20- Matthias James Barker
Matthias is a psychologist and content creator who is passionate about guiding people "towards what's meaningful despite hardship". As one of the best mental health Instagram influencers, his videos are cozy, deep and meaningful and simply precious. This mental health specialist has his own practice, where he focuses on treating childhood trauma and marital issues and is able to make you feel comfortable and understood just by looking at him on the screen in a matter of seconds!
21- Tabitha Brown
Tabitha has a large following on Instagram and TikTok. Her rise to fame can be credited to her frequent words of encouragement to her followers. Tabitha has it all, from her soothing voice and healthy recipes to self-care tips and a witty personality.
22- Heidi Williams
When you go through Heidi's photos, you'll notice some stunning yoga poses. She became involved in this activities after overcoming her own suicidal depression. She began her studies in trauma and neuropsychology and now works with others to help them heal their mental wounds.
23- Hannah Daisy
Hannah Daisy offers a simple cure to her readers' mental health issues: a grin. Among the topics she discusses are self-care, intrusive thoughts, and concern. Her creative posts are accompanied by humorous phrases. She has over 160k followers because she speaks out for the LGBTQ community and is forthright with her words.
24- Beth Brawley
Beth is one of the successful mental health influencers. She learned from personal experience how much therapy could help with anxiety, which prompted her to seek a career in psychology. She now works as a Licensed Professional Counselor, and she specializes in anxiety, OCD, and body-focused repetitive behaviors.
25- Christina Wolfgram
Christina's Instagram account takes two directions: first, she is a witty comic who raises people's moods; second, she is a mental health healer who has admitted to having mental health issues and dealing with them through comedy. She began to help folks with similar concerns after this post garnered a lot of favorable feedback.
26- Dr. Brendan Nierenberg
He has one of the best mental health Instagram accounts. His following has nearly surpassed 60,000. He not only includes photos, but also recommendations, pieces of advice, quotes, and other intriguing phrases. He is a marriage and family therapist so he has experience in dealing with traumatic brain injury, substance abuse, eating disorders, couples and relationship issues, gender identity issues, borderline personality disorder, and men's issues.
27- Dr. Nicole LePera
She is an American famous holistic psychologist, author, YouTuber, and Instagram mental health influencer, who is known for her holistic therapy of mental, physical, and spiritual health and for sharing insights and tips on healthy lifestyle on different social media platforms.
Conclusion
In conclusion, it's important to be aware of the top mental health influencers on Instagram who can offer support and guidance when it comes to our mental health. By following these accounts, we can learn more about how to cope with our own mental health, and how to help others who might be struggling.
1- Is Instagram good for mental health?
High levels of anxiety, depression, bullying, and "fear of missing out (FOMO)" have been linked to Instagram and other social media platforms. They can also contribute to poor sleep habits and a negative body image.

2- What is good mental health?
A person's ability to perform a variety of key functions and activities, such as learning, is a sign of good mental health. The ability to experience, express and control a wide range of good and negative emotions and develop and maintain positive interpersonal interactions are other signs of good mental health.