Influencer marketing has become a critical part of digital marketing and a popular way for brands to showcase products to wider audiences. Since finding influencers is the most essential part of this marketing, most marketers would like to find free influencer marketing platforms to start their projects on budget.
Whether you only want to find Instagram influencers or would like to collaborate with TikTokers or YouTubers, influencer marketing platforms should be the first place to search for authentic influencers related to your niche. How about doing all this research for free?
Let's check out some free influencer marketing platforms to help you with your marketing plans.
What is Influencer marketing?
First, let's learn more about influencer marketing and how it can help you grow your business. Influencer marketing is a form of marketing that focuses on using social media influencers and celebrities to promote a product or service. These individuals, known as influencers, have a large group of followers on social media and are often respected by their peers. By working with these influencers, brands can reach a larger audience and increase brand awareness.
What are the influencer marketing platforms?
Now that we know how effective influencers can be, it's time to learn more about the best place to find them: influencer marketing platforms. What are they, and how can these platforms help your business?
Influencer marketing platforms are online tools that connect brands with influencers for influencer marketing collaboration. These influencer search platforms offer a discovery tool for brands and influencers to meet and make deals.
Furthermore, these platforms let brands discover authentic influencers and develop partnerships with them to run campaigns. Over time, top free influencer marketing platforms offered additional services to brands, such as real-time analytics, campaign management, creating marketplace ads, etc.
All these services help brands generate traffic, leads, and sales and let influencers build brand awareness on their social media accounts. Here are the 20 best free influencer marketing platforms in 2023.
Note: Not all the platforms on the list are completely free of charge, some have limited trials or only let the users test their platforms before buying.
1. Ainfluencer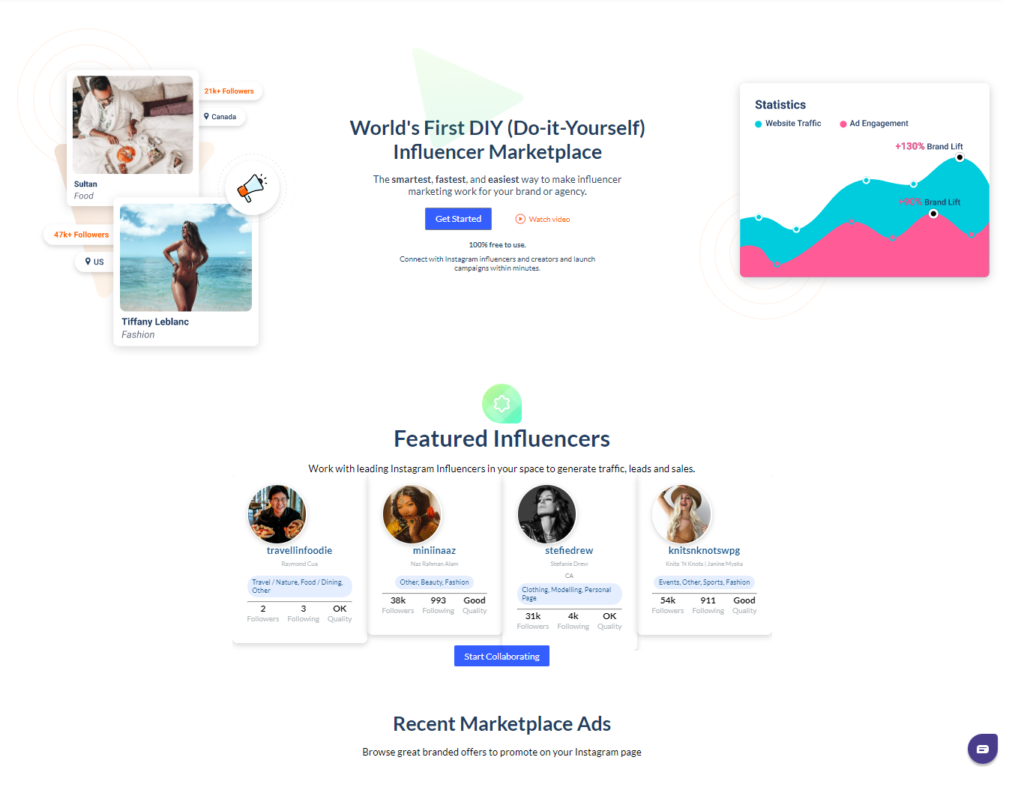 Let's start the list with Ainfluencer; a 100% free, Do-it-Yourself marketplace that streamlines influencer marketing for both brands and influencers who join it. Using this platform, you can find the best influencers on Instagram and TikTok.
The main interesting value of Ainfluencer, among many others, is that you never ever get charged for unlimited platform usage. We can claim that Ainfluencer is the only platform that doesn't ask you to pay any fees. You can take your time creating your campaign and search for influencers without any limitations.
That is huge for many brands and businesses.
Moreover, with this influencer marketplace, bands can explore and discover influencers by selecting a variety of filters, such as keyword, the influencer's location, hashtags, language, gender, number of followers, etc.
It's worth mentioning that Ainfluencer is not only useful for brands to run influencer marketing campaigns, but it can also help Instagram and TikTok influencers find great deals and collaborate with brands to make money. They can use Ainfluencer's app to find the available campaigns and send their offers.
Now, it's time to look deeper into this platform to see its features and discover its pros and cons.
Ainfluencer Features
Influencers List – Ainfluencer has a list of over 500,000 influencers on TikTok and Instagram. Like any other marketplace the list is growing day by day with 10,000 new influencers signing up monthly.
Free Campaign Creation – Brands can create a campaign in a few simple steps and launch their presence and quest for influencers and their criteria in the Ainfluencer marketplace.
Easy Communication – Ainfluencer includes a chat box that provides a great channel for communication, sharing and discussing details, collaborating on content, and publishing brands' posts.
Influencer Search Tool – This free influencer marketing platform allows influencers to scan through thousands of branded campaigns and send their offers, making it easier for influencers to make money on Instagram.
Smart Filters – Brands can narrow down their search for influencers using a great set of filters such as the size of influencers, their category, gender, country, language, etc.
No Limit on Invitations – Brands can send as many invitations as they want, all for free.
Ainfluencer offers secure payments through the app so that you don't have to chase after deposits or balances on the job.
Campaign Analytics –Ainfluencer is one of the best influencer management tools and provides revenue and campaign views stats and also withdraw funds whenever you like.
All Types of Influencers- Whether you are looking for nano influencers or micro influencers, Ainfluencer can ease the process.
Want to create your first influencer marketing campaign on Ainfluencer? Check out the following video to learn more about the steps:
Ainfluencer Pros
It's 100% free.
This free influencer marketing search tool is available for both iOS and Android.
It includes a set of tools that an Instagram influencer needs to make deals with brands.
Ainfluencer provides insights into influencers' accounts and gives you more information about their engagement rate, their audience, and the quality score of their content.
Secure Payment- Ainfluencer has an Escrow system that safeguards your payments to influencers and guarantees influencers receive their payments.
Ainfluencer Cons
Its influencer database does not contain Youtube or Facebook influencers.
2. FameBit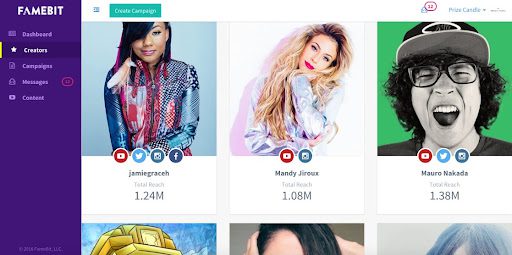 Although FameBit claims to be one of the free influencer marketing platforms, it only offers a limited free version. Meanwhile, this platform acts as a mediator between brands and YouTubers. This free influencer search tool's mission is to connect popular YouTube influencers with brands for endorsement opportunities.
FameBit Features
Brand/influencer matching
Campaign analytics
Content creation
FameBit Pros
Brands can launch campaigns and receive proposals for free.
FameBit has expanded its platform to several other social media channels, including Facebook, Vine, Twitter, Tumblr, and Instagram.
The website is easy to navigate.
FameBit Cons
It doesn't have an SSL certificate.
Its database is not so large.
It only gives limited free options, the users should select one of the plans to continue using this platform.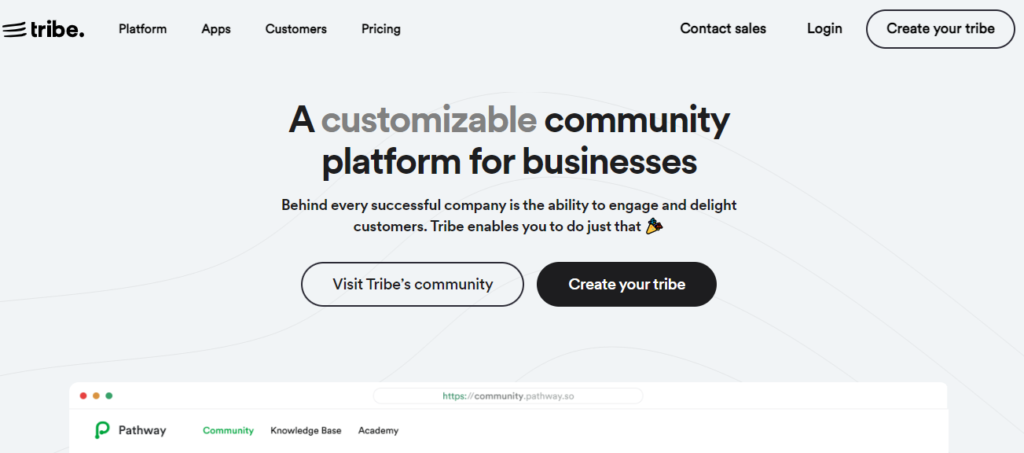 Tribe is a content-first platform known as one of the influencer marketing platforms to connect brands with creators at higher speed and lower cost. However, Tribe is not completely free, it only allows users to work with a few options on its free version. This influencer search platform is considered for a variety of business scales.
On this platform, influencers can first see brand campaigns, the influencers will go through content creation; after that, marketers evaluate which content and influencers best fit their campaign.
TRIBE Features
Its influencer database has audience analysis.
This free influencer marketing platform has user-generated content management.
It is easy to use and has workflow capability
You can search and discover influencers on its free influencer database.
TRIBE Pros
Influencers get evaluated on the quality of their content, not the number of followers.
All brands and influencers are monitored and mediated.
Its influencer database is free and includes both TikTok and Instagram.
TRIBE Cons
It can get too slow and difficult to upload the list of influencers in bulk.
The automated tagging of this influencer search platform is not accurate.
It is not completely free. Only a few features can be used without payment.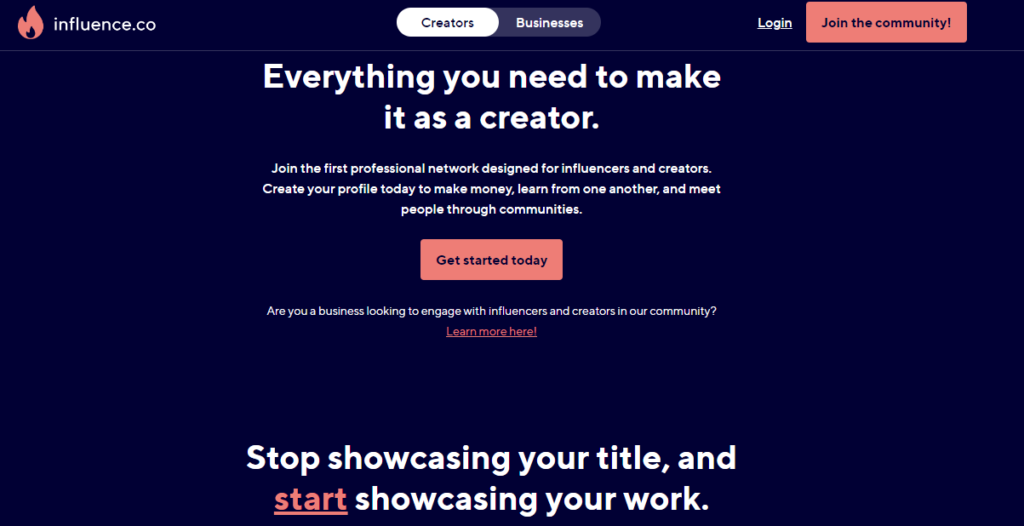 As one of the limited free influencer marketing platforms, Influence.com helps influencers develop their networks, access the latest news and resources, engage with other influencers, and secure collaborations with top brands.
Using this platform, Brands can take advantage of authentic human engagement through the community of influencers to build their brand awareness using this influencer marketing platform for free.
Influence.co Features
It offers influencer search and discovery.
This free influencer platform gives you the ability to manage your marketing relationships.
It also has campaign management.
Influence.co Pros
It is easy to navigate and user-friendly.
You can search for different influencers based on industry, budget, location, and niches.
Influence.co Cons
Its database is not so large.
Its free version offers limited influencer search and conversation per month.
5. Hypr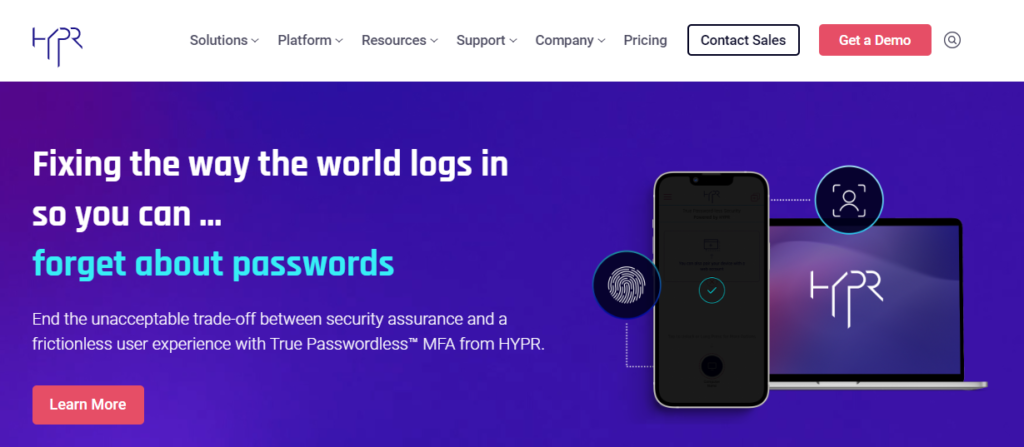 This influencer marketing website promises to assist businesses with audience analysis and campaign management. It's among the free influencer marketing platforms that help brands find influencers without paying any charges However, this free version is only available within a limited time. Therefore, the users of this platform should choose a pricing plan for further usage. Its search engine allows you to search through a database of influencers for collaboration.
Hypr Features
You can do the influencer search and discovery.
Performance tracking with audience demographics and conversion attribution is easy on this free influencer platform.
It has a fraud detection and audience health feature.
Hypr Pros
You can get real-time social analytics.
They offer you dedicated account managers to help you find what you're looking for.
Hypr Cons
You may face errors while working with the platform, especially when signing in.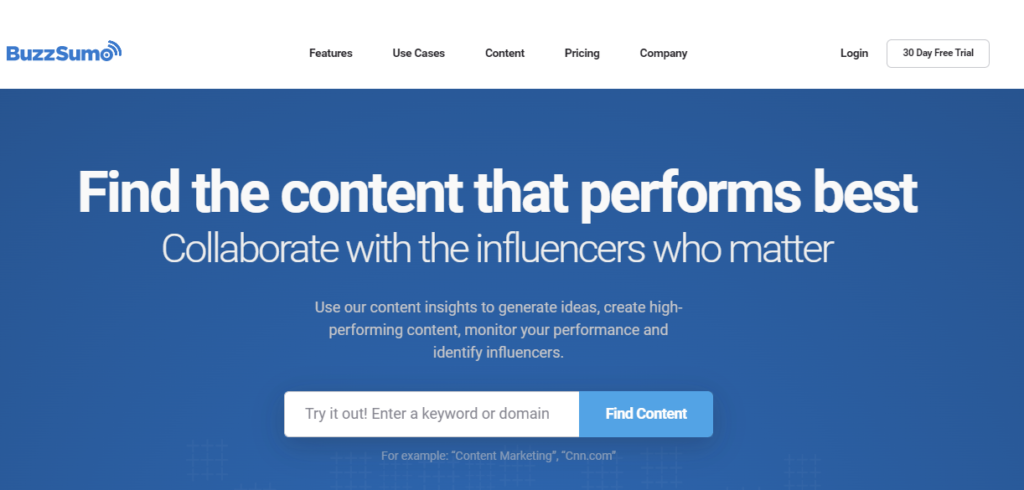 Buzzsumo is among the free influencer platforms that lets you see what is popular on social media, and which successful content of any competitors is shared most. Above all, its influencer and outreach section allows you to find, analyze, and follow influencers in your niche. Its other features include:
Buzzsumo Features
You can export reports.
You can find influencers free, and it gives you competitor analysis.
It provides engagement figures for Facebook, Twitter, Pinterest, and Reddit.
Buzzsumo Pros
You can see what's trending overall.
It gives you the ability to identify influencers in a certain topic area.
This social media influencer finder is good-looking and easy to use.
Buzzsumo cons
It doesn't have many filtering options.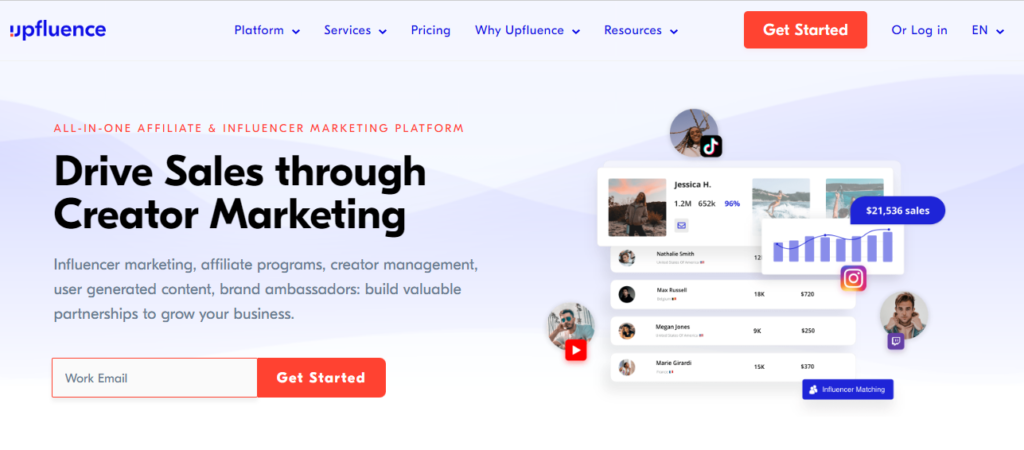 Upfluence is not actually considered a free influencer marketing platform because it doesn't offer all its features for free. However, it has a massive database of nearly 3 million influencers that users can access limitedly on its free version. It's one of the influencer management tools that its algorithm analyzes each piece of content for reach and engagement.
More importantly, clients are allowed to search through this platform to find influencers free using keywords, locations, number of followers, etc., and find influencers from all over the world on Instagram, YouTube, Twitch, Pinterest, blogs, and Twitter.
Upfluence Features
You can do an influencer search based on 20+ criteria such as keywords, location, engagement rates, etc.
It has multiple campaign management features.
You can monitor analytics and mentions on its free influencer database.
From a single dashboard, you can track the development of each influencer collaboration.
Upfluence Pros
It's among the easiest influencer sites that let you get in touch with influencers.
This platform gives you detailed metric reports of the data.
It has a free Chrome plugin.
Individual affiliate links and promo coupons can be generated with Upfluence.
Each client is assigned a personal manager.
Upfluence Cons
It has only annual plans. Therefore, it is not a cost-effective solution for startups or small businesses who want to test a platform for only one month.
It has a complex structure and may not be easy to use, at least for newbies.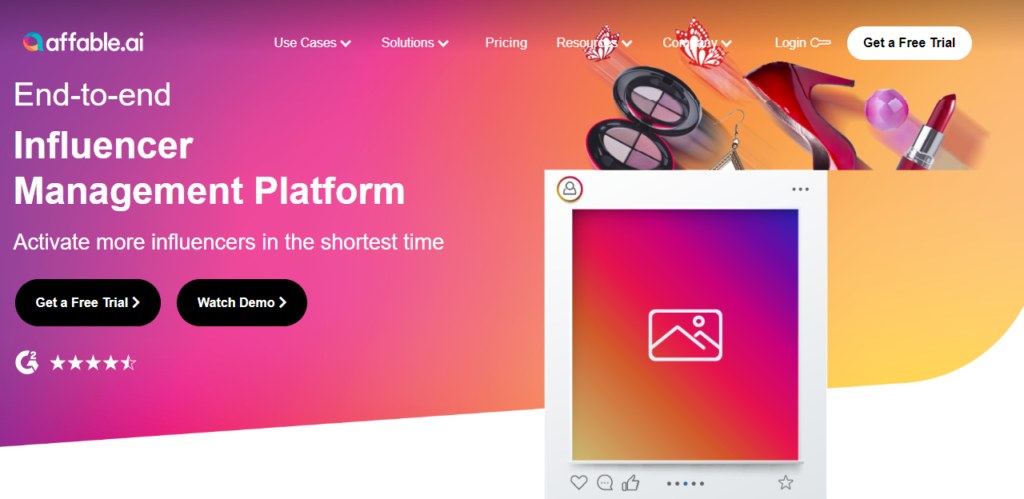 Affable.ai is another free influencer marketing platform that only offers influencer search. Furthermore, brands can use its campaign services to optimize, manage, and track their campaigns easily.
Affable.ai Features
You can search for influencers through the platform's filters.
You can get influencers' insight and learn about their social media history.
This free influencer marketing platform gives you the ability to track your campaigns.
Affable.ai Pros
It has workflow automation.
The marketing platform is user-friendly.
It gives straightforward analytics.
Affable.ai Cons
This platform is not suitable for small- and medium-sized brands.
The influencer database doesn't include many nano and micro influencers.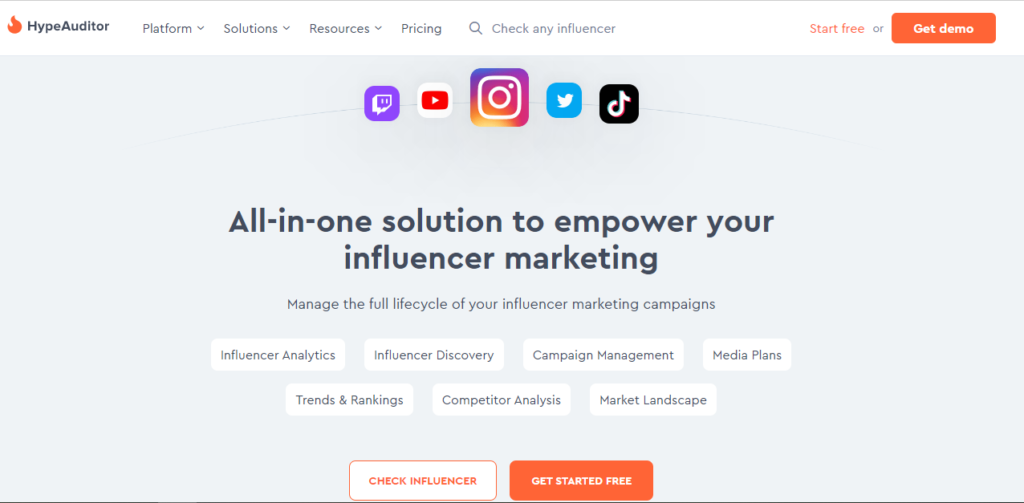 With HypeAuditor searching for influencers would be so easy. This marketing platform ranks bloggers by their quality score and engagement rate. It provides many information about the influencers to help you choose the best fit for your brand.
On this free influencer marketing platform, you can run influencer campaigns, track the performance of your Instagram and YouTube accounts, and run individual campaigns. However, the free version only has limited time and users should subscribe to the system to use its features, which is not free anymore.
HypeAuditor Features
You can analyze and compare influencers.
The signup procedure is free.
It gives you information about influencers' followers, accounts' main topic, authentic engagement rate, etc.
It is one of the free influencer platforms with a money calculator.
You can run and manage influencer campaigns.
HypeAuditor Pros
It gives you detailed reports of influencers.
This influencer search platform has a fraud detection feature.
You can track your campaigns easily.
HypeAuditor Cons
You can not connect with influencers on the platform.

Although introduces itself as one of the free influencer marketing platforms that help influencers to be discovered and collaborate with brands, Storyclash only offers a limited free features and its users should pay to use more options.
You can enter your brand's name into its search bar, and see all the influencers that have recently mentioned you on their social media accounts.
Storyclash Features
It has an influencer search feature.
You can get customizable reports.
You can access your campaign analytics and demographic data.
The support team is quick.
Storyclash Pros
This free influencer search tool allows you to have content-based searching for influencers.
You can have real-time analytics.
Storyclash Cons
There are no location filters for the free influencer database, which makes it useless for brands who would like to promote their business in a specific location.
11. PitchBoard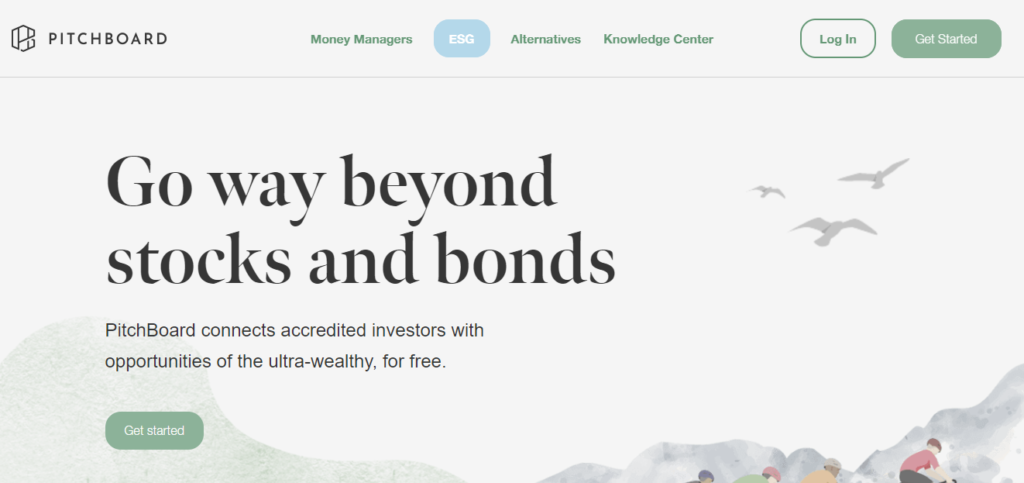 PitchBoard claims to be one of the free influencer platforms that focuses on enabling marketers and brands to reach new audiences. It analyzes influencers' data and determines who has the most suitable followers for the campaign.
PitchBoard Features
You can view all your campaigns on the Dashboard.
It estimates the influencer's cost per engagement.
You can see influencers' followers' information using this influencer site.
PitchBoard Pros
The interface is easily navigated.
You can have real-time information.
It's easy to manage your campaigns.
PitchBoard Cons
Payment fees are too high.
It takes a cut of the influencers' payment.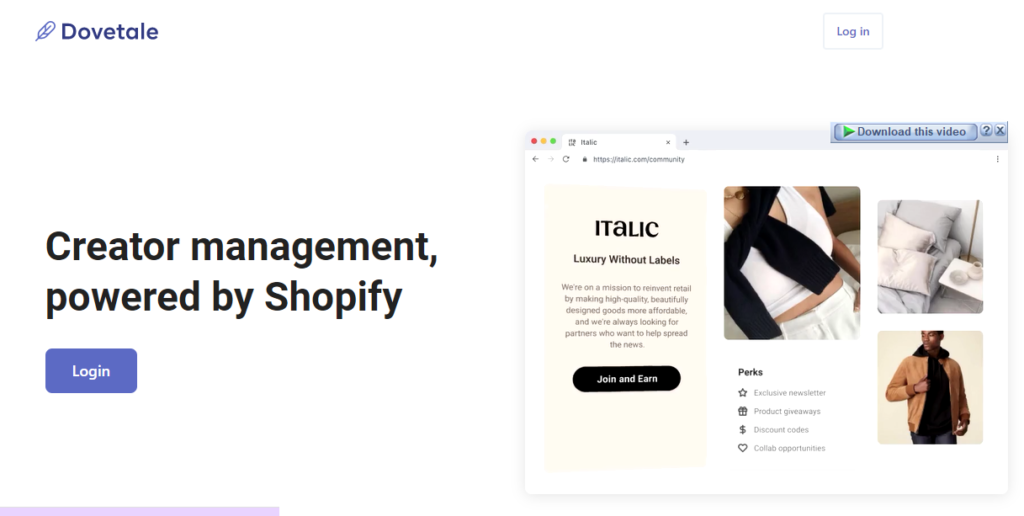 Dovetale is one of the influencer sites that focus on eCommerce stores. it can be considered as an option for small businesses to manage influencer marketing campaigns and generate sales. If you connect your Shopify store, you can use its free plan.
Dovetale Features
It has many tools for managing and tracking your campaigns.
It gives you commission and sales stats.
It's one of the best influencer websites that provides you with several campaign templates.
Dovetale Pros
It has a clear workflow.
You can track your campaigns.
Its free influencer database and search filters are precise.
Dovetale Cons
It doesn't have a chat box, making it difficult for both brands and influencers to negotiate.
Influencers can only connect to the platform via their Facebook accounts.
13. Audiense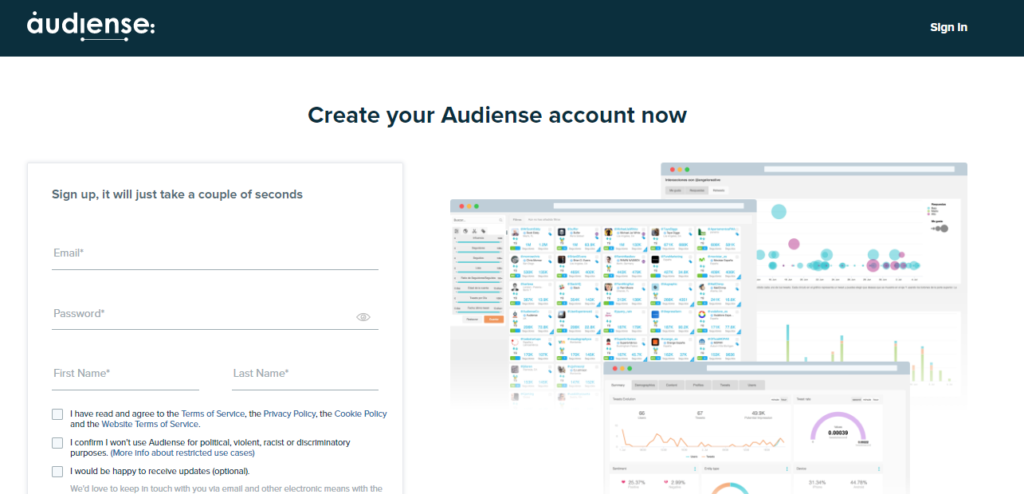 Audiense is one of the free influencer marketing platforms and tools that crawls the entire social web to give you all the necessary data. However, it only works for Twitter right now. It's among the influencer tools that helps you get insights about audiences, such as your mutual followers, interests, location, etc.
Audiense Features
It has an audience segmentation that puts audiences into different subgroups.
You can identify the relevant audience to your niche.
It can measure your impact on Twitter.
Audiense Pros
It gives you a deep analysis of your competitors' audiences.
You'll learn how to best engage your audience.
Audiense Cons
The given data is only from Twitter.
14. Gatsby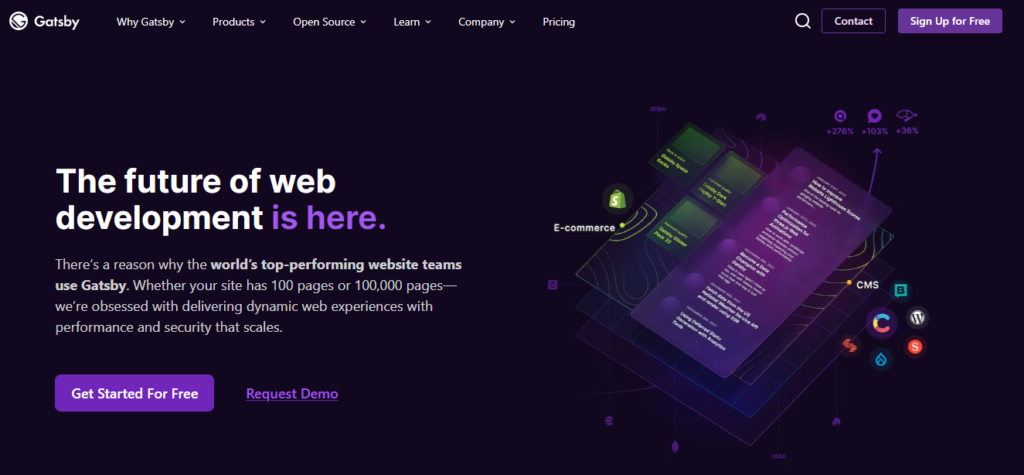 Gatsby is not completely a free influencer marketing website, but it offers part of its features for free so that users can test before they use. This platform enables you to identify the Instagram profiles of influencers and invite the most influential ones to collaborate with. You can also create different pop-ups and pages to collect your clients' info.
Gatsby Features
You can analyze influencers' audience reach.
It gives you the ability to create popups and buttons for marketing websites.
It enables you to create customizable checkout pages and popup widgets.
Gatsby Pros
You can have all your clients' information.
It has workflow automation.
You can sync all the data with your marketing tools.
Gatsby Cons
This influencer software is a bit complicated and hard to use.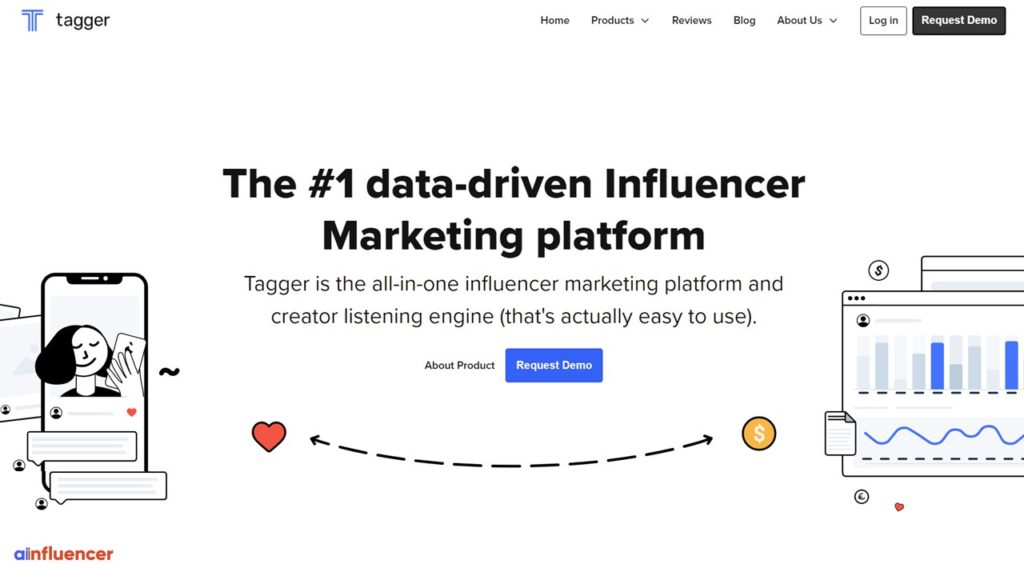 Tagger is a data-driven limited free influencer marketing platform that claims to simplify the process of finding influencers all over the world and manage their connections.
Also, this social media influencer finder claims to be free, it offers pricing plans and only lets the users try the trial for free. The other option that this platform provides is enhanced analytics tools to assess audiences, interests, and affinities when it comes to campaign design and administration. You may also compare your results to those of your competitors.
Tagger Features
Over 6 million influencer profiles are available to you on Tagger.
Influencer profiles can be filtered by their location, engagement rate, affinity, and other factors.
You can analyze influencer metrics and assess their credibility.
It lets you keep track of and compare competitive data.
You can also create customized campaign reports that are accurate and real-time.
Tagger Pros
Tagger's social listening tool helps you analyze competitors.
Gain access to large influencer networks to make proposals and approve material directly.
This free influencer website also displays the best content and authors for specific criteria.
Tagger Cons
It may take some time to become familiar with all of its features.
Small firms may find it too complicated.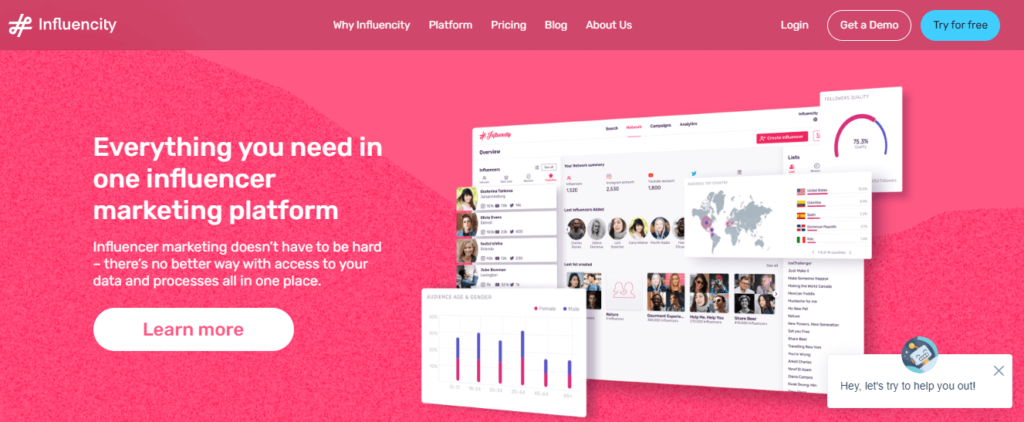 When Influencity first launched in 2014, it was solely focused on Twitter. It was one of the influencer management tools that attempted to automate Twitter influencers' tweet publication. However, their focus has shifted over time to include Instagram, YouTube, Facebook, Twitch, and other major social media platforms.
You can apply several filters on this free influencer marketing platform in a variety of ways to find the most relevant results when searching for influencer profiles on Influencity. However, this free access is not forever, after a limited time you should buy one of the plans to be able to use its features.
After you've found a profile you like, you may look at its demographics, follower quality, affinity, and more. Basically, you don't have to conduct any research. It also has campaign management and tracking capabilities.
Influencity Features
With lookalike influencer searches, you'll get more relevant results.
You can make a list of influencers and forecast how they will perform.
Multiple influencer campaigns can be automated at the same time.
It lets you examine the costs of previous initiatives in order to strike better deals with influencers.
To collaborate more easily with your team members, you can add notes to this influencer platform.
With easy-to-read graphs, you can compare campaign effectiveness.
Influencity Pros
Detect phony influencers.
There is a free trial available.
Get access to a massive free influencer database (over 70 million influencer profiles).
Check how frequently an influencer engages with their audience.
It is one of the best influencer programs that lets you match your audience's preferences to influencer profiles.
Influencity Cons
Pricing plans don't include many features and options.
It has a lot of features, but it has a steep learning curve.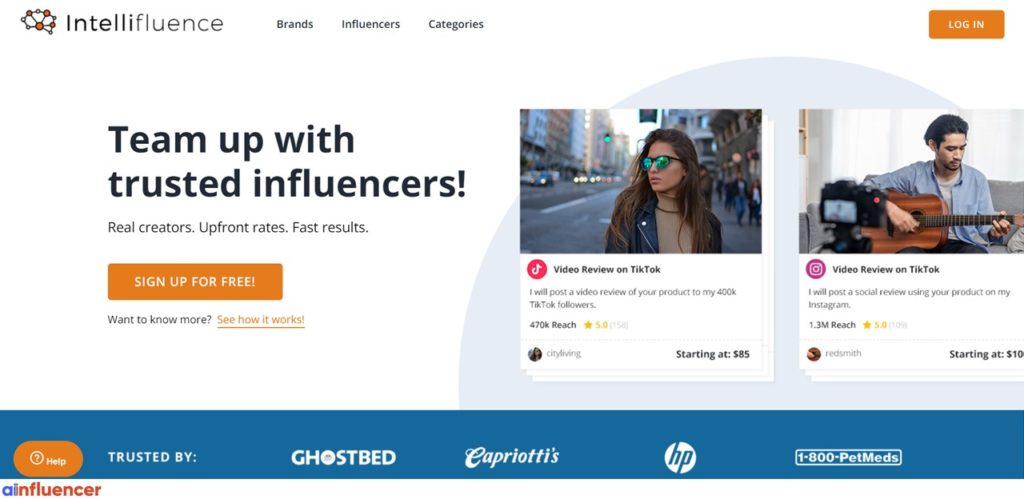 Intellifluence is another free influencer marketing platforms with huge influencer networks that cater to a wide range of influencers, from peer-level micro influencers to celebrities with millions of followers.
Their flexibility in channels, as a platform-agnostic network, leads to a wide range of application cases, from Amazon to YouTube.
Intellifluence Features
You can make influencer discovery.
It has messaging tools.
Its payment process is safe and secure.
Intellifluence Pros
Intellifluence doesn't require any lengthy commitments.
Intellifluence Cons
This platform only offers a one-month free trial.
If you forget to use the coupon code when signing up, you will miss the chance to have the 30-day free trial.
18. Pitchbox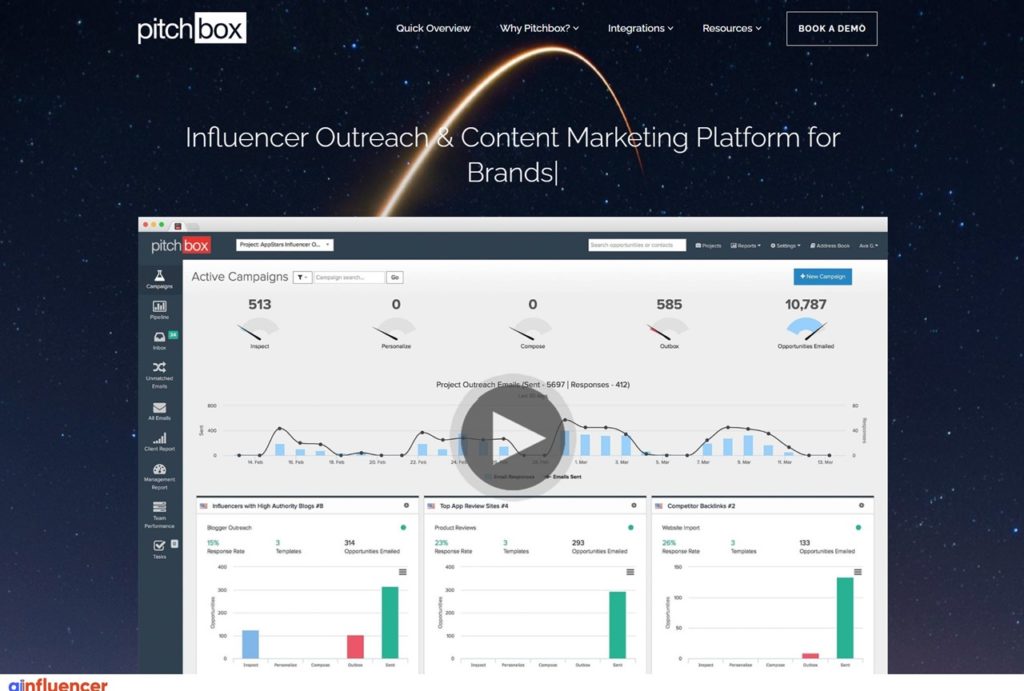 It's among the so-called free influencer platforms that is distinguished by its integration with SEO solution providers like Moz, SEMRush, and Ahrefs, which allows for accurate, insightful analytics.
Pitchbox Features
You can find bloggers, publishers, and influencers.
It's one of the influencer tools with a customizable, personalized outreach and follow-up.
You can make data-driven decisions on Pitchbox.
Pitchbox Pros
Using Pitchbox results in an increase in conversions, according to many internet reviews.
Furthermore, their search capabilities and audience targeting have gotten a lot of great feedback.
Pitchbox Cons
Pitchbox has a lot of challenges in learning how to make the most of this free influencer marketing platform, and requires some concentrated effort to get to know it.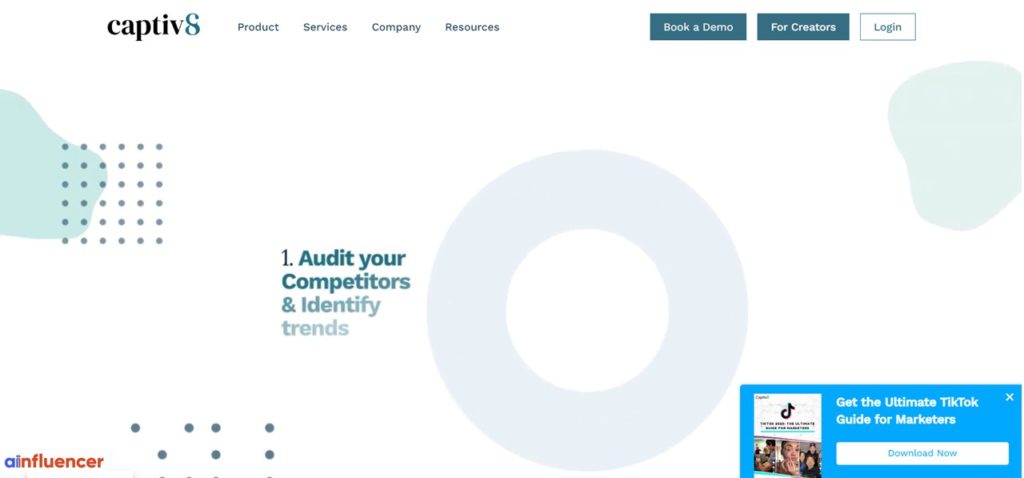 Captiv8 has added functionality to the platform over time, making it one of the top end-to-end influencer marketing websites.
The AI is always striving to catalog any bit of data it can observe about the 1.5 million+ influencers in its free influencer database, and the social listening feature is still prominent.
Captiv8's data is particularly deep because they have marketing and/or API connections with all of the social media.
Captiv8 Features
Captiv8 has completed the package with Discovery, Campaign Management, and a Reporting analytics component. Although these features are not totally free, Captiv8 is considered a free influencer marketing platform because it only offers some of its features on a free trial so the users can check out before using it. However, for a long time usage, one of its plans should be purchased.
Captiv8 Pros
Captive8's hashtag and location social listening service aids in discovery and strategy.
With automated tools, you can analyze your performance and obtain recommendations for when and where to post.
Captiv8 Cons
This platform doesn't provide enough onboarding/training, which means a slower learning curve.
On Captive8, new features are stealthily introduced with minimal warning or fanfare.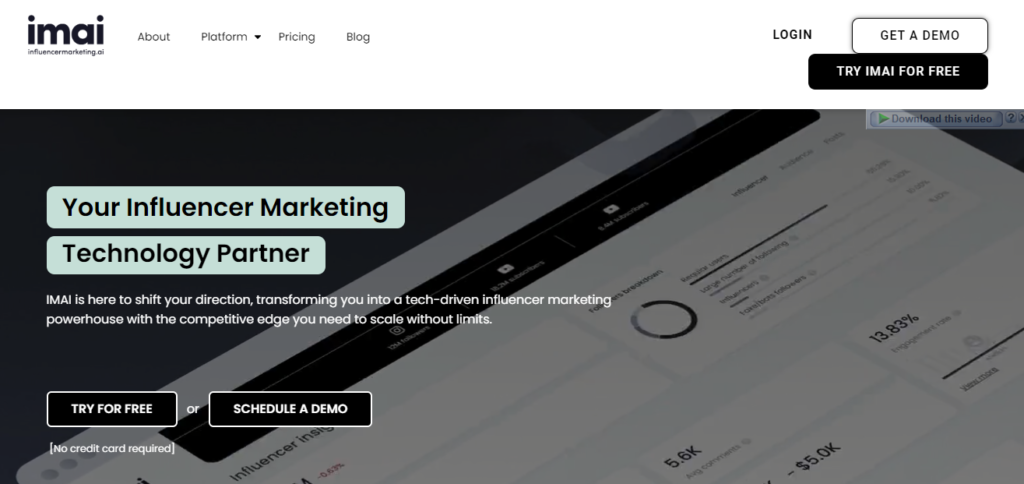 IMAI is one of the influencer marketing websites that gives you access to large numbers of influencers from Instagram, YouTube, TikTok, Twitch, and Twitter. It's one of the influencer programs with AI-driven analytics.
IMAI Features
You can have demographic and psychographic data of influencers and their audiences.
You can search for influencers on this influencer site through various filters.
Manage your campaigns and measure their success.
IMAI Pros
The influencers' community is big.
It has a custom-branded influencer app to connect with influencers via the platform.
IMAI Cons
The search process is often slow.
10 Qualities of a Top-Notch Influencer Marketing Platform
Perhaps knowing how to choose the best influencer marketing platforms is the most challenging task.
Today, hundreds of influencer marketplaces and platforms are available for brands and influencers to connect and collaborate. But nobody out there really tells you what to consider when deciding to choose the best free influencer marketing platforms to find influencers.
Generally, good influencer marketing websites should have the following qualities:
Being zero risk
Free trial
Mobile app
Being easy to use
Real-time metrics
Custom search filters
Built-in post scheduler
Ability to post personalized offers
Wide array of influencers
Access to a content library
Campaign management tools
Ability to receive offers from influencers
This was just a general overview of the core features top influencer marketing websites need to contain.
When a social media influencer agency incorporates all these features into its website, it creates a complete DIY (Do-It-Yourself) influencer marketing platform free. You can benefit from using influencer marketing in many ways. Still, you first need to know how to choose the ideal influencer platform. Now let's delve deeper into each point and learn how they contribute to a platform's credibility.
1. Risk-free
When we mention a platform that should be risk-free, we're actually referring to having a safe and secure payment process.
All of us want peace of mind when we have our credit cards out and intend to do a transaction online. So it's critical for any influencer marketing platform to guarantee a system for payment management.
A reliable marketing website will freeze your funds until your requested content is published according to your deal with the influencer(s).
2. Easy to Use
The second quality of a platform that sticks out is that it should be easy to use.
It must have a user-friendly interface, making it easy for anyone to navigate through different sections of the website.
While on a social influencer agency's website, you should feel entirely comfortable finding and using different features, such as influencer discovery, audit, outreach, etc.
3. Free Trial
Third, the best influencer marketing platform provides users with a free trial.
If, in any case, a platform asks you to input your credit card information and pay upfront, you should think twice about using it. At least the first offer you create should be free of charge. It's anyone's right to be able to test a tool for a short period of time, so that they can trust it.
4. Mobile App
This feature is not much necessary, but it definitely makes things a lot easier. We live in a world where smartphones are a core element of our lives.
An influencer marketing company can facilitate many relevant tasks for its users by developing a cellphone application in such conditions.
5. Content Library
Having a content library is another quality we believe a social media influencer agency must include on its website. A content library allows you to upload the content you want in different formats and see a preview version before it's published. Additionally, you should be able to write a caption and determine the hashtags you want to include with the content.
6. Large Community
Next up on the list is a platform's database size. None of us want to end up using a site that doesn't have a large, diversified community of influencers.
As a brand or business owner, you are looking to scale your efforts to a maximum level with influencers. For this to happen, the agency you decide to work with should offer you a bustling marketplace with a vast range of influencers.
7. Campaign Monitoring
Moving on to the next essential feature, the platform you plan to use needs to have a campaign management section. You should easily be able to create, run, and monitor different campaigns simultaneously.
With a few clicks, the free influencer marketing platforms you want to use should allow you to upload various campaign details like images, videos, duration, etc.
Anyway, what's the point of working with an influencer agency if we have to manually keep track of our campaigns?
8. Creating and Receiving Offers
The next quality is a combination of two of the ones we mentioned earlier in the introduction of this article. In addition to posting your customized offers on a website's marketplace, the option of receiving offers from different influencers should also be available for you.
You may already have some influencers in mind who you want to invite to your campaigns in some cases. While in some other cases, you may wish to create offers and let influencers reach out to you.
An influencer marketing platform that is claiming to be the best, has to indeed have both of these options built-in.
9. Real-time Analytics
The penultimate quality on our list has the option to show real-time social media metrics. You need these metrics (such as likes, comments, shares, etc.) to track your campaigns and measure the final results.
However, even if the platform doesn't provide you with such analytics, you can still obtain them manually. But that's not really optimal when you're paying for influencer marketing services.
10. Search Filters
Lastly, the website you're using must have specific search filters. This'll help ease the process of finding the right influencers. Some of the essential search filters are hashtags, location, industry, and followers, to name a few.
Conclusion
Considering all the points we've discussed to choose the best free influencer marketing platforms and the free influencer marketing tools we have introduced so far, Ainfluencer stands out pretty well among other rivals. The platform is dedicated to Instagram influencer marketing and has all the qualities we talked about. Alongside having access to all the key features, the website offers you a complete, free walkthrough of their services.
Try Ainfluencer for free
FAQs
1- How Do You Grow Your Brand with Influencer Marketing?
Here are a few effective steps to help you with your influencer marketing campaign:
Identify the goal of your campaign
Pick the right social media platform
Pick the right influencers
Attach an experience or emotion to your brand
Choose the best influencer marketing platforms
2- What Platform Do Influencers Use?
For social influencers, Instagram is the platform of choice. Although 93% of U.S. marketers use Instagram to execute their influencer marketing campaigns, there are other popular social media platforms like TikTok that you should keep an eye on.

3- Which Platform is Best for Influencer Marketing?
Choosing the best influencer marketing platform can be a game-changer in the process of executing marketing campaigns. Here are some influencer marketing tools to assist brands when working with influencers.
1. Klear
2. Ainfluencer
3. Creator. co
4. Upfluence
5. Hypr
6. FameBit
7. Webfluencial