When introducing yourself and your business to the viewers of your Instagram profile, the Instagram bio becomes more important than ever. Especially when it comes to food bloggers. Although these bloggers are in the same category, they usually don't do the same; some may give recipes, some introduce vegan restaurants, or some just talk about healthy foods. Therefore, it's their bio that can make them distinctive from others. That's why it's important to know the attractive Instagram bio for food bloggers, which we will explain in this article.
As a food influencer, not only can your bio attract brands for collaboration, but also joining influencer marketing platforms, like Ainfluencer, can increase your chance of receiving offers from top food brands. 
Accordingly, you can sign up on Ainfluencer and make yourself visible to more brands. Now let's get some Instagram food bio ideas.
Examples of food blogger bio for Instagram
Instagram bios for food bloggers come in all shapes and sizes. Some are short, sweet, and to the point. Others are long and full of personality. No matter what your style is, there's a bio out there that will be perfect for you. Here are some of the best Instagram food bio examples.
Are you looking for a bio for your food page on Instagram? Here are more than 200 Instagram bios for food bloggers:
Cute Instagram food bio examples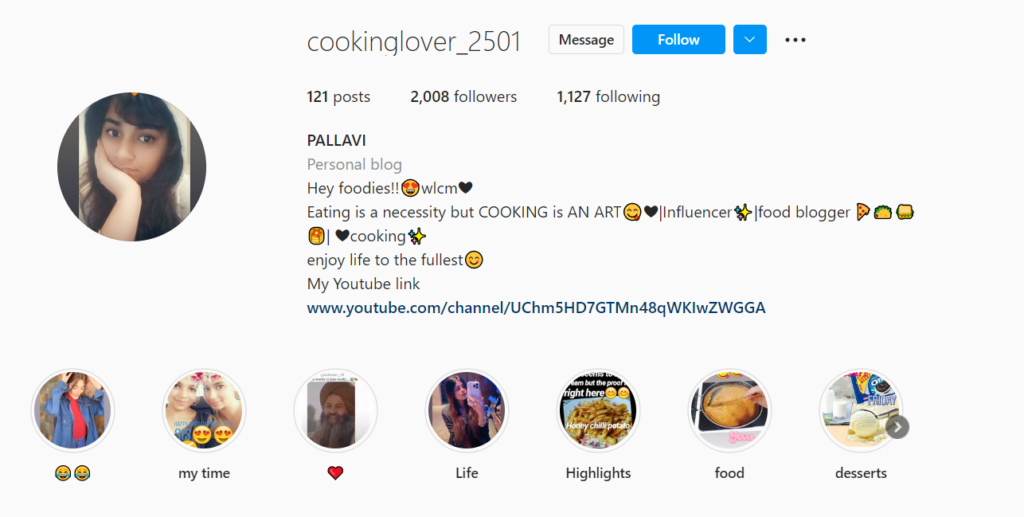 1- Food is love, and it is better than love if you think about it!
2- Food is really and truly the most effective medicine.
3- I could stare at good food all day long!
4- Food is always more satisfying after a day's hard work.
5- Food tastes better when you are with the person you are in love with!
6- I do not feel the need to apologize to explain to other people my choice of food!
7- A little slice of heaven.
8- Food makes a lot of gloomy days seem brighter!
9- I could be mad at you, and I could be yelling at you, but the moment you walk in with food, I promise I will be ready to put everything aside.
10- I may live my days only with the hope of being able to taste new food!
11- Any bad day can be cured with a hug and a pizza!
12- Sorry—I'm in a relationship. With food.
13- Food is the thing that keeps me happy even on the gloomiest of days!
14- Breakfast food can cure all sadness away.
15- Oh, did you say exercise? I thought you said extra fries!
16- I am always a bit sweeter after I have eaten.
17- All I want for Christmas is…food.
18- Take food as your medicine before you take medicine as your food.
19- Fancy food makes my day! Does it make yours too?
20- Donut worry, be happy.
21- How do I like my eggs? In cake, of course!
22- Who needs love when you can eat all the chocolate in the world?
23- 9 out of 10 people love chocolate. And the 10th person is always lying.
24- I'm on a 30-day diet. So far, I've lost 15 days.
25- What diet?
26- Cupcakes are muffins that believed in miracles.
27- Dinner is one of life's greatest pleasures.
28- Follow me if you love food too.
29- Everything you see, I owe to spaghetti.
30- I'm so eggcited to eat!
31- I am on a seafood diet. I see food; I eat it.
32- Eating spaghetti requires so much attention. That's why you can never feel lonely while eating it.
33- There is no better reward for hard work than good food.
34- A day is best started on a full stomach.
35- There is no "we" in fries. Remember that!
36- Good food is the foundation of happiness.
37- Welcome to my virtual table.
38- Many dismal days are made cheerful by food!
39- I may spend the rest of my life hoping to try new foods!
40- I could stare at delicious cuisine all day!
Unique food blogger bios

41- Meals are the center of my days!
42- Another one bites the crust.
43- Food, friends, fun.
44- My days are revolved around my meals!
45- I am definitely not the kind of person that can control my diet!
46- Whenever you see me seemingly thinking deep thoughts, I'm probably just thinking about food.
47- Hey! Let us talk about food all day!
48- To the fridge and back, I adore you.
49- If you combine good flavors, food turns into an orchestra.
50- Love is simple for me; it is the feeling of being at home with a pizza and a hug from you!
51- It's not true that money can't buy happiness. I mean, have you tried buying ice cream? It's the same thing!
52- I do not even feel guilty about prioritizing food over everything else.
53- For the love of food.
54- My head is full of thoughts about food. Don't judge; it's a thing.
55- We are proud to welcome you to our food page; we hope you will like it!
56- I could break up with my girlfriend if we have drastic differences in our food choices!
57- Life is a gamble. Dessert comes first.
58- I'm content when my plate is full.
59- I just want someone to look at me the way I look at food.
60- I'm not drooling. You are!
61- Live, love, eat.
62- I've always been fond of hashtags. They remind me of waffles!
63- Food is fuel.
64- I love food, but I fail to understand how some people can be patient enough to wait to capture photos of food before tucking it in!
65- First, we eat breakfast. Then, we change the world.
66- Kidnapping skinny persons are easier. Keep yourself safe and eat cake.
67- My first concern is food.
68- There is happiness where there is good food.
69- Dine well, and you'll be able to think well, sleep well, and live well.
70- I'm never giving up on chocolate! I'm not a quitter!
71- Everything tastes good when you're hungry.
72- I'm obsessed with food.
73- Home is wherever I'm with food.
74- Count memories, not calories.
75- May we forever stay entertained by food!
76- One of the most precious things in life is the presence of food!
77- You only live once. Enjoy your meals.
78- I find comfort in food!
79- Food is, without a doubt, the most powerful medication.
80- It's like a little piece of heaven.
Creative food blogger bios

81- The most essential part of a well-balanced diet is—food!
82- I like my coffee black like my soul.
83- We meet, we greet, we eat! That's how a date should be!
84- What can I cook for you?
85- Food gives me solace!
86- Good people, good food, good time.
87- I do not realize the need to converse on dates; Can't we just eat?
88- Chocolate makes everything better.
89- Made with love.
90- I feel like stripping whenever I see good food.
91- My life may be falling apart, but as long as I have a pizza in my hand, I do not even care!
92- Love food the way I should be loving humans.
93- I again found the weight in the fridge which I lost once.
94- The greatest comfort is food.
95- Hi people, I want to share my experiences with food with you! Follow me!
96- They told me to follow my heart. Guess where it led me? To the fridge.
97- If you want to make a conversation with me, make sure you have food to make up for the experience of conversing!
98- There's nothing more romantic than Italian food.
99- In order to achieve a balanced diet, one must hold a cookie in each hand.
100- Life is uncertain. Eat dessert first.
101- I can eat, sleep, drink biriyani!
102- If my plate is full, I'm happy.
103- If you do not eat well, then you won't be able to think well, love well, and sleep well.
104- I can never give up food, no matter how much I try!
105- Let's eat some diet food while we wait for the steak to cook.
106- When you eat food with your family and friends, it always tastes better!
107- Why do we need to marry humans? Why can't we just declare our neverending love and vows towards some food item? I am sure that would not result in divorces!
108- Dear diet, things just aren't looking good for both of us. It's not me; it's you. You're too much work. You're boring, and I can't stop cheating on you.
109- Grill and chill!
110- After a delicious lunch, I feel like I can forgive anything.
111- Life is too short to eat bad food
112- Love is the most important element in delicious meals.
113- This is a festival of flavors.
114- A full tummy is the greatest way to start the day.
115- The best way to spread holiday cheer is to share great food with all.
116- Your diet is a bank account. A good option is a good investment.
117- Calories don't count during the weekends.
118- My life is all about trying new food.
119- Food is my number 1 priority.
120- Do not dare to interrupt me when I am enjoying my meal!
Cool Instagram bio for food bloggers

121- I love food more than I love animals!
122- 'If we shake out all of the crumbs from all of the keyboards in the world, we can end world hunger.'
123- I cook with love and share it with everyone
124- First, we eat. Then, we do everything else.
125- There is no love sincerer than the love of food.
126- Eat whatever you want and if someone tries to lecture you about your weight, eat them too!
127- Eat, drink and live free. There's no telling what might happen tomorrow.
128- Be my friend, but be my food partner first!
129- I cook, therefore I am.
130- I'm not a chef, but I can follow a recipe.
131- For some reason, food tastes better when it's somebody's treat.
132- In the mood for noods.
133- Let us meet and decide what we want to eat; we can introduce ourselves later!
134- I am totally lost around people who shy away from eating when offered to eat!
135- My milkshake brings all the boys to the yard.
136- Food is my passion. I live, breathe, and dream about food.
137- You know what's better than blabbering about food? Yup, eating!
138- Eat right, exercise, die anyway.
139- I do not care if this is the season of love because, for me, every season is the season of food for me, and that is all I care for!
140- Is it just me, or does this meal look more scrumptious because I'm on a diet?
141- One does not need silver cutlery to eat delectable food.
142- Cooking is an art, and like all arts, it requires practice and experimentation.
143- I am mentally and physically incapable of waiting patiently to capture photos of food!
144- Love is the first word that comes to my mind when I see momos!
145- I'd hate to lie on my deathbed and think: "I could have eaten that!"
146- I like people who love to eat. They're the best kind of people in the world.
147- If it's made of chocolate, then I'm going to eat it!
148- Made to perfection.
149- To live a full life, you have to fill your stomach first.
150- Vegans scare me!
151- I could travel across all lands, exploring food, far and wide!
152- I swear, even at the age of twenty, I could be lured into a kidnapper's car by chocolate!
153- Sharing good food is one of life's greatest pleasures.
154- Biriyani should be named the eighth wonder of the world!
155- What recipe do you want to see next?
156- Hunger is an excellent cook.
157- Food has a way of bringing people together.
158- Follow for weekly recipes!
159- 'I could have eaten that!' I'd hate to contemplate it on my deathbed.
160- People that enjoy eating are appealing to me. They're the most wonderful individuals on the planet.
Funny food blogger bios on Instagram

161- If you combine wine and dinner, the new word is winner.
162- Never eat more than you can lift.
163- Most people eat to live. On the contrary, I live to eat.
164- I'll find you & I'll make you hungry.
165- Fueled by ramen.
166- Carbs might be my soulmate.
167- Halt your work and eat lunch!
168- Good food, good mood.
169- To eat is to appropriate by destruction.
170- If the fries are right, then we have a deal!
171- To eat is human; to digest, divine.
172- Food shared is happiness multiplied.
173- I just want someone to utter these three magic words to me: "I brought food."
174- Exploring the world in search of food.
175- Eat today, live another day.
176- I love pizza. I want to marry it, but it would just be to eat her family at the wedding.
177- I love Instagram because it allows me to maintain a record of every meal I partake.
178- I have hunger management issues.
179- I really hate people who ask me to check my weight and control my diet! You should either ask me about my preferences in food or just keep shut!
180- I love pizza. I want to marry it, but it would just be to eat her family at the wedding.
181- If no one catches you eating it, then it has no calories. This, my friend, is the first rule of my diet.
182- Life is about exploring the pasta-billities.
183- I have made a rule where I present myself with some food of my choice every time I feel I have pulled off something great, and I feel the need to be awarded!
184- Sugar, spice, and everything nice.
185- I don't even feel bad about putting eating ahead of anything else.
186- Donut kill my vibe.
187- Everything tastes good when you're on a diet.
189- I love to eat, but I hate to cook.
190- I again found the weight in the fridge, which I lost once.
191- What's your superpower? Mine is that I can make food disappear in seconds!
192- Do you know what is the best thing about being a grown-up? You don't have to take permission to eat something.
193- Fall in love with your food because that's the only thing that will never break your heart.
194- Friday is still my second favorite F word; food remains the first!
195- A balanced diet is a cookie in each hand.
196- The only love triangle which I want in my life is Pizza.
197- I eat cake every day because someone might be celebrating his birthday somewhere.
198- I need morning coffee to open my eyes, not morning motivation, dude!
199- The only thing I think about while eating is what I'm going to eat next!
200- Beauty will fade when you get old, but your hunger will never fade. So, marry someone who knows how to cook.
201- 'I'm a firm believer that you should never say no to trying new things. Life is too short to eat the same boring foods every day. So I'm always down to try new dishes and restaurants.'
202- 'I'm not a picky eater, but I do have certain dishes that I love more than others. Italian food is my favorite, but I also love Chinese, Thai, and Indian food. What's your favorite cuisine?'
203- 'Food is one of the best things in life. It brings people together, it comforts us when we're down, and it's always there for us when we need it. I'm so grateful for all the delicious food in my life.'
204- 'I love trying new foods from all over the world. It's one of my favorite things to do. And I'm always looking for new restaurants and dishes to try, so if you have any recommendations, please let me know!'
205- 'I firmly believe that you can never have too much of a good thing. That's why I love to eat! And cook…and talk about food. If you can't get enough food either, then we should definitely be friends.'
206- "There's nothing better than a good meal with good friends. I'm always down to try new restaurants and dishes, so hit me up if you're looking for a food buddy!"
207- 'Food is my happy place. Whether I'm cooking it, eating it, or talking about it, I'm in my element.'
208- 'I cook, I eat, I repeat. If you love food as much as I do, then we'll get along just fine.'
209- 'I may not be a great cook, but I make up for it with my enthusiasm! Cooking is my passion, and food is my love language.'
210- 'I'm not a professional chef, but I do love to cook. I believe that if you put good energy into your food, it will taste good.
You have seen 210 Instagram food bio examples so far. But do you want to know more IG food influencers and see more food blog bio examples? Would you like to connect and collaborate with them to take your brand marketing to the next level?
Then you can take advantage of an influencer marketplace like Ainfluencer to meet all your needs.
Ainfluencer- Quality Instagram Influencer Marketplace
Ainfluencer facilitates communication and collaboration between brands and influencers as a middleman.
With Ainfluencer, you can explore influencers using many practical features and an AI-powered search engine that allows you to filter influencers based on location, hashtags, category, gender, language, number of followers, etc.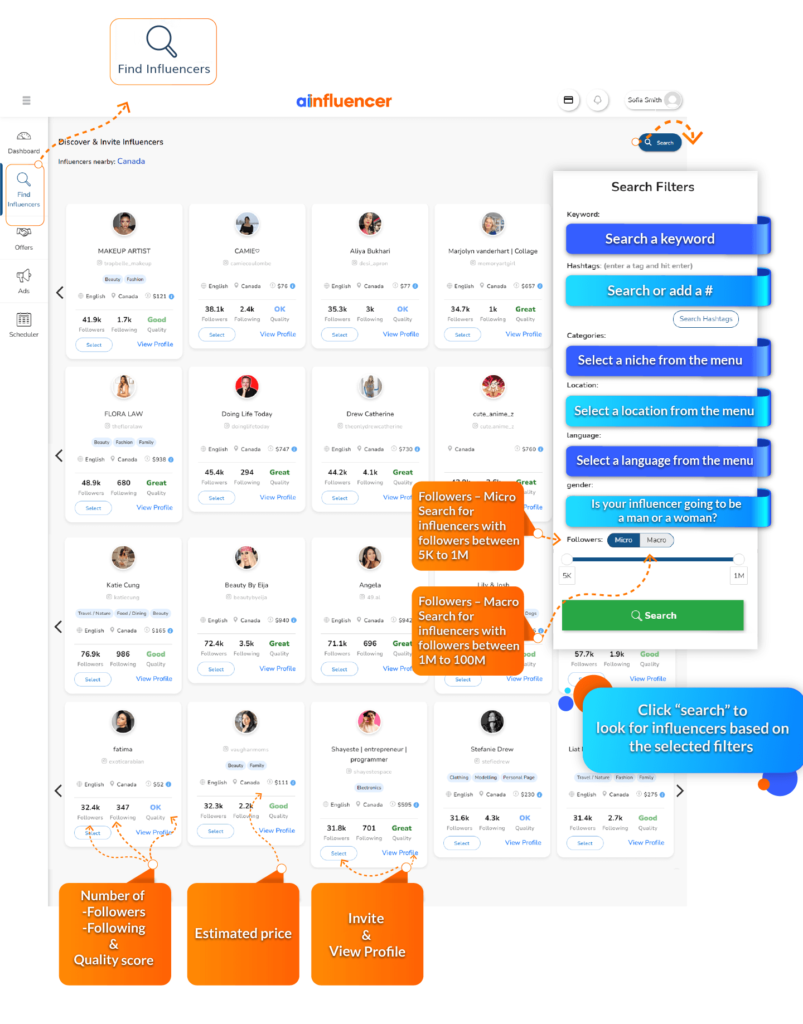 What Should I Put in My Bio On Instagram?
Apart from the foodie bio ideas mentioned in this article, knowing how to create an engaging bio is necessary. With the following tips, you can write a perfect bio for a cooking page. You should note that a great bio should reflect your personality and brand. This is the essential secret of having a proper bio!
Instagram bio is a way for users to contact you. So in this section, you can put your contact information. Moreover, your Instagram bio should cover many things. This may seem difficult given the limited number of characters you can use; however, an attractive Instagram bio for food page should include the following: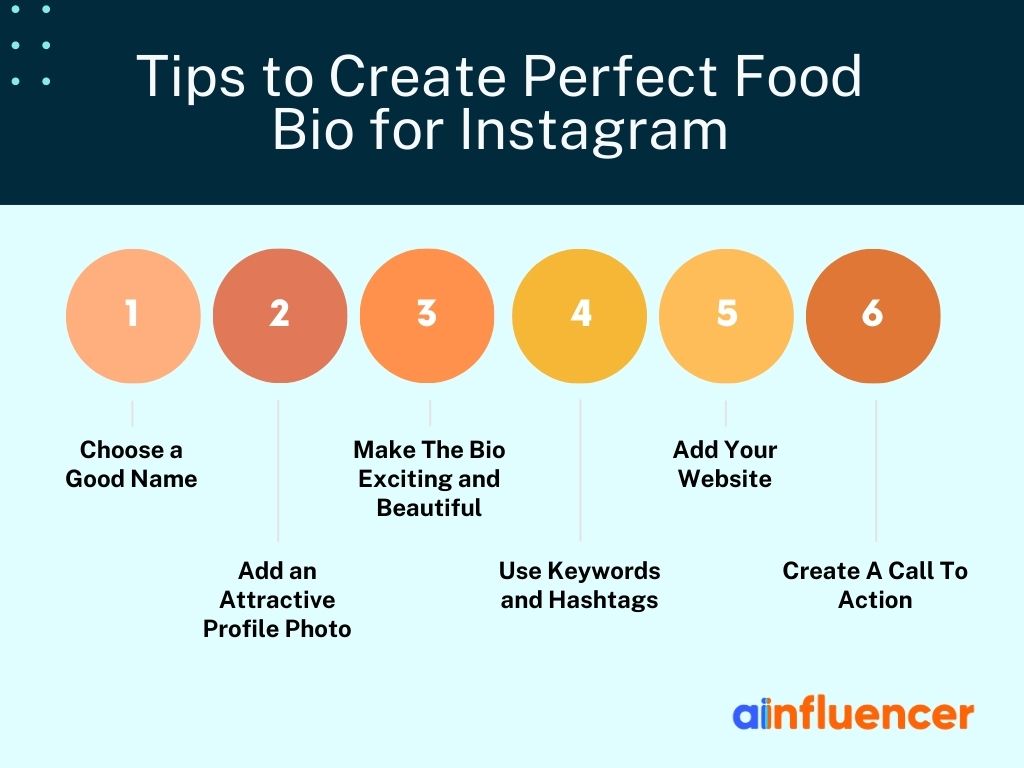 1- Choose A Good Name
The first point is to choose a name carefully to make your Bio attractive. The name you select should be either your name or your Brand name.
You can also use words related to your job and profession to choose a name. As you know, this word is the keyword that Instagram recognizes you with and uses this keyword when you search. Therefore, use words that describe your food niche. For example, if you are a vegan influencer, it is better to mention it in your bio and username to grab the attention of the audience who want to follow this diet.
2- Add an Attractive Profile Photo
The second point is related to choosing your profile photo. If your Instagram page is related to you, try to choose an attractive photo of yourself for your profile photo. In this case, strangers who enter your page will find out that you are exactly who they are looking for. This will make them like your page and follow you.
But suppose the page is related to the activity you do. In that case, you can use the logo related to your business or the logo related to it. To attract and increase followers, you can write a brief description of your work in Bio.
And as a food blogger, it's better to choose a photo of yourself.
3- Make The Bio Exciting And Beautiful
You have to use all your creativity to create an exciting and attractive foodie bio for instagram. That way, when your Bio is friendly and not too formal, more people can connect with it and become your follower page.
Use emojis. A great way to give an interesting and exciting look to your Bio. Interestingly, there are many food-related emojis on Instagram that you can choose from. Furthermore, emojis will not have a limit on the number of characters in words. This allows you to add more information about your activity.
Here are some ways to use emojis to have an attractive Instagram bio:
Try combining a few words with emojis. You can use your creativity in this case.
Use emojis to get the attention of your content. You can also use it as a marker to separate different parts of your text to make it easier to read.
Every emoji you add to your Instagram bio should be relevant to your field of work. For example, fitness influencers add emojis like sneakers, and photographers add a camera icon to their bio.
Using an emoji without accompanying text is not recommended. 
Choose different emojis to have an attractive Instagram bio.
Emojis improve Instagram bio for food bloggers.
4- Use Keywords And Hashtags
Instagram uses keywords in a different way than other social media. Using keywords with hashtags will help you search for what you are looking for better and easier.
Using brand hashtags is an essential technique in having an attractive Instagram bio for a food blogger.
Creating an engaging Instagram page will be much easier when you give your followers the ability to share your content with your affiliate community using your branded hashtag. Creating an attractive Instagram bio using hashtags can help you promote your account and ensure more followers and attract more audience for your brand.  Therefore, you can define your business with one to three hashtags. For example, food bio for Instagram health influencers can have hashtags like #healthyfood #healthylife #healthyrecipes.
5- Add Your Website
There is only one place on Instagram where you can put a direct link to a website, and that place is the bio section. If you have a site, put it in your Instagram Bio. This section helps you to ask users to click on it and thus increase your site traffic.
Note that users do not do something automatically, and you have to ask them! For example, suppose you link a food blog in the Bio and introduce that article from your site in a post. In that case, you must ask users to refer to your Instagram bio and click on that link to enter the site.
Furthermore, if you are available on other platforms, you can create a linktree account and add that link to your bio. This way, your followers on Instagram can find you on other platforms too.
6- Create A Call To Action (Such As Call, Email, And Direct)
Instagram Bio for a food blogger is an excellent place to ask users to do something! This social network has also made it easy for you by adding the Instagram contact button and other action buttons. For example, you can put your email and contact number in these action buttons and ask users to contact you for advice or questions. Email, in particular, is a great way to communicate so that you can keep users' queries and emails forever.
You can also put the address of your restaurant or store on the Instagram business page and ask users to visit it at the specified time.
Conclusion
In conclusion, if you are a food blogger looking for some inspiration for your Instagram bio, then be sure to check out some of the Instagram bios for food bloggers mentioned in this article. Not only are they creative and unique, but they also accurately reflect the personality and brand of each food blogger. So what are you waiting for? Start browsing through these bios and see which one is the perfect fit for you!Furthermore, as a food blogger, you can make money on Instagram and receive marketing offers from top brands.
Accordingly, you can sign up on Ainfluencer and check out brands' campaigns on this marketplace. However, by joining Ainfluencer, you make your Instagram account discoverable to more brands and companies, so you don't need to do anything, create your account and wait for their invitations. Don't forget that this marketplace is completely free for brands and influencers. Thus, give yourself a chance now. 
FAQs
1- How Can I Make My Bio Attractive?
Here are six tips that help you realize what to put in your Instagram bio to create more eye-catching bios.
1- Optimize your Instagram name
2- Highlight what your business does and who is your target audience
3- Use targeted keywords – also known as Instagram SEO – in your bio
4- Put a link in your Instagram bio
5- Add your contact information
6- Get creative with your Instagram bio by using emojis, branded hashtags, and line breaks

2- Who Are the Top Food Bloggers on Instagram?
1- Tieghan Gerard (@halfbakedharvest)
2-  Foodgod (@foodgod)
3- Yumna Jawad (@feelgoodfoodie)
4-  Fumino Kimura (@fuminokimura_official)
5- Minimalist Baker (@minimalistbaker)
6- Skinnytaste Healthy Recipes (@skinnytaste)
7- Smitten Kitchen (@smittenkitchen)
8- Official Whole30® Recipes (@whole30recipes)
9- Rosanna Pansino (@Rosannapansino)
10- Jamie Oliver (@Jamieoliver)

How Long Can an Instagram Bio Be? 
According to the Instagram help center, you can write a bio of up to 150 characters on your Instagram profile, which can be numbers, hashtags, phrases, email addresses, and emojis. However, emojis are not counted as a character, so you are free to use them to make your bio more fun.