As the social media landscape continues to evolve, so does the role of influencers and the use of influencer marketing. Influencers are now playing an active role in promoting brands and products – and startups are taking notice. Influencer marketing for startups is ideal for brands who want to cut through the noise with a low budget and get their product or service in front of the right people.
So, if you're trying to leverage influencer marketing for your startup, get to know influencer marketing for startups' dos and don'ts and learn how to develop a coherent strategy with the right tools.
In this article, we will help you achieve all the data you need for doing influencer marketing for startups. Stay tuned.
What Is Influencer Marketing?
Much of the information about your business, which leads to an effective brand awareness strategy, is picked up by digital word of mouth from the influencers at the heart of your influencer marketing campaigns.
Influencer marketing means partnering with an influencer who is responsible for the promotion of your product or service.
Authenticity and targeting the right audience are two key ingredients for influencer marketing, so the highest returns when doing influencer marketing for startups come from working with the right influencers who can broaden the value of their target audience's lives.
Effective ways of leveraging influencer marketing for startups
Many new businesses have successfully reached and engaged their target audiences thanks to startup influencer marketing. Because of this, other startups are also considering putting more and more emphasis on working with influencers.
Here we have provided you with some of the best influencer marketing for startups' strategies that will help you expand your business. Let's go through each strategy: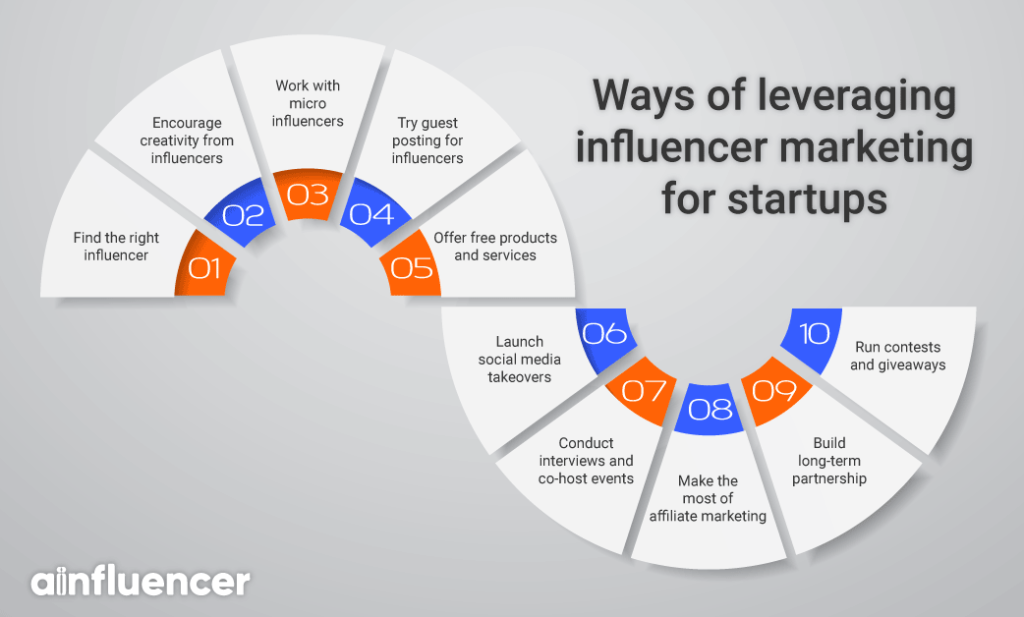 #1 Find the right influencer
The visibility, reach, engagement, and general growth of your business can all be enhanced through startup influencer marketing. In order to do this, you must first find influencers who are best for your particular industry.
There are so many influencer marketplaces, such as Ainfluencer, that can help you with this. Ainfluencer is a DIY Instagram influencer DIY marketplace and influencer management company that helps brands do influencer marketing for startups all by themselves.
In the following, you will see how to build your influencer marketing startups' strategy on Ainfluencer.
1. Determine Who Your Target Audience Is
The first step in doing influencer marketing for startups is pretty much the same as waging any other campaign – define your target audience.
This step is the very essence of creating the right content and learning more about the demographics of your prospective influencer.
The following shows the distribution of Instagram influencer marketing by different target audiences according to The Influencer Marketing Hub.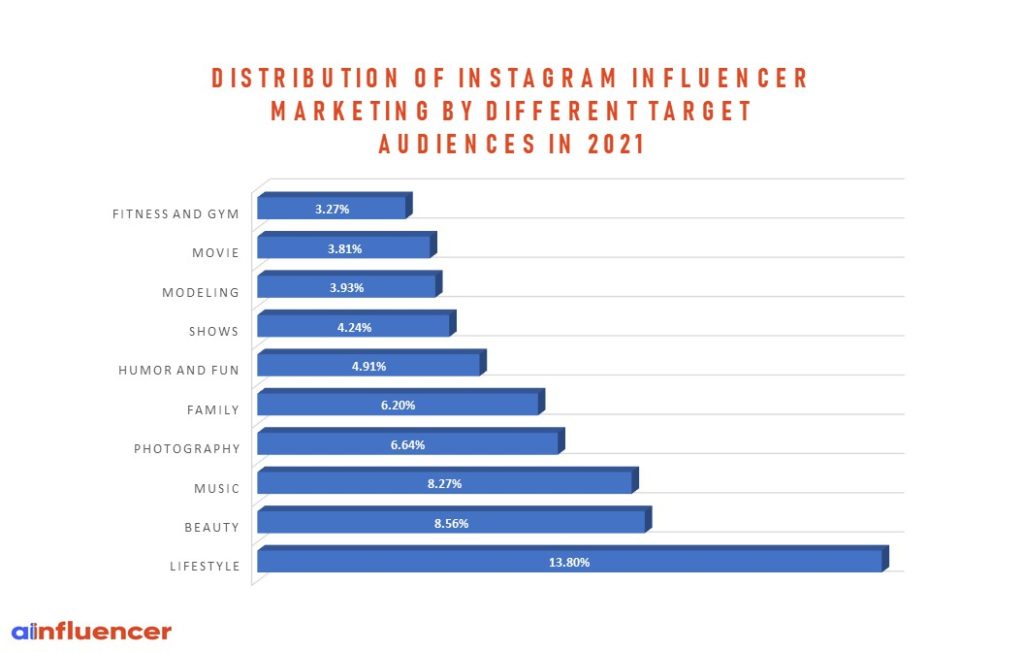 2. Join Ainfluencer Instagram Influencer Marketplace
The next step to adopting Instagram influencer marketing for startups is to join Ainfluencer so that you can create campaigns, access one of the greatest influencer databases, build your startup influencer marketing strategy, etc.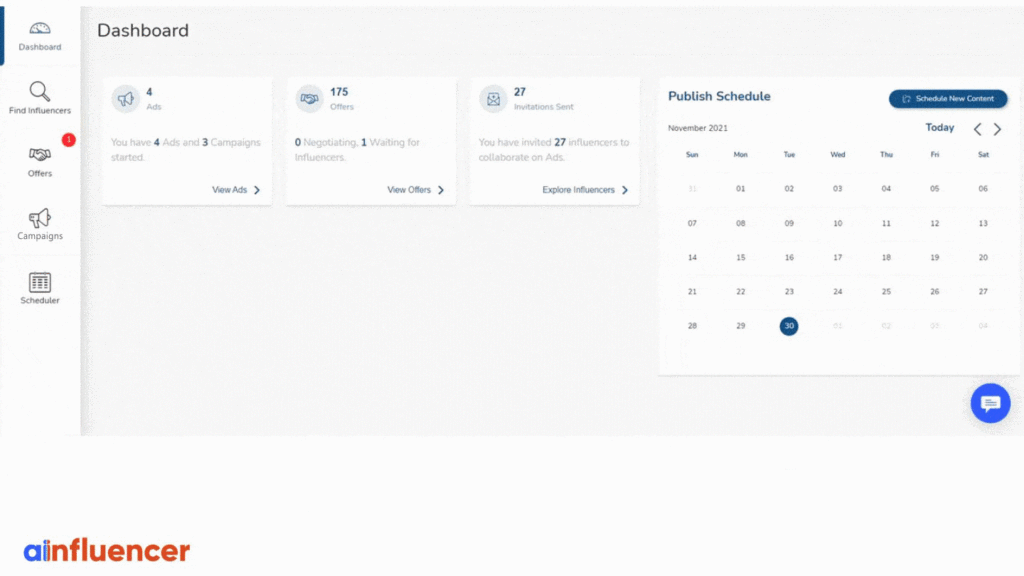 3. Set Your Startup Influencer Marketing Goals
As soon as you join Ainfluencer, you will have access to tabs that lead you towards a step-by-step process of creating your influencer marketing startup campaigns, which the first is setting your goal.
4. Work Out Your Marketplace Details
Based on the goals and objectives you have selected, you should either start creating your campaign or describe its details so your influencer will be able to create the campaign exactly as you expect it. You also need to decide your post type (Feed Posts, Stories, IGTV, or Reels).
5. Define Your Publish Terms
This is very important for you and your influencer to know the details of your terms and requirements. So, in this step, you should define the publish conditions for your startup influencer marketing, including campaign publication date, time Span, and bio.
6. Look For The Right Influencer
Ainfluencer AI-powered search engine lets you use custom search filters such as hashtags, keywords, niche, location, language, gender, number of followers, etc., to find the ideal influencer who can help you make the most of your influencer marketing for startups' campaigns.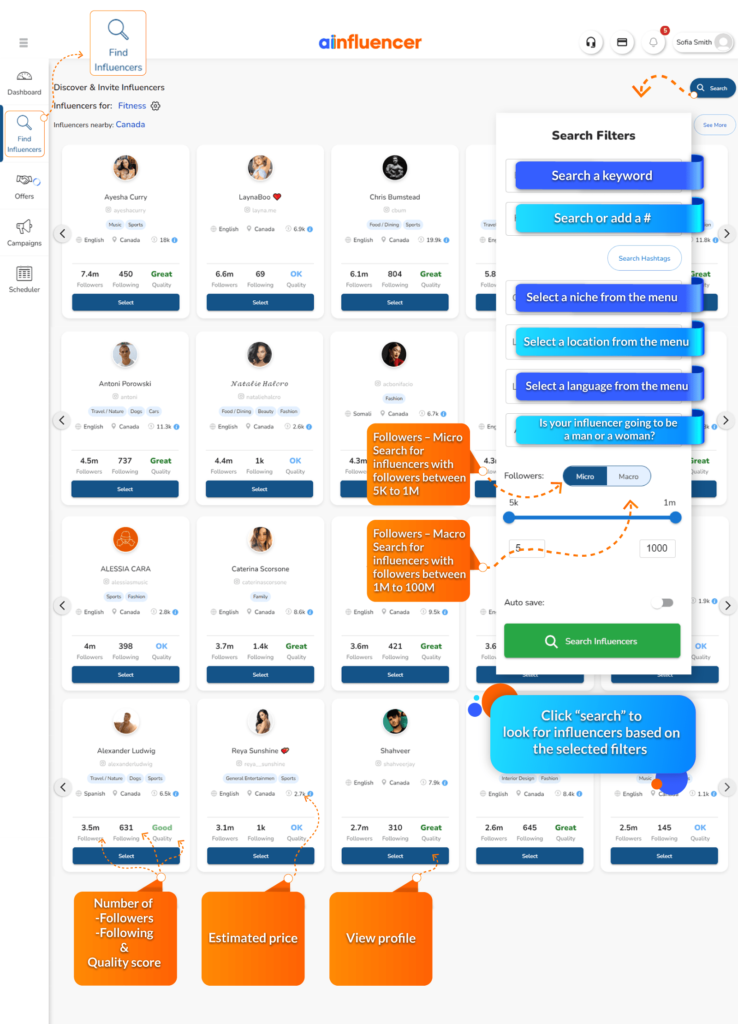 7. Negotiate With Influencers
There are two ways you may initiate a conversation with an influencer.
You have invited them to your influencer marketing for startups.
They have found your marketing campaigns for startups by themselves and have shown an interest in collaborating with you.
In both cases, you will be provided with an in-app chat box to negotiate your terms. Here are some Ainfluencer features that help you better define your budget and offers.
Instagram Influencer Calculator: Viewing an influencer's profile on Ainfluencer offers a great set of data to estimate an influencer's engagement rate, Q-Score, and estimated price.
Data Analytics tools: Other metrics, including average likes per post, average comments per post, the ratio of likes to followers, and comments to followers, also give you an insight into the influencer's activity.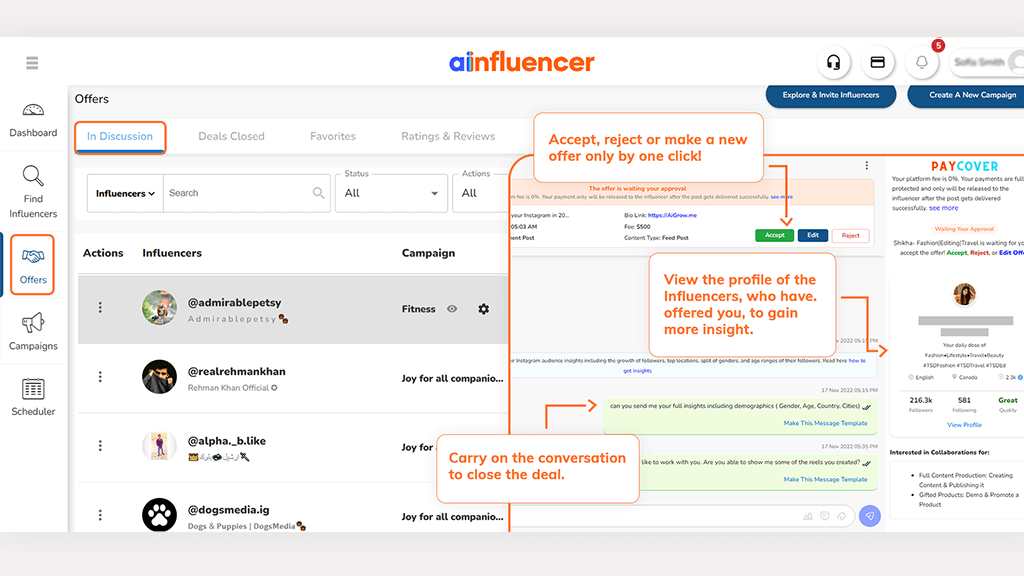 #2 Encourage creativity from influencers
You should provide influencers creative freedom in order to get the best outcomes from your influencer marketing for startups campaigns. They have a special ability to include brands perfectly in their posts.
That said, brands should establish guidelines prior to the relationship. The more information an influencer has, the more creative ways they can employ to naturally include brands in their campaigns.
#3 Work with micro influencers
Influencer marketing for startups won't be complete if you don't work with micro influencers. Startups and micro-influencers are a good pair.
Micro influencers have small but engaged followings. They are often seen as more trustworthy than celebrities or macro influencers because they have fewer sponsors, and their content feels more authentic.
Due to the size of their audience, these influencers build personal connections with their followers. They have more control over their audience because it is much easier to interact with a small group of people than a large one.
#4 Try guest posting for influencers
Influential bloggers are constantly searching for new content to engage their followers. Some might also accept guest posts because it's not always simple to regularly produce new, high-quality content.
You might approach these influencers as a startup and offer to write for them. It helps you build a personal connection with the influencer and launch successful campaigns of influencer marketing for startups to tap into their networks.
#5 Offer free products and services
Influencer marketing for startups might be challenging because, in most cases, startups have tight budgets. They often look for cost-effective ways to market their products and services.
If you are unable to pay your influencers, search for those who will accept free products instead. Influencers can receive free products or samples in exchange for their reviews and recommendations.
#6 Launch social media takeovers
You know that social media is a powerful tool to reach new customers. But what if you could take your social media presence to the next level? Influencers temporarily "take over" a brand's social media accounts by posting, commenting, and sharing on the business's behalf. By doing this, they attract new audiences and increase brand awareness and reach.
Influencer marketing for startups would be taken to the next level by launching social media takeovers.
#7 Conduct interviews and co-host events
Influencer marketing for startups will be promoted by inviting influencers to company events and product launches. Brands can also interview influencers – or vice versa – to increase reach.
Either the influencer or the brand can talk about their experiences and share the news with their followers to draw their attention and get new audiences.
#8 Make the most of affiliate marketing
Affiliate marketing is a startup influencer marketing tactic that can help turn everyday consumers into brand representatives. With affiliate programs, brand ambassadors (influencers) use a special promotion code for advertising startups' products or services on their platforms.
The influencer will receive a commission after a promotion code is utilized on the brand's website, and the brand will receive a sale. It's a win-win situation.
#9 Build long-term partnership
Long-term partnerships can develop from solid relationships with influencers in marketing. Brands can connect with influencers and work with them for a long time, typically a year or more, whether as partnerships or brand ambassadors.
Both the influencer and the brand profit from this. Brands can rely on an influencer to support them, and influencers will have a consistent and dependable partnership to rely on. The relationship must be based on earlier interactions and mutual trust because these influencers serve as the brand's "face."
#10 Run contests and giveaways
Another great strategy when doing influencer marketing startups is to run contests and giveaways. Ask your influencer to post your giveaway design on their account. This gets people talking about your brand and also brings the influencers' promotion posts more interaction.
Make sure that the prizes you offer are high quality and relevant to your target audience. You want to make sure that people are actually interested in what you're giving away.
Also, promote the contest or giveaway heavily on social media and other channels. The more people know about it, the better your chance of getting great results.
What Are The Benefits Of Influencer Marketing For Startups?
As the digital world continues to grow, so does the importance of influencer marketing. For startups, working with influencers can be a great way to get their brand out there and grow their customer base. Here are the benefits of influencer marketing for startups: 
Increase brand awareness on different social media platforms.
Get high-quality, diversified, and aesthetically pleasing content for their audience.
Build brand trust and authenticity.
Amplify their SEO efforts.
Rise in click-through rate (CTR).
Open streams of user-generated content (UGC).
Conclusion
Influencer marketing for startups is an effective way to generate awareness and acquire new customers. It can be a relatively low-cost way to reach a large audience, and the return on investment (ROI) can be high.
However, it's important to choose the right influencers and create compelling content that resonates with their audience. If you're ready to give influencer marketing a try, click the button below to join Ainfluencer.
1- How do I set up influencer marketing?
To set up influencer marketing follow this guide: 
– Determine who your target audience is
– Set goals
– Estimate your budget and the price of offers
– Find the right influencer
– Create your campaign
– Analyze your influencer marketing performance
Also, you can join Ainfluencer to use its database and set up your campaign step by step yourself. 

2- What are some of the key benefits of influencer marketing for startups?
– Quickly Builds Trust.
– Improves Brand Awareness and reach.
– Increases brand engagement strategy. 
– Enriches Your Content Strategy. 
– Builds up value and a closer relationship with your audience.