As a startup, you may be looking for ways to cut through the noise and get your product or service in front of the right people.
One of the best ways to do this is knowing influencer marketing for startups' dos and don'ts. You should also know how to develop a coherent strategy with the right tools.
The Ainfluencer Instagram influencer marketing is the best tool you can get your hands on free of charge with the most practical features that help create your campaign step by step. In this blog, you will learn everything you need to know about influencer marketing for startups and how to develop your campaign on Ainfluencer.
What Is Influencer Marketing?
Much of the information about your business, which leads to an effective brand awareness strategy, is picked up by digital word of mouth from the influencers at the heart of your influencer marketing campaign.
Influencer marketing means partnering with an influencer who is responsible for the promotion of your product or service.
Authenticity and targeting the right audience are two key ingredients for influencer marketing, so the highest returns come from working with the right influencers who are perfectly capable of broadening the value of their target audience's lives.
What Are the Benefits of Influencer Marketing for Startups?
Influencer marketing campaigns for startups generate sales, brand awareness, and web traffic thanks to the size of the influencers' audience.
Influencers are, after all, skilled creatives. They've piqued the interest of large groups of people on Instagram, and those people appreciate the influencer's point of view and recommendations.
Here is how top influencer platforms help you do the lion's share of the work yourself by setting goals considering your budget and requirements. After that, all you need to do is find influencers in accordance with your goals.
Different Types of Influencers
There are different types of influencers who have taken over social media in many different areas. However, to develop influencer marketing for startups, you should at least know 5 categories so you can look for the right one.
1. Brand Ambassadors
A brand ambassador can refer to a wide range of influencers representing your brand, product, service, or event.
The number of brands looking for brand ambassadors to run their startup influencer marketing is increasing thanks to ambassadors' commitment to brands.
They are both influencers and real fans at the same time who offer longer collaborations with multiple posts during your campaign and tend not to work with other brands while running your campaign.
2. Nano Influencers
Influencer marketing for small businesses and marketing for startup businesses require that you find nano influencers (influencers with 1K to 10K followers) who have the highest engagement rate.
3. Micro Influencers
Micro influencers with up to 100K followers are also a good choice when it comes to influencer marketing for startups. Despite their larger audience compared to nano influencers, you can still expect a fairly high engagement rate and affordable price.
4. Macro Influencers
Instagram influencer marketing for startup businesses that don't have to opt for stretching their budget may prefer influencers who border on celebrities.
Although macro influencers' engagement rates may not be so high as influencers with fewer followers, they most certainly give several audience segments a buzz at once for the startup influencer marketing they are invited to.
5. Mega Influencers
Superstar influencers, sports stars, celebrities, Love Island royalty, and the A-listers of Instagram are the most expensive influencers who can partner in influencer marketing for startups that put reach before their brand engagement strategy.
Ainfluencer Instagram Influencer Marketing
Top influencer marketing tools can help you make the most of marketing for startup businesses by setting the right goals, finding the right influencers, and analyzing what is working and not working in your influencer marketing for startups.
Ainfluencer is one of the most successful DIY Instagram influencer marketing platforms and influencer management companies that helps you do your startup influencer marketing yourself.
10 Steps to Your Instagram Influencer Marketing for Startups on Ainfluencer
With influencer marketing having the size of billions of dollars now, you need top influencer platforms to develop and run your influencer marketing for startups more than ever.
In the following, you will see how to build your startup influencer marketing strategy on Ainfluencer.
1. Determine Who Your Target Audience Is
The first step to influencer marketing for startups is pretty much the same as waging any other campaign – define your target audience.
This step is the very essence of creating the right content and learning more about the demographics of your prospective influencer.
The following shows the distribution of Instagram influencer marketing by different target audiences according to The Influencer Marketing Hub.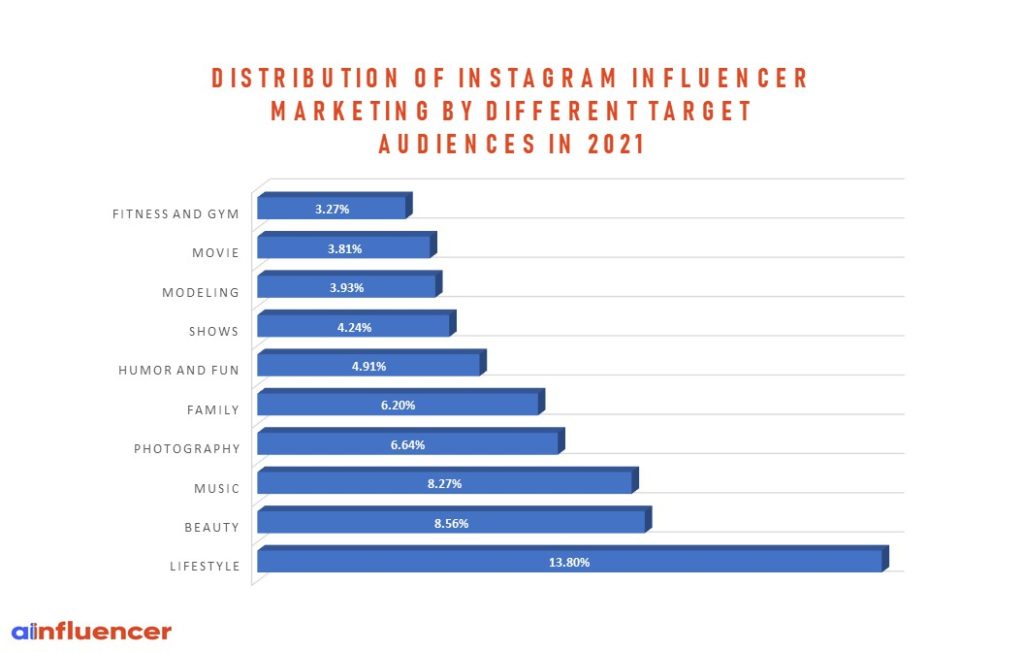 2. Join Ainfluencer Instagram Influencer Marketing
The next step to adopting Instagram influencer marketing for startups is to join Ainfluencer so you can:
Access one of the greatest influencer databases
Build your startup influencer marketing strategy
Schedule your campaign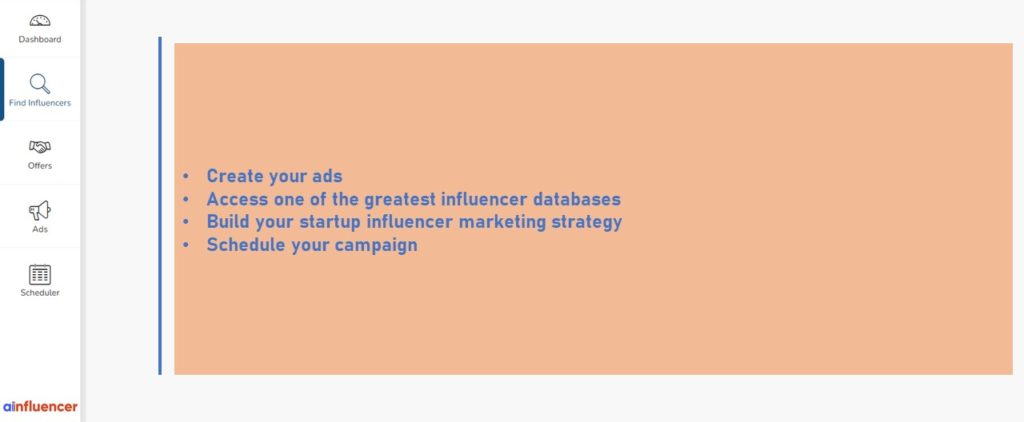 Click the button below to join Ainfluencer.
3. Set Your Startup Influencer Marketing Goals
As soon as you join Ainfluencer, you will have access to 5 tabs that lead you towards a step-by-step process of creating your marketing campaigns for startups.
Not surprisingly, the first thing to do is create your first campaign.
So, go to "Ads" and select your goals.
Remember that every campaign needs to have specific goals in order to be able to assess how successful your campaign has worked in the end.
Here are the primary goals you can expect to achieve on Ainfluencer.
Get Influencers to create content and promote it on their Instagram.
Have influencers demo and promote your product on their Instagram.
Publish your existing content & promotional ads on their Instagram.
Barter products in exchange for promoting your products or services.
Select one of them, some of them, or just all.
4. Work Out Your Marketplace Details
Based on the goals and objectives you have selected, you should either start creating your ad or describe its details so your influencer will be able to create the ad exactly as you expect it.
Also, you should decide your post type (Feed Posts, Stories, IGTV, or Reels).
5. Define Your Publish Terms
This is very important for you and your influencer to know the details of your terms and requirements. So, in this step, you should define the publish conditions for your startup influencer marketing, including:
Ad publication date: Decide if you want influencers to be able to post at certain times or whether you want the content to be published over a certain period of time.
Time Span: To choose how long your ad will remain on the influencers' page, select one of the choices – negotiate, permanent, or set a particular date.
Bio ad: Select "Yes" and paste your URL into the box that appears if you wish to include a link in the influencer's bio.
6. Look for the Right Influencer
Hopefully, you've nailed down the majority of your ideal influencer profile by now. Use your list to set your search filter on Ainfluener.
Hashtags
Keywords
Niche
Location
Language
Gender
Number of followers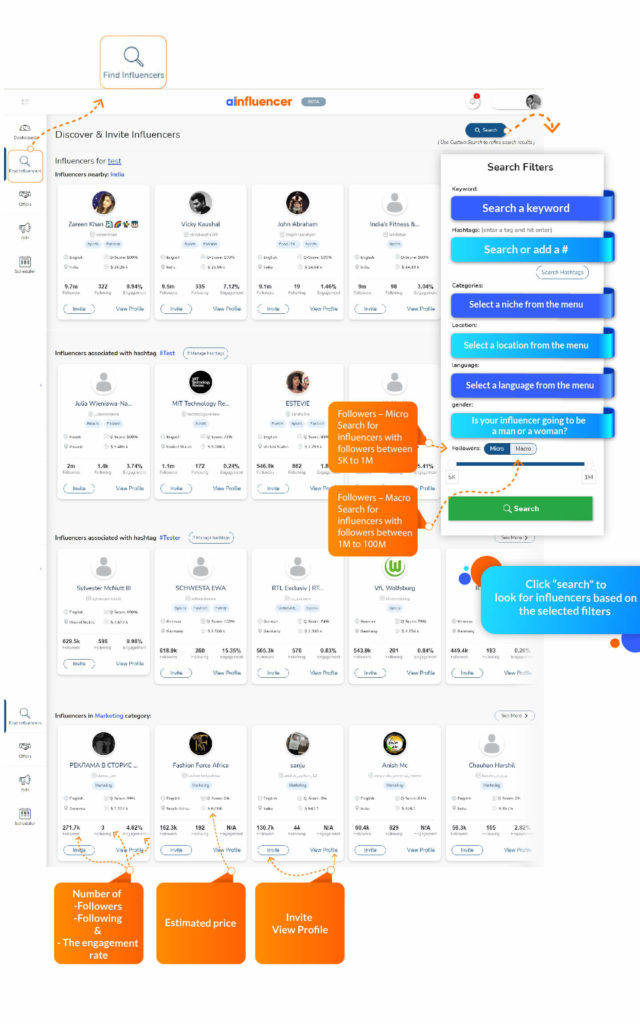 7. Negotiate with influencers
There are 2 ways you may initiate a conversation with an influencer.
You have invited them to your influencer marketing for startups.
They have found your marketing campaigns for startups by themselves and shown an interest in collaboration with you.
In both cases, you will be provided with an in-app chatbox to negotiate your terms. Here are some Ainfluencer features that help you better define your budget and offers.
Instagram Influencer Calculator: Viewing an influencer's profile on Ainfluencer offers a great set of data to estimate an influencer engagement rate, Q-Score, and the estimated price.
Data Analytics tools: Other metrics, including average likes per post, average comments per post, the ratio of likes to followers, and comments to followers, also give you an insight into the influencer's activity.
8. Make a record of pre-campaign statistics
Record all of your current data (number of followers, website traffic, number of weekly sales, etc.) before you start a campaign so you know where you started.
Also, set up tracking links or unique discount codes for each influencer so you can see which ones got you the most traffic.
9. Check your scheduler
Your influencer marketing for startups is all scheduled on your calendar in the Ainfluencer's scheduler tab. Make sure to check their status – pending, published, or failed – and remember that Ainfluencer won't release the money you paid to the influencers until they have fully met the requirements in their contract.
10. Wrap it up
Thank your partners and request metrics from them after your campaign is completed. Hopefully, you've gathered some long-term partnership opportunities and raised awareness of your brand's mood.
Conclusion
Influencer marketing for startups is an effective way to generate awareness and acquire new customers. It can be a relatively low-cost way to reach a large audience, and the return on investment (ROI) can be high.
However, it's important to choose the right influencers and create compelling content that resonates with their audience. If you're ready to give influencer marketing a try, click the button below to join Ainfluencer.
How do I set up influencer marketing?
To set up influencer marketing follow this guide: 
– Determine who your target audience is
– Set goals
– Estimate your budget and the price of offers
– Find the right influencer
– Create your campaign
– Analyze your influencer marketing performance
Also, you can join Ainfluencer to use its database and set up your campaign step by step yourself. 

What are some of the key benefits of influencer marketing for startups?
– Quickly Builds Trust.
– Improves Brand Awareness and reach.
– Increases brand engagement strategy. 
– Enriches Your Content Strategy. 
– Builds up value and a closer relationship with your audience.