Smart marketers are turning to influencer marketing as a critical part of their social strategies. Actually, Influencer marketing enables brands to increase brand awareness, build trust, and market to large, relevant audiences.
A huge number of people research and make purchasing decisions on social media, people use Instagram to decide whether to buy a product or service. In This article, you'll learn more about influencer marketing strategies, examples, tips, and trends to follow in 2022.
But first, let's see what is the definition of influencer marketing.
What is influencer marketing?
Influencer marketing is a marketing strategy that leverages the power of influencers to help generate brand awareness, product sales, and customer loyalty. These influencers are often social media celebrities and bloggers who can affect buying decisions due to their large following, good content, authenticity, and credibility with their audience.
With the rise of social media, Social media influencer marketing became so popular. The idea behind influencer marketing is that people are more likely to purchase products if they are endorsed by someone they trust, which is why influencer advertising has become one of the most powerful advertising tools for companies.
Among all social media channels, Instagram influencer marketing is growing so fast. that's because Instagram leads the way when it comes to engagement rates. Instagram's median engagement rate – which is 1.6%, is 17x higher than Facebook posts and also 33x more than a Tweet.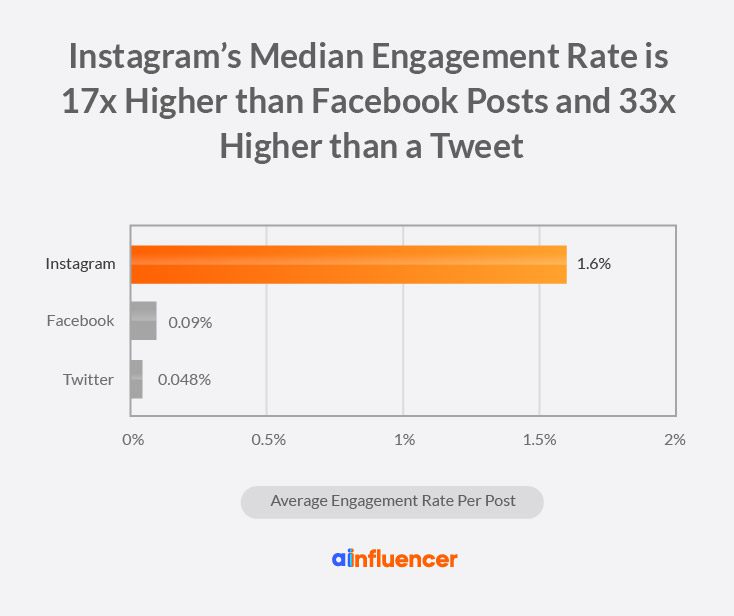 Also, 83% of consumers claim that they use Instagram to discover new products or services. 81% use the platform to research products and brands, and 80% of people claim that they use Instagram to make final purchasing decisions.

Since social media influencer marketing is so powerful, you need an influencer marketing strategy. To take your influencer marketing to the next level, you'd better find answers to the following questions:
How do you build a successful influencer marketing strategy to grow your business?
Should you target celebrities or micro influencers?
How do you find these influencers?
How to build an influencer marketing strategy
Now that you know what influencer marketing is and how popular it is, you need to implement some strategies to make the most of your influencer marketing campaigns. Here are some effective influencer marketing strategies:
Influencer marketing strategy #1: find influencers in your niche
Once you determine the type of influencer you want to work with, start researching for an influencer that best fits your niche.
Every marketer is trying to expand their reach, engage more people, and drive more sales. If you are a marketer, you should consider that millions of Instagram users are checking out official Business Profiles per day.
So finding an influencer that matches your business goals can be game-changing.
The benefits of Influencer marketing platforms
The benefit of using influencer marketing platforms is that much of the work is already done for you. Influencer marketing companies provide searchable databases of qualified influencers to help you as a brand find a perfect match for your influencer collaboration campaign.
Ainfluencer is your solution to Instagram influencer marketing. It helps brands and Influencers connect and collaborate. Its AI-powered search engine lets brands explore thousands of influencers and filter their search based on language, engagement rate, follower count, hashtags, etc.
You can streamline your campaign workflow, get real-time analytics, and measure the ROI of your campaign with this smart influencer marketing hub.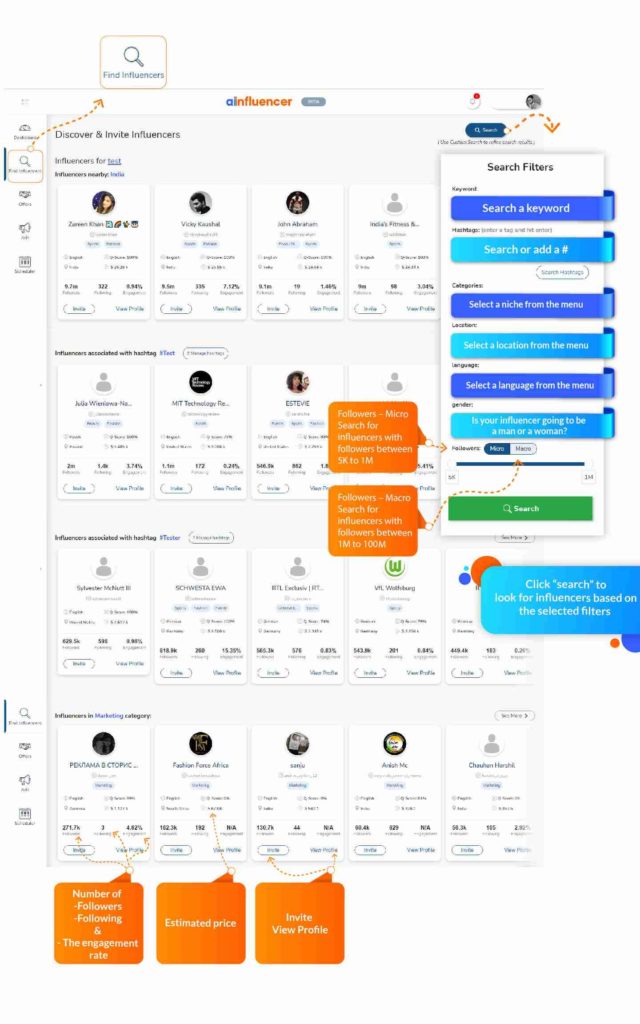 Check out this video to find out more about this influencer marketing hub:
Influencer marketing strategy #2: Define your goal
In order to execute successful influencer marketing campaigns, it is important to outline your goals in the early stages of planning your collaboration with influencers.
Being clear on your desired outcome will dictate your influencer advertising campaign, the kind of content you should create for effective influencer collaboration, and more importantly, the metrics you are going to measure at the end of your campaign.
Here are some goals to consider for your influencer marketing strategy:
Brand Awareness
Building Brand Identity
Audience Building
Engagement
Lead Generation
Sales
Customer Loyalty
Link Building
Influencer marketing strategy #3: Choose the social media platforms for your Influencer advertising campaign
When you're planning your social media influencer marketing campaign, ask yourself: What are your target customer's expectations with each social media service? Which platform matches their needs?
Most popular influencers integrate content across different channels like Instagram, Youtube, TikTok, Twitter, and more. Each platform is suited to different formats, approaches, goals, and audiences.
According to Mediakix's survey, the top five most strategically important social media channels for influencer marketing are Instagram, YouTube, Facebook, Blogs, and Twitter.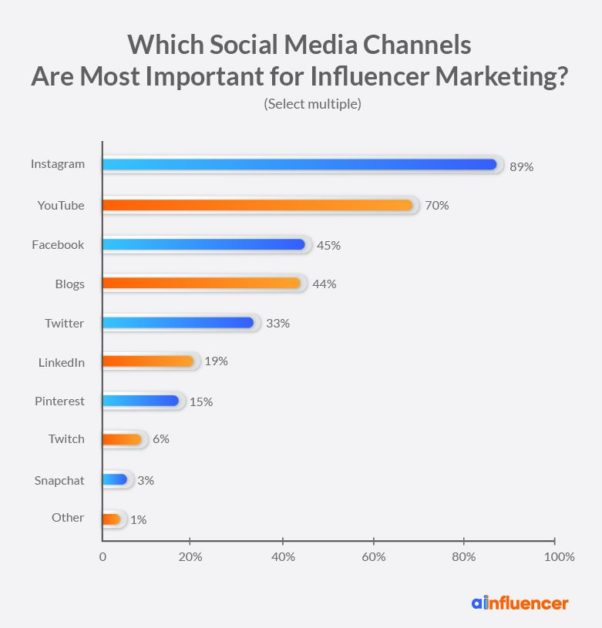 If you want to focus on one platform, Instagram is the obvious choice. Instagram influencer marketing is becoming more and more popular because of images, stories, and also shopping feature that makes it easier for users to purchase products.
Influencer marketing strategy #4: Know your target audience
Spend time outlining specific details about who you want to connect with through your influencer advertising campaign before looking for the influencers.
Create a buyer persona that includes both demographic and psychographic segmentation. Once you know your audience, it will be easier to identify the top people they follow and the websites they use.
Influencer marketing strategy #5: Set a budget and management strategy
Great! Now you know so much about planning an influencer marketing campaign, A successful influencer marketing campaign is not a set-it-and-go type of strategy. Careful monitoring and follow-up are necessary.
you need to define your budget strategy. If it's your first time running an influencer marketing campaign, start with a small budget so that you can figure out what works for your brand and what doesn't.
Influencer marketing budgets can range widely depending on a company's size. According to a survey, the most commonly cited 2019 influencer marketing budget is between $1,000 – 10,000 per year, followed by $100,000 – 500,000 per annum.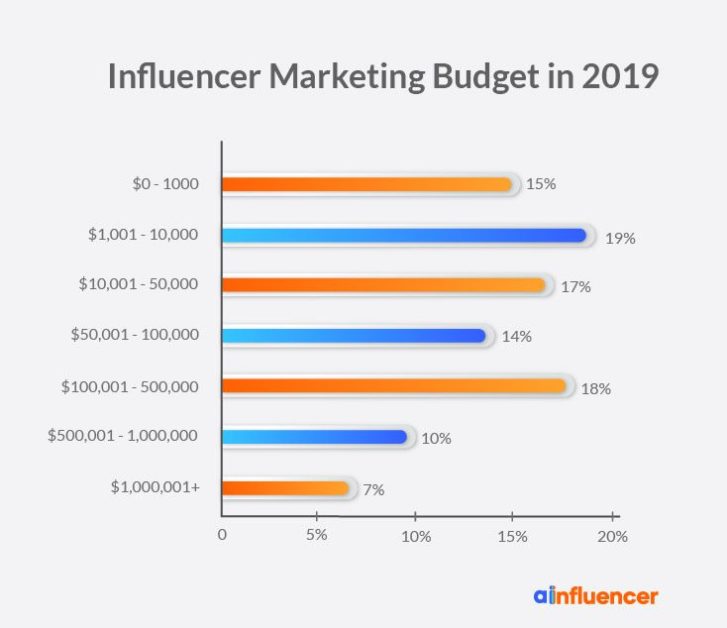 Influencer marketing strategy #6: Know your competitors
To come up with an impactful influencer marketing strategy, it is necessary to know what your competitors are doing. Analyze the platforms they are active on and what kind of content is working for them.
Know if they are getting appropriate audience reactions and feedback from their social media influencer marketing campaigns. Take cues from the mistakes they are making and avoid them in your content plan.
But keep in mind that with copying someone else's approach to influencer marketing, you can't always get the same results. In some cases, it could even harm your overall image as a brand on social media.
Influencer marketing strategy #7: Decide the content strategy of your campaign
Every social media platform allows you to present content in unique ways. Creating a content strategy depends on the social media platform you choose.
In the picture below, you can see what content works best and can be more effective in your campaign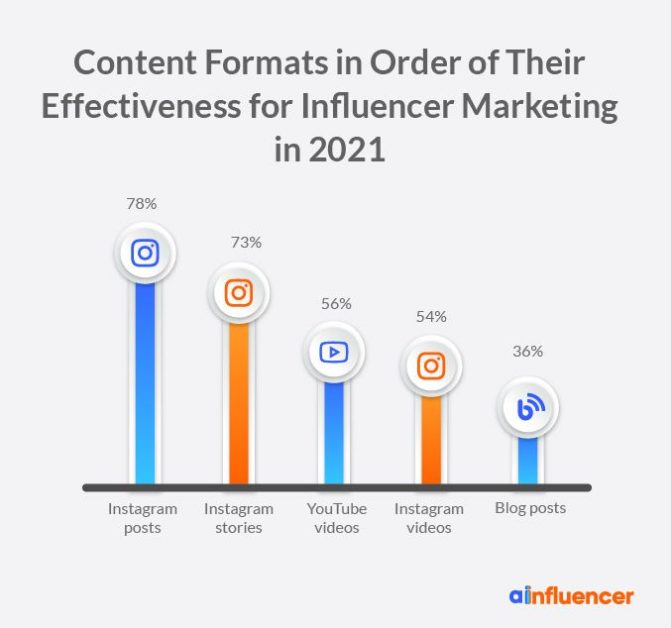 There are many different content strategies you can opt to meet your brand objectives like:
Hosting giveaways
Guest blogs
Online contests
Giving discount codes
Creating content in collaboration with influencers
Curating video strategies
Brand account takeover by influencers
Video is an extremely effective and engaging way to communicate valuable information with users via a captivating style of diverse personalities who eloquently convey the message in short bursts.
However, creating a video that goes on and on about how awesome your product or service is won't be of much use. Instead, you need to develop an interesting narrative around your brand to grab the attention of your target audience.
63% of consumers trust influencer messaging more than brand messaging
to solve their problems. You need to trust the influencer you work with in order to publish the content that his/her audience finds best.
Influencer marketing strategy #8: Measure the performance of your Influencer campaigns
When you complete an influencer marketing campaign, you may feel like everything is done. But just getting an influencer to promote your content or messaging isn't a sign of success.
Real success is determined by if you've reached your influencer marketing goals.
To find out if you've reached your campaign goals, track and measure your results. Use metrics to measure your success depending on the initial marketing objectives you set for the campaign.
By tracking your ROI, you'll know what is and is not working so that you can tweak your strategy and change your budget in the future.
Influencer marketing examples
Here are some examples of influencer marketing collaborations on different social media networks that can be helpful to your influencer campaigns.
1. HelloFresh
HelloFresh with its bright-green box, delightful pre-packaged ingredients, and tasty finished meals is a great fit for Instagram influencer marketing.
Also, Instagram micro influencers with genres holding a range of different fields are what HelloFresh uses the most for its influencer marketing strategy.
The brand partners with thousands of such micro influencers to promote its products within its target audience. So you are likely to see the #hellofreshpartner hashtag as you scroll your Instagram timeline.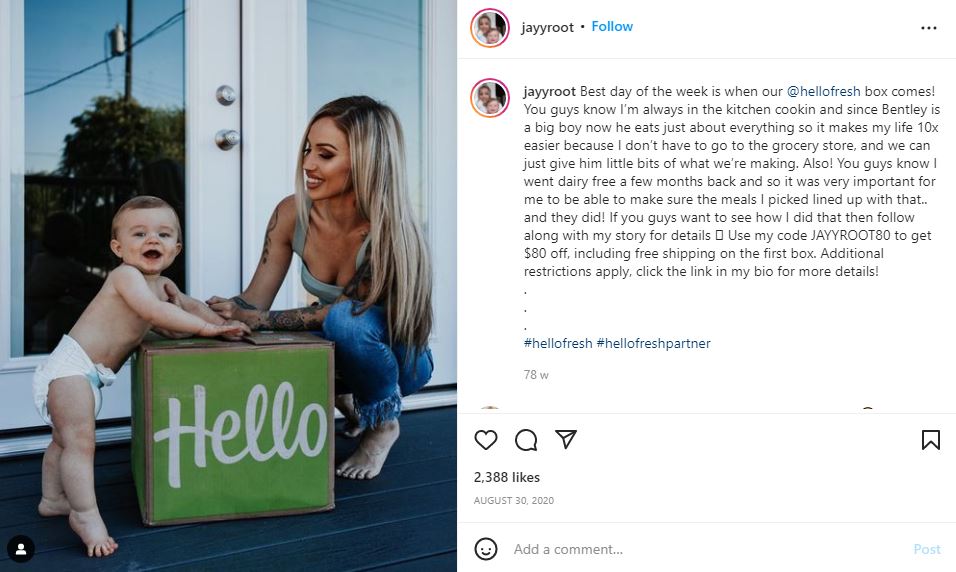 2. Guess
In September 2018, lifestyle and denim brand, Guess launched a code challenge based around hashtag #InMyDenim. This included a takeover ad, where users who opened the app were directed to the sponsored #InMyDenim challenge.
They launched their hashtag challenge by working with influencers who uploaded their look transformation videos. Once fans saw these videos in the influencers' profiles, the hashtag got viral since they started making and sharing their own transformation videos, using the #InMyDenim hashtag.
3. Sony Playstation
When PlayStation released the new PS5, the brand collaborated with Justine Ezarik (iJustine), a tech, travel, and gaming influencer on YouTube, for the following video.
Often, brands will send influencers free products in exchange for unboxing videos and/or honest reviews on their platforms.
Justine's channel was the best choice to promote this new product since her channel is focused on gaming and her subscribers fit PlayStation's target audience.
In the video, she comments on the product's futuristic look and lightweight controllers while adding B-roll footage for close-up shots of the PS5.
4. Daniel Wellington
When it comes to expensive influencer advertising, this Swedish brand that offers high-end watches and accessories can afford it.
However, this time they thought of a clever workaround and used the power of social media to the fullest. For their worldwide campaign, they chose celebrities and lifestyle influencers of all sizes. The content creators published sponsored posts offering a 15% discount.
As you can see, a very simple idea can sometimes give the best results. There are currently over 2 million posts tagged #danielwellington. Moreover, the brand's Instagram profile gained over 3 million subscribers from social media influencer marketing. But the campaign is still going and the numbers change rapidly!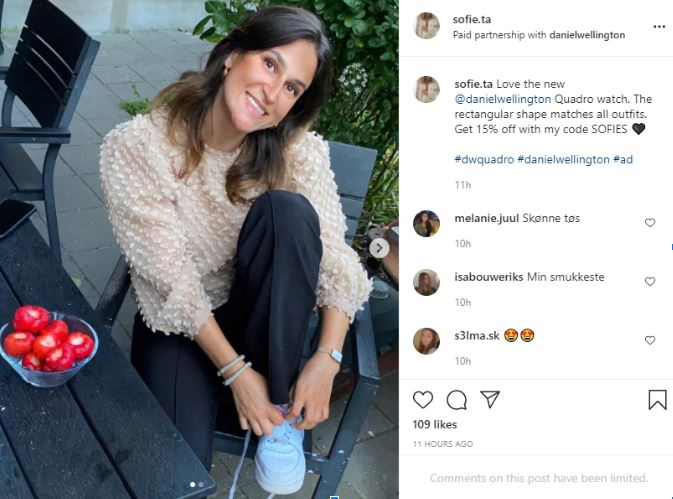 5. EOS
In the latest EOS lip balm influencer marketing campaign, the brand features six new additions to their Flavor Lab lip balm line. A total of 19 influencers were involved in the creation of the new flavors, with many more involved in the wider influencer campaign.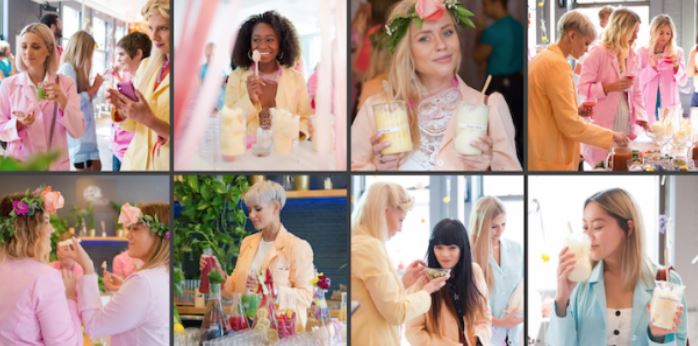 Benefits of influencer marketing
Influencer marketing is becoming more of a trend in the advertising industry. There are many benefits to influencer collaboration for your advertisements. Some influencer marketing benefits are outlined below.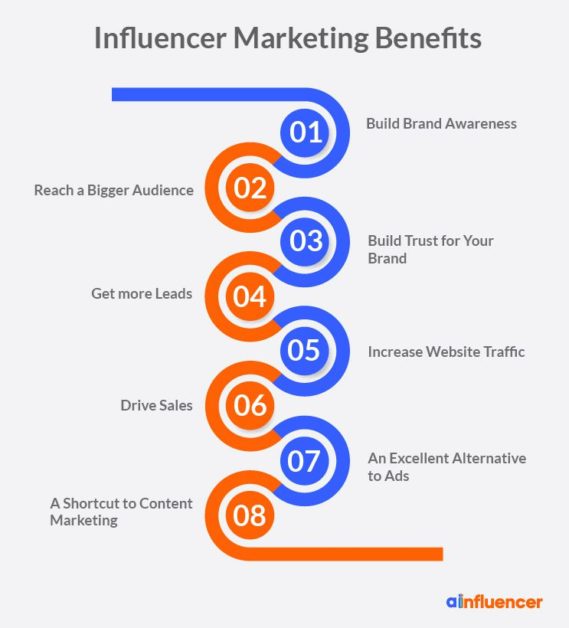 1. Build Brand Awareness
When you partner with established industry influencers, you can shorten the process of building awareness for your brand. It's no surprise that most marketers promote content with the help of influencers, particularly those who have a loyal following of hundreds of thousands of people.
Increased exposure is the most commonly cited advantage of social media influencer marketing. With billions of active users on different social platforms, you can gain more traffic, lead generation, and growing fan loyalty. Facebook, Instagram, and LinkedIn are the top three most used social platforms among global marketers.
2. Reach a bigger audience
With the rise of social media popularity, more and more consumers make a purchase decision based on an influencer's recommendation. It's hard to ignore the power of these unofficial brand ambassadors
Once you find the right influencer, you can get your message across. With the help of influencer marketing tools, brands can also measure influencer marketing performance and the influencer's post when it comes to conversions or leads. All of this isn't possible with traditional marketing mediums!
3. Build trust for your brand
Influencer marketing definition is no longer vague to the people. Many are searching for how to become an influencer to get on top of the social media game.
With their posts and comments, brand influencers build long-lasting relationships with their followers. These followers trust them and see them as credible sources of information. This is where influencer marketing managers use influencers to build trust for their brand because the trust that the followers have in the influencers ultimately reaches the brand.
4. Get more leads
Influencer advertising to reinforce your customer acquisition strategy is probably the most cost-effective way to gain new customers.
But make sure to find relevant influencers in your niche for the success of your campaign.
5. Increase Website traffic
Influencers affect your website traffic and SEO. Having an influencer helps you increase your social media following and also improves your SEO. While a social presence isn't a confirmed ranking factor, it is a signal to search engines that you have a substantial following which they equate to brand quality.
6. Drive sales
In addition to creating exposure, influencer marketing helps your small business by improving sales and generating more revenue.
You can drive more people to use the services and products you have to offer by letting influencers promote them.
Since the influencers' audience is loyal and interested in what the influencer recommends, their audience is more likely to take action than when they're reached out directly by a brand.
If you find niche-relevant influencers to promote your business, you'll stand a better chance of seeing a more significant number of customers that could possibly result in more sales and revenue. You can check out influencers relevant to your brand in influencer marketing hubs.
7. An Excellent Alternative to Ads
A great benefit your small business can reap from influencer marketing is getting your message across to the targeted audience in a natural, friendly tone.
We live in a world where ads are screaming at us from every direction, calling us to action. Every one of us comes across an ad at least once a day. These are just annoying and disruptive to our online experience.
Statista's forecast for 2021 shows that among internet users of all age groups who use the internet at least once a month, 27% use ad blockers. That number is why your business should consider working with influencers. You don't want to risk having your ads blocked and irritate people with them.
Influencers promote what you offer them in a natural tone without being pushy or deceitful. In addition to being an organic approach, influencer marketing can be a lot cheaper compared to advertising.
8. A Shortcut to Content Marketing
Another benefit that comes with influencer marketing is having to invest less in a content marketing plan. Content marketing refers to using different content formats to bring value to an audience. Although it's an essential part of every small business, it best produces results in the long term.
However, when you decide to collaborate with influencers, you don't have to pay extra for their content creation costs. They're responsible for curating content that best fits your business's nature and promoting it on their social media profiles. A well-designed influencer marketing strategy helps you lower the cost of your content marketing plan.
Now that you've gotten this far( Huraaay!), You know how to run a successful influencer marketing campaign. Knowing some tips and trends in the market will come in handy to run a better influencer marketing strategy.
Influencer marketing tips
1. Convert loyal customers into brand ambassadors
If your brand already has a high engagement rate on social media, you may not even need to hire an influencer. Your next brand ambassadors could be right under your nose.
If you spend time getting to know your loyal customers, they can become your influencers for half the price you're spending on big influencers.
2. Micro influencers for macro results
As social media platforms continue to grow, there are more people who follow the recommendations of micro influencers.
Bigger is not always better. Micro influencers use their personal branding to build their following and create loyal customers.
3. Don't Ask for a Favor; Offer a Favor
Influencers are bombarded with messages from people asking them for a favor. If they helped everyone, they wouldn't have time for anything else! So that's why you need the opposite approach: do a favor for them first.
4. Mention Influencers in Your Content
One of the best approaches to influencer marketing is to mention influencers in your posts, stories, blog posts, etc. That's an easy way to get the influencer's attention and establish a relationship for further influencer collaborations. In this method, there is a high chance they will notice your profile and give you feedback.
5. Give influencers creative control
Once you've found an influencer to work with, it might be tempting to tell them exactly what kind of content you want them to produce.
The advantage of influencer marketing is that you're advertising your brand through a trusted source, someone your audience already feels a personal connection to. In turn, you have to trust them and leave the rest to them to communicate with that audience.
6. Get Influencers to Collaborate on Giveaways and Contests
When done correctly, giveaways or contests will definitely draw new customers to your brand because it's always exciting to win a prize, free of cost. And when you collaborate with influencers to run contests or giveaways, you can reach a wider audience which may not have been possible otherwise.
7. Get Influencers to Write Honest Reviews
To further strengthen and support your customer acquisition strategy, ask your influencers to write and share honest reviews about your products. Genuine feedback never fails to attract new customers.
8. Get Influencers and Common Users to Leverage UGC
Leveraging user-generated content and, of course, Influencer generated content is one of the most successful and powerful tactics to gain new customers.
For this tactic to work, you need to first build connections with your influencers and then leverage their trustworthiness and reliability to position the image of your brand on social media.
9. Partner with influencers that align with your brand
Marketers should look for social media influencers who resonate with the brand. Look for influencers with aligned voice, niche, and audience within the brand's target market. Take note of size; if your company is just starting out. Working with a smaller influencer may get better results.
10. Make a final decision based on influencer metrics
Influencer metrics are factors that determine an influencer's success, ability to increase brand awareness, bolster a brand's image, generate followers and facilitate sales. Looking at these metrics can help brands decide which influencers to collaborate with to achieve their influencer marketing goals.
Brands looking to engage in influencer marketing should understand these insights and consider them before selecting an influencer to reach out to.
11. Follow FTC rules
Federal Transmission Control rules prevent fraud, deception, and unfair business practices. Brands need to build disclosure guidelines into their agreements with influencers to make sure they are adhering to these rules.
Influencers should identify sponsored posts following FTC rules. Key things to remember:
Video reviews must include both written and verbal disclosure of the partnership. It must be within the video itself (not just the description).
The built-in tools on social media platforms are not enough.
#ad and #sponsored are the best hashtags to use for disclosure. Make sure they're highly visible and not just tacked on to a long string of tags.
12. Highlight your collaboration on social media
Make the most of your influencer marketing partnerships by sharing content across multiple social networks and marketing channels. Integrating influencer marketing as part of your brand's broader marketing strategy makes the most of collaborations and benefits both your brand and the influencer.
Influencer marketing trends
Influencer marketing is getting bigger every year. It's important for brands to know the hottest influencer marketing trends. These trends will help you expand your audience, increase your following and earn more revenue:
1. Shifting from Text and Images to Audio and Video Content
Although text and Images are not dead content, we can see that more people are turning to video and audio content nowadays, and creators who produce podcasts or videos on youtube and Instagram are getting more influential.
2. Live Shopping Will Become a Greater Part of Influencer Campaigns
In recent years live shopping has been popular, and it will continue to be more popular and powerful in 2022. As many influencers on different social media platforms are participating in shoppable live stream events.
3. Micro and Nano Influencers Will Get More Love
Micro influencers have the highest engagement rates (averaging at 7%) on their feed. Influencers with 0-25K followers had higher engagement rates regardless of their genre, target audience, or topics.
4. Brands Will Look for Ongoing Partnerships Instead of One-Off Projects
In 2022 brands and influencers are more likely to work on long-term projects than one-time sponsored posts. You can run campaigns with the same influencers to build trust or choose the right ones as your brand ambassador for a longer relationship.
5. New Social Media Platforms—and Types of Influencer Content—Will Pop Up
TikTok is a great example of a social media that grew so fast, and many brands shifted on it as a useful marketing tool. Pay attention to the new apps and what type of content is needed for that social media not to lose in the game of social media.
6. Influencers Will Become More Specialized
Influencers will continue to develop expertise in their niche or industry. As an influencer, it might be time to consider what industries you're most passionate about and start courting partnerships with brands that make sense for the direction you choose to go.
7. Planning and Data Will Rule
Performance-based contracts and deals will increase, which means data and analysis about best practices in influencer marketing for 2022 are necessary.
8. Authenticity Will Be the Watchword
Brands should be careful more than ever to collaborate with influencers with the same area of interest. It won't benefit the brand trying to make it work, and the influencer will likely lose credibility in the eyes of their audience.
9. Employee-Driven Content Will Increase
The demand for seeing more real and authentic content is increasing. So, the employees can be great assets to increase engagement and build a good relationship with your audiences by creating employee-driven content.
Conclusion
Influencer marketing is a wildly growing industry that is here to stay. Its value lies in the authentic relationships between influencers and their audiences.
Despite its rise in popularity, influencer marketing is still an underutilized channel and it will continue to be an important marketing strategy in businesses for years to come.
It might take some trial and error to find what works for your brand, though in time, you'll find that a solid influencer marketing strategy is one of the most powerful marketing strategies to quickly tap into new audiences and generate quality customers.
What are micro influencers?

A micro influencer is someone who has a small following of people on social media platforms. They are not the most well-known celebrities, but they have a dedicated fan base that finds their content influential.

Is influencer a real job?

There has been much discussion about the legitimacy of social media influencers, but it is now possible to make a living as an influencer. This is because brands are now employing influencers so they can reach their desired demographic. The only stumbling block may be how to charge for this service, but there are many other considerations that should be addressed before worrying about compensation.

What are the key platforms used by influencers?

The most popular platforms for influencers are Instagram, YouTube, and Twitter. These platforms allow users to upload their own videos or pictures and create content that they can share with their followers on social media. However, there are a variety of other platforms available for influencers to use, such as Spotify which allows influencers to upload their own playlists.