You may have heard of influencer marketing managers and wonder why you would need one.
To get your brand's name out there, increase your sales and boost your brand awareness, it would be best to consider influencer marketing.
Like any other approach to promoting a brand, influencer marketing requires a manager. But who is that person?
Keep reading this article to see who an influencer marketing manager is and what he does.
Who is an influencer marketing manager?
An influencer marketing manager identifies the most suitable influencers for the business, communicates with them, and manages marketing campaigns through selected influencers.
Designing effective strategies to increase brand credibility, product sales, etc., as well as ensuring the effectiveness of actions taken by measuring appropriate KPIs, also fit the influencer marketing manager job description.
An Instagram Influencer Marketing Manager Job Description
For an influencer marketing manager job description, we should explain that the job involves campaign management from start to end. This means finding influencers, overseeing influencer marketing campaigns, and measuring the campaign's success as a market research analyst.
Here is a complete list of an influencer marketing manager's responsibilities: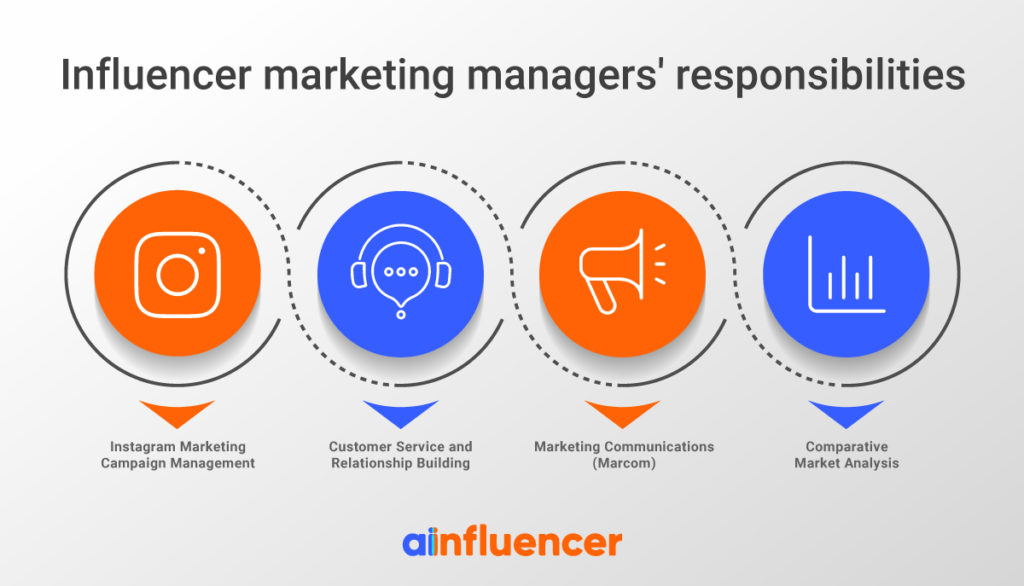 1. Instagram Marketing Campaign Management
An Instagram influencer marketing manager decides which type of influencer suits your Instagram marketing campaign best and reaches out to them so your brand can collaborate with them.
They can search for your brand's desired influencers on the Ainfluencer marketplace through its AI search engine, which allows them to find Instagram influencers using filters such as gender, location, category, number of followers, etc.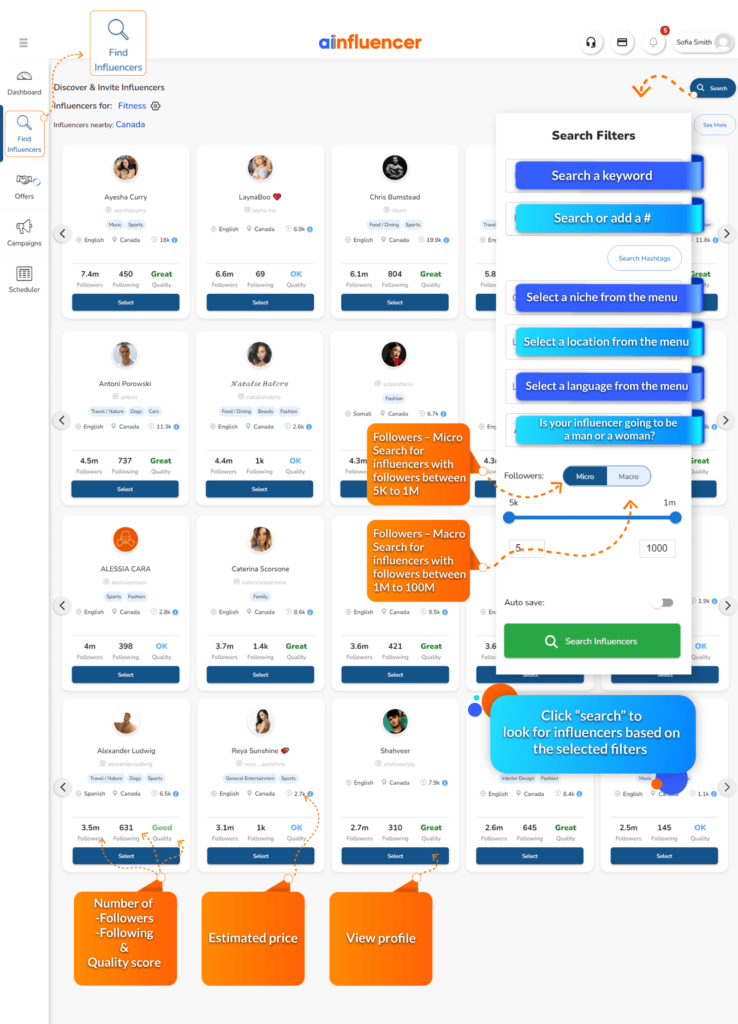 By signing up on Ainfluencer and creating an ad, your influencer marketing manager's job in choosing influencers will be so easy and free of cost.
Your manager's job is also to help the influencer create the right content, evaluate the campaign, and be open to implementing new changes to improve it.
2. Customer Service and Relationship Building
Influencer management is another task that fits an influencer manager job description.
Having good relationships with influencers is crucial to the success of your marketing campaigns. You should invest in establishing relationships with an Influencer manager so that you can make the most of your campaigns.
3. Marketing Communications (Marcom)
Marketing communications, also known as Marcom, are the messages and media that an influencer marketing manager chooses to use to communicate with prospective customers. Examples of marketing communications include leading presentations and sponsorships that you can reap the Influencer marketing benefits with.
4. Comparative Market Analysis
As an influencer marketing manager, it is necessary to be able to play the role of a market research analyst and keep up with the latest trends in social media and the influencer community.
Here is how a comparative market analysis can be done by an influencer manager:
Incorporating market research into their influencer marketing campaigns.
Measuring the effectiveness of their Instagram marketing campaigns and influencer strategy by calculating engagement rates and other appropriate KPIs.
Preparing analytical reports according to the obtained results and submission of suggestions to improve their work processes.
What Are Instagram Influencer Marketing Manager Skills?
An influencer marketing manager or a social media marketing manager, in general, is responsible for almost everything in your campaign management. So, the person in charge of your Instagram marketing needs a lot of skills and requirements.
The following is a list of required skills to improve tasks in a marketing manager job description.
1. Creativity and Innovation
To be able to support new changes, break the routine rules if required, and sort out creative solutions, an influencer marketing manager needs to have the traits of creativity and innovation.
2. Leadership
Being able to build confidence, inspire, and motivate others is one of the most important roles that must be mentioned in an influencer marketing manager job description.
3. Campaign Management Awareness
Being an influencer marketing manager isn't all about influencer management. It also involves managing and meeting the needs of stakeholders, understanding the company's vision, mission, and culture, monitoring trends and challenges facing the company, and accompanying environmental changes affecting the business.
4. Marketing Communications
Establishing effective relationships with customers, constructive interaction and cooperation with others, and using Marcom (formal and informal marketing communications) are also vital for an influencer marketing manager.
5. Personal Management
And the last necessary skill in explaining an influencer manager job description is personal management. To have personal management skills means an influencer marketing manager should be a dab hand at team building and carding, compensating the services of employees, managing the performance of individuals, and providing feedback.
Does Your Brand Need an Instagram Influencer Marketing Manager?
As you maximize your influencer marketing, you'll require more time. That's where an influencer marketing manager comes in handy.
An influencer marketing manager has the time you'll need to scale up your influencer marketing campaign while continuing to deliver high-quality Instagram marketing communications to everyone involved.
However, what if you could take the reins yourself and be the one in charge of your influencer marketing campaign management?
DIY Instagram Influencer Marketing and Campaign Management
Despite the significant role of an Instagram influencer marketing manager, you may find it irresistible to think that you could be the Instagram marketing manager of your own brand.
Oddly enough, it is not far-fetched at all. You should read carefully the marketing manager job description, and have the right influencer marketplace, like Ainfluencer, that provides you with a DIY approach to your campaign management.
Such marketplace will allow you to set your Instagram marketing goals, define the conditions and requirements of your influencer marketing campaign, find and invite your targeted influencers to collab, chat with the influencers, and get access to insights into how successfully your influencer marketing campaign is being run.
Conclusion
An influencer marketing manager job description involves tasks so significant to your influencer marketing campaign that you can't overlook the role. These tasks may include Instagram marketing campaign management, influencer management, marketing communications (Marcom), market research, and comparative market analysis.
However, you can be the influencer marketing manager of your brand with a particular set of skills and the right influencer marketing tool like Ainfluencer.
1- What does an influencer marketing manager do?
An influencer marketing manager job description is to oversee administrative tasks associated with managing a brand's influencer team. He or she recruits influencers and coordinates marketing communications to generate maximum results from an influencer marketing campaign.

2- How much do influencer managers make?
An Influencer Marketing Manager earns approximately $102,000 every year. This is while the median base pay is estimated at $88,289 per year and the additional pay is about $13,715 per year.