Customers no longer trust a brand's message, that's why influencer marketing is getting more popular day by day. 92% of consumers trust recommendations from their peers over advertising. Brand ambassadors and sponsors play a crucial role in bringing overnight success to every business through their social influence and power.
The main thing to note about brand ambassadors and sponsors is that they make marketing efforts to increase brand awareness and reach brands to their business goals and different brand marketing strategies.
In this blog, you'll learn sponsor and brand ambassador meaning, how brand ambassadors are different from sponsors, and decide which one works the best for you and better fulfill your marketing objectives.
What is a brand ambassador?
A brand ambassador is someone who increases awareness of a brand. Ambassadors act as spokespeople, attempting to influence a community to buy a company's product or service.
In general, various people can appear in an ambassador's role. Let's say celebrities to ordinary individuals or, better to say, paid and unpaid marketers. Brand ambassadors attempt to achieve a popular self-image via this kind of marketing or make money by doing the brand's mass media activities.
How to become a brand ambassador?
What's better than having a dedicated social media following and getting paid? And who wouldn't love the free stuff? To start with, being a brand ambassador for small businesses can help you a lot in your career path as a brand ambassador.
You can run brand ambassador ads and be the face of a brand you have always loved! If you have also thought of becoming a brand ambassador, then follow these steps:
1. Discover the brands' niche you are passionate about
Look through a company's social media posts and research their current influencers to get a sense of what they are looking for in a brand ambassador.
Try to get the gist of their values and performance. In that case, it would be easier to know how you could be qualified to become a brand ambassador.
2. Build engagement
After finding some details about the niche or brands, you tend to work with, as a brand representative, it is a great way to build your social media strategy by implementing innovative ideas and techniques in content creation to increase brand engagement. After all, it's not just the number of followers that matters, what matters most is how engaged you are with your audience.
3. Create a cohesive online personality
The best way brand ambassadors can build a proven vivid image personality is by finding their voice through the social media content they advertise to best stand out in their niches, interests, and places.
With this in mind, companies, and brands, especially small brands looking for ambassadors who are creative in reflecting brand messages, Try to Upload eye-catching content and stay active on social media.
4. Get your audience involved
Use brand marketing strategies to connect with more audiences. This is the only way to make a brand ambassador succeed on every platform when they discover how to interact with a variety of users in different ways, such as being active on multiple social media apps, asking customers in-person or at an event, and interacting individually to people that really love to help you.
5. Build and grow a strong following
Building and growing a strong following matters to turn into a paid brand ambassador because building the largest relevant and engaged following can bring more engagement and success.
For example, figure out which followers frequently comment on or like competitors' social media accounts, establish contact, put your customers first, and research to learn more about them. On the flip side connecting with influencers and other brand ambassadors would be a great help to move.
6. Contact relevant brands
Now is the time to get through relevant brands to showcase your own marketing efforts and abilities associated with the brand ambassador ads and program that endorses brand awareness.
If you take over this job, you will reach out to brands you are interested in promoting. So, you can share a huge opportunity to approach targeted brands at events or do the same thing online with the help of online platforms.
With the help of marketplaces, you can explore and find many brands in different categories looking for ambassadors to promote their products or service.
Ainfluencer is an influencer marketing platform that connects thousands of influencers and ambassadors with brands. In order to connect with brands, first, you need to download the app and register an account.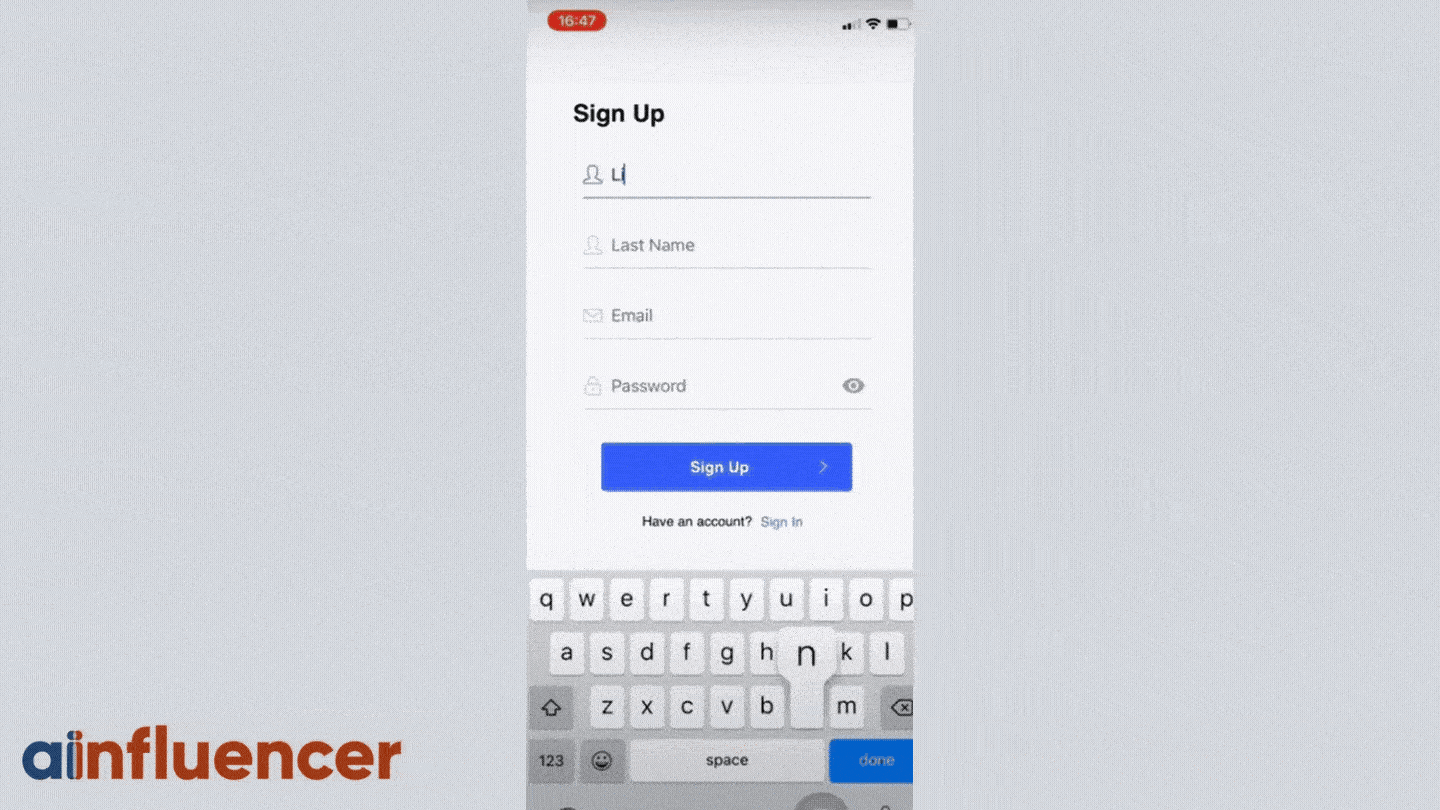 When ads are launched, you will get notified of invitations through your Ainfluencer App or via email. You can then accept the offer and communicate directly with brands to fine-tune the Ad campaign elements.
Check out this video to learn more about how to reach brands and generate more revenue:
Different types of brand ambassadors
Brand ambassadors humanize your brand. They are the face of your brand. When hiring brand ambassadors, it's important to choose people who are aligned with your company values, represent your brand well, and are able to connect with your target audience.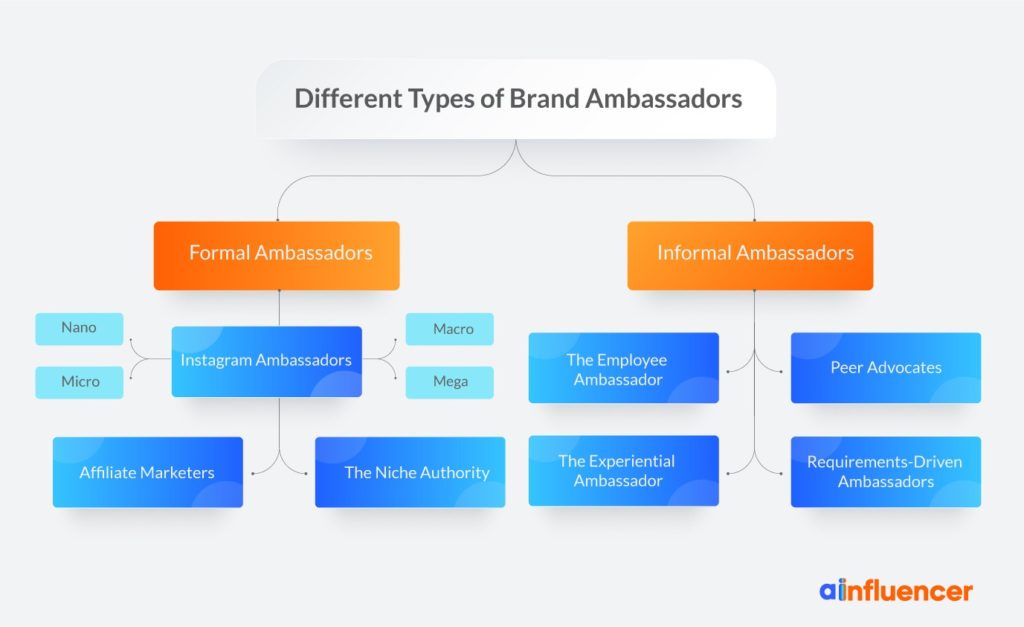 1. Formal ambassador
Formal ambassadors have a signed brand ambassador contract with brands to join as one of their team's critical members to promote the brands; they are responsible for brand goals making that represent their efforts by producing a certain number of brand content types, such as events, promotional guidelines, and posts.
2. The niche authority
Niche ambassadors are expert marketers in a specific niche with more knowledge and skills to develop brand awareness; they usually attract the right loyal audience by showcasing their profession in different aspects of a topic. Therefore, many customers are more likely to trust their recommendations from their social media platforms or blogs.
Nowadays, brands seek the help of industry experts to stand out, build their credibility in the industry and educate consumers.
3. Affiliate ambassadors
Affiliate ambassadors promote a brand's product or service in return for a commission or percentage of profits according to the sales generated. They establish a marketing strategy that assigns a referral code to the sale of a service or product.
The objective of the affiliate ambassador is therefore to inspire and motivate customers to buy in exchange for a payment.
4. Celebrities ambassadors
This brand ambassador is a famous brand ambassador and more precious marketing professional for promoting brand awareness and getting paid when they can take advantage of their proven fame through Television and commercial, including artists, actors, actresses, singers, and even public figures.
This way, the celebrities-ambassador can take the media by storm to associate their names with brands that offer fashion, beauty, jewelry, and home products. You can explore and invite influencers and celebrities on different influencer marketing platforms.
5. The informal ambassador
Some brands choose to start informal brand ambassador programs, where anyone or nearly anyone can join. This different type of brand ambassador program is very similar to a referral program or an affiliate program.
As long as someone is an enthusiastic customer and wants to share your brand, they have everything they need to be an informal ambassador.
Informal ambassadors are given a unique code or link to share with their friends and followers. Then, every time someone uses this code to purchase a product, the ambassador receives a reward.
6. Peer advocates
This type of brand ambassador is passionate and enthusiastic customers who are new to this job but are really keen to connect with brands; they love to expand relationships with businesses unpaid to become well-known to make a successful marketing future for collaborating with other brands.
As the name suggests, a peer advocate or customer ambassador is a consumer who buys and uses a specific brand's products and services. They are not affiliated with the company and decide to promote a particular brand out of genuine love. Unlike influencers, customer ambassadors adopt a personal approach that is more authentic.
7. Employee Brand Ambassador
Sometimes, brands will look to employees as their brand ambassadors.
Why not? Employee ambassadors already have insider info about your brand, have committed to brand goals, and have a deep understanding of the target audience.
But be careful! The line between employee and ambassador responsibilities should be clearly defined.
8. The experiential or event ambassador
Experiential or event ambassadors specialize in representing a brand at events, often holding unscripted one-on-one conversations and building relationships in person. They might also conduct their own guerrilla marketing campaigns in unexpected places.
Recruiting an experiential ambassador helps put a human face to your brand, someone who embodies the same values and makes it easy for people to connect with your brand.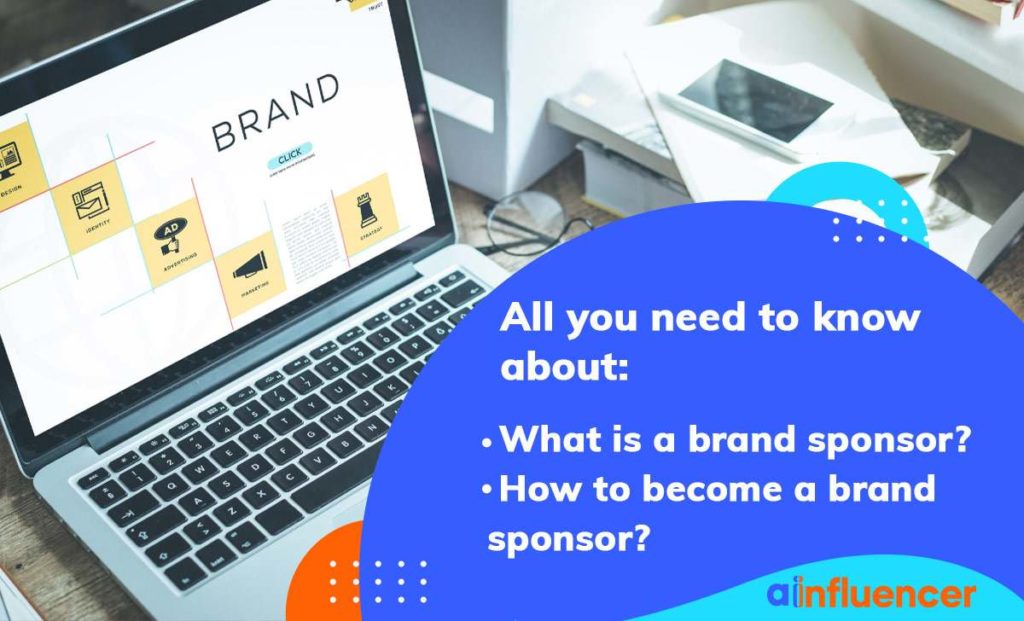 What is a brand sponsor?
Brand sponsorships mean to support an event, brand, company, or person financially or by providing products or services to come up with media exposure. Typically, an entity can have multiple sponsors that provide different types and levels of support.
Sponsors of brands are big or small businesses that want to build a memorable name for themselves and increase their awareness and identity to reach specific business goals and boost their competitive advantage.
Event sponsorship is a great way to spread the word about your company, product, or service without actually having to plan an event. Before you think of how to become a sponsor for a brand, you need to know different types of sponsors in order to become one.
Types of sponsors
#1- Financial Sponsors
The majority of sponsorships go around financial sponsors. These kinds of sponsors spend money directly for an organization or company to invest in their promotional events.
#2- Media Sponsors
Media sponsors are the same as financial sponsors that are active in large-scale and high-profile events. They rent advertising space on mass media such as local Television, a local newspaper to publish event content on their channels, like creating a blog post about the event or cause.
#3- Promotional sponsors
Promotional partners are ordinary people who are mostly public figures, bloggers, not corporations or media outlets. Promotional sponsors advertise the events using their ride-die fans' power to become successful with this mission.
#4- In-Kind Sponsors
Unlike cash or financial sponsors, in-kind sponsors donate products or services instead of offering cash. For example, a hotel may offer free use of its facilities as a form of sponsorship. In this regard, the hotel is not making a cash contribution, but rather serving as a location sponsor.
Which one works best? Brand ambassador or brand sponsor?
Brand sponsorships need more budget and energy to start and if you are a business with a limited budget, you may need a great strategy for your sponsorship program.
Comparing brand ambassadors and brand sponsorships, working with brand ambassadors can be a great strategy for small businesses since there are many ways to run ambassador ads and programs. So if you are a small business trying to go out there, get noticed, and increase awareness and sales, you can start ambassador programs in the early stages of your business no matter how small it is. On the other hand, sponsorships will probably cost more.
Work with ambassadors consistently over time as a spokesperson for your products. Unlike one-time sponsorships, brand ambassadors enjoy long-term relationships with the businesses they help — which means more stability for your brand and consistent income.
Conclusion
Brand sponsorships are done in many ways. Each sponsor ad and the program has a different strategy.
Brand ambassadors are also categorized in a bunch of different ways. Finding the right ambassador for you can seriously help your business's marketing efforts.
Based on your company size and the budget you are considering for your ambassador or sponsor program, you should decide which works for you. If you are a business of any size, you can find your ideal ambassador and invite them to work with you on Ainfluencer.
What does a brand ambassador do?
A brand ambassador is hired by a brand in a formal or informal way to promote your brand image, increase awareness and build trust among your audience.

How to get sponsored on Instagram?
Create a cohesive online personality, know your audience and make them engaged with your content, be consistent, use hashtags and Instagram marketing methods to get noticed, tag brands you like to work with, in your posts, include contact information in your bio, Pitch paid sponsorships.