Have you ever taken a look at the crazy prices people pay for sponsored posts on Instagram and thought "Wow, I could never get sponsorship for Instagram posts like that with my small account?". Well, the good news is that getting an Instagram sponsorship for small accounts is totally possible.
Brands are quickly realizing the power of normal people and Instagram sponsored posts to promote their products. Customers rank Instagram as the sixth most influential platform for influencing their purchasing behavior.
Micro influencers (with 10,000 to 50,000 followers) or people with a small number of followers see the most engagement out of their audience in comparison to big players (mega and macro influencers and celebrities.)
So with so many brands using Instagram to promote their products, you definitely have the opportunity to get sponsorship on Instagram. But if you want to stand out on such a competitive platform, you need a strategy. Here's what you need to know to get an Instagram sponsorship. Let's get started!
What Is A Sponsored Instagram Post?
Sponsored posts on Instagram are content published by an influencer on their own account in exchange for payment. This payment can be anything valuable like a free product or money. Instagram's popularity allows influencers to take advantage of these influencer sponsorship programs.
In general, there are two main types of Instagram sponsorships. The first type, as we said above, is when a brand sponsors an Instagram user (influencer) to create content that promotes the brand in some way. In the other type of sponsorship Instagram, a brand makes a post and pays Instagram to reach a specific audience.
Instagram sponsorship for small accounts
You may wonder if Instagram sponsorship for small accounts exists. We should say yes! You do NOT need thousands of followers to score paid brand deals. Once you reach 1000-plus followers, you can get sponsored on Instagram. Small accounts can get paid Instagram sponsorships too!
Micro and nano influencers are so valuable to brands, as they usually look for these types of influencers within the exact niche that fits their brand. And, because brands spend less to reach the right audience in target demographics, micro influencers offer a low-risk, high-reward situation for any business and brand sponsorships.
So, it is possible to get an Instagram sponsorship for small accounts and gain more exposure in your niche market by making excellent content.
If you don't know how to get sponsorship for your Instagram account, just keep reading. We are here to put your mind at ease.
How To Get Sponsored On Instagram?
Here, we are going to show you everything that you need to do to make the most of Instagram sponsorship.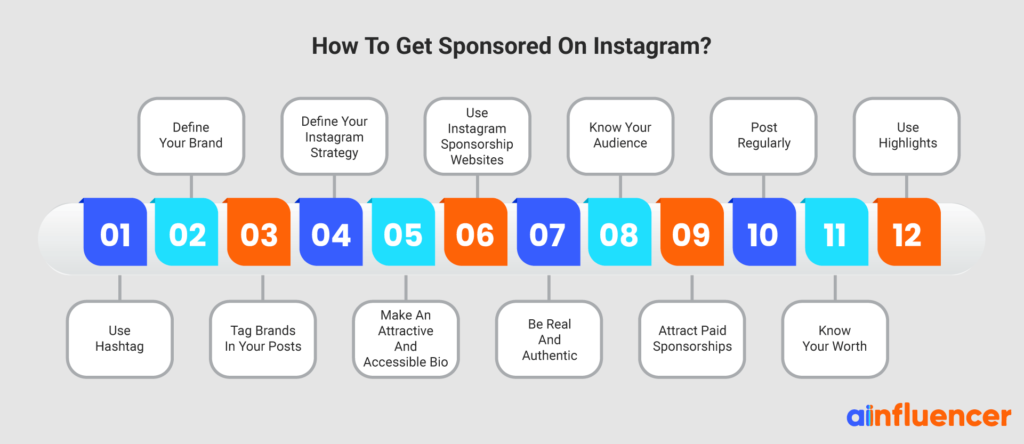 These tips and tricks will help guide you, even if you currently have zero followers, and let you see that Instagram sponsorship for small accounts is also possible. Keep reading to get started.
1. Define Your Brand
A key to the best engagement is defining your niche. Aside from the type of content you share, branding has a lot to do with your overall aesthetic (the style of your posts, what your message is, your Insta theme, etc.)
Another key is developing a solid reputation. Good influencer's posts are those which are recognizable and unique to the users while scrolling through their feeds.
Additionally, creating a website with a similar aesthetic and message is a great way to connect your Instagram brand with an online presence. Simply put, the more you unify your social media accounts, the stronger your social media presence will be.
2. Define Your Instagram Strategy
Having a well-developed Instagram marketing strategy will help you grow your account and get ready for more Instagram sponsorships. Set smart goals and define your strategy according to them.
3. Use Instagram Sponsorship Websites 
Are you familiar with Instagram sponsorship websites?
By using specific Instagram Sponsorship websites, you can reach out to brands to sponsor your next Instagram post. Businesses have a lot to achieve from influencer marketing. They need you as much as you need them.
There are countless Instagram sponsorship apps out there that help brands and influencers collaborate. But Ainfluencer is the best influencer marketplace to easily organize your sponsorship for Instagram influencers.
Ainfluencer
Ainfluencer is a DIY influencer marketplace that helps brands and influencers get in touch and collaborate for free. With Ainfluencer, you can access and filter thousands of influencers by location, language, gender, niche, etc. You can also view each influencer's profile to see their content's quality, engagement rate, etc.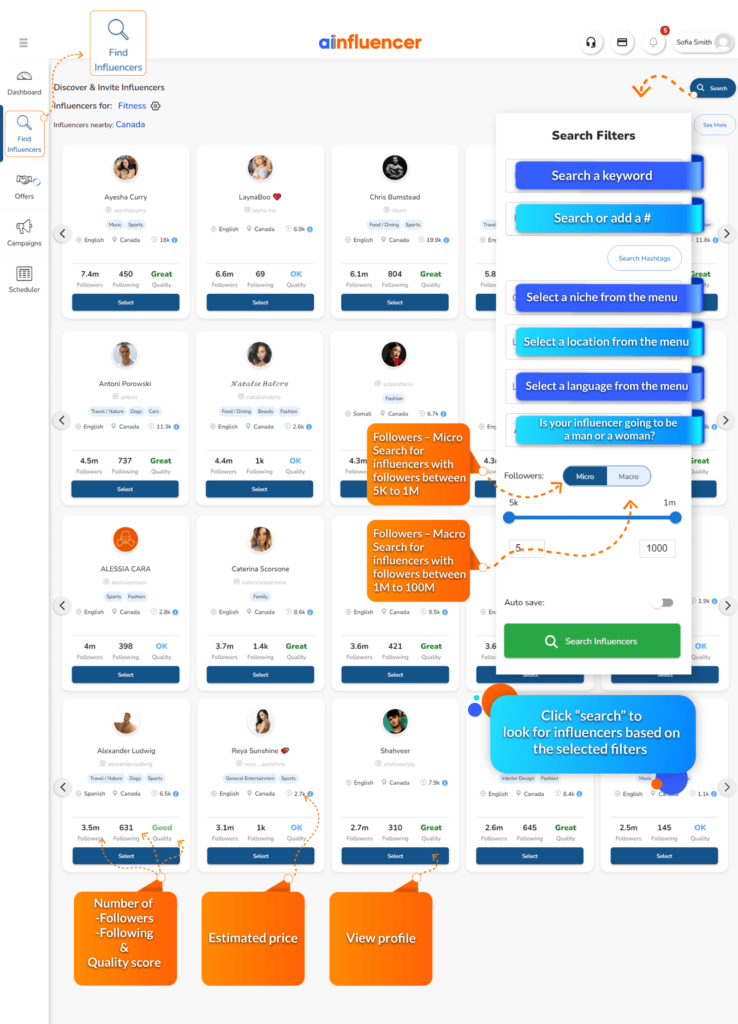 There are also thousands of influencers on the marketplace looking for qualified brands to collaborate with. So, brands not only have the chance to invite their preferred influencers to paid sponsorship Instagram, but they can also receive multiple offers from influencers that are interested in their brand.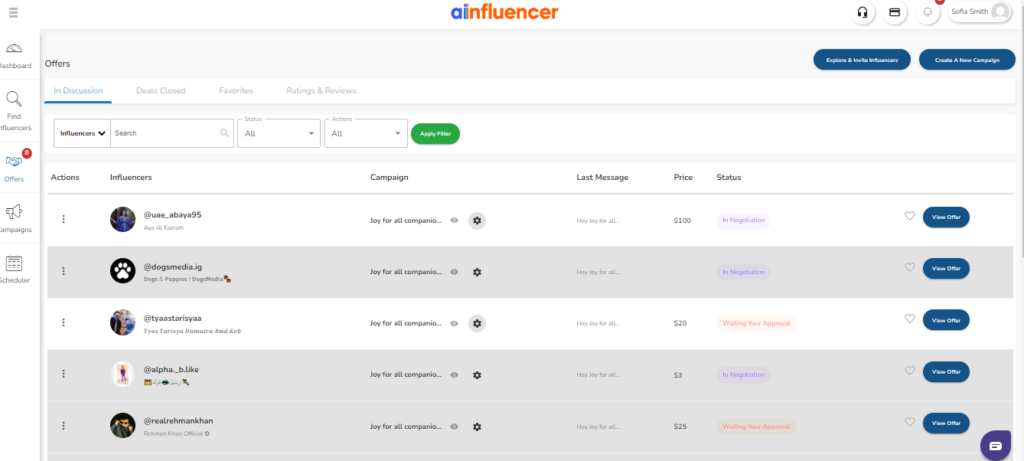 With Ainfluencer, brands can make the most of their influencer marketing program to engage new audiences and find new, loyal customers.
Note: Influencers themselves can also explore and invite brands to get sponsored on Instagram by downloading and installing Ainfluencer's app.
Hence, it is possible to get sponsored posts on Instagram even if you have a small account with only a few followers. You just need to use the right tools.
4. Know Your Audience
A crucial step to making the most of Instagram sponsorships for small accounts is getting to know your audience – which shows brands that you have a good relationship with your audience.
Collecting information about your audience helps bring something extra to the table when you build your partnership with a brand. Brands want to know who they can reach if they work with you.
5. Post Regularly
One of the major ways to increase your chances of getting an Instagram sponsorship for small accounts is by working on a consistent posting schedule. To increase followers, it is absolutely essential to post at least once a day. Instagram's algorithm prefers fresh and new content, and so it rewards people who post often. You also want to stay fresh in your audiences' minds which posting frequently helps to do.
6. Use Highlights
Share all the details about your account, previous sponsored posts, Q & As, etc., and create different Highlights for each one. You can permanently save them to your profile, and brands can check them all when they visit your account.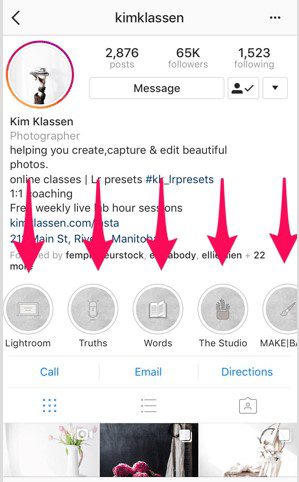 7. Use Hashtag
Hashtags make it possible for you to find and discover specific content and, as a result, get more sponsorship for Instagram. So, they are essential for increasing the number of your followers. You can use up to 30 hashtags per post, but ideally, it's better not to use more than nine hashtags to improve engagement and increase your discoverability. Because if your content is more discoverable, more brands will want to work with you.
Hashtags should be as relevant to the content as possible. It would also help if you made sure that the hashtags you use are not corrupted or banned.
Pro Tip: To maximize the benefits of Instagram hashtags, consider using one or two of them in your stories too. This can increase the chance of attracting sponsorship opportunities from other brands.
8. Tag Brands In Your Posts
Start with smaller brands that you think you could work with and tag them in your sponsored posts on Instagram.
Try to engage with your audience by promoting and responding to comments like 'Where can I get one of these?' Or "How much is this?" When brands see that you are using their product to engage with your audience, they can be confident that they've found the right business partner.
When you feel ready, get in touch with your favorite brands to pitch your idea. Or even monitor how other influencers tag and interact with brands in their own sponsored posts on Instagram.
9. Make An Attractive And Accessible Bio
Your Instagram bio is your chance to help attract brands for future paid sponsorships. Add an email or website so that they can contact you directly or use it as an opportunity to showcase more about you.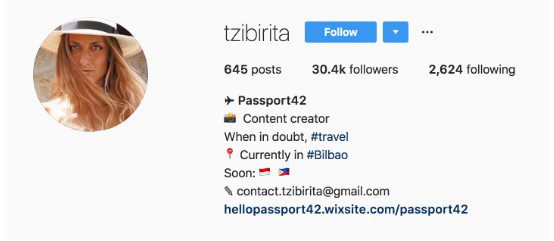 Consider adding a portfolio to your bio so that brands can look at your previous work and see your skillset. With every Instagram sponsorship, you can add more to this page, so that your experience shines through.
10. Be Real And Authentic
Instagram sponsorship programs tend to attract people who are authentic and real. Always make sure to stay true to your followers and post content that represents your brand identity if you want to take your influencer sponsorship Instagram to the next level.
11. Attract Paid Sponsorships
Accessing brands and working with them is simple. By following our steps, you may not have to wait very long for brands to find you.
Look for brands that show a clear interest in developing their Instagram presence through their own account or other influencers. Remember, it is okay to start with small brand sponsorships. Working with smaller brands helps you to create your portfolio.
You can contact brands to get sponsored posts in different ways:
Create a list of brands that may be willing to work with you, and email them. In your message, clearly, state who you are, what you do, and all your related skills. Explain why you are suitable for sponsoring their brand and add data such as your number of followers and your average engagement rate.
You could consider sending a DM directly to a brand via Instagram. This is a straightforward method for obtaining sponsored posts on this platform. And certainly has more to do with what you are competing for. But remember that if a brand receives hundreds of DMs every day, your DM may get lost.
You can use an Instagram sponsorship application, like the Ainfluencer app. All you need to do is to sign up on Ainfluencer, complete your profile, and then negotiate your price with hundreds of brands.
12. Know Your Worth
Make sure you know how much to charge an interested brand. The industry standard is $10 per 1,000 followers, but this can vary depending on the number of likes you get per post and your engagement rate.
Importance of Using #ad and #spon Hashtags on Instagram Sponsored Posts
The #ad and #sponsored hashtags on Instagram are important because they are a way for influencers to disclose to their audience that a post is sponsored by a brand.
In addition, by using these hashtags on sponsored posts, influencers can comply with legal regulations, build trust with their audience, and help brands ensure brand safety.
But, despite their importance in ensuring transparency and compliance with advertising guidelines, the use of these tags may make some brands uneasy as they may worry that it could give the impression that the post is not authentic.
However, Instagram came up with an idea to combat the issue. Instagram released a paid partnership feature that if an influencer tags a brand in their post and the brand confirms the partnership, the post will be labeled with a "paid partnership" tag at the top.
This feature not only ensures transparency in advertising but also provides valuable data to the brand about the performance of their campaign. Therefore, It's a win-win situation for all parties.
The Total Number and Average Price of an Instagram Sponsored Post
According to recent stats, the number of sponsored posts on Instagram that were tagged with #ad was 3.8 million in 2021. This number is rising day by day, and as a consequence, the average price for each post is rising as well.
The average price you can earn from Instagram sponsorship depends on many factors, such as your engagement rate, number of followers, the quality of your content, etc. 
According to the majority of experts, fees begin at about $300 and go higher from there. There are people who earn hundreds of thousands or even millions of dollars for each of their sponsored posts.
Conclusion
Now, you have a good idea about how to make money with an Instagram sponsorship. If you follow these tips for Instagram sponsorship programs, we are sure that you will do incredibly well as an influencer.
You can also get help from Instagram sponsorship applications such as Ainfluencer.
1- How Much Can I Make Being Sponsored on Instagram?
Depending on your follower count, engagement rate, niche, the brand you're working with, and a few other factors, the standard for small Instagram accounts is $10 per 1,000 followers.
2- How Do you Get a Sponsor on Instagram?
Here are some steps you should take if you want brands to sponsor your Instagram posts.
1- Define your niche and brand.
2- Understand your audience.
3- Post consistently.
4- Use hashtags.
5- Tag brands in your Instagram posts.
6- Include your contact info in your bio.
7- Pitch paid sponsorship.

3- What's the Difference Between Creator and Brand Sponsored Posts on Instagram?
On Instagram, a creator post is a post published by an individual user, such as an influencer or content creator, who is not directly affiliated with a brand. 

In contrast, a brand sponsored post is a post created by an Influencer in partnership with a brand. The brand pays the creator to create and share the post, which typically includes product promotion or brand messaging.

The key difference between the two types of posts is the financial relationship between the creator and the brand.
In a creator post, Instagram user is creating and sharing content on their own without any direct compensation from a brand.
But, In a sponsored Instagram post, the blogger receives payment from the brand in exchange for creating and sharing the post.
4- How Do Sponsors Work on Instagram?
Any Instagram business account can sponsor its own content to increase views, likes, followers, and engagement. Simply follow Instagram's sponsoring instructions, create your target audience, and then pay for a sponsored post.
4- How Hard Is It to Get Sponsored on Instagram?
Getting sponsored on Instagram can be challenging, but it's certainly not impossible. The competition is high, and there are many factors that brands consider when choosing which influencers to work with, such as audience demographics, engagement rates, and overall aesthetics.

That being said, if you're dedicated to growing your following and creating high-quality content that resonates with your audience, you can increase your chances of getting sponsored.
It's also helpful to establish yourself as an expert or thought leader in your niche, as this can make you a more attractive partner for brands.