Black Friday campaigns and sales are always a fascinating and welcome part of the holiday season. Incredible bargains like these never fail to amaze and amazement customers with their allure and immersion.
Black Friday and Cyber Monday, the busiest shopping days of the year, are rapidly approaching. In order to start Black Friday planning, online merchants are putting in extra effort to tailor their brand marketing campaigns to the preferences of their target audience.
According to the most recent research conducted by Finder, the holiday shopping season has officially begun, and an estimated 140 million people in the United States want to shop the pre-holiday specials (such as Black Friday and Cyber Monday) in 2022. And with an average expenditure of $362, the United States of America will shell out almost $51 billion this year in an attempt to find a bargain.
What is Black Friday Marketing?
A marketing term, "Black Friday" refers to the Friday after Thanksgiving in the United States. Many stores begin their holiday sales the day following Thanksgiving, making it the largest shopping day of the year.
Black Friday sale ideas are typically offered both in stores and online. Similarly frequent is the Monday after Thanksgiving, known as "Cyber Monday," when online retailers offer huge discounts. It's also the time when many retailers (including your rivals) release a slew of price cuts and other promotions.
Your business needs a marketing plan to increase sales and satisfy customers in order to survive in today's market.
Statistics on Black Friday 2021
Let's evaluate the significance of this holiday. According to the statistics:
Black Friday 2021 saw 88 million Americans shopping online.
In-store traffic increased by nearly 19% year over year.
Black Friday online promotions show that shopping sales hit $8.9 billion.
Average savings on Black Friday specials were 24%.
Average order values increased by 9% in 2021.
Nearly 43% of Black Friday sales happened through mobile phones.
Millennials were the biggest spenders.
About 29% of women intended to shop during Black Friday 2021.
Amazon accounted for 17.7% of all Black Friday sales.
The average adult spent $430 during the shopping event.
Why use influencers for Black Friday marketing?
Famous social innovators are appreciated for their originality and the enthusiasm they inspire in their online followers. They have amassed a dedicated fan base full of people who value their insight and frequently engage with their posts. This makes them invaluable allies for brands aiming to rise above the social media clutter and connect with fresh audiences.
Ainfluencer is one of the best and most trusted influencer marketplaces where brands can identify the ideal influencer with whom to collaborate in time for the holiday shopping season, giving businesses a significant boost to sales during the busiest shopping period of the year.
Ainfluencer doesn't cost anything and is quite simple to operate. Using Ainfluencer, brands and influencers can find and contact each other to negotiate the terms of influencer marketing campaigns and close deals.
Brands can use Ainfluencer's powerful search options to identify and get in touch with suitable influencers for collaboration based on a variety of criteria, such as geography, gender, language, hashtags, follower count, and more.
The Breast Cancer Society Case Study is additional evidence that Ainfluencer is a terrific option for your business to test out. BCSC's one and only mission were to fund research aimed at the diagnosis, treatment, and prevention of the disease in individual patients. We assisted in identifying the best possible influencer by focusing on Canadian micro-influencers who have built strong communities around health, wellness, fundraising, and recovery stories. We achieved a total of approximately 12K impressions and over 1K likes.
Have a look at Ainfluencer if you want to know more about how to find the best influencers for any specific niche market. In fact, we've given our customers three fantastic options for getting the ball rolling on their new venture. To celebrate, we're offering you a fantastic 50% off any package you choose with the help of these promo codes, but you'd better hurry because this offer only lasts until November 30.
It is also safe to mention that a large percentage of businesses nowadays, whether they are well-known corporations, small startups, or B2C operations, conduct at least some of their sales activities online. Marketing efforts on Black Friday and Cyber Monday should center on persuading online customers, as eCommerce has become an integral part of many companies operations.
How to use influencers for Black Friday Marketing?
67% of marketers take advantage of influencer marketing to up their marketing strategies. Instagram influencer partnerships are by far the best-performing platform for brands to reach new audiences quickly, with an average 3.21% engagement rate compared to 1.5% across all social networks.
Because of this, influencer marketing can help you a big time. It's not easy to identify the ideal influencer to promote your Instagram posts, so what criteria should you use? We encourage you to take advantage of the Ainfluencer influencer marketplace.
1. Reviews and feedback on the product
As the holiday shopping season heats up, consumers are on the lookout for reliable brands offering affordable prices. Prior to making a final decision to buy, the consideration process is an important one. Trust and reassurance about the quality of products are especially vital for eCommerce firms to convey to new clients as they peruse their offerings online. In this context, the influence of key opinion leaders can be crucial in winning over new clients. People go to them for guidance and advice since they are seen as experts in their industry.
Collaborating with influencers on product review videos or curated gift wishlists is a wonderful Black Friday marketing approach. Social proof, such as an endorsement from a well-known figure in the sector, is essential for winning over wary new clients. At this time of year, when everyone is shopping for others, it really shines. If they want to know what cool new things are out there that would make great presents, they'll consult their favorite influencers.
For instance, Olivia covers posts and Stories about beauty, cosmetic an personal car. She sometimes shares reviews and feedback on the products she has used.
2. Unboxing
Influencers capitalize on the joy of giving by filming their unwrapping of gifts and sharing their reaction with their audience in "unboxing" campaigns. It's a fun way to introduce a sense of suspense as the influencer and their followers learn more about the product. Customers can get a better idea of the product's quality, functionality, and packaging by watching an unboxing video.
This tactic is ideal for companies launching seasonal collections, as influencers can drum up interest in the products before of release and interest in particular Black Friday and Cyber Monday sales. It's also a viable option for startups without the capital to launch a full-scale influencer marketing campaign. The greatest Black Friday marketing strategy to use in order to increase interest in your product is to get them into the hands of the influencers who will be talking about them.
For instance, iJustine is a popular YouTuber because of her devotion to technology and the fact that she occasionally posts unboxing videos.
3. Use promo codes to advertise Cyber weekends sales.
On Black Friday and Cyber Monday, everyone is searching for the best possible offer. During Cyber Monday, brands and influencers can work together to spread the word about special discounts. It's a win-win situation, as the influencer can increase their following and engagement by offering their followers a special discount, while the brand may increase its sales over Black Friday.
By issuing individual discount codes to each influencer, companies can track and attribute sales in real-time, allowing them to assess the return on investment (ROI) and identify the most effective advocates for their products. Using Ainflunecer, you can effortlessly create and distribute discount coupons to your target audience, as well as keep tabs on the quantity and value of sales made by each producer.
4. Get started with an affiliate marketing initiative.
By engaging them in an affiliate program, you may transform them into some of your most effective marketers. Affiliate partnerships with your influencers can be quite fruitful because they already love your business, are familiar with your items, and have a sizable social media following. By coordinating an affiliate campaign, you can assist them to improve the conversion rate of their already-interesting material on products by having them include a call to action and an affiliate link. During Black Friday and Cyber Monday, every piece of content should be actively driving purchases with as little resistance as possible. Keep your products in the minds of your influencer's audience and provide a fast path to the checkout by adding an affiliate link to their Instagram Story Swipe Up, Story Sticker, YouTube video description, or Twitch conversation.
You can quickly evaluate the effectiveness of any influencer in your affiliate program by viewing the number of sales they have created when you use monitored affiliate links. Launch successful affiliate marketing campaigns using Ainfluencer's affiliate marketing ultimate guide to increase Black Friday online promotions.
Brand Mondo's video description includes clickable links not only to the product he is testing, but also to his other offerings, saving viewers time and making it more likely that they will buy something from his store.
12 Top Black Friday marketing strategies to use this year
1. Honor your most devoted customers.
Customers appreciate being thanked, especially if they feel a connection to your brand. Black Friday is an excellent time to reward your most devoted consumers.
Providing these clients with special promotions and pricing is a great way to encourage brand loyalty and repeat purchases. Your clients will return on days other than Black Friday if they feel their loyalty is appreciated.
Here's an example of such an email from PRESS Foods.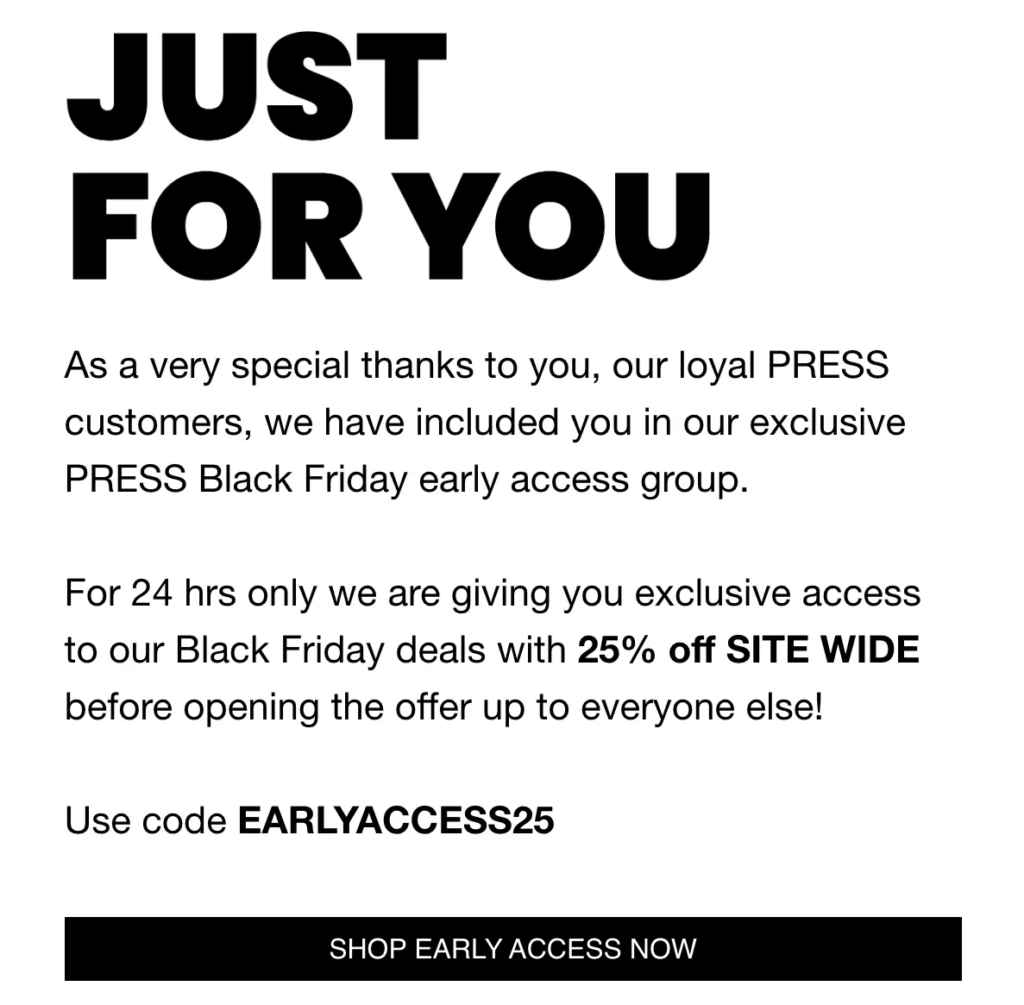 2. Create Referral codes
In your experience, word-of-mouth promotion may do wonders for a company's bottom line. Black Friday online promotion is also aided by this.
Distribute referral codes to your email list. As an incentive, you might give them gift cards or lower prices. You can increase your consumer base through word-of-mouth advertising from your existing clientele by merely rewarding their loyalty with special treatment.
Here is how Feelunique makes its referral program unique for each user.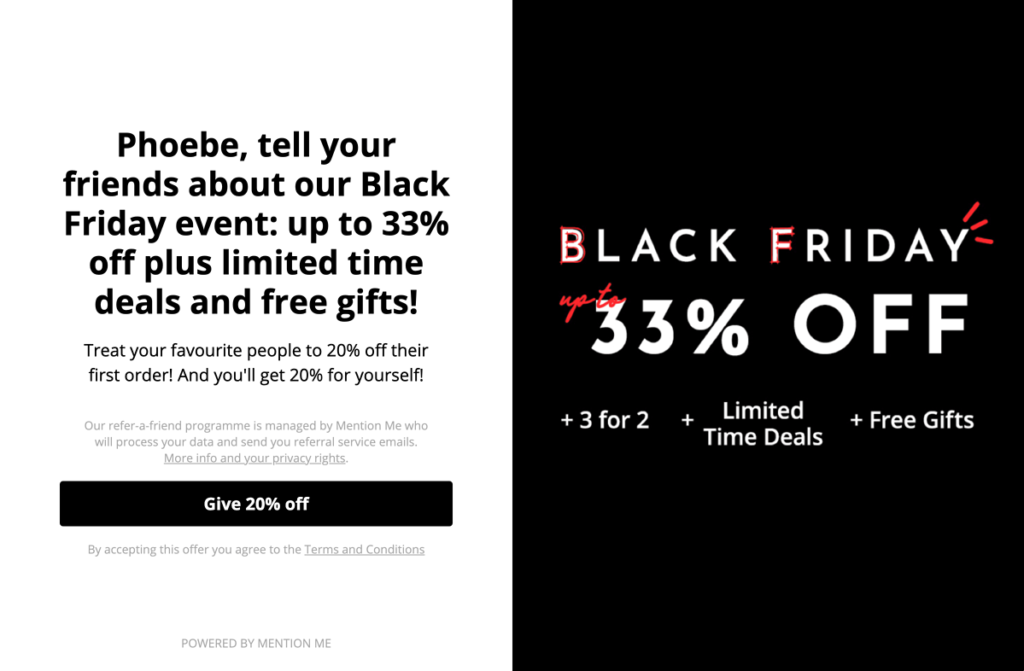 3. Bonuses for even the smallest purchases
Give out bonuses for spending at least a particular amount. If a customer spends $100 or more during checkout, for instance, they may be offered free delivery.
Reward programs with a minimum purchase requirement can boost conversion rates and raise average order value. Tiered incentives can make the system even more effective. If a customer spends $100, the discount might be 10%, but if they spend $200, the discount might be 20%.
An example to focus on is Mud pie, giving an extra percentage based on the amount their customers have bought.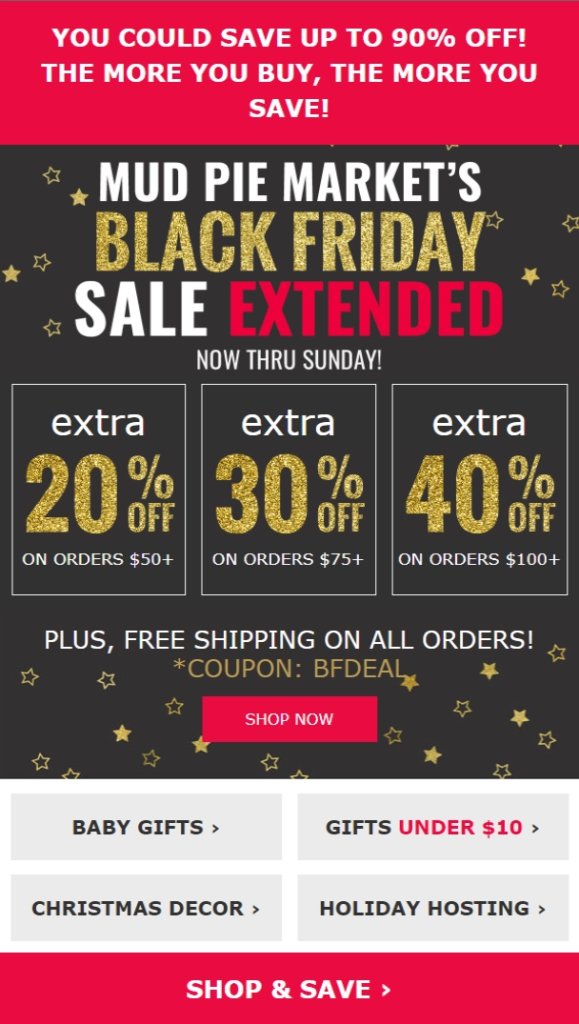 4. Provide a free bonus item with every buy.
I mean, who doesn't appreciate free stuff? People are more likely to buy your stuff on Black Friday if you offer freebies with each purchase. Giving away freebies with a value of less than $5 is a frequent Black Friday marketing strategy for small businesses.
Showcase the freebie on the front page of your website to get the word out. The result is enhanced exposure. For example, you could stipulate that customers must spend $75 or more before they are eligible to receive the freebie. It's also possible to just include a free bonus with every transaction if your margins are large.
Check out this example offered by Vitamin World.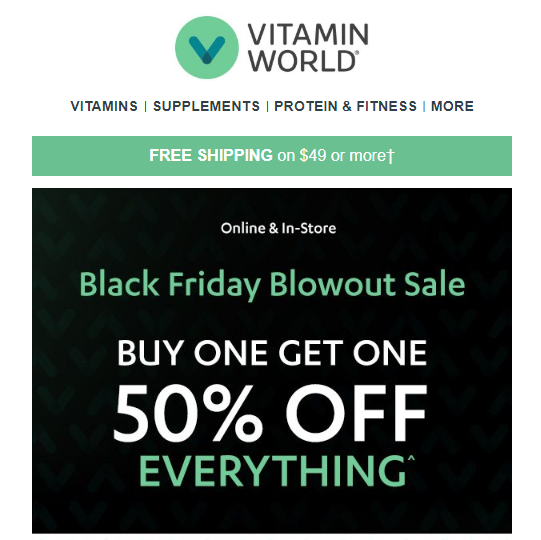 5. Create Brand Curiosity Before the Sale
If you are in need of a Black Friday sale idea or how can you get your customers excited about and interested in participating in your Black Friday marketing ideas, The timer next to the product is a great approach to increase sales since it encourages customers to make a quick decision and buy the item without second-guessing themselves.
Customers are more likely to start thinking about what they want to buy in advance of the sale.
An example provided by Apple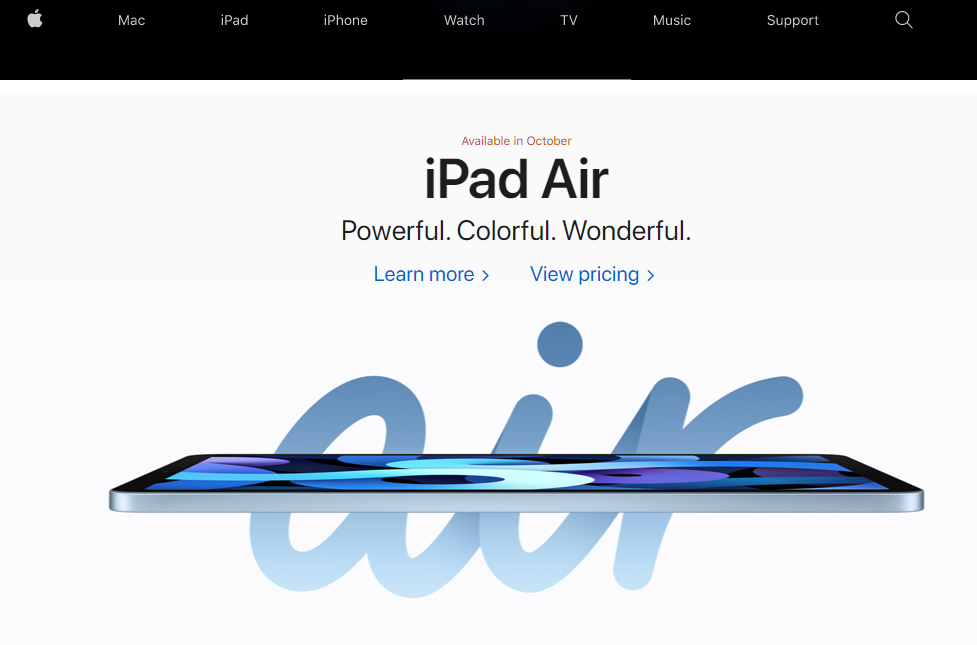 6. Pre-Order To Avoid Long Lines & Stock Issues
In order to entice customers to pre-order and make purchases before Black Friday campaigns, the focus this year has been on social distance and digital solutions rather than offline shopping. That means you'll need to start thinking about the Black Friday ad ideas right now and start rolling out deals early. Stock can be better managed, and customers can avoid waiting in huge queues outside of establishments, both of which contribute to increased security.
This technique used by Skechers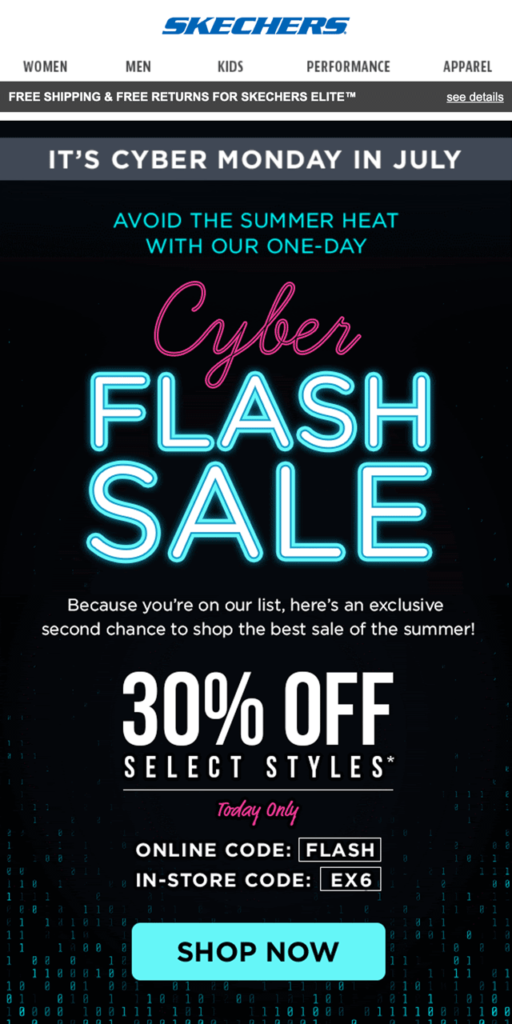 7. Synergy Between Brand Platforms
Although you may need to tailor certain promotions to fit particular media, your Black Friday marketing strategy for advertising efforts as a whole should still feel cohesive. Synergized efforts will also provide maximum visibility and minimum group investments, which is important so that consumers aren't confused when they're looking for a store while browsing your brand's platforms.
8. In-Store Contactless Shopping
It's a key tactic this year because of the worldwide need for people to keep their distance in public places and keep things clean. As a result, as a company, you should prioritize streamlining and simplifying the parts of the in-store purchasing process that don't involve touching anything. Things like contactless payments, hands-free product testing, Augmented Reality, Virtual Reality, and so on are included.
9. Give Free Shipping
Another Black Friday marketing idea to think about is when you add in free shipping, you've pretty much won over your customers for good. Offering free delivery is a subtle way to persuade people to make a purchase from you since 90% of consumers claim it is one of the top reasons they shop online.
In addition to being useful year-round, this marketing strategy can be really effective on Black Friday, when consumers are already feeling the pressure to make a purchase. During these times, standing out might be as simple as providing free shipping.
Oliviers & Co used as an example.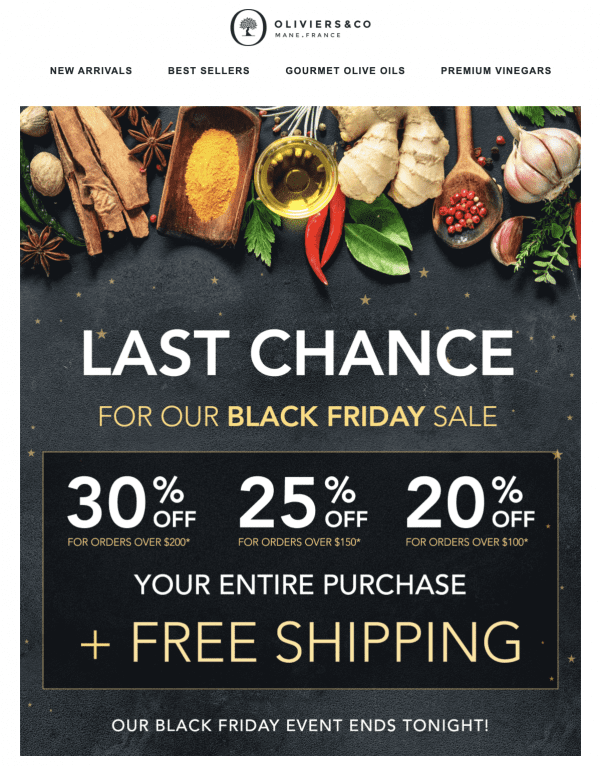 10. Set Up a Black Friday Email Campaign
Supposedly this Black Friday marketing strategy is another great item on the list in order to put your digital marketing strategies to action, and one of those strategies is to launch an email marketing campaign. Why? According to several reports, the return on investment for email marketing efforts is $36 for every dollar invested in those campaigns (ROI).
11. Don't Forget to Use Hashtags on Black Friday
If you want your content to be discovered organically on social media, hashtags are a great tool, which makes it one of the most popular Black Friday marketing strategies. Using the proper hashtags, users of social media platforms like Instagram, TikTok, and Facebook may easily locate the content they're seeking.
At present, the Black Friday hashtag on TikTok has more than 4B views. By including relevant hashtags in your social media postings about Black Friday online promotion, you increase the likelihood that they will be seen and read by interested parties.

12. Provide a Refund Policy with Some Flexibility
Having happy customers is essential to running a successful company. Offering customers the choice to return an item is an effective way to maintain their satisfaction, as seen by the annual $640 billion in merchandise returns.
There can be a number of reasons for a customer to request a product return. If you choose to provide a returns policy, make sure it's easy to understand so that customers can quickly determine if they qualify. Include this promotion in your Black Friday marketing strategy to encourage more sales. In addition, this can be used to make coupons or gift certificates.
Conclusion
Every business needs to take advantage of the once-a-year window presented by Black Friday. In all likelihood, the majority of your annual sales will occur on or around Black Friday and the subsequent Cyber Monday.
Now that you have access to some of the most innovative marketing strategies available, you can use them to generate buzz and increase sales, and with the help of Ainfluencer, you can now find your ideal influencer in order to do business.
1. What is Black Friday marketing?
Black Friday offers you a chance to show appreciation for loyal, long-time customers. Offering exclusive deals and discounts to these customers is a smart marketing tactic that can help to build customer loyalty and drive repeat business.
2. How do you attract customers on Black Friday?
Top Black Friday Sales 2022 strategies and ideas
1. Delight your most loyal customers.
2. Referral codes
3. Minimum spend rewards
4. Give a free gift with a purchase
5. Create a Pre-Sale Brand Curiosity
6. Pre-Order To Skip Lines & Stock Issues….
3. Why do companies do Black Friday?
The theory goes that following a relaxing Thanksgiving break, consumers will be in the purchasing mood once they get back to the office. To compete with the Black Friday deals at brick-and-mortar stores, online merchants will typically promote their bargains and discounts in the days leading up to the big day.
4. How do I prepare my business for Black Friday?
What you can do to get your company ready for Black Friday sales is outlined below.
1. Research what others in your industry are doing.
2. Plan out your promotions.
3. Make a decision on the deals you'll be offering.
4. Use a variety of payment methods.
5. Count what you have on hand.
6. Make the purchasing process a pleasure for your customers.
7. Maintain an approach that is easy to understand and implement.