Do you need horses for courses, or in this case, the right influencer marketplace to use as a brand?
Touché! There are so many different paid and free influencer marketplaces with their own strengths and weaknesses, so it's important for you to consider which one is best suited for your needs carefully.
All influencer networks have their own unique features and benefits so that they can help you save time in finding and connecting with your targeted influencers. Let's research and analyze each one before signing up and hiring an influencer.
Why do you need an influencer marketplace?
Influencer marketplaces have grown in popularity due to their accessibility and the wide range of services they offer. Top influencer marketing platforms and marketplaces offer brands and individuals the ability to connect with top-tier influencers.
These influencer marketing softwares allow users to search for and find influencers based on their specific interests or expertise.
You can use one of the top available influencer databases to find qualified experts for product placement, endorsement deals, and content creation. Additionally, unverified influencers can be found through the top marketplaces, allowing you to content with people who may not have formal celebrity status but still have a large following.
The Advantages of Using an Influencer Marketplace
As businesses continue to seek new and innovative ways to market their products and services, influencer marketing has emerged as a powerful tool.
Different types of influencers can help promote a product or service by sharing their OWN experiences or by recommending it to others.
The benefits of using influencer websites are manifold:
First and foremost, it can save time and money.
Secondly, it helps build trust between the business and its influencers – creating a more positive relationship that will lead to more meaningful collaborations in the future.
According to Statista, the global influencer marketing business was worth $13.8 billion last year, up more than $3 billion from the previous year. Furthermore, the trend indicates that this number will definitely continue to rise in the coming years as well.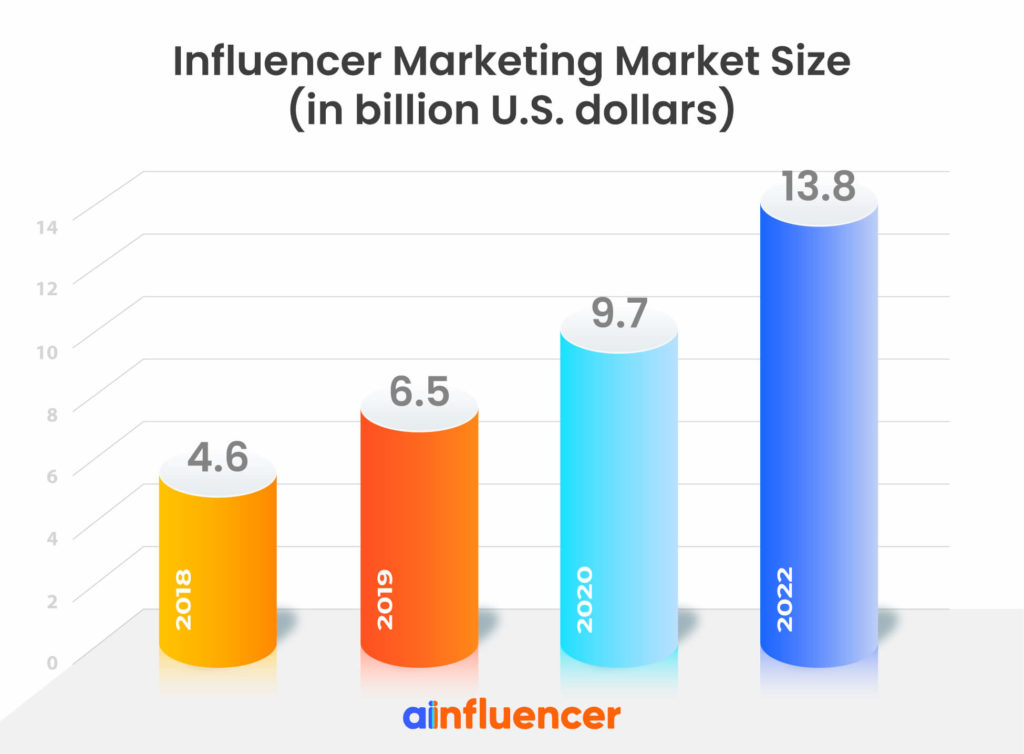 In simple terms, here is how you can use influencers marketplaces to your advantage:
Access Wide Influencer Networks
Develop Your Influencer Marketing More Easily
Analyze Results
Top Influencer Marketplaces in 2023
Here are the best influencer marketplaces in 2023:
1. Ainfluencer
Ainfluencer is a 100% free, Do-it-Yourself marketplace streamlining influencer marketing for both brands and influencers who join it.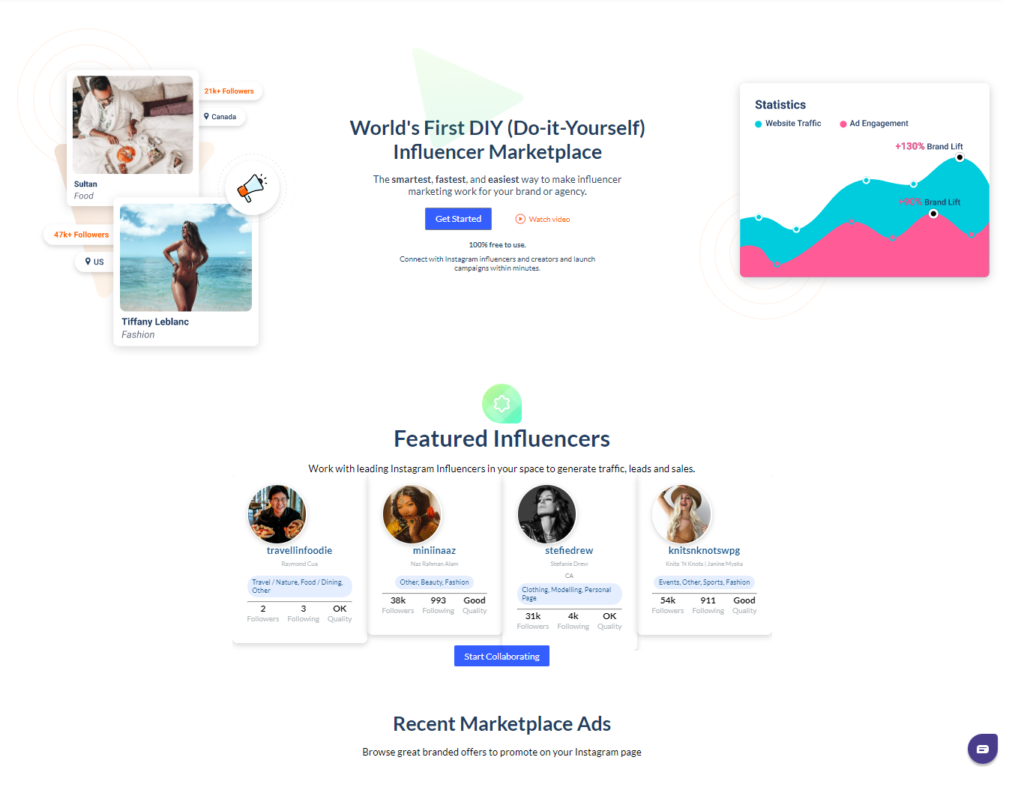 Ainfluencer is a 100% free end-to-end influencer marketing platform focused on Instagram and TikTok. The marketplace is where brands can discover influencers by niche, country, gender, audience type, and many other criteria to invite for collaborations. Using Ainfluencer, in a few simple steps you quickly set up your campaign and get exposed to over 500,000 influencers on TikTok and Instagram. This when you sit back and receive offers and proposals from influencers in your niche. Negotiate with them, pay them, and get your partnership collaborations rolling out.
Ainfluencer marketplace has been built with smaller brands and businesses as well as nano-, and micro-influencers (5000 to 1 million followers) in mind. That is why the free platform is certainly the very first DIY (Do-it-Yourself) and 100% free-to-use influencer marketplace, allowing small- to medium-sized brands to collaborate with nano-, micro-, macro-influencers on Instagram and TikTok. That doesn't mean larger and premium brands can't use it. Absolutely the platform fits their needs as well.
There are no limits for influencers as well as businesses on Ainfluencer. As a brand, you can manage unlimited campaigns, get proposals from an unlimited number of influencers for as long as your campaign is still live in the marketplace, and get all the values and features of the platform literally for $0 fees. This is in stark contrast with all other platforms in the market that you either right off the bat or soon after using hit the paywall to subscribe. Some of them force you to make payments to unlock certain important features essential for any influencer marketing campaign.
Let's go through some of Ainfluencer's features, values, reviews, and drawbacks.
Ainfluencer Features for Brands
It doesn't matter what size brand or business you are and where you are located, you can always use Ainfluencer marketplace and its useful features for unlimited use for free forever:
Influencers list: As we are writing this article, Ainfluencer has a list of over 500,000 influencers on TikTok and Instagram. Like any other marketplace the list is growing day by day with 10,000 new influencers signing up monthly.
Campaigns: Brands can create a campaign in a few simple steps and launch their presence and quest for influencers and their criteria in the Ainfluencer marketplace.
No Limits:
Influencer Invits: Brands can send invitations to all influencers for free. You have no limit in terms of discovering and evaluating the influencers in your niche and sending invites. This is the first step to get them to notice you and your campaign.
Smart Filters: Brands can narrow down their search for influencers using a great set of filters such as the size of influencers, their platform, gender, country,…
AInfluencer has no limit for offers, creating campaigns, inviting influencers, and any other features forever.
Smart Invites: Ainfluencer's AI engine sends smart invites based on your campaign targeting.
End-to-End:
Chat: Brands and Influencers use the built-in chat Inbox within the marketplace to receive offers, negotiate them, make payments, and discuss any matters around their collaborations. It is a very well done Inbox that allows you to streamline the entire process from receiving offers to making payments and leaving reviews.
Influencers Past: As a brand, you see influencers' past collaborations, brands they have worked with, reviews they have received from them, and insights on their social media audience. You can access these information either on their profile pages or right from where you chat with them (Inside Chat Inbox).
Payments, Transparency, Democratization
Escrow: Ainfluencer has an Escrow system that safeguards your payments to influencers and guarantees influencers receive their payments
Resolution Centre:
Reviews and Ratings:
Past Collabs
Ainfluencer Features for Creators and Influencers
It doesn't matter if you're a Micro-influencer, Macro-, and Mega influencer using the service; excellent features are available.
It is a Free-to-Use marketplace.
Influencers are capable of reaching out to an extensive database of campaigns to collaborate and earn money
Ainfluencer is the only End-to-End platform in the market allowing you to make unlimited offers and negotiate deal delivery and prices with brands and businesses.
No social media password policy keeps your accounts safeguarded.
The Ainfluencer app keeps you updated on your negotiations and deals being reachable at your hands.
AI-driven analytics assists you with categorizing campaigns based on your custom set preferences.
Regular Payouts.
Ainfluencer Values
Now, we want to discuss why you should pick Ainfluencer. What are the benefits of this influencer marketing platform? With Ainfluencer, you can:
Most suitable influencers are accessible through unlimited databases,
Analyze influencers' niches, audiences, and influencer marketing experiences,
Target the right audience,
Unlimited Walkthrough sessions are provided,
Run and manage successful campaigns,
Keep track of influencers' performances,
Negotiate with influencers within the application,
Create unlimited marketplace campaigns,
Set every aspect based on campaign preferences (DIY),
Boost visibility and awareness,
Make secure payments.
Supportive, Responsive, and Problem-Solving Customer Support team
At this point, you know why it is considered one of the best platforms for influencer marketing.
Ainfluencer's Pros & Cons
| | |
| --- | --- |
| Ainfluencer Pros | Ainfluencer Cons |
| You are not the only one who is always looking for the right partner. Instead, publish your campaign and get offers from influencers who found you the right partner. | It doesn't offer designer tools, so while creating your campaign, you should craft your campaign (images or videos) by yourself and upload it if you are not going to ask the influencer to make the content for you. |
| Ainfluencer is a 100% free Instagram marketplace for influencers finding. | |
| It offers insights into influencers' profiles to learn more about their engagement rate, the real number of followers, the quality of their content, and the estimated price you can negotiate with. | |
| You don't have to leave the platform and switch to another app at any stage because it offers on-platform payments, contracts, and messaging. | |
| Your money is safe, and you can be sure all your conditions and terms for your campaign will be fulfilled. | |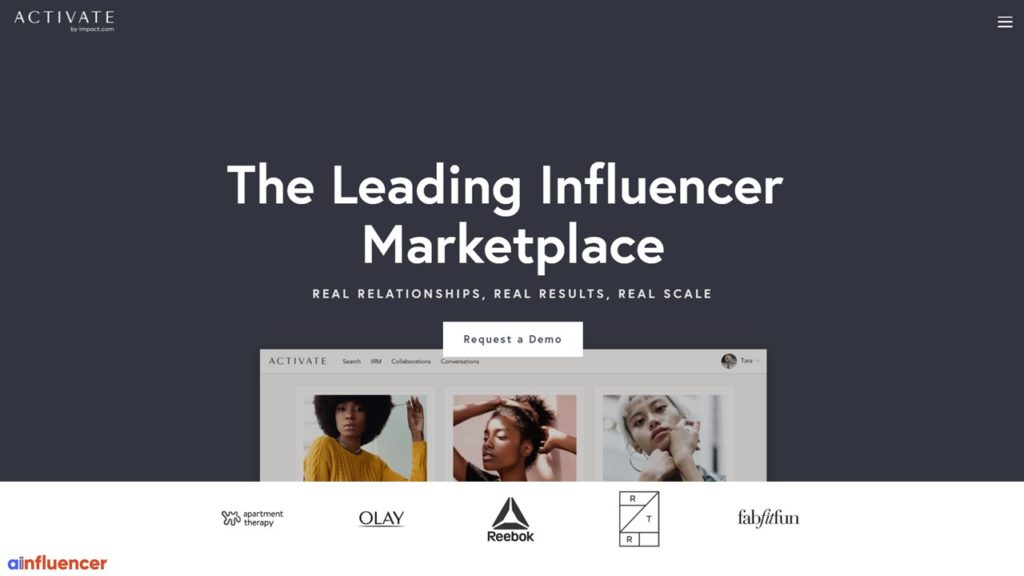 Activate is among the other comprehensive influencer marketplaces with influencers, models, athletes, and other celebrities already joined the database.
Activate's influencer networks are used by Tinder, Walmart, Apartment Therapy, Reebok, Olay, and H&M, to name a few. Go through its features and pros and cons to better understand this platform's function:
Key Features
Activate Studio is an in-house team of influencer strategists to build up a strategy and execute custom influencer collaborations with effective services.
Casting decks are a useful feature for developing and tweaking influencer pitch decks using publicly available data.
| | |
| --- | --- |
| Activate Pros | Activate Cons |
| The Active Studio adds a layer of human expertise to the service in the influencer marketplace. | The lack of functionality for reports was criticized by the majority of reviewers, while influencers themselves stated that the fees were poor on Activate when compared to other marketplaces. |
| Activate provides its service in multiple languages. | The premium version runs into recurrent issues while the customer service remains unresponsive or, most of the time, impossible to contact. |
Activate pricing: This influencer marketing platform did not provide any information about its prices.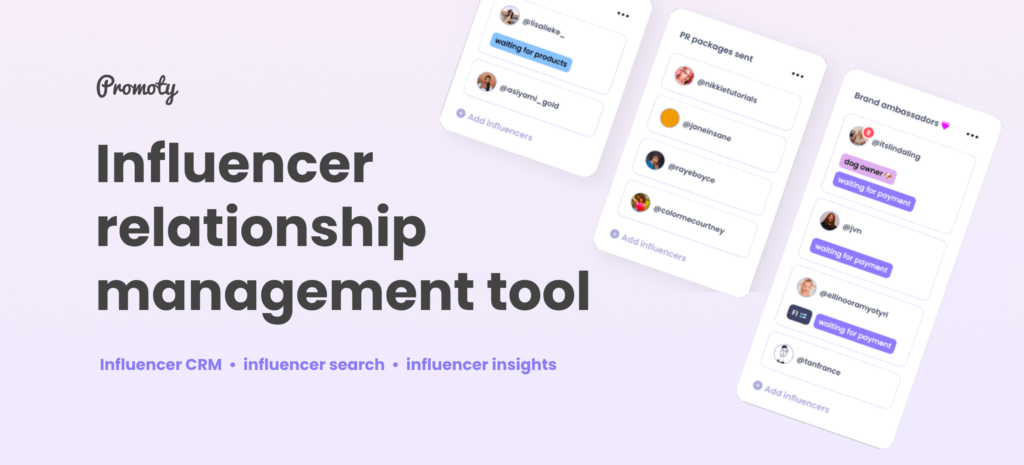 Promoty is an influencer management tool to manage all your influencers, collaborations, chats, and monitor branded content in one place. Additionally, they have a global influencer search and insights about some TikTok and Instagram influencers.
Key Features
It's CRM (Customer Relationship Management) for influencers.
You can make influencer discovery.
It gives you automated influencer suggestions.
This influencer marketing software gives you detailed influencer analytics.
Content monitoring is allowed on this Instagram and TikTok marketplace.
| | |
| --- | --- |
| Promoty Pros | Promoty Cons |
| It has affordable pricing. | Search only includes Instagram and TikTok. |
| This influencer marketplace is easy to use. | It may take some time to set up the details of your campaign. |
| It provides you with an in-app chat to connect with influencers. | |
| You can use advanced filters in the influencer search. | |
| It gives you Instagram and TikTok insights. | |
Promoty pricing:
Promoty Premium: $87/month,
Promoty Professional: $132/month,
Promoty Expert: $223/month.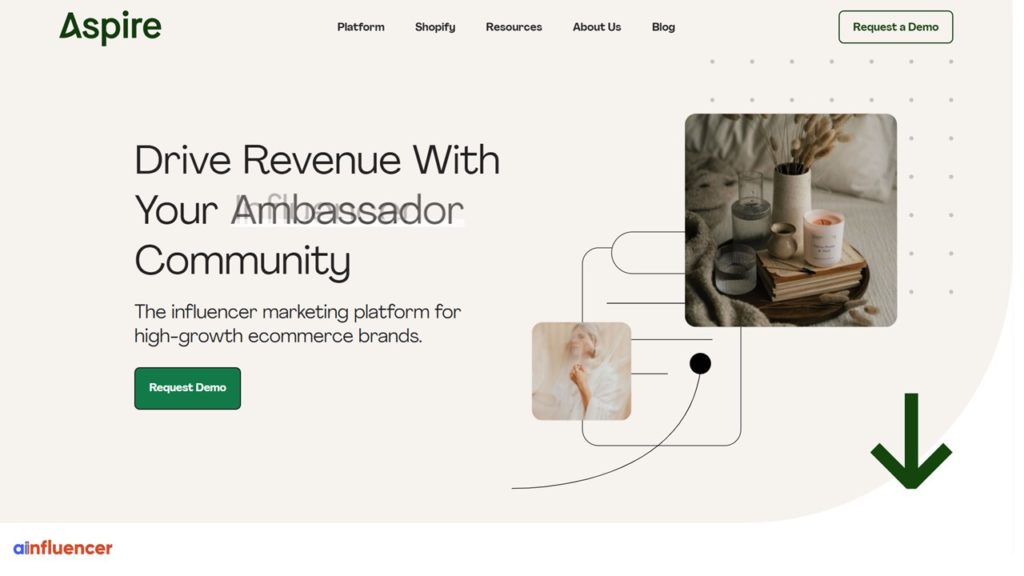 AspireIQ (formerly Aspire,) another marketplace for influencers and brands, works with Instagram and YouTube and has a database of over 150,000 influencers. Although anyone can join AspireIQ, in order to view brands or campaigns, creators must meet specific criteria.
You must already have 500 Instagram likes or 2,500 YouTube views to be considered an influencer.
Any influencer who meets the requirements is added to AspireIQ's searchable database, where they can review brand proposals. It has a simple and basic search engine and a Tinder-like "Quickmatch" tool that matches businesses and influencers for a specific campaign. Continue reading to find out more features of this influencer website:
Key Features
The "Quickmatch" feature, which is described as a "Tinder for Influencers," provides you with an influencer based on your preferences. A name, profile picture, follower count, average likes, and a short bio are all displayed.
With the "Watchlist" feature, you'll also receive a list of influencers discussing the companies on your Watchlist. This AspireIQ feature helps you monitor your competitors' social activity.
"Campaign Lifecycle Management" – is another key feature on the AspireIQ Instagram influencer marketplace that enables you to manage and analyze your campaigns and discover which creators are in which campaign stage, or check out an overview of what you got for your money (also known as ROI). Individual influencer performance numbers are included in the summary, making it easy to understand who delivered them and who didn't.
| | |
| --- | --- |
| AspireIQ Pros | AspireIQ Cons |
| The ease of use and necessary features are the highlights of AspireIQ. | Pricing on AspireIQ requires a yearly commitment, and many users don't rate the value for money highly unless you are a big enterprise with a big budget. |
| The support team is great. | It is also the customer service that is pilloried in many reviews of influencer marketing websites. |
AspireIQ pricing: This influencer has three different plans (Starter, Pro, Premium) but doesn't provide any information about their prices. However, Capterra mentioned that the prices start from $2499.
5. Heepsy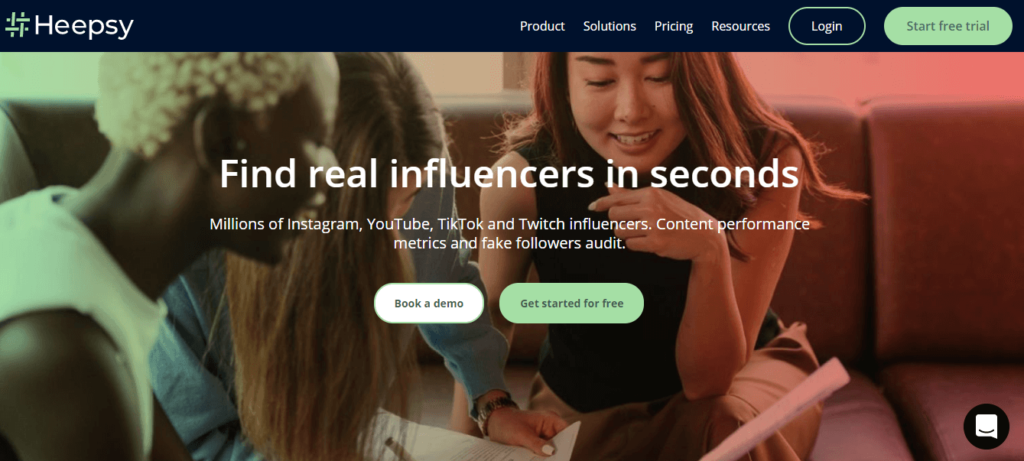 The next influencer marketplace on our list is Heepsy, which emphasizes authenticity and genuine impact.
Heepsy delivers some basic information you need to locate, launch, and measure your influencer campaign with a network of both micro and macro influencers (as few as 5k followers).
Key Features
Heepsy allows you to register a completely free account that you can use for an indefinite period of time – making it one of the few influencer websites that you can use for free!
| | |
| --- | --- |
| Heepsy Pros | Heepsy Cons |
| It has affordable pricing with also one free package. | The free plan is very limited compared to other free influencer marketplaces, such as Ainfluencer, that allow you to have full access to the features, influencer database, and analytics. |
| You can have a great user experience. | |
| You can have enormous influencer networks. | |
Heepsy pricing:
Starter: $49/month,
Business: $168/month,
Gold: $269/month.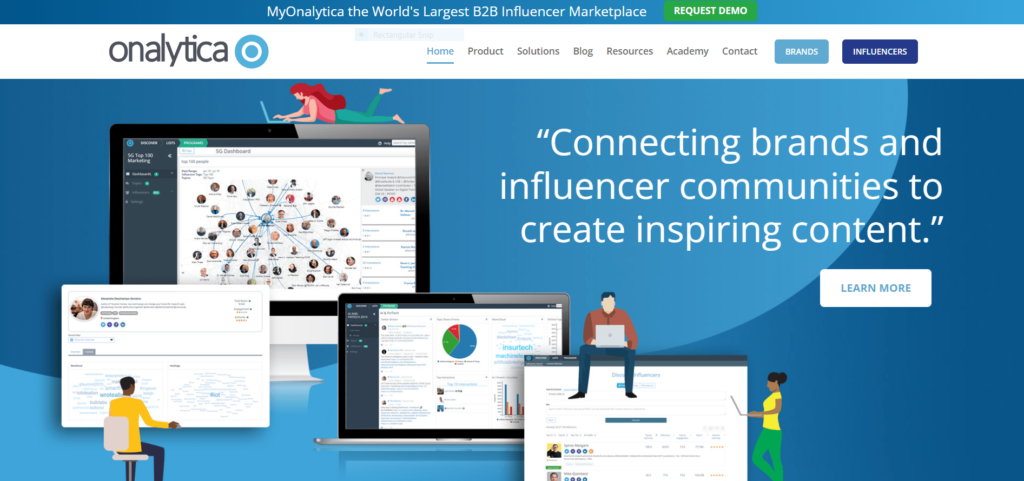 Another platform for Instagram influencers is Onalytica. The search capabilities of this influencers marketplace are acceptable for elementary campaign running. You may simply filter out results depending on your campaign requirements, thanks to its database of influencer profiles.
Onalytica also provides some tools to assist you in managing your relationships with all of the influencers on your radar. Onalytica can be one of your choices if you're looking for an influencer marketing tool that focuses on B2B campaigns.
According to their website, their clients have experienced up to thirty times higher exposure and engagement. Plus, with their target group, they've experienced an increase in demand creation.
This was made possible by including influencers in the promotion of events and content.
Key Features
Discover influencers from a global database of over 700,000 influential people.
Get valuable information about your target audience and crucial KPIs.
Scale your campaigns while managing different influencer interactions.
Analyze the results of your influencer marketing efforts.
| | |
| --- | --- |
| Onalytica Pros | Onalytica Cons |
| You can determine the relative influence of a certain influencer in a given field using the topical authority score. | Onalytica doesn't offer an on-platform feature to talk to influencers directly. |
| Using "Word Clouds," you may figure out what an influencer is usually talking about. | |
| The ability to use "Key Connections" to assess an influencer's prominent influence circles. | |
| Influencers can be found through content or topics. | |
Onalytica pricing: The platform offers a free trial for new users. However, since their plans are customizable, you should talk to their sales team about the prices.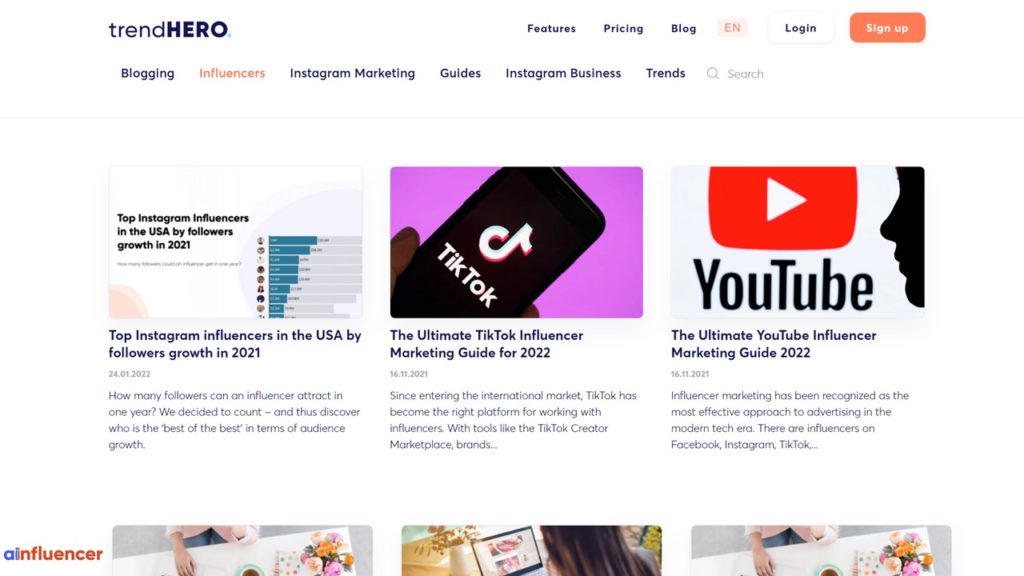 This influencer marketing tool is renowned for a feature that assists brands in detecting bogus followers. It allows you to assess the quality of an influencer's audience and determine whether they are growing their influence through legitimate ways.
You may search for influencers based on demographics, engagement, and active subscribers on TrendHERO. You may also keep an eye on your competitors and see how often they advertise their social media ads.
Key Features
Analyze your audience by city, gender, audience interests, audience type, and other factors.
Keep an eye on how an influencer responds to their followers' remarks and how in touch they appear to be.
Analyze your campaign's ads and content to determine the percentage of subscribers who like it.
Examine brand mentions and look for accounts that are comparable to yours.
| | |
| --- | --- |
| TrendHERO Pros | TrendHERO Cons |
| Search and find influencers with an easy-to-use tool. | The free plan lacks the experience you expect before you decide to purchase one of the packages. |
| Check an influencer's previous branded work. | |
| Get an insight into influencers and their followers. | |
| There is a free plan available. | |
TrendHERO pricing:
Free plan,
Lite: $9.99/month,
Pro: $29.99/month,
Advanced: $99.99/month.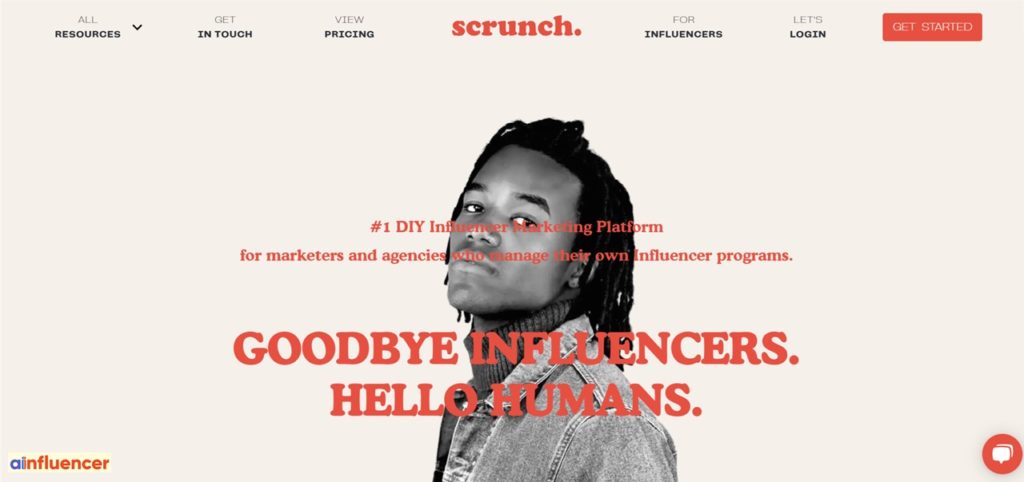 One of the other influencer marketing marketplaces available is Scrunch. It boasts a strong roster of companies, including Red Bull, Vogue, Subway, and GQ. This influencers database includes over 20 million influencer profiles and an algorithm that has indexed over 10 billion posts.
Key Features
As you define the parameters for influencers, you receive recommendations from them in the bargain.
You can make notes on each influencer and attach them to their profiles, which is useful for teams that need to work together transparently.
| | |
| --- | --- |
| Scrunch Pros | Scrunch Cons |
| The free/starter option is actually pretty generous, which allows you to create and run a campaign. | You should expect glitchy results when looking for influencers relevant to your criteria. |
| Working with this influencers marketplace is easy. | |
Scrunch pricing:
Starter: Free,
Pro: $99/month,
Power: $299/month,
9. ExpertVoice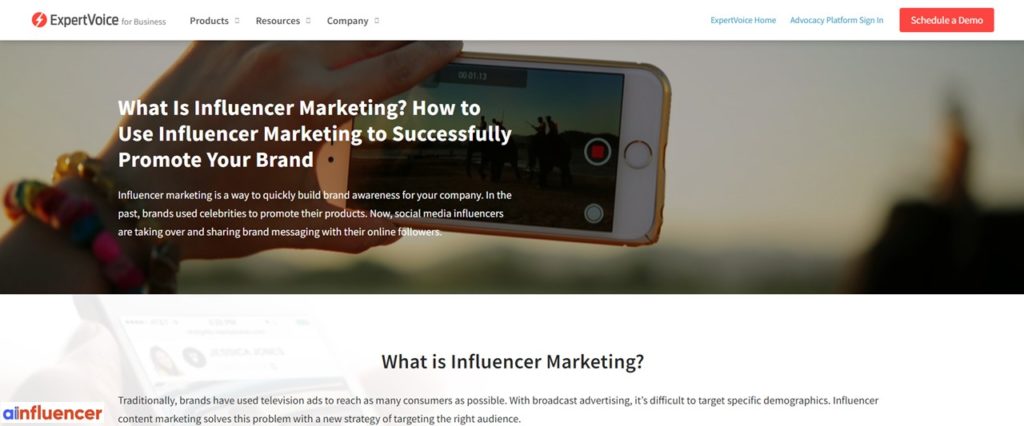 ExpertVoice is one of the other sites for Instagram influencers. According to their website, this marketplace allows you to identify and qualify potential influencers in a variety of niches.
Potential influencers become members of expert communities on ExpertVoice, which have access to brands in their field. You are only exposed to those who are in the correct field in this way.
Key Features
You'll be provided with brand Guidelines.
It lets you manage your campaigns.
Its customer segmentation feature allows you to access and find your targeted influencers.
You can also track your campaigns' conversions.
| | |
| --- | --- |
| ExpertVoice Pros | ExpertVoice Cons |
| ExpertVoice has been successful to provide brands with lots of options and search filters. | The mobile app doesn't work as well as its influencer marketing website. |
| You can track the progress of your influencer marketing on ExpertVoice. | It takes time to get approved. |
ExpertVoice pricing: Unfortunately, the pricing of this influencer marketplace is nowhere to be found on the internet.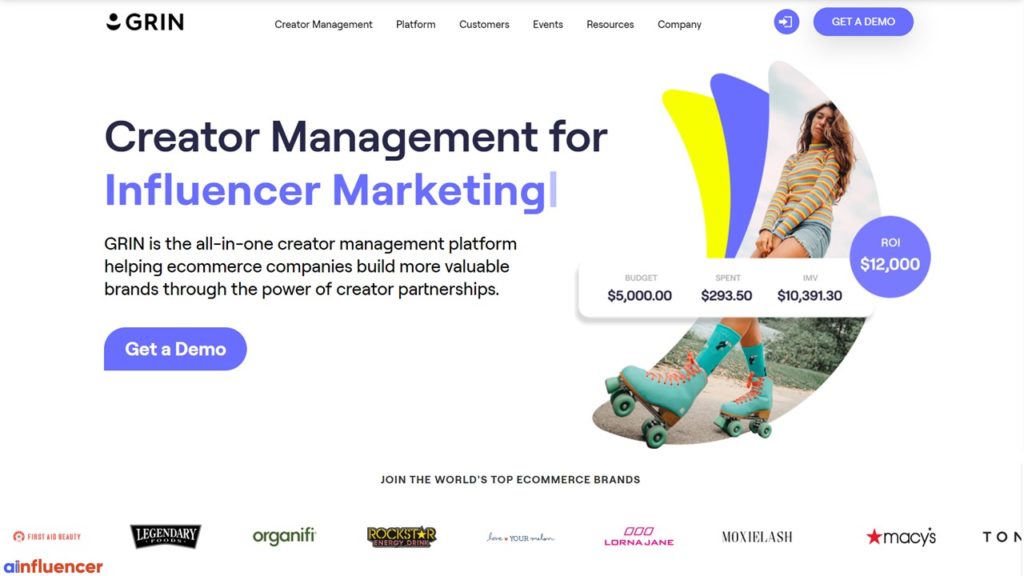 Grin is one of the other influencer marketing marketplaces that focuses on assisting eCommerce businesses and those trying to form affiliate marketing in developing beneficial influencer partnerships.
It tries to locate registered users on your eCommerce site and imports their social accounts. This provides you with a list of potential influencers, as well as their key statistics, who have all previously purchased and loved your products.
based on their claims, Instagram, YouTube, and TikTok influencers are all included in Grin's searchable database. Over 100 million influencers are available to search, with about 37 million of those profiles providing email addresses.
Let's check some of the features, pros, and cons of this influencer website:
Key Features
Discover YouTube, Instagram, and TikTok influencer profiles.
Within the influencer marketplace, you can track all of your KPIs and create bespoke reports.
Track and repurpose content so that it can be shared on a variety of social media sites.
Within the influencer software, you may manage payouts.
| | |
| --- | --- |
| Grin Pos | Grin Cons |
| You can identify influencers among your consumer base. | Grin's pricing plan is not transparent before accessing the influencer networks. |
| Grin offers real-time tracking of sales and referrals. | Grin doesn't offer many details and insights into influencers' profiles. |
Grin pricing: According to Socialpros review about Grin, this platform's prices are as follows:
Basic: Free,
Pro: $99/month,
Enterprise: $499/month.
11. Klear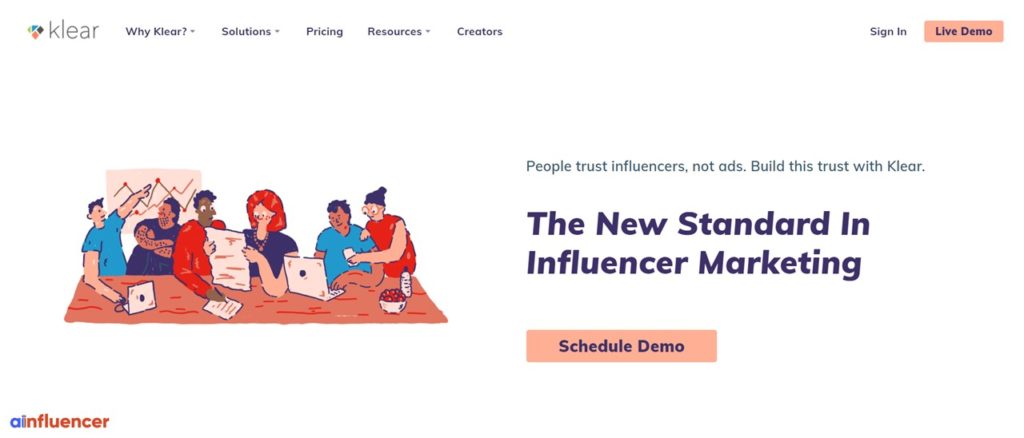 Klear began as a service to let Twitter users gain information on their follower base before influencer marketing became popular. It has since altered gears and evolved into a standard marketplace.
It allows you to use different criteria to find relevant influencers across several channels. It also tries to displays audience demographics and influencer metrics, allowing you to sift through influencers for your campaigns.
You may also use the Klear CRM to keep track of influencer contact information, manage outreach, and track campaign progress. It also includes social listening and monitoring features to aid in the improvement of your marketing strategy.
Key Features
Focus on finding influencers using advanced criteria such as specific themes, influencers' niches, different social networking sites, and other options.
All influencer research may be found on one site.
With the built-in CRM system, you can keep track of your influencer relationships.
With Klear's in-app messaging tool, you can build long-lasting partnerships.
From within the marketplace, approve content, sign contracts, and execute payments.
Create thorough reports to track the success of your influencer efforts.
| | |
| --- | --- |
| Klear Pros | Klear Cons |
| Klear's AI learns about your brand thanks to the social listening tools and only offers you search results that are relevant to your brand. | You may have trouble obtaining past data. |
| All platforms are supported, including Instagram Stories and TikTok Live, and a custom sample is provided. | Klear doesn't provide reports for TikTok. |
| Make super-informative and easy-to-understand reports. | |
Klear pricing: There is no detail about Klear prices on their website. You have to sign-up and request a demo to learn about their prices.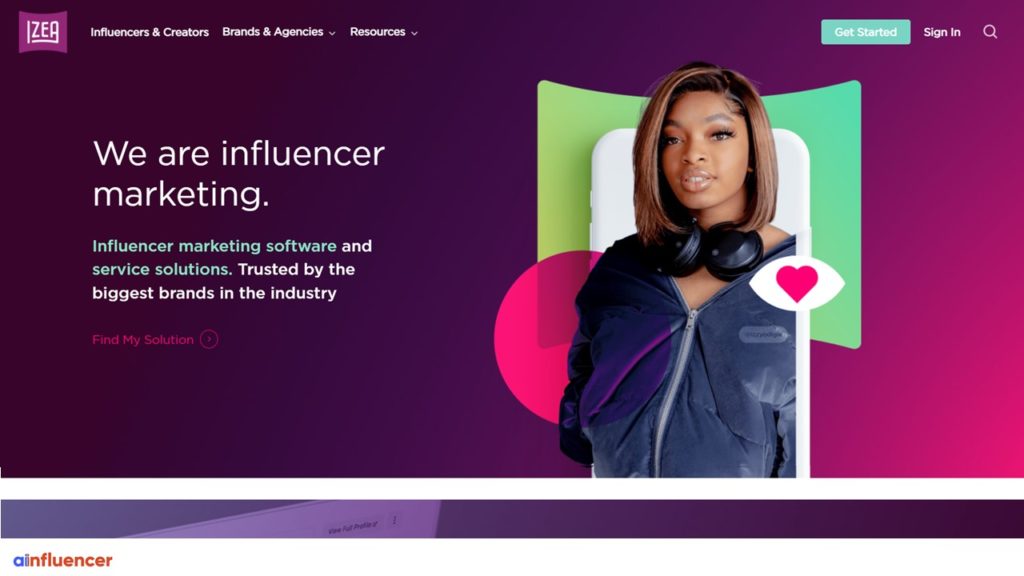 IZEA has been operating since 2006, so if you're looking for influencer marketing software options in 2023, IZEA might be one of the contenders to keep in mind.
Key Features
The Instagram influencer marketplace, IZEA, offers a powerful search tool that allows you to construct a list of macro and micro influencers who could assist you in achieving your objectives.
IZEA's campaign management tools make it easier to plan, execute, and manage your influencer marketing campaigns.
| | |
| --- | --- |
| IZEA Pros | IZEA Cons |
| IZEA's reporting engine goes beyond some other influencer marketplaces' conventional influencer engagement measurement features. | You might need some tutorials before you can take all the full advantages of this influencer marketing marketplace. |
| Performance metrics, media value, and ROI are displayed in the reporting engine. | IZEA costs you at least $149 per month. This may not be good for brands and businesses that have just started investing in influencer marketing. Also, the pricing gets higher as your business and requirements get bigger. |
IZEA pricing:
Starter: $165/month,
Power: $600/month.
Creator Marketplace:
Free,
Creator Pro: $6/month,
Marketer Pro: $99/month.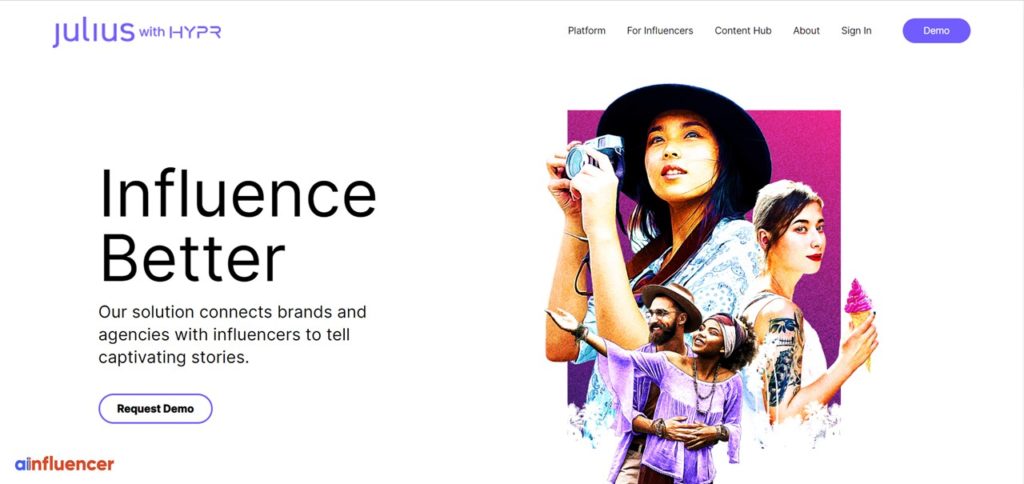 Julius is among the sports endorsement-based influencer marketplaces. The software tries to provides end-to-end campaign management as well as different search filters for pinpointing influencers. You can segregate projects for each client on the agency plan.
Key Features
On Julius dashboard, you'll get something similar to a social feed, with updates on new influencers joining the site, new brand/influencer relationships, and a tailored feed of industry news.
Everything you need to know about a campaign is readily available with the Julius campaign management features.
| | |
| --- | --- |
| Julius Pros | Julius Cons |
| Julius features 50 search filters, allowing you to narrow down your influencers even further – which will come in handy with a database of over 100,000 people. | For small to medium businesses or those wishing to try out the technology for a few months, the annual price may be too expensive. |
| Julius channels include Facebook, Instagram, Twitter, YouTube, Twitch, and Pinterest. | |
Julius pricing: This influencer marketplace prices are different based on your needs and there is no monthly fee. So, if you want to enjoy Julius' features, you have to sign up annually.
14. TapInfluence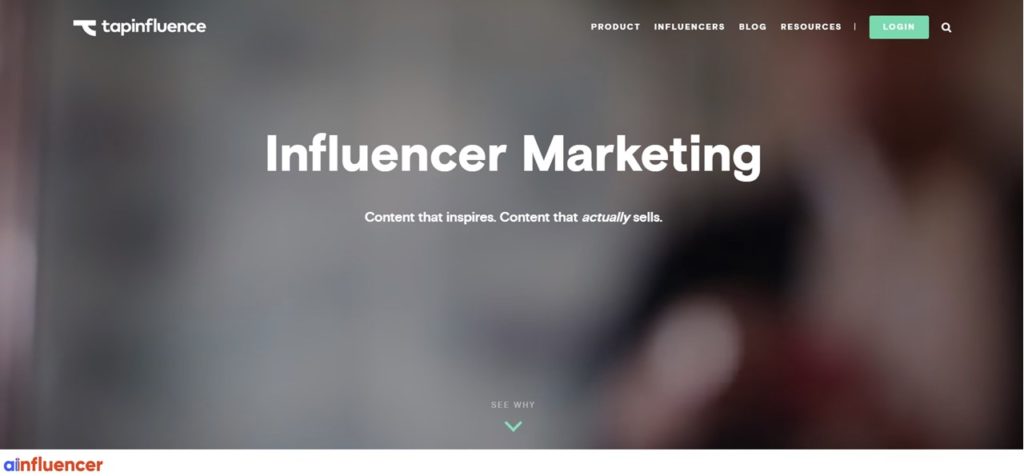 TapInfluence is built so you can manage your influencer marketing campaigns without leaving the marketplace.
This influencer marketplace claims to help you handle everything from the creative briefing for campaign proposals to content creation and payments. You may look at crucial marketing data like reach, media value, views, and conversions to make sure you're on the correct track.
All you have to do now is decide on a budget. Because TapInfluence is not going to be a budget-friendly option.
Key Features
Use keyword and visual search tools to find the right influencers.
Add a sponsorship disclosure automatically.
For click traffic, look into fraud detection and third-party click scoring.
| | |
| --- | --- |
| TapInfluence Pros | TapInfluence Cons |
| It's integrated with Google Analytics and a few social media networks to provide downloadable information for campaign tracking. | Many users found TapInfluence a bit complex, from the pricing plans to using its features. |
| Ability to provide or deny access to specific campaigns to team members or clients. | |
| With their publishing and scheduling tools, they can automate campaigns. | |
TapInfluence pricing:
Standard: $1999/month,
Enterprise: Customized,
Agency: Customized.
15. Traackr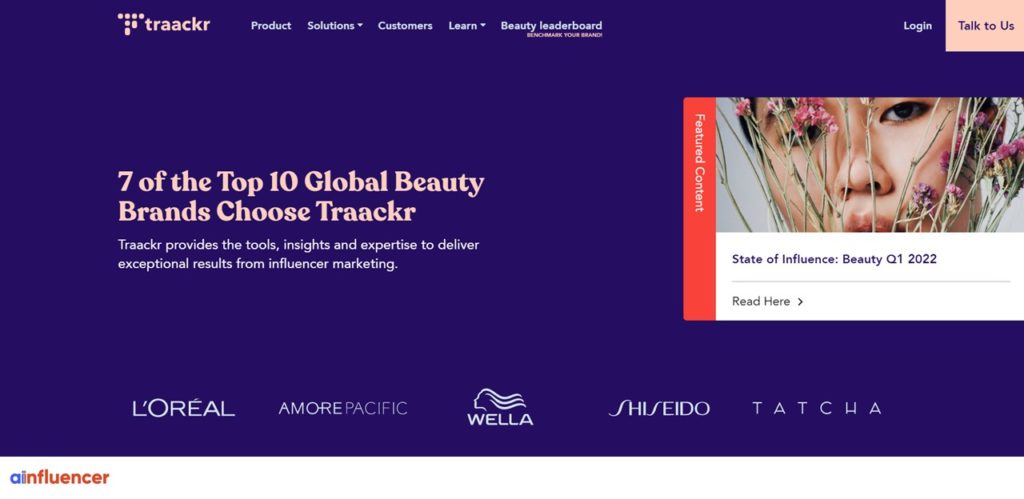 Traackr is designed to assist you in establishing connections with influencers. In fact, This influencer marketplace sorts influencer profiles by the type of relationship you have with them.
They also have a social listening technology that allows them to keep track of brand references in real-time.
Although Traackr claims it is created with the needs of businesses in mind and goes into detail about the data that are crucial for high-stakes influencer efforts, its capability to address the requirements of businesses are questioned in its reviews.
Key Features
An influencer's close relationships can be checked using a network visualization tool.
It gives you simple-to-use collaboration solutions for large groups.
You can examine whatever methods your competitors are employing.
The Resonance score can be used to determine relative influence and affinity.
| | |
| --- | --- |
| Traackr Pros | Traackr Cons |
| Several instructional resources are available, as well as the option to sort influencer profiles by your relationship. | Traackr currently doesn't share data for Instagram Stories. |
| Traackr features a powerful search engine. | |
| All important social media networks are included. | |
Traackr pricing: Traackr's pricing is highly individualized, therefore they have not published any information about the cost.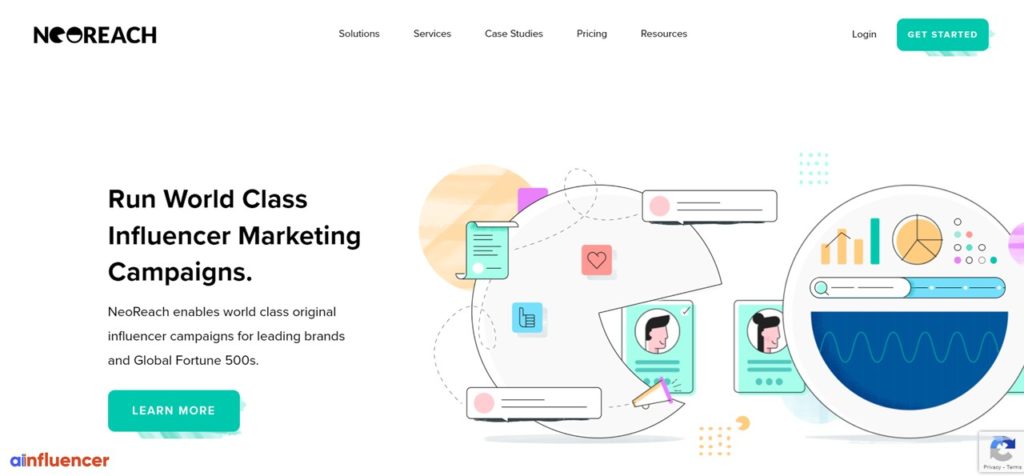 The NeoReach influencer network currently contains over five million social media influencers.
Although it was created with the needs of small and large businesses in mind, this influencer marketplace may not be appropriate for small to midsize businesses.
For each of their clients, they personalize the annual subscription. The entire range, however, is between $50K and $500K.
The Influencers' activity is tracked by NeoReach on Instagram, Twitter, Facebook, Snapchat, Pinterest, and YouTube. Some of this information is available to you when selecting the ideal influencer for your campaign after paying them around $50K.
Key Features
Different criteria are available to help you locate the most relevant influencers for your campaign.
Check the authority of an influencer in their target market.
Use the marketplace's in-app messaging feature to communicate with influencers.
To run your campaigns on autopilot, you can create automated workflows.
You can also keep an eye on and track the status of your campaigns.
| | |
| --- | --- |
| NeoReach Pros | NeoReach Cons |
| IMV (Influencer Media Value) is a good indication of your return on investment. | On this influencer marketing marketplace, there are only a few micro influencer profiles available. |
| It has a user-friendly, straightforward UI. | Small firms may not find it affordable. |
| The influencer marketplace has a good onboarding process. | |
NeoReach pricing: The prices of this platform are calculated based on different factors. And there is only an annual subscription available. The subscription fee usually runs between $50k and $500K.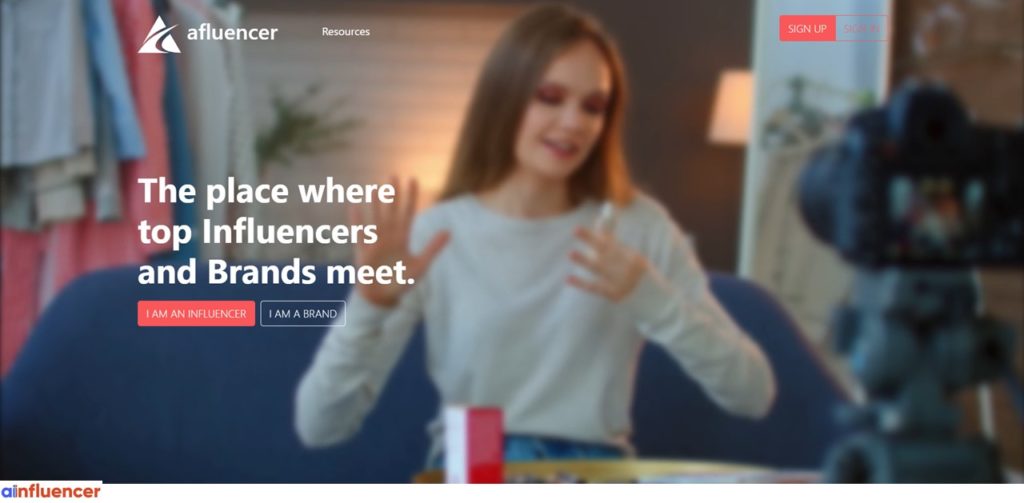 Afluencer is considered one of the basic influencer marketing websites. This platform has only just begun its journey in the field of influencer marketing.
The positive point about this platform is its free plan, which allows users to set up an account. However, you may need a walkthrough session with its customer service.
You may also use this influencers database to find influencers and send invitations to them.
Key Features
Influencers can post a "Collab" opportunity, and Afluencer provides them with a good partnership.
You can get your hands on the right information and pick your influencers.
| | |
| --- | --- |
| Afluencer Pros | Afluencer Cons |
| From within the marketplace, users can evaluate, approve, and contact influencers. | Despite the influencer engagement rates on Afluencer, the number and variety of influencers are sorts of limited compared to other influencer marketplaces. |
Afluencer pricing:
VIP: $49/month,
Concierge: $99/month,
Boss: $199/month.
18. Webfluential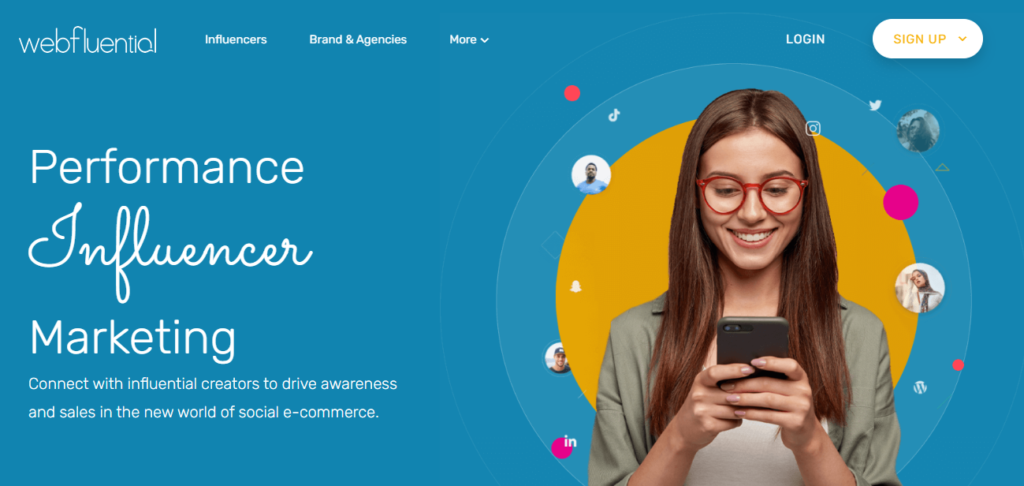 Webfluential is another influencer marketplace in our list. Its in-depth focus on assisting influencers and creators with quotations, proposals, and analytics sets it apart.
Signing up as an influencer or listing your campaign concept is free. However, the rest is not. They charge at least a 10% fee on approved, published campaigns.
Influencer searching, collaboration tools, influencer, and campaign management, and real-time analytics; these features may help you with your influencer marketing campaigns.
Key Features
This social media influencer finder tool provides some data on influencers' audiences and performance.
It gives you access to influencers' analytics and engagement stats.
Its reports show you which influencers best fit with an audience.
This free influencer marketplace lets you know your progress management.
| | |
| --- | --- |
| Webfluential Pros | Webfluential Cons |
| Webfluential vets and approves all influencers on this influencer website, making it a safe alternative free of fraudulent accounts. | Their influencer network is considered small, yet the search feature might be more exact. |
| It tries to give you a view of each influencer's reach and connection. | You can not connect with influencers on the marketplace. |
| It has a 7-day free trial. | |
Webfluential pricing:
Premium: $100/month,
Premium Agency: $250/month,
Enterprise: $1000/month.
19. Discover.ly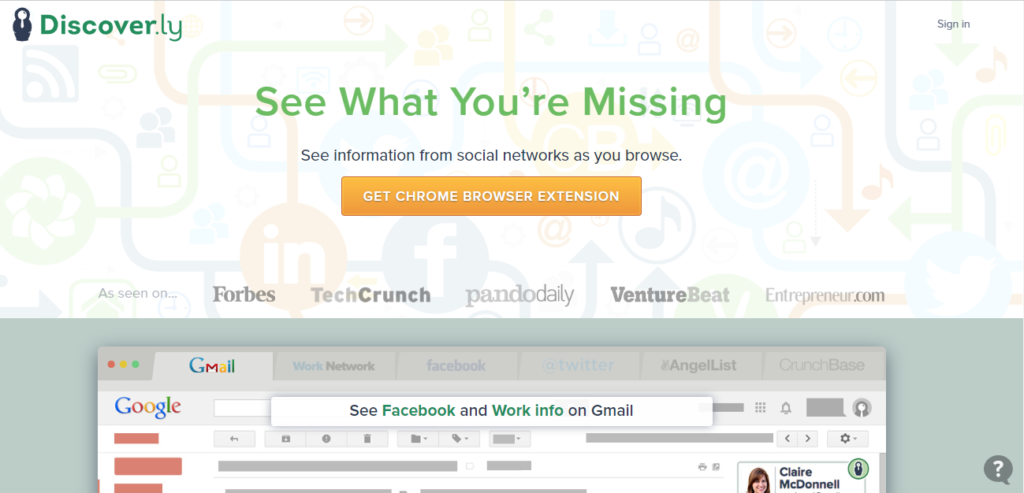 Didcover.ly is a tool that navigates your social data. By using Discover.ly, you can find influencers that are followers by your contacts and boost your productivity. This Chrome browser plug-in can list all your matching profiles on other platforms.
Key Features
You can save and download the list of your contacts.
You can find your client's social profiles on Gmail, LinkedIn, and Twitter.
| | |
| --- | --- |
| Discover.ly Pros | Discover.ly Cons |
| It works super fast. | The interface is not up to date. |
| It is easy to use | The support team is not quick. |
Discover.ly pricing: Discoverly prices start from $35/month.
20. GroupHigh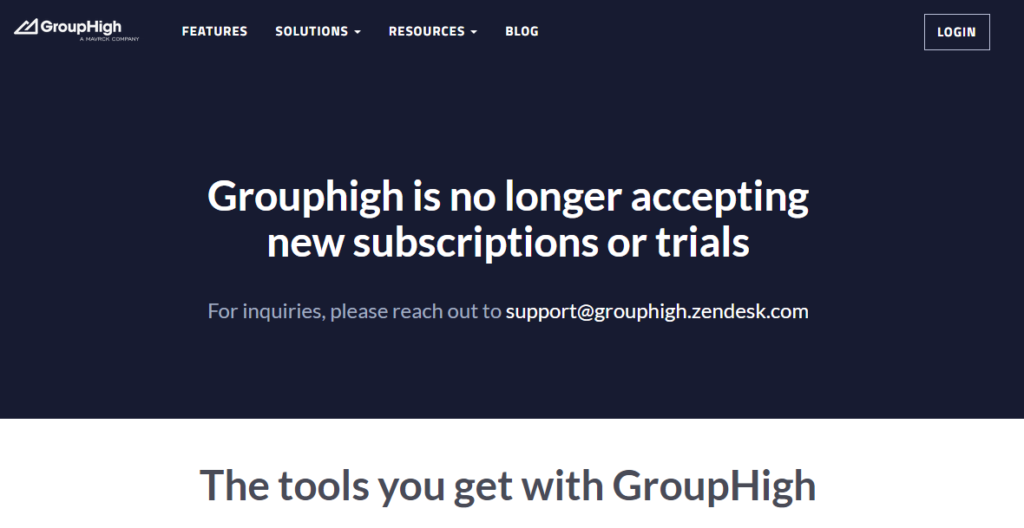 It is one of the free influencer marketplaces with 16 centralized lists of bloggers and influencers in specific niches. You can find your niche, use its list of influencers, and connect with them. If you sign up for this free influencer search tool, you'll get a new list of influencers every month.
Key Features
You can measure the value of your content.
There are 16 different niches to search for influencers.
It provides its users with an up to date analytics.
| | |
| --- | --- |
| GroupHigh Pros | GroupHigh Cons |
| Working with GroupHigh is not very difficult. | The influencer database is not very big. |
| You can get detailed information about the influencers. | You need to do all the processes all by yourself. |
GroupHigh pricing: The prices of this platform are not mentioned on their website.
21. Followerwonk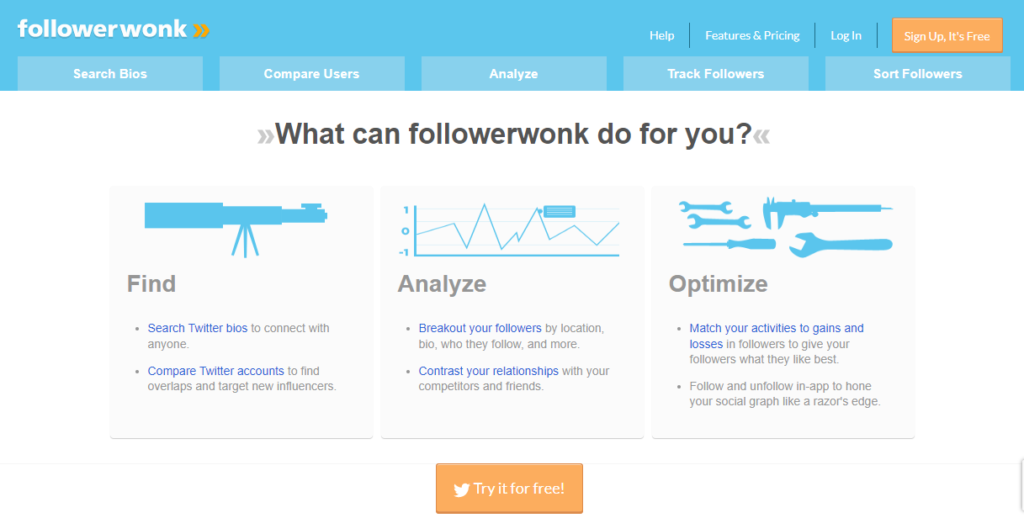 Here is one of the other free influencer marketing websites that are designed to identify influential people on Twitter. You can find and compare social media influencers and get insights on how to have the best influencer campaigns.
Key Features
You can find influencers on Twitter.
You can optimize social media profiles.
It has a connection with Buffer to help you schedule your posts.
| | |
| --- | --- |
| Followerwonk Pros | Followerwonk Cons |
| You can see the most active times of your followers. | Its influencer database only includes Twitter influencers. |
| You can schedule and analyze the interactions with your posts. | The number of followers is limited. |
| It allows you to build and engage a community. | |
Followerwonk pricing:
Connect: Free,
Target: $29/month,
Multitask: $79/month.
22. Post For Rent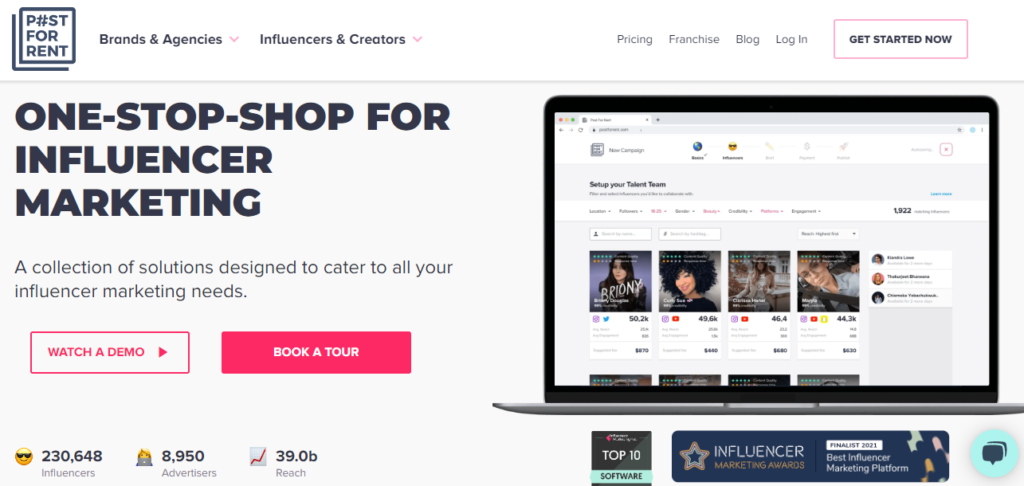 Post For Rent is among the other influencer marketing marketplaces that is free. It provides solutions for some brands' influencer marketing needs. You can do the process by yourself, or let Post For Rent handle it for you.
Key Features
You can filter and find influencers easily.
You can ask for any advice from its experts.
It provides you with a campaign management feature.
| | |
| --- | --- |
| Post For Rent Pros | Post For Rent Cons |
| It's easy to use and user-friendly. | Some procedures work slowly. |
| It has a large influencer database. | |
| The payment procedure is easy. | |
Post For Rent pricing:
Influencer Search and Public Campaign Manager: Free,
Advanced Discover Tool: $149/month,
Pro Campaign Manager: Custom pricing,
Product Payment: Custom pricing,
Campaign Reporting: Custom pricing.
23. Social Crawlytics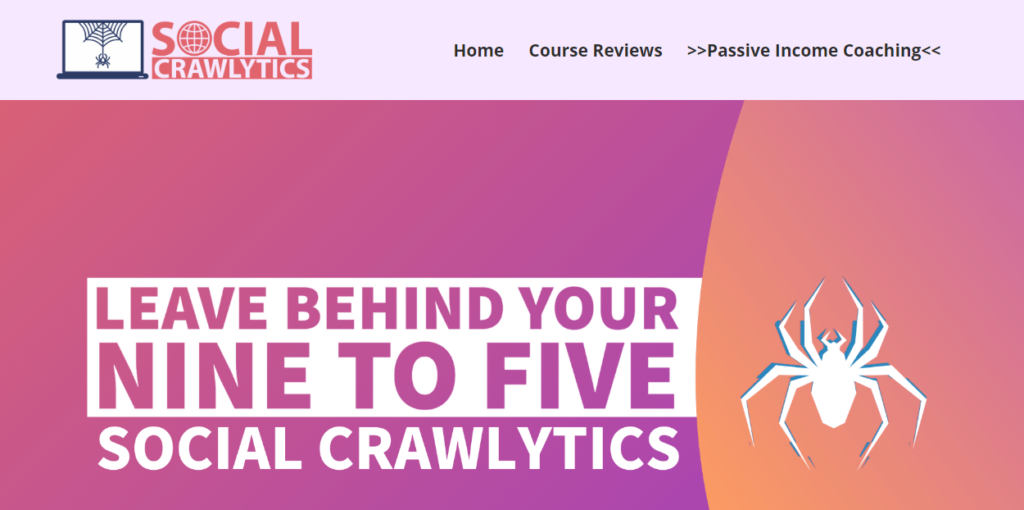 Social Crawlytics refers to a social media marketing tool to help marketers crawl their competitor's content website. It would be an acceptable choice for marketers who want to know which posts are the most trend and shared on multiple social media. Fortunately, this free influencer marketplace enables you to search for competitor analysis and behavior on different social platforms.
Key Features
It gives you the ability to find out the most shared content.
You can set up a scheduled report.
You can search and find out the best authors.
| | |
| --- | --- |
| Social Crawlytics Pros | Social Crawlytics Cons |
| You can access the author and influencer database free by connecting it to your Twitter account. It allows you to get access to all your past reports. | Some of its charts are hard to read. |
| It's easy to use. | |
Social Crawlytics pricing: This influencer marketplace didn't mention it's prices.
Our Pick
When it comes to picking the right influencer marketplace, it's important to consider what you're looking for.
Some factors to consider include the type of influencers you want to work with, how easy it is to find and connect with them, payment methods, and how fees are assessed.
It can also be helpful to compare different influencer marketplaces before making a decision.
Here is why we picked the Ainfluencer influencer marketplace.
1. Easy to join
Click on the button below, take a few seconds to fill out the form, use the fast approval process to your advantage, and don't waste any time starting your influencer marketing.
2. Easy to use
Ainfluencer provides you with a step-by-step process that allows you to craft your campaign meticulously.
Just follow each step and move towards finding the right influencer.

3. Large influencer network
All you need to do is set your criteria and preferences into the search filter and get an unceasing list of influencers relevant to your campaign.
Ainfluencer provides you with a deep insight into their profile and activities, so you can pick the best influencer based on your strategy.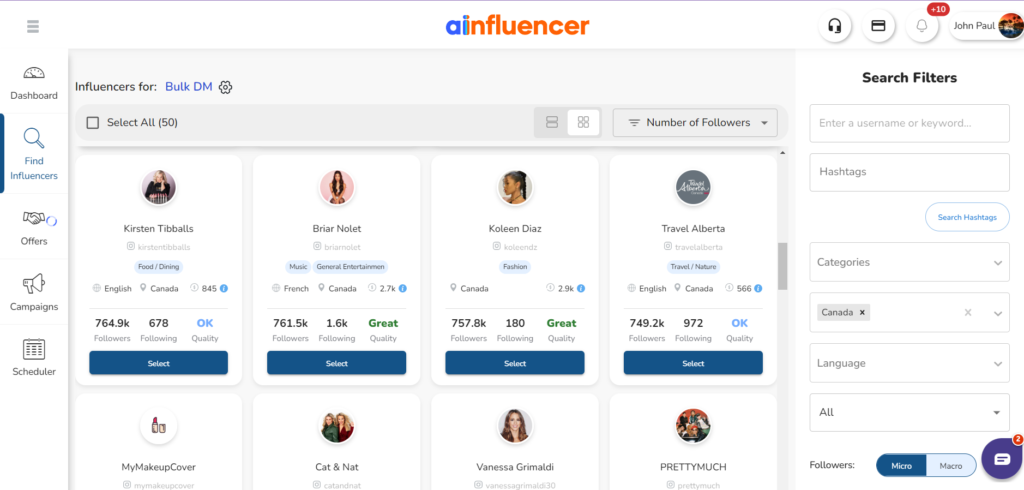 4. Accessibility
Once you pick the influencer you wish to work with, either by your invitation or by getting an offer from the influencers, you will be led to an on-platform chatbox to negotiate your terms, agree on a formal influencer contract, and close the deal.
5. Safe payment procedure
Never worry about paying for an influencer marketing campaign, as Ainfluencer only releases the money once your requirements and objectives are fulfilled.
6. Free to use
One of the most important reasons that makes Ainfluencer the best choice for all businesses and brands is that you should only consider the budget you set for your campaign. There are No Extra Costs on Ainfluencer influencer marketplace.
Conclusion
While there are many different influencer marketplaces that claim to be the top marketplace, only a few have truly been able to prove themselves.
These influencer softwares are expected to continue growing in popularity over the next few years as brands and influencers become more aware of their benefits.
If you're looking to connect with influencers or find new content creators, our list is worth exploring.
1- What are the top influencer marketing platforms?
Our top reviewed influencer marketing platforms for 2023 include: Ainfluencer, IZEA, ExpertVoice, Klear, Activate, AspireIQ, etc.
2- What are influencer marketplaces?
An influencer marketplace is an online platform that links influencers with marketers in related industries or through social media. For example, there is the Ainfluencer Instagram influencer marketplace that connects you with influencer networks of all niches, or a Youtube influencer marketplace dedicated solely to gamers, as well as another for foodies. If you want to learn more about the best influencer marketplaces, read our entire article evaluation.

3- What social media channels are best for influencer marketing?
Instagram, Youtube, Facebook, and TikTok are the most popular social media networks for influencer marketing, with Instagram being the most popular.
YouTube and Instagram are growing in popularity, and in the next few years, they are expected to overtake other social media platforms in terms of the money spent on influencer marketing.

4- Which is the best influencer marketing platform for small businesses?
Here are a few of the top influencer marketplaces that are tailored to small businesses needs, but Ainfluencer is definitely the best option.
5- How can I find influencers for free?
Here are some great ways to find influencers for free:
– Look for hashtags that are distinctive to a particular niche or place on Instagram,.
– On Google, you can get a list of the top specialized influencers.
– Also, go to the Instagram Explorer page and look at influencer profiles.
– Last but not least, probably the best way is to use one of the top influencer marketplaces.