Basically, brands employ brand ambassadors to increase brand awareness and sales, but they look for someone already committed to the brand. So, if you fit the description and have the luxury of an engaged audience, you probably fancy your chances to become an Instagram brand ambassador.
Today, thanks to the growth of Instagram marketing, a host of brands are looking for brand ambassadors to work out an effective Instagram marketing strategy so they can get a stable position on Instagram and develop product sales.
This article will show you how to become a brand ambassador on Instagram and make money from your IG account.
What is a brand ambassador definition?
You can become an Instagram brand ambassador either with a group of loyal followers or as a professional Instagram influencer since there are over 1000s of brand ambassador jobs available solely on LinkedIn.
And it's not just there, there are many influencer marketing platforms such as Ainfluencer that are ready to connect you with the right brands to collaborate. There are thousands of brands looking for brand ambassadors on Instagram and TikTok.
However, you should learn more about the brand ambassador's meaning before starting to be one. So, let's answer the most important question first.
what is a brand ambassador?
To put it simply, a brand ambassador can be a blogger, an influencer with any number of followers, or anyone with social media influence who can collaborate with a brand for a long time and run multiple campaigns, often without representing other brands during a campaign.
Different Types of Brand Ambassadors
Band ambassadors on Instagram and other social media platforms are categorized into two main types:
Formal brand ambassadors,
Informal brand ambassadors.
Formal brand ambassadors are individuals or entities who have entered into a formal contractual agreement with a brand to promote their products or services. They typically have a more structured and official partnership with the brand.
On the other hand, informal brand ambassadors are individuals who promote a brand's products or services without a formal contractual agreement. They may do it out of genuine love for the brand, personal preference, or through collaborations on a more casual basis.
Here are different types of brand ambassadors. We'll discuss each of them in more detail.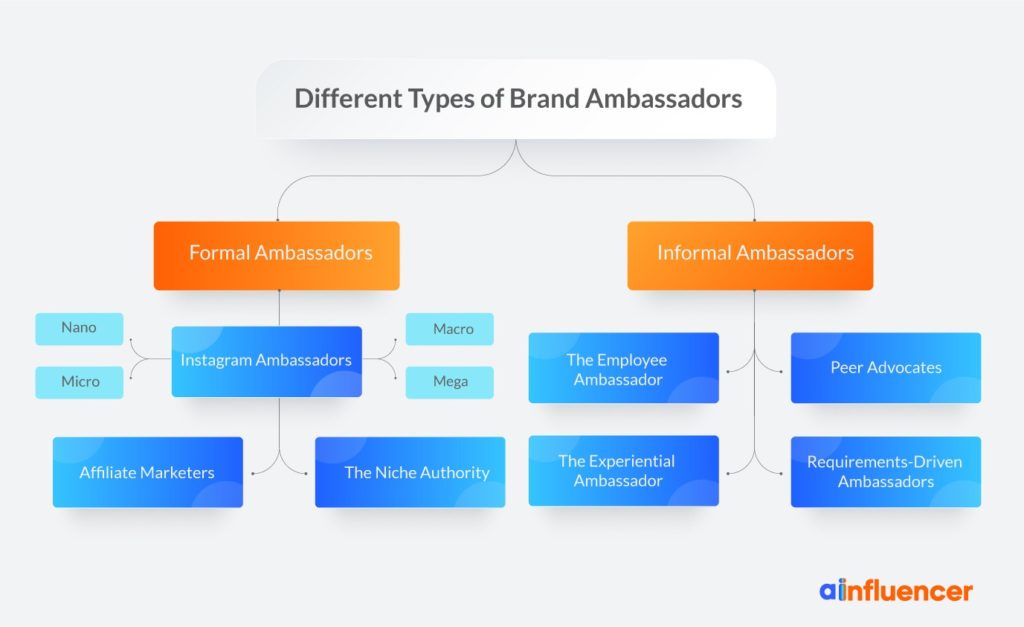 1. Nano Influencers
With 1K to 10K followers, you can easily become an Instagram brand ambassador. As you can offer brands a high engagement rate, you need to focus on the niche, language, and location of the brand you wish to collaborate with. This means you need to access local and targeted ads to build up your Instagram ambassador program.
Ainfluencer is an Instagram influencer marketplace that grants you first-hand access to thousands of ads and offers from brands that can meet a set of your criteria.
What's more? Brands can also do a more effective brand ambassador search and invite you to their Instagram ambassador program as you can also use the in-app chat box to negotiate your terms and requirements.
Finally, you can make your brand ambassador contract on Ainfluencer to ensure safe payment. Let's check out the following YouTube video to see how Ainfluencer works.
2. Micro Influencers
The second category of brand ambassadors belongs to micro influencers with 10k to 100k followers. While micro influencers are great for lead generation and increasing sales, they still need ads and offers that are niche, targetted, and share the same demographics with you.
3. Macro Influencers
Macro influencers extend Instagram ambassador definition with 100K to 1M followers. They are a great opportunity to reach a large audience in an incredibly short time. However, they work better when you need a less targeted promotion and you mainly focus on reach rather than engagement rate.
4. Mega influencers
The last group of brand ambassadors that are categorized based on the number of followers are mega influencers. Although mega influencers with over a million followers require bigger budgets, they work pretty well for international promotions.
5. Affiliate Marketers
Bloggers and other types of influencers who want to become Instagram brand ambassadors in return for a commission on sales are called affiliate marketers.
6. The Niche Authority
This is the last formal type of brand ambassador. As a niche authority, you are an expert who agrees to be a part of the Instagram ambassador program.
7. Requirements-Driven Ambassadors
In this type of Instagram ambassador program, brands give you free products or services so you can create user-generated content (UGC) to promote a business.
8. Peer Advocates
As a loyal customer who has social media influence, you can reach out to brands and offer to become an Instagram brand ambassador who wants to promote them.
If you tend to make offers a lot, this is a feature on Ainfluencer you can use to your advantage. You can explore thousands of ads and select the ones that suit you best. Then, strike up a conversation with brands to negotiate your terms and requirements.
9. The Employee-Ambassador
If you are already working for a brand or employed by a company, you have great potential to become an Instagram brand ambassador. The thing is, you can easily reach the brand you are working for and you know the ins and outs of what this brand has to offer.
10. The Experiential Ambassadors
Are you a sociable person who tends to make lots of friends by meeting them at different events? You can probably reach out to them on Instagram and promote a product or service.
What's the difference between a brand ambassador and an influencer?
Although the terms "influencer" and "brand ambassador" are sometimes used interchangeably, there is some difference between the two.
An influencer is someone who negotiates numerous one-off sponsorship deals with brands and has a sizable social media following (10,000+ followers, for example).
A brand ambassador, on the other hand, is someone who consistently collaborates with the same brand.
How to become a brand ambassador on Instagram?
There are several key characteristics that help you understand how to be a brand ambassador and work with a brand every single day. Here are essential tips to become an Instagram brand ambassador.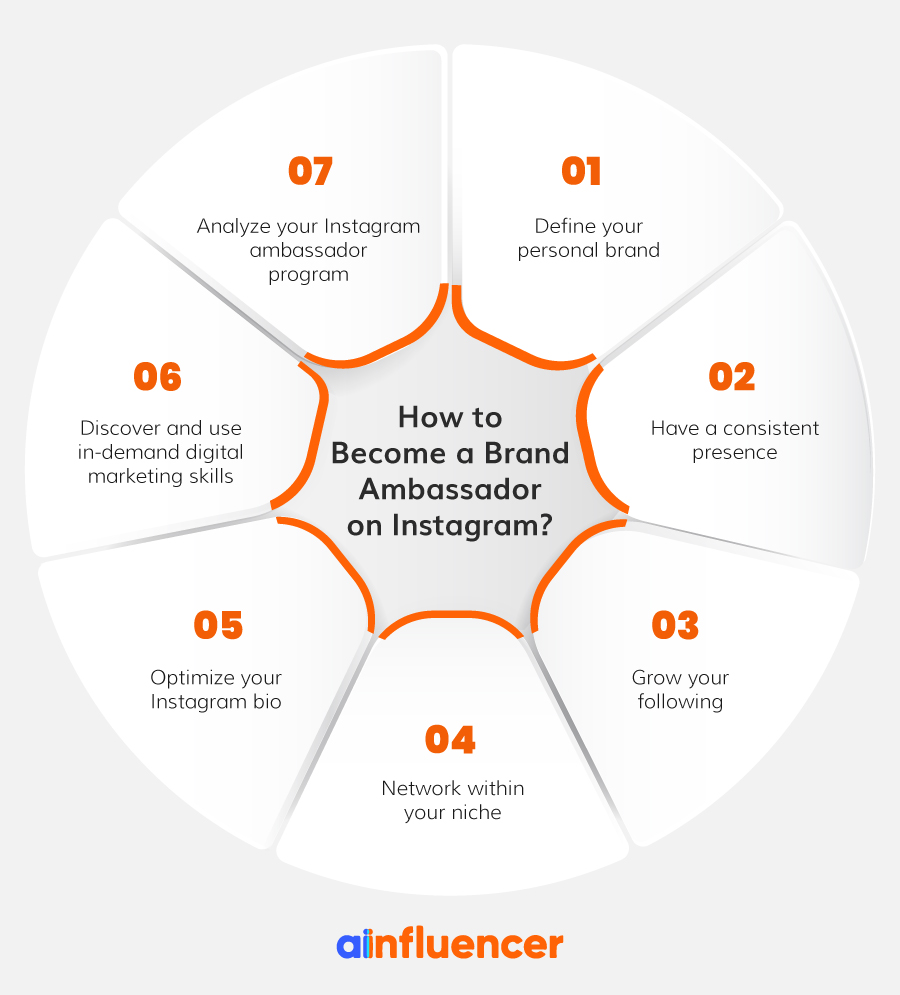 1. Define your personal brand
Your personality, your niche, and the way you present yourself to the public and potential sponsors all contribute to your brand.
2. Have a consistent presence
Posting consistent content is key, especially if you are starting from scratch. Posting quality content frequently is the only surefire approach to getting real followers and brands' attention.
3. Grow your following
Although growing your following is easier said than done, with hard work and a solid strategy, you can knock your growth out of the park. To keep the real followers coming in, adopt organic growth tactics and consistent content creation. Additionally, there are many trustworthy tools for growth available to support you on your journey.
4. Network within your niche
Forth step in becoming a successful brand ambassador on Instagram is about respecting your audience. Keep in mind that networking with brands that complement your own is crucial once you begin posting.
For instance, it makes sense to engage with major fashion brands if you post fashion-related content. So know your audience and only accept Instagram ambassador programs that are niche and targeted according to your audience.
5. Optimize your Instagram bio
This is where you briefly describe yourself, what you do, and why your future followers and sponsors should care. In a nutshell, you want your bio to introduce you, include your contact information, and include a compelling CTA that directs readers to take the next step.
6. Discover and use in-demand digital marketing skills
The internet is great since it always allows for the development of new skills. So, brush up on promoting yourself (and your brands) online! You can use sites like Coursera and Skillshare, YouTube, and blog posts to always discover new skills.
7. Analyze your Instagram ambassador program
It is important to get a deeper insight into what is working in your campaign and what is not.
What Does a Brand Ambassador Do?
Creating a favorable landscape for a brand.
Contribute to content (blogging, newsletter, product reviews, etc.).
Participate in marketing events.
Build brand awareness.
Leading community opinion about the brand.
Provide feedback and insights on new products and services.
Advertise on their personal Instagram accounts.
Do brand ambassadors get paid?
As you know, being a brand ambassador is an occupation no doubt it has salary and income too.
Brand ambassador salaries vary greatly since most brand ambassadors choose their hours. Their compensation differs from one company to the next.
According to Indeed and Glassdoor, brand ambassadors are paid $10-20 per hour, which can be $20,000 a year to up to $58,000 a year for part-time work.
While the brand ambassador pay scale does vary, most programs will usually compensate participants in one of the following ways:
Salary,
Hourly Pay,
Commission,
Affiliate Links,
Discount Codes,
Products,
Access to Events.
Conclusion
If you become an Instagram brand ambassador, you can offer tips and tricks about the company you present, give away a free product, or give away advice on using social media correctly. Influencers will always be looking for new and exciting ways to promote themselves. By hiring a brand ambassador, they can attract more followers and drive highly qualified traffic to their website or page.
Brands that fail to engage with their audience on social media will quickly lose their online credibility, which could ultimately lead to them falling in the marketplace. Brands need to work closely with influencers and work to create high-quality content that would appeal to their target audience on Instagram.
Hiring an Instagram brand ambassador could help ensure that brands work closely with influencers and work towards creating high-quality content and attracting followers interested and likely to buy its products and services.
1- How to be a brand ambassador on Instagram?
1. Start with your favorite hobbies and select your niche.
2. Stick to your niche and grow your audience by staying targeted and consistent. Remember that 3. you will need an engaged audience so it is important that they are interested in what you do consistently. 
4. Learn skills to create content that attracts your followers.
5. Network within your niche.  
6. Analyze your promotional posts and campaigns. It is important to learn the strengths and weaknesses of your marketing strategy and content creation. 
7. Reach out to specific brands and offer collaboration.
2- Do brand ambassadors get paid?
Brand ambassadors can prefer different things like compensation for their job, such as free products and services, commission on sales, etc. However, the average brand ambassador salary is estimated to be 20,000 to 58,000.
3– How many followers do you need to be a brand ambassador?
Today, there are different types of brand ambassadors on social media. So, the number of followers is less important than your engagement rate, in particular, when you are at the outset of your career. But to have a social influence, you need 500 to 1K followers at the very least.
4- Can a normal person become a brand ambassador?
Almost everybody can become a brand ambassador. By advocating for a brand, building a niche following as a nano-influencer, engaging with brands on social media, and seeking collaborations, everyday individuals can attract brand ambassador opportunities. Genuine enthusiasm, consistency, and community engagement are key on social media platforms.