As a business or brand, it is essential to have an effective marketing strategy that can help you reach your target audience and grow your brand. One way to do this is by finding micro influencers who can help you spread the word about your products and services through running influencer marketing campaigns.
Micro influencers are individuals with smaller but highly engaged followers of dedicated fans. In this article, we will discuss the best ways to find micro influencers to help you grow your brand.
Different Types Of Influencers
The type of influencer you choose to work with has an impressive impact on the success of your influencer marketing campaigns. There are four types of influencers based on follower count: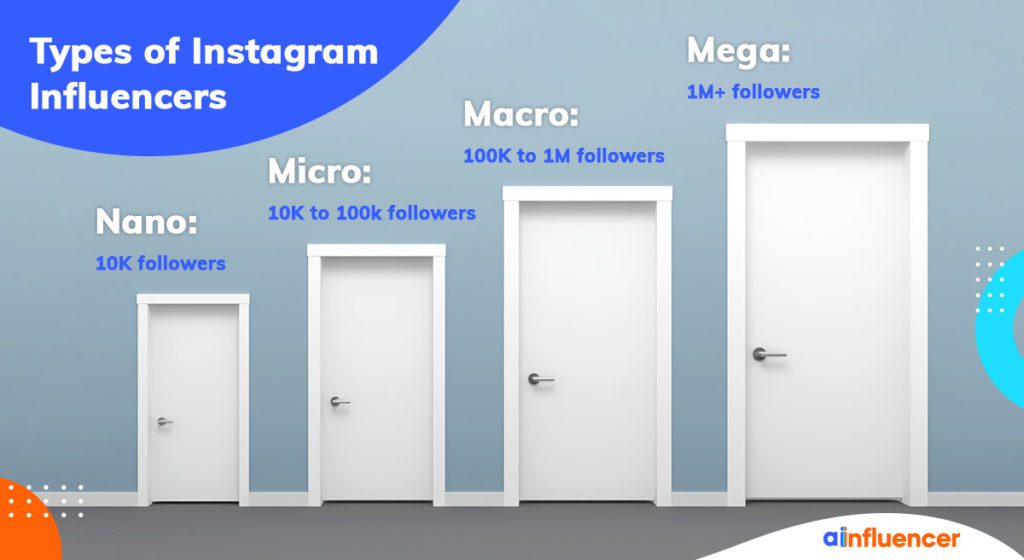 Why Are Micro Influencers Important?
In general, knowing how to find micro influencers and collaborating with them are great for both large and small businesses. They can target niche audiences in a much more personalized way than a mega influencer could and are often preferred between the two, even for larger businesses. Benefits of working with micro influencers include:
Help establish trust, which is essential when increasing brand awareness
Deliver relatable content and post consistently
Have a more engaged audience
Easy to get in touch and negotiate with
Expert in their niche
How to find micro influencers?
Here is a complete guide for brands that want to work with micro influencers to see how to find top micro influencers.
1. Influencer marketplaces
Don't have time to find influencers manually on social platforms? Try influencer marketplaces and micro influencers platforms.
Influencer marketplaces are great tools to find micro influencers in your niche. 
Ainfluencer is one of the best DIY marketplaces that helps you find Instagram micro influencers for free. As a brand, use Ainfluencer's advanced search engine to find Instagram influencers that meet your brand's specific requirements. You can filter for keywords, location, follower size, engagement rate, quality score, and more.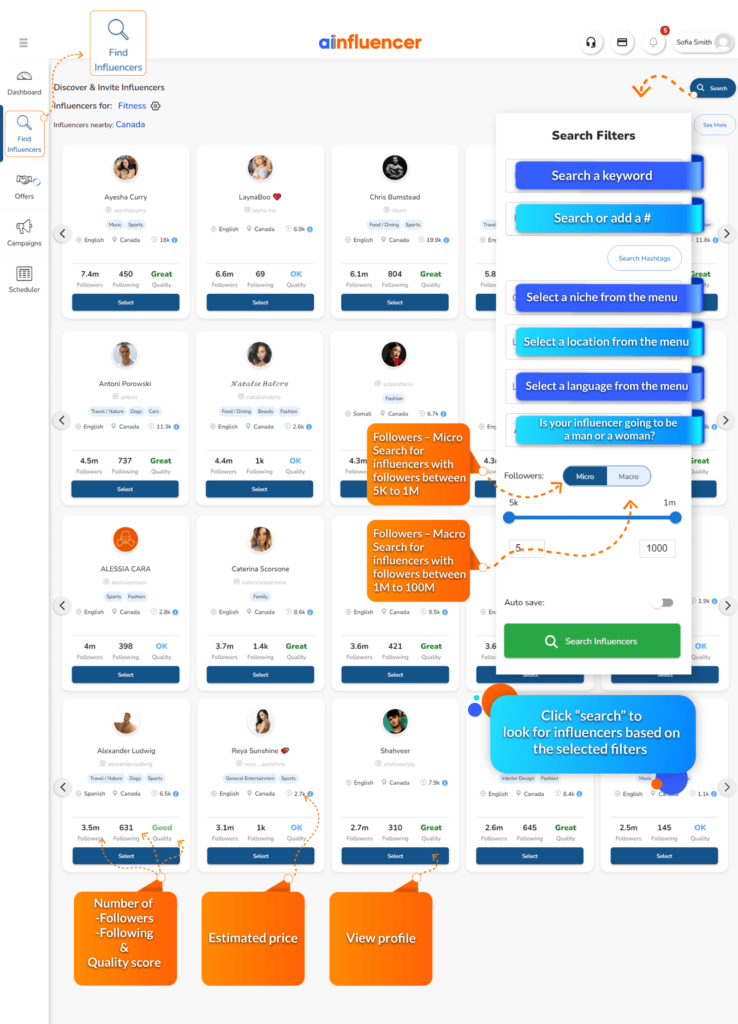 2. Search Hashtags
One of the quickest and most free Instagram influencer search ways you can check to find micro influencers is by typing hashtags relating to your brand.
For example, if you're looking for a makeup influencer, you could type #makeup into the Instagram search bar, and a range of potential micro influencers on Instagram will appear.
Also, the best way for you to find micro influencers on TikTok is through the use of hashtags. They make it easier to narrow down the influencer you are looking for.
What's more, many TikTok posts have hashtags, making them a highly effective and efficient search tool.
When you operate within a certain niche, you can search for TikTok micro influencers who have used industry-relevant hashtags in one or more of their posts.
3. Check Your Own Followers
Could it be possible that your future influencer has been hiding in plain sight all along?
Influencers often follow brands that they're interested in with the hope that brands will notice them and reach out. Scroll through your own list of followers to see how to find a list of micro influencers you might want to work with.
4. Use location tags
If you're one of the brands that work with micro influencers near you, try using the location tags to narrow down influencers that are popular in your area coupled with your specific hashtags.
Location tags are an excellent way to tap into valuable local markets and create authentic relationships with people who are passionate about your product or service.
5. Search through keywords
Manual keyword research is a real thing when it comes to finding Instagram influencers. By looking at keywords related to your industry and product, you can easily identify potential micro influencers and find micro influencers for free.
To begin, Instagram is a great channel, but don't forget to consider other social media channels.
6. Look for influencers during industry events
Take note of those who have bestowed the greatest awe or admiration on others through in-person and online events, including webinars and conferences.
Try to get in touch with them, as they're likely to be industry influencers you can contact and collaborate with.
7. Social listening tools
Find micro influencers who are already interested in your products and monitor your brand. They are usually open to collaborating with you on sponsored posts.
Use social networking listening tools, which track how people talk about your company or other relevant topics over social media, blogs, review sites, and more.
You can use tools like Mention to monitor your brand mentions. By doing so, you can rank relevant micro influencers who already present your products and will most likely be a good match for a partnership.
8. Take a look at your prospective influencer's follower list
If you've identified potential influencers for your brand, go look at their followers as well. By taking a closer look at the influencer's follower list, you can uncover many micro influencers who are well-suited for your campaign goals.
9. Start With Your Own Customers
If you already have customers and make money, you can work with your customers who have a good number of followers as your brand ambassadors.
10. Get Savvy With Advanced Search
If your marketing budget can't stretch to paid tools to find micro influencers, you need to become a savvy searcher and learn to work smart using free search tools. Twitter's Advanced Search option is useful when you wish to scan for tweets that mention particular people or originate from specific locations. It will help you discover specific types of content and the users that have posted them.
11. Join Social Media Groups
Brands that work with micro influencers can find a list of micro influencers by joining social media groups.By running into groups relevant to your target on Facebook and LinkedIn. Join these groups and monitor their recent activities to identify the most worthwhile members. When you find the potential influencer, check out their accounts to identify individuals who are a great fit for your brand.
12. Use Google Search
Luckily, Google Search can help you find powerful online personalities easily.
Start by entering relevant keywords into the search bar, such as "micro influencers" or "influencers with small followings." This will bring up a list of potential candidates that you can further research and evaluate.
Another useful tip is using quotation marks around your search terms – this will give you more precise results with only exact matches being shown. You can even narrow down your search by adding parameters such as location, age groups, or interests.
13. Find micro influencers already posting about your product
Micro influencers actively seek out new products that might be beneficial to their audience. Keep an eye out for small creators who are already discussing your products in reviews or mentioning you in relevant posts; they may already find your brand interesting and your products helpful.
14. Ask for referrals
Ask your old friends for recommendations for other reliable micro influencers if this isn't your first experience with the practice. They might be able to recommend names or have connections to micro influencers who would be good for your brand.
Additionally, look for any past content creation partnerships your previous influencer partners may have had with micro influencers. They have a comparable audience and could be added to your roster of micro influencers.
Top micro influencers to follow in 2023
Here's a list of 15 top micro influencers to collaborate with.
1. Dan Carter (@dancarter)
One of the best micro influencers examples in photography is Dan Carter, with 33.5K fans on Instagram. Dan is on the micro influencer list of Instagram photographers interested in portraits and landscape photography.
2. Cris Ordaz (@mymakeupcorner)
Cris Ordaz, with almost 30K Ig followers, is a top micro influencer on Instagram and a beauty influencer with highly engaged fans. She shares everyday makeup, product reviews, and many useful collaboration posts. 
3. Mandy Miller Simmonds (@simplyfoodbymandy)
Mandy is on the list of best food influencers on Instagram. She shares food and drinks recipes along with her lifestyle. If you are looking for easy food recipes, Mandy is your go-to option.
4. Yoshino (@yoshinomia)
Yoshino is among the best female Instagram models, with less than 100K followers. This Instagram micro influencer shares high-quality content and has gotten attention with her professional self-portraits and brand collaborations.
5. Tom Bliss (@tomblissy)
Being one of the greatest male fitness influencers, Tom Bliss is a coach, athlete, and ex-pro rugby player. This micro influencer has over 35K loyal flowers on his Ig account.
6. Stefan Warecka (@techmagnet_yt)
Stefan loves exploring new technologies and gadgets. This tech influencer has almost 30K followers and is one of the top micro influencers on Instagram in the tech industry.
7. Bronte Georgina King (@brontekingg)
The nutrition and wellness influencer, Bronte, is the brand ambassador of "fulfil nutrition" and one of the best Instagram micro influencers with 62K fans.
8. Sierra Holmes (@eclectickurves)
Sierra is a body positive influencer who is active on different social channels. This top micro influencer in her niche has almost 40K followers on both Instagram and TikTok.
9. Asha Burnley (@ashaburnley)
Author of the book " Eat Amazing" and one of the famous wellness influencers, Asha is a top micro influencer with 23K engaged followers in the health and wellness niche. She is a fitness coach and the owner of "ashaburnleyfitness".
10. Leah Bowman (@leah_fit_)
Leah is among female fitness influencers on Instagram who is more focused on how to help people deal with gaining weight. This Instagram micro influencer shares her diet alongside her fitness journey.
11. Jaro (@jaro_london)
The creative makeup artist Jaro is among male makeup influencers on Instagram, with more than 80K fans and 420K followers on TikTok.
12. Jasmine (@jasminelhicks)
Jasmine is on the micro influencers list on Instagram in the fashion industry, with less than 10K followers. What makes her account special is the rawness of the pictures and videos. People love how natural and friendly she is with her audience.
13. M'Taylor (@taylormariecowhey)
Taylor Marie Cowhey, with more than 14K followers, is a successful fashion influencer. This micro influencer on Instagram shares her photoshoots, brand collaborations, and a lot of style ideas.
14. Danielle Gray (@stylenbeautydoc)
Danielle is one of the best skincare influencers on our micro influencers list.
She has been featured on many beauty channels. On her account, you can find practical skincare videos and tips on how to get your skin together easily and with fun!
15. Augusto Bartelle (@augustobartelle)
One of the top Instagram micro influencers and an amazing sportsperson, Augusto Bartello, is a lifestyle influencer with over 50K followers. His content is more focused on skydiving and his passion for heights.
Conclusion
To sum it all up, micro influencers are influencers with 10K-100K followers that deliver specific content to a highly engaged audience.
They are often the perfect option for businesses due to their higher engagement rates, reliability, and how affordable they are relative to mega influencers.
Hopefully, you've gathered enough information from this post to start finding your own micro influencer.
1- How do you identify micro influencers?
There are common ways to find micro influencers on Instagram, such as using hashtags to find those sharing content related to your niche, exploring your existing audience to find potential micro influencers, partnering with bloggers, using the Instagram Explore tab, taking advantage of influencer marketing platforms, etc.

2- How much do micro influencers make?
An influencer who has only started their job might earn fewer in comparison to top influencers. Micro influencer_people with 10000 and 50000 followers_can earn between $40,000 and $100,000 each year.