With the increased use of social media over the past few years, social media marketing has also exploded in popularity.
Usually, when somebody thinks of an influencer, they think of a celebrity with millions of followers. But, this doesn't necessarily encompass all influencers.
There are influencers out there with smaller audiences who are no less influential to their specific audiences. These micro influencers might not be world-renowned, but businesses want to know "How to find micro influencers" to use them to target specific, engaged audiences and are drastically growing their brand and outreach with the influencer's audience.
Does this sound like something you might want to learn more about?
Great!
Because in this article, we'll show you how to find micro influencers to grow your own business.
What is a micro influencer?
Micro influencers are small-scale influencers that have attracted a following through their carefully curated content on a certain topic. Their content – usually images or videos – is interesting enough to keep people coming back to them.
Check out the Instagram micro influencers below for an idea of how Fashion micro influencers operate.
As you can see, micro influencers tend to have a follower size between 10K and 50K people. Even though they don't have millions of followers, they often have higher engagement rates (2-3%) than large-scale influencers.
Why are micro influencers important?
In general, knowing how to find micro influencers and collaborating with them are great for both large and small businesses. They can target niche audiences in a much more personalized way than a mega-influencer could and are often preferred between the two, even for larger businesses.
And because they are lesser known than mega-influencers, audiences can relate to them more. This helps to establish trust which is essential when increasing brand awareness.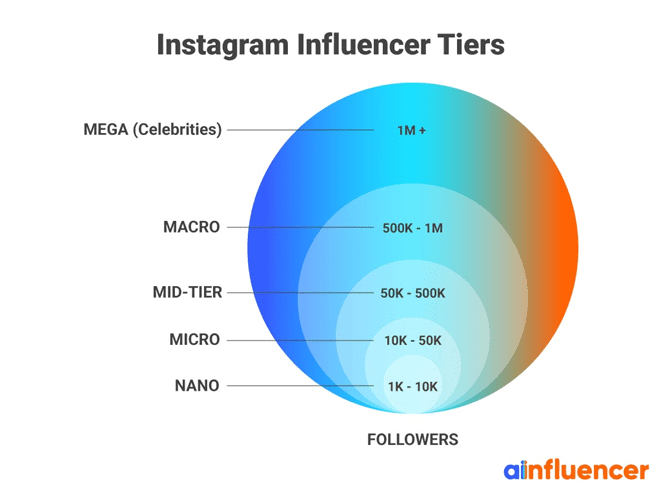 How to find micro influencers on Instagram?
If you wonder how to find micro influencers on Instagram, bear in mind that they promote themselves in their area of interest to reach a relatively small audience that is also highly interested in what the influencer is saying. Your business can tap into this market by using these tips.
1- Instagram's explore option
Instagram is the premier destination for influencer marketing. The accessibility of Instagram means that micro influencers are in the perfect environment to thrive and engage their audience with interesting topics.
Use Instagram's explore tab to keep an eye out for influencers that you may want to work with.
2- Instagram marketing platforms
Ainfluencer is one of the smartest, easiest, and most importantly free influencer marketing platform to help both brands and influencers connect with each other. 
As a brand, use Ainfluencer's advanced search engine to find Instagram influencers that meet your specific requirements. Filter for keywords, location, follower size, and more.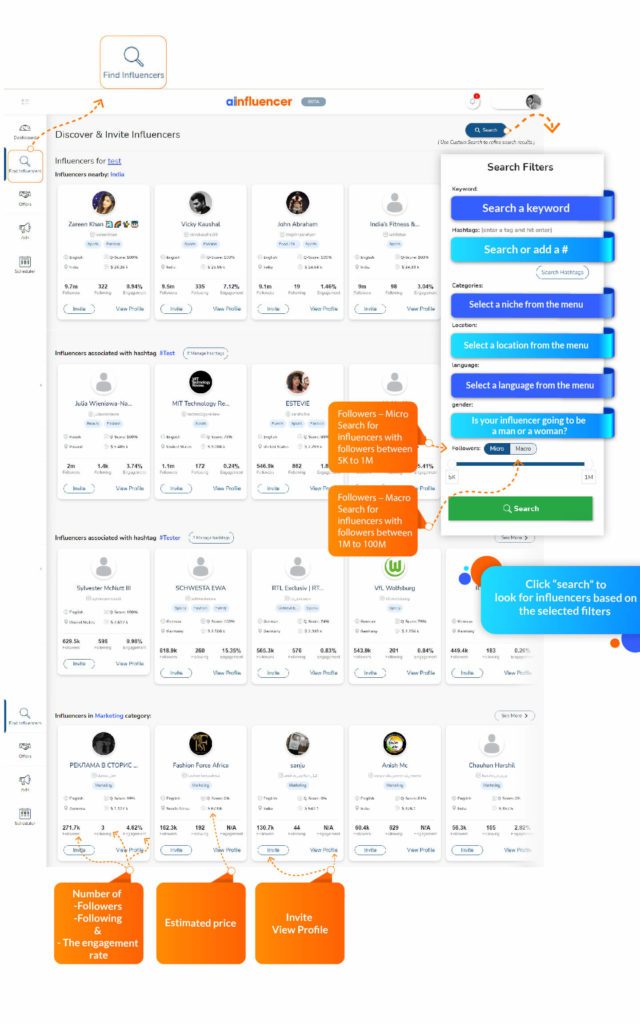 Check out this video for more info:
3- Search for specific hashtags
One of the easiest ways to see how to find micro influencers on Instagram is searching hashtags of your business' name – ex. #YourBrandName. These folks are your best bet because they're likely already familiar with your brand.
But you can also search for specific hashtags that are similar to your brand. For example, if you're looking for a makeup influencer, you could type #makeup into the Instagram search bar, and a range of potential choices will appear.
And lastly, consider using the hashtag #lacroix or #ad.
On Instagram, La Croix seeks out micro influencers and persuades them to publish product awareness posts. When you search these hashtags as a brand, you can find a variety of Instagram micro influencers that are ready to promote products.
4- Use Instagram's location tool
If you're trying to attract your local community to your business, try using Instagram's location tool to narrow down influencers that are popular in your area coupled with your specific hashtags.
Then just browse through the options to find the right influencer.
5- Check your own followers
Could it be possible that your future influencer has been hiding in plain sight all along?
Influencers often follow brands that they're interested in with the hope that brands will notice them and reach out.
Scroll through your own list of followers to see how to find micro influencers that you might want to work with.
Different types of Influencers
The type of influencer you choose to work with has an impressive impact on the success of your influencer marketing campaigns. There are four types of influencers based on followers count, which include: mega, macro, micro, and nano influencers.
Let's dig deeper and start with the definition of each of the above-mentioned types of influencers. A mega influencer has more than one million followers on social media. Macro-influencers have 100,000 to 1 million followers. Micro influencers have anywhere from 1,000 to 10,000 followers. And Nano- influencers have between 1,000 and 10,000 followers.
Final thought
To sum it all up, micro influencers are influencers with 10K-50K followers that deliver specific content to a highly engaged audience.
They are often the perfect option for businesses due to their higher engagement rates, reliability, and how affordable they are relative to mega-influencers.
Hopefully, you've gathered enough information from this post to start finding your own micro influencer.
And if you're looking for the easiest way to find an influencer, use Ainfluencer to instantly connect with professional influencers that want to help grow your brand.
1- How do you identify micro influencers?
There are common ways to find micro influencers on Instagram such as using hashtags to find those sharing content related to your niche, exploring your existing audience to find potential micro influencers, partnering with bloggers, using the Instagram Explore tab, taking advantage of influencer marketing platforms, etc.

2- How much do micro influencers make?
An influencer who has only started their job might earn fewer in comparison to a top influencers. Micro influencer_people with 10000 and 50000 followers_can earn between $40,000 and $100,000 each year.