This article will reveal the top thirty female Instagram models to follow in 2023. In this new digital era, social media, especially Instagram, has become a significant player in people's lives. More people choose to connect through it to share and communicate with others.
The media landscape for brands has shifted from traditional channels (TV, Press, etc.) to reach more consumers via social media. But how can you find the right influencers on Instagram? While there are several influencer marketing platforms available to assist in your search, it can still be challenging.
So, what's the solution?
Here are the top 30 Female Instagram Models; check out these famous Instagram models and start your collaboration instantly. And if you are looking for a quick way to find and collaborate with influencers, give Ainfluencer a try. It's the free DIY influencer marketplace in the world!
Top 30 Female Instagram Models:
Let's take a look at who takes the top spot on our list.
Kylie Jenner – @kylie Jenner
Kylie Kristen Jenner is an American media personality, socialite, model, and businesswoman. She has starred in the E! Reality television series Keeping Up with the Kardashians since 2007 and is the founder and owner of the cosmetic company Kylie Cosmetics. Also, she is one of the best beauty influencers on Instagram.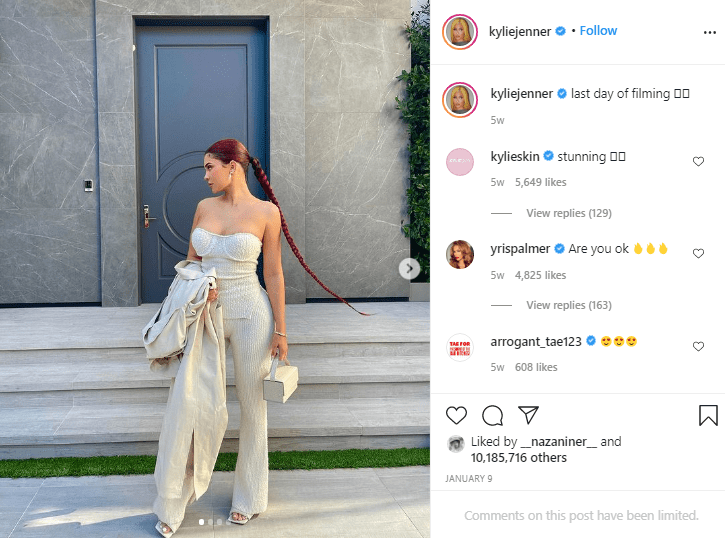 Kendall Jenner – @kendalljenner
Kendall Nicole Jenner is an American media personality, socialite, and model. Jenner is Kris Jenner and Caitlyn Jenner's daughter and rose to fame in the reality television show Keeping Up with the Kardashians. Jenner began modeling at the age of 14.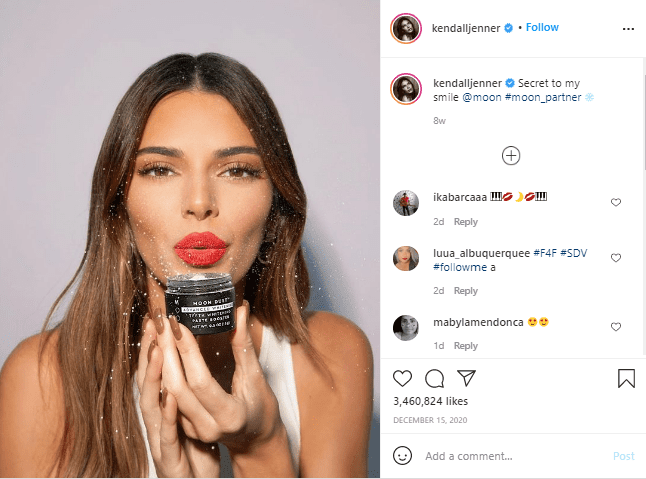 Gigi Hadid – @gigihadid
Jelena Noura Hadid, known professionally as Gigi Hadid, is an American model. In November 2014, Hadid made her debut in the Top 50 Models ranking at Models.com. In 2016, she was named International Model of the Year by the British Fashion Council.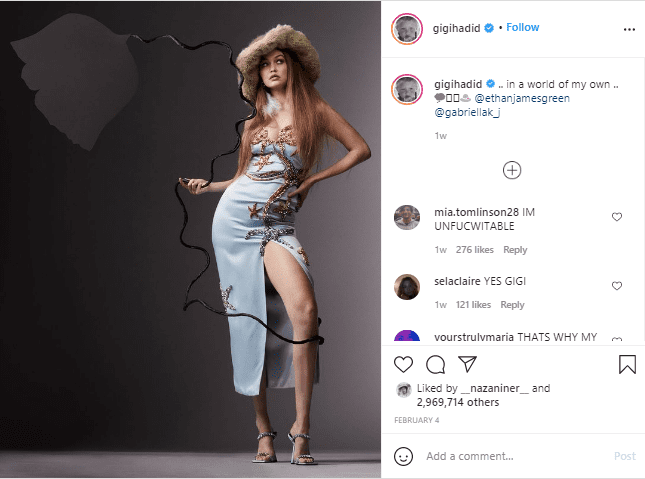 Bella Hadid – @Bella Hadid
Isabella Khair Hadid is an American model. In 2016, she was voted "Model of the Year" by industry professionals for Models.com.she is Gigi Hadid's sister.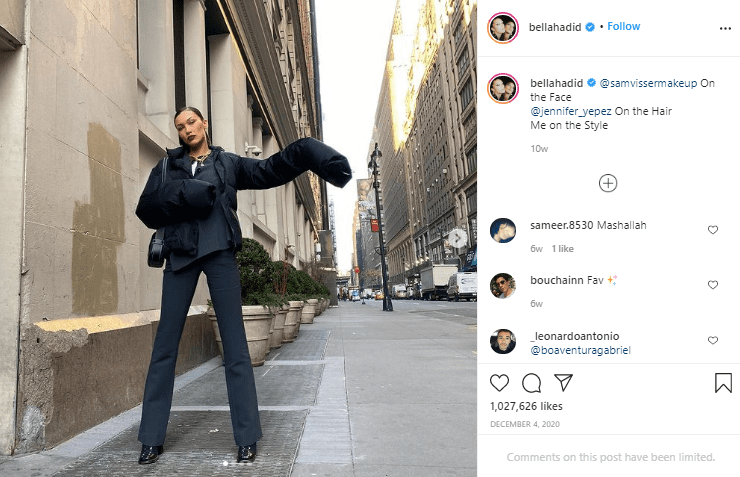 Hailey Baldwin – @HaileyBieber
Hailey Rhode Bieber is an American female Instagram model, media personality, and socialite. Baldwin trained as a ballet dancer but ended that career due to an injury. She plays a role in major ads for Guess, Ralph Lauren, and Tommy Hilfiger. Baldwin is the daughter of Stephen Baldwin and the niece of Alec Baldwin.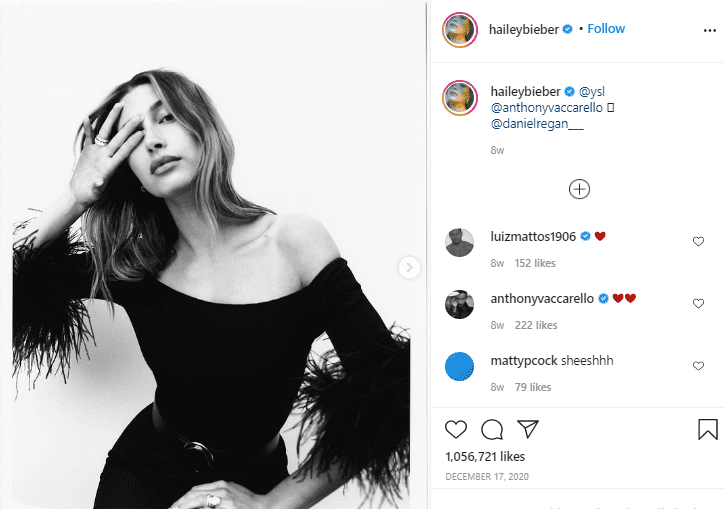 Kriti Sanon – @kritisanon
Kriti Sanon is a top Instagram female model and Indian actress who appears predominantly in Hindi films. She pursued an engineering degree from the Jaypee Institute of Information Technology, after which she briefly worked as a model.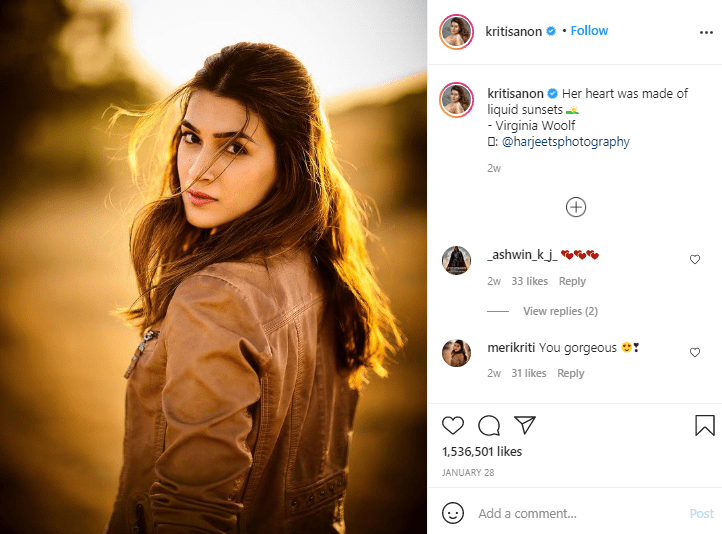 Cara Delevingne – @caradelevingne
Cara Jocelyn Delevingne is an English model, actress, and singer. She signed with Storm Management after leaving school in 2009. Delevingne won Model of the Year at the British Fashion Awards in 2012 and 2014. Delevingne started her acting career with a minor role in the 2012 film adaptation of Anna Karenina.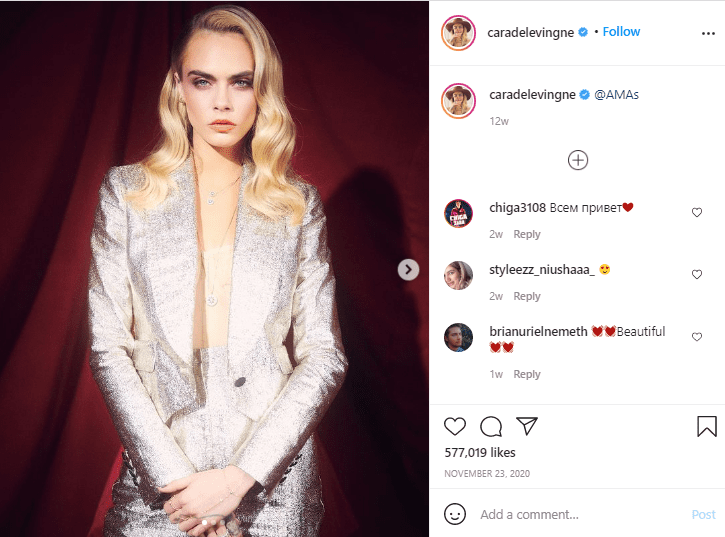 Emily Ratajkowski – @emrata
Emily O'Hara Ratajkowski is an American female Instagarm model and actress. Born in London and raised in San Diego, she first appeared on the cover of the March 2012 issue of the erotic magazine treats!
which led to her appearing in two music videos – Robin Thicke's "Blurred Lines" and Maroon 5's "Love Somebody."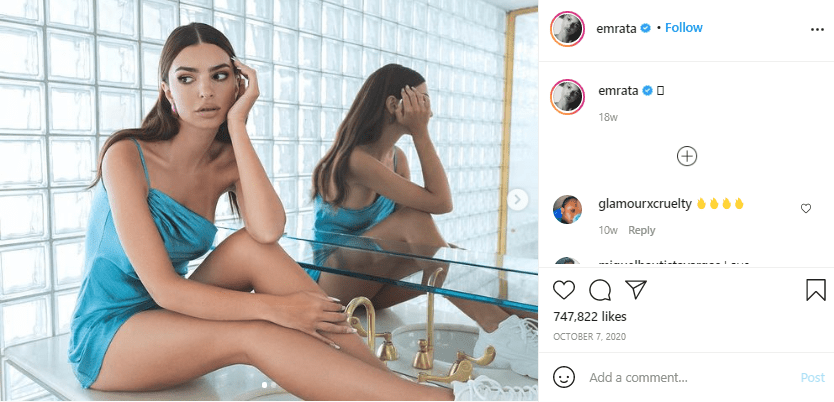 Sommer Ray – @sommerray
Sommer Ray is an American Fitness Bikini Model and YouTube Star from Denver, Colorado. The lady is most famous on Instagram, with around 25 million followers on her account. She also has a YouTube channel by her name where she posts videos to show her daily life to her fans.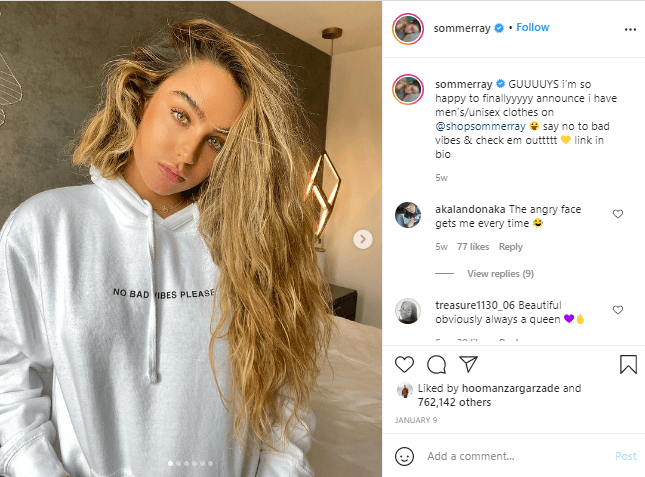 Chrissy Teigen – @chrissyteigen
Christine Diane Teigen is an American model, television personality, author, and entrepreneur. She made her professional modeling debut in the annual Sports Illustrated Swimsuit Issue in 2010. She later appeared on the 50th anniversary cover alongside Nina Agdal and Lily Aldridge in 2014. Wikipedia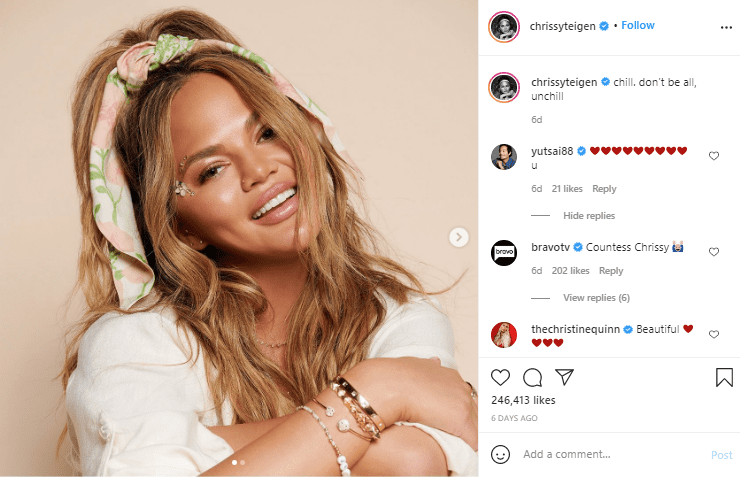 Victoria Justice – @victoriajustice
Victoria Dawn Justice is an American actress and singer. She rose to fame on Nickelodeon in the 2000s, starring as Lola Martinez on Zoey 101 and later as Tori Vega on Victorious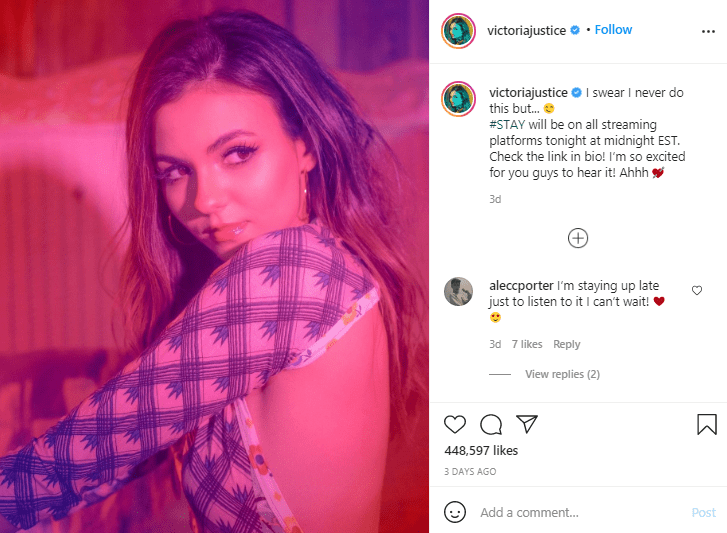 Barbara Palvin – @realbarbarapalvin
Barbara Palvin is a Hungarian model and Instagram celebrity. She first appeared in the Sports Illustrated Swimsuit Issue in 2016. In 2019, she became a Victoria Secret's Angel.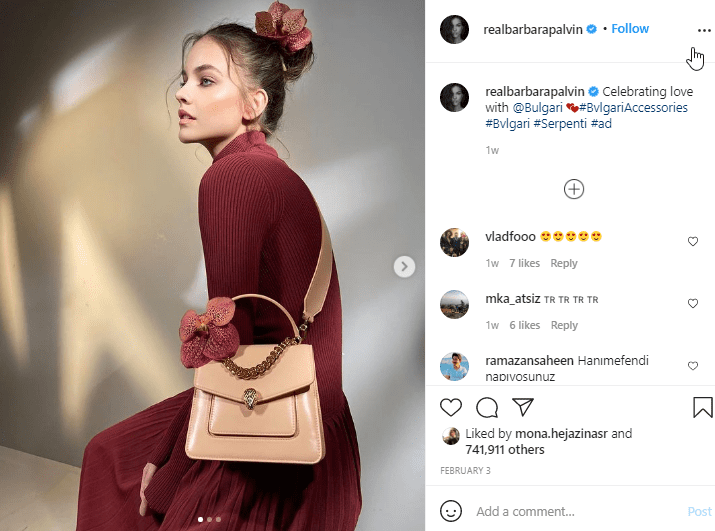 Taylor Hill – @taylor_hill
Taylor Marie Hill is an American model and actress. She has been a Victoria's Secret Angel since 2015 and recently she got married to Daniel Fryer, her best friend.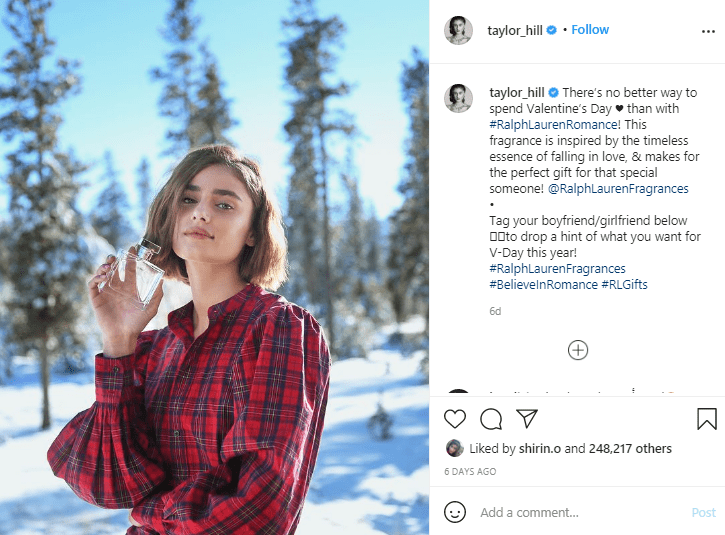 Candice Swanepoel – @candiceswanepoel
Candice Susan Swanepoel is a South African female model on Instagram and philanthropist. She is known for her work with Victoria's Secret. She became a Victoria's Secret Angel in 2010 and is still contracted with the brand. In 2016, she was listed 8th on the Forbes top-earning models list.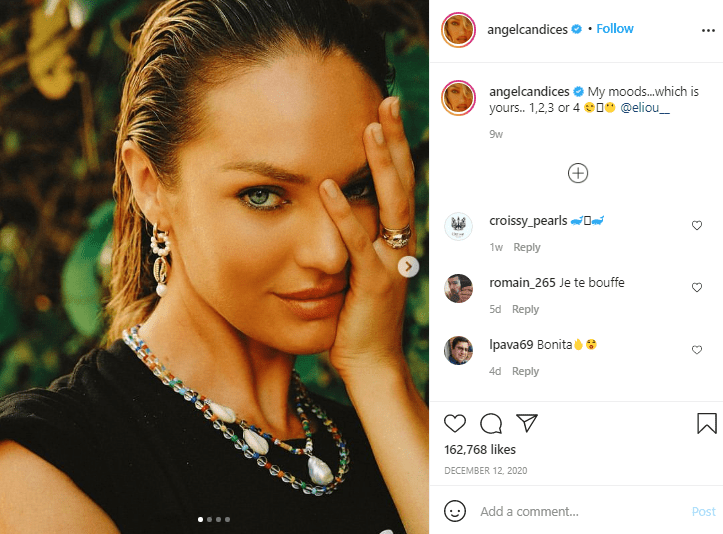 Adriana Lima – @adrianalima
Adriana Lima is a Brazilian model and actress, best known as a Victoria's Secret Angel from 1999 to 2018. She was the longest-running model and was named "the most valuable Victoria's Secret Angel" in 2017.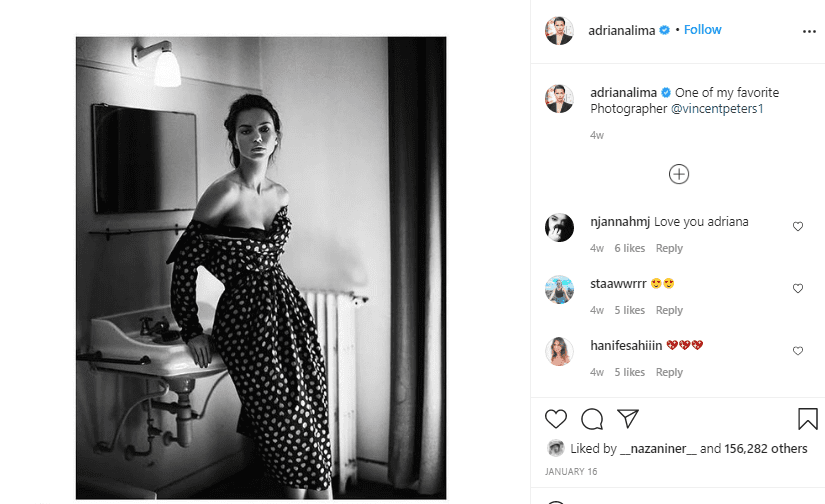 Ashley Graham – @ashleygraham
Born on October 30, 1987, Ashley Graham is an American model who has become one of the most famous faces in the modeling industry,
particularly for women who classify themselves as curvy (a term Graham prefers over "plus-s."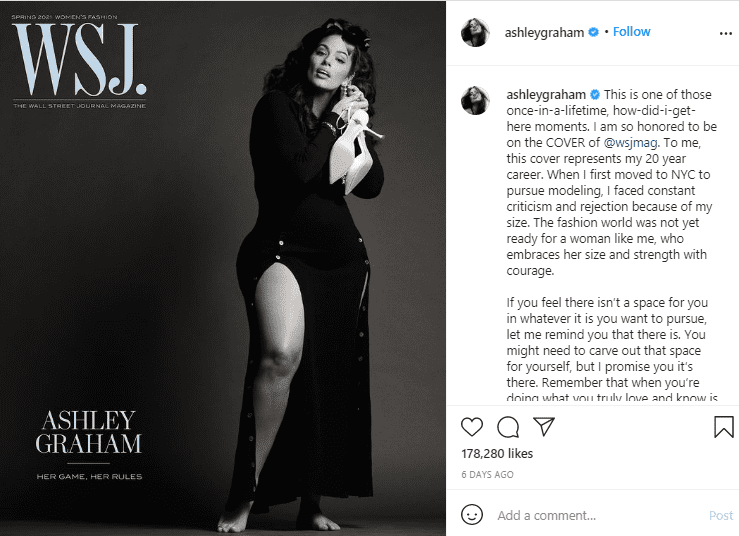 Miranda Kerr – @mirandakerr
Miranda May Kerr is an Australian model and businesswoman. Kerr rose to prominence in 2007 as one of the Victoria's Secret Angels. Kerr was the first Australian Victoria's Secret model and represented the Australian department store chain, David Jones.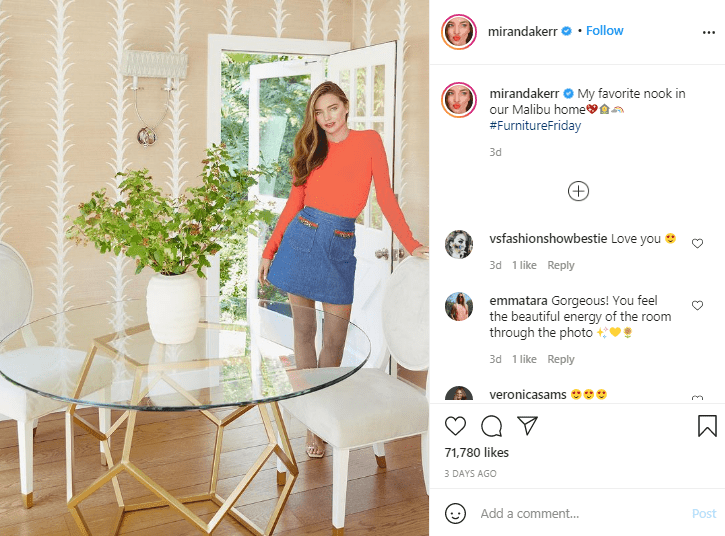 Rosie Huntington Whiteley – @rosiehw
This English model rose to fame when she became a Victoria's Secret "Angel." She was ranked #1 on the "Hot 100 Women of 2011" list put together by Maxim and has achieved a ton of other notable recognitions.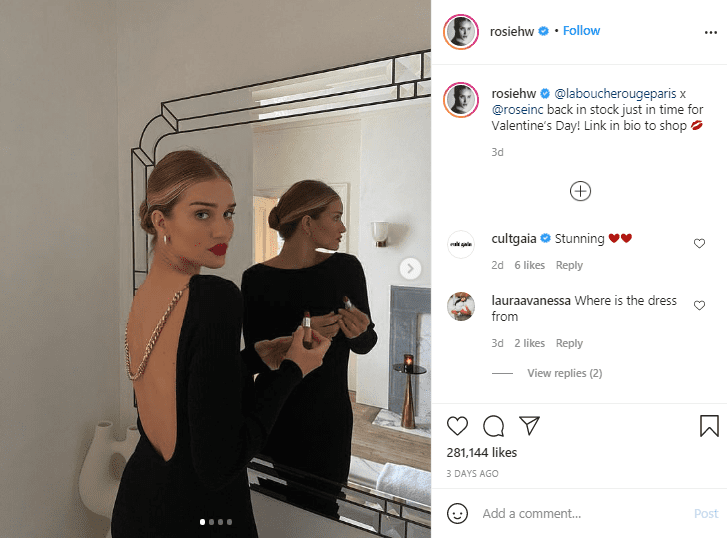 Karlie Kloss – @karliekloss
Karlie Elizabeth Kloss is a blond fashion model. Vogue Paris declared her one of the "top 30 female models of the 2000s" when 17. Kloss was a Victoria's Secret Angel from 2013 until 2015; she resigned to study at New York University.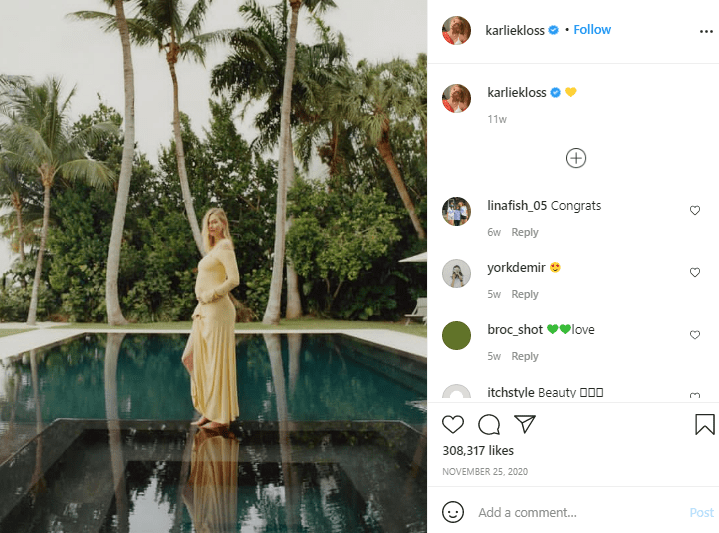 Sara Sampaio- @sarasampaio
Sara Pinto Sampaio is a Portuguese female Instagram model and actress. She is best known for being a Victoria's Secret Angel, Giorgio Armani beauty ambassador, and working for Calzedonia and her appearance in the 2014 Sports Illustrated Swimsuit Issue, a first for a Portuguese model.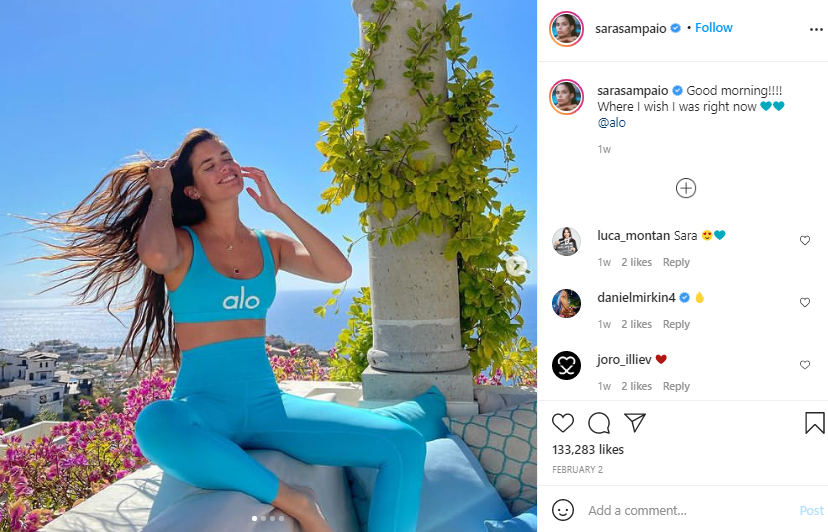 Josephine Skriver – @josephineskriver
Josephine Skriver-Karlsen is a Danish model known for her work with Victoria's Secret. Josephine's fit body and aesthetic face have turned her into one of the hottest female Instagram models ever.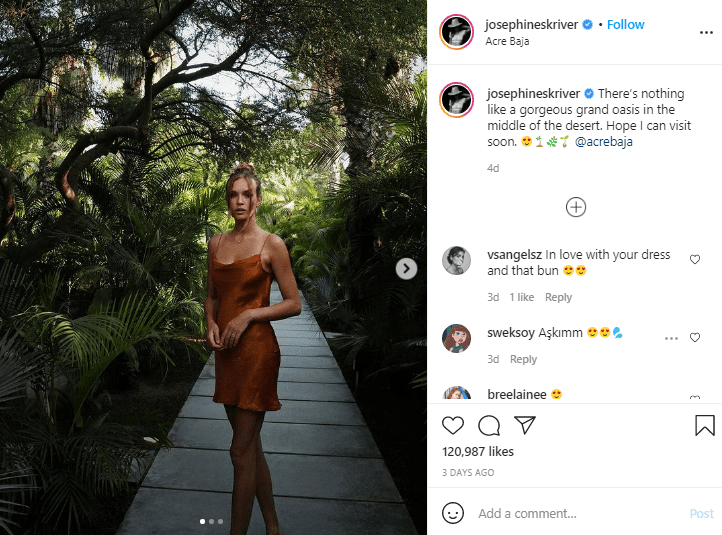 Romee Strijd – @romeestrijd
Romee Strijd is a Dutch model. also She has been a Victoria's Secret Angel since 2015 and has walked in their fashion show since 2014.
She has worked for brands including Alexander McQueen, Michael Kors, and H&M. also Romee has also appeared in magazines such as Vogue, Elle, and Harper's Bazaar.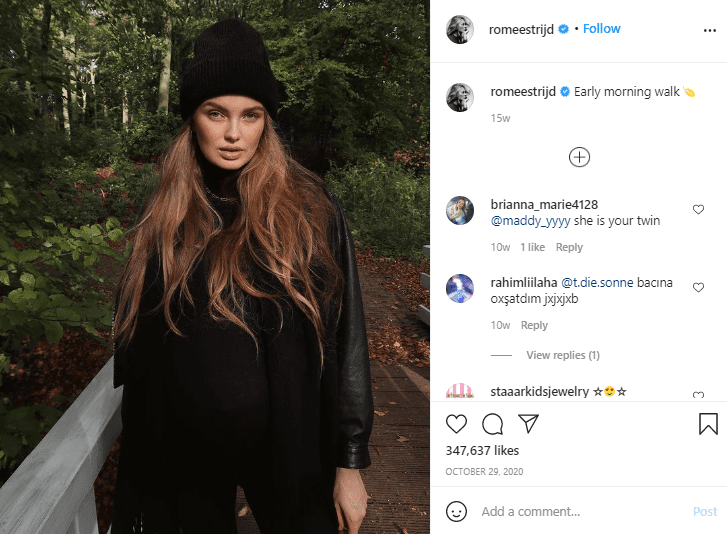 Elsa Hosk – @hoskelsa
Elsa Anna Sofie Hosk is a Swedish female Instagram model and former Victoria's Secret Angel. She has worked for brands including Dior, Dolce & Gabbana, Ungaro, H&M, Anna Sui, Lilly Pulitzer, and Guess. She modeled for Victoria's Secret, appearing in its annual fashion show from 2011 to 2018.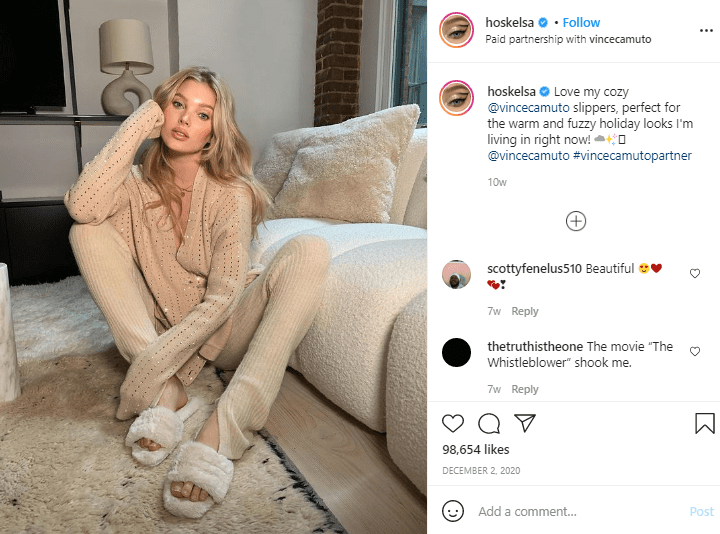 Stella Maxwell – @stellamaxwell
Stella Maynes Maxwell is a Belgian-born Northern Irish-New Zealand model best known for her Victoria's Secret work. She became a Victoria's Secret Angel in 2015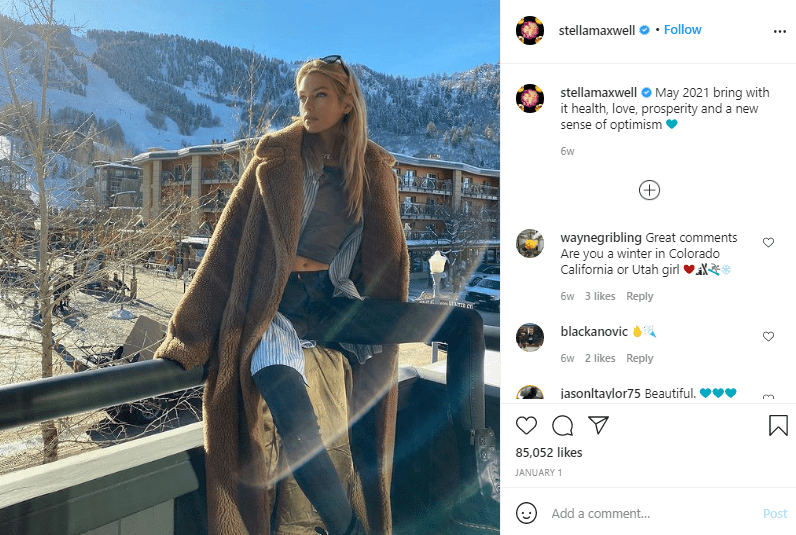 Sierra Skye Egan – @sierraaaskyee
Born and brought up in California, Sierra Skye Egan is an Italian. undoubtedly, Siera did not find her fame by working with several popular brands and walking runways; instead, Instagram happens to be her Haven.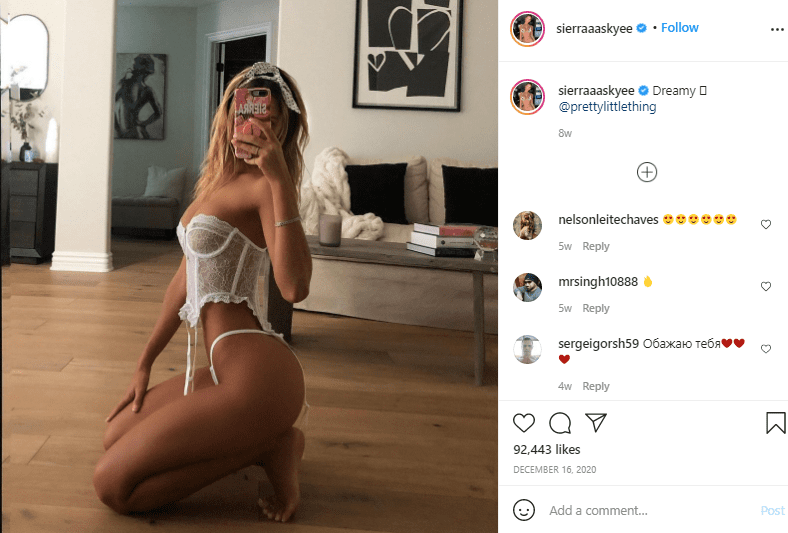 Liu Wen – @liuwenlw
Liu Wen was the first Chinese fashion model and female Instagram model to walk the Victoria's Secret Fashion Show. Similarly, she is the first Asian to make Forbes's highest-paid models list. The New Your Times referred to her as "China's first bona fide supermodel" in 2012.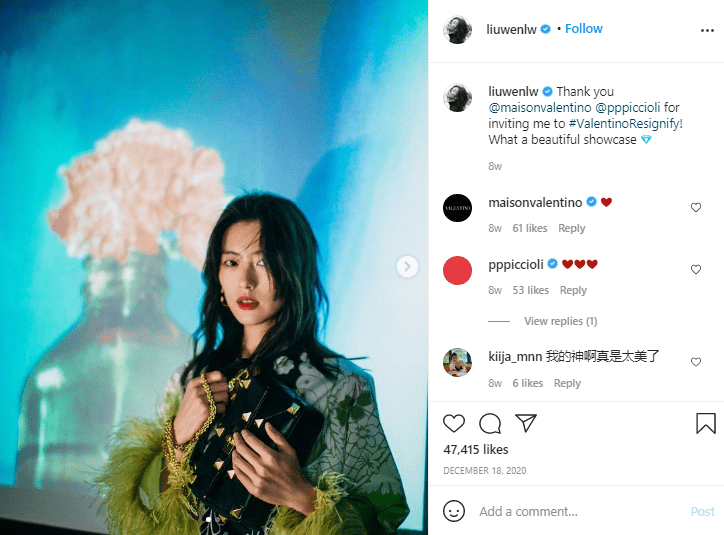 Alexa Chung – @alexachung
Alexa Chung is a well-known face in the British fashion industry. She began her modeling career at the age of 16, modeling for teen magazines and notable brands like Urban Outfitters and Sony Ericsson. She is one of the successful Instagram female models.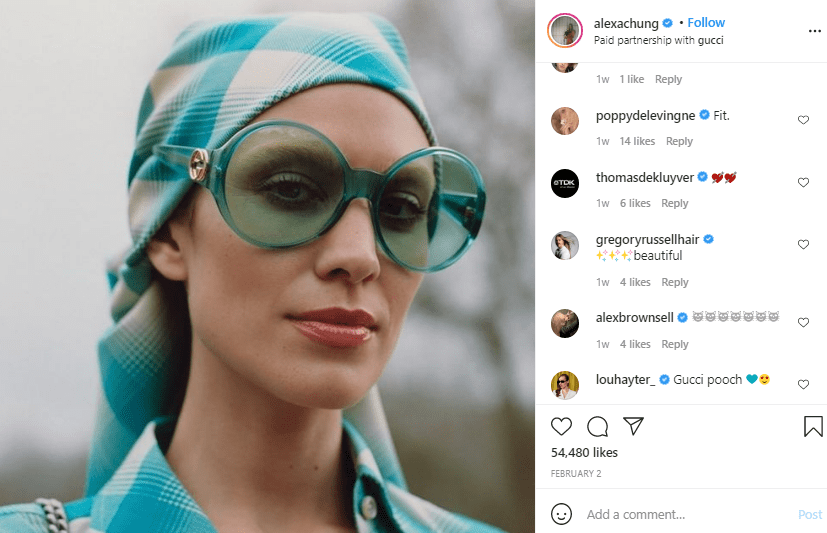 Natasha Oakley – @tashoakley
Natasha "Tash" Oakley is an Australian influencer and female Instagram model. Initially known for the A Bikini A Day blog that she founded with her close friend and business partner Devin Brugman, Natasha launched the retail brand MONDAY Swimwear in 2014.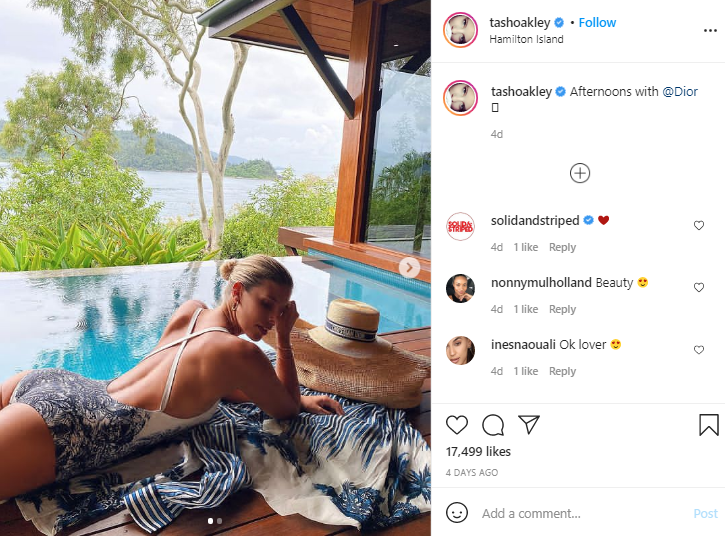 Camila Morrone – @camilamorrone
Born and brought up in Los Angeles, California, Camila Morrone has walked several runways and is signed with IMG models worldwide. Her Instagram account is mostly for promoting unique collaborations.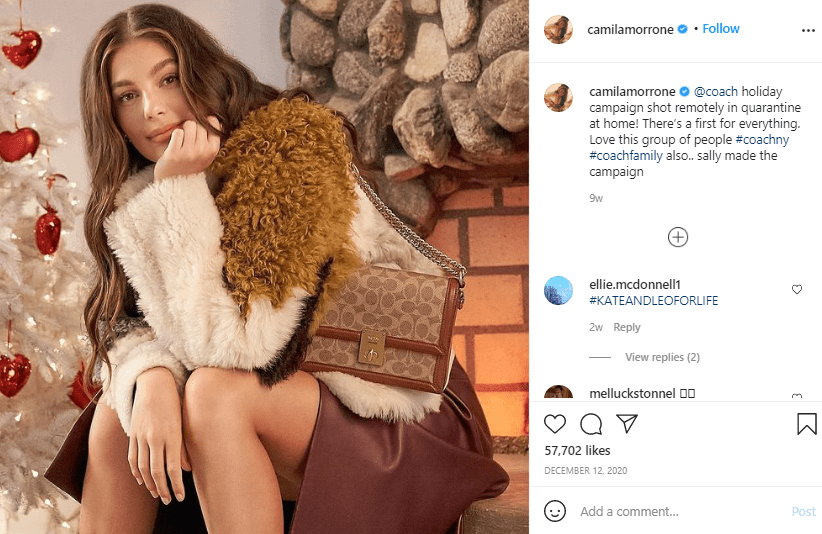 Rocky Barnes – @rocky_barnes
Rocky Barnes is another Instagram model who first rose to fame by Blogging and later starring in Justin Bieber's music videos. She mostly uses her Instagram account for fashion-related content.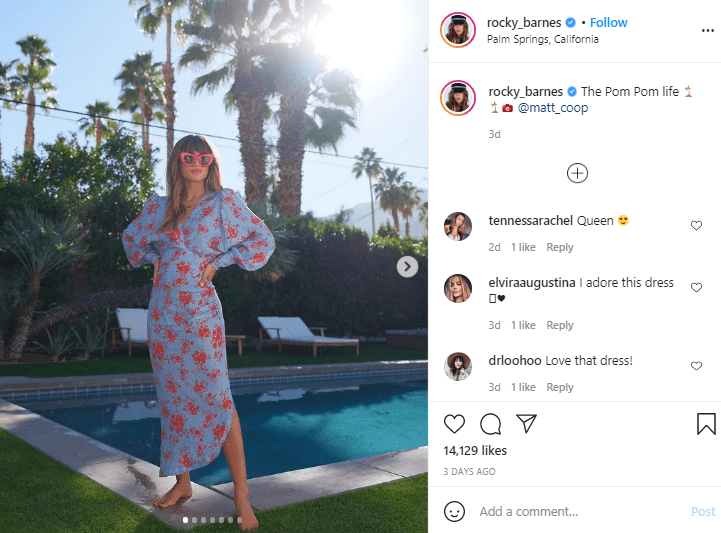 Alica Schmidt – @alicasmd
Alicia is one of the top female German influencers and models on Instagram. She also excels as an Olympics Track & Field athlete and a true role model for young girls worldwide.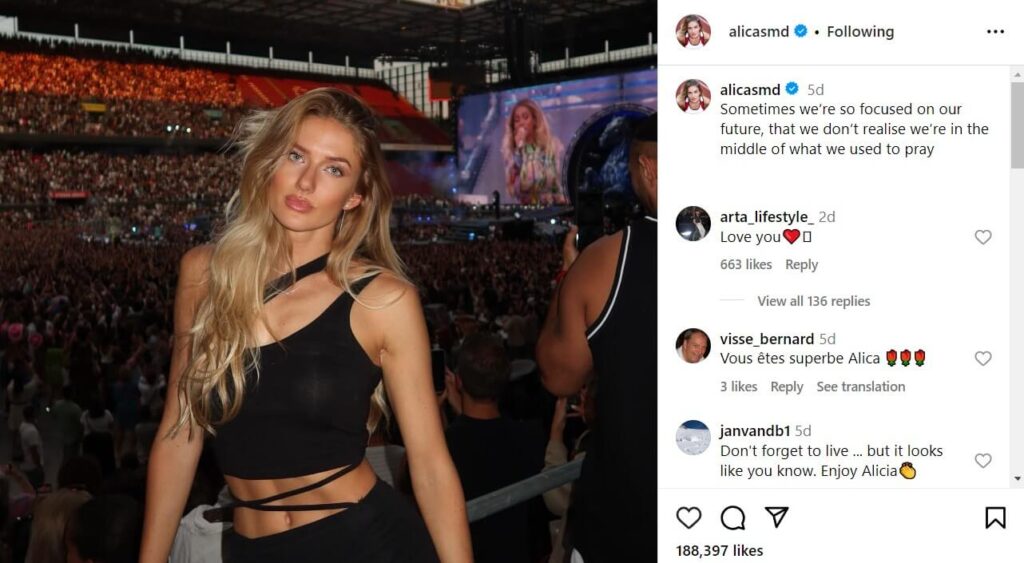 irina shayk – @irinashayk
One of the top female Instagram models is Irina Shayke. This Russian beauty has over 22 million followers on Instagram and our list of top Instagram models would have been incomplete without her.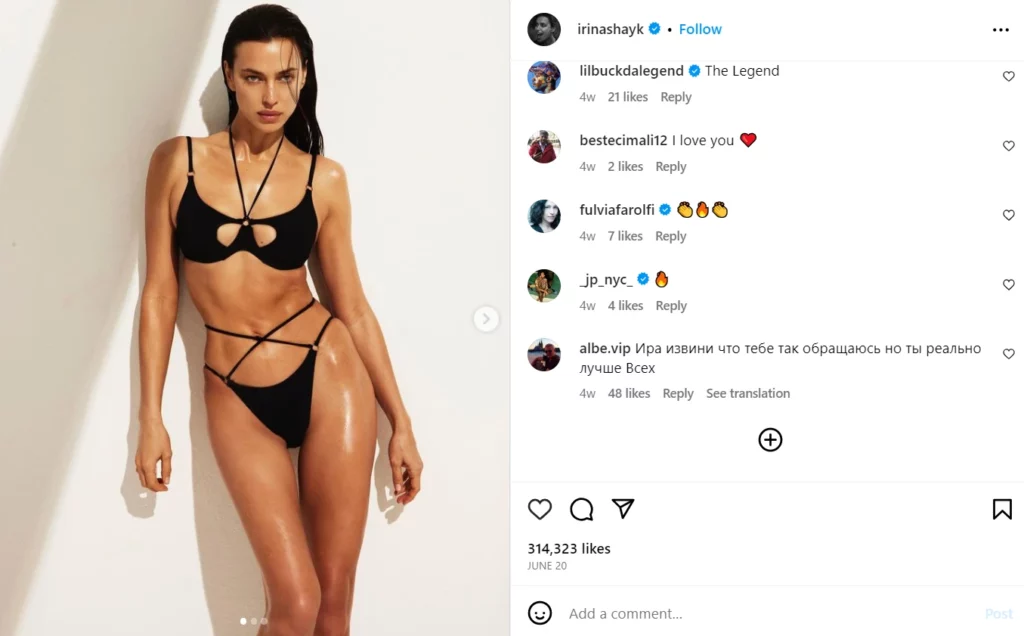 Sydney Sweeney – @sydney_sweeney
After casting on Euphoria, Sydney has turned into one of the most popular actors and models on social media including Instagram. She is best known for her roles in Euphoria and The Voyeurs.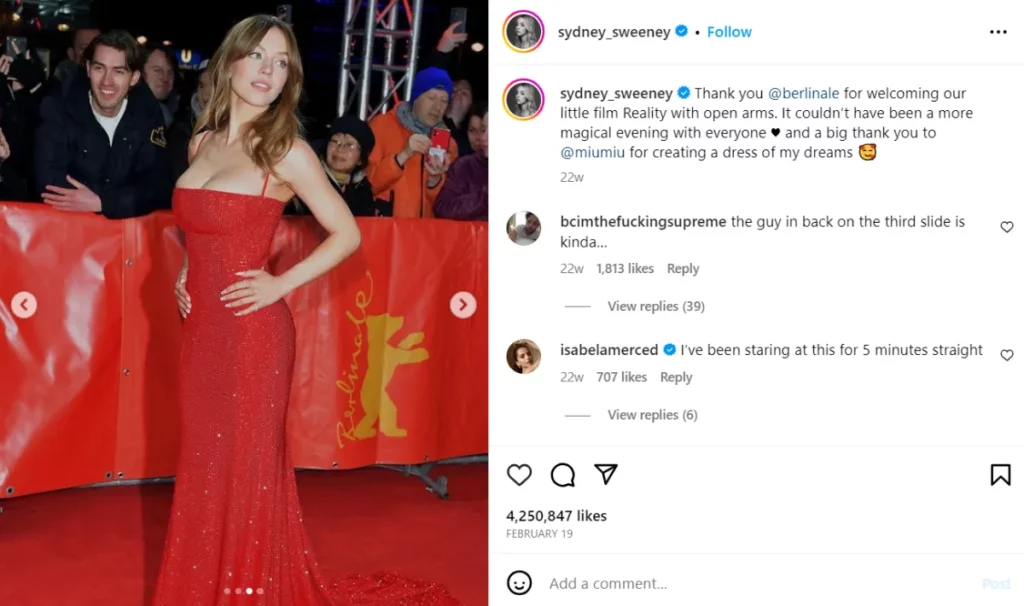 Lily-Rose Depp – @lilyrose_depp
As a singer, songwriter, actor, and model, Lily-Rose Depp holds a unique position on our list of top female Instagram models. With her captivating beauty and diverse talents, she has amassed a substantial following and continues to inspire and charm her fans worldwide.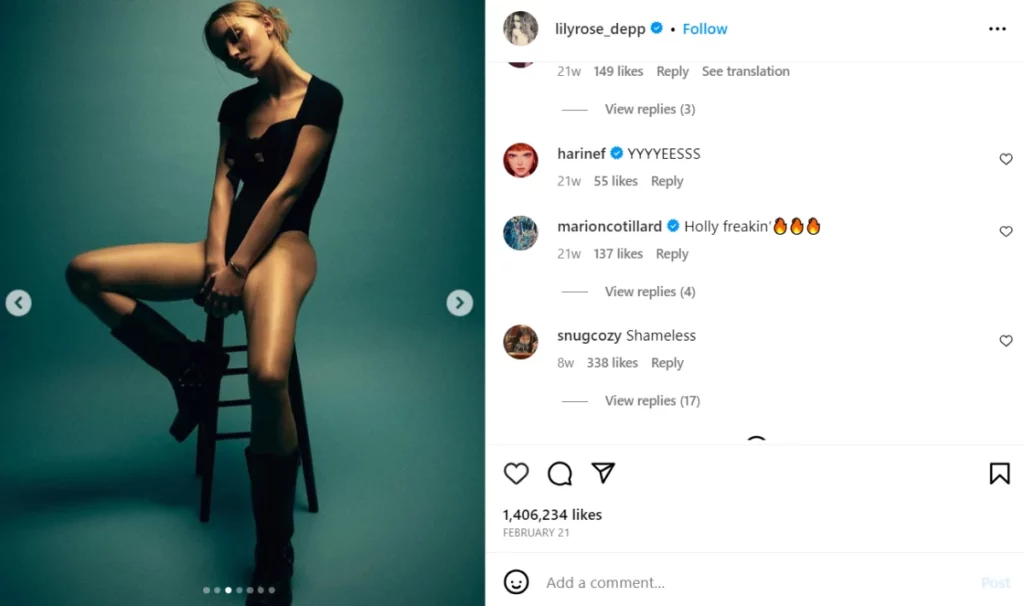 Cindy Kimberly – @wolfiecindy
Cindy is a Spanish model and social media influencer. She gained widespread attention when Justin Bieber posted a photo of her on his Instagram account in 2015, with the caption "Omg who is this!!!" This catapulted her to fame and led to her successful modeling career.
But now thanks to her talent and dedication, Cindy Kimberly is among the best Instagram models with over seven million followers.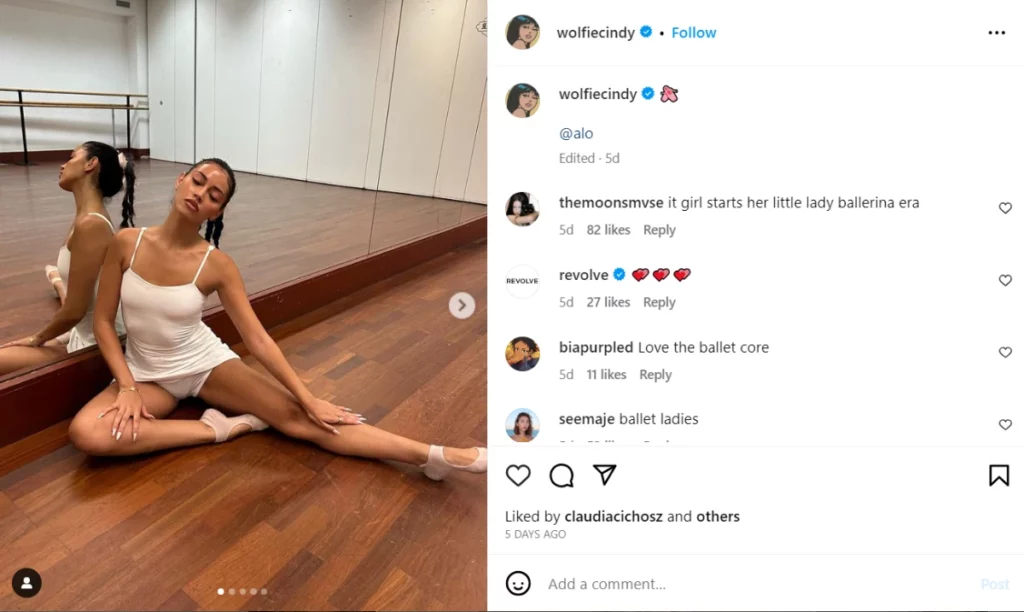 How to Find Top Female Influencers on Instagram to Collaborate
If you're an ordinary person simply searching for their names to get to know them, that's perfectly fine. However, if you're a brand, we have some exciting news for you.
With the help of Ainfluencer, you can find any influencers or models based on category, location, gender, etc. All you need to do is sign up as a brand and start collaborating. In the following, we're going to explain more.
What Is Ainfluencer?
Ainfluencer is a free influencer marketing platform and influencer marketing platforms serve as the bridge between influencers and brands, enabling seamless collaborations and brand partnerships.
Ainfluencer is one of the best platforms in the market that allows you to find any influencers and models. So, you can tap into the popularity and appeal of both influencers and hot models. The best part of using Ainfluencer is that it's free. Don't waste a second to start your journey toward success.
Conclusion
The accounts we've mentioned above are the hottest female Instagram models in 2023. They are famous models on Instagram. In addition, some of these models are known for their unique personal styles, while some have excellent looks that immediately attract followers. You can visit their account and follow them.
FAQs
Who is the most famous female Instagram model?
Based on the number of followers on Instagram, Kylie Jenner, Kim Kardashian, and Kendal Jenner are among the most famous models in the world.
Who is world no 1 female model?
This position used to belong to supermodels like Gisele Bündchen, Kate Moss, and Naomi Campbell. But now, Kendall Jenner has been chosen as the best female model in the world according to several fashion magazines.