Working as a fitness model is a more popular and competitive profession on social media nowadays.
Instagram has become one of the popular social media platforms these days and there are so many influencers and brands on Instagram. It is especially generation Z's favorite platform. Studies show that more than 38/5% of Instagram users are between 13-24 years old. Teens are using Instagram more than ever, and it's only going to grow in popularity.
One of the popular types of influencers for teens is fitness. Many teens love to become one of the great Instagram fitness influencers, and hence they follow top teen fitness models to find strength and motivation in their journeys.
In this article, we have prepared a list of the top 20 teen fitness models with a brief look at who they are. But first, let's see how we can find and connect with them.
How To Find Teen Fitness Models on Instagram
If you're wondering how to find Instagram influencers to collaborate with, you have various ways that
If you're wondering how to find influencers on Instagram to follow or collaborate with, you have various ways that help you do so. You can use Google, influencer databases, hashtags, Instagram influencer marketing platforms, etc., to reach what you want. The best way to find Instagram influencers most easily and smartly is to take advantage of a high-quality Instagram marketing marketplace. Here is one:
Ainfluencer
Ainfluencer is one of the smartest, easiest, and most importantly, free influencer marketplaces for finding and connecting brands and influencers via an influencer app and a website platform. 
Not only does this marketplace allow brands to do influencer marketing, but it also allows them to collaborate directly with their favorite macro, micro, or nano influencers without having to worry about the influencer's base's credibility or the security of their payment procedure.
Brands can explore thousands of qualified influencers and use Ainfluencer's AI-powered search engine to filter their desired influencers based on location, language, gender, hashtag, category, etc.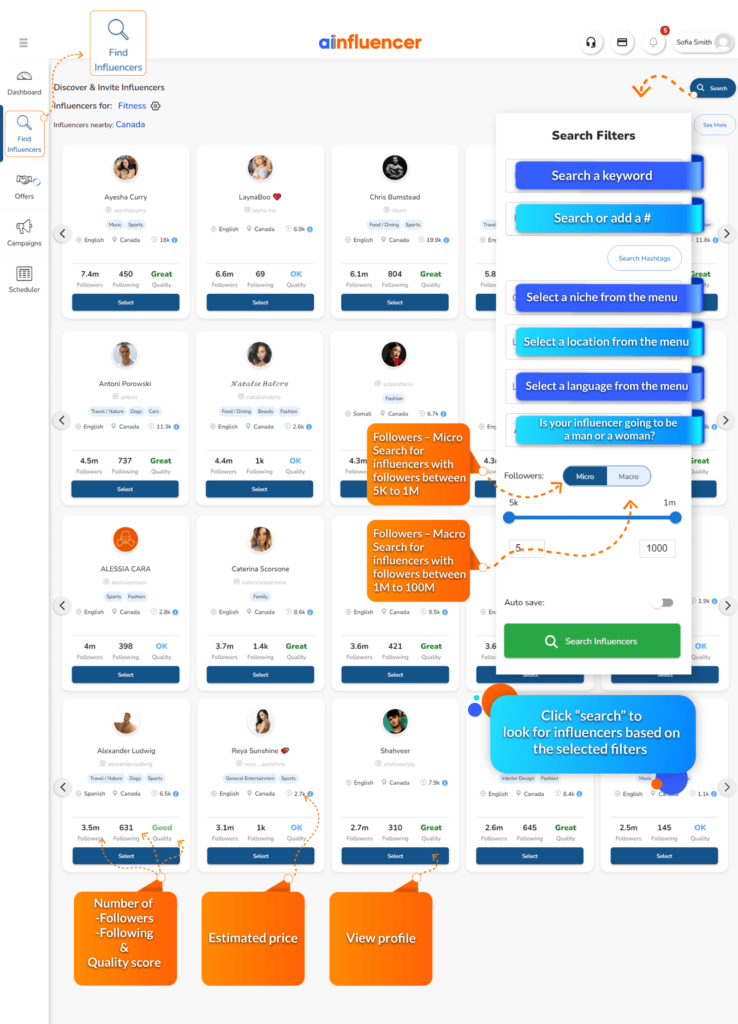 Top 20 Teen Fitness Models On Instagram
We've gathered a list of top teen fitness models who can help you get your gym and fitness product in front of this age group.
1. Barnare_madolora
Barnare Madolora has a great fitness account on Instagram with 330k followers. This micro influencer aims to support and motivate people by sharing photos of himself exercising.
2. Mowgli.j
Jin Young Lee is the top teen fitness model on our list, who is from South Korea. He now lives in Australia. On Instagram, he has about 275k followers, and on Tik Tok, he has over 2.2m fans. The boy is one of the most popular teen fitness models, with a high engagement rate.
3. Kailanefitness
Kailane Ramos is one of the great Brazilian teen fitness models.
She tries to promote healthy living through her Instagram account, which has more than 24k followers. Her account is full of inspiring photos of her working outs as well as helpful tips.
4. Niculaecatalinfit
Niculae Cătălin is among the top Romanian teen fitness models, with 23.8k followers on Instagram. The young man is a vegan athlete who also coaches fitness enthusiasts via DM.
5. Bushra_qadirr
Bushra Qadir is among the best teen fitness models from India. She is also a top badminton and cricket player.
Bushra has 15k Instagram followers and shares healthy meals and tips on her account.
6. Jorgo_fitness
Jorgo Mulla is one of the sexy fit teens from the United States. He is a top fitness and wellness influencer with 17k followers. Jorgo posts pictures of his physique and fitness exercises on his account.
7. Ashishchaudhary.xyz
One of the other young fitness models is Ashish Chaudhary. He is an Indian nano influencer with more than 8k followers.
He tries to show his healthy life, and you can find his workouts on his account.
8. Jakirsaifi958
Jakir Saifi is one of the other fit Instagram models from India. He is also a fitness trainer and the finalist of Mr. Teen in 2019.
His account is full of fitness tips and his workouts.
9. Shredded__aditi__1111
Aditi Yadav is among the great teen fitness models on Instagram. She has more than 10k followers.
Her account is full of positive vibes and posts of her workouts to inspire others to have a healthy lifestyle.
10. Sakshimaha.zen
Sakshi Mahajan is a teen fitness girl who has more than 5k followers on her Instagram account. Sakshi is a yoga instructor who aims to help people improve their lifestyles and live healthy and happy.
She regularly posts her yoga exercises and workouts on her account.
11. Peytonlem
Peyton Lemerand is one of the great fitness girls from the United States. She shares her workouts and healthy meals on her Instagram account and has about 3k followers.
Peyton is also the host of "Girls gone right."
12. Genesismathison
One of the other top fitness girls is Genesis Mathison. She is also a training coach and shares her workouts on her Instagram account to motivate her followers.
This nano influencer is from Chile and can be great for local advertising.
13. Danicadfit
Danica Doble, one of the great Instagram workout models from Canada, is a tremendous local influencer to collaborate with. Her account is full of her dance movements and her workouts.
14. Deborahputrii
Deborah Putri, is one of the other teen fitness girls on our list. She shares photos and videos of her exercises and her diets on Instagram. Moreover, she gives fitness tips to help people get healthy and strong.
15. Harshrajfitness
Harshit Singh Kushwah is a fitness Indian influencer who does teen model jobs. He shares his exercises with his 2.2k followers and tries to inspire others to exercise more.
16. Sommerray
Sommer Ray is one of the top teen fitness models who is a macro influencer with 26.6m Instagram followers. She is an excellent choice for collaboration with big brands. You can estimate her collaboration price by knowing how much do Instagram influencers make.
This teen fitness girl shares her workouts and photos of her fantastic physic with her followers.
17. Marcclange
Marc Clemens Lange is a 19-year-old teen fitness model from Germany who lives in Berlin. He has a wonderful body and physics, and he has the potential to become a great model. The young boy has the experience of endorsing fitness products like protein powders and Omega-3.
18. Leobarstarzz
Leo Barstarzz is a Mexican teenager who works as a fitness model in Mexico City. He's an official member of Barstarzz and has 377K followers on Instagram, making him a popular figure to promote your brand.
19. _vitaniemi01
Although there are not a lot of female teen fitness models on Instagram, Violetta Selivanova, also known as the Vitaniemi model, is one of the most popular ones. This teen fitness girl and rhythmic gymnastics performer from Bishkek – Kyrgyzstan, has 249k followers on Instagram and will turn 16 this year.
20. Thaissafit
Among all the fitness girls on our list, Thaisa is the last one. Thaissa is an 18-year-old teen fitness model from Brazil who won the fitness bikini champion when she was 14 years old for her incredible form and natural attractiveness. On Instagram, she now has a million followers. She is a major influencer in the field of teen fitness modeling.
Conclusion
In this era, being fit is quite important since it helps you protect yourself from different diseases and unnecessary stress. If you are serious about being fit and improving your health, check out these top 20 teen fitness models. You can also reach out to them and collaborate with them if you have a similar niche as them and want to take your brand marketing to the next level through influencer marketing campaigns.
1- At what age can you become a fitness model?
Nowadays, being a fitness model is a popular and competitive profession on different social media platforms, especially Instagram. Now the fitness industry has evolved to become more representative of all types of bodies from age 16-70.
2- Who is the most popular fitness model?
If you are looking for some female fitness models, here is a list of them:
1- SOMMER RAY
2- KAYLA ITSINES
3- ANLLELA SAGRA
4- VALENTINA LEQUEUX
5- Jessamyn Stanley
6- Michelle Lewin
7- Kayla Itsines
8- Tammy Hembrow
9- Jen Selter
10- Steph Claire Smith