Instagram is one of the most important and most visited networks of all time. Real estate influencers try to increase their career efficiency by expanding their activities in this network.
At first, it may not seem a little logical to buy a property, house, or apartment through Instagram.
But you should know for real estate agents that Instagram is an excellent place to sell a property and engage with customers and those who have any questions about buying and selling property and finding potential customers to target based on interests, location, or even competitor accounts.
You can just squeeze in all the information on a real estate flyer and market them to your targeted audience.
As many people spend a lot of time on Instagram, this place has become an effective tool for gaining popularity and reputation and effective advertising in most businesses and ultimately attracting more customers.
In this article, we will introduce the top 20 real estate agents' Instagram accounts.
Here Are The Best Professional Real Estate Influencers
Josh Altman @thejoshaltman 678K followers

Josh Altman is 42 years old and has one of the most popular real estate Instagram accounts. He's also a real estate investor and television star.
He acts on the television production Million Dollar Listing.
Fredrik Eklund @fredrikeklundny 1.3M followers

Fredrik Eklund is a real estate influencer on Instagram, a TV star, an entrepreneur in his native Sweden, and an author.
Originally from Sweden, he's currently based in America as a real estate agent.
Alongside John Gomes, Eklund has secured over ten billion dollars in closed residential sales with the successful sell-out of over 50 new developments, all during a decade of success together.
Ryan Serhant @ryanserhant 1.5M followers

Ryan Matthew Serhant is one of the top 10 real estate gurus. He's also an author and television personality.
He, as of now, stars on Bravo's TV arrangement Million Dollar Listing New York and its side project Sell it Like Serhant.
Serhant operates a New York real estate firm.
Cindy Ambuehl @cindyambuehl 43k followers

Ambuehl was born in Los Angeles, California. She is an actress and model and one of the real estate influencers on Instagram. Also, she appeared in the Wings series.
Chad Rogers @chadrogerstv 164k followers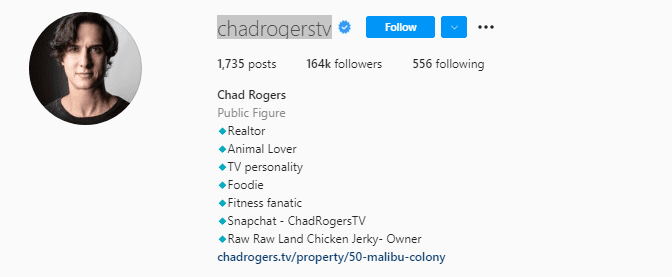 Chad Rogers, a real state influencer, is one of the most successful and sought-after market experts in Southern California.
For over 21 years, the Malibu local has been the best agent for Hilton & Hyland.

Chrishell Stause is a real estate agent, influencer, and American actress. She is known for her role on the Netflix reality show Selling Sunset and previous television roles as Amanda Dillon on All My Children and Jordan Ridgeway on Days of Our Lives.
Drew Scott @mrdrewscott 2.3M followers

Andrew Alfred Scott is a 44 years old realtor on Instagram and an actress. The home renovation program, which Cineflix Media produces, features Drew as the realtor and Jonathan(his twin brother) as the contractor.
Jeana Keough @jeana.keough 26K followers

Jeana Ellen Keough is an American television star, realtor, actress, and model. Keough graduated from Whitnall High School, located in Greenfield, Wisconsin, in 1972.

Victoria Rong was born in a family of architects and real estate developers. In her real estate career, she uses this knowledge to benefit her clients every day. She continuously ranks as a top broker company-wide.
Josh Flagg @joshflagg1 555K followers

Josh Flagg is a real estate agent on Instagram who achieved more than two billion dollars in residential real estate sales in the past decade.
Flagg received the number one volume agent in Los Angeles in 2015 and was chosen as the #2 sales agent in California.
Kelly Killoren Bensimon @kellybensimon 332K followers

Kelly Killoren Bensimon is a real estate agent, influencer, writer, socialite, founding editor of Elle Accessories, and a model.
She was a full-time cast member of the Bravo television series.
Bobby Boyd @bboydla 61K followers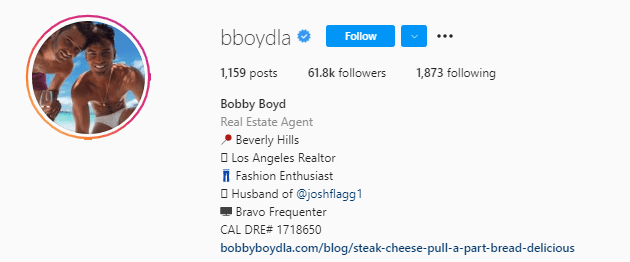 Bobby Boyd is a real estate agent in the affluent Los Angeles real estate market. A recent fashion model for vital designers such as True Religion, Versace, Calvin Klein, and Vogue, Bobby has a keen eye for style, architecture, and design.
Mauricio Umansky @mumansky18 500K followers

Mauricio Umansky is a Founder of the Mauricio Umansky agency and a realtor influencer on Instagram. He set out to create an industry-disrupting brokerage that would redefine the real estate business.
Barbara Corcoran @barbaracorcoran 143k followers

Barbara Corcoran is a realtor influencer and spent 23 years of her life for The Corcoran Group, a New York residential brokerage firm sold in 2011. She is now an investor in ABC's TV show Shark Tank and co-founded the Barbara Corcoran Venture Partners.
Chad Carroll @chadcarroll 555k followers

Chad Carroll is a realtor influencer on Instagram and Vice President of Douglas Elliman, which operates in Miami and New York City.
He is well-known to have a "full-service real estate approach," and indeed, that approach has brought him success through the years.
Madison Hildebrand @MadisonHildebrand 105K followers

Madison Hildebrand is a real estate agent influencer on Instagram and founder of The Malibu Life.
She recently joined with Partner's Trust, which Madison is a founding partner.
Christina Haack @christinahaack 1.6M followers

Christina Haack is an American real estate broker and actress. She appeared on HGTV's show Flip or Flop, and she's also one of the well-known real estate influencers on Instagram.
Dottie Herman @dottieherman 34K followers

Dottie Herman is one of "America's Richest Self-Made Women," according to Forbes Magazine.
Herman is the CEO of Douglas Elliman Real Estate in New York City. Douglas Elliman earns over $27 billion in annual sales, with more than 7,000 realtors working under the brand.
Dottie is a successful real estate Influencer that you can follow.
Stefan Aarnio @stefanaarnio 199K Followers

Stefan Aarnio is a real estate agent, entrepreneur, and writer.
He became famous because he began his real estate duty with just $1,200.
The Quickest Step to Real Estate Wealth, which motivated him to his next calling: mentoring other aspiring investors.
Conclusion
We Introduced some top realtors influencers on Instagram.
Get Instagram-inspired by these top 20 real estate agents.
From what they're posting to how they utilize the platform to show off listings and share ideas with their audience, you can learn some tips about how to run your own profile.
If you want to access more realtor influencers on Instagram, you can use Ainfluencer's marketplace and gain free access to their VIP program by just submitting your email address, name, and phone number.
Did we forget to mention other real estate influencers? Please let us know in the comments.