Adidas doesn't need any introduction. Due to its popularity, some people think this well-known brand doesn't require any marketing or advertisement. But, Adidas is an active brand on every social media. This top sports brand is known for its collaborations with various brands and influencers, ranging from high-end fashion labels to pop culture icons.
Adidas' collaborations with other brands result in creative products, encouraging customers to explore new collections and make purchases. How do brands find partners for collaborations? One way is through influencer marketing platforms. It helps brands to collaborate with influencers on social media. But we'll get to it later, for now, let's take a look at the benefits of brand collaboration.
Is Brand Collaboration Helpful?
Brand collaboration is a marketing strategy that involves two or more brands working together to create a product, service, or campaign that benefits both parties. Every business can do such collaborations, either with other brands or with top influencers. This method is very useful for startups. You can easily sign up on Ainfluencer as a brand to access a list of top influencers to start collaboration.
Brand collaboration can help brands to:
Reach new audiences and markets by leveraging each other's customer base and social media followers
Increase brand awareness and credibility by associating with other reputable and popular brands
Enhance product innovation and differentiation by combining their strengths and expertise
Reduce costs and risks by sharing resources and responsibilities
Create value and loyalty for customers by offering them something unique and exclusive
Top 20 Adidas Collaborations List
Adidas has collaborated with various brands and top celebrities. It means they have gathered their teams together to create sneakers or a sports style using both brands' products. Here is the list of the top 10 Adidas collaborations.
1. Adidas Collaborations With Gucci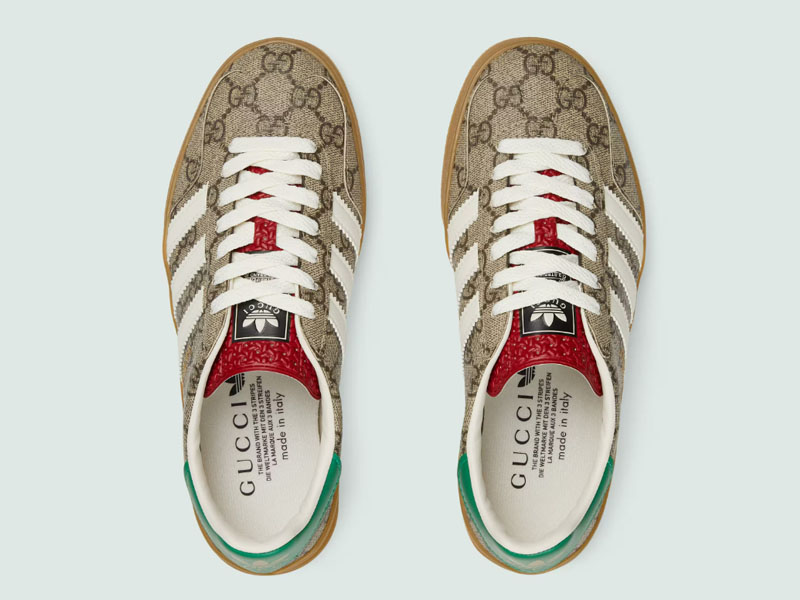 The Italian fashion powerhouse collaborated with Adidas for a sports-inspired capsule collection in 2022. Together they created a capsule collection featuring tracksuits, sneakers, bags, and accessories with the Gucci logo and the Adidas three stripes. The collection carries the name of Adidas x Gucci collection. They will continue their partnership in 2023. Therefore, we should wait for a new collection of Adidas and Gucci mixed products.
Adidas also announced this collaboration on its Instagram with #AdidasxGucci.
2. Bad Bunny And Adidas Collaborations
One creative brand collaboration was the partnership of Adidas and the Puerto Rican singer and rapper, Bad Bunny. They teamed up together to release colorful products with his signature and the logo of Adidas. This relationship started in 2021 and attracted the fans of both brands. That's why they decided to do the same in 2023.
3. Adidas Noah Collab
The collection of Adidas x Noah is a simple mixture of Adida's beloved styles of the 90s in retro colorway. This collection includes cozy products such as a white knit pullover sweater, pinstripe track pants, bucket hats, and raglan trench coats. In order to convey the message of environmental protection, all the sneakers are made of recycled materials.
4. Adidas Collaborations with Prada
Adidas for Prada was the name of a luxury collection of products, including footwear and other apparel with Adidas three straps and Prada's well-known logo. Since it was a limited edition, all the products sold out soon after they were released to the market.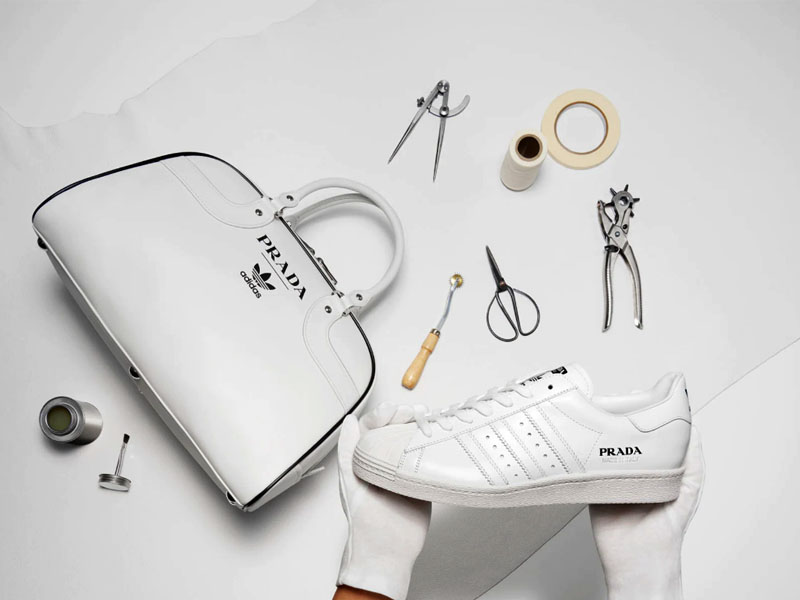 5. Balenciaga And Adidas
The French luxury fashion house joined forces with Adidas to create a hybrid sneaker that combines the Balenciaga Track.2 with the Adidas classic Samba.
6. Pharrell Williams Partnership With Adidas
The collaboration between Adidas and Pharrell Williams started in 2014. The musician and entrepreneur continued his long-standing partnership with Adidas, releasing new versions of his Humanrace Sichona sneakers, as well as clothing collections that celebrate diversity and creativity.
The collection is called Adidas Pharrell, which contains clothing, footwear, and accessories that are inspired by the vision and creativity of Pharrell Williams. All the products are produced with recycled materials and sustainable practices to reduce environmental impact and promote social responsibility. Additionally, they reflect Pharrell's personal style as well.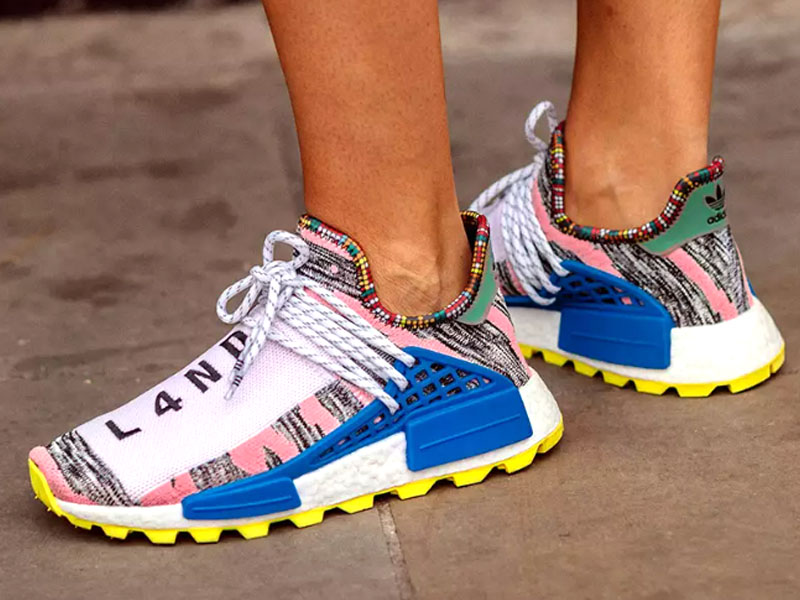 7. Kanye West and Adidas Collab
One of the most successful Addidas collaborations on our list is their collab with famous pop star, Kanye West.
The YEEZEE was the name of the collection made by Adidas and Kanye West. Their partnership started in 2013 and expanded in 2016. The collaboration involved the creation of the Yeezy brand of footwear, apparel, and accessories that became one of the most successful and influential in the industry.
However, they ended their partnership abruptly in October 2022 after Kanye West wore a "White Lives Matter" T-shirt, causing a public outcry and a financial loss for Adidas.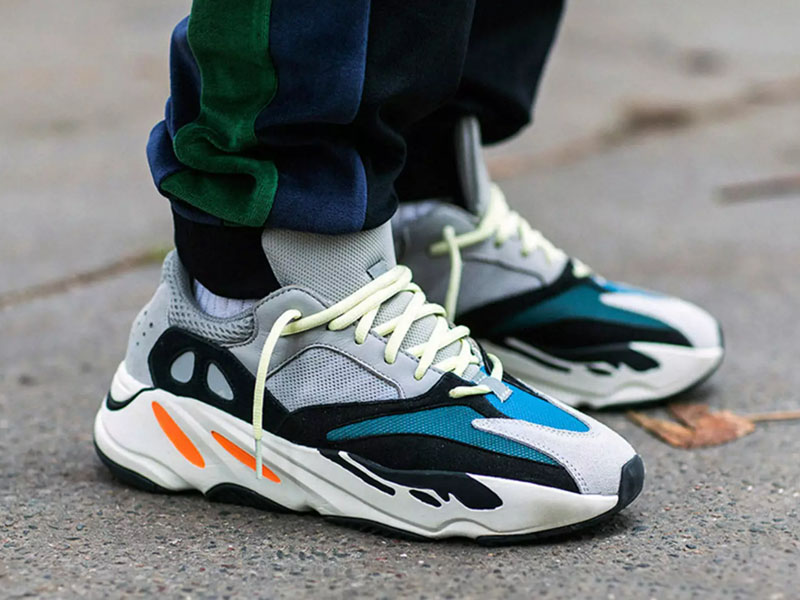 8. Beyoncé Partnership With Adidas
Beyoncé's activewear brand (Ivy Park) partnered with Adidas to launch several collections of clothing, footwear, and accessories, inspired by themes such as rodeo, winter sports, and black history. This collaboration started in 2019 and ended in 2023. The partnership involved the creation and distribution of Ivy Park, Beyoncé's activewear brand, as well as new signature footwear and apparel for Adidas
What made this collection special was the combination of the trends and culture of fashion and sportswear. However, the partnership also faced challenges and controversies and ended in April 2023 after Adidas announced a profit warning and a shift in strategy.
9. Adidas by Stella McCartney
Adidas by Stella McCartney is a collection of stylish and functional products for various sports and activities such as running, yoga, tennis, cycling, and skiing, which combines the sporty performance of Adidas with the fashionable elegance of Stella McCartney, a British designer and environmental activist.
The collection was launched in 2004 and is still ongoing. To make this collection more special, they feature innovative designs and technologies such as the Primeknit upper, the Boost cushioning, and the Ultraboost light. Furthermore, they reflect Stella McCartney's personal style and values of femininity, animal welfare, and plant-based living.
10. Sean Wotherspoon
Sean Wotherspoon's collaboration with Adidas is a partnership between the American designer and the German sportswear brand that started in 2020 and is still ongoing. The collaboration involves the creation of footwear and apparel that are inspired by Wotherspoon's love of vintage clothing, cars, and toys. Like other collaborations, this collection also includes eco-friendly products made of recycled fabric.
11. Blondey McCoy and Adidas
Thomas Eblen, known as Blondey McCoy, is a young English artist, model, and skateboarder. As a top influencer among skate lovers, he partnered with Adidas to create a collection specifically for skateboarding, which is called Adidas Superstar by Blondey, including a series of sneakers that feature a leather upper with contrasting stripes and a rubber shell toe, as well as some unique details such as metallic silver accents, Blondie graphics, and reflective laces. Some are transparent to make socks visible from behind.
12. Adidas Human-Made Collab
Adidas collection with the Human Made brand is a series of collaborations between Adidas Originals and the Japanese streetwear label founded by NIGO, a visionary creative and archivist. The collections feature various Adidas sneakers and apparel with modern details and vintage sporting references inspired by NIGO's personal collection and feature co-branded t-shirts, windbreakers, shorts, and accessories.
13. Craig Green Collaborations With Adidas
Craig Green is a celebrated British designer who has been working with Adidas Originals since 2019. He is known for his conceptual and functional designs that balance sportswear and fashion. The collection that Adidas and Craig made together was a set of shoes with a futuristic and colorful design.
14. Adidas Busenitz
Dennis Busenitz is a well-known skateboarder whose style appeals to skaters. By collaborating with him, Adidas made a collection of skate shoes to attract more customers from the skate world to this brand. The shoe design is minimalistic, carrying Adidas three stripes but with more details to keep skaters moving all day long.
15. Adidas And Khaite Collaborations
Khaite is a fashion brand founded in 2016 by Catherine Holstein, a New York-based designer. The brand is well-known for its feminine and unique style that combines classic American sportswear with a modern sensibility. The first collaboration started in 2019, with a black leather upper and a white rubber sole. The second collaboration was launched in 2020, with a soft nubuck upper in camel or navy and a gum sole.
16. BAPE And Adidas
BAPE is a luxury fashion brand in Japan founded in 1993. Therefore, it is not new to this world. The collaboration between this fashion Japanese brand and Adidas started in 2003 and continued until now. Super Ape Star was the first product made due to this collaboration which was a modified version of the Adidas Superstar with BAPE's signature camo and Ape Head motifs. The collaboration has been celebrated for its fusion of sportswear and streetwear, as well as its cultural impact and popularity among sneaker fans.
17. Dame Lillard x Adidas
Dame Lillard is a famous American basketball player who is influential to young fans of this sport. Together with Adidas, they created a collection of basketball shoes in 2014. At first, only 8 shoes were produced with his signature on them, which sold out as soon as they were released. Afterward, a collection was released that bore the name of the Dame. The main features of this collection were sustainability (made with post-consumer waste) and affordability (sold for under $100).
18. Derrick Rose Collaborations With Adidas
Derrick is another top player in the NBA whom Adidas has collaborated with. Together with Adidas, they released the D Rose collection, which includes basketball shoes, winter hoodies, and sports shorts. Derrick is known for his speed, agility, and versatility on the court. Therefore, his collection is designed in a way to represent these characteristics.
19. Adidas And Alexander Wang Collab
Alexander Wang is a fashion designer who has collaborated with Adidas originals on several collections of clothing, shoes and accessories. He is famous for his edgy, street-inspired, and sporty aesthetic. Their collaboration started in 2017 and ended up in 2019.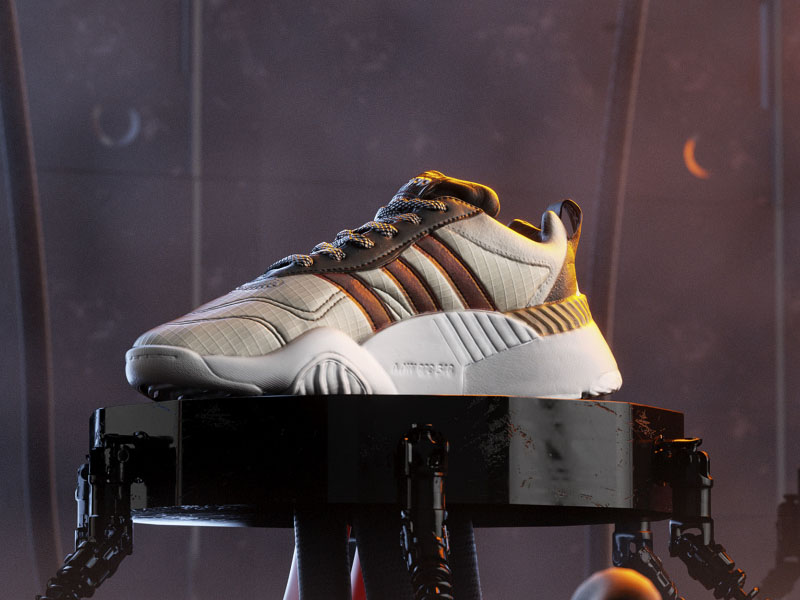 20. Adidas x Missoni
Adidas collaborations do not only lead to America. This top brand knows how to spread its market around the world. That's why this brand started a collaboration with Missoni, an Italian fashion brand that is famous for its colorful knitwear and patterns. Adidas and Missoni created a limited-edition collection of shoes and apparel that features the space-dye technique and the inverted Adidas logo.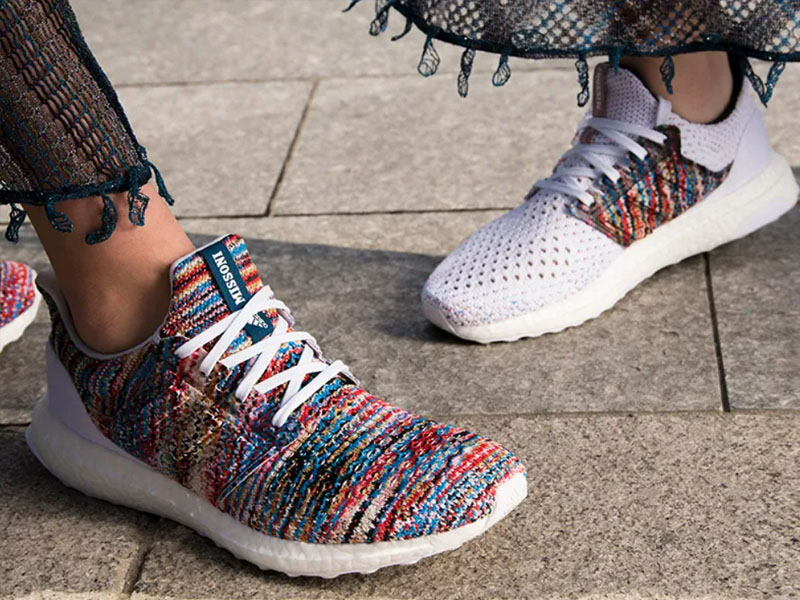 Collaborate with those Who Inspire you
Collaborating with big names is one of the most effective methods to increase your audience. But how can you find perfect collaborations effortlessly? One of the most common methods is through Influencer marketing platforms.
Such platforms help brands and influencers find each other to negotiate the terms for collaboration. They have made influencer marketing very easy. One of the best influencer marketing platforms for this purpose is Ainfluencer.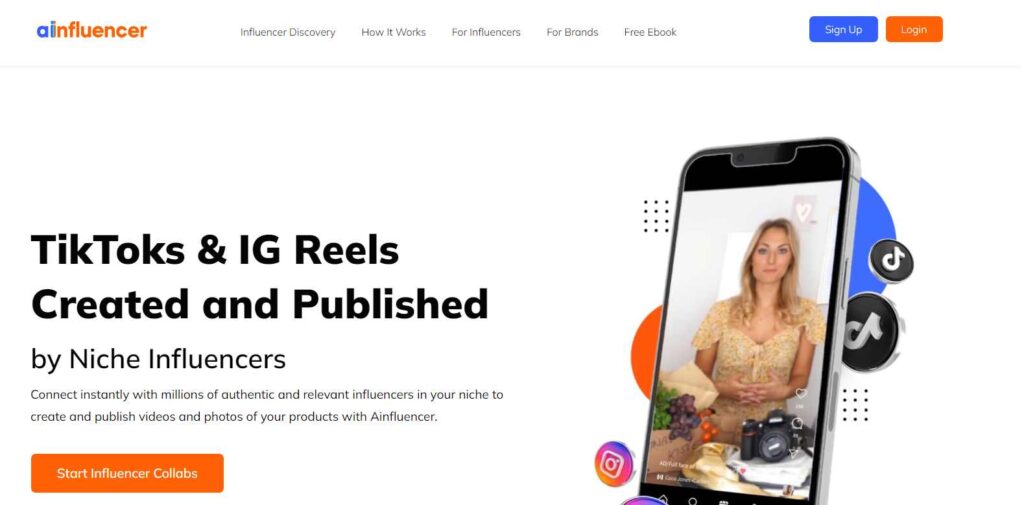 Ainfluencer is a free influencer marketing platform for Instagram and TikTok. There are many influencers and brands that are ready to collaborate on Ainfluencer.
If you are looking for Instagram and TikTok influencers with high engagement rates to improve your social presence, give Ainfluencer a chance. It's totally free.
Moreover, if you want to find sponsors for your posts on Instagram and TikTok, Ainfluencer has got you covered. There are hundreds of brands looking for dedicated social media influencers to collaborate with. So, don't waste any more seconds.
Conclusion
In this article, we listed the top 20 Adidas collaborations with other brands and top celebrities. As can be seen, every brand needs partnerships to increase its sales in new ways. People also like to see collaborations between their favorite brands. The combination of two top brands makes a product seems more valuable. That's why brand collaboration is a popular marketing strategy for top brands around the world.
Did you know whether you are a fitness influencer, food blogger, fashion blogger, or a model on Instagram, you have the chance of being discovered by top brands and becoming their brand's ambassador?
You can join Ainfluencer as an influencer so that other brands and companies can find you for their collaborations. 
FAQs
Which Celebrity Did Adidas Stop Collaborating with?
Adidas stopped its partnership with Kanye West in 2022 due to Kanye's racist messages about the Black Lives Matter movement. Furthermore, Adidas canceled its collaboration with Beyonce in 2023 due to a lack of acceptance and a decrease in sales
What Is Adidas' Most Successful Collaboration?
According to what both brands claim, the collaboration between Adidas and Stella McCarney was one of the best and most successful partnerships. Their collection was a sports, fashion, and functional trend.
When Did Adidas Stop Selling the Yeezes Collection?
Yeezy was the name of the collection that Adidas and Kanye West made together. It was so popular among both fans and considered successful until Kanye West made a series of offensive and antisemitic comments on social media and in interviews, which led Adidas to terminate its partnership with him in October 2022.