One of the best methods for making money with your Instagram account is through collaboration with brands. But you need to know how to collaborate with brands on Instagram to get the ball rolling.
Brands are always looking for new and innovative ways to increase brand awareness and reach their target audiences. Therefore, influencer marketing platforms have been created to help them improve their presence on social media.
There are different ways to work with brands as an influencer or brand ambassador to help them promote their products and services.
In this article, we'll show you how to collab with brands and walk you through its steps. But if you are looking for a quick way to collaborate with brands give Ainfluencer a try. It's a free influencer marketplace and perfect for nano and micro-influencers.
What is an Instagram Collaboration?
Before explaining how to collab with brands on Instagram, you need to realize its definition. An Instagram collaboration is when two or more Instagram users team up to create a post or series of posts together. It allows you to invite another user to collaborate on a Feed post or Reel so that the post shows up on both of your profiles.
These Instagram collaborations mostly happen between brands and brand ambassadors.
What is a brand ambassador?
A brand ambassador is a person who promotes a company's products or services to its audience. They may do this through both online content, such as blog posts and social media posts, and offline content, such as appearances at events and meet-and-greets.
Experienced brand ambassadors know well how to collab with brands on Instagram and use its benefits.
What are the benefits of brand collaboration?
Before getting into how to collaborate with brands on Instagram, you need to know why brands collaborate in the first place. Brands collaborate for several reasons, but the benefits are always clear.
When done correctly, Instagram collaborations can offer several benefits for both parties involved.
Advantages of Collaborating with Influencers for Brands
Collecting and accumulating likes, comments, and engagement from both accounts on a single post is one of the benefits.
For brands, collaborating with influencers or other companies can help them increase their visibility and reach a larger audience. Studies show that about 61% of people trust recommendations from influencers rather than brands.
By collaborating with influencers in their target market, brands can reach a highly engaged and relevant audience that may not have been accessible through traditional marketing channels.
Partnering with popular and respected influencers can boost a brand's credibility and improve its overall image.
Collaborating with influencers can increase the likelihood of conversions and sales, as followers are more likely to trust and act on recommendations from people they trust.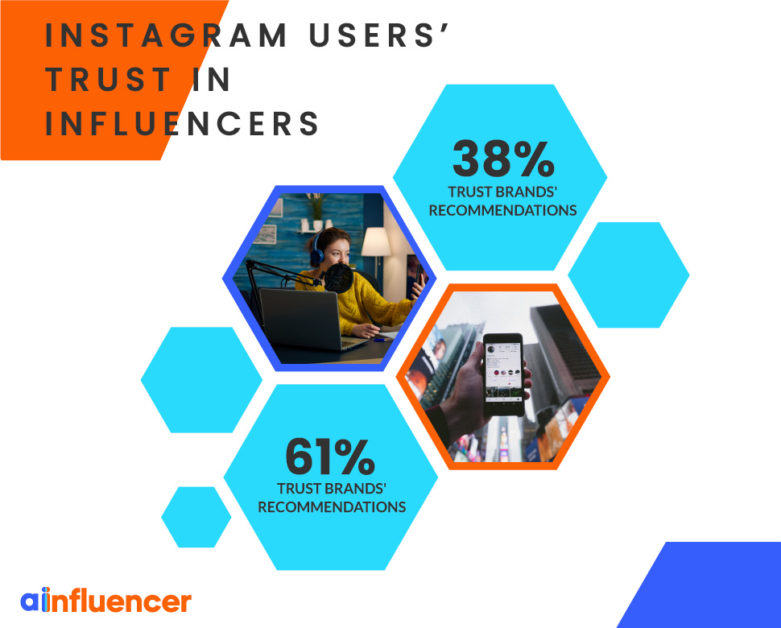 Advantages of Collaborating with Brands For Influencers
Collaborating with brands can expose an influencer to a larger audience that may not have previously been aware of them, thus increasing their visibility on Instagram.
It can lead to monetary compensation or other forms of rewards, such as free products or experiences.
By partnering with reputable brands, influencers can establish themselves as credible and trustworthy sources within their niche.
Knowing how to collab with brands successfully can be an excellent opportunity for influencers to try out new things, share their experiences with their followers, and keep their audience engaged.
It's a great way to make money and get exclusive access to new products or content.
How large should you be before working with brands?
There's no rule or the actual number of followers to have when it comes to working with brands but everybody used to believe having about 10k followers can be reasonable for starting your collaboration. It was before nano influencers.
These types of influencers have fewer than 10K followers. But they enjoy a higher engagement rate which is more important than the follower number.
Aside from the number of your followers, there are some essential things to consider. Get to know your followers and make sure you are producing high-quality content. Brands mostly care about your engagement rate and want to work with people who have influence and a high engagement rate.
Initial Steps of Collaborating with Brands on Instagram
If you are a nono or micro-influencer that has never made any collaboration with brands you should take some elementary steps to make yourself an ideal target for brands. to collaborate with brands on Instagram, follow these steps:
1. Define your niche
Determine the specific area or theme that your Instagram account focuses on. This could be anything from fitness, fashion, beauty, food, travel, or even a combination of interests. Having a clear niche helps brands identify if your account aligns with their target audience.
2. Build a strong Instagram presence
Focus on creating high-quality content that resonates with your audience. This includes posting visually appealing photos, using engaging captions, and utilizing relevant hashtags. Consistency is key, so aim to post regularly and maintain an active presence on Instagram.
3. Engage with the brand
Start building a connection with the brand by engaging with their content. Like and comment on their posts, share their content in your stories, and tag them when it's relevant. This shows your genuine interest in their brand and helps you stand out.
4. Showcase your value
Brands are interested in understanding the value you can provide. Highlight relevant statistics such as your engagement rate, average reach per post, and demographics of your audience. If you've collaborated with other brands before, mention successful rates and any positive results you achieved.
Remember, building successful collaborations takes time and persistence. It's essential to focus on creating valuable content, engaging with your audience, and establishing genuine connections with brands that align with your niche.
4 ways to find Instagram brand collaborations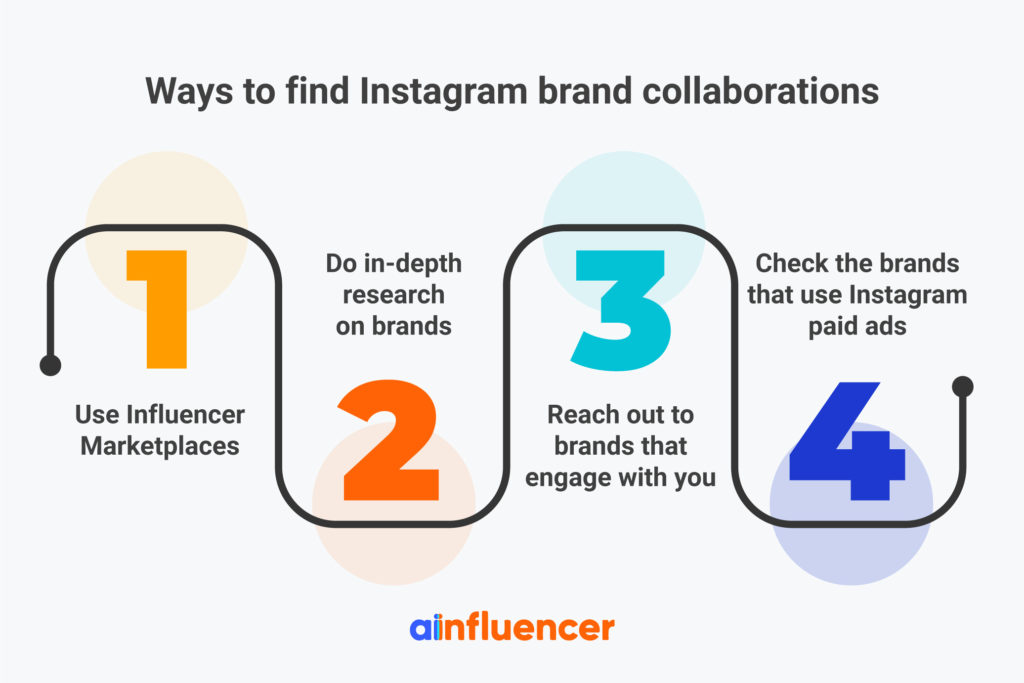 When you want to learn how to work with brands as an influencer and become proficient in collaborating with brands on Instagram, one of the most important things to do is to find a brand that is a good fit for your niche and audience. But how?
Here are the 4 best ways how to find brands to work with on Instagram:
1. Use Influencer Marketplaces
Influencer marketplaces, such as Ainfluencer, are a great way for new influencers to learn how to work with brands as an influencer, get in touch with different types of brands and build strong partnerships.
Ainfluencer
Ainfluencer is the smartest and easiest platform for influencers to connect with brands and initiate collaborations.
The platform allows brands to search for and filter through a wide range of influencers based on criteria such as niche, audience demographics, engagement rates, and more.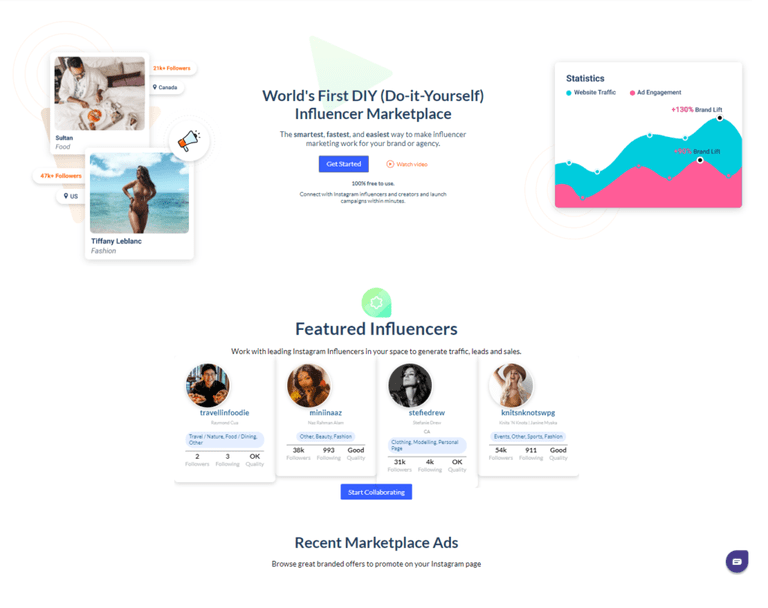 Ainfluencer facilitates communication and negotiation between the brand and influencer, and provides tools for managing and tracking campaign performance, ensuring transparency and accountability throughout the collaboration process.
Influencers can freely create a profile, showcase their work and statistics, make offers on branded content ads in the campaign Marketplace, and connect with brands to execute marketing campaigns right in the app.
You can also wait for brands to invite you to their ads. Then, you can negotiate with them and accept or decline their offers.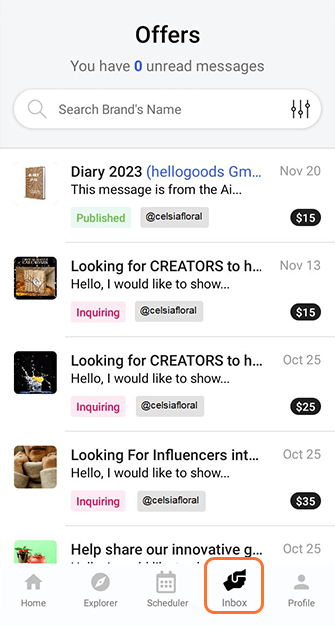 2- Do in-depth research on brands
Doing in-depth research is the second step for collaborating with brands. As your chosen platform for content creation, Instagram allows you to regularly conduct research and hunt for brands in your niche that have appealing products for your target audience.
Type any specific keywords into Instagram's search bar, look up relevant hashtags (such as #ad, #collab, or #sponsored), and check out the more important business accounts that are most suitable for brand collaborations.
As an alternative, you can use Google to perform a direct search for specific individuals in your industry. Then, you can get in touch with the most interesting ones and begin discussing potential future collaborations.
Once you find the best hashtag to explore for collaborations, search for a specific user who might provide partnerships in your niche. And once you've found the user, send them a direct message (DM) or ask for their email address to offer a collaboration opportunity.
3- Reach out to brands that engage with you
Don't wait for brands to come to you. If you want to collaborate with a brand, contact them.
Find out which brands engage with your content and communicate with you. After that, get in touch with them and offer a collaboration. Instead of brands who haven't heard of you, these brands are more likely to respond positively.
Additionally, you can choose relevant business profiles by looking through your follower list, direct messages, and comments.
4- Check the brands that use Instagram paid ads
You will see a variety of advertisements and promotions that brands post to reach their target audience in a certain niche as you scroll up through your Instagram feed or Stories. Check the content of their profiles by opening them. Reach out to them first if you believe that your audience might benefit from their products, and then later give them a free feature and a brand collaboration.
How to use Instagram's collabs feature?
By learning how to collab with brands, you can team up with other brands to create sponsored posts. Instagram collaboration feature lets you invite someone to collaborate on a feed post and Reels so that both you and the account you're collaborating with can share the same content with their followers. Here's how to use the collab post feature:
First, you need to upload your post as usual. You should then tap on the "tag" option, and then on the bottom right, click on the "invite collaborator." Next, enter the name of the brand you want to collaborate with and click "Search." If the brand is found, it will appear in the list below. Select the brand and then click "Next."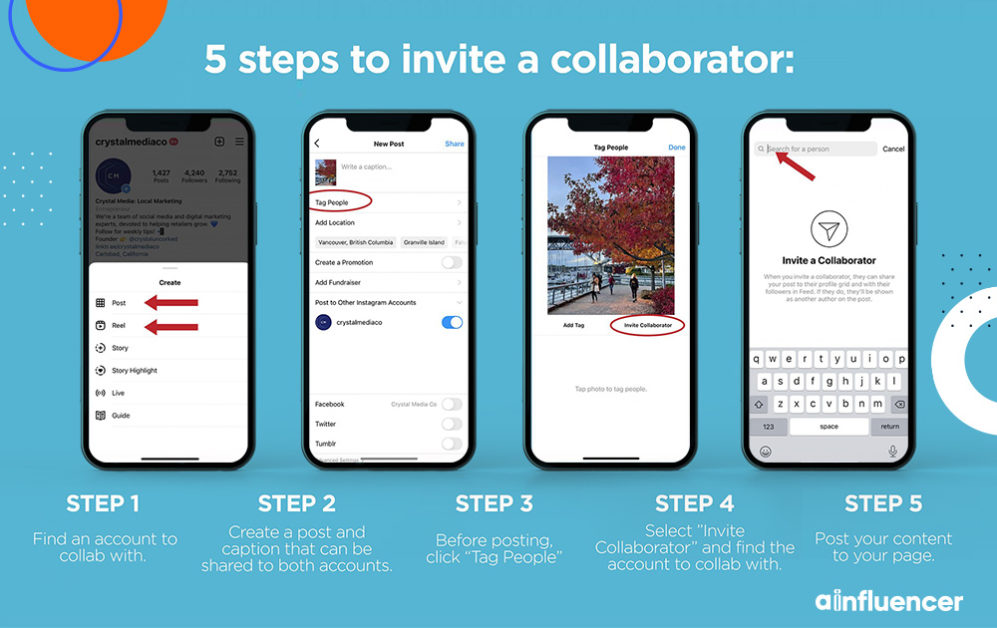 Now, enter information about your proposed collaboration in your caption. Be sure to include a brief description of what you'd like to do, as well as what you think the benefits are. When you're finished, click "Submit."
After posting your content, an invitation will be sent to the collaborator through their DMs.
You can only collab with one person, and that person needs to accept your collab request.
Tips for collaborating with brands
Now that we've covered how to collaborate with brands on Instagram, let's walk through some tips together:
Create useful and informational content to grab your audiences' attention and make your account valuable for brands.
When you have at least 10K followers and a reasonable engagement rate, do not wait for brands to find you. Whenever you see a related brand, shot your shoot. They may accept or refuse your offer.
Think about what you can offer the brands. What do you have that they need? Maybe you have a large audience or a great sense of style. Whatever it is, think about how you can use it to help the brand.
Ensure that your account aligns well with the brands you're interested in partnering with. If you're not sure if the brand is a good fit, do some research first!
Collaborate with brands you believe in, and don't lose your credibility, which can be gained by so much time and effort.
When collaborating with brands on Instagram, consider all paid and unpaid benefits of working with that company as well as its other pros and cons.
Make sure to tag each other in posts and use the appropriate hashtags so that followers can easily find your content.
Put enough time and make a brand ambassador contract to agree on all expectations and responsibilities of both parties before starting your partnership.
Instagram collaboration ideas and examples
Collaborating with brands on Instagram can be a great way to reach new audiences and grow your account. Here are some ideas for collaborations and examples of brands that have worked together successfully.
Create a themed takeover. A themed takeover is when you take over the brand's account for a day and post about them on your own account. This is a great way to introduce your followers to the brand and vice versa.
2. Hosting a contest or giveaway after learning how to collab with brands can be a great way to get more people interested in your account. The brand can provide the prize, and you can promote the contest on your account.
Here is an example of a collaborated giveaway post:
3. Do affiliate marketing and offer products at a discount with your special code.
Look at the following post of Laura Kasperzak, sharing a promo code while collaborating with a brand:
4. Share user-generated content (UGC) and IGC by giving your followers a clear call to action and using sponsored hashtags.
You can see hashtags such as #sponsred and #ad in the following Instagram collaboration post.
Conclusion
In conclusion, learning how to collab with brands on Instagram can be great for both brands and brand ambassadors to reach new audiences and grow their business. However, as an influencer collaborating with brands on Instagram, it's essential to ensure that you are selective about the brands you work with and that the collaboration aligns with your brand values.
When executed correctly, Instagram collaborations can be a powerful tool for marketing your business. Using marketing platforms such as Ainfluencer makes this process easier for you.
FAQs
1- How do you get collab on Instagram?
To invite a collaborator on Instagram, upload your post as usual and tap on the "tag" option. On the bottom right, click on the "invite collaborator," enter the name of the brand you want to collaborate with, and click "Search." If the brand is found, it will appear in the list below. Select the brand and click "Next." Post your content, and the invitation will be sent to the collaborator through their DMs.
2- Why doesn't my Instagram have collaboration?
If the Collab feature is not working for you, update your Instagram app and make sure that you are using the latest version. Also, check if the collab feature is available in your country.