Instagram has become one of the most popular platforms for digital creators to earn money. If you are using Instagram as an influencer or someone who is willing to work with other brands, knowing how to do a collab post on Instagram is essential.
In this article, we will show you how to post a collab on Instagram, some of the best ideas, and a safe platform for collaborating with brands on Instagram. 
If you are a digital creator/influencer who is looking for partnerships with brands in your niche, Ainfluencer is what you need. On Ainfluencer, you can use powerful search filters to find the best match for collaborations.
What Is An Instagram Collab Post
One of the best features added to Instagram in 2021 is the ability to collab a post. An Instagram Collab post is a feed post or reel video that shows up on two accounts at the same time. It shows that two accounts are partnering together to create content as a brand, creator, or influencer.
Before reaching out to influencers for collaborations (or brands) keep in mind that you can only collaborate with one user (besides yourself) on each post. The process is simple; one person makes the post and invites a second person to collaborate. Once they accept, the post and its comments/likes and shares are shared by both accounts.
In the next parts, we will show the complete process of how to make a collab post on Instagram.
How To Create An Instagram Collab Post
Creating a collab post is not different from sharing regular content on Instagram. Follow these simple steps to invite collaborator Instagram accounts for sharing a post together. Here is how to post a collab on Instagram:
Log into your Instagram account and tap the "+" icon from the bottom menu. This will open your camera.
Upload your content from your gallery or capture a photo. (You can also use Instagram carousel posts to share up to 10 photos/short videos in a single post.)
You can also swipe the bottom bar to the right to record a reel video. Another alternative way to share your content is from your profile and tapping the "+" icon at the top of your screen.
After uploading your content, add filters and tap Next.
Tap on the "Tag Users" option.
Tap "Invite Collaborator."
In the opened box, search for their username and send them an invite.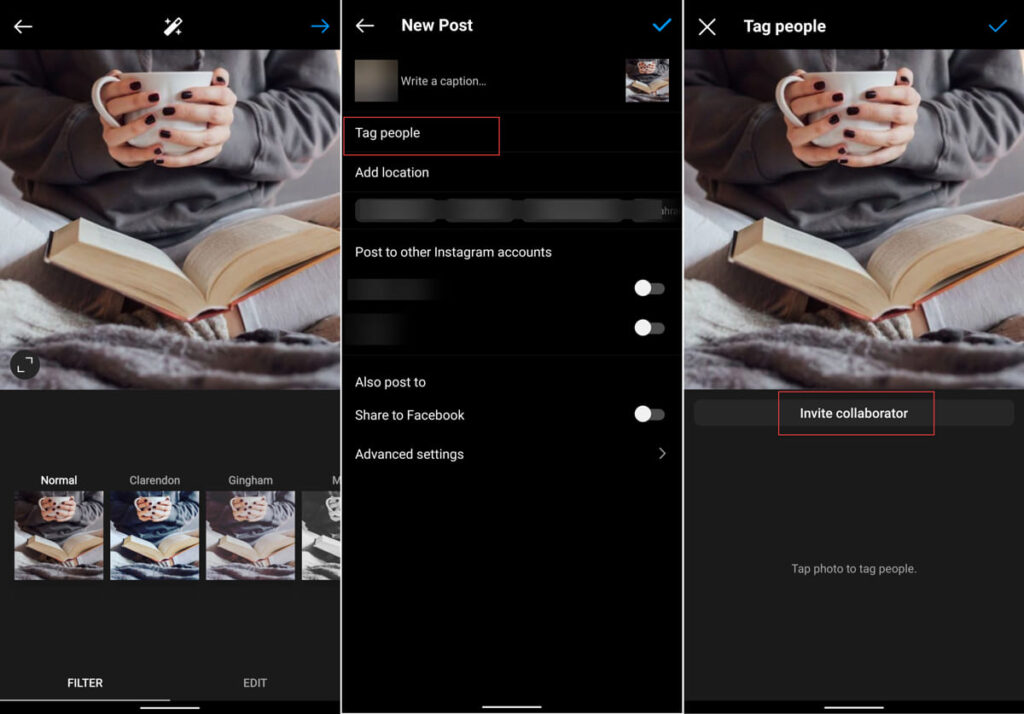 As you can see the process of how to create a collab post on Instagram and inviting others is as easy as pie. But what about the other side?
How To Accept A Collab Post On Instagram
If you are on the other side of a collab post, you will receive an invite on your activity page. Here is how to accept a collab post on Instagram:
Log into your Instagram account and go to your activity page.
Tap on the invite notification message.
Tap Review to check the post and its caption.
Select Accept.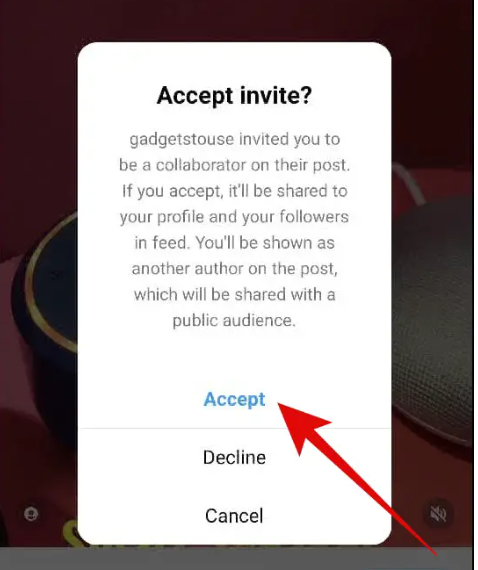 If you are wondering how to invite collaborators to Instagram after posting, unfortunately, there is no way! You can only invite collaborators to Instagram before sharing the post. Once it's posted, you can only tag users.
Instagram Collab Post Ideas
Now that you know how to do a collab post on Instagram and its benefits, let's take a look at some of the best ideas to run a better collaboration.
1. Co-Marketing Campaigns
Co-marketing campaigns, also known as collaborative marketing campaigns, are strategic partnerships between two or more brands that join forces to promote a product, service, or initiative.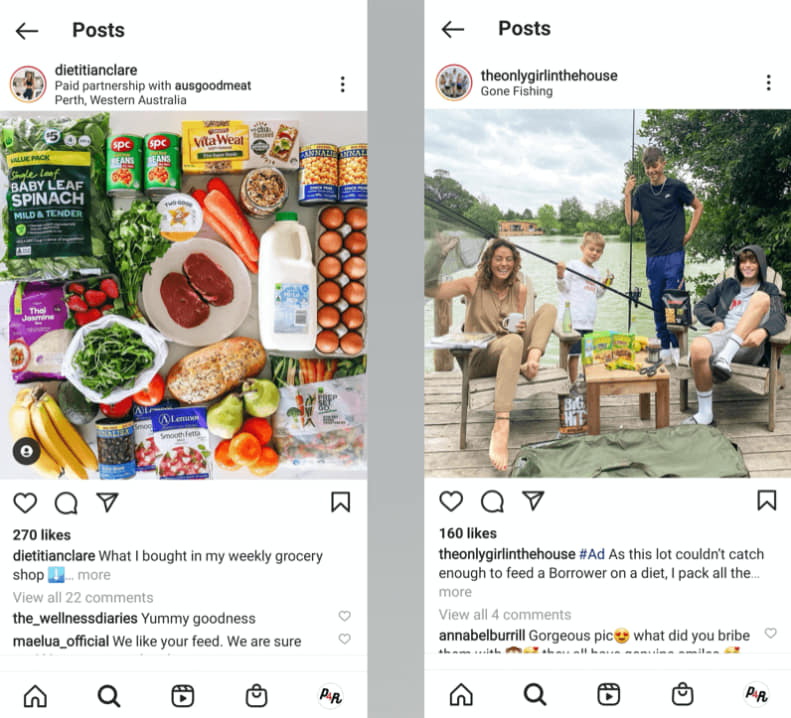 Collaborating with another brand on a co-marketing campaign or an influencer marketing campaign can be a powerful strategy to expand your reach and reach a new audience. 
2. User-Generated Content
One of the best ways that professionals can engage with their audience and build trust is by sharing user-generated content. You can ask and encourage your followers to create content related to your brand. This content can be product reviews, create visuals, testimonials, etc. Here is an example of how to create a collab post on Instagram for user-generated.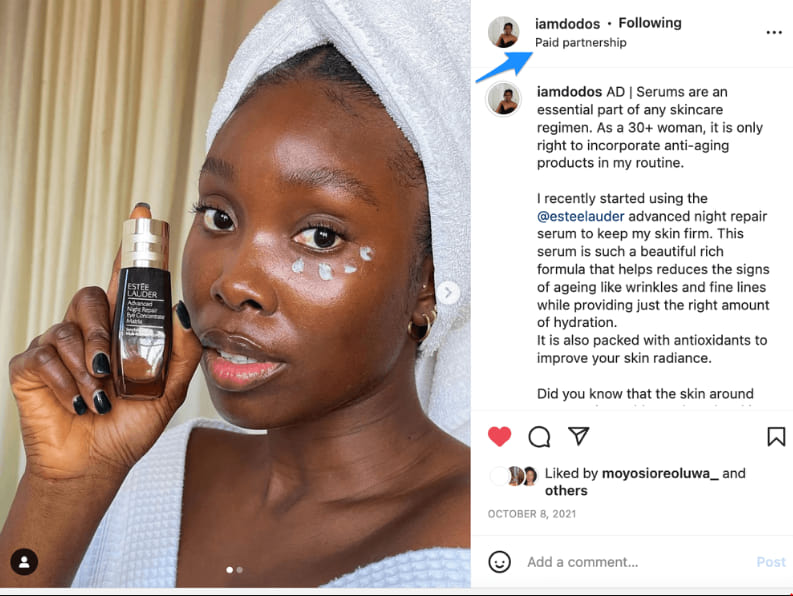 After that, feature the best UGC photos/videos in a collab post to give credit to your followers as well as inspire others to participate.
3. Influencer Partnerships
The power of influencer marketing and the impact they have on their audience is not hidden from anyone. Influencer partnerships are a tried and tested method to increase your brand's reach and credibility on Instagram.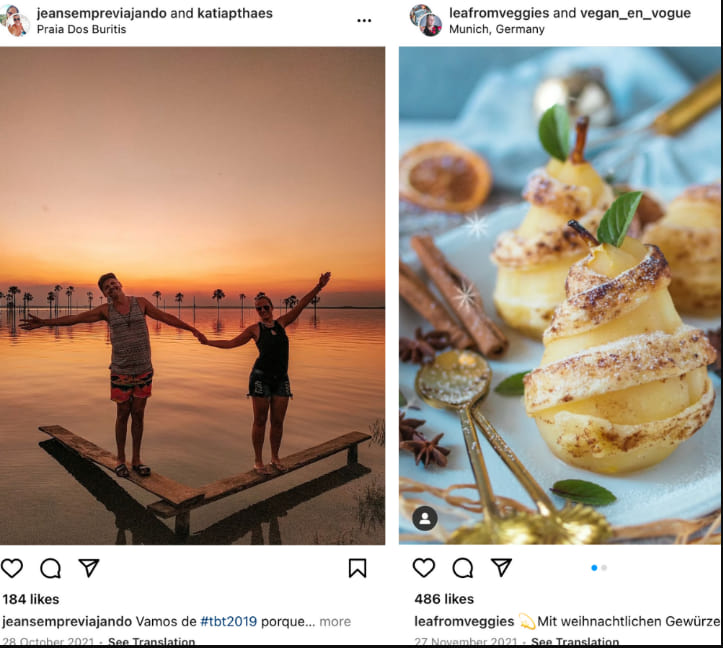 Influencers have the power to influence purchase decisions and can help increase brand awareness, drive traffic, and boost conversions. If you have the budget, you can search and find influencers related to your brand. But how to find them?
Ainfluencer is a safe Influencer marketing platform with a vast network of influencers in different niches (more than 500k active influencers) that connects you with your best match. You can search for your influencer based on your budget, engagement rate, audience size, language, location, niche, hashtags, etc.
And the best part is it's totally free to use!
4. Promote A Giveaway
For those facing an engagement drop or looking for a quick way to receive lots of interactions, Instagram giveaways are one of the most effective ways. To increase your giveaway participation, you can collaborate with influencers and other brands.
When the goal is engagement and conversion, having double the amount of followers participating can expand your reach. However, make sure to stick to the Instagram guidelines for promotions and giveaways so you won't get banned.
5. Launch New Products With Another Brand
If you are launching new products, you can announce it in a collab post to boost your post's reach. This way you can use the power of both accounts (whether the other side is a similar brand or an influencer), so everyone can be aware of your new line.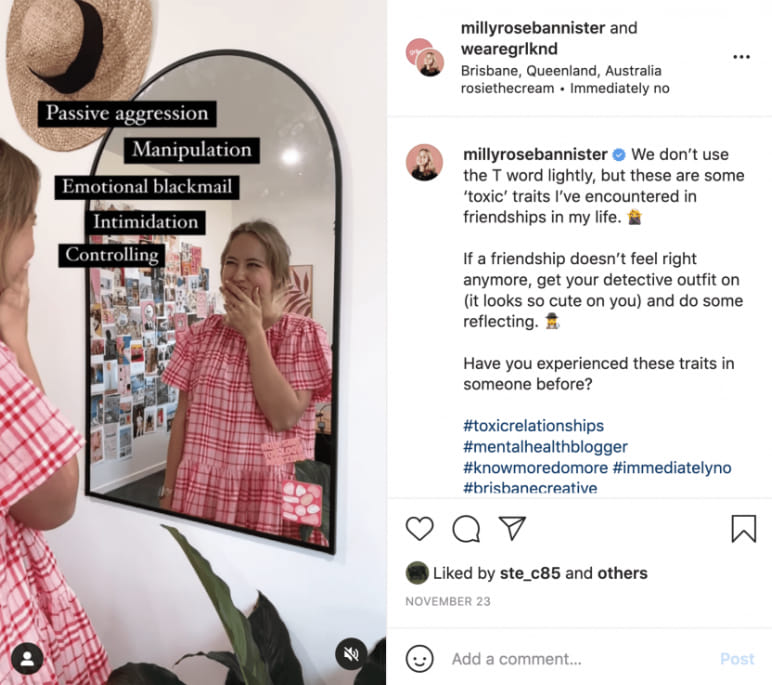 By collaborating with another brand, together, you can create collab posts that showcase the unique features and benefits of the new product, and leverage the strengths of both brands. Collaborative product launches can help you tap into a new customer base, increase brand visibility, and drive sales.
6. Promote Your Second Account
Many users have multiple Instagram accounts and can use the collab feature to promote their other accounts. With this feature, you can share eye-catching content and include a call to action in the comments to engage viewers for following both accounts.
How to Find Influencers/Brands for Collaborations
As we mentioned in the last parts, collaborating with influencers and brands can greatly enhance your marketing efforts and help you reach a wider audience on Instagram. But the question is: how do you find the right influencers and brands for collaborations? Your answer is Ainfluencer!
Ainfluencer is the best influencer marketing platform that connects brands with influencers from various niches and industries. With its extensive network of influencers and brands, Ainfluencer simplifies the process of finding suitable collaborators for your marketing campaigns.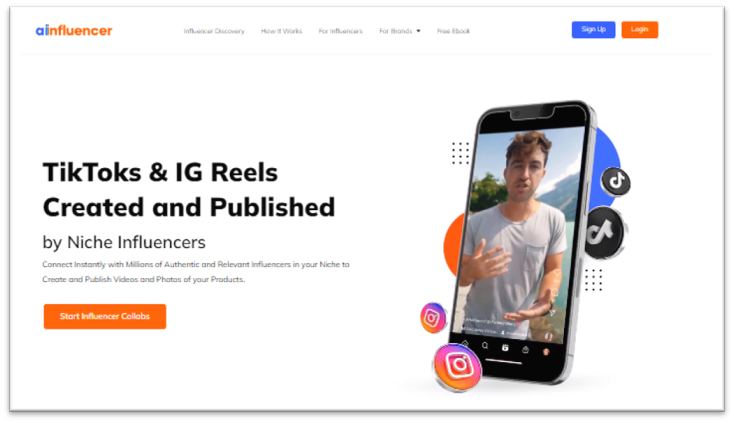 On Ainfluencer, you have access to free tools and features including
Targeted Search Filters,
Detailed Influencer/Brand Profiles,
Secure Payment System,
Running Campaigns.
Conclusion
Instagram collab posts are a powerful tool for brands to expand their reach, engage their audience, and create impactful content. By collaborating with other brands, influencers, or even your own followers, you can tap into new audiences and create a sense of community around your brand.
Throughout this article, we've shown you how to do collab posts on Instagram and explored various ideas that can elevate your brand's presence on the platform. Also, we introduced you to a safe and trusted platform to find the best influencers/brands for partnerships. You can signup on Ainfluencer now and share your collab content.
1. Can I Collaborate With Someone Who Has A Smaller Following Than Me?
Absolutely! Collaborating with someone who has a smaller following can still be beneficial if their audience is highly engaged or if they have a niche that aligns well with your target audience. Quality engagement and relevance are often more valuable than sheer numbers.

2. How Can I Measure The Success Of A Collab Post?
Knowing how to make a collab post on Instagram is not enough. You need to measure their success for the feature collaborations. You can measure the success of a collab post by tracking key metrics such as reach, engagement, follower growth, website traffic, or conversions. Instagram's Insights tool can provide valuable data and analytics for evaluating your collab post's performance.

3. What Are Some Creative Ideas For Collab Posts?
After knowing how to post collab on Instagram, you can use some other ideas to make your post more engaging.
– Create a joint giveaway or contest where participants must follow both collaborators and engage with the collab post.
– Host a live Q&A session where both collaborators answer audience questions in real time.
– Combine your talents or skills to create unique and captivating content, such as a recipe and