The world of modeling has changed these days and everyone with every height and weight can make their dreams come true these days. One of the new opportunities for earning money as a model is commercial modeling.
In this article, we will show you how to get into commercial modeling and find your way to success. Also, we will show you how to start collaborating with brands as an Instagram model (or other social media platforms). 
If you are a social media influencer/model, you can earn money by working with your industry brands. On Ainfluencer, you can join as an influencer, set your targets, and find your niche brands for free.
What Is Commercial Modeling?
Commercial modeling is a type of modeling that focuses on promoting products, services, or brands through different visual content formats. In commercial modeling jobs, brands hire and collaborate with models to showcase products in advertisements, commercials, catalogs, and other promotional materials.
There are many commercial modeling agencies that help you find the best industry models that can attract your target audience. Similar to influencer marketing campaigns and programs, you can increase your customers and brand awareness through commercial modeling jobs. 
Fashion Modeling vs. Commercial Modeling
Fashion modeling involves showcasing clothing, accessories, and beauty products for high-end fashion designers, luxury brands, and prestigious fashion houses. Commercial modeling, on the other hand, focuses on promoting products/services to a wide range of in various areas such as print advertisements, commercials, catalog modeling, lifestyle campaigns, and promotional materials.
Another difference is the target audience. Commercial models advertise and sell products to a broader audience. On the other hand, high fashion models promote products that are often exclusive to a specific target audience.
Commercial Model Salary Range
Up to here, we've discussed what is commercial modeling and its difference from fashion modeling. If you are thinking about a model, you need to know about commercial modeling salary to make up your mind.
Unfortunately, there is no definite answer to this question as the salary depends on many different aspects.
While the numbers can vary based on experience, region, amount of work, and other metrics, based on the studies by ZipRecruiter and Glassdoor, the average salary for commercial models in the US is around 65k USD per year.
How To Become A Commercial Model
These days and especially with the rise of social media, everyone can join commercial modeling. Here are a few simple steps to consider if you want to join and start your modeling career.
1. Build A Modeling Protofilo
A strong portfolio is essential for showcasing your talent as a commercial model. A model portfolio is a collection of professionally captured photographs that showcase your unique look, features, and ability to portray different characters and styles.
Collaborate with professional photographers to capture high-quality images showing how photogenic you are. Update your portfolio regularly to reflect your growth and recent work.
2. Create A Presence On Social Media
Social media is buzzing these days and most brands/businesses, including commercial modeling agencies, look for their models there. So, you need to create professional accounts on popular platforms such as Instagram, Facebook, and Twitter to get noticed by brands
Using these platforms, clients and modeling agents can easily view your portfolio and contact you.
3. Mind Your Diet And Exercise Habits
Maintaining a healthy lifestyle is crucial for any model, including commercial models. You need to exercise regularly to stay fit and have the requirements for the commercial modeling agency you want to work with. Regular exercise and physical activity will help you stay in shape and maintain your energy levels. Remember to consult with a healthcare professional or nutritionist for personalized guidance.
4. Update Yourself About The Industry
Remember, the journey to becoming a successful commercial model is unique for each person. So, you need to focus on continuous self-improvement and stay informed about the latest trends, techniques, and developments in your industry.
5. Identify Your Target Audience
If you decide to become a commercial brand, you need their audience to perform better. Especially if you use a social media platform to promote a service/brand, you need to target and find users in your industry niche for getting a high reach. One effective method to accomplish this is by using social media hashtags, which can help you specifically target your desired audience.
6. Find A Commercial Modeling Agency
If you have followed the above steps and are ready to start your commercial modeling career to the next level, getting help from agencies for commercial modeling is the final step. You can easily search for these agencies in your location and apply for different positions. Here are some examples of commercial modeling agencies in Los Angeles:
How to Find Brands Looking for Commercial Models
Finding brands that are actively seeking commercial models can be an exciting opportunity to showcase your talent and secure partnerships. But finding brands in your niche that are looking for collaborations can be challenging. That's where an influencer marketing platform such as Ainfluencer can help you.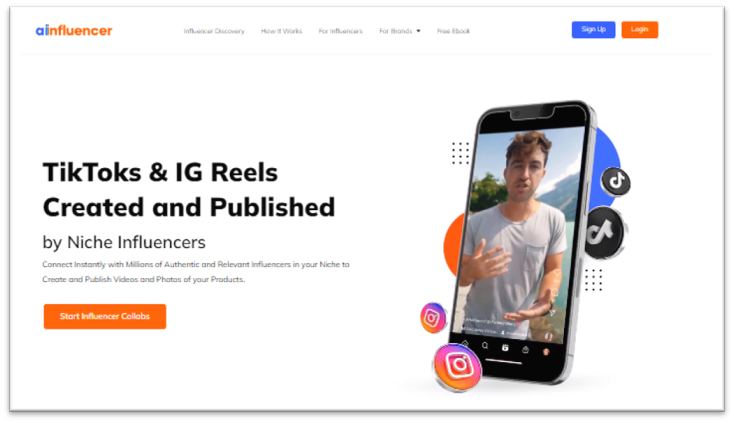 Ainfluencer offers a convenient and efficient way to discover brands interested in collaborating with models and influencers. If you have a social media account and want to explore collaboration opportunities with brands, signing up on Ainfluencer for free is your solution.
This platform provides a user-friendly interface that allows models and influencers to create profiles, showcase their work, and connect with brands seeking partnerships. With powerful search filters, it only takes a few minutes to find your best match.
Conclusion
Commercial modeling is a rewarding field within the fashion industry that offers individuals an opportunity to be the face of products and connect with consumers on a visual and emotional level.
In this article, we've walked you through the steps of how to get into commercial modeling and start your career. Also, we've introduced you to one of the best influencer marketing platforms that connect you with your best collaboration match. You can signup to Ainfluencer for free now and start collaborating with brands. 
FAQs
1. How Can I Stay Healthy As A Commercial Model?
Maintaining a healthy lifestyle is crucial for commercial models. Regular exercise, balanced nutrition, proper skin care, and prioritizing mental well-being contribute to overall health and physical appearance.

2. How Can I Stand Out As A Commercial Model In A Competitive Industry?
To stand out, embrace your unique qualities, constantly refine your skills, and stay updated with the latest industry trends. Networking, creating an online presence, and delivering professional and confident performances also help differentiate you from others.

3. Can Commercial Models Work Internationally?
Yes, commercial models can work internationally. With the global nature of advertising, there are opportunities to collaborate with brands and agencies from different countries.