YouTube community is growing every day and it's not a specialty for any region or nation. Asian YouTubers are active on the platform for many years and have established their audience on YouTube.
In this article, we will introduce you to the top 10 YouTubers from Asia that are active and share videos. So, if you want to know how to become a YouTuber, you can check their channels and get inspiration.
Top 10 Asian YouTubers
If you are looking for top Asian YouTubers that share content on the platform, your answer is here. Here are some of the best YouTubers from different niches to check and follow,
1. Ajey Nagar – 39.2M Subscribers
One of the youngest and most famous Asian YouTubers with around 40 million subscribers is Ajey. Ajey Nagar is an Indian YouTuber, streamer, and singer born in Faridabad in 1999. He mostly shares roasting and comedic videos on his channel, CarryMinati, which he started in 2014.
He also has a second YouTube channel for sharing gaming videos. So, if you are into live streaming, you can follow the CarryisLive channel.
2. Ria Yunita – 32.9 M Suscribers
The first most subscribers in Southeast Asia and the second most subscribed YouTuber in 2019-2020 is Ria Yunita. Ria Yunita or better known as Ria Ricis is an Indonesian YouTuber, actress, and writer born in 1995. She joined YouTube in 2016 by creating vlogs.
Other than being active on social media, she writes books in her spare time. Some of her books are Ricis, 'I Say Goodbye', \NEXT', 'Not a Marriage', and 'Sorry For Papa' which were bestsellers in Indonesia.
3. Muhammad Attamimi Halilintar – 30.4M Subscribers
Checking the list of male Asian YouTubers, Muhammad Attamimi Halilintar is one of the boldest names. This YouTuber is professionally known as 'Atta' is an Indonasion content creator, actress, and singer born in 1994.
Today, he is known as the most popular YouTuber in Indonesia with more than 30 million subscribers. Atta joined YouTube in 2016 and only after five years, he was ranked as the 113th most popular YouTuber in the world.
4. Nutticha Namwong – 16.4M Subscribers
The first Thai YouTuber that reached more than 10 million subscribers on YouTube is Nutticha Namwong. She is one of the hot Asian YouTubers born in 1996 and started her channel in 2016.
Her first video on YouTube was 'Plod Nee Hai Khun Mae' (in English: Paying Off Mother's Debt), uploaded in 2016. Today, she is sharing daily vlogs and life routine videos in her native language, but the English subtitle is available for all of her videos.
5. Krit Boonyarung – 14.1M Subscribers
One of the first Asian YouTubers is Bie The Ska (aka Krit Boonyarung). Krit is a Thai YouTuber who joined this platform in 2006 making him one of the first content creators from Thailand.
On his YouTube channel, he mostly shares comedy videos as well as popular culture and music video parodies.
6. Park Hye-min – 5.96M Subscribers
If you check the list of hottest YouTubers in 2023, you will definitely see the name Pony. Park Hye-min is one of the hottest Asian YouTubers from South Korea born in 1990. She is mostly known as Pony, which was her nickname at school and now it's her channel's name.
On her YouTube, she shares trending Korean makeup and beauty hacks. In 2017, Forbes magazine named her on the list of 30 best Asians for a makeup career.
7. Na Haeun – 5.18M Subscribers
For K-pop lovers and those who want to learn their dances, here is the best channel to check. Na Haeun is a teenage Korean K-pop dancer born in 2009. She gained a lot of attention after performing at the '2017 MMA' where she did a dance cover of Red Velvet's 'Peek-A-Boo'.
She is also active on Instagram where she posts dance videos and has more than 2M followers. Both of her YouTube and Instagram pages are run by her mom as she is still underage. 
8. Michelle Choi – 2.01M Subscribers
If you are looking for lifestyle bloggers, Michelle Choi has one of the best channels to check. Michelle Choi is an American-Korean model/influencer born in 1994 in Korea. She is one of the Asian American YouTubers that almost shares all of her life challenges with her audience.
She uploaded her first video in 2017 and you can see life hacks, daily vlogs, and even makeup tutorials on her channel. In 2019, she decided to launch her own fashion brand, 'Little Puffy' with her taste in clothing.
9. Ini Vindy – 1.96M Subscribers
If you are passionate about natural makeup looks, Ini is one of the best female Asian YouTubers to check out and subscribe to. Ini Vindy is an Indonesian makeup artist and YouTuber who started her channel in 2011.
In the beginning, she started the channel as a hobby where she did her makeup in front of a camera. You can now check her YouTube for natural makeup looks and hijab styles.
10. Jimmy Zhang – 1.43M Subscribers
Another male person on the list of asian american YouTubers is Jimmy Zhang. Jimmy is a 27 years old YouTuber born in 1995 that got a lot of popularity for sharing comedic content.
Most of his videos are vlogs, street interviews, and getting strangers' opinions on the subjects. He is also a TikTok influencer and has half a million followers there.
How To Earn Money On Social Media?
If you are a content creator on YouTube who uses platforms such as Instagram and TikTok as well, you can collaborate with brands in your niche to earn money. A brand partnership is one of the most common ways that help you earn money from your talent and content. But how to find brands that are looking for collaborations? 
Ainfluencer is an influencer marketing platform that connects brands and influencers of different industries in a safe and easy way. With powerful search filter tools, you can find your best partnership match in a couple of minutes and invite them.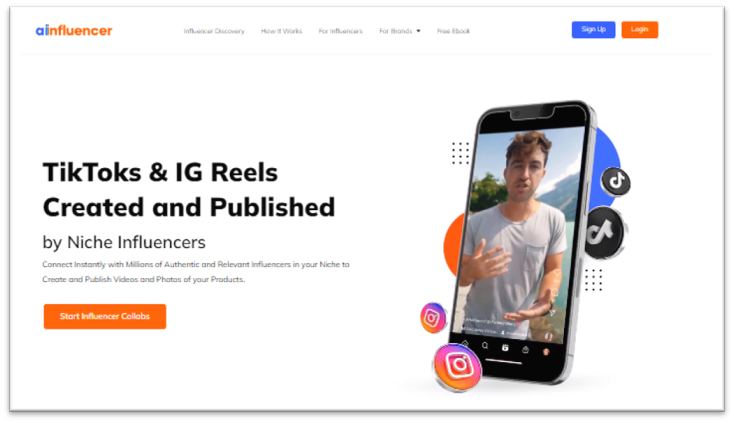 If you are an influencer/content creator, you can search based on your niche, hashtag, budget, language, location, etc. After finding brands, invite them to the platform and chat with them to see if they align with your content. And the best part is, all of these processes are available for free!
Conclusion
If you like to see video gaming, lifestyle, makeup tutorials, fashion, and comedy videos on YouTube, we have your answer. In this article, we've introduced you to the top 10 bloggers and vloggers from Asia who are active on YouTube. You can subscribe to their channels and watch their engaging videos.
FAQs
1. How Can I Find These Asian YouTubers on YouTube? 
You can simply search for their names on the YouTube platform, and their channels should appear in the search results. Alternatively, you can visit their social media profiles or websites, where they often provide direct links to their YouTube channels.

2. Are These YouTubers Active And Regularly Posting Content? 
Yes, these YouTubers are known for their consistent content creation. However, it's always a good idea to check their channels for the latest uploads and subscribe to stay updated.

3. Are There Any Language Barriers In Watching Their Videos? 
While some of these YouTubers primarily create content in English, others may use their native languages or a mix of languages. However, many provide English subtitles or captions for their videos to cater to a wider audience.

4. Are There Any Age Restrictions For Watching Their Content?
YouTube has age restrictions for certain types of content, especially those with mature themes or explicit language. It's important to be aware of these YouTube age restrictions and ensure that the content you watch aligns with your age and personal preferences.