There are dozens of content creators on YouTube showcasing their talent and earning money. Some might get called as hottest YouTubers and get noticed for their attractive personality and beauty.
In this article, we will introduce you to the top 13 hottest YouTubers guys (male and female) that you can check and subscribe to. You can check how they became YouTubers and gained subscribers over time.
If you are a new YouTuber and want to grow your subscribers, you can collaborate with your industry brands. Ainfluencer allows you to find your best collaboration match for free.
Top Hottest YouTubers To Subscribe
If you want to find and subscribe to the hottest YouTubers, we have a list of the 13 best ones. They have uploaded some most viewed videos in their niche.
1. Sssniperwolf – 33.7M Subscribers
Alia Shelesh, known as SSSniperwolf is a British YouTuber born in 1992 in Manchester. She is one of the hottest women YouTubers that got a lot of after collaborating with Djar Mann.
Her first channel was sexysexysniper in 2011 where she used to share short vlog videos. In 2013, she created Sssniperwolf and till now she mostly shares reaction, DIY, and gaming videos on her channel.
2. Jenna Marbles – 19.7M Subscribers
Even though Jenna Jenna Nicole Mourey (known as Jenna Marbles) is not active on her YouTube channel, she used to be one of the Hottest YouTubers. Her YouTube channel has over 1.7B video views and is all about daily life, her dog, Makeup, and cooking videos.
In 2020, when she was shining and had over 20M subscribers, Jenna decided to leave social media and YouTube. The reason for this decision was the racist and sexist videos she made about Niki Minaj and other people.
3. Lilly Singh – 14.5M Subscribers
Another star on the list of most famous and hottest Asian YouTubers is Lilly Singh who might have seen in TV shows as the host. Lilly Saini Singh is an American-Indian YouTuber and actress born in 1988. She started her career on YouTube in 2010 and her channel name was "Superwoman" inspired by her childhood dreams.
Since 2016, she has appeared in multiple TV shows and movies such as Battle of the Generations, Medical Police, One World: Together at Home, and even America's Got Talent (2019).
4. Wengie – 13.5M Subscribers
Without any doubt, one of the hottest Asian YouTubers is Wengie. Wendy Jie Huang is a a Chinese-Australian YouTuber, vlogger, and pop singer. She started her YouTube channel in 2013 and gained 4 million subscribers in three years, making her one of the fastest-growing stars on YouTube.
She mostly shares vlogs and how-to-style videos on her channel as well as her pop music videos. In 2018, she was the most popular YouTuber from Australia with more than 11 million subscribers.
5. AzzyLand – 13.4M Subscribers
If you are looking for YouTube gamers to watch them streaming gameplay, Azra Azzy Bajrami is one of the hottest YouTubers to subscribe to. She is a Canadian YouTuber, Singer, and gamer born in 1991.
In 2019, her channel was the most viewed YouTuber globally with over 1.9B views. Now, she is sharing gaming and life hack tutorials on her channel.
6. Michelle Phan – 8.7M Subscribers
One of the sexy YouTubers and beauty bloggers is Michelle Phan born in 1987 in Boston, Massachusetts. She was one of the first beauty influencers and started her channel on YouTube in 2007 by sharing makeup tutorials.
Michelle is one of the successful and hot YouTubers that has collaborated with multiple cosmetics brands and even founded her own company, EM Cosmetics. In 2011, she co-founded MyGlam (a monthly makeup and skincare subscription service) and in 2013, she launched her cosmetics line with L'Oreal called EM Cosmetics. 
7. Joe Sugg – 7.4M Subscribers
If you love prank videos then you definitely need to check Joe Sugg's YouTube channel. Joe is one of the hottest YouTubers guys, born in 1991, who started his channel in 2012.
His first videos were prank videos and challenges, but after a few years, he also started vlogging. He is sharing life routine videos with his girlfriend and also has a second channel for gaming content with more than 1M subscribers.
8. Daniel Howell – 6.14M Subscribers
One of the hottest male YouTubers is Daniel James Howell who started his career in 2009. He is a British YouTuber, Comedian, and author with over 6 million subs on his first channel and around 1.6M subs on the second channel (danisnotinteresting).
He mostly shares comedy videos, reactions, and daily life videos. Other than that, every Sunday night he uploads the night entertainment show Dan and Phil by collaborating with Phil Lester.
9. Laura Lee – 4.61M Subscribers
If you are passionate about makeup and look for tutorials, Laura Lee is one of the hot YouTubers you can check out. Laura Ann Lee is an American makeup artist born in 1988 that started her YouTube channel in 2013.
As a makeup artist, she has collaborated with famous cosmetics brands such as Benefits, Mac Cosmetics, etc. In 2017, she launched her own makeup brand named 'Laura Lee Cosmetics'. Now, she is active on both Instagram and YouTube and shares makeup hacks, tutorials, skin care tips, etc.
10. Loren Gray – 3.67M Subscribers
The next person on the list of hottest female YouTubers has most of her fame for TikTok. Loren Gray Beech is an American singer and social media personality born in 2002 in Pottstown, Pennsylvania. She began her career as a TikToker in 2016 and then decided to start using YouTube to share longer videos.
Loren is one of the hottest YouTubers that shares daily vlogs and her life challenges with her audience. She was the most-followed TikTok user from March 2019 to March 2020. Today, she has over 54.4M followers on TikTok.
11. Alissa Violet – 3.57M Subscribers
This is the first YouTuber who started her work on the Vine app in 2014 and gained more than 600k followers before the app shut down. Alissa Violet Butler is an American actress, YouTuber, and Instagram influencer born in 1996.
In 2016, she uploaded her first vlog on YouTube which was about her career in team 10. Now, she is still sharing vlogs and daily routines on her channel and is one of the hottest female YouTubers.
12. Tessa Brooks – 3.32M Subscribers
One of the multi-talented female YouTubers with impressive dancing skills is Tessa Brooks. Tessa is an American social media creator and influencer born in 1999 in Fresno, California. She has also appeared in a few movies and TV shows such as Honey Girls and Happy Hazel.
Her first appearance on social media was in Jake Paul's music video for the 'Its Everyday Bro' track. She was also a member of Team 10 and shared her experience on her YouTube channel. You can view all types of content such as prank videos, travel vlogs, daily life, workout videos, etc.
13. Pokimane – 619k Subscribers
If you like video games such as League of Legends and Fortnite, you probably know who is Pokimane. Imane Anys, known as Pokimane, is a Moroccan-Canadian YouTuber born in 1996. Her YouTube channel is all about video games.
She often goes live and plays streams on both YouTube and Twitch. Her entertaining personality and skillful gameplay have made her one of the hottest women YouTubers.
How YouTubers Can Collaborate With Brands?
One of the common ways YouTubers can earn some extra money and increase their income is by collaborating with brands. Collaborating with brands not only offers YouTubers financial opportunities but also helps them expand their reach and enhance their credibility. But how to find brands in your niche that are looking for collaborations?
There are some influencer marketing platforms that connect influencers and brands in a sage interface. One of the best platforms that connect social media influencers and YouTubers to brands in their niche is Ainfluencer.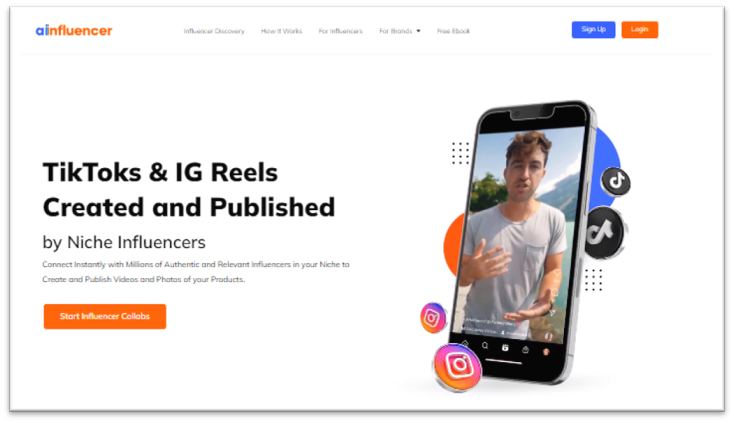 Ainfluencer is a user-friendly and efficient platform for creators to connect with relevant brands and explore collaboration opportunities. With powerful search tools, YouTubers can find the perfect brand match for their channel. These tools enable creators to filter and search for brands based on their niche, target audience, preferred collaboration type, and more.
Conclusion
With new creators rising to fame and captivating audiences with their unique content on YouTube, it's hard to decide the hottest YouTubers. In this article, we've introduced you to the top 13 YouTubers (male and female) with the ability to engage viewers, showcase their talents, and build a dedicated fan base.
FAQs
1. How Do These YouTubers Monetize Their Channels And Earn A Living?
These YouTubers employ various monetization methods to generate income from their channels. This includes revenue from ads displayed on their videos, brand partnerships and sponsorships, merchandise sales, crowdfunding, and even creating their own digital products or services. So, The answer to how much YouTubers make varies on their audience size.

2. What's The Secret Behind The Success Of The Hottest YouTubers In 2023?
The success of the hottest YouTubers in 2023 can be attributed to a combination of factors, including their unique content, consistent engagement with their audience, and effective promotion across various platforms. However, it ultimately boils down to their passion, dedication, and ability to connect with viewers on a personal level.

3. Can Anyone Become A Successful YouTuber, Or Is It Limited To A Select Few?
YouTube provides opportunities for anyone with passion, creativity, and dedication to become a successful YouTuber. While it requires hard work, persistence, and understanding of the platform and audience, many YouTubers have risen to fame from humble beginnings, proving that success is not limited to a select few.

4. How Do These YouTubers Manage To Stay Relevant In Such A Competitive Digital Landscape?
Beating your competitors requires continuous innovation, adaptation, and understanding of audience preferences. The hottest YouTubers in 2023 employ various strategies such as staying up-to-date with current trends, experimenting with new content formats, and actively listening to feedback from their viewers.