You may have heard about YouTube many times; almost everyone knows this popular platform.
Especially when it comes to the most viewed YouTube video, you may wonder which content could attract a myriad of people like this.
Amongst the prominent social media platforms like Instagram, TikTok, Facebook, and Twitter, YouTube holds a special place in everyone's heart. That's why you need the ultimate guide to YouTube Influencer marketing as a business.
Over time, most YouTube videos get more views, likes, comments, and subscribers. But the matter is, some of these videos were successful in getting a large number of views. The question is, what makes them so special?
In this article, we've compiled the list of the 15 most viewed youtube videos for you to help you stay updated with trends.
Get started today and find your ideal influencer on Ainfluencer now!"
What are the Most Viewed YouTube Videos?
Have you ever noticed that not only celebrities' videos get the most youtube views, but also some ordinary videos can reach this? It may seem odd, but according to our research, most watched youtube videos are not only for celebrities.
As a professional YouTuber, you should know which content will be effective to post. For instance, if you're a gamer and want to have more subscribers and make perfect content for your audiences, you should know the list of 25+ Top Gaming YouTubers To Know. This will help you get more views on each of your videos.
Here are some of the most-watched YouTube videos that have taken the platform by storm. Here are the most viewed youtube videos.
1. "Baby Shark Dance" by Pinkfong (12bn views)
This children's song is about a baby shark who grows up and eats a swimmer. However, it's become the most-viewed youtube video since 2016, capturing the hearts of children and parents alike. However, it doesn't seem to be slowing down any time soon.
2. "Despacito" by Luis Fonsi ft. Daddy Yankee (8.1bn views)
This Latin pop hit became a global phenomenon, breaking multiple records and reaching unprecedented popularity. This song by Puerto Rican was released in January 2017.
Literally, this music video became the most viewed song on youtube.
3. "Johny Johny Yes Papa" by LooLoo Kids (6.7bn views)
This nursery rhyme is one of the loveliest child's songs. This childish song is about a baby eating sugar and suddenly caught by his father. It became a favorite among young children and parents looking for entertaining and educational content.
4. "Bath Song" by Cocomelon Nursery Rhymes (6.1bn views)
Cocomelon's animated nursery rhymes and children's songs gained significant popularity among young viewers. "Bath Song" became a favorite, helping parents entertain and educate their children during bath time.
5. "Shape of You" by Ed Sheeran (5.9bn views)
Almost everyone listened to this song or may hear it from a taxi. This beautiful song that mixed with island-style beat and passion was released in 2017 as a lead single from his third studio album (Divide).
6. "See You Again" by Wiz Khalifa feat. Charlie Puth (5.8bn views)
This emotional tribute to the late actor Paul Walker from the movie "Furious 7" struck a chord with viewers. This emotional song is one of the most streamed songs on every music platform.
7. "Phonics Song with Two Words" by ChuChu TV (5.2bn views)
This one is a popular educational video that focuses on teaching children phonics using simple two-word combinations.
8. "Wheels on the Bus" by Cocomelon Nursery Rhymes (5.2bn views)
Cocomelon is known for its entertaining and educational content. So, it's not surprising to see its name on our list.
9. "Uptown Funk" by Mark Ronson feat. Bruno Mars (5.2bn views)
This song is an electrifying collaboration between Mark Ronson and Bruno Mars that delivers a high-energy and infectious blend of funk, pop, and R&B.
10. "Learning Colors – Colorful Eggs on a Farm" by Miroshka TV (4.8bn views)
This Russian educational video is known for its interesting learning colors. In this video, you'll learn 6 types of colors in Russian.
11. "Gangnam Style" by Psy (4.7bn views)
Let's see another most popular video on youtube. Released in 2012, "Gangnam Style" became a worldwide phenomenon and the first YouTube video to reach one billion views. This K-pop song by South Korean rapper Psy and its music video soon became viral.
12. "Masha and the Bear" – Recipe for Disaster" by Get Movies (4.5bn views)
The whole story is based on an active girl who cannot sit for a while and wants to make everything a business of her own. And bear character is the one who loves quietness and looking for calmness. This popular TV series is one of the most viewed youtube videos.
13. "Dame Tu Cosita" by El Chombo (4.3bn views)
This challenging short video that had been viral for a while is also known for its funny music and the alien-type creature dancing.
14. "Sugar" by Maroon 5 (3.8bn views)
Let's check another cool song. The Sugar by Maroon 5 music video is among the best youtube videos. You may see that this song is played at most weddings, though!
Besides its unique genre, Disco,funk-pop, and Soul, the video has also been viral. This song was released on January 13, 2015.
15. "Roar" by Katy Perry (3.7bn views)
Let's check the last viewed video on this list. Katy Perry's famous song which is Roar was released on August 10, 2013. This great song gives the audience a feeling of power, that's why its music video became one of the most popular videos on youtube.
However, you should know that the popularity of YouTube videos can change over time. So, it's always a good idea to check the latest statistics and rankings for the most watched YouTube videos.
As you see, these top youtube videos are getting more and more views over time. People also post these videos on their social media accounts to get many likes and comments. If you don't know how to post a youtube video on Instagram, it's never too late to learn.
How Can Ainfluencer Help You With YouTube Marketing?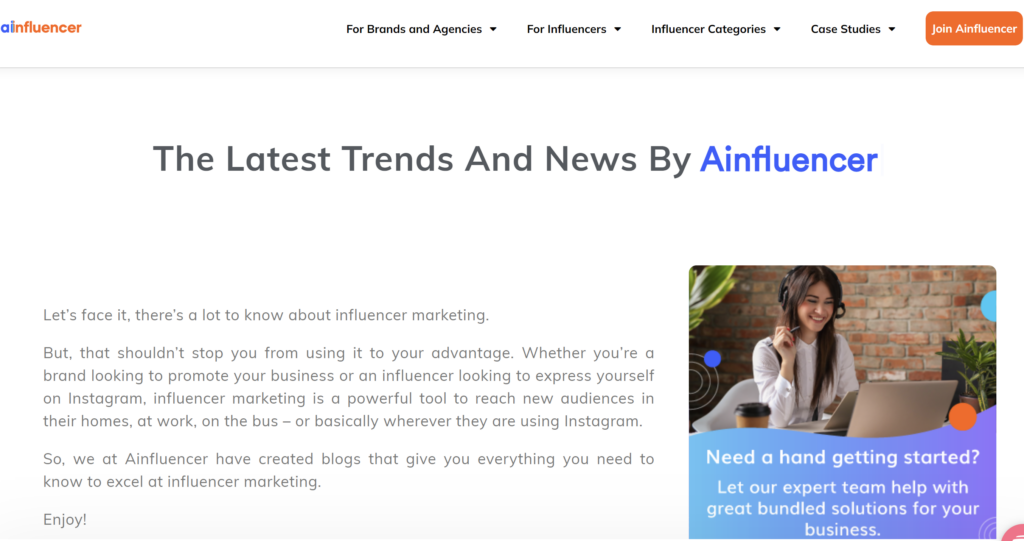 Ainfluencer can be a valuable platform to assist you in YouTube marketing in several ways:
Influencer Discovery: Ainfluencer provides a comprehensive database of influencers across various niches and industries. You can easily search and discover influencers who align with your target audience and marketing goals. The great option about this feature is that you don't need to pay for searching and getting the information.
Audience Insights: You can get your daily and monthly insights to ensure your growth and branding process is going well. But you need to ask the influencers directly to report them.
Collaboration Opportunities: Ainfluencer facilitates communication and collaboration between brands and influencers. You can connect with influencers directly through the platform, discuss partnership opportunities, and negotiate terms to create engaging sponsored content.
Conclusion
We mentioned the top 15 most viewed youtube videos in a certain order. Now you realize why these Videos are popular among people. However, there are numerous factors that make a video so special. For example, you should look for unique content which can attract audiences and drive more followers. Or the time-posting, which is an important part of any social media growth. But for the first step, it's better to know YouTube's guidelines and then learn some tricky ways.
FAQs
What's the Most Viewed Video on YouTube?
"Baby Shark Dance" by Pinkfong, with billions of views. This video got first place on YouTube most viewed video.
What is the Most Viewed YouTube Video in 24 Hours?
Still, "Baby Shark Dance" by Pinkfong, with billions of views, is number one.
How Many Videos Have 1 Billion Views?
Currently, there are more than 300 videos on YouTube that have reached the milestone of 1 billion views.