Video content is becoming more and more popular among online users. And YouTube stands as the leading platform for sharing and discovering videos. There are different techniques to increase your visibility on this platform, and one such powerful tool is using the right YouTube tags. If you are a video creator, with the help of a youtube tag generator, you can help your videos stand out.
But what are YouTube tags, and how can they help you? If you already know how to become a YouTuber and monetize your content but want to increase your visibility on the platform, we have your answer. In this article, we will provide a full guide on how to use this feature to help your video recommendations. Also, we will introduce you to some of the best tag generator youtube tools available in the market.
What Is The Youtube Tag Generator?
Similar to keywords for a search engine, YouTube tags(video tags), are descriptive keywords or phrases that help identify the content of a video. These keywords play the leading role in the YouTube algorithm for recommendation videos.
To find the best keywords related to the video you want to share, you can try a YouTube tag generator. These tools can help content creators or those who are running YouTube influencer marketing programs generate relevant and effective tags for their YouTube videos in a couple of seconds.
5 Best YouTube Tag Generator Tools
If you are sharing high-quality YouTube videos but still your views are low, maybe you are using the wrong tags. In the following, we will introduce you to some of the best YouTube tag generator tools that can help you with that.
1. TubeBuddy
If you want to grow your channel with the help of AI, TubeBuddy is one of the new tools that gained a lot of popularity. This YouTube tag generator is available in an app version and a Chrome extension on your browser. With TubeBuddy, creators have access to everything they need for content creation, management, and analyzing their channels in one place.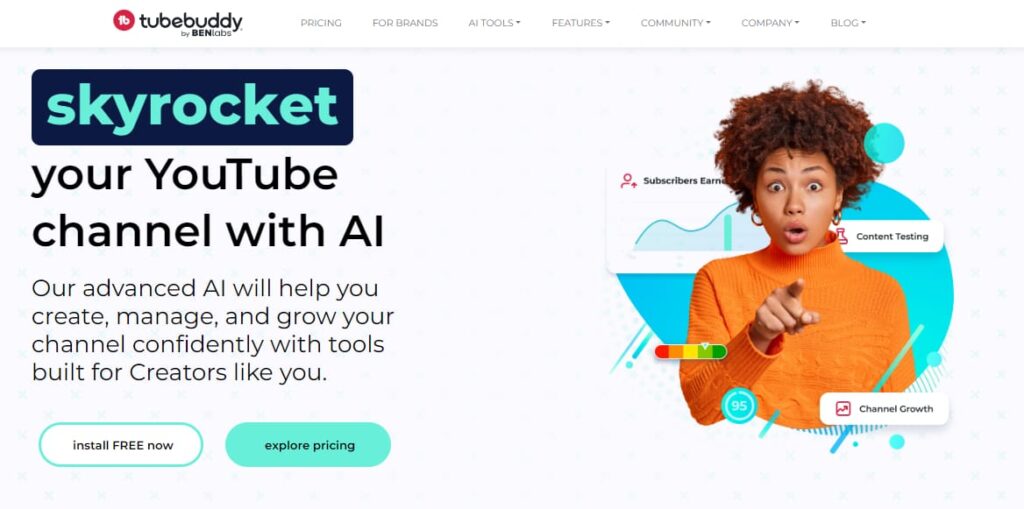 With a simple click, this tag youtube generator tool analyzes your channel and gives you a score, average watch time, and a channel SEO analysis. There are over 10M satisfied customers on this platform using it to find the best tags based on trend search terms, track popular tags and their videos, monitor competitor's performance, and enhance their channel SEO.
TedBuddy Features
As we mentioned, Tedbuddy provides everything YouTubers need to grow their channel. Here is a quick look at their top features:
Title Generator,
Thumbnail Analyzer,
Suggested Short Videos,
Keyword Explorer,
SEO Tools,
Video Tags,
Analyze And Research Tool.
TubeBuddy Pricing
This platform is one of the youtube tag generator free tools that everyone can try. You only need to install the extension, however, there are limits on many tools such as SEO analyzer and research tools. Here are the packages for accessing more features: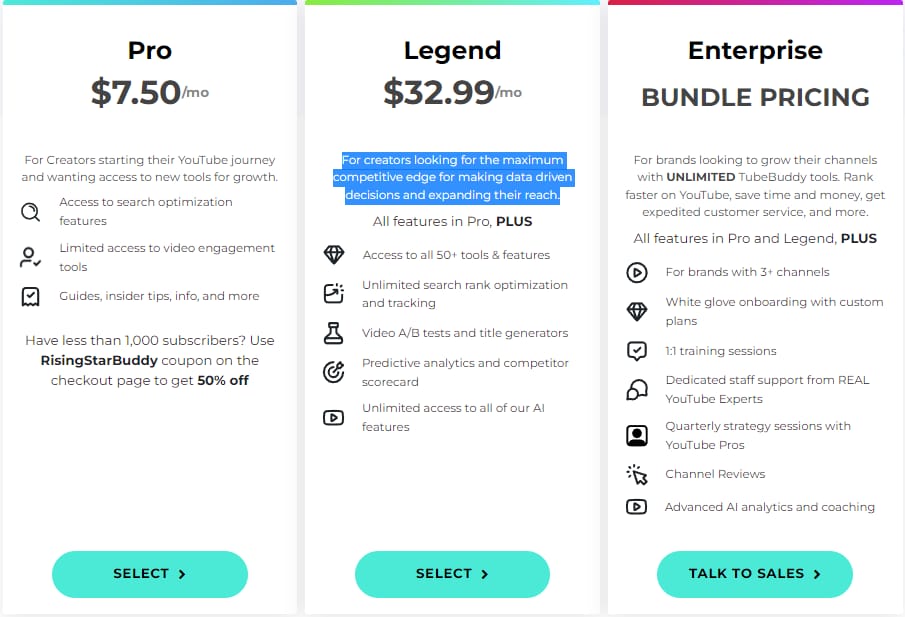 Pro: $7.50 per month: For Creators starting their YouTube journey and wanting access to new tools for growth.
Legend: $32.99 per month: For creators looking for the maximum competitive edge for making data-driven decisions and expanding their reach.
Enterprise: Bundle Pricing
2. TunePocket
For those looking for free youtube tag generator tools, TunePocket is a known platform. This platform started its work as a stock music library where you can browse and download 11,000+ royalty-free music tracks and sounds. Now, it offers a YouTube tag generator tool where you enter your title and it generates the best tags for you.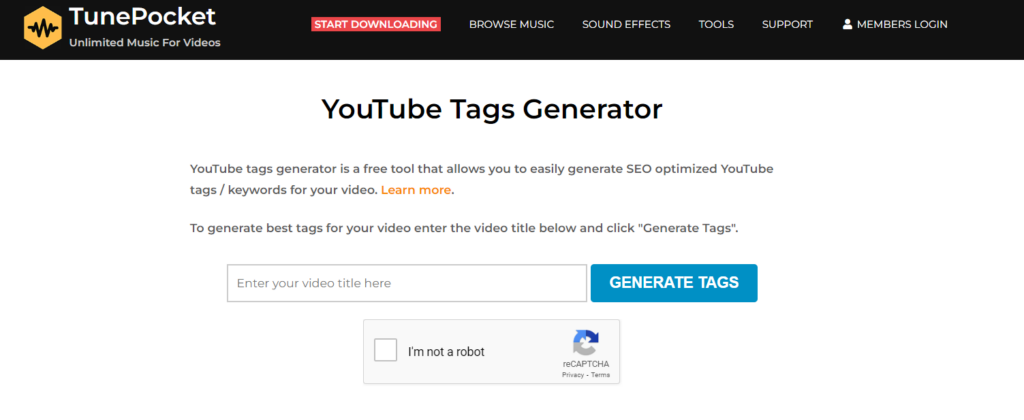 TunePocket Features
Want to use TunePocket for your channel? Here are the features that it offers:
Video Tags Generator,
YouTube Title Generator,
YouTube Ad Money Calculator,
Sound Effects.
TunePocket Pricing
This youtube tag list generator is totally free to use. Also, it does not require you to create an account and you can get your tags by entering your video's title.
3. VidIQ
Are you looking for a youtube tag generator extension? VidIQ is an available tool you can try. This tool is designed to help creators boost their YouTube views by giving them free insights and guidance. Creators can contact and have a meeting with professional coaches to plan a winning strategy for their growth.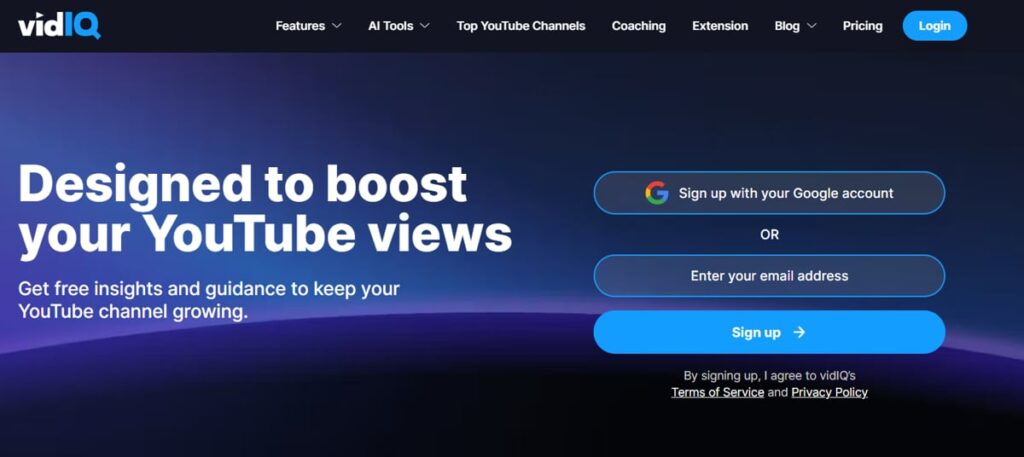 VidIQ is powered by AI to help you analyze videos and grow your channel views and subscribers using AI-powered insight. You also have access to SEO, Keyword research, and tag analysis tools in VidIQ.
VidIQ Features
For those who are thinking about using VidIQ, let's look at all the features you can use on this platform.
Daily Ideas,
Keyword Tools,
Competitors Tools,
Channel Audit Tool,
YouTube Title Generator,
Content Generator.
VidIQ Pricing
This youtube tag generator online service provides a free version for everyone. However, if you need to access advanced content creation and many other tools, you can upgrade to the pro version. Here are their pricing packs: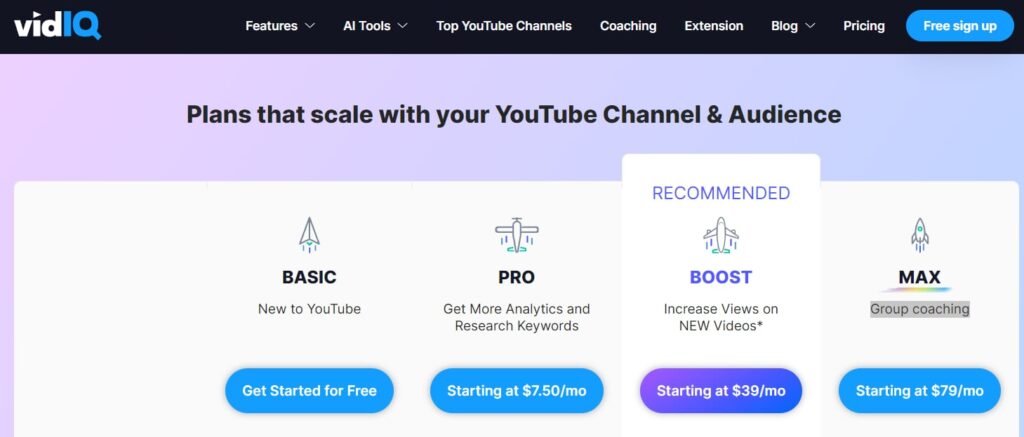 Pro: $7.50 per month: Get More Analytics and Research Keywords
Boost: $39 per month: Increase Views on NEW Videos*
Max: $79 per month: Group Coaching
4. Keyword Tool
For those looking for a simple tool to find out what terms are users searching on YouTube, Keyword Tool is a perfect service. This platform supports multiple languages that help you reach your target audience. This feature also works for Google, eBay, Amazon, Twitter, Bing, and Instagram as well.

KeywordTool Features
This platform is only focusing on generating top keywords and trend hashtags for different social media platforms.
KeywordTool Pricing
If you want to find your industry keywords in a couple of seconds, this youtube shorts tag generator is one of the perfect options. Here are the packages they offer:
Business: $199/mo,
Plus: $99/mo,
Basic – $89/mo
5. Kparser
One of the most known YouTube tag generators and SEO tools is Kparser which is also available in a free version. With this service, you can set location, language, and platform to see trending keywords and their rankings. After a few seconds, it generates a list of all the keywords you need and allows you to extract it in an Excel doc.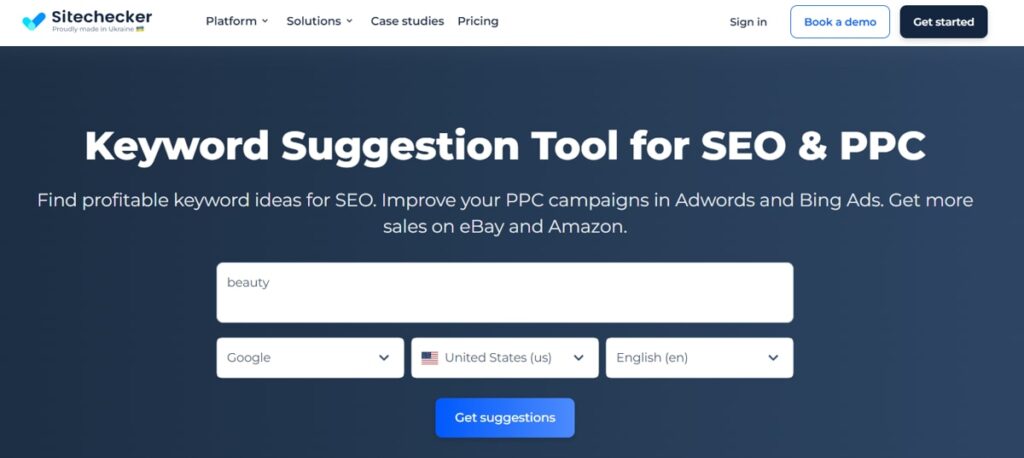 Besides this, this platform provides a username generator and an SEO tool to check your videos and see if they are well-optimized.
Kparser Features
Except for the YouTube tag generator online tool, this platform offers some additional features for small businesses looking for growth.
Website Crawler,
Site Monitoring,
Rank Tracker,
Backlink Tracker,
Seo Chrome Extension.
Kparser Pricing
The tag generator feature provided by Kparser is totally free for all social media platforms.
How To Earn Extra Money From Your Content?
if you are a YouTuber who is also using social media platforms such as Instagram and TikTok, you can earn money by collaborating with brands. With the rise of social media influencers, everyone with an established audience can use their creativity and share sponsored posts, run campaigns with brands, and monetize their content.
Ainfluencer is an influencer marketing platform that helps you discover opportunities within your niche and find your best collaboration match. With advanced search tools, influencers can target brands and find the ones that align with their audience.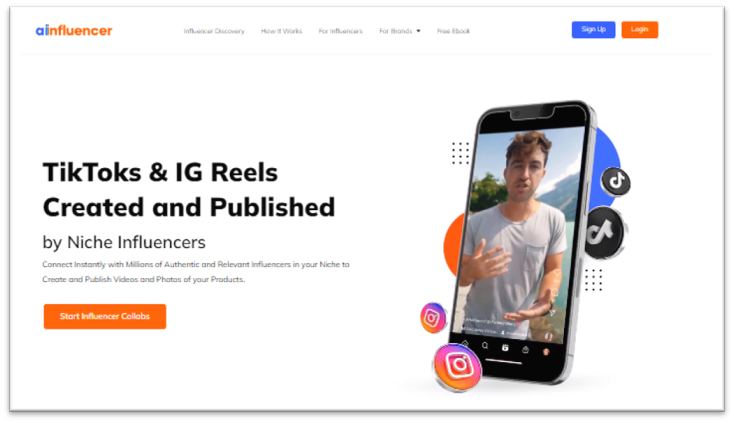 In Ainfluencer, you can create your influencer profile and connect it to your Instagram account without adding your password. Then brands can view your profile and invite you for collaborations. The best part is it's totally safe and free for everyone.
Conclusion
As we previously mentioned, YouTube tags are a powerful tool for enhancing your video discovery and boosting your overall SEO efforts. By using the YouTube tag generators that we mentioned in this blog and following best practices, you can attract a larger audience, increase engagement, and ultimately grow your YouTube channel.
FAQs
1. Are YouTube Tags Essential For Video SEO?
Yes, YouTube tags are crucial for video SEO as they help YouTube's algorithms understand and categorize your content, making it more likely to be shown in search results and recommended video lists.

2. Can I Use Too Many Tags For My YouTube Video?
While there's no strict limit on the number of tags you can use, it's essential to focus on quality over quantity. Use relevant tags that accurately represent your content rather than spamming with irrelevant keywords.
3. How Can YouTube Tags Impact My Video's Ranking On Google?
While YouTube and Google are separate platforms, they are closely related. When you optimize your video with the right tags on YouTube, it can improve its visibility on both YouTube's search results and Google's search engine. This dual optimization increases the likelihood of attracting more viewers from different sources, ultimately improving your video's ranking on Google's search results as well.

4. Can I Rely Solely On A YouTube Tag Generator For Tag Optimization?
A YouTube tag generator is a valuable tool, but it shouldn't be the sole method for tag optimization. Use the generator to get ideas and suggestions, but always review and refine the tags manually. Incorporate trending topics, relevant current events, and specific keywords related to your video's subject matter for the most effective results.