OnlyFans has become a popular platform for content creators to share their work and engage with fans. However, finding someone specific on OnlyFans can be challenging. That's why we've put together a guide on how to find OnlyFans users quickly to help you navigate the platform efficiently and effectively.
Whether you're a fan trying to find your favorite creator or someone looking for a specific type of content, we've got you covered with some tips and tricks to make your OnlyFans search easy and straightforward. 
Let's dive in and get started!
What is OnlyFans?
The main thing that makes OnlyFans different from other social media platforms is that it allows content creators to monetize their work by providing exclusive content to their followers or fans for a monthly subscription fee. As a result, they can easily make money on OnlyFans.
The platform is most famous for adult content, but creators can share a wide range of content, from art, music, fitness, beauty, fashion, and much more. Although OnlyFans is a relatively new platform, it has quickly grown in popularity, with many creators using it to supplement their income or make it their full-time profession.
Working with the OnlyFans platform is easy for content creators. However, there might be difficulties for users who would like to find OnlyFans creators.
Next, we will explain how to search for OnlyFans creators.
How to find people on OnlyFans
If you're having trouble finding a specific creator on OnlyFans, don't worry, you're not alone. While OnlyFans is a popular platform for content creators to share their work and engage with fans, it can be challenging to navigate and find someone specific. Here are some of the top ways to do an OnlyFans search: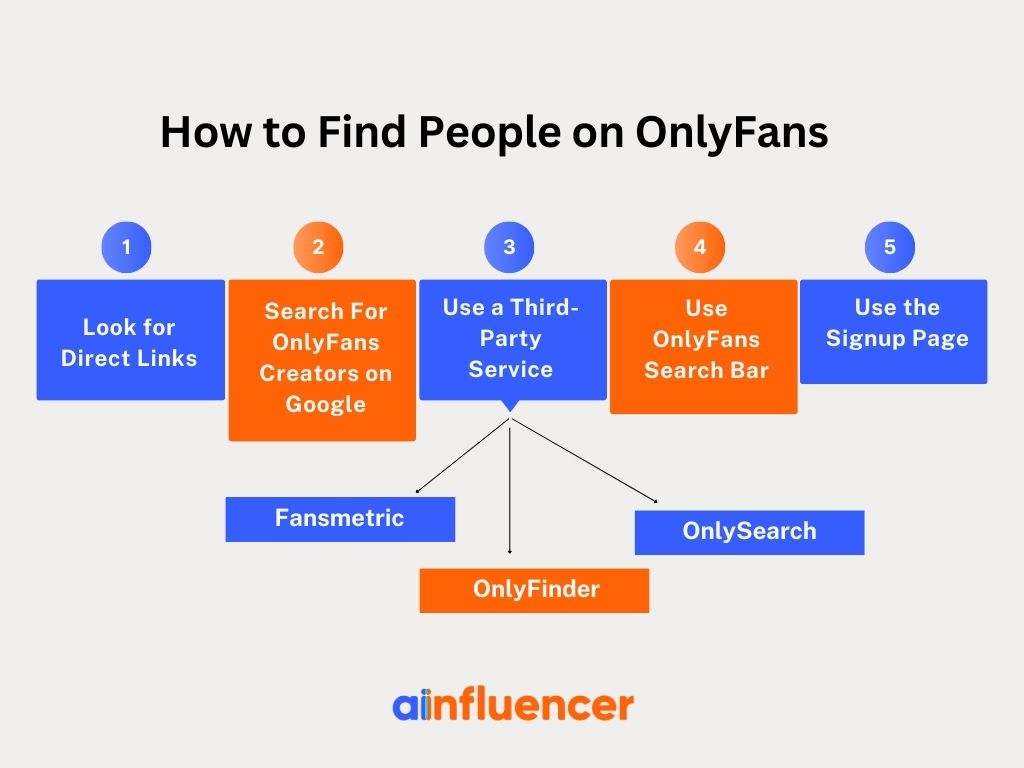 1. Look for Direct Links:
The first and easiest way to find someone on OnlyFans is to look for their direct link, which is essentially the URL address that will take you directly to the content creator's OnlyFans page. Most top OnlyFans creators have their links or usernames in their social media bios, profiles, or website.
So, if you know the content creator's name, you can try searching for them on social media platforms. Check out their verified accounts or official websites, and see if they have their OnlyFans link in there. If you find their link, simply click on it, and it will take you to their OnlyFans profile.
This method is fast, convenient, and hassle-free as long as you already know the content creator's name or handle.
Quick Takeaway: To help you find your favorite OnlyFans creator, we've gathered up a list of the most loved OnlyFans accounts with their direct links in the table below:
2. Search on Google
If you don't know the username of the OnlyFans creator, you can effortlessly search OnlyFans name on Google. The method is very straightforward; you can either search 'OnlyFans creators' or write the name plus 'OnlyFans' to find a certain account. This OnlyFans account search might give you the direct link to their page, though it's not always guaranteed.
To do this search, type the content creator's name into the Google search bar, followed by "OnlyFans." For example, "John Doe OnlyFans." Scan through the results to see if their profile or link pops up, and click on it to be directed to their page.
It's important to note that not all content creators disclose their OnlyFans page on Google, especially those who prioritize keeping their content private or have a smaller following. But it's still worth trying this method as it works for creators who have active social media accounts or are publicly known.
If you find the direct link using this method, copy and paste it into your browser or type it directly into the OnlyFans search bar to view their content.
3. Use a Third-Party Service:
If you can't find someone's OnlyFans page using the previous methods, you can try using a third-party service like OnlyFinder for your OnlyFans search. Let's see how it works.
What Is OnlyFinder?
The third-party tools are great options to search Onlyfans creators. One of the most useful ones is OnlyFinder, a website that serves as a directory for OnlyFans profiles, making it easy to search for creators by name, location, keywords, and other filters. Remember that not all creators may be listed on OnlyFinder, so this method may not be 100% reliable.
Here are the steps to use OnlyFinder to search for someone on OnlyFans:
Visit the OnlyFinder website. You can do this by typing "OnlyFinder" into your search engine or entering "onlyfinder.com" into your browser.
The OnlyFinder homepage will display some search options for profiles like Top, New, Free, Deals, etc. Click on the search option that suits you the most.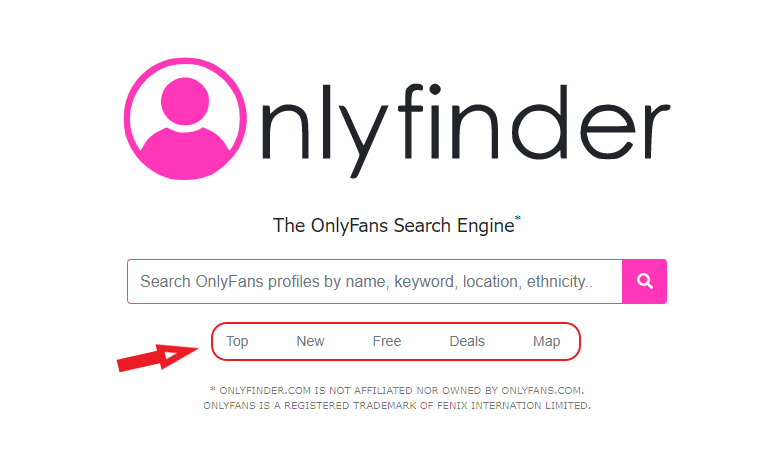 You can now browse OnlyFans for profiles using filters such as name, location, keywords, category, and hashtags.
Once you've found a profile you're interested in, click on the thumbnail image to be redirected to the creator's OnlyFans page.
Keep in mind that OnlyFinder is just one of the many third-party websites you can use to search for someone on OnlyFans.
OnlyFinder Alternatives
Here are some OnlyFans finder services you can use instead of OnlyFinder.
Fansmetric
This service lists 20 million OnlyFans accounts that users can search based on their names, location, or keywords. Working with this website is as easy as searching something on Google. However, you only need to give the site one clue about what you're searching for.
So, either search Onlyfans creators by name or enter a TikTok or Instagram username. It is possible that they link their social media to their OnlyFans.

OnlySearch
The other option you have to find OnlyFans creators is the OnlySearch. As the name indicates, this platform also contains a list of OnlyFans creators to search from.
You can enter the name or a phrase into this dedicated search engine to access their accounts. OnlySearch will then scan its database to find OnlyFans accounts matching the phrase you entered.

4. Use OnlyFans Search Bar:
To do an OnlyFans search, you can also use the search bar on OnlyFans itself to find someone specific. Here's how:
Enter your OnlyFans account and click on the Search Bar in the top right corner.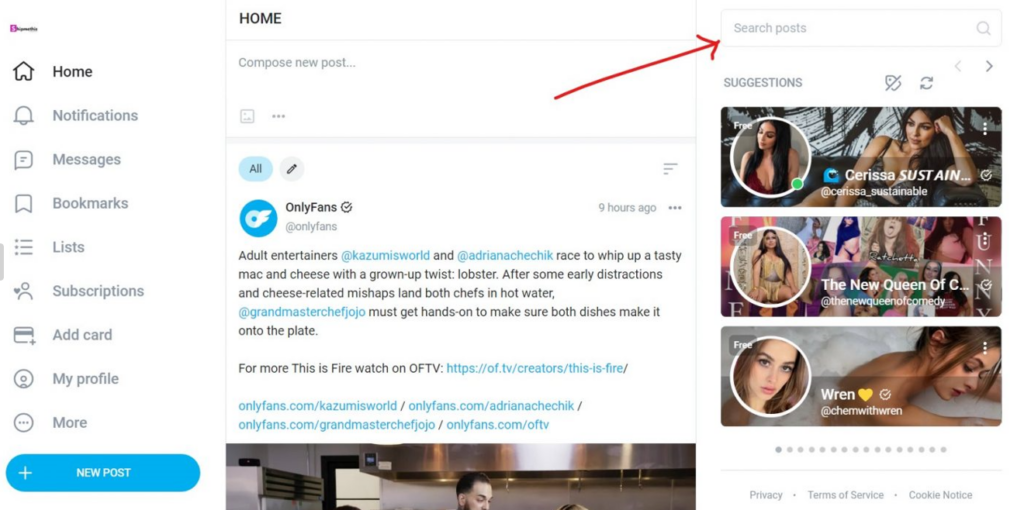 Type in specific keywords you believe the person may have used in their posts. For instance, if you're searching for someone who is posting about fitness, you can search for keywords like "fitness," "workout," "gym," or any other relevant keywords.
Once you press enter, OnlyFans will show a list of posts that match your search query. Prune through the results and see if there is a hit.
Click on the profile that looks like the one you're searching for. If the profile is private, you might have to request access to their content.
Using the OnlyFans search bar can provide a quick and straightforward option to finding someone specific. However, this method might not work if the person's username, name, or post captions do not match your search keywords. Also, if you're searching for someone who posts adult content, make sure you use appropriate keywords to avoid any explicit or graphic search results.
5. Use the Signup Page:
Another way to find someone on OnlyFans is by trying to create an account using their email address. Here's how:
Open the OnlyFans website.
Click on "Sign up for OnlyFans"
Try to make an account using the email address of the person you're looking for on OnlyFans.
After entering the details, two things may happen:
If the email address is associated with an active OnlyFans account, you will see a message that says, "This email is already in use." This means the person you're looking for has an OnlyFans account associated with that email address.
If the email address is not linked to any OnlyFans account, you will see a message that says, "This email is available." This means the person does not have an OnlyFans account associated with that email address, and you'll need to try one of the other methods to search for them.
Although this method may not always work, it can be a quick and straightforward way to find someone on OnlyFans, especially if you have access to their email address.
However, this method has a disadvantage since OnlyFans is a premium content platform, and creators can have multiple email addresses associated with their accounts to keep anonymity. Therefore, if you're unable to create an account with the email address you have, you might need to try other search methods, such as using third-party services, OnlyFans URLs, or OnlyFans search on the website.
Conclusion
Since the OnlyFans platform performs differently than other social media, it's not easy to find OnlyFans creators. You should use different OnlyFans search methods mentioned in this article to find the person you want.
By utilizing methods like direct links and third-party services like OnlyFinder, you can better find creators on OnlyFans. Remember to practice ethical and respectful behavior when accessing the platform and content, and always ensure that you've gained the necessary consent before accessing adult content. 
With this guide, we hope you have a better understanding of how to find people on OnlyFans and enhance your experience on this popular platform.
FAQs
1. How Come I Can't Find Someone on OnlyFans?
It is unfortunate that OnlyFans does not provide a direct search feature for finding users based on their usernames. You can only search for posts on the platform by using keywords, hashtags, and usernames.
2. Can People Find Out Who You Are on OnlyFans?
Your privacy on OnlyFans depends on how you set up your account. By default, your personal information is connected to your account. Sharing personal information and using a separate email address and payment method can protect your identity. However, there is still no guarantee of complete anonymity.
3- How Do I Find a Specific Person on OnlyFans?
It's possible that people create accounts on social media with their full name or the same handler as other social media platforms. Therefore, you can write the name or username on the OnlyFans search bar to find the person.